An expert in family-centered design, Kelly Rogers works with her clients to create kid and pet (and adult!) friendly homes with decidedly "grown-up" style. She specializes in designing mid-range to high-end spaces that are polished, yet comfortable, colorful, yet serene, and beautiful, yet durable. Now you don't have to wait until you're an empty nester to live in a home you truly love!
Kelly's signature style ranges from traditional to transitional, and incorporates classical design motifs, global influences, fresh color, and unique pattern combinations. She eschews formulaic approaches to create truly original interior spaces with equal parts elegance, simplicity, and practicality.
In addition to understanding the needs of busy families, Kelly also brings a business-like approach (with a healthy dose of humor!) to her work. She previously spent 11 years at advertising and digital marketing agencies in account management, working with Fortune 500 clients in a variety of industries. There, she developed her client-driven philosophy, creative vision, project management expertise, and attention to detail. Although she loved working in a creative business, after the birth of her first son, Kelly knew she did not want to return to agency life. But she wasn't ready to 'retire' just yet, either.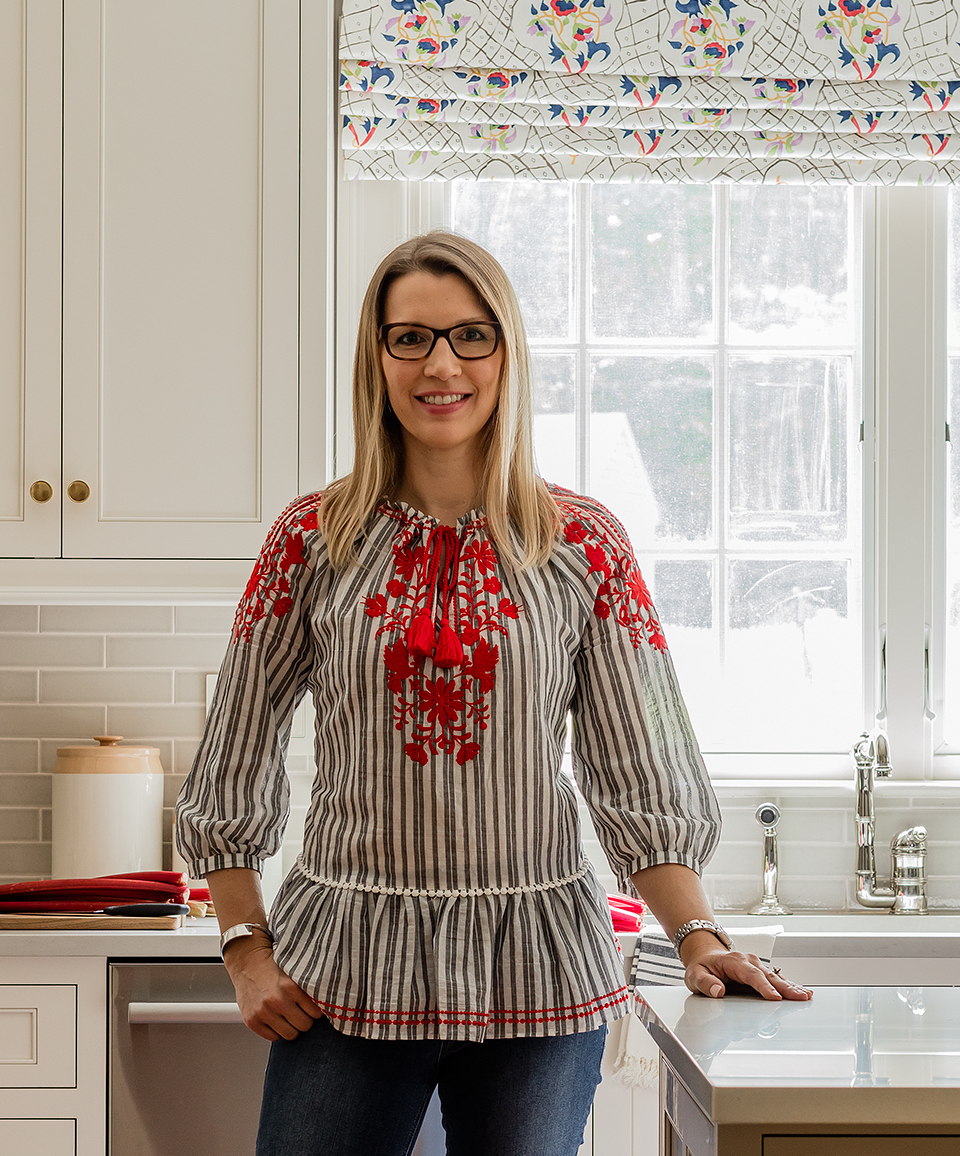 A family member provided unexpected inspiration for a new career. She moved into a beautiful new home, but had delayed furnishing and decorating until her children were older. A new mom herself, Kelly could relate, and was sure that many other families did, too. When she asked Kelly if she ever considered pursuing interior design, the idea for Kelly Rogers Interiors was born. Kelly now manages a team of three, and has an interior design studio in her recently renovated 120-year-old carriage barn.
A certified architectural color consultant, Kelly earned a certificate in Residential Interiors from the Boston Architectural College, and is the author of the design blog Interiors for Families. She is an active member of IFDA and NKBA, and her work has been seen in HGTV Magazine, The Boston Globe, Houzz, Wayfair.com, and several blogs and digital publications. Kelly attended Williams College, where she earned her BA in art history and American studies.
Kelly lives in Newton, Massachusetts with her husband, two sons, and their mischievous and adorable lemon beagle.
Photo credit: Michael J. Lee