If you are a parent, does this sound familiar?
"The baby is pulling up/walking/running! We need to move everything off floor and the tables to make the house safe for little Junior"
Thankfully, child-proofing does not mean you need to live without decorative accessories in your home – even when the baby can "get into them." It takes a bit of creativity and careful planning, but decorating those low-lying spaces with kids in mind is totally do-able. Now, this doesn't mean you are off the hook for supervising your children – all of my advice and ideas need to be accompanied by a healthy dose of common sense. Even "safe" items can become unsafe if used in certain ways. Here are a few of my favorite accessories that you could feel comfortable displaying at kid-level.
1. Senegalese Storage Baskets (Serena & Lily)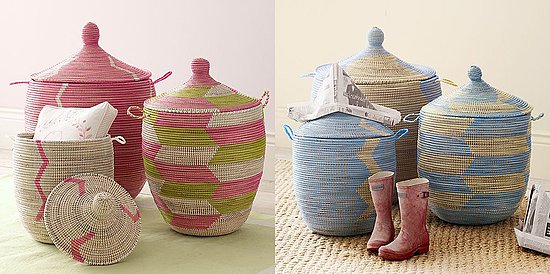 As a family-centered decorator, I strongly favor accessories that do double duty. These storage baskets have great, authentic style, cheerful colors, and they are also totally functional, providing storage for whatever needs to be stashed. Equally at home in a kids room or family living space, the baskets come in three different sizes and a variety of color combinations. I have a large pink one in my office – a wonderful place to hold fabric samples that need to be returned!
2. Rocking Birds (West Elm)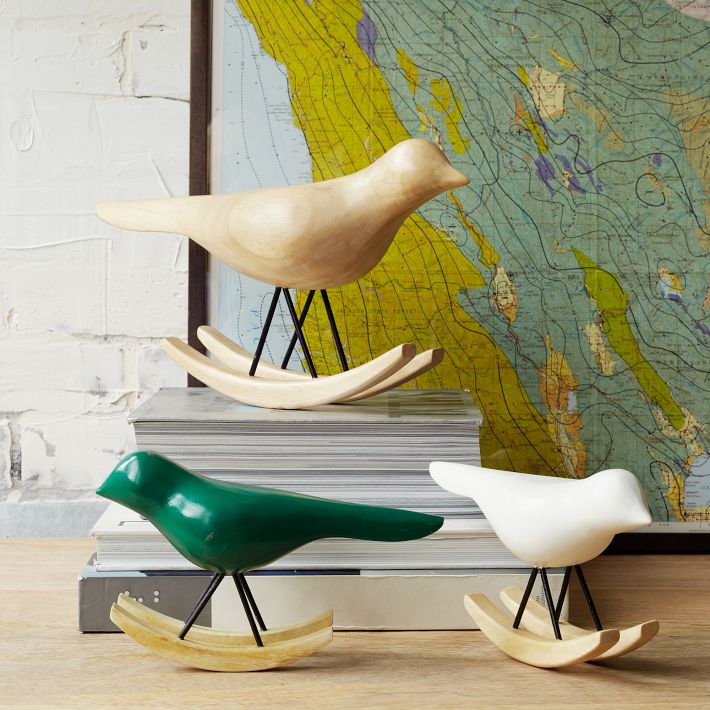 I first saw these fun, featherless friends in a hotel room we stayed in earlier this year (the always wonderful, always kid and dog-friendly, Inn By The Sea in Cape Elizabeth, ME). It's more or less a wooden toy – it has some weight to it, but it's certainly not going to shatter or cause serious  injury if it should fall to the floor. I love the sculptural quality of the birds, and am especially fond of the Parsley color. West Elm suggests "rocking a flock" – har har!
3. Trompe L'oeil Candlesticks (Wisteria)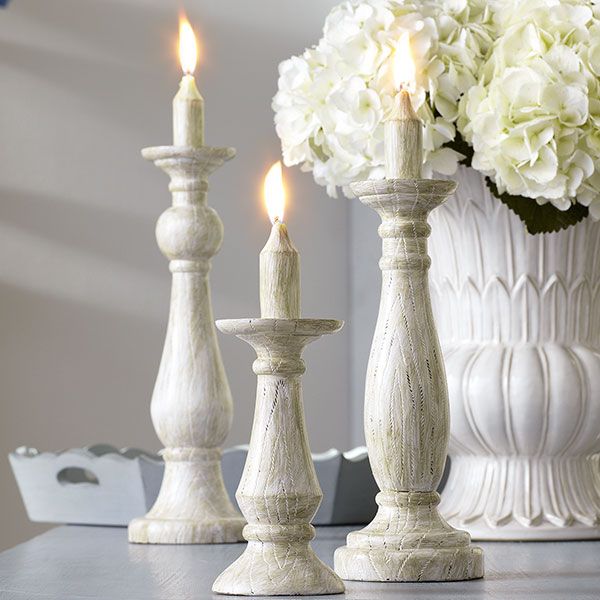 Just when you thought you'd be bidding 'au revoir' to your candle holders, Wisteria lets you say 'bon jour' with its classical baluster-shaped Trompe L'oeil Candlesticks. They look like aged plaster or whitewashed wood, but they are actually made out of paraffin wax. Which means they are just big, freestanding candles. Whether you light them (after the kiddies hit the sack, of course) or not, they're a great addition to a foyer table, night stand, or wherever you like them best.
4. "Flicka" (Currey & Company)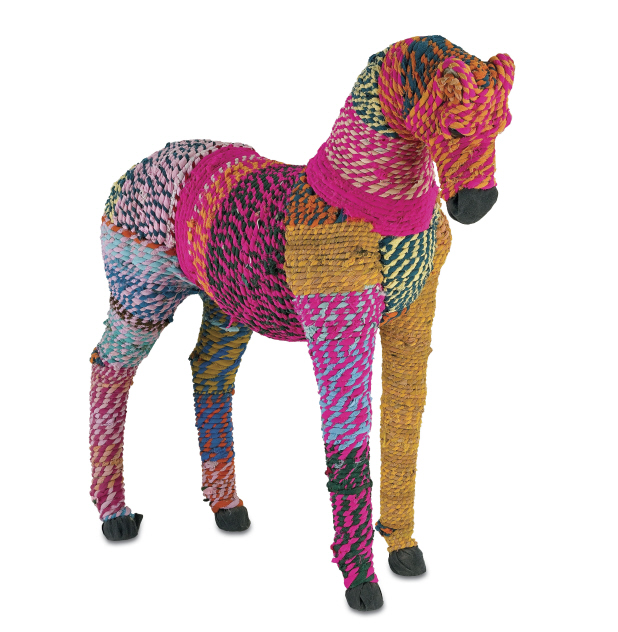 I first became acquainted with this not-black beauty at the spring High Point market, earlier this year. She stands a healthy 24″ tall, and is made from colorful cotton rope wrapped around a paper mache form. Think of Flicka as a sort of sturdier pinata, without all the candy. Also available are some other friends from elsewhere in the animal kingdom.
5. Greek Key Monogrammed Initials Tray (Jonathan Adler)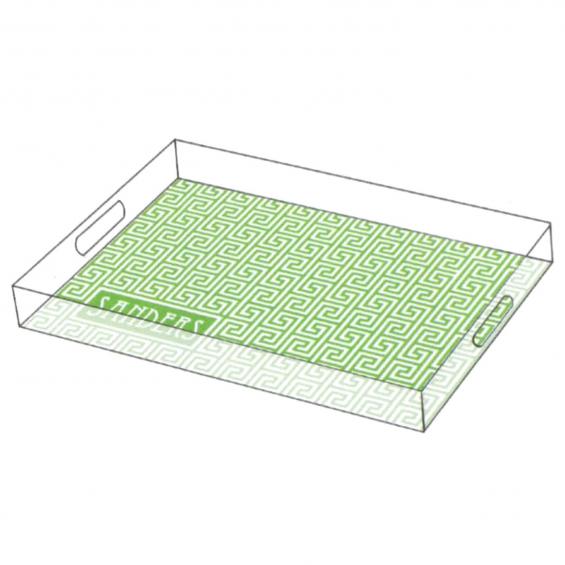 This one checks off a lot of boxes for me. Not only is this chic tray made of lightweight and shatter-resistant cast acrylic (aka lucite), it comes in a green Greek key design, and two different sizes. You can also personalize it with a name or monogram. Trays are great for anchoring an accessory vignette – and for wrangling odds and ends that would otherwise be tossed randomly about (aka clutter).
6. Dhurrie Rug Ottoman (Surya)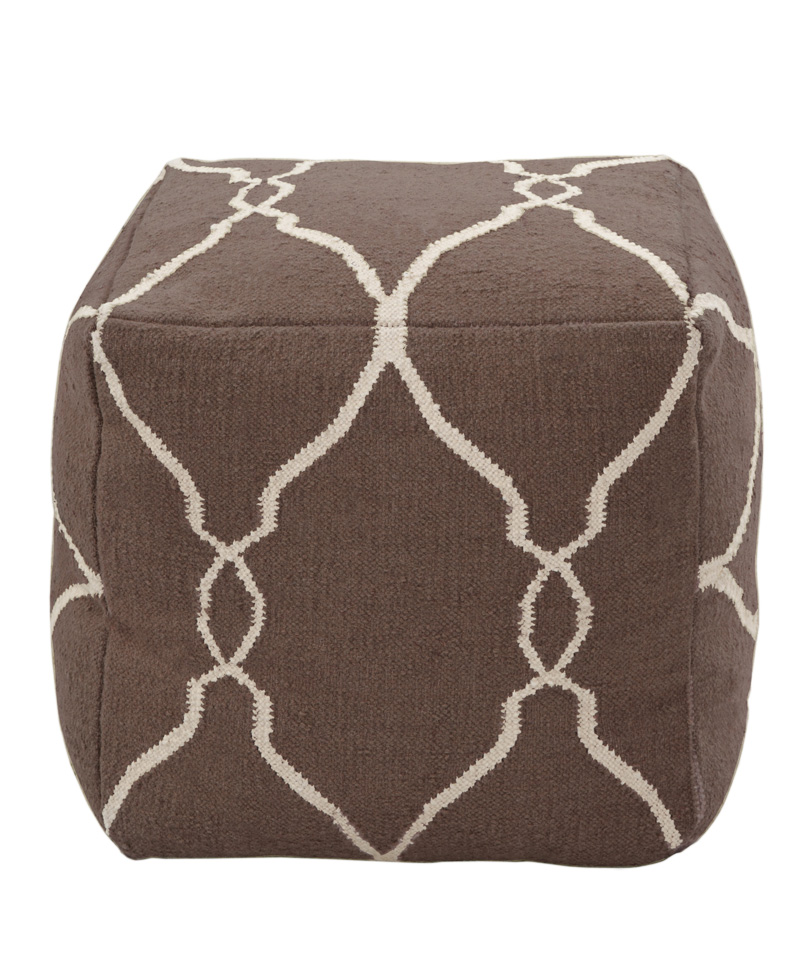 It's a rug, It's a seat. It's a table. It's one of Surya's many dhurrie-upholstered ottomans and poufs. What better place to put your feet up than on a rug – something that's already meant to be under your feet! I recently ordered a couple of these in yellow to tuck under a table in our guest bedroom.
7. Planet Vase Collection (Oly Studio)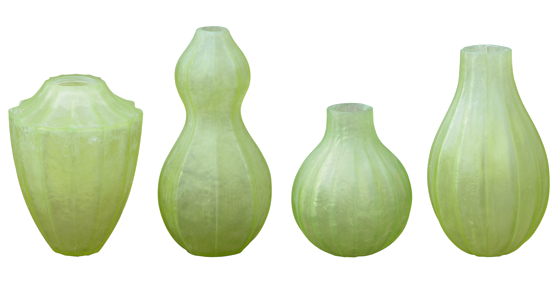 I'll bet you never dreamed about putting a vase within reach of the kiddos. And if you did, it probably wasn't one of those nice dreams with lemon drops and butter cups and blue skies. More and more home accessories (including lamps!) made of cast resin are becoming available. This is a trend I am excited about. Although resin can sometimes be heavy (depending on how solid or hollow the casting is), it is not likely to break when toppled. It usually mimics other materials at a lower price point – what's not to love? Oly's Planet Vase collection is a fabulous example – I, of course, love the green ones, but they're also available in white and silvered/clear.
8. Hammered Metal Bowl (West Elm)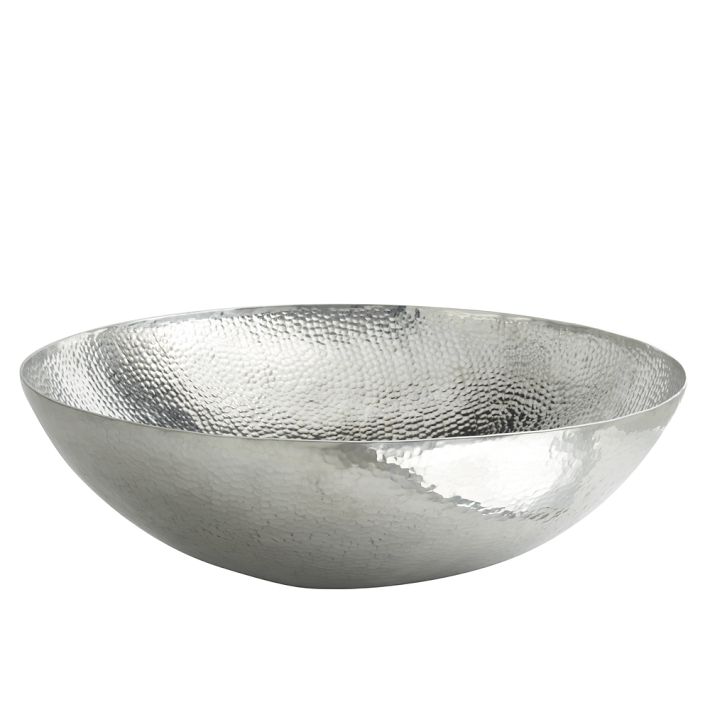 West Elm's suite of hammered metal serveware adds a blast of both shine and texture to your tabletop display. And thankfully, it's made out of lightweight aluminum. If it takes a tumble and gets dinged, what's one more dent? More good news – the oversized bowl is a whopping 24″ wide, and is currently on sale for $49.99.
9. Lemon Vase Filler (Pottery Barn)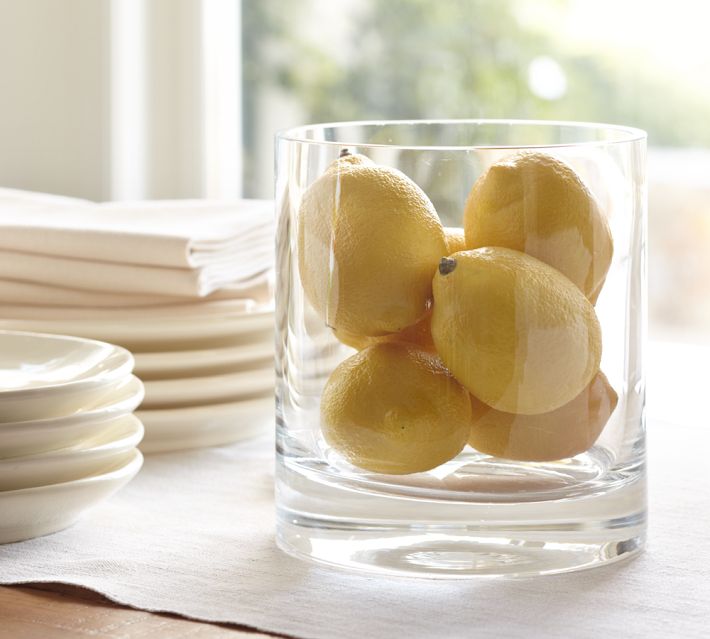 …to put in your hammered metal bowl, of course! In the pantheon of fake fruits, lemons and other citrus fruits are tops (in my opinion) because they look the least fake. Even real lemons often look a little too perfect. They stand for brightness and freshness – which are especially welcome in these first, often chilly, days of fall here in New England.
10. BOOKS (everywhere)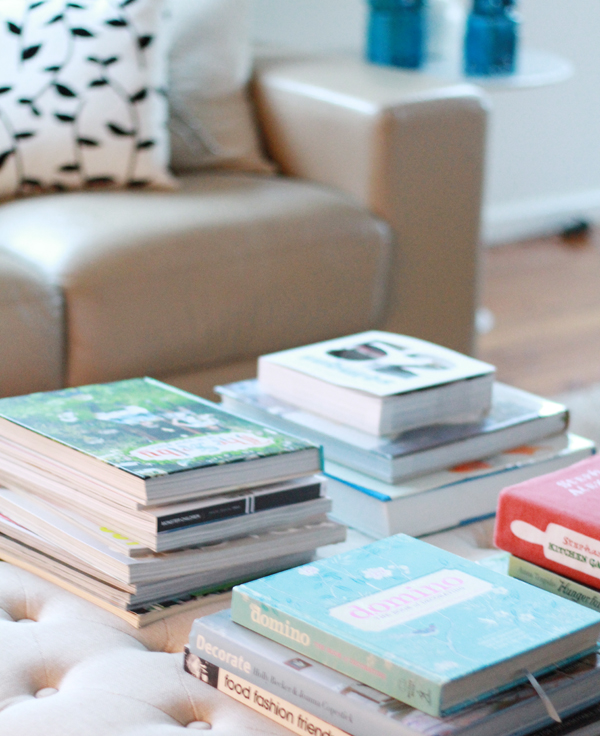 I set out to feature only specific items in this post, but in this case, I just have to make an exception. I can't think of a more family-friendly (and potentially budget-friendly), soulful and beautiful way to style your shelves than with the fabulous books you already own. Or, you can do what I do and use it as an excuse to buy more coffee table books you want ("$35 for a book is still cheaper than $100 or a lot more for some other accessory!" I keep telling myself). Dust jackets on or off, color coded or not, alphabetized or randomized – it's your call, your style, your home. You could even decorate with a book about decorating with books…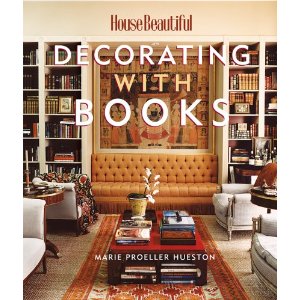 Did I just blow your mind? 😉
How do you decorate those reachable places in your home?
Related posts:
Family-Friendly Finds at High Point Spring 2013 Market
Family Friendly Style At The Boston Design Center