I can't believe it's Friday already…again! My how time does indeed march on. And when it's Friday around here, that can only mean one thing. Wine drinking commences at 4PM. Ha – kidding! Sort of. Fridays are for Family-Friendly Finds, silly!
This week's #FFFFind is not the first ottoman I've featured, but it is delightfully different, extremely versatile, and very functional…and I will explain why.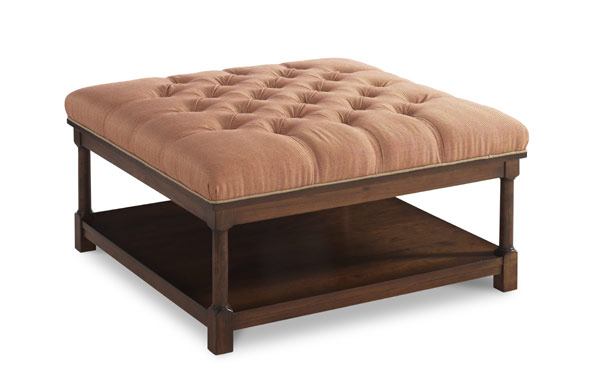 The Joe Ruggiero Classico II Ottoman from The MT Company has been on my radar for quite awhile. The only reason I haven't yet used it in a client project is because the size was smaller than what I needed at the time. It is 34″ square – which is actually a benefit, as it will fit nicely into those smaller sitting and family rooms.
What I didn't know until April, when I attended the spring High Point Market and spent some time with Joe Ruggiero in the MT Company showroom, is that the Classico II is actually a collaboration between MT and another line Joe has a collection with, Gat Creek. I buy often from Gat Creek, also – they make very well crafted solid wood furniture. Many exposed wood frames you buy from upholstery companies are made in Asia, imported, and usually finished and married with upholstery in the U.S. That's why you see so many chairs from different furniture manufacturers that you could swear look exactly the same. Because they are the same.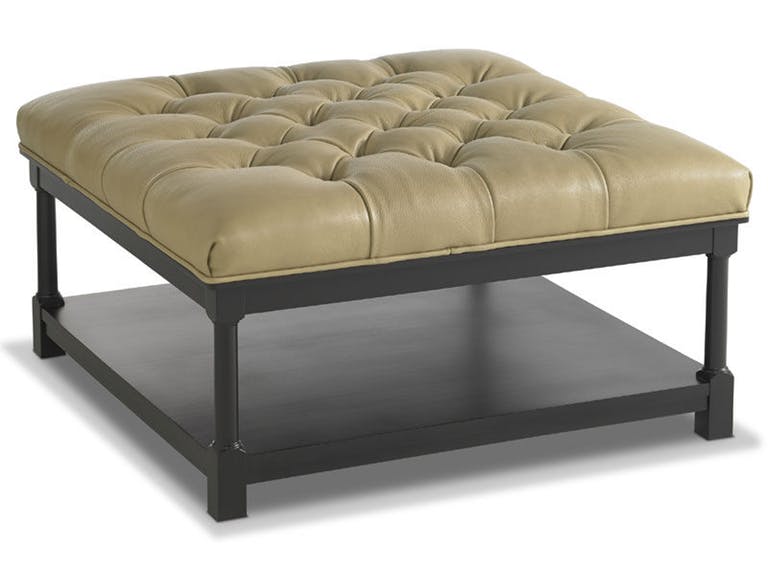 Anyway, I love that this is a 100% made in the USA piece, and that both the base and the upholstered top are great quality. The sit on top is surprisingly comfortable, and yet it is firm enough to act as a table surface with the addition of a tray. And when the tray is not in use and you need more room for feet, or for seating, it can be stashed on the shelf below. I am still a big proponent of ottomans as tables in family rooms and more casual spaces, but more and more I'm wanting them to "do more" – like have a built-in hard surface that provides more stable, and more permanent storage, display, or food/beverage supporting possibilities.
The Classico II is highly customizable in a variety of wood and painted finishes (I suggest stained for this application, where the corners are inevitably going to get bumped and scraped – much easier to touch up). It can be made with a leather or fabric top as shown above, including Joe's own collection of Sunbrella fabrics, which is exclusive to The MT Company (and which will probably be a future #FFFFind in and of itself!).
Reminder: My Friday Family-Friendly Finds are not sponsored posts (unless explicitly noted as such). They are simply products I think marry fantastic style and great functionality, and are therefore tailor-made for family living. All opinions expressed within are always my own.