An often-suggested furniture piece for families with young children (or, just a lot of stuff!) is a storage ottoman or bench. I have to admit, it's not an item I've personally recommended to many clients or friends, but I have used them in my own home.
They have their limitations – chief among them is that they can become the furniture equivalent of a kitchen junk drawer (defeating their own purpose of utility), and also that they are often, well, kind of ugly. It's hard to pull off a piece of furniture that's trying to serve two or three purposes, without sacrificing design quality. Here are ten storage ottomans that break the mold, and where to buy them.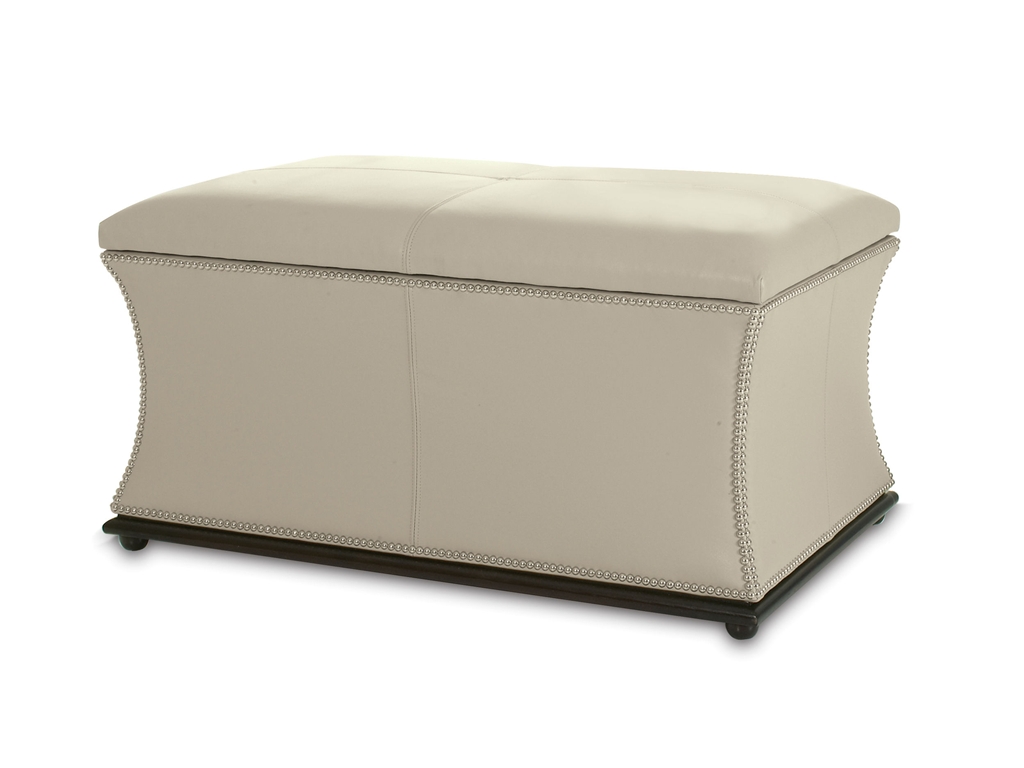 Kravet's Newport Storage Ottoman is a longer (40″) version of their regular cube ottoman with the same convex style. The simple, tailored lines, decorative top-stitching, and nailhead detailing are what make this one great. Fabulous in leather or a textured vinyl (think faux ostrich!). Available through Kelly Rogers Interiors.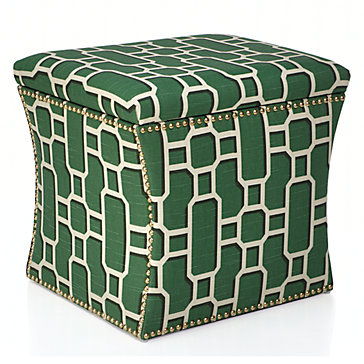 This inexpensive ($249) cube-style storage ottoman is already upholstered in an eye-catching geometric patterned cotton fabric in Kelly green (or, "Emerald" if you wish). Though this isn't the most durable option out there, it should hold up well with light use (i.e. minimal sitting and foot resting), and would of course conceal much soiling and spillage. The top is nice and flat – good for use as an occasional table with a tray. Think guest bedroom or similar. Available at Z Gallerie.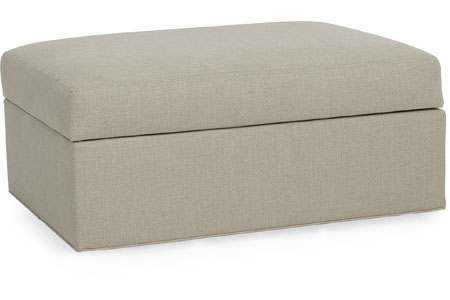 You're going to have to use your imagination on this one, the fully-upholstered Oliver Storage Bench Ottoman from CR Laine. It is like a blank palette on which you can apply a fun, mid- or large-scale patterned fabric – perhaps one of their performance fabrics, including many great Sunbrella options. So many ways to customize. Available through Kelly Rogers Interiors.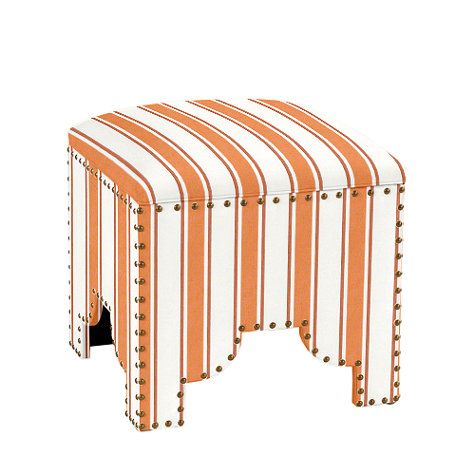 Another fun cube-style option, the Jasmine Storage Ottoman has nailhead detailing outlining vaguely Moroccan-inspired shaping around the bottom. Of all ten, I think this one looks least like a storage ottoman – but you do sacrifice a bit of storage space in achieving that look, with the opened-up bottom. I rendered it in an orange striped indoor-outdoor fabric designed by Suzanne Kasler, which I think gives it a little bit of a whimsical, circus-like feel. Available at Ballard Designs.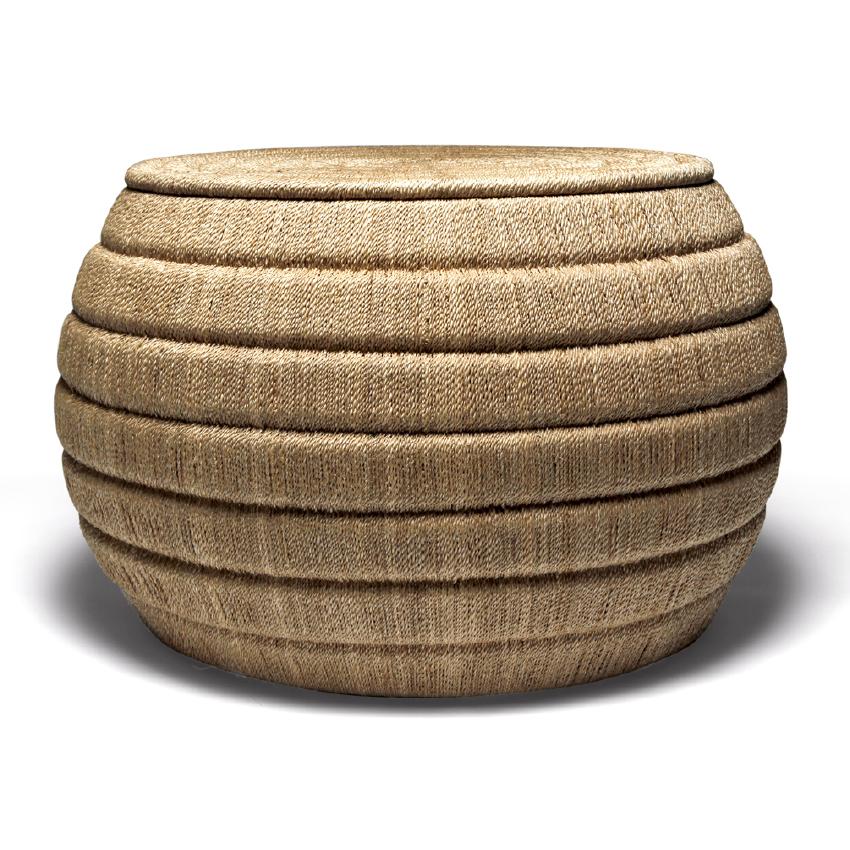 Not all storage ottomans need be upholstered! The Edurne from Made Goods is made of woven Abaca, and would add great texture to a living space. Put a pair in front of your sofa instead of a coffee table – just take note of the 19″ height (requires seat height of at least 19″, preferably 20″ or more for comfy foot resting, if you plan to use it that way). Available online at Candelabra, or through Kelly Rogers Interiors.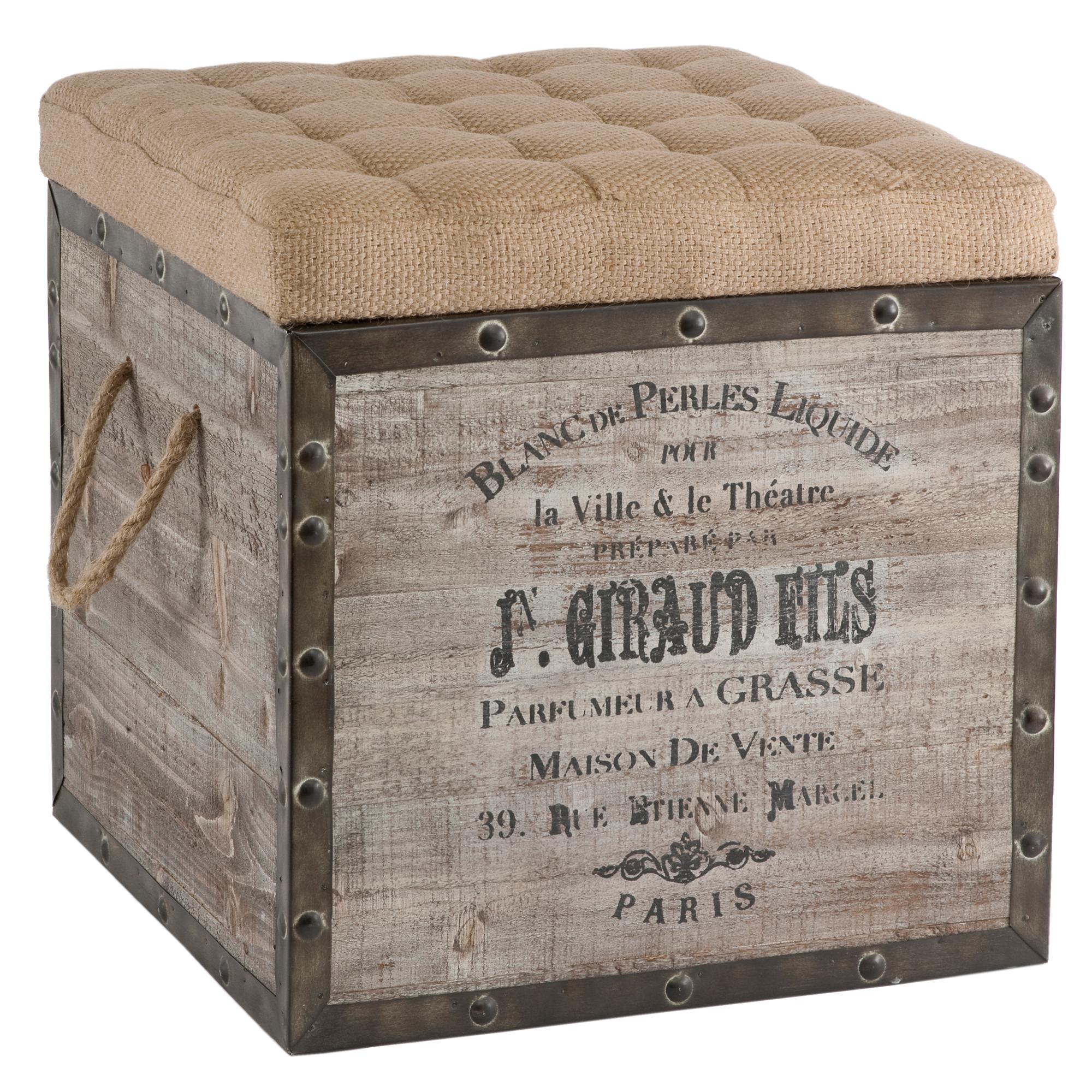 If you're into French country or rustic style, you'll love this vintage-y looking, multi-media storage ottoman. The piece is made from reclaimed wood, and features a removable tufted burlap seat. It scores major points for multi-tasking, as well as its hand-crafted good looks. Available at Ballard Designs.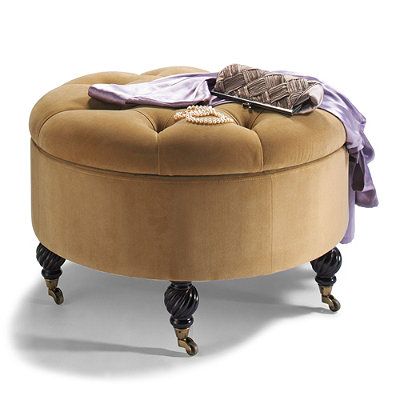 The Collette Tufted Storage Ottoman is a solid, low-priced ($299 on sale) option that is unique for its medium scale, as well as the turned legs and casters for ease of relocation wherever you need seating…and/or storage. Not a big fan of the gold fabric? Fear not – it comes in your choice of four colors, including a fetching midnight blue, all of them performance velvets that are easy-care and have a plush feel. Available at Frontgate.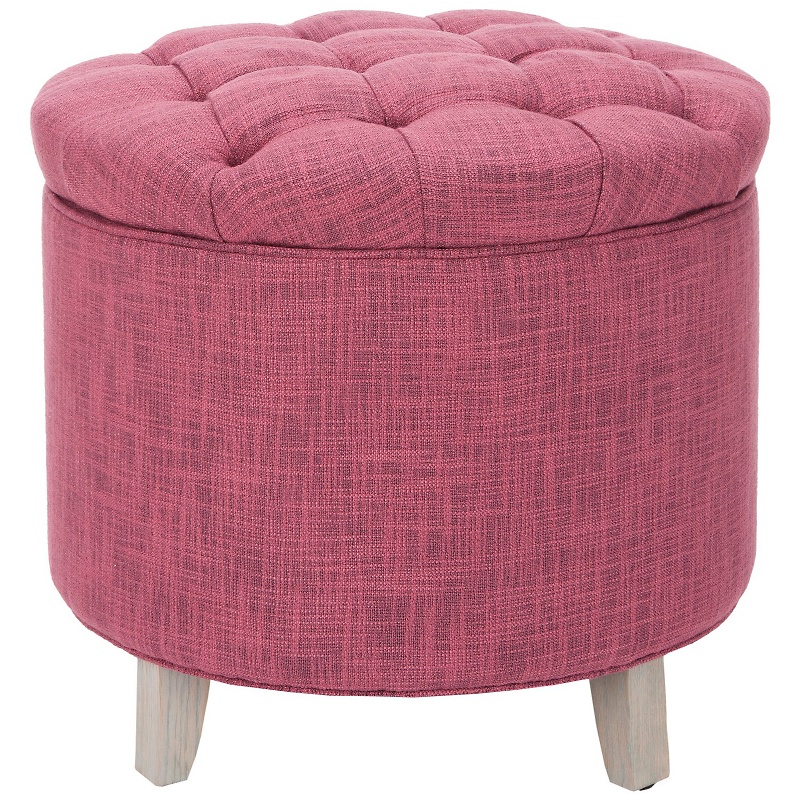 Safavieh's Amelia Storage Ottoman is positively adorable, with its short, graceful legs (or elongated feet, depending on how you look at it!) and textured upholstery that imparts a bit of a mid-century vibe. I happen to love this color ("Rose"), but there are many others available. At well under $200, it's a fantastic value, and widely available online, including Overstock.com.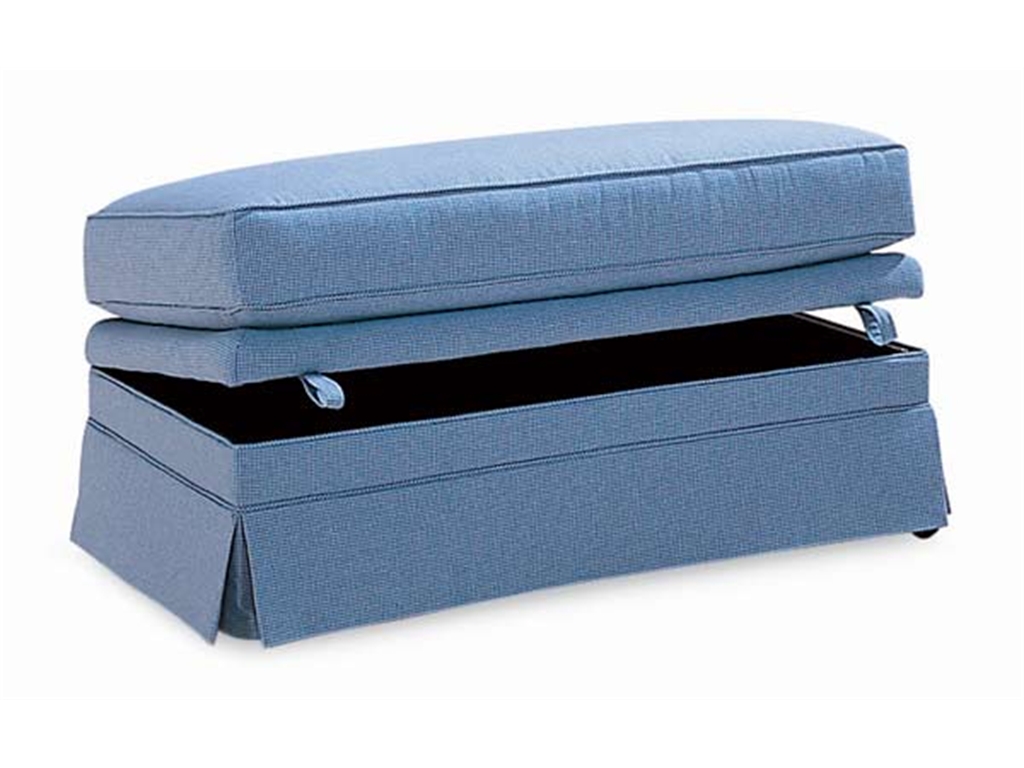 Miles Talbott's Demarco Storage Ottoman breaks the mold in a number of ways. Firstly, it's skirted, which is a wonderful thing, especially if your furniture is very leggy. Secondly, check out how clever the top is – the lifting mechanism is below the semi-detached seat cushion (which looks very comfy), and the welting detail helps to conceal the fact that it is a storage bench, and not just a beautiful, regular upholstered bench.  Could be a great end-of-the-bed piece for storing extra blankets and putting on socks. I'm envisioning it in one of Joe Ruggiero's exclusive Sunbrella woven fabrics, designed specifically for indoor upholstered furniture, but also suitable for outdoor use. Available through Kelly Rogers Interiors.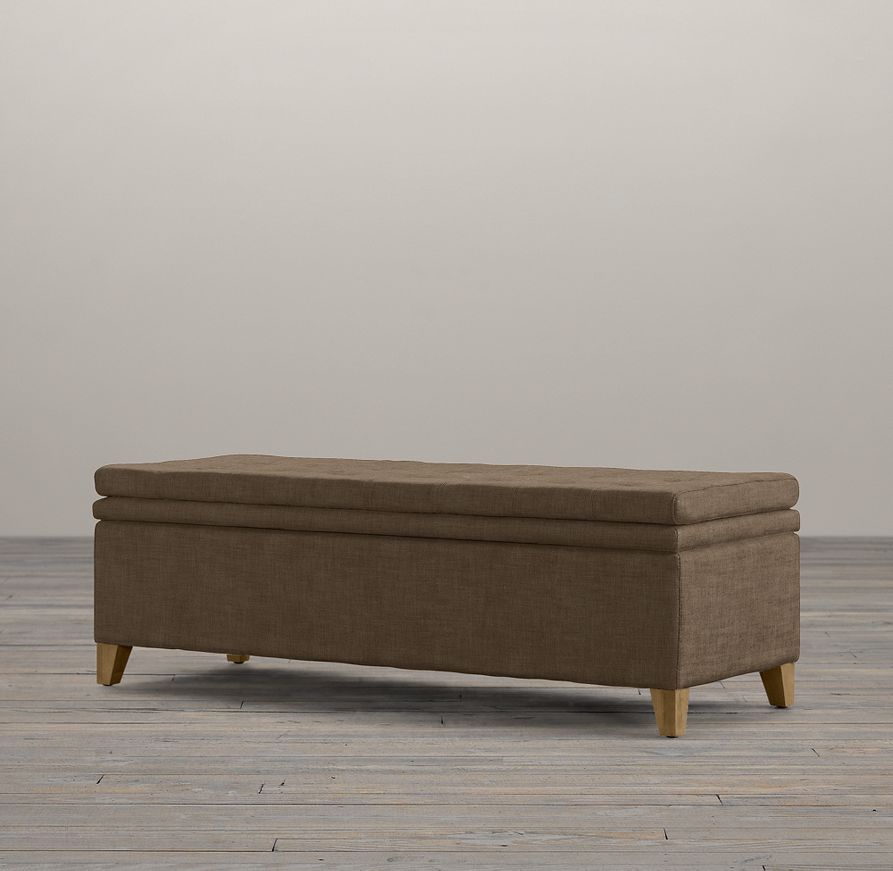 Restoration Hardware's Dean Upholstered Storage Ottoman features a tufted seat cushion, and is extra long at 51″, and just 19″ deep. I was delighted to learn that RH now offers fabric options from Perennials, the designer indoor-outdoor line you don't often see outside of to-the-trade showrooms. There are 12 color options, but the really great thing about these fabrics is that they have a textured, linen look – no one will ever know your gorgeous bench is upholstered in easy-care acrylic. I have seen this line in person, and it is truly beautiful. Available at Restoration Hardware.
What do you think about storage ottomans – have you used them? Do you have a favorite among the ten I featured?