This post is for all you expectant parents, grandparents, and interested friends and family who are eagerly awaiting the arrival of a precious little one!  One of the most exciting parts of anticipating a baby's birth is creating their special room in your home. Oftentimes, this involves repainting. It's the easiest, most basic way to transform a room (not to mention one of the cheapest). In our house, my son's nursery is actually the only interior paint project we've tackled in the 5+ years we've lived here. I didn't know much about paint, or color when I designed it over a year ago, and I'm guessing many other expectant parents are in the same boat.
Our room went from "builder beige" to this…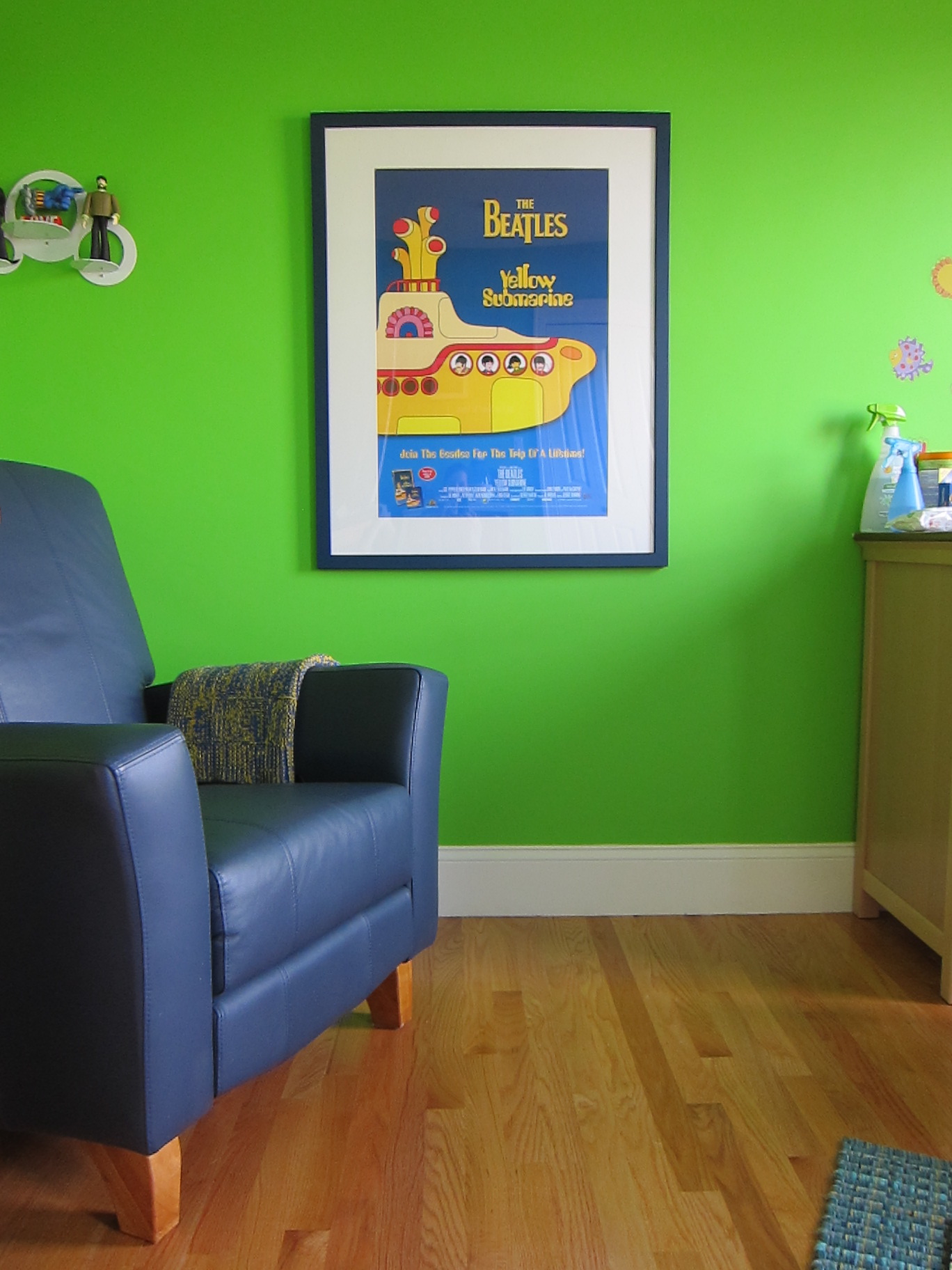 Based on my own practical experience, and my recent education in color theory (which included a fair amount of study of paint), here are my top 6 tips for painting your nursery.
1.) Focus on Finish. For a child's room, or any room that will be prone to "stuff" happening within its four walls, the only paint finish you should really consider for the walls is Eggshell, which has the second least amount of sheen (most matte is Flat). Though you may love the look of completely matte walls (who doesn't?), cleaning the surface with something as innocent as a paper towel may change the color of your walls. That's if you can get the offending mess off in the first place. My advice is to go with Eggshell, but if you don't mind dealing with frequent retouches. Some quick tips – the shinier the finish, the darker your color will look on the wall, the more light it will reflect, and the more it will resist fading. Just some things to keep in mind. Trim can be satin or semi-gloss, if you are painting or repainting that.
2.) Look for Low/No VOC. VOC's (Volatile Organic Compounds) are the latest four (three?) letter word of the paint world. Basically, this is the toxic stuff emitted by solvents in paint that can be harmful to inhale. This stuff gets very technical, and I invite you to research further for yourself if you are very concerned about it. I suggest seeking out low or no-VOC paint – just note that no-VOC paint is still, generally speaking, catching up in terms of performance. If you keep the room well ventilated during painting and drying, you should be in good shape.
3.) Get the Glare Out. Many paint brands, including Sherwin-Williams, provide a number called Light Reflectance (or Reflective) Value, or, LRV, for each of its colors. This number refers to the percentage of light that is reflected by the painted surface vs. absorbed. Generally speaking, the more white there is in a color, the higher the LRV will be. It is recommended that babies' rooms be painted with a color that is no higher than the 60s, in order to keep glare at bay.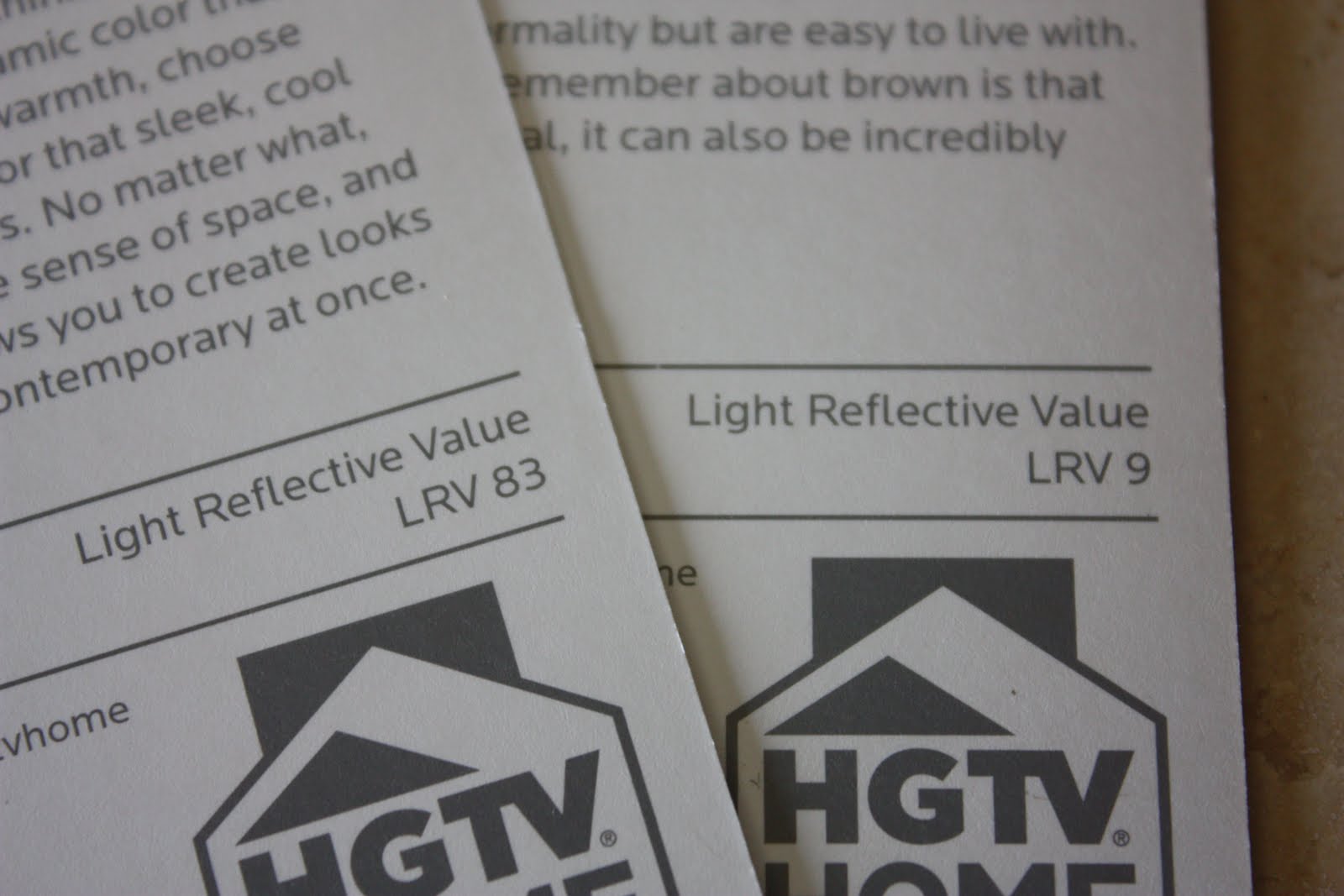 Photo via Elderberry Street
4.) Consider Color. Beyond LRV, the color you select for your baby's nursery should be one you like, but ultimately be one your baby will enjoy, as well. Early in life, they won't be able to see color at all, then only black and white, later highly-contrasting colors, and by around 6 months, their vision reaches 20/20. Just because they can see well, doesn't mean they perceive things the same way, or have the same color preferences as adults. In fact, babies favor pastels (light) and highly saturated (bright) colors. Adults tend to prefer more nuanced colors, tones and shades, by comparison. You will, of course, have more in the room than just paint. So it's just something to consider; remember that you have a "client" on this project :).
5.) Test, Test, Test. Color is instable by nature. With variables of the paint substrate, finish, lighting, amount, placement, context, etc., you can see why people are often surprised by the appearance of a color when they see it in a room for the first time. Use the small color cards and fan decks available in paint stores to develop a short list of colors, but try to get your hands on larger single-color chips or, better yet, quart-sized tester cans, and put your colors on the walls in the room and live with them for a few days. Make sure you look at them in different lights – all natural, all artificial, and a combination of both. Hold up major items/colors that will be present in the room to see how they look. If you are really stuck and need help getting larger color chips, please feel free to include an email address in a comment below, and I will reach out to get your contact information so I can get them to you. At present time, I am able to order from Sherwin-Williams and Benjamin Moore.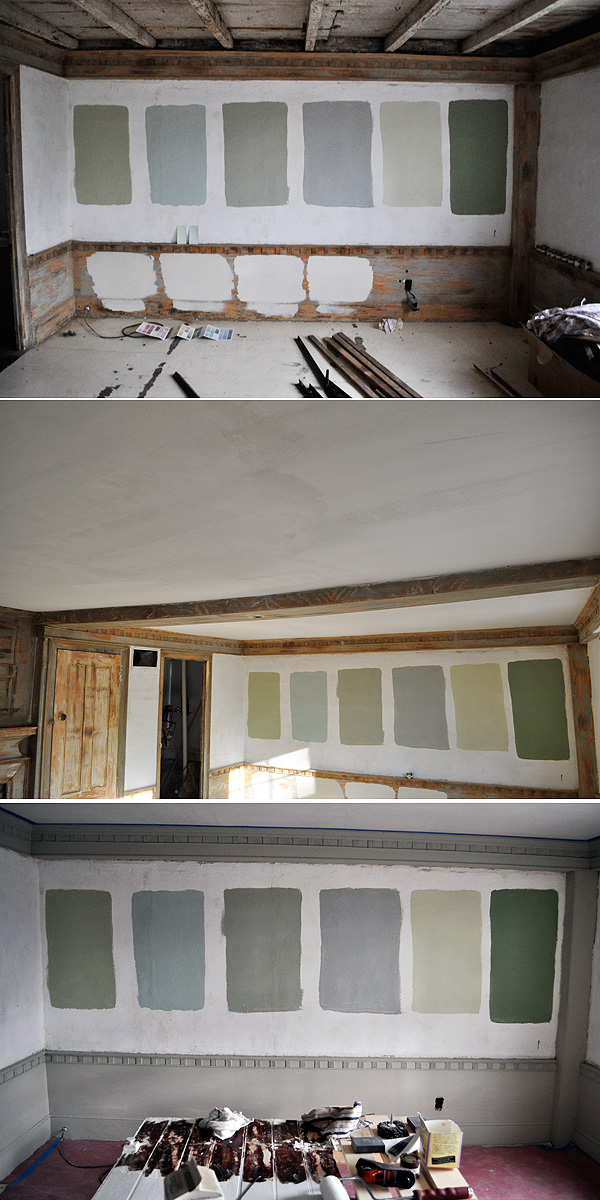 Photo via Katy Elliott
6.) Ponder Performance. The instructor of the class I recently completed did an informal test of several different brands of interior paint (all in eggshell finish) to determine which cleaned up best after being assaulted by common offenders like milk, bacon grease and fruit jam. Some of the best performers included Benjamin Moore Aura, Fine Paints of Europe, and Sherwin-Williams' new Emerald paint. The worst, by far, was Farrow & Ball, a high-end brand known more for their incredible (but limited) selection of color than for the resiliency of their product. If you fall in love with an F&B color, which isn't hard to do, keep extra on hand for touch-ups. Consumer Reports also extensively (and more scientifically) tests and rates paint on a variety of attributes, which would be very helpful if their information wasn't as dated as it is. They don't include many newer varieties, and don't test high end brands like Farrow & Ball, C2, and Fine Paints.
To the current parents out there, I'd love to know if you have any more nursery painting tips; please share them! For those still awaiting the arrival of their little ones, have fun and good luck!