Yesterday, while (finally) flipping through the July/August issue of Traditional Home, I came across a kitchen that really caught my eye…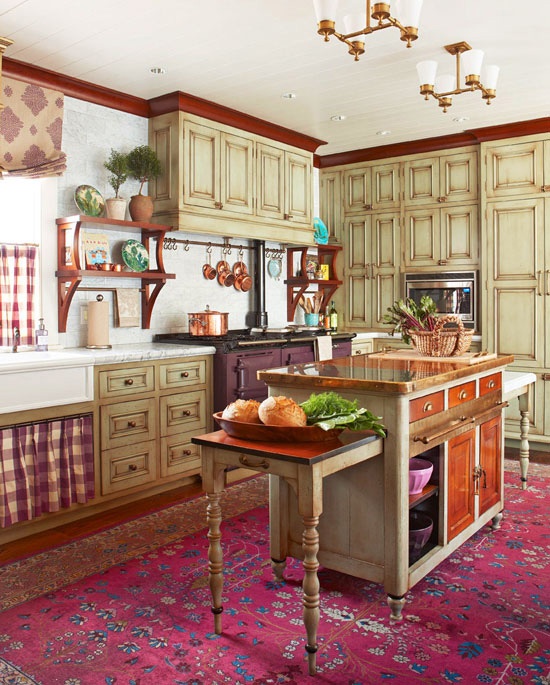 Not only is it drop-dead gorgeous, but it also happens to be in the very same town in which I reside (Newton, Massachusetts), and the brainchild of a local designer I can't seem to get enough of lately, Liz Caan. According to the article, the unique color palette was inspired by the aubergine Aga stove, which the home owner snatched up on clearance. This slightly rustic but comfortably modern kitchen perfectly illustrates one of my core design beliefs – that the interior of a house should relate to its exterior architecture. It's the heart center of a renovated historic carriage house. Many more pictures here, but I have to show you the the breakfast room!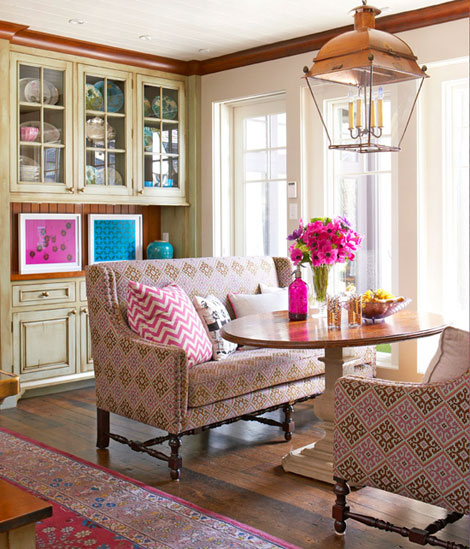 Photo source: Traditional Home
This got me thinking about kitchens and color, overall. Often, homeowners renovate their kitchens and are hesitant to commit to color. It's not difficult to understand why – kitchen renovations are usually big budget endeavors, and you want them built to last, not to get sick of in 5 years. But here are some examples of kitchens that successfully incorporate color (not just neutrals), with beautiful results.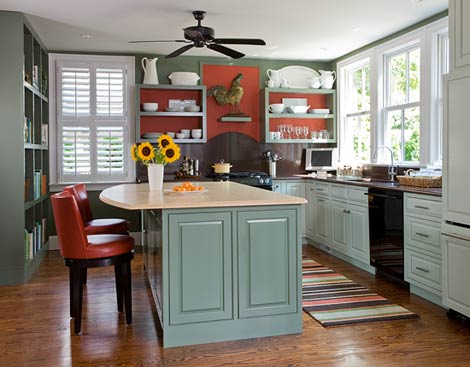 Photo source: Traditional Home
This green and red kitchen is anything but Christmas-y. The green cabinetry is so calming, and the muted brick red accents provide a jolt of energy (and also helps stimulate appetite – not a bad thing in a kitchen!).
Photo source: House Beautiful
Would you be surprised if I told you this kitchen is part of a home in Santa Fe? Probably not, right? The color in this super-sunny space is all in the bold paint color and accessories adorning the walls, shelves, and countertops. If the owner ever wants to change the color scheme of her kitchen, she won't find herself ripping out countertops, cabinets, and appliances. This is a good option for many of us – you're basically redecorating, not remodeling.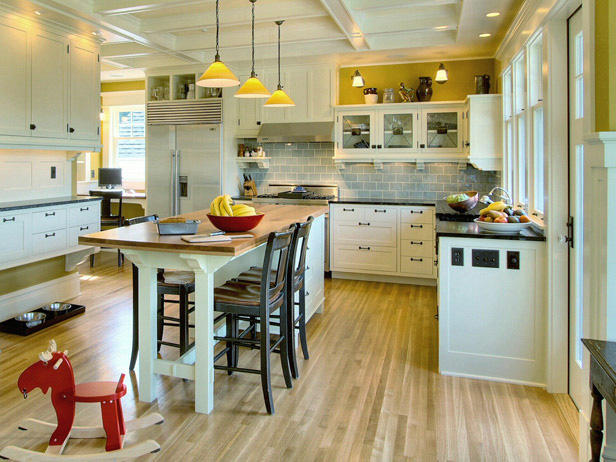 Photo source: HGTV
Yep, it's another yellow kitchen. Not exactly my style – but wait, there is a point here. Note how all of the color is up high, creating a nice soft glow to the room, without casting potentially icky-toned light on your food (or worse, you). If you love a color, but are nervous about incorporating it into your kitchen, push it up above eye level.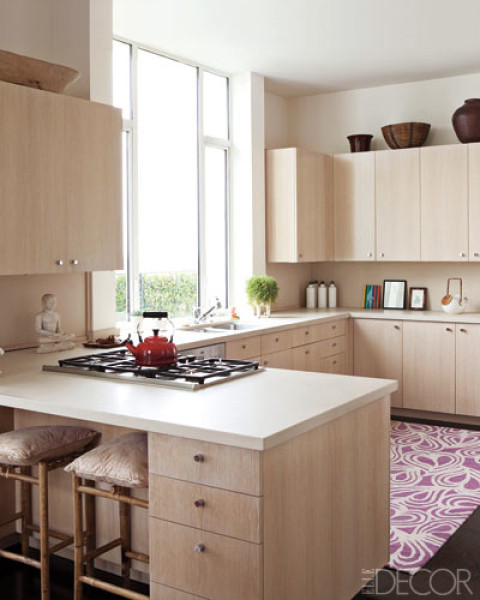 Photo source: Elle Decor
Is this kitchen (owned by Megan Mullally) colorful? Not particularly. But it is beautiful. And it illustrates a quick-fix idea for incorporating color into a neutral kitchen – a great area rug! In a kitchen setting, I would recommend an indoor-outdoor rug. There are so many options now, and many even look and feel like indoor rugs – with the difference being that you can hose them down when needed and they need not become a breeding ground for yucky stuff.
Other easy ways to inject color into a dull kitchen include window treatments, countertop appliances, tableware (if you have open shelving or glass-front cabinet doors), and accessories in general.
In a couple of months, I'll be able to share how I incorporated color into the kitchen in my new home! Not surprisingly, it involves a hefty dose of green…
How do you do color in your kitchen?