The Junior League of Boston Show House is back again this year, after a successful event last spring, for which I was honored to transform a blank, crumbling space into a warm and vibrant mother-in-law bedroom.
This year's show house will be held this fall, and I'm so pleased to announce I will be participating once again! I have partnered with kitchen & bath designer Dianne Aucello, of Edesia Kitchen & Bath Studio, and together we are designing the kitchen.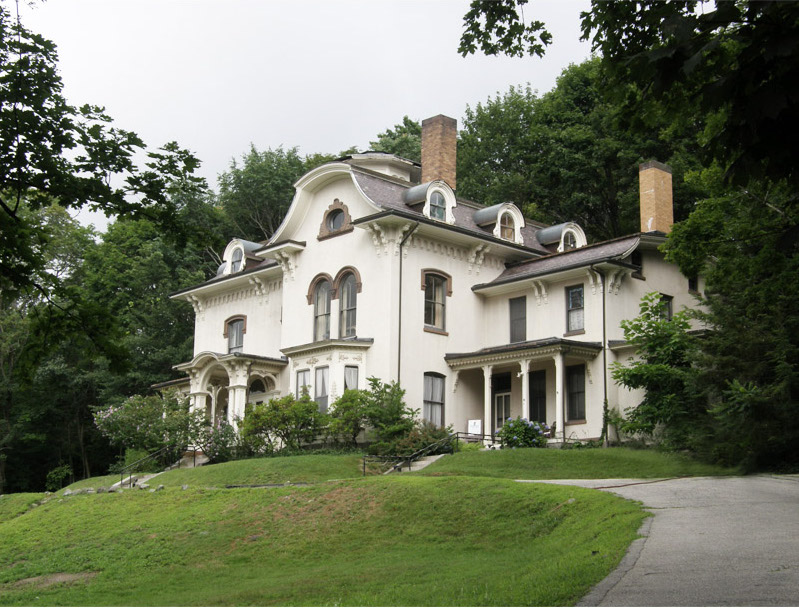 The site of the 2017 show house, the William Flagg Homer House (located in Belmont, Massachusetts) is one of the more intriguing historic homes I have seen in person. It's a peculiar, and beautiful, amalgam of Italianate and 2nd Empire (French-influenced) architecture – perhaps a transitional style, as it was built in 1853. The architectural detail inside can only be described as epic. I think the door and window casings in formal rooms are at least 12″ deep. Some rooms boast their original, unpainted millwork – I'm so interested to see what the other designers do with it (it can't be painted!).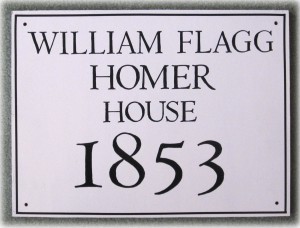 Those who know me know that I have a major soft spot for historic homes (including my own, built in 1896). This one is not only spectacular inside and out, it has historical significance beyond aesthetics. American illustrator and painter Winslow Homer spent summers here during his formative years with his Uncle William. Back then, Belmont, now a close suburb of Boston, was a leafy, fresh-aired town out in the country, and would have been a desirable vacation destination for city dwellers.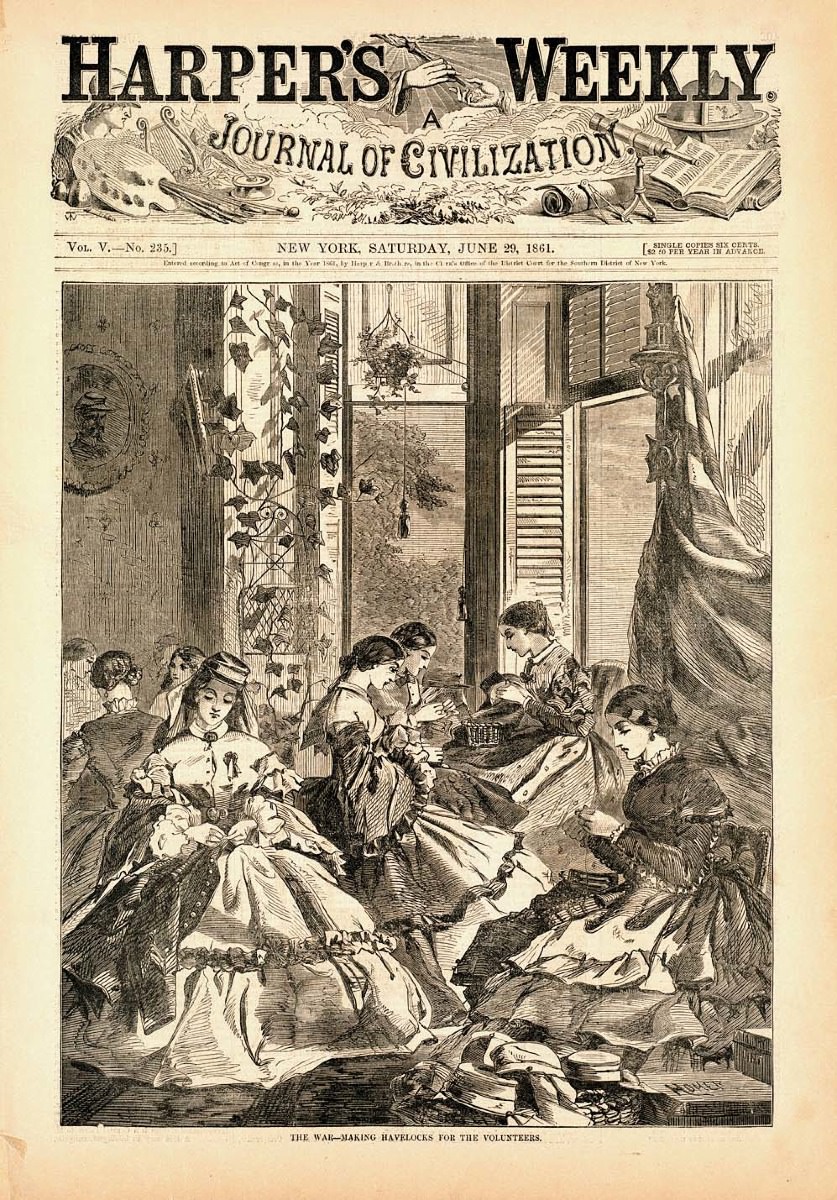 Source: Harvard Magazine
Winslow Homer illustrated this scene of ladies stitching in the home's parlor for Harper's Weekly. The original now hangs in that very room, which maintains the same features as those shown in the illustration.
The Belmont Woman's Club purchased the home in 1923, saving it from a developer's wrecking ball. They have been its faithful steward and benefactor ever since. According to its website (I couldn't paraphrase any better!): The objectives of the Belmont Woman's Club are to restore, preserve and maintain the 1853 William Flagg Homer House; contribute to the appreciation of our cultural heritage and knowledge of historic events and places; and stimulate a spirit of community through educational and philanthropic programs.
Whether you are an aficionado of historically-significant properties (like me), an interior design enthusiast (also like me!), or a supporter of community servants like the Junior League (ditto), this is a Boston-area event not to be missed. And tickets are now on sale at a discounted pre-sale rate!
Here is some additional pertinent info regarding the show house dates and times, straight from the Junior League of Boston's website:
Saturday, October 7 – Sunday, November 5
*Special hours on Monday, October 9
Weekly Hours of Operation
Monday: Closed
Tuesday: Closed

Wednesday

: 10-8

Wednesdays are Designer Days. Come meet the designers and talk with them about their space and inspiration. Stay tuned for schedule.

Thursday: 

10-8

Friday: 

10-5

Saturday: 

10-5

Sunday: 

10-5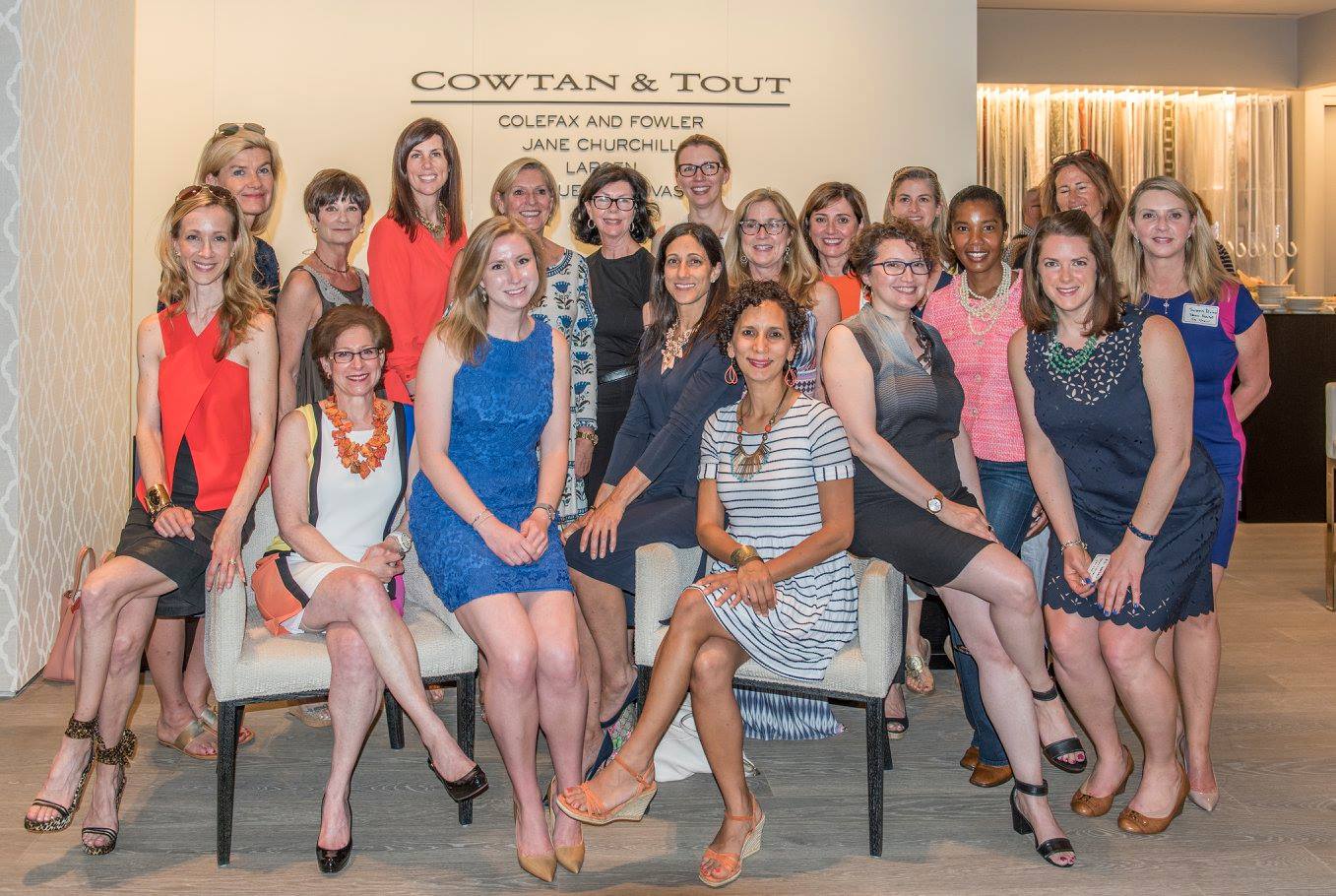 Photo credit: Elaine Fredrick Photography
…as well as a complete list of this year's designers! A great mix of show house veterans and first-time participants; many from both groups are great friends of mine already. I look forward to the camaraderie and friendships that inevitably develop at show house!
I'm not going to reveal any details about the kitchen design just yet, but I'll divulge this much: It will not be a white kitchen. SHOCKING, I know! 🙂 Stay tuned for updates over the next few months as the transformation gets underway!