Holy moly, how is it Friday already? I was so exhausted last night I was falling asleep before dinner – and then promptly fell asleep after dinner (with the computer on my lap, as per usual). So the blog post was delayed a bit…
Better a little late than never, today's Friday Family-Friendly Find is a side table I've looked at for a number of projects.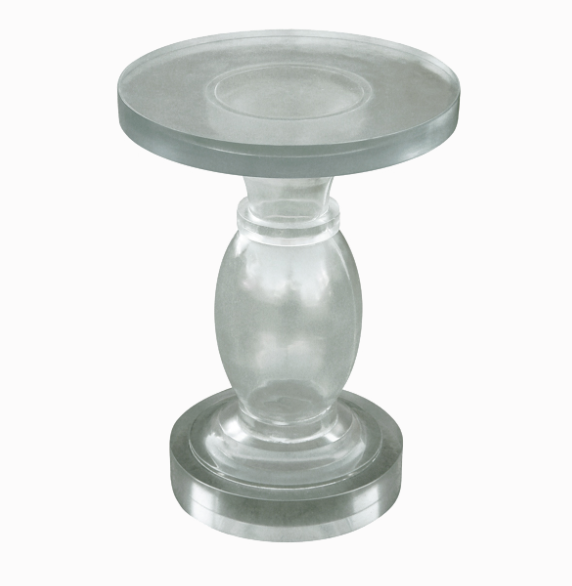 The Lorna Side Table from Oly Studio is substantial in appearance and size (21 1/2″ in diameter – not too big for the New England-sized rooms  in which I often find myself working). It gives you the sleek look of lucite with a familiar turned-pedestal form, which would be equally at home in a very contemporary or traditional space. But it's not acrylic or even glass, but cast resin, which gives it some weight/stability.  And the round shape helps protect little toddling noggins from bumps and bruises. The Lorna table even comes in different colors, including a blue-green that is reminiscent of glass, and a smoky gray in addition to the clear finish pictured.
Oly produces a lot of items in cast resin, which I love because it can give you the look of other materials – such as marble, cast stone, and lucite – with less fear of shattering, scratching, or causing injury.
Happy Friday!
P.S. ICYMI, you can go here for a round-up of all Friday Family-Friendly Finds!