I have debated whether or not to write about this find for months. I love sharing finds with you all, but every once in a while, a discovery SO GOOD comes along, that I want to keep it all to myself…for at least a short time. When I saw a couple of blog mentions about it last week, I knew it was time to spill the beans!
Before I do, I have to give credit to my husband, who actually 'found' this #FFFFind. He is not really aesthetically-focused when it comes to technology, but he obviously knows I am. OK, here we go…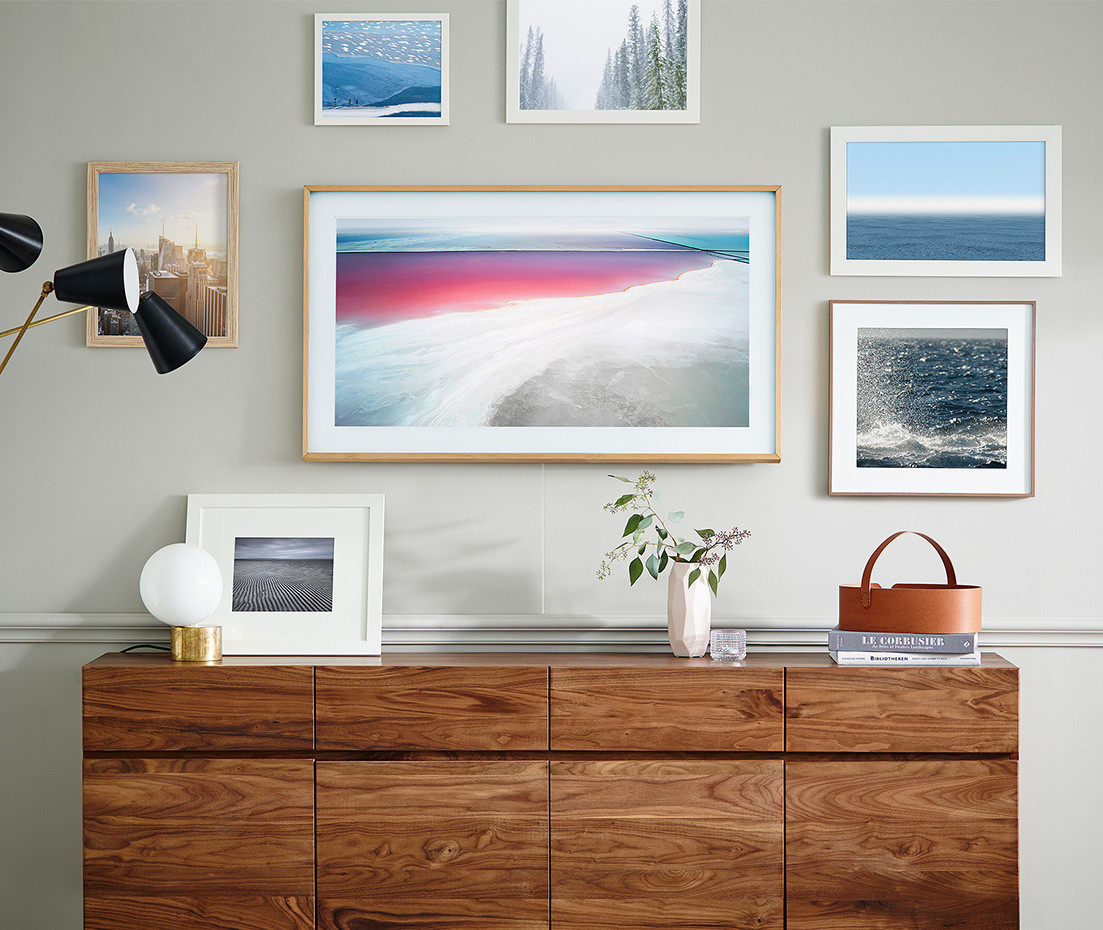 Can you see it? No, this week's find is not a floating media console. Nor is it a piece of framed art. Well, actually it is. It's art. But it's also a TV, masquerading as art when it's not in use.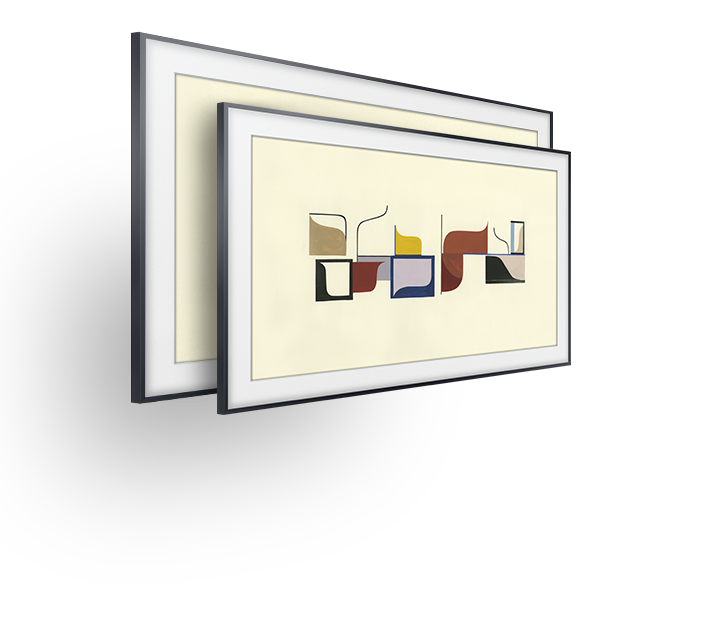 The Frame by Samsung is a major breakthrough in home technology design. When turned on, it is just like any other excellent quality 65″ flat screen TV.
And off?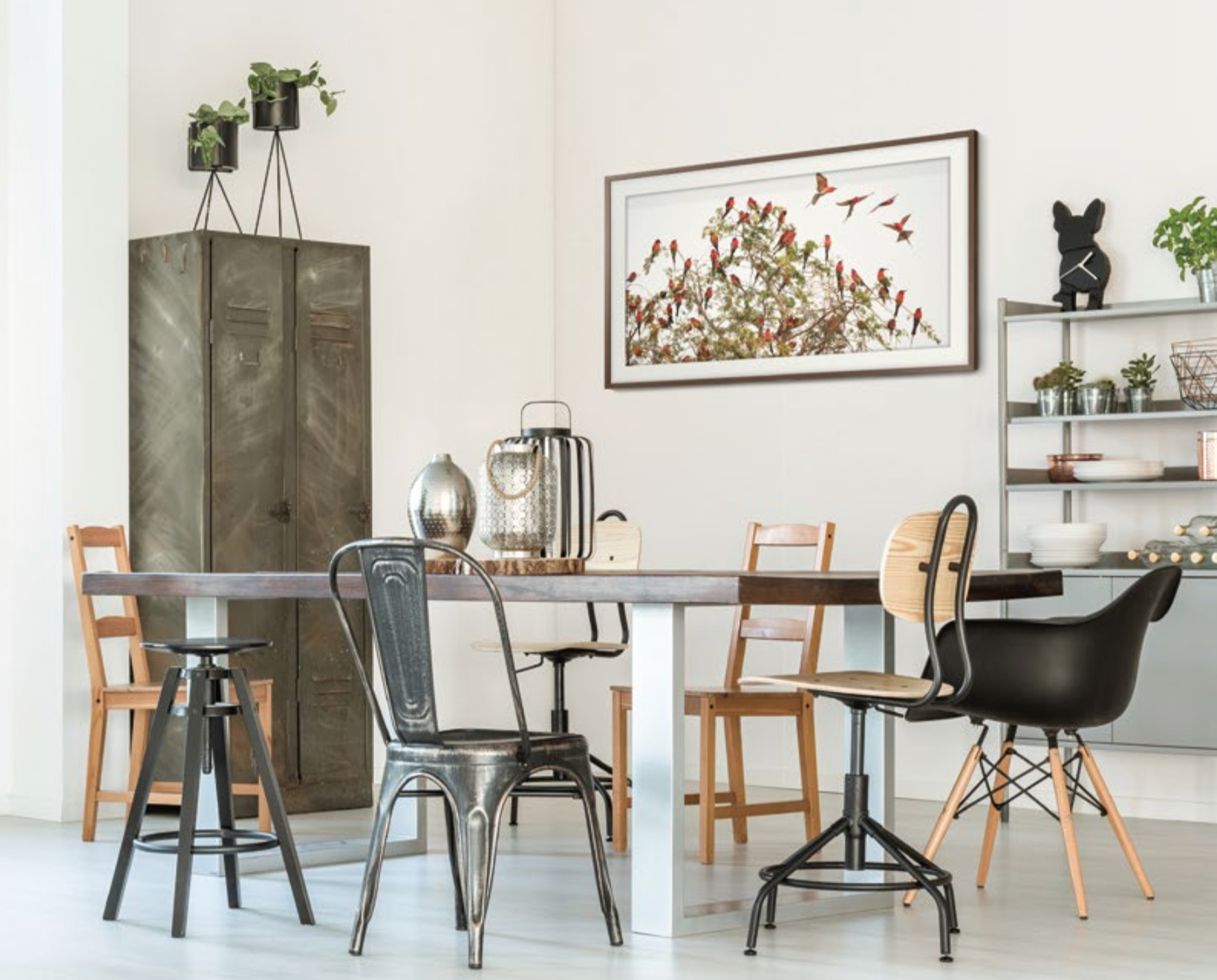 It blends right in. Designers and homeowners have long been struggling with how to camouflage the unhidden (i.e. behind cabinetry or some sort of fancy retractable cover) TV. In the heaviest use rooms, though, hiding a TV is usually not practical – who wants to be opening and closing something all the time? Usually those things just stay open in a home where the TV is being watched daily. Kind of defeats the purpose, don't you think?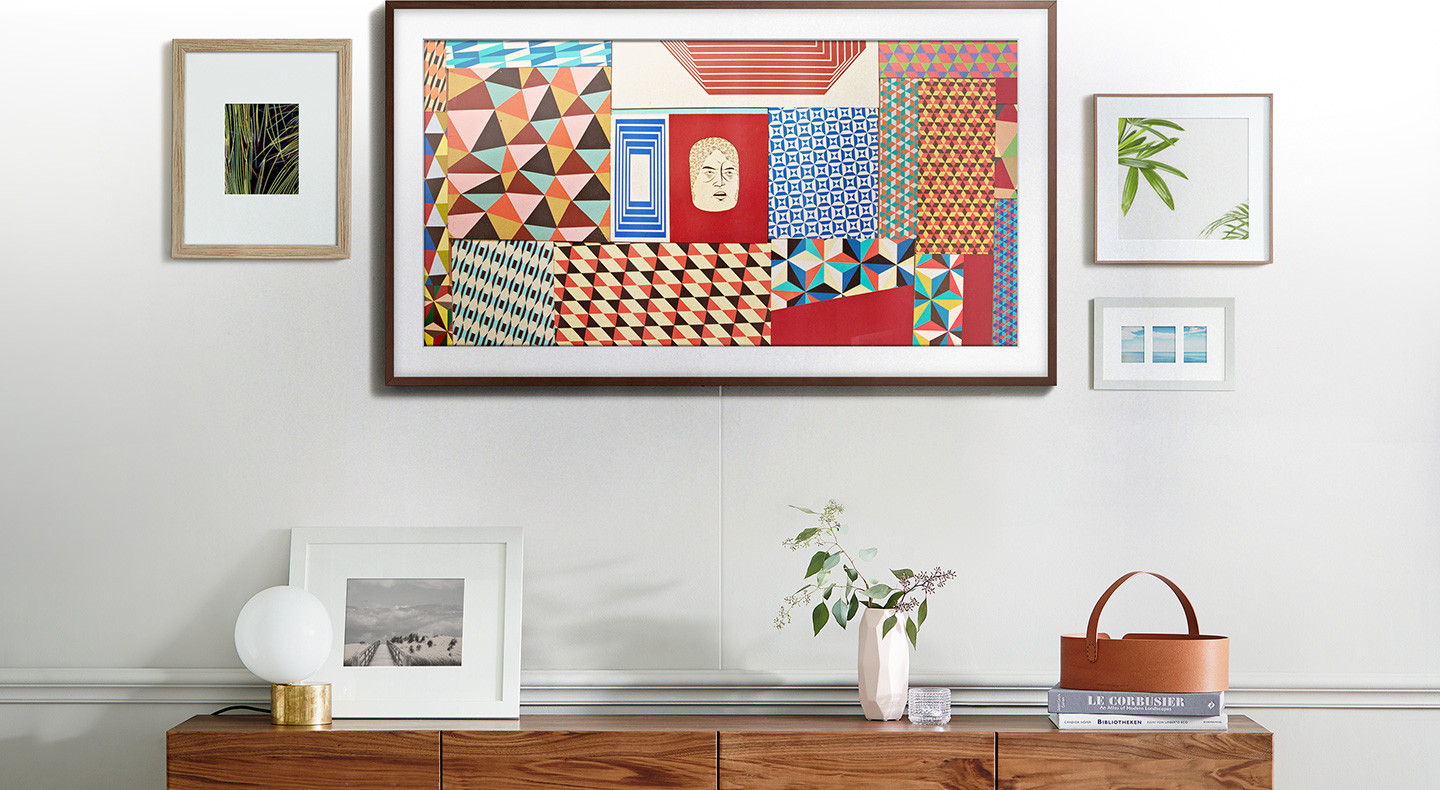 There are so many ways to customize this. One of which is, of course, the art. The Frame comes with 100 pre-loaded and perfectly sized art images. There is even a marketplace where you can purchase additional images from established and emerging artists – again, with the perfect aspect ratio to fit the TV. But you can also upload your own. Family photos, too! Or a logo or other graphic design. Any image.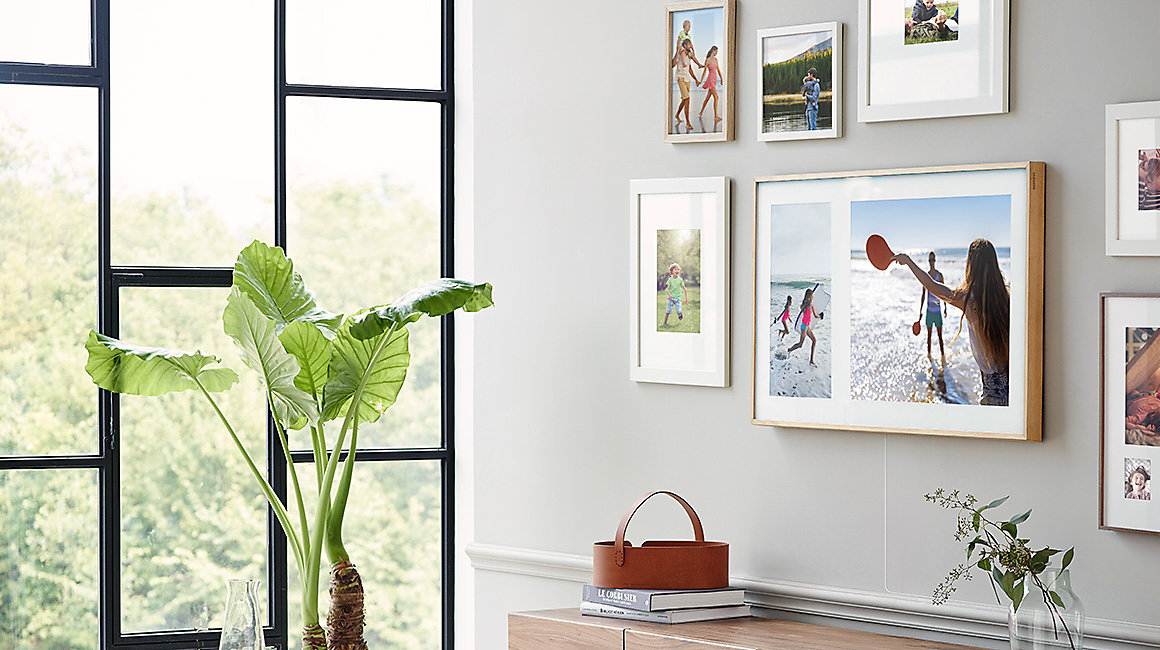 The really cool thing is that mat you see is actually part of the screen – so that too can be customized in color, size, and number of 'openings'. That with the subtle shadow effect is what makes it look so real. And…when the TV is in 'art mode,' it senses when you are in the room and only activates when someone is there. So no need to worry about the image burning into the screen. Do you also see that The Frame mounts flush to the wall? It's almost too good to be true!
A black frame is standard, but you can upgrade to a white or wood-toned frame to best enhance your home's decor. They simply snap on over the original frame.
Another trick of shape-shifting camouflage? This TV does not require (but can certainly accommodate) an elaborate integrated A/V install. Check out how unobtrusive the plug-in cable is…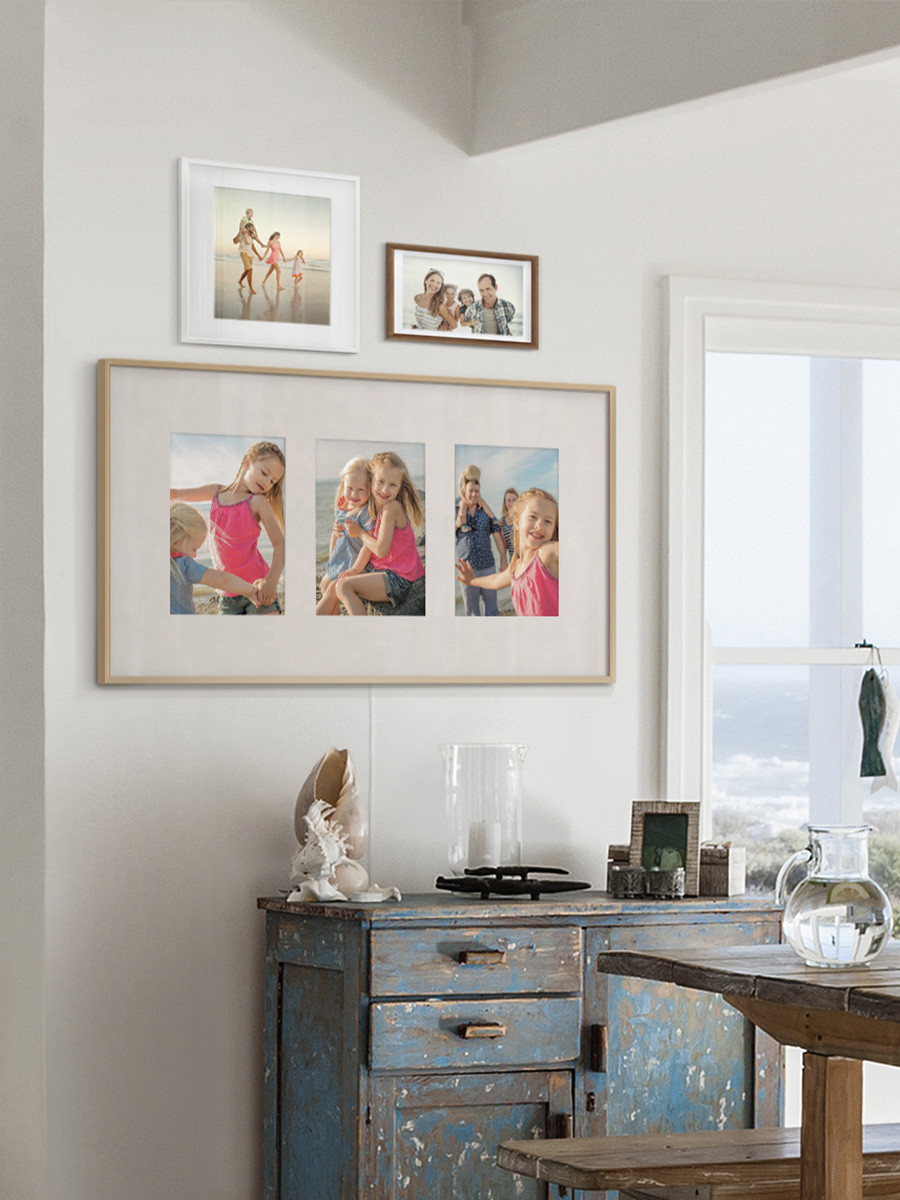 There are a lot of other technical specs available on the mini site, and since this is a design blog, I'm not going to get into it here. Suffice it to say this is a very good TV, aside from being a revelation from a home decorating standpoint.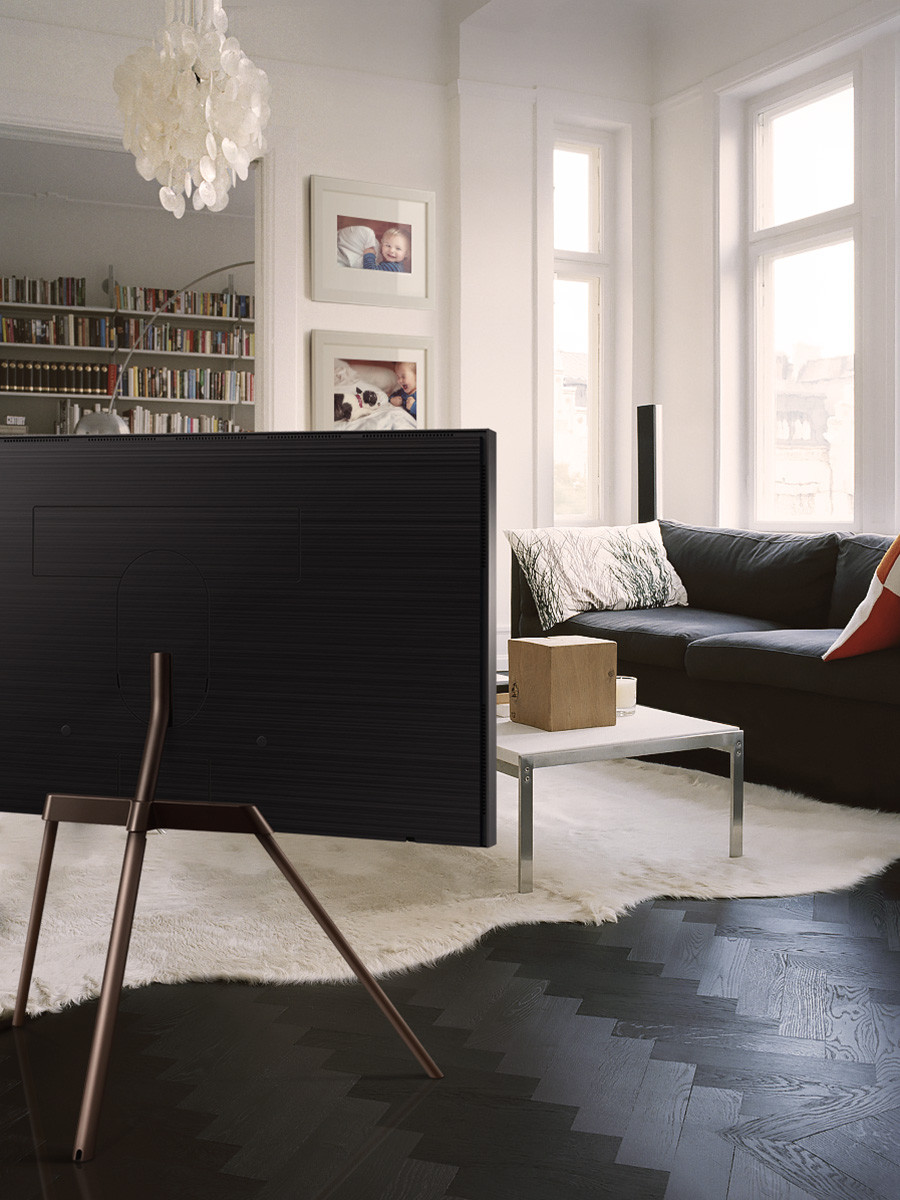 And like any good work of art, display on an included easel stand is also an option, though I doubt many people would use it.
And you'd better believe I am using The Frame in our family room, right over the fireplace! It's a tight squeeze (we actually gained a few inches from lowering the mantel a bit after this drawing was done), but now I don't feel bad at all about mounting the TV over the fireplace – which, in our space, was the only logical place it could go. And I'm excited to think that in a couple of months, I'll  actually be watching it! And also not noticing it :).