I'm fresh off the plane from High Point market yesterday, the bi-annual home furnishings market in North Carolina that's basically Disney World for designers, furniture retailers, shelter magazine editors, and a whole host of others from all over the world. I make the trek every April to visit all my go-to vendors to see what's new, connect with my sales reps, kick the tires on and test out a LOT of furniture, gather inspiration, and discover new and exciting lines and artists/artisans to use in future projects.
After logging tens of thousands of steps since arriving in High Point Thursday night, I'm pretty tired, and resumed 'normal' life (and work) first thing this morning. So, what I thought I'd do is bang out a quick and dirty summary of the top five trends I observed in the showrooms. I will leave the in-depth trend reports to my friends like Linda Holt, who is the best trend-spotter I know. What I lack in detail and comprehensiveness I hopefully make up for in speed – many of my design friends are still at market, and it usually takes bloggers awhile to process what they've seen, gather all their pictures (hundreds, if not thousands!), and synthesize their thoughts into a post (or two, or three). I'm shooting from the hip…and I don't take pictures as much for trend-spotting purposes, but rather what I like or find interesting. So I won't overload you with pictures or words – this is a flash report, after all!
1.) Color Wars (or, the War on Color)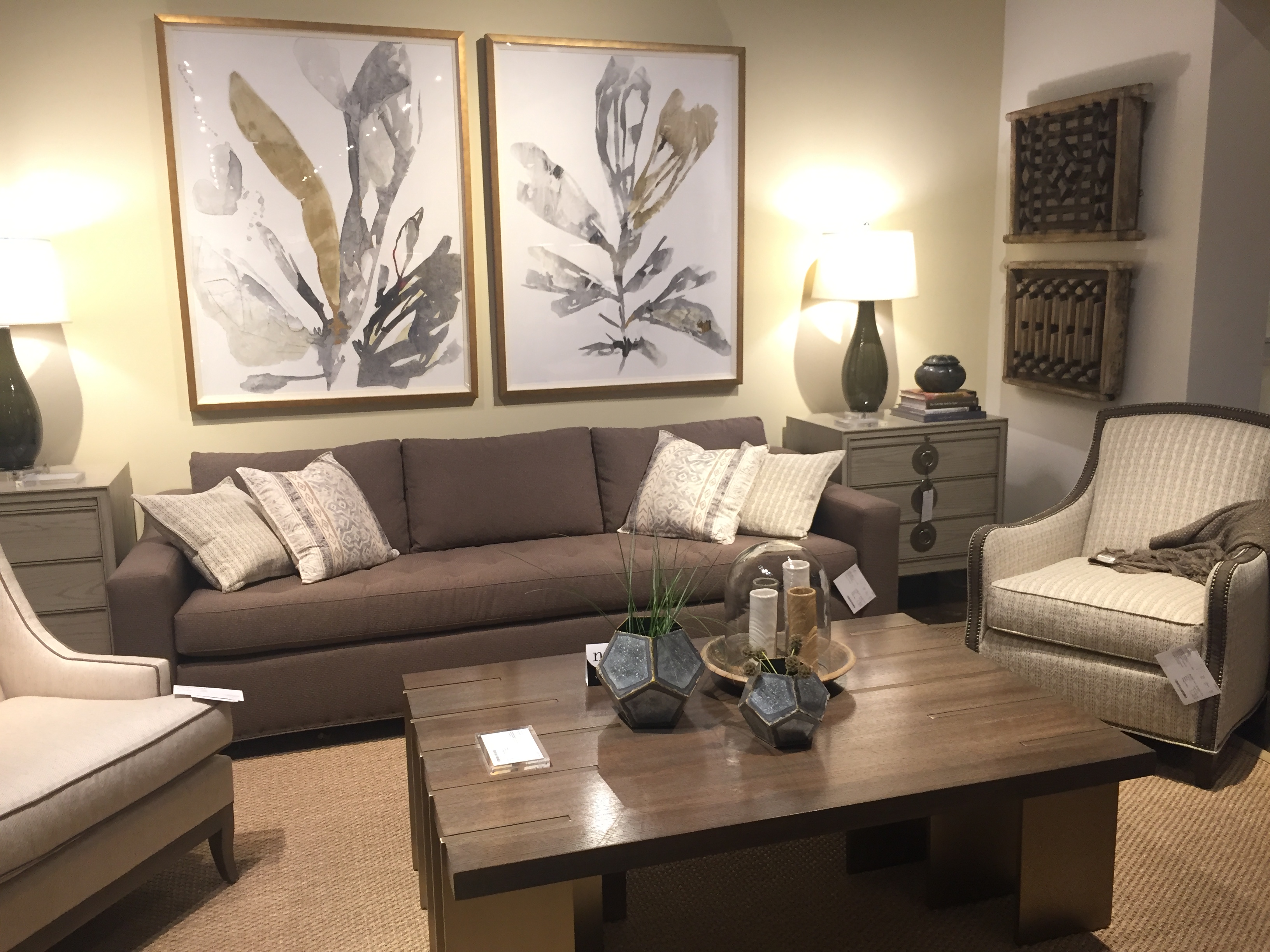 Vanguard Furniture
The resurgence of neutrals continues, but we have seen a marked 'warming' of gray into taupe. Cool blue-grays were on the wane at market. They've been replaced by plethora of washed and cerused wood finishes, and grayed brown stains and painted finishes, as well as greige and beige upholstery. This is right in line with Sherwin-Williams' 2017 color of the year, Poised Taupe, and with the trend toward using red-undertoned neutral paint colors I wrote about a few months back (as part of a post about Benjamin Moore's 2017 color of the year, Shadow). Neutral walls and upholstery set a quiet backdrop for accents of color in pillows, artwork, and accessories even in the most colorful showrooms (see #2 for another key color trend). But on the whole, neutrals ruled the day at this market.
2.) That 70s Show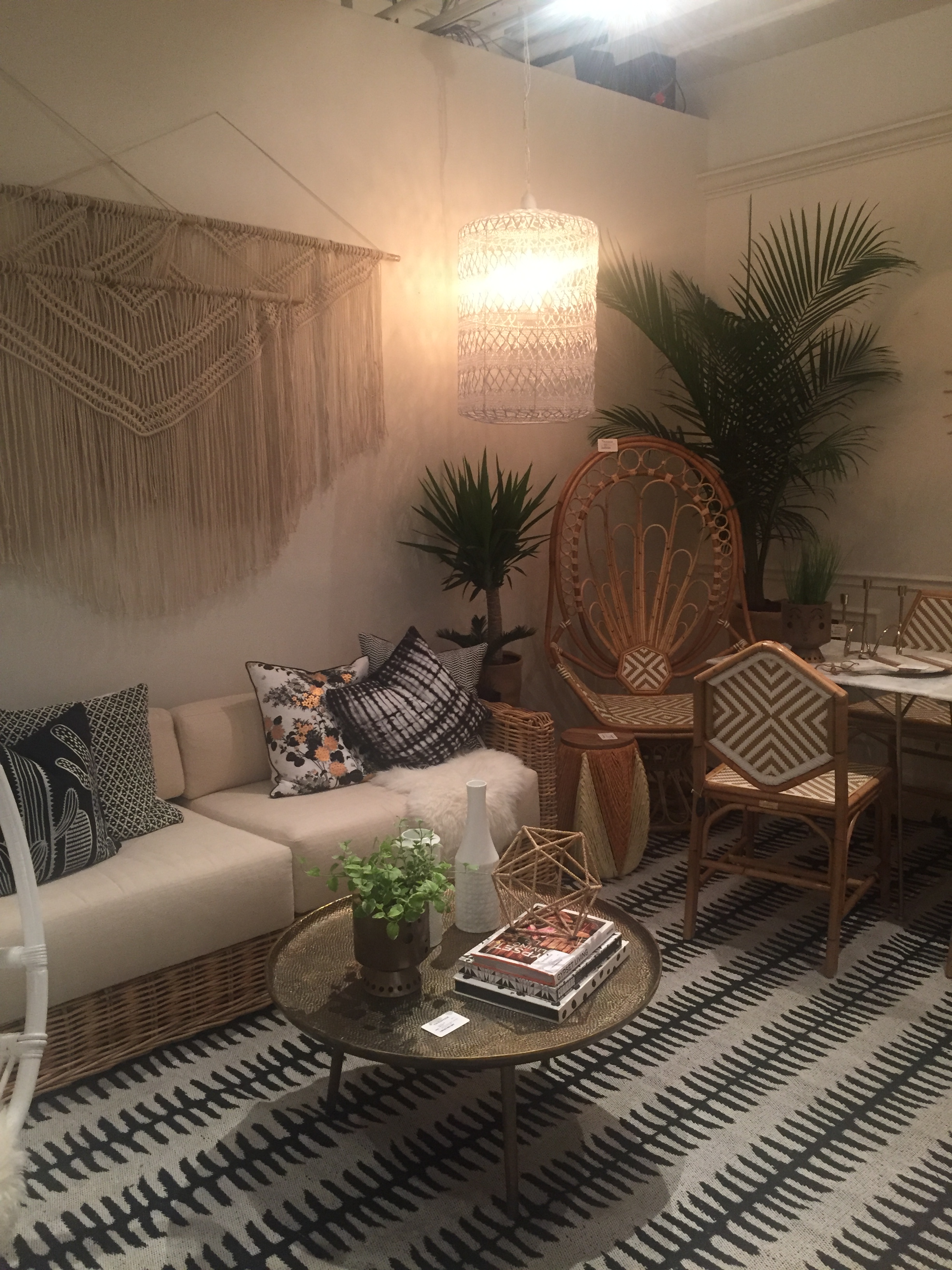 Selamat
Both colors and style trends are pointing to a renewal of interest in the 1970s. Gold metallics, slightly muted dark jewel tones, like deep teal, burnt orange, chartreuse, fuchsia, and, of course, notorious avocado green), rattan furniture, crochet and macrame, elongated/exaggerated forms, and low-slung and modular seating.
3.) Flexible Furniture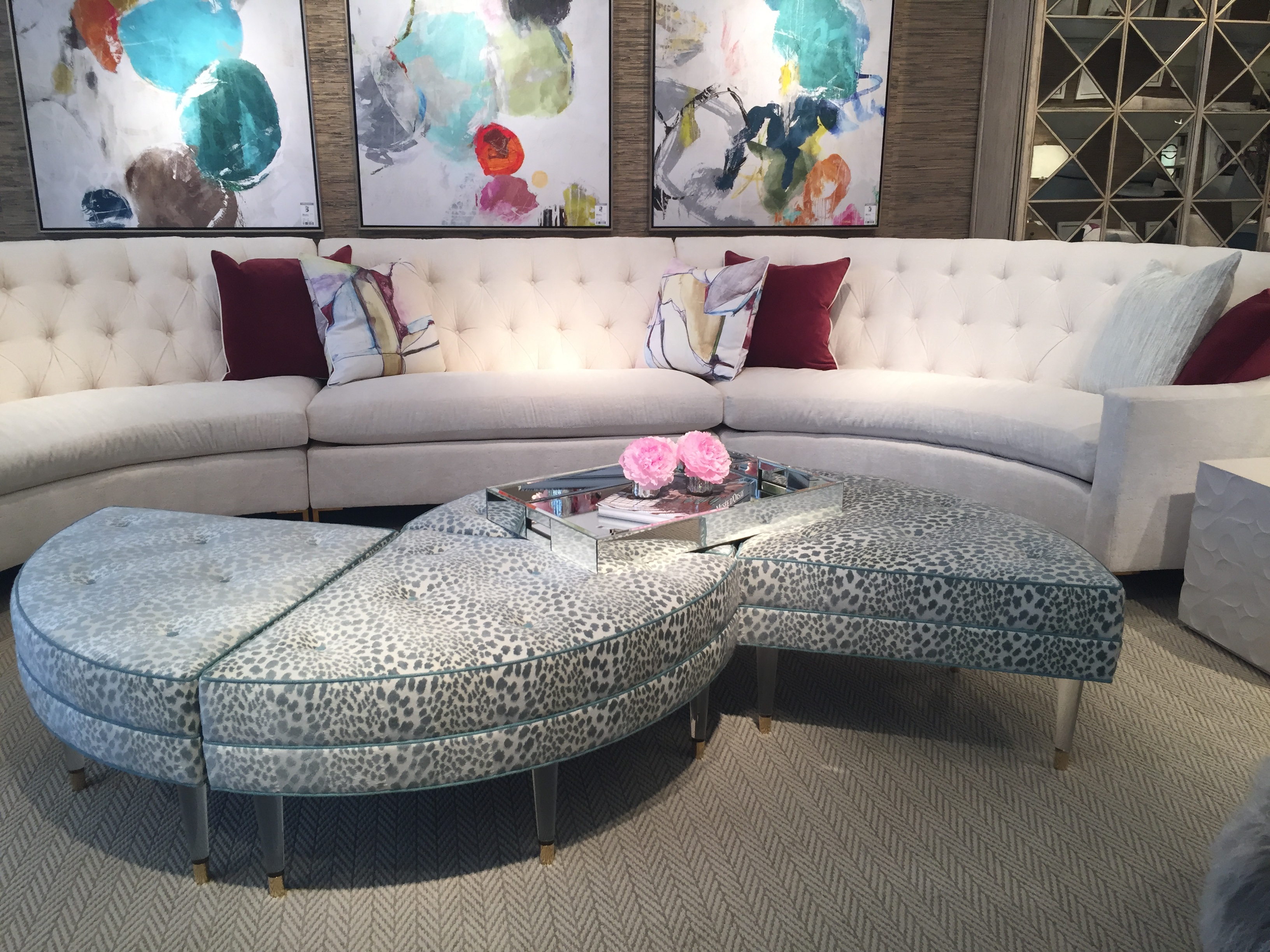 Ambella Home
Speaking of modular seating, I saw for the first time in awhile a lot of new sectional introductions, many of which were playful, casual, deep-sitting, and reconfigurable. I'm told by my reps that this is being driven by the preferences of millennial consumers. In addition, I was surprised by how many small, unique ottomans, bunching tables, modular coffee tables, and nesting pieces I saw. There is a definite trend toward flexibility and utility.
4.) African Inspired Textiles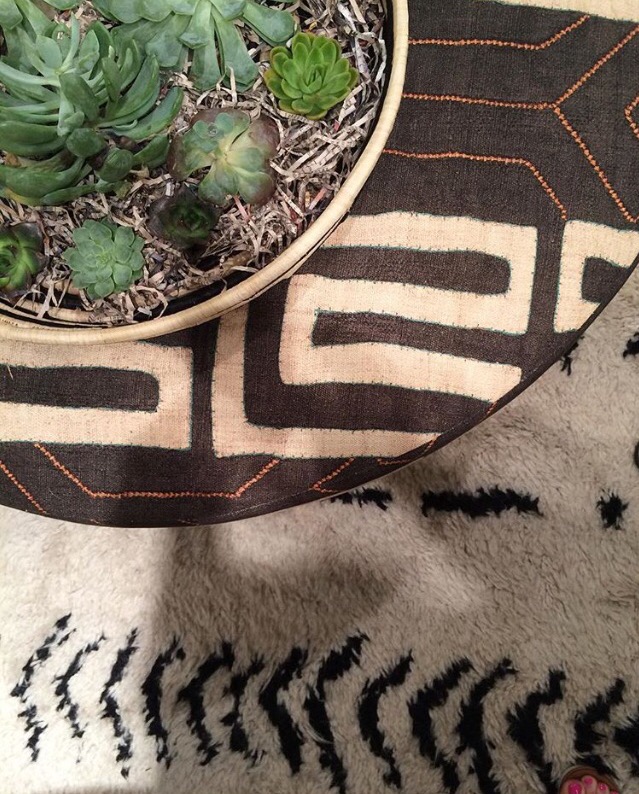 Photo credit: Alison Giese
The tribal trend is increasingly focused on African designs – in particular, kuba cloth (though there were a couple of showrooms that placed a pretty big bet on Southwestern design motifs…which I personally did not find to be relevant or successful). The pattern I saw again and again (and, yet again) at market drove me crazy, though I know others liked it. It looks like an interesting hand-stitched kuba cloth, but it's actually a trompe l'oeil print. I guess I was just looking for the authentic article! It photographed quite well, but I have to borrow a photo from a friend…because it didn't speak to me, I didn't take one myself.
5.) Metallics
Metallic finishes and accents continue to be hot – though I didn't feel there was a huge diversity across the showrooms. Antique and/or burnished brass is still very much in vogue – and, as far as I am concerned, in houses of a certain age, it falls into the category of timeless and architecturally-appropriate. I saw a lot of 'German silver,' which is a silver alloy sheeting hammered and shaped over wood casegoods and upholstery frames – a very glam look. Lots of gold (see also #2), too, as well as chrome in furniture accents and hardware. Rose gold had been hot briefly, but was rarely seen this market. I also don't recall seeing as much copper as I expected to.
And a few other favorite pics, just for fun (and COLOR!!)…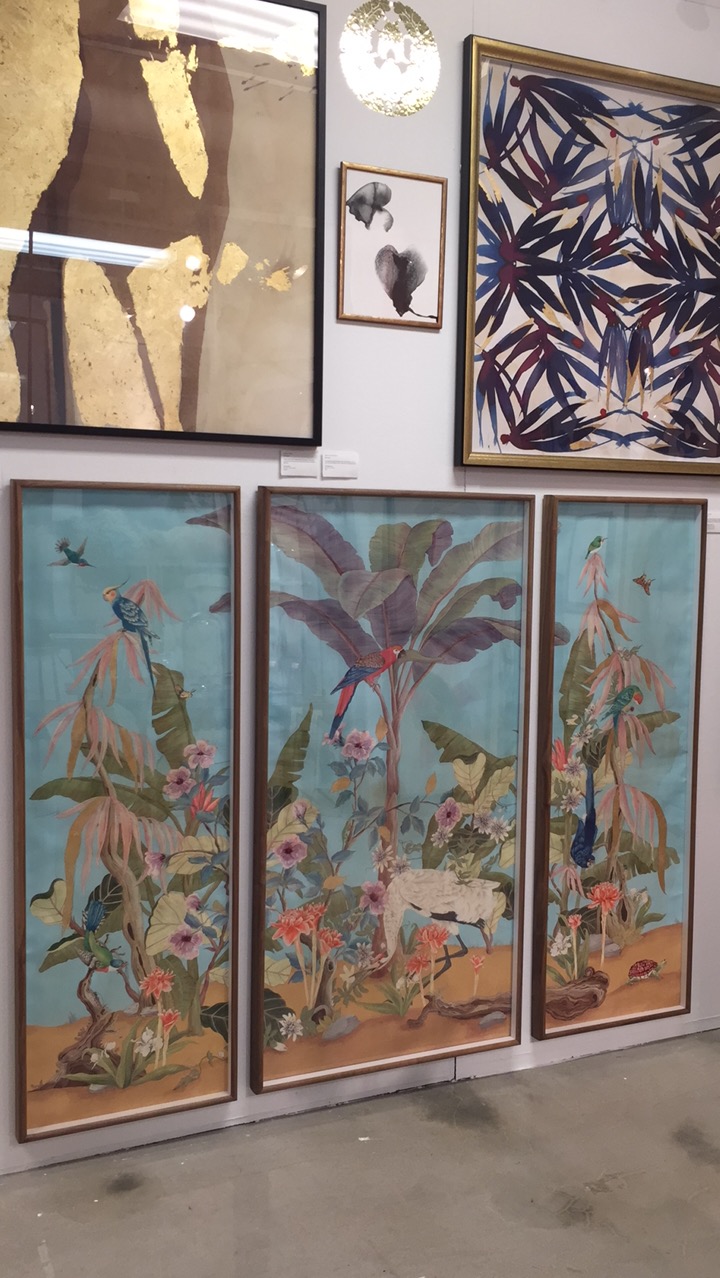 Allison Cosmos for Zoe Bios Creative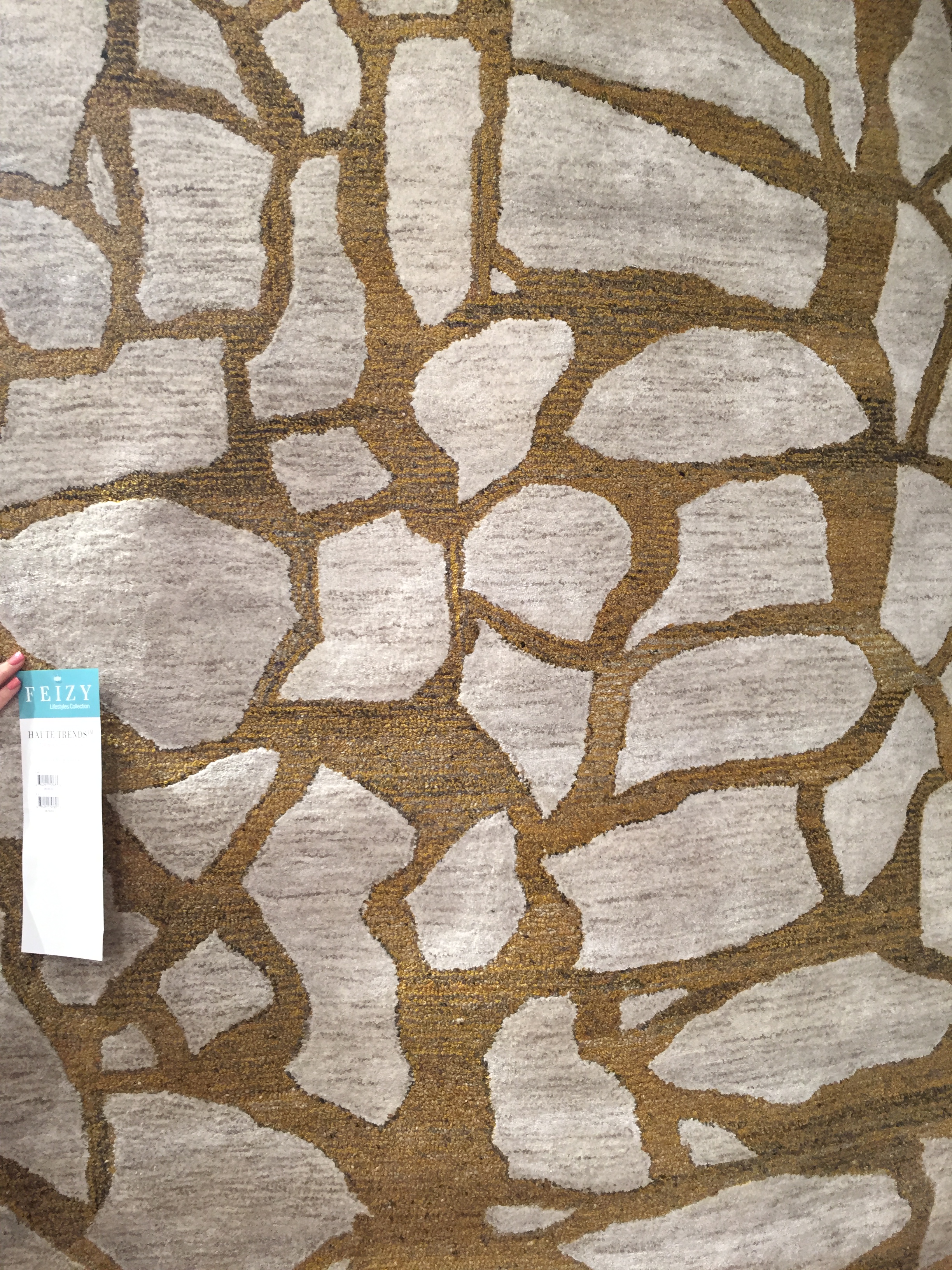 Julia B. Buckingham for Feizy Rugs
I'll be back on Thursday for my Week 4 One Room Challenge update! AND, if you are into HGTV home renovation shows and/or are into historic homes, you might want to follow me on Instagram, where I've started documenting my own renovation of our 1896 Georgian Revival-style Victorian. I post a whole slew of Stories earlier today showing the current state of demo, and talking about my plans for the family room, kitchen, and dining area. Lots of excitement happening around here; stay tuned!
xoxo