Since I'm in Newport, Rhode Island on vacation at the moment, I thought it would be fun to feature the work of a local interior designer. Often, residential designers and decorators here are tasked with not just home design, but yacht design as well. You would not believe the size of some of these boats…I can't even imagine the annual cost of just owning one of these things, much the less using it (which, for those who live here full time, happens during just a few scant months of the year). Anyway…
Eileen Marcuvitz of Plum Interiors caught my eye a while ago as a local Boston designer, but I didn't realize at that time that she also has offices in Newport. If I could describe her style in one word it would be: restful. Eileen's spaces are light as air, but firmly grounded – elegant, yet comfortable and definitely not stuffy. And she manages to incorporate dashes of energetic form and color here and there, while still maintaining that relaxed, calming vibe. Check out some of her greatest hits, all sourced from the Plum Interiors website.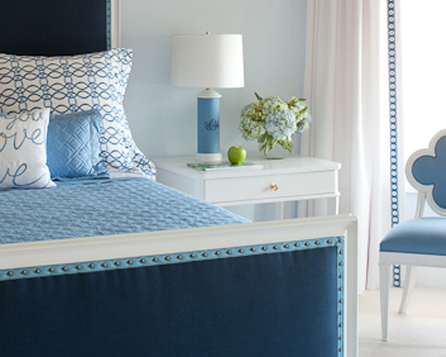 I know, I wish the pictures were larger, too. The colorist in me can't help but be drawn to the blue monochromatic bedroom (that upholstered/nailheaded bed!) and French regency chair bedecked in lime green fabric. I think I love all of her chairs!
Do you have a favorite?