Although it may not be the most fun and glamorous topic I've covered on this blog, it's certainly one of the most important.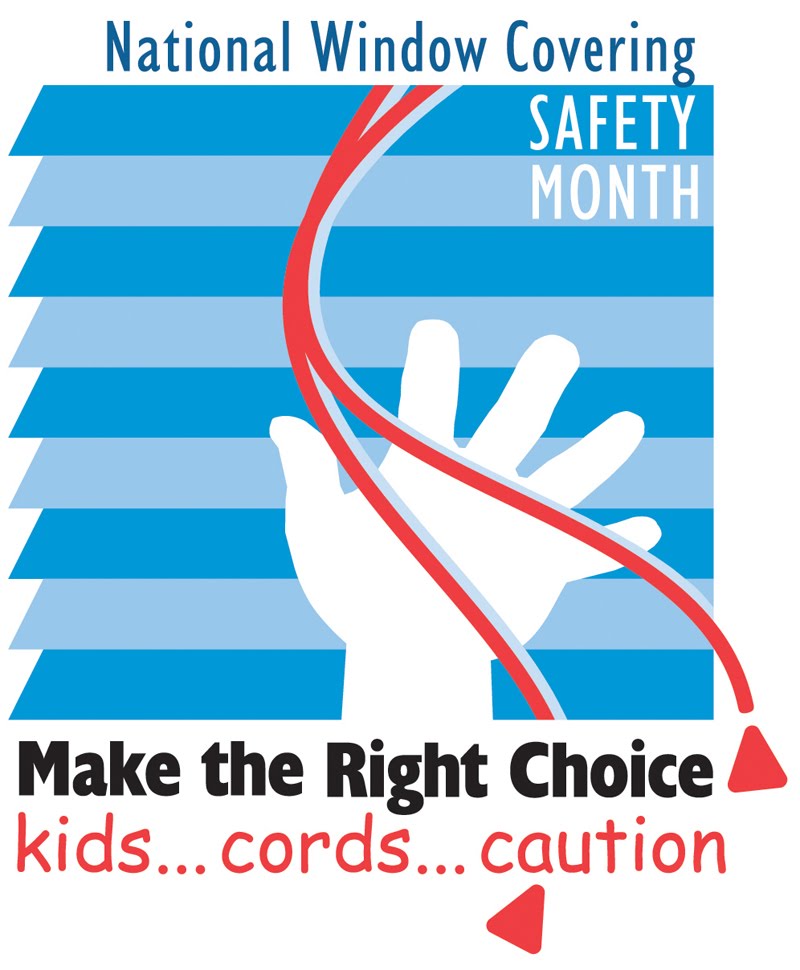 October marks National Window Covering Safety Month, an 'event' created by the Window Covering Safety Council (WCSC) and the U.S. Consumer Product Safety Commission (CPSC) to raise awareness of the dangers of corded window treatments.
From the WCSC and CPSC press release:
According to the CPSC, corded window coverings are one of the top five hidden hazards in American homes, with infants and children dying each year from accidentally strangling in window cords. Some of these incidents involve older products that are still in use but don't have the safety devices or designs instituted in the past decade.

"Window cord strangulations are one of the top hidden hazards in the home," explains CPSC Chairman Inez Tenenbaum. "CPSC recommends that only cordless window coverings or those with inaccessible cords be used in homes with young children.  They are available today in the marketplace and will prevent window blind strangulations. Make sure all window shades, blinds and draperies in your home do not have cords that are within the reach of a child."

In addition, the Window Covering Safety Council encourages parents and caregivers to follow these basic cord-safety precautions:

Move all furniture, cribs, beds and climbable surfaces away from windows.

Keep all window cords well out of the reach of children.

Install only cordless window coverings in homes with young children.

Make sure tasseled pull cords are as short as possible. Continuous-loop pull cords on draperies and vertical blinds should be pulled tight and anchored to the floor or wall.

Be sure cord stops are properly installed and adjusted to limit inner-cord movement.
Corded window treatments are not only a danger to your children (or future children), but they also present a liability for any children that might visit your home – and, if you had them installed, for any accidents that might occur in the house in the future, even after you move to a different home!
I know this sounds a little extreme, and it's not meant to be scary. I have some very good news for you – cordless mechanisms for shades and blinds have come a long way, and cordless products are widely available from nearly every manufacturer!
I would like to spotlight a few great products that provide the peace of mind of cordless operation, are easy to use, and look great while doing it…
Horizons Cordless Woven Shades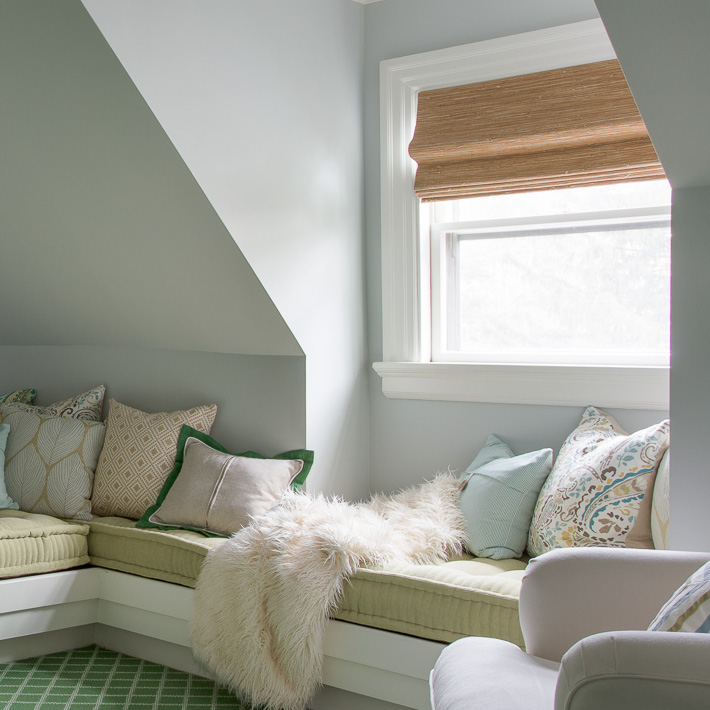 Eric Roth Photography
These are a staple of my designs – they're great on their own, or as a functional layer (for privacy and/or light control) in combination with stationary drapery panels. There is a little loop pull hidden behind the bottom fold that you use to raise and lower them just like roller shades. Super easy. Horizons sample books are filled with every conceivable woven wood and grass option. You can use them unlined, lined, or blackout lined. I prefer the "waterfall" design, shown above. I love the texture and interest they bring to a room!
Paris Texas Easy Pull Traverse Drapery Hardware
A bit of a mouthful, I know! But it's actually a simple and elegant solution to opening and closing draperies. Paris Texas's patented Easy Pull traverse system (which means that the draperies are attached to a track, as opposed to rings, making them easier to operate) features a single cord that hangs only about 10-12 inches from the drapery rod. The video below is a little hokey, but does a good job of explaining how it works (how clever!).
Hunter Douglas Silhouette Shades
These pretty light-filtering shadings are great for people who are not into fabric window treatments, but want something a little softer and/or more elegant than wood blinds. They also make a great pairing with stationary drapes, or a board-mounted valance.
Hunter Douglas has not one, not two, but three cordless operating systems for its Silhouette shades:
LiteRise – shades are raised and lowered simply by pushing up or pulling down on the bottom bar
UltraGlide – a retractable, short cord raises and lowers the shade – a solution not unlike the Paris Texas Easy Pull
PowerView – fully motorized shades, which you can control via an app on your mobile device, preprogram to open and close at certain times of the day
For additional information about National Window Covering Safety Month, please visit the WCSC website. There you'll also find instructions on retrofitting your existing corded shades, and you can even order a free retrofit kit for pre-1995 shades and mini-blinds with looped cords (the most dangerous type).
And if you'd like some help making your windows safe, functional and beautiful, please contact me!