So, here we are – it's week 3! The halfway point (OMG, really??). If this is your first visit, or the first time checking in with my One Room Challenge journey, welcome and thank you! I am in the process of transforming my vestibule from a boring, non-functional space to a little jewel box of a room through which I can be proud to welcome our guests.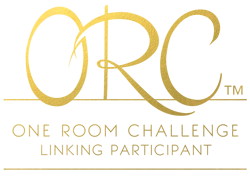 (to catch up…check out my Week 1 and Week 2 posts!)
Before I jump into this week's theme (COLOR!), I have to get something off my chest. I look at all of the other ORC-ers each week doing so much of the hard work themselves, and I feel a bit like a cheater. I have so much respect and admiration for all of the DIY ninjas taking on the challenge – it seems like nearly everyone is tackling something (or everything!) with their own two hands. Unfortunately, there's not much I can make, build, or paint myself (I can knit, but that isn't very useful for decorating projects). I hung up my DIY gloves about 15 years ago, after an ill-fated holiday season when I decided to give everyone in my family a homemade Christmas gift. That hideous mosaic candle holder seemed like such a good idea at the time. Sorry, sis…
Anyway, now that I've made my big confession, I will tell you that my awesome painter visited me this week, and we have gone from this…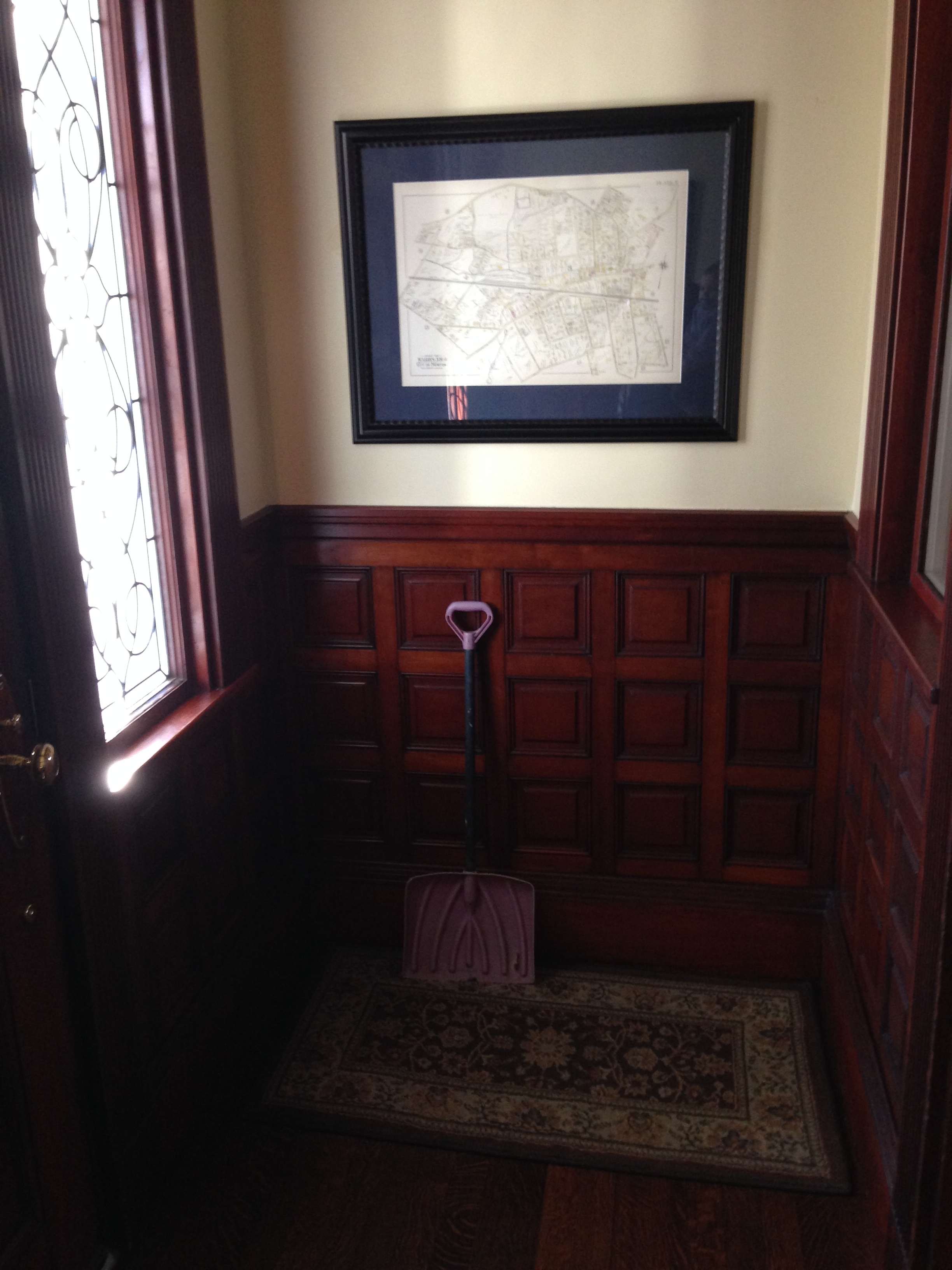 to this…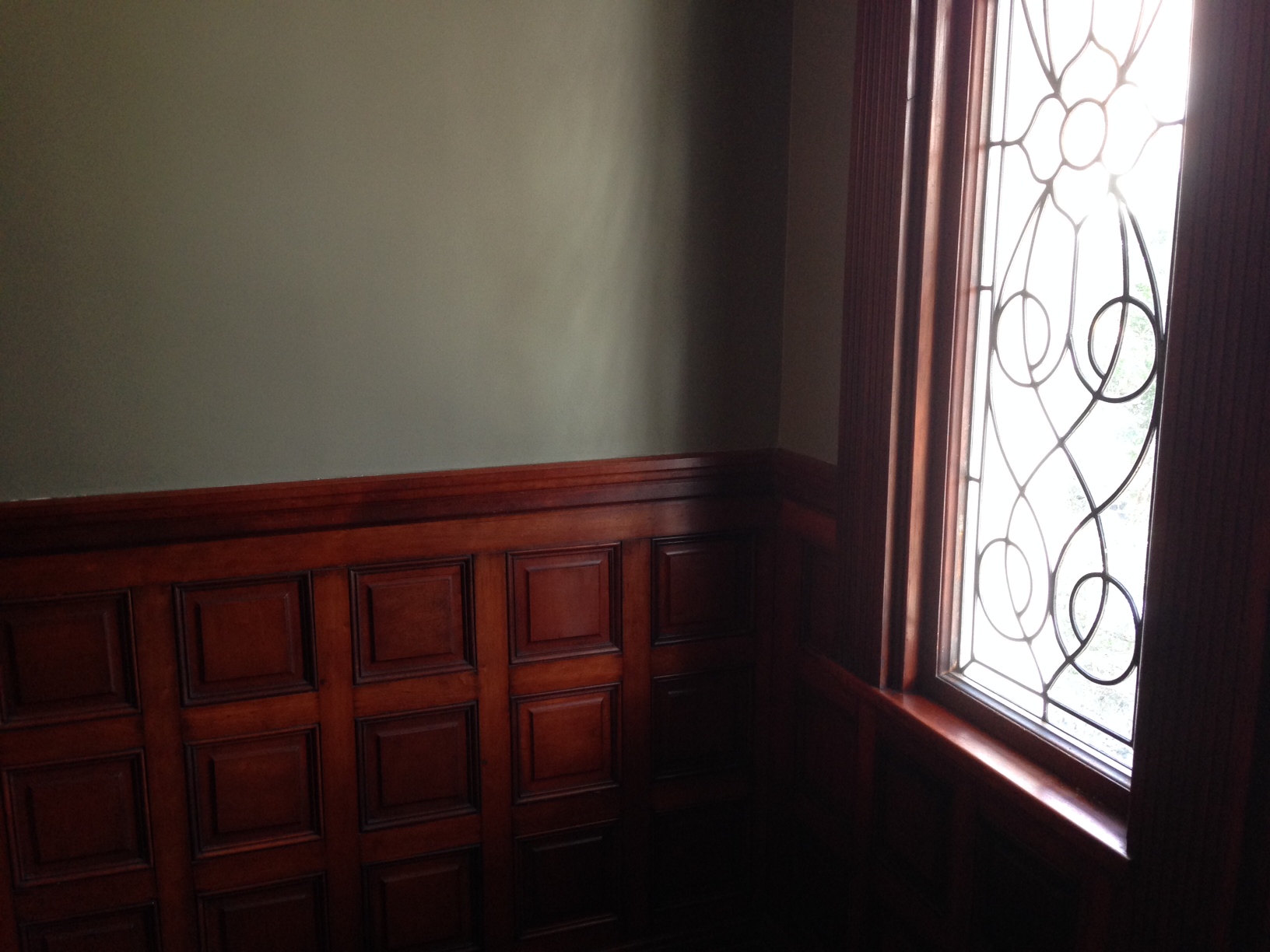 Sooooo much better! I'm pretty sure the previous owners painted the vestibule this light beige/cream color because they thought – hey, it's a small space, a light color will make it feel bigger. Unfortunately, this is rarely true. My philosophy is that it's always better to play up the inherent, immovable qualities of the room, rather than fight against them. The size of the room is one thing – small space, make it feel even cozier with a darker, more complex paint color. How about lighting (what little there is coming through the leaded glass side lites)? My north-facing vestibule gets zero direct sunlight during the day – "cooling down" a paint color a bit will enhance the indirect light of the northern exposure (see also my post on dealing with dark rooms!). And lastly, the single biggest defining factor in here is obviously the mahogany wainscoting, moldings and trim. The old paint color made the wood look kind of cheap – what a shame! When I'm working with stained wood finishes like this, I like to reduce the contrast of value (e.g. light/dark) between the wood and paint color. If you've been following, you'll remember that my color inspiration was a green leather tufted wing chair.
Oh – you probably would like to know the color, huh? It's Benjamin Moore Rooftop Garden (CSP-765).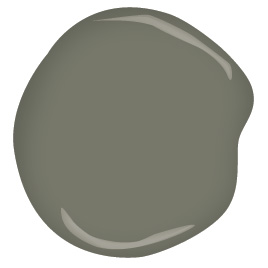 My other color inspiration was classic blue and white porcelain. In Week 2, I showed you the fabric I'm using for a custom bench, which has the same crisp visual impact as a Chinese temple jar. That bench is going on one side of the vestibule, but on the other side, I really struggled with what elements I would incorporate in this 4-foot wide area. I knew I needed a boot tray and an umbrella stand. For awhile I was convinced I wanted a coat rack, too. But after spending hours scouring eBay and local antique/vintage shops, I abandoned the idea and decided that coats can continue to be carried into the foyer and placed in the coat closet (hangers are a little nicer than hooks, anyway). Then I decided I wanted some sort of table over there.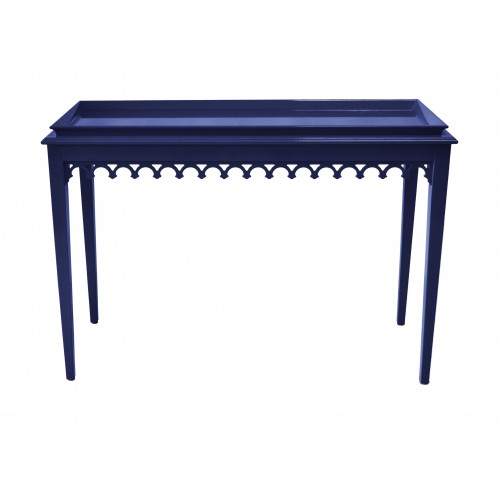 I have been admiring the Newport Console from Oomph for a long time, and I knew it would be perfect in my vestibule (in Club Navy lacquer)! But hold on – how wide is this thing? 47″. Whoa. It will be tight, but it *should* just fit. And my new boot tray will slide nicely underneath. However, the big question is…will it arrive on time? Their stated lead time is around 8 weeks since these items are made (finished) to order, but the items I've purchased from Oomph in the past (for myself and clients) have all shipped super fast. So I decided to roll the dice. I'm crossing my fingers that it will arrive on time for the big reveal!
The console may or may not be delivered soon, but at least a lot of other things showed up this past week!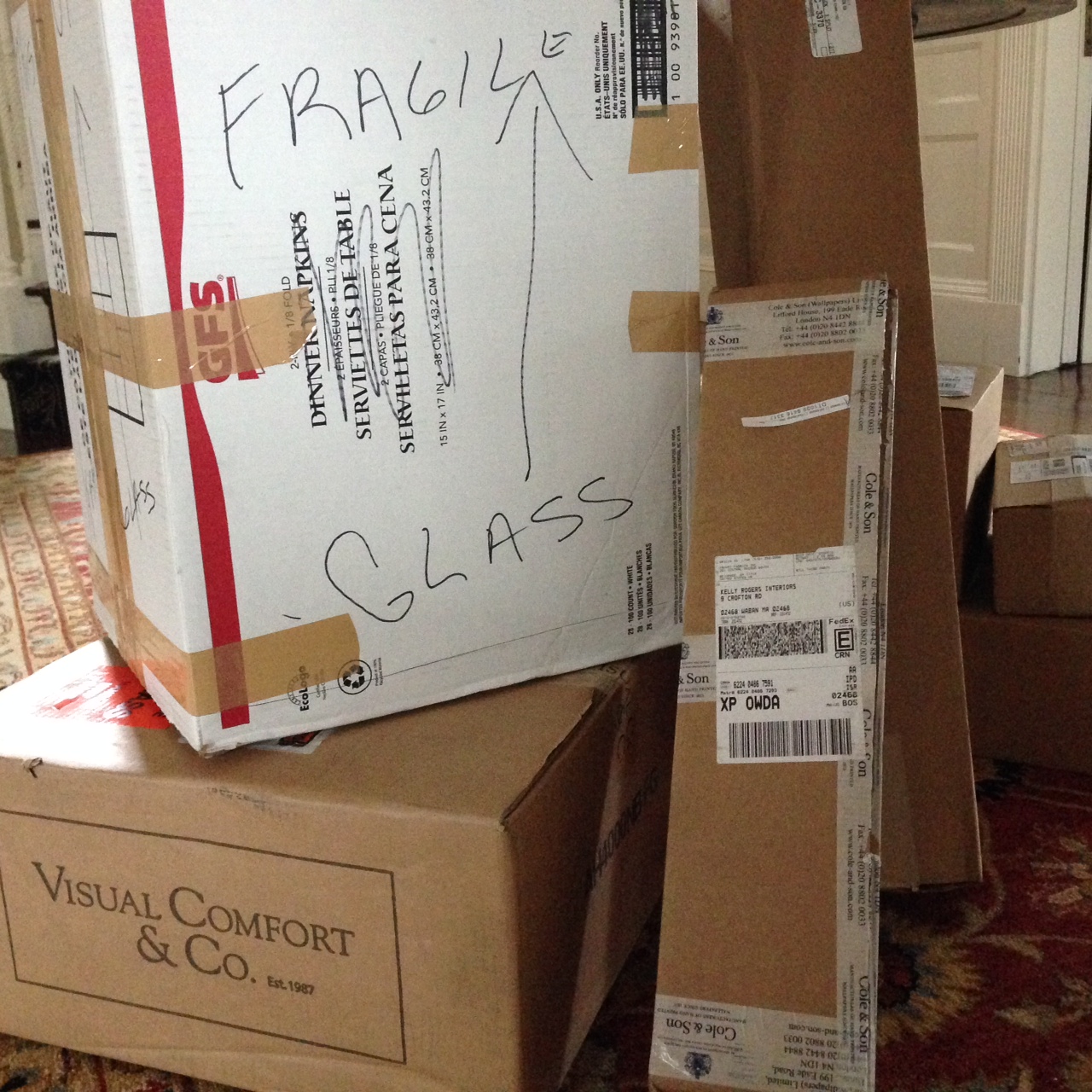 And what DIY-phobic gal got a little verklempt when her handyman informed her he'd be out of town through the end of the month? Yep, this one. Arghhhh. I'm ok with a hammer and nail, but I always call in the big guns with heavy and/or complex installations. Who will help me hang my new mirror over my possibly non-existent console?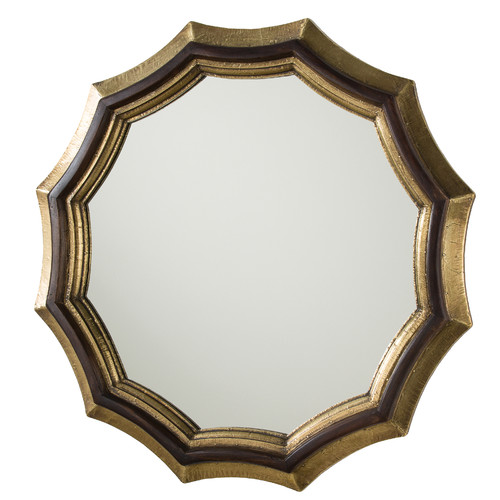 (Arteriors, bought on Wayfair with free shipping, gotta love it!)
Please visit Calling it Home to see what all of the (150+!!) other linking participants are up to this week. On Instagram and Twitter – #oneroomchallenge and #KRIProjectVestibule.