I am just returned from some time away with family in York Harbor, Maine, where we travel each July 4th week. I was able to keep work to a minimum, and I made the decision to push that reset button down a little further and also take the week off from blogging. Now I'm back and have hit the ground running.
So much going on right now – a lot of construction. Some of my own (expect an update on that next week, but also ongoing on Instagram Stories!), some for clients and special projects like the show house. I feel like my blog is somewhat overdue for pretty, so I decided to go ahead and reveal this project I've been eager to share! I actually previewed it months ago here on the blog.
BEFORE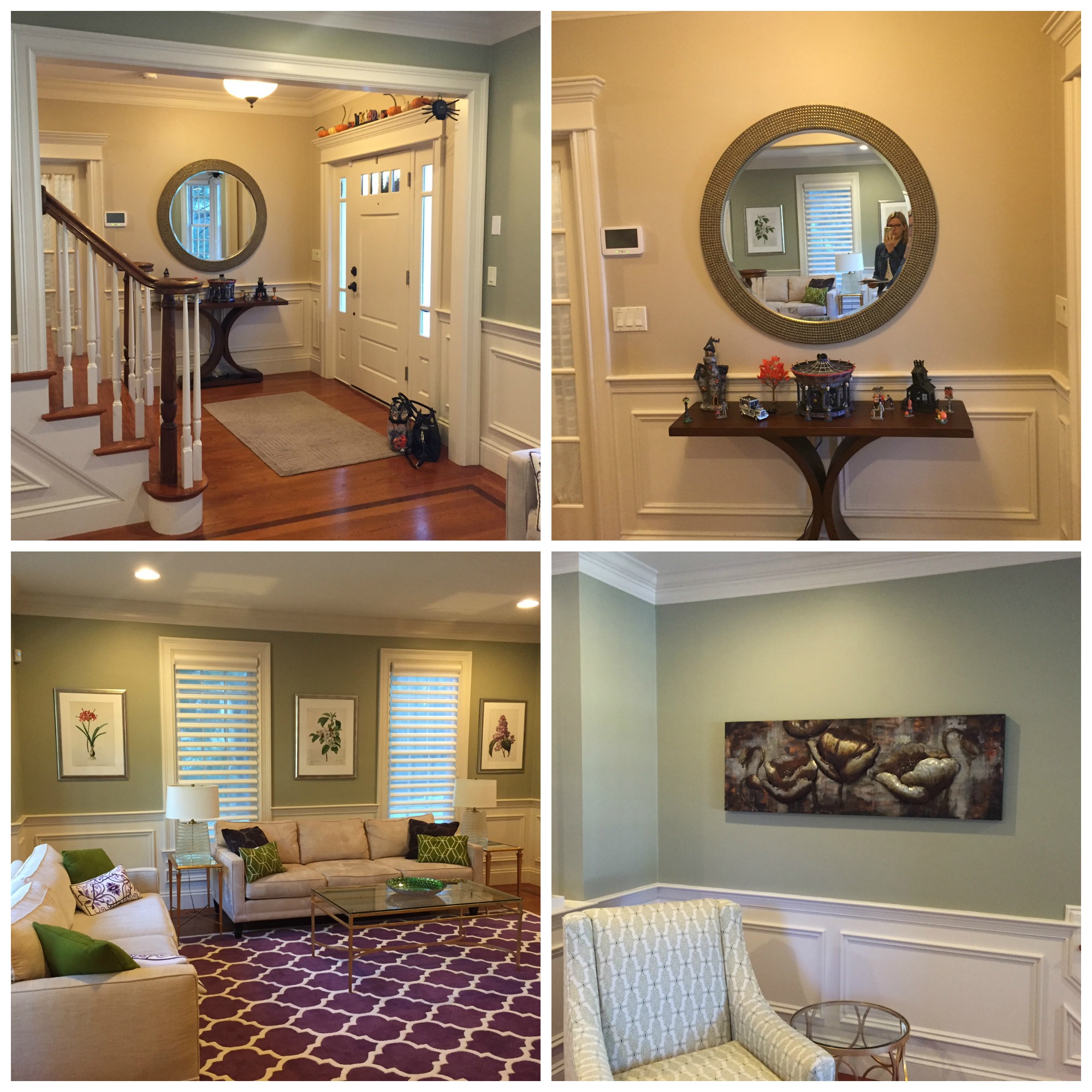 My client started with the realization that they wanted a stair runner for reasons of safety and aesthetics (couldn't agree more!). Then they realized that the stair runner had to relate to the foyer, and they didn't know what they wanted that to be. And because the foyer opens up to the living room (which they use often for entertaining adult friends and family), the living room would have to be part of the project. And the living room is open to the dining room, which they had just furnished but still looked drab with its army fatigue brown/gray paint. It was a bit of a domino effect – before they even reached out to me, they knew they had much more than a stair runner to address. Smart!
Their wish list?
Brighten the rooms and banish the grayish-greenish-browns that surrounded them
Incorporate bold color
Make the spaces more sophisticated and functional for entertaining
Merge the wife's love of transitional geometric patterns with the husband's preference for natural and  botanical motifs
Use existing dining room furniture, as well as side tables and a newer lounge chair in the living room
Oh yeah… and the stair runner! 🙂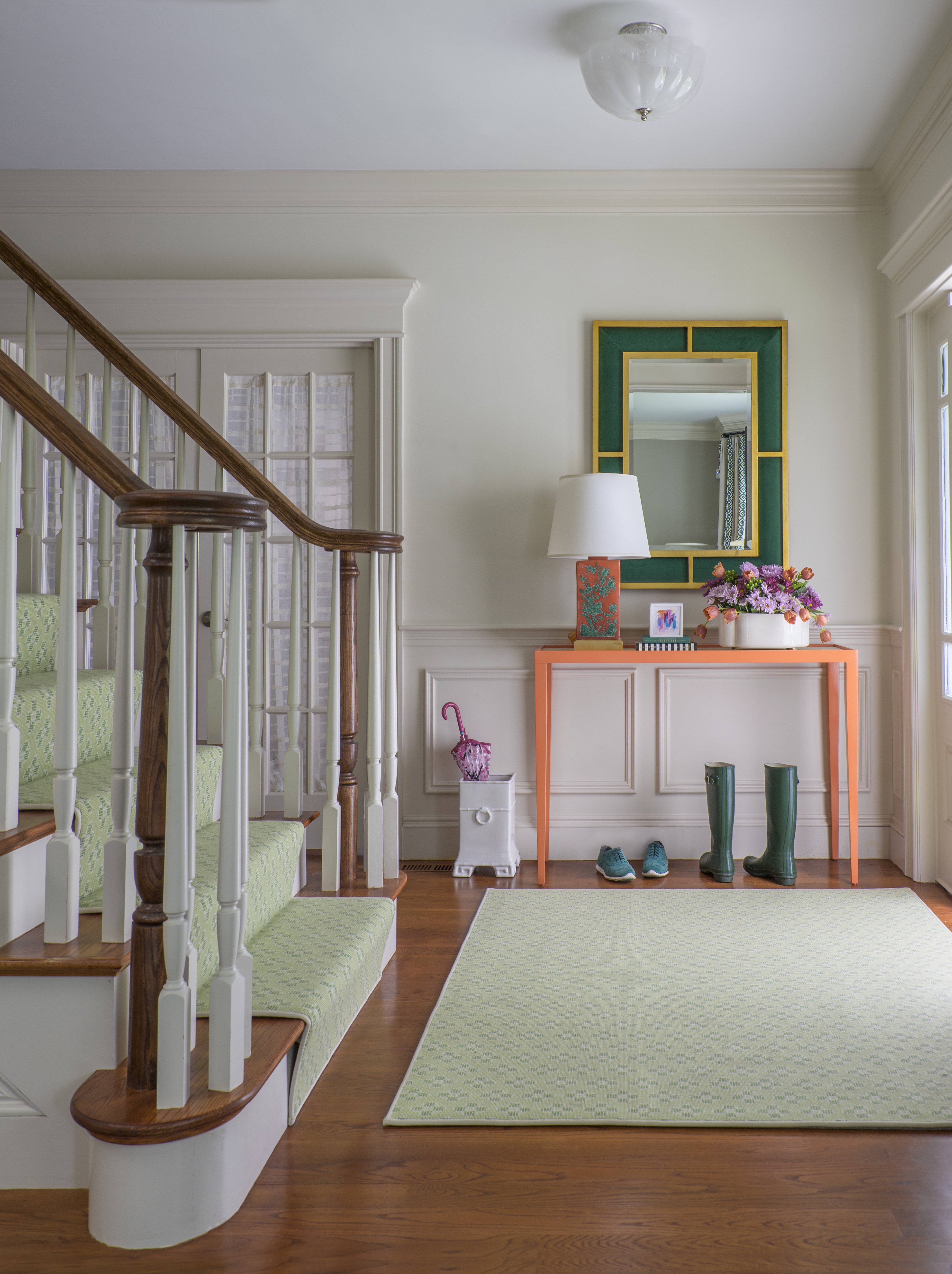 I was thrilled that they went for the green Celtic knot-patterned carpet for the stair runner and foyer rug! It sets a sophisticated, yet playful tone that continues throughout the spaces we addressed. The new Oomph console table provides a jolt of contrasting, sunny orange, as well as space below for guests to stash their footwear upon their arrival.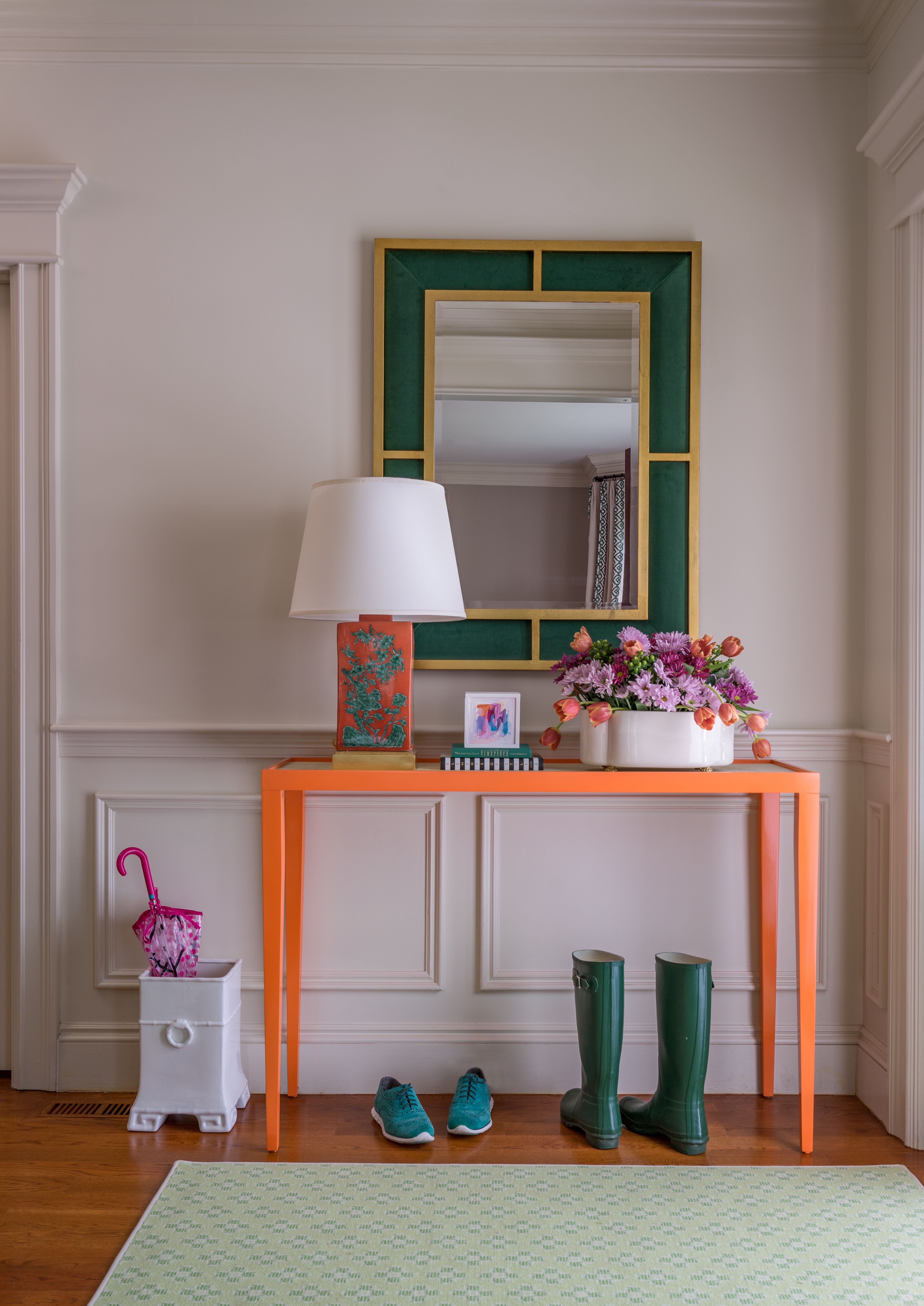 When you can't decide on mirror vs. work of art, why not find a mirror that is a work of art? This one is upholstered in a dark emerald green velvet I sent to the manufacturer, Port 68. We lightened up the walls here to almost blend with the trim and let our colorful accents shine. The paint color is Benjamin Moore Cake Batter.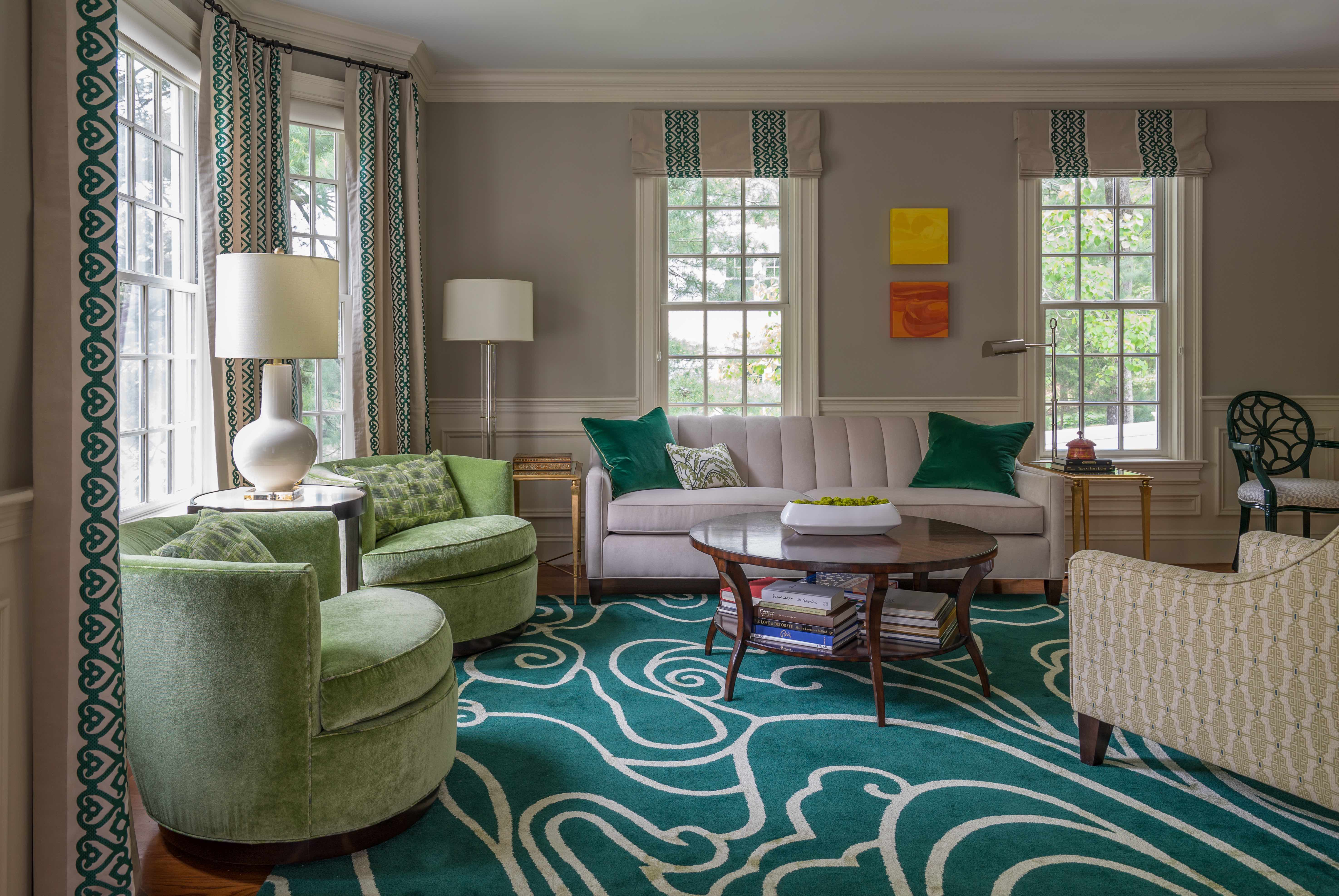 Turning around 180 degrees, here is the living room! I devised a largely monochromatic scheme to incorporate the existing lounge chair (seen at right), without making it look like Frasier Crane's dad's 'special' chair that had to be there but had no business in the room :). It may look the rug was the jumping-off point, but actually, the color scheme came first, then the fabrics. The rug is custom – I fell in love with this bold, organic, shape-shifting pattern, which pleased both husband and wife. We did the chartreuse 'ribbon' in a shimmery art silk – NOT yucky viscose, but family-friendly, cleanable, nylon! That fabulous new channelback sofa, from Barrymore Furniture, is on-trend, but classic and polished…and it sits beautifully. The paint color is an updated, chic neutral backdrop – Benjamin Moore Old Soul.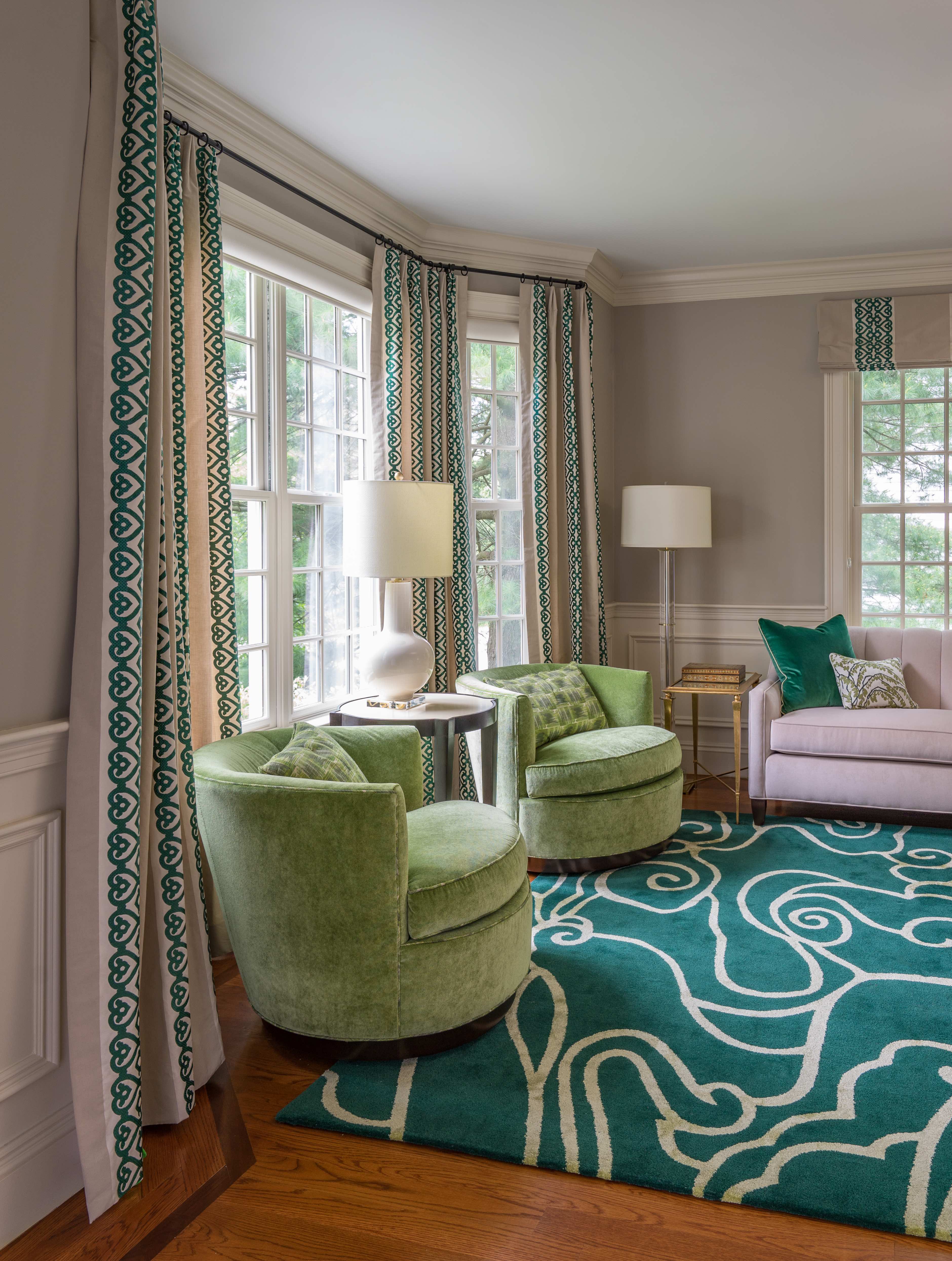 There is little more satisfying to me than placing brand new custom draperies in a bay window. Nothing transforms a room more dramatically! The fabric from Vervain was one I'd had floating around in my studio since my rep first showed it to me – it was love at first sight.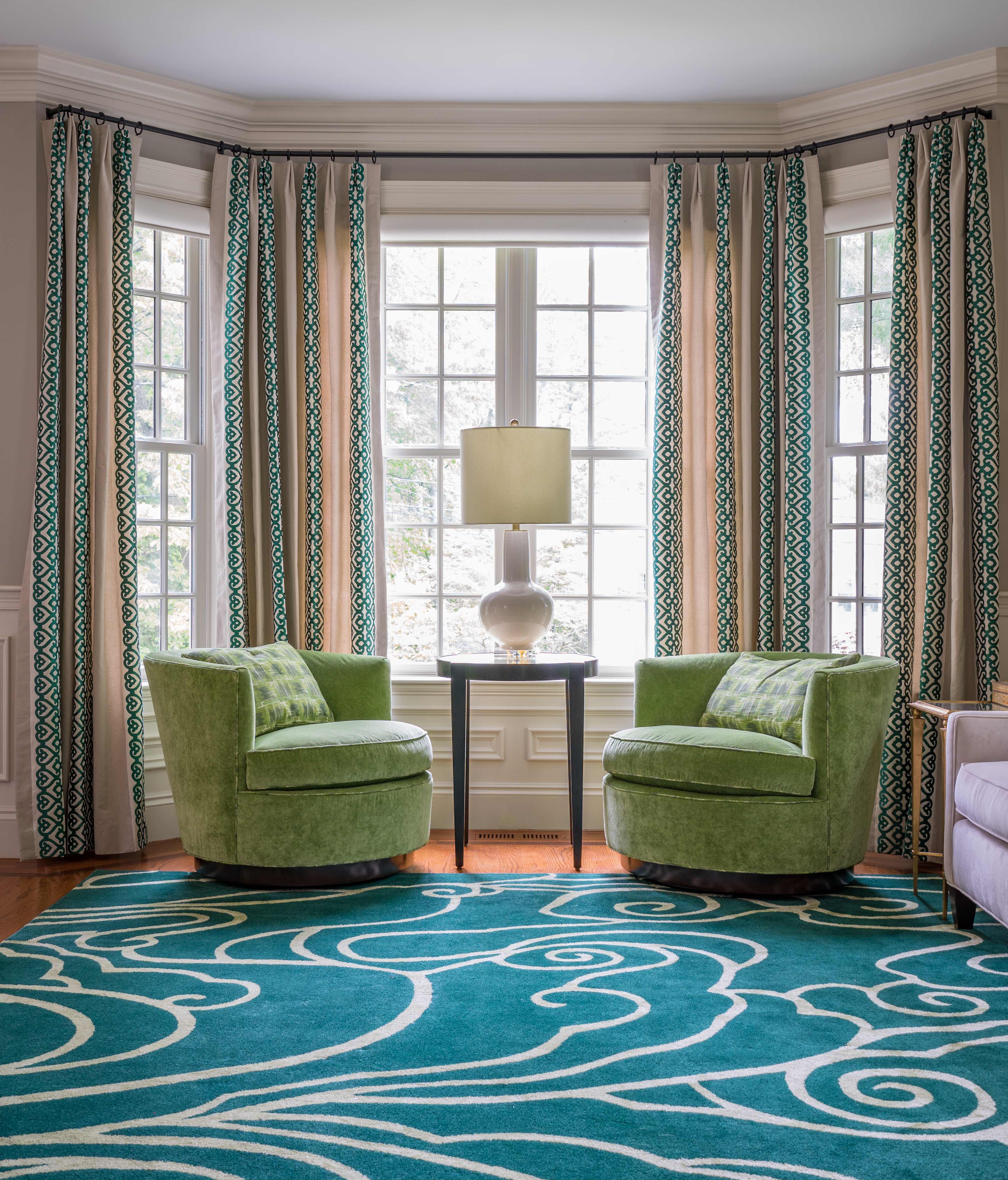 The side table from Bernhardt is one I've used in multiple projects – I love its shape and scale…and that it's exactly the same height as these swivels! Those draperies, though! The epically awesome round swivels are from Kravet, and are decked out in a washable plush fabric from Romo (plus an abstract plaid back cushion and contrast welt that really takes them over the top).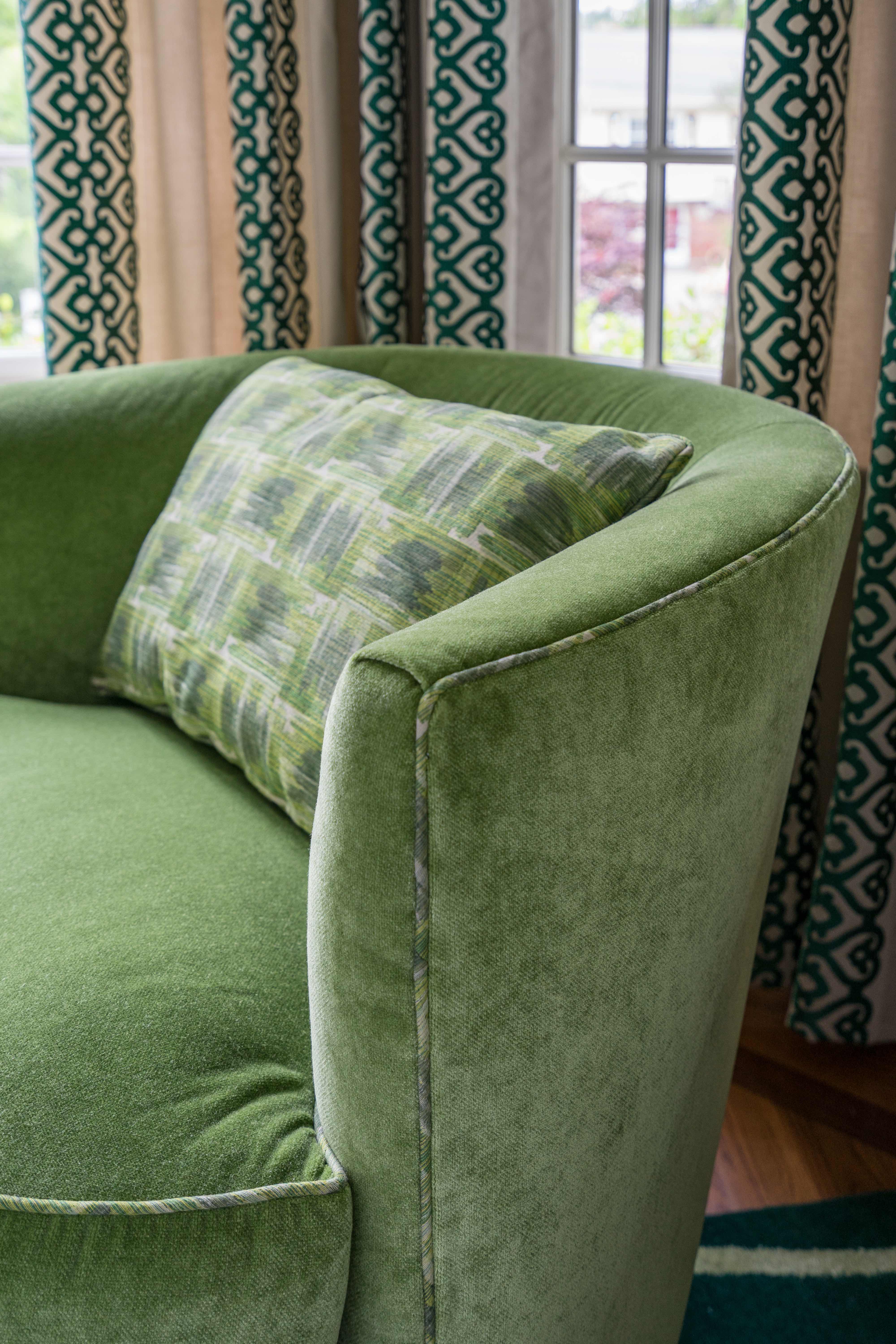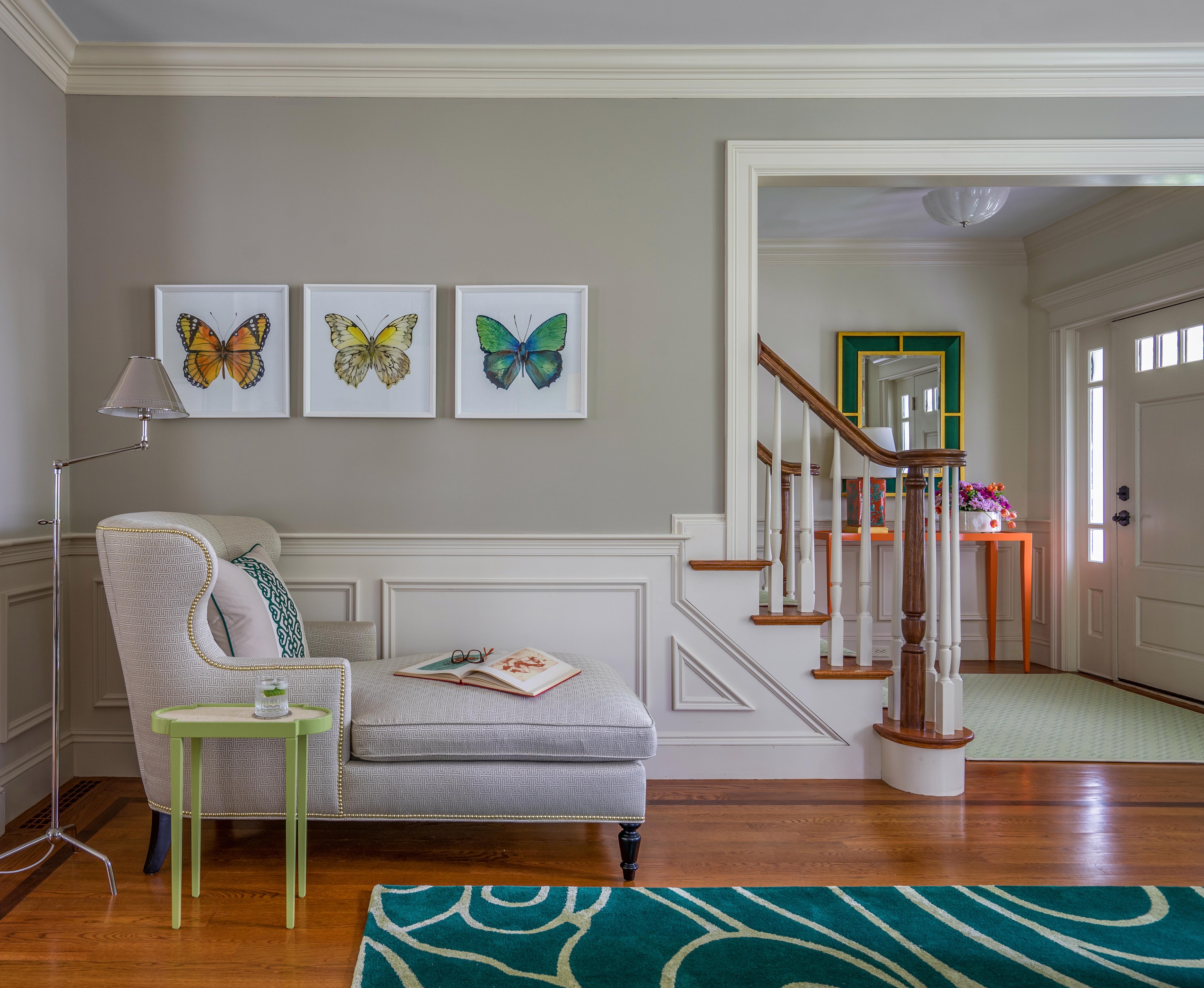 Meanwhile, tucked into the opposite corner of the room is a comfy and stylish Bernhardt chaise. It is a favorite reading spot, and a great place to snuggle with the kids!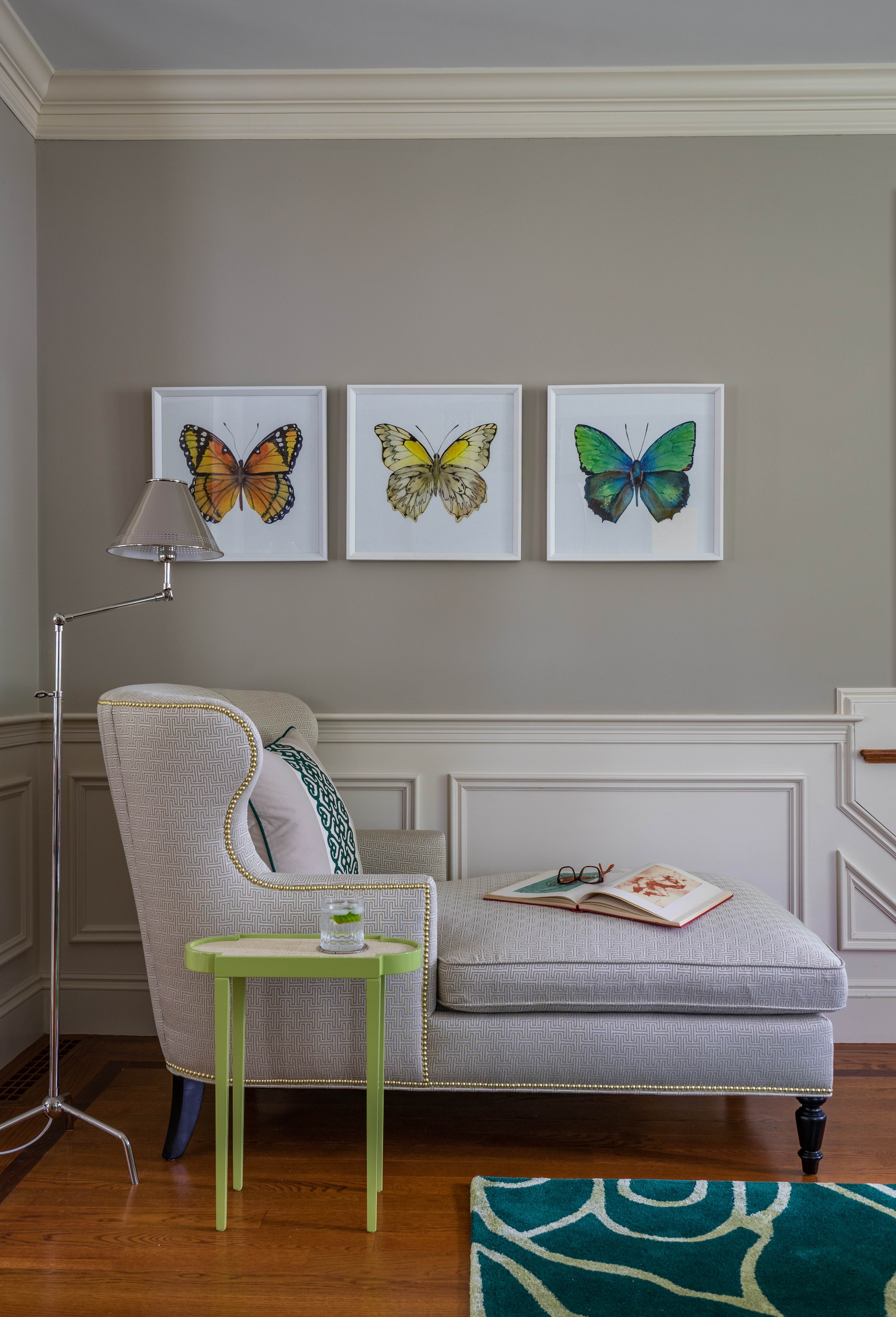 Another lacquered Oomph table is a perfect perch for a drink and a book. The butterfly prints are from Wendover Art Group.
BEFORE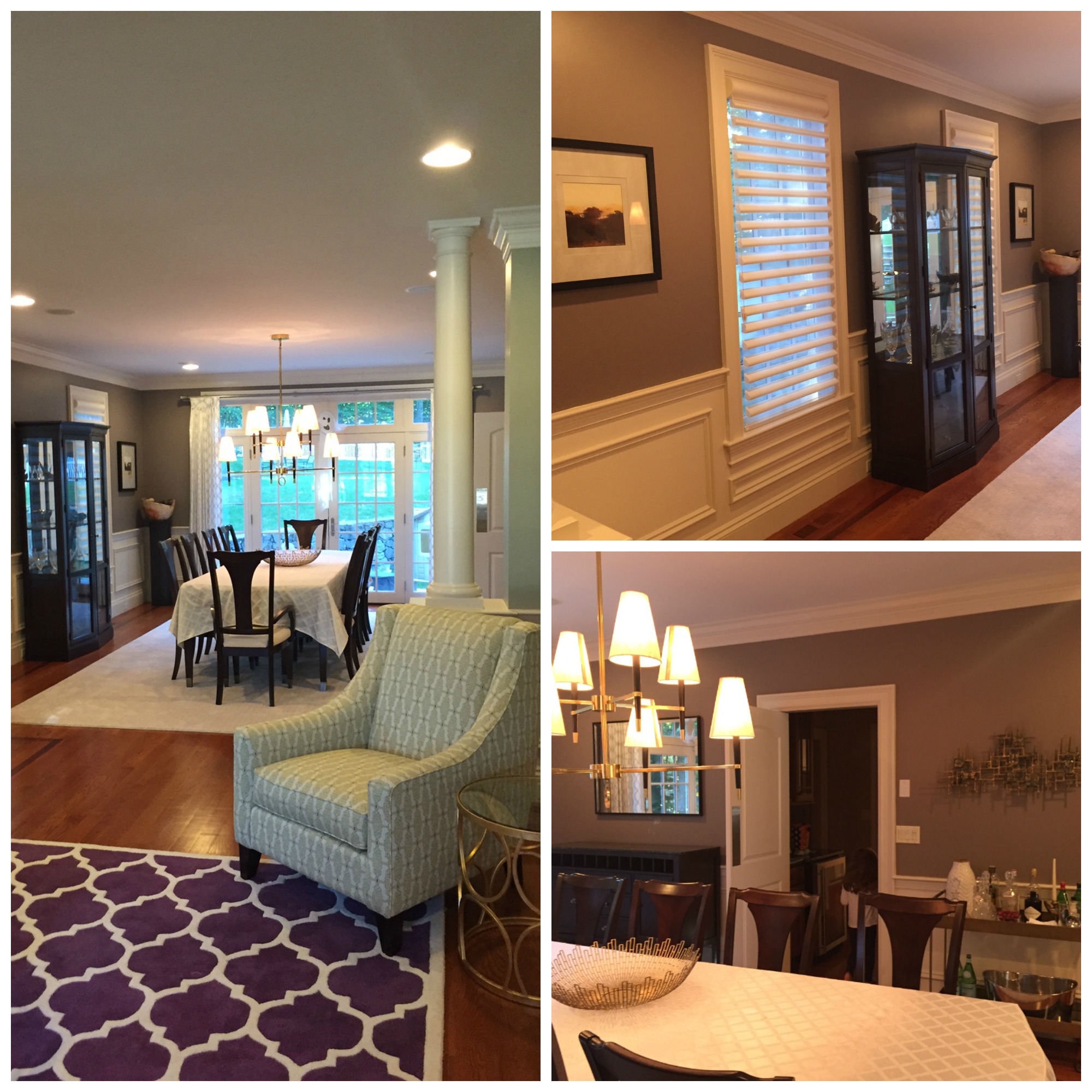 In the dining room, our scope was much more limited – but the decorative impact no less dramatic!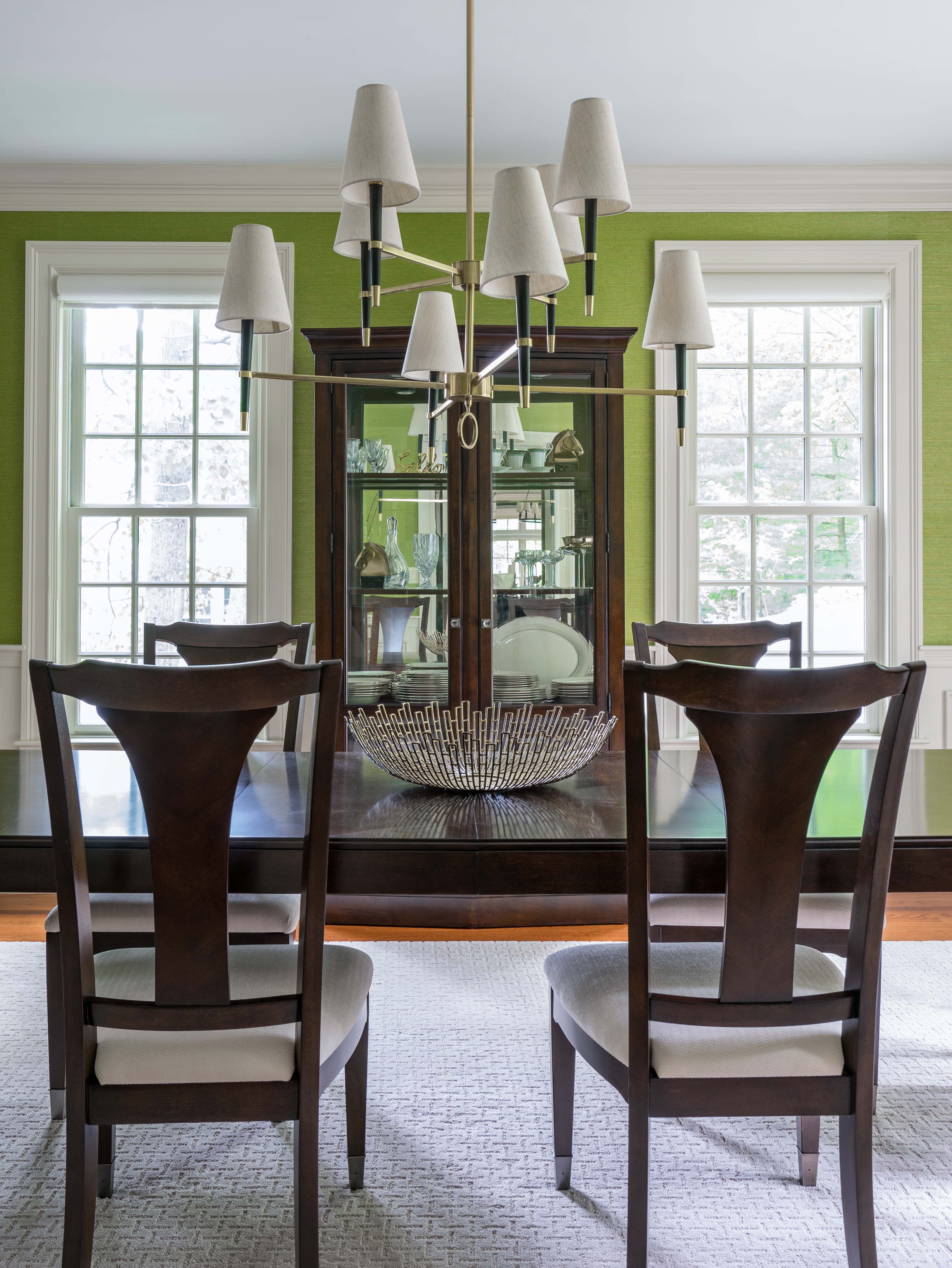 The addition of the lime green grasscloth from Phillip Jeffries connects this space with the adjacent living room, and adds zing and texture that was lacking before; a colorful counterpoint to the nice, but nondescript existing dark brown furniture. It also partners up beautifully with the mid-century-inspired Jonathan Adler chandelier my client already owned.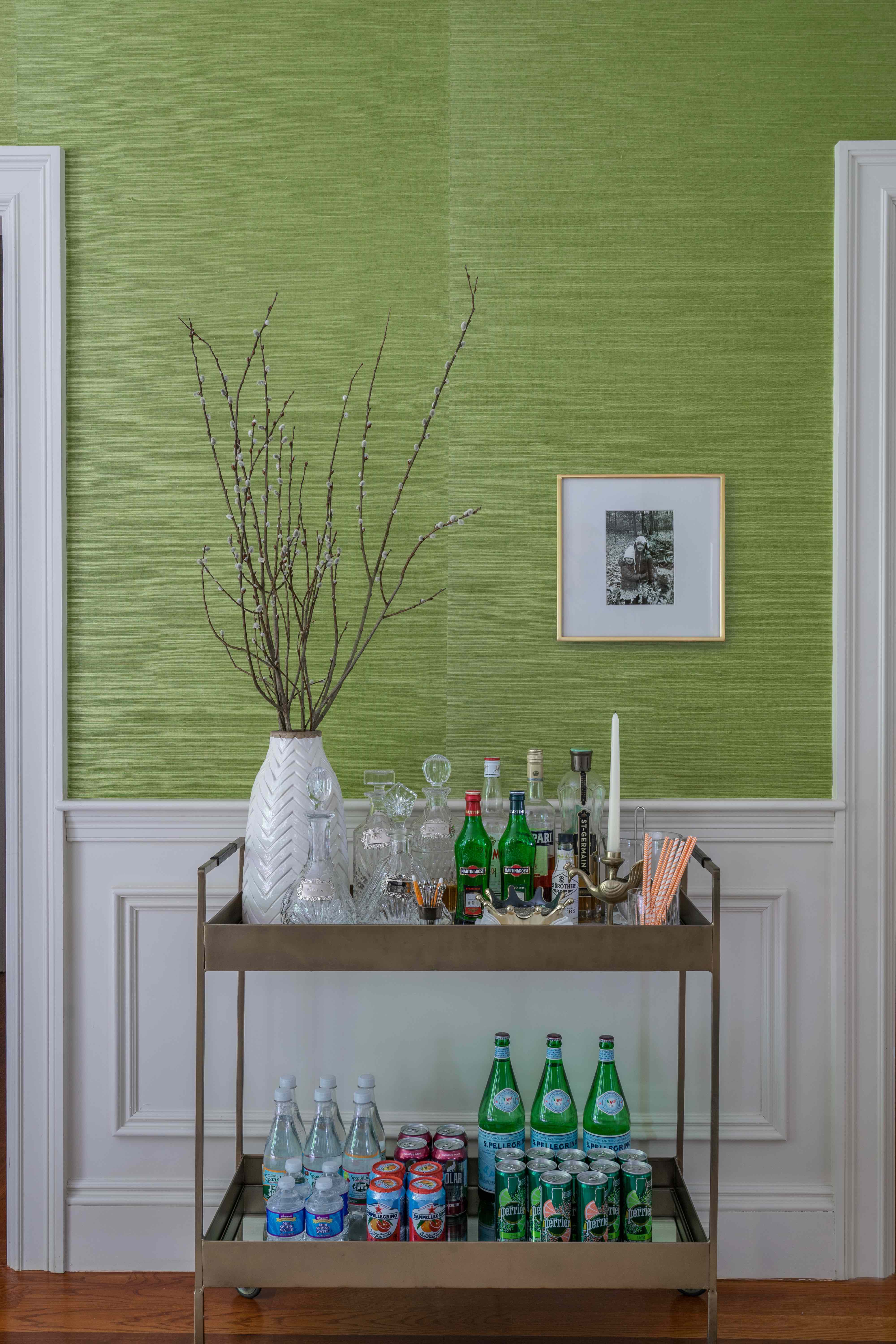 I restyled the client's existing bar cart using everything they already had. Only one small item is new!
So that brings us to the end of this story! Or does it? In the weeks leading up to our big installation, the client asked me to re-do their powder room from the ground up. The hitch? It needed to be done from start to finish in about five weeks, in time for the wife's birthday party. No problem! I presented my recommendations on install day, and we had a completed bathroom about three and a half weeks later (thanks in no small part to their speedy contractor, Cusato Construction).
BEFORE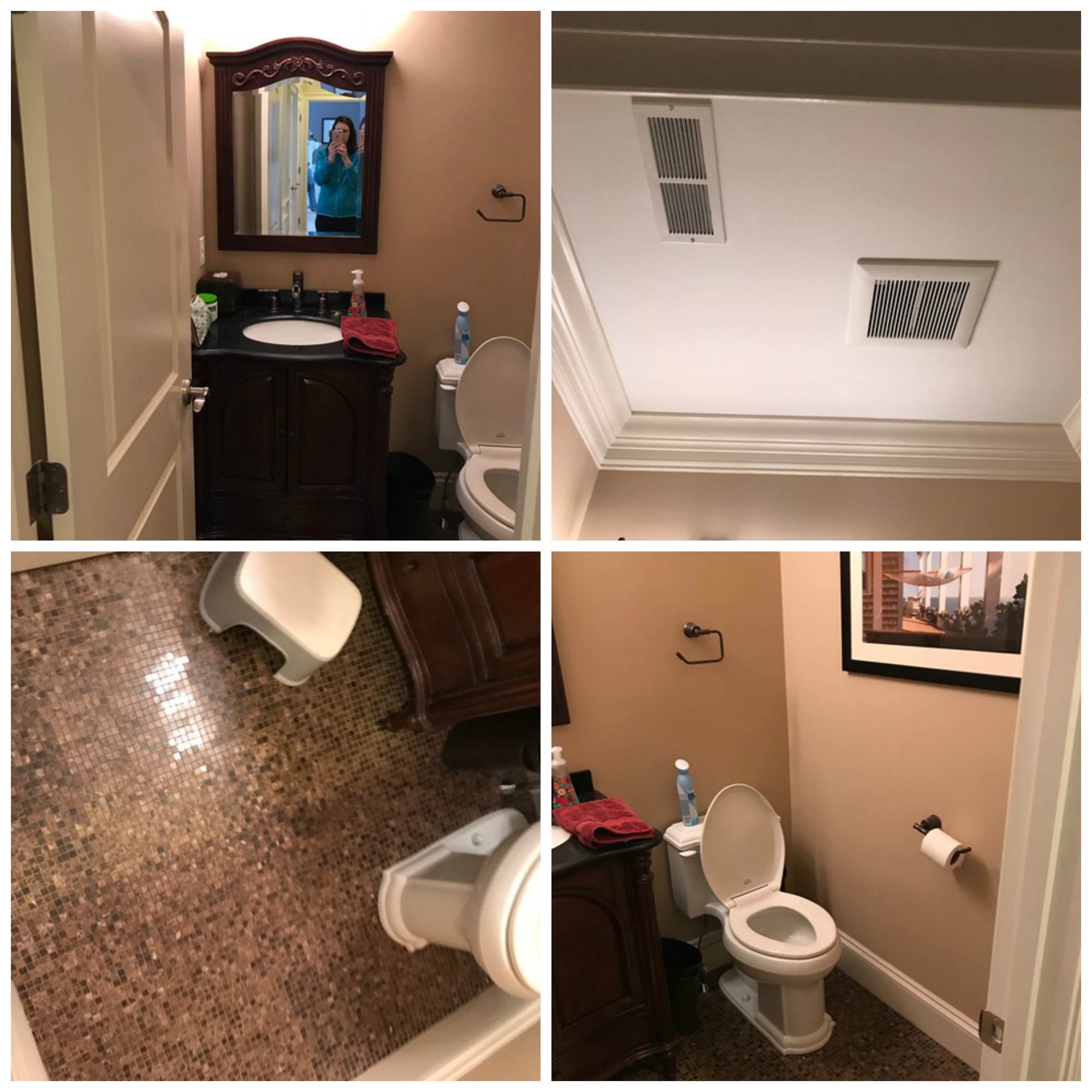 This bathroom was original to the house, which in this case was not a good thing :(. They were so repulsed by all that brown, their only request was for a light and bright design. Oh, and to maybe do something other than green!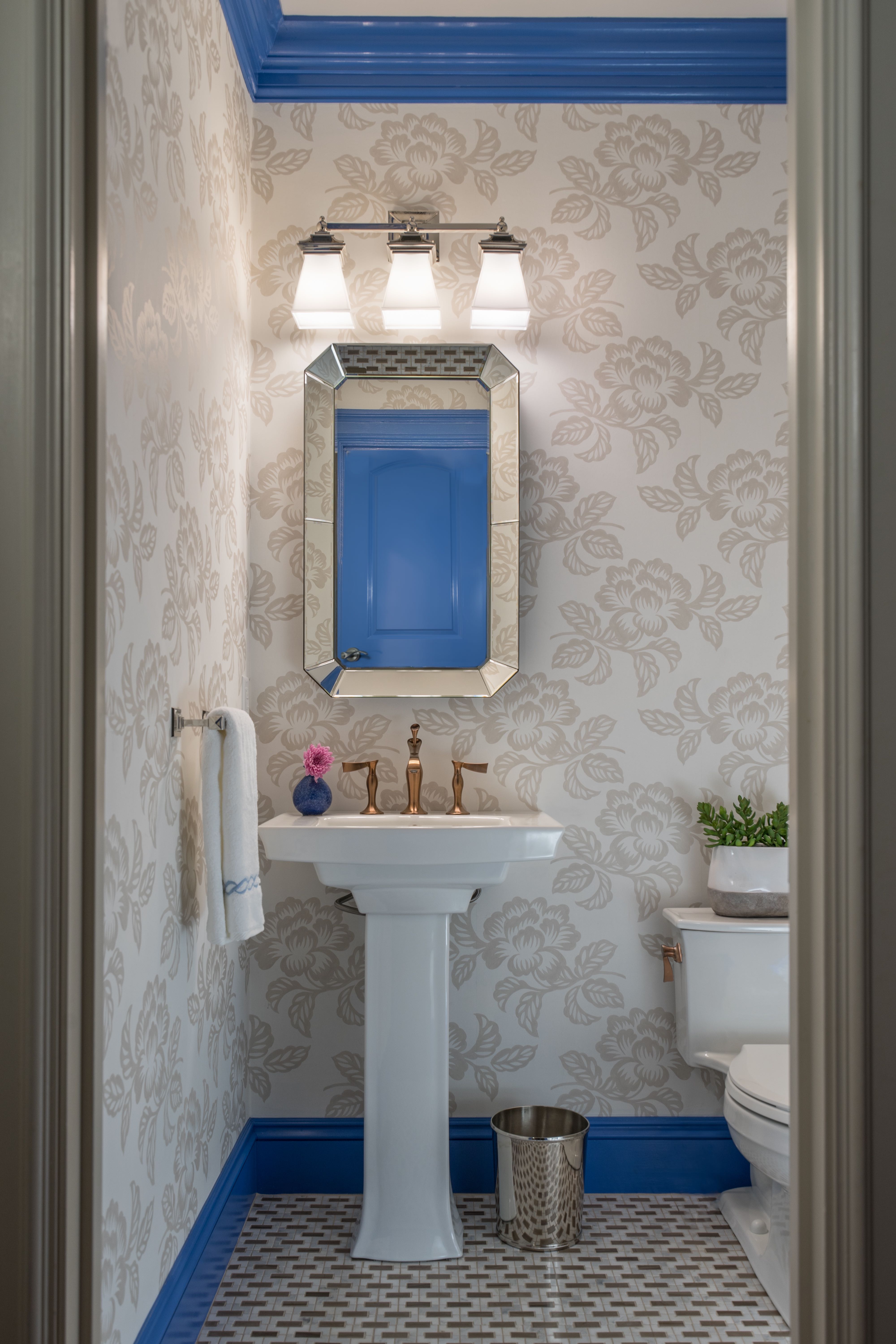 All the color in this space, as you can readily see, is in the trim – C2 Moody Blue in high gloss. The Designer's Guild wallpaper is bold, but in a soft neutral colorway, which complements the marble mosaic floor tile in a modern trellis pattern from TileBar. Next to the bright blue mouldings, the boldest statement might actually be made by the Brizo RSVP faucet!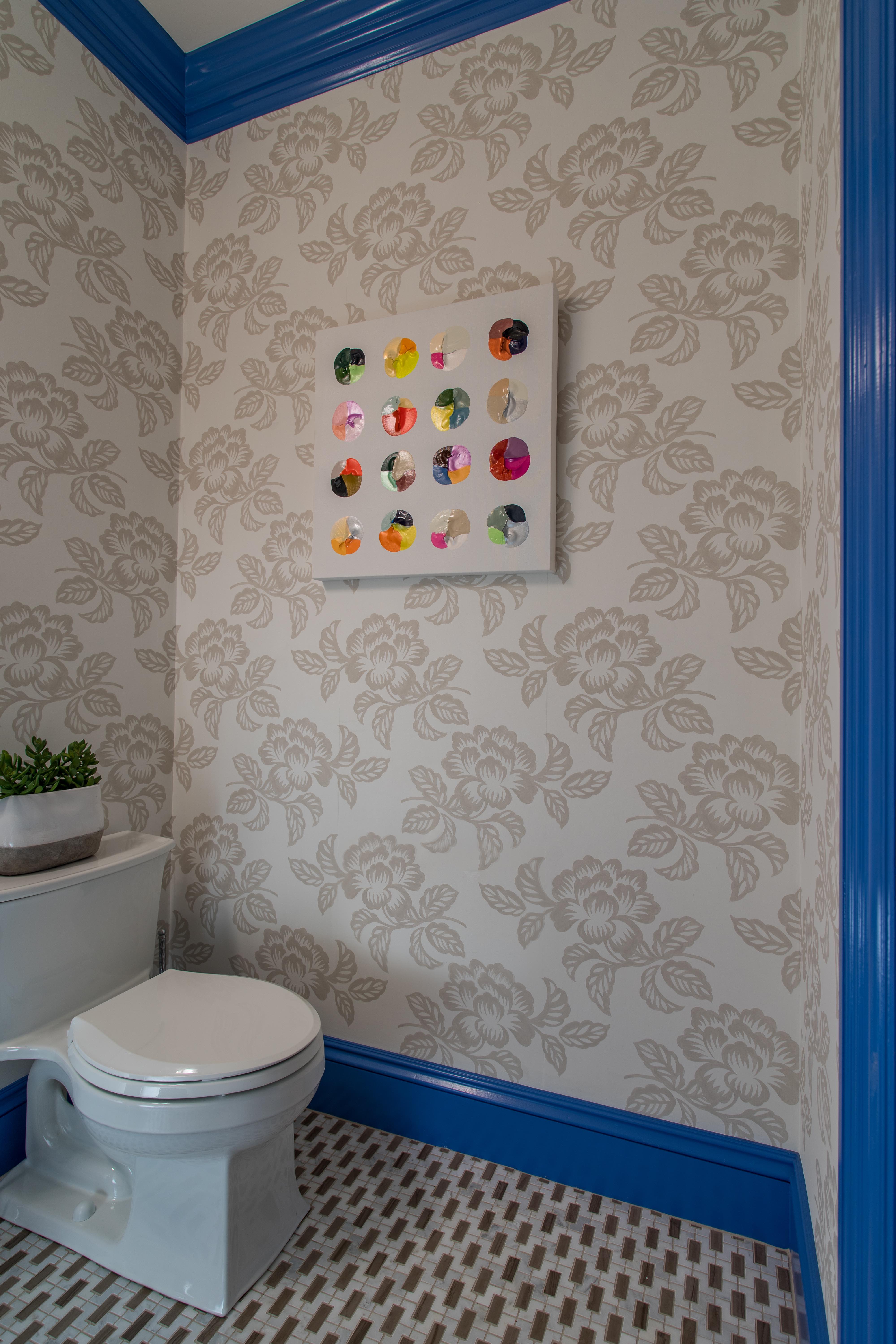 We couldn't resist adding a little more color and dimension with this fun painting by Logan Ledford, via Libby Silvia Artstyle.
I can only hope this decorating domino effect continues – I absolutely loved working with these clients (I mean, anyone who approves a dark green and chartreuse custom rug is a decorating soulmate and friend for life), and can't wait to help them transform more spaces in their Lexington home!
All 'after' photography by Eric Roth.