After this week, and for the next several months, my Tuesday posts will be dominated by my own home renovation. The thrill of agony, the victory of defeat. Er…something like that… Demo starts in ONE WEEK – omg! While the walls are about to come down at my house, for some of my clients, they are just now going up for the first time.
I thought I'd give you an update on one such project I've been working on with a family moving from the city to the burbs – and right into my neighborhood, as it so happens! They're building a beautiful custom home on one of the loveliest streets in town, and one of my areas of focus has been designing the kitchen. I wanted to share the plans with you not just because it's going to be really awesome, but also because of a discovery I made in the course of specifying its materials and finishes. More on that soon…
When I came on board the project, the overall interior architecture was pretty well solidified, and a placeholder kitchen design/layout was in place. I worked with the client and architect to refine the layout, optimize storage solutions, rework the cabinetry design, and add all of the 'designer details,' materials, and finishes.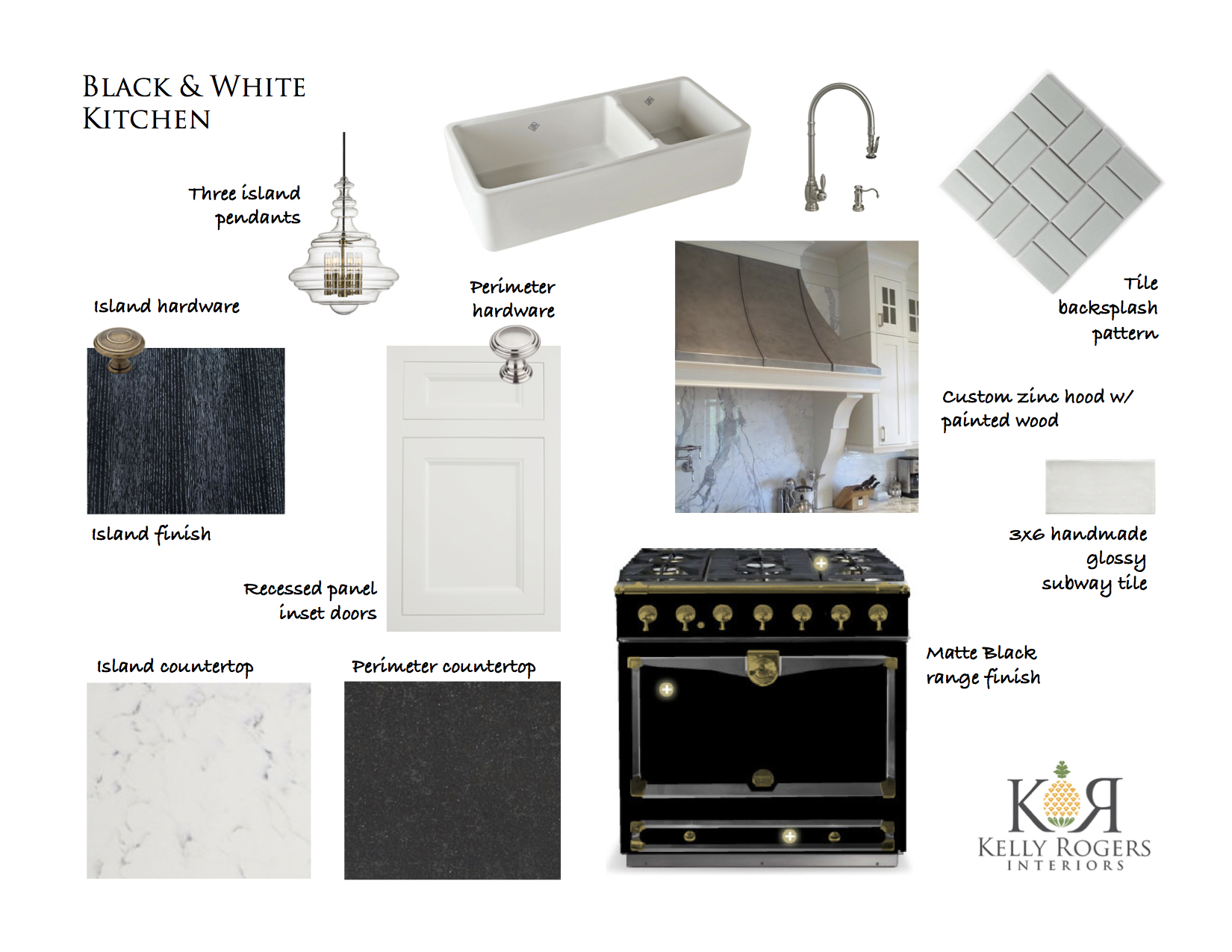 My client has beautiful taste, and she brought to the table the idea of a dark blue-black stain for an oak island, paired with white perimeter cabinetry. I loved it, and ran with a black and white (and gray) look for the kitchen – complete with a compact La Cornue Cornufé range – ooh la la!
I recommended quartz countertops – a white marble-look for the island, and a dark gray/black for the perimeter (white on black cabinets, black on white cabinets – sharp!). After a lot of back and forth, including a lengthy flirtation with quartzite for the island, and looking at virtually every quartz line and color available on the market (a lot!!), at this point we are right back where we started with my initial recommendations, which I teased the other day on Instagram (sorry!)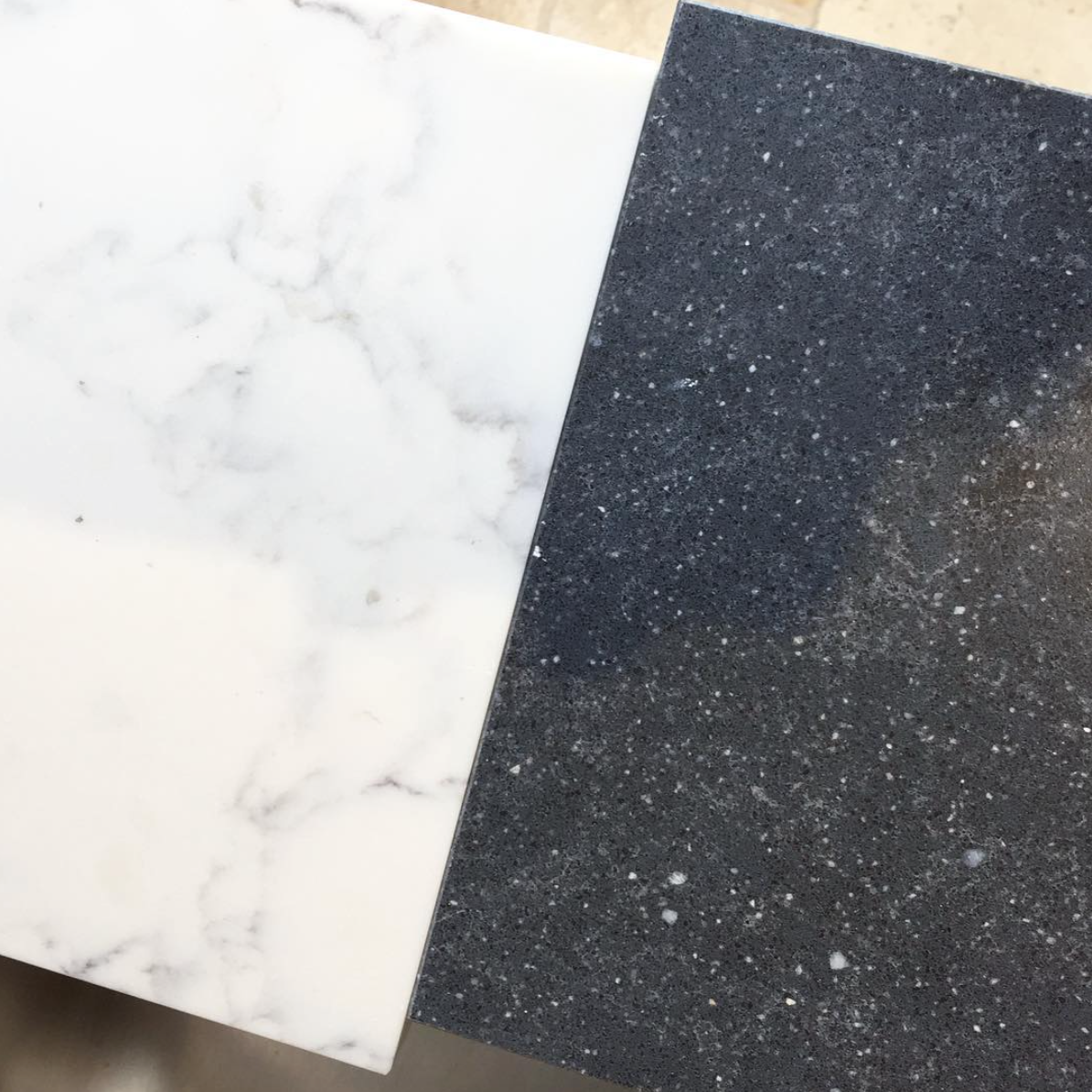 I feel like looking for engineered stone that looks the most like natural marble is a bit like the search for the Holy Grail. There are SO many white marble-imitating options out there from dozens of manufacturers, but the vast majority of them are an immediate "no" for me. They just look fake fake fake.
Before I go any further, I will share my source for these gorgeous countertops I sourced for this project – they are both from PentalQuartz. On the left is Onixaa Honed, and on the right is Belgium Blue Satin.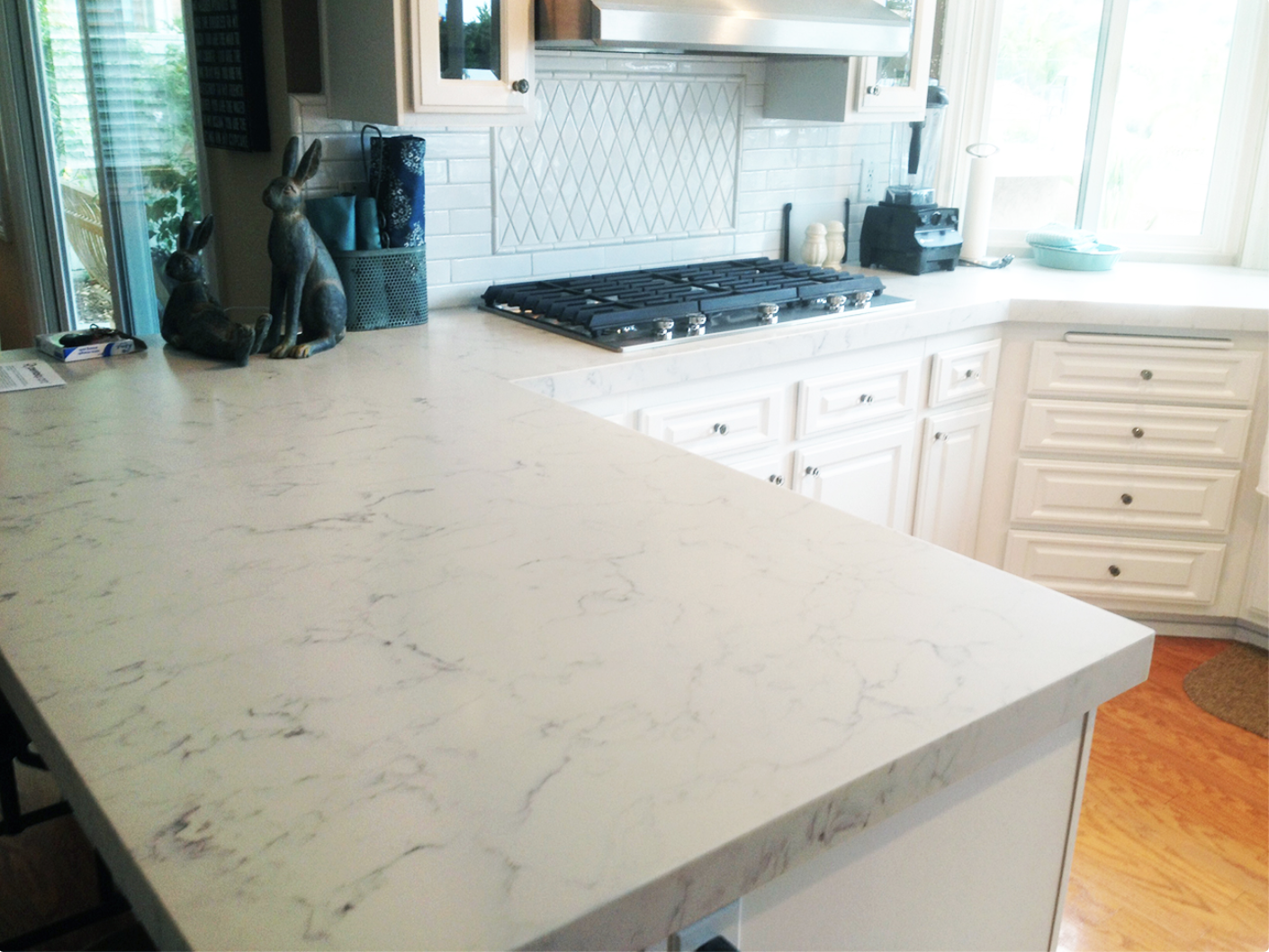 PentalQuartz Onixaa Honed install shot
I thought it would be helpful to try to identify the characteristics of a marble-imitating quartz that make it look the most convincingly marble-like, in my view.
1.) Vaguely translucent. Nothing says 'cheap imitation' like a solid bright white opaque background. The most realistic marble-look quartz is not actually translucent, but the white is a bit 'off' and seems to have some depth to it.
2.) Veining that appears to pass through the slab. Both 'all-over' and distinct veining patterns look most convincing when there is some subtle variation in color tone and intensity, which gives the impression of the depth and permanence of natural stone. Veins that appear to be right on the surface are a dead giveaway (but might actually be cool in a more contemporary kitchen).
3.) Non-repeating vein pattern on a slab. Those tiny little spider-vein stones aren't fooling anyone.
I absolutely love the Onixaa Honed; it checks all of the above boxes, and then some. Now, the honed finish does require more care to keep looking pristine (fingerprints and such), but it is a factory finish (not honed after the fact, which would void the warranty), and is cleaned and maintained in exactly the same way as its polished counterpart. And as with all engineered stone, you don't seal it.
And if you love the look of soapstone or bluestone but not the time and effort required to maintain them (or the many drawbacks), PentalQuartz's Belgium Blue is a truly great-looking option. It comes in both polished and satin finishes; they are both beautiful. The mottled pattern is very natural-looking, and very much unique in this category. We are planning to use the satin finish (in combination with glossy handmade subway tile on the backsplash!
I think the reason we don't see a lot of PentalQuartz installs in my geographic area is because the nearest place to view a slab, without actually ordering one and having it shipped to your fabricator, is Bridgeport, CT! You would think that, living in the Boston area, there would be a distributor much closer! And seeing a slab is actually pretty important, especially when you're evaluating these marble-looking options where the veining has a more subtle and irregular pattern.
Of course, just when I thought we were locked in our decision for this client's kitchen, I came across an ad for this new Caesarstone offering in the current issue of Elle Decor: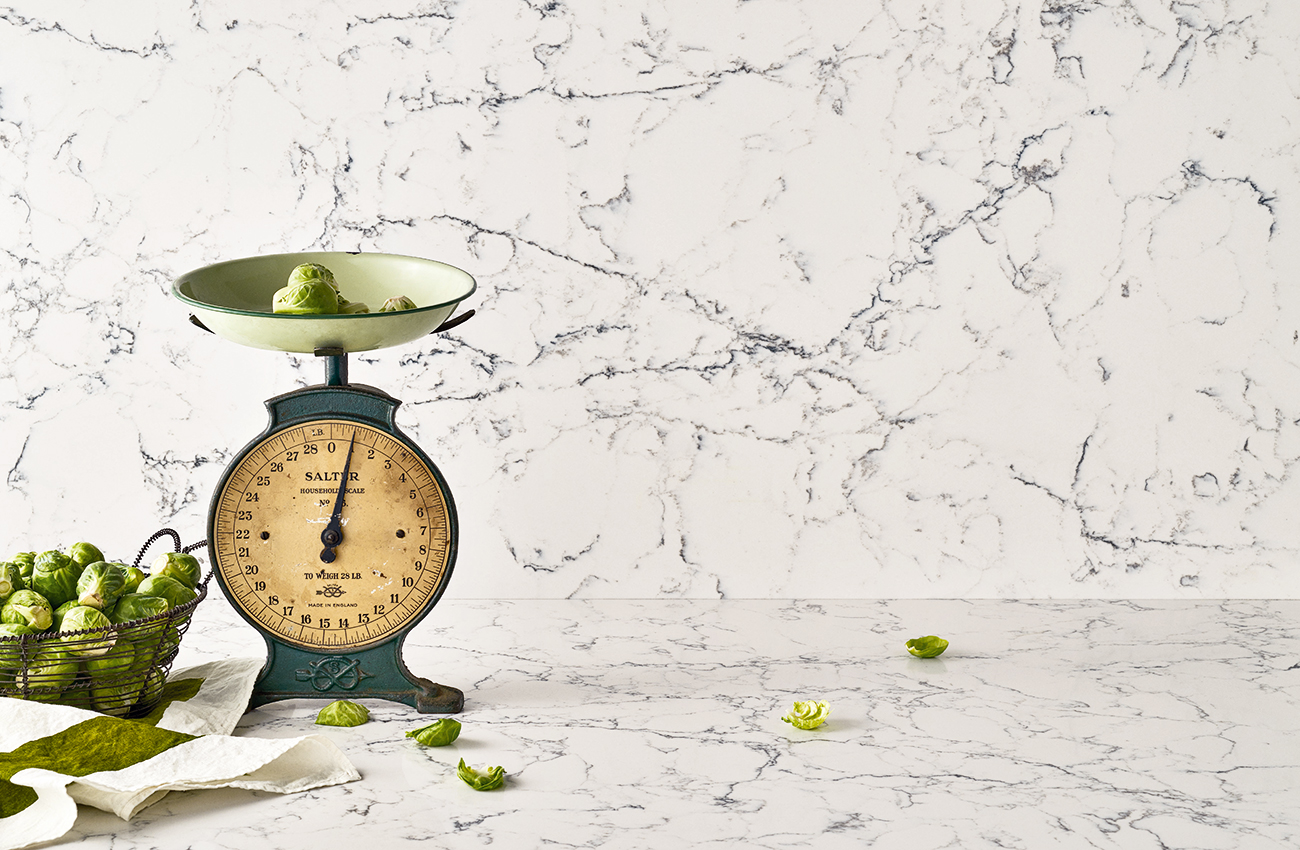 White Attica, as it is called, it part of a new 2017 collection from Caesarstone that appears to be delivering excellent imitations of both marble and quartzite. This one's definitely more dramatic than Onixaa Honed – more of a black-and-white look. While I have not yet seen it in person, it looks very promising, so we'll have to check it out before making our final decision.
You can follow the progress on this project- #KRIProjectWabanCustom – on Instagram, I'll be back on Thursday with my One Room Challenge Week 2 update…stay tuned!