This winter in New England has been most bizarre. We shoveled our driveway only twice in 2012 (so far). Record highs are being shattered on virtually a weekly basis. With several days in the 50s, 60s, and even breaking the 70 degree mark, it almost feels like we skipped winter and spring. But I knew it was most definitely early spring when I spotted the tiny majesty of deep violet crocuses peeking out from a humble pile of last fall's leaves, while out on a (jacketless) walk with my son a few days ago. These are among my favorite flowers – especially when they are naturalized in a well-manicured lawn, creating an impressionistic effect of green and painterly purple.
The crocuses along the sidewalk grabbed my attention, and also reminded me how special the color purple is.  Purple is the color of royalty. It can be richly saturated and majestic, dusty-gray and mysterious, or pastel and sweet.
Here are some purple rooms at both ends of the spectrum, and everywhere in between. They're all posted on Houzz.com – if you haven't yet discovered this site, now is a good time to check it out! Clicking on the photos will take you off site (in a new window – don't worry) to Houzz to learn more about the room, the designers, etc.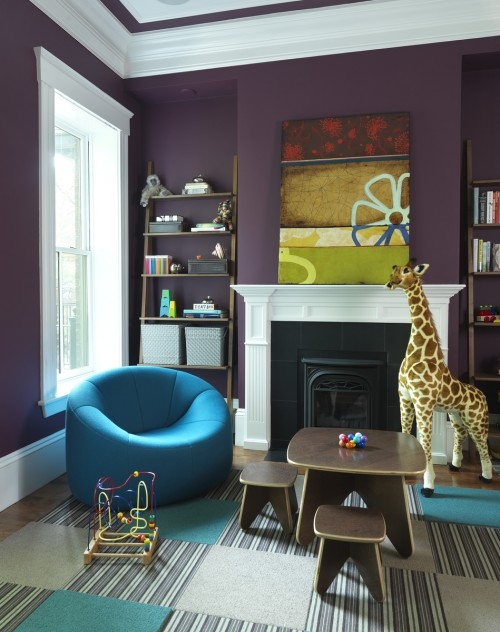 (Above) This playroom by Rachel Reider Interiors has clearly been created in a space that wasn't intended for this purpose. There are just enough whimsical elements here, and furniture for little people, to serve the current function, but the transition back to family room or parlor should be seamless – helped along by the sophisticated eggplant hue on the walls.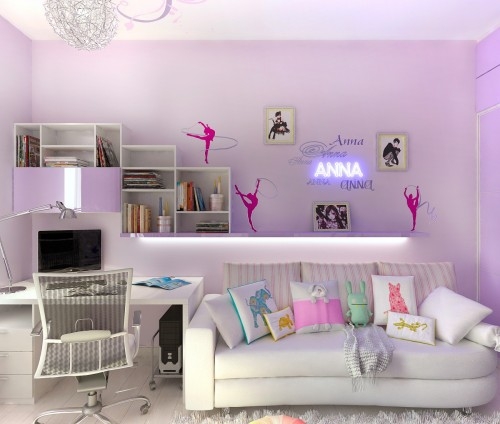 (Above) This adorable kids bedroom is a great reminder that lighting can add not only drama, but also positively alter the quality of color in an interior space. The entire room is aglow in a light pinky-purple. Loving this.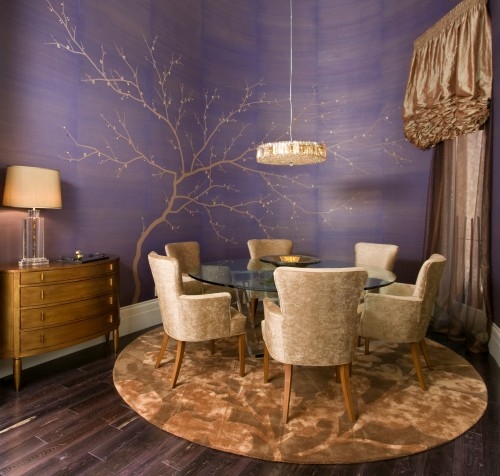 (Above) The purple and gold should remind me of my alma mater, Williams College, but it's anything but collegiate. The layers of gold in the sideboard, dining chairs, rug, window treatments and chandelier create a glamorous space, but somehow the lavender wall covering with the organic design element keeps the room design grounded and intimate.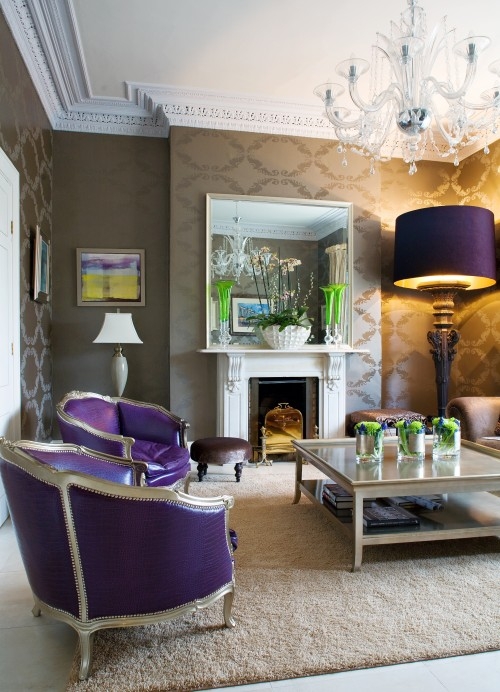 (Above) For me, this room is a bit Alice in Wonderland (especially the oversized floor lamp), but I wanted to include it for the purple chairs alone. They look at once fit for royalty, and right at home in a swanky, contemporary urban living room.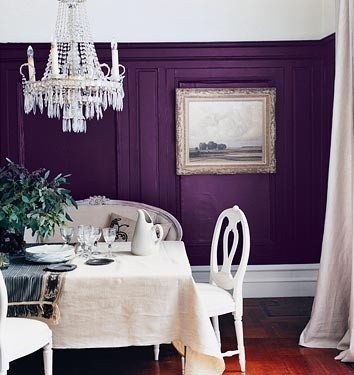 (Above) This dining room is a bit of an enigma – in a good way. The purple accent wall is a bold hue, for sure, and stands in stark contrast with most everything else in the room, which is white or off white. Yet somehow, the net result is a sophisticated, serene space. The art on the wall actually plays a big role in setting a peaceful tone, I think.
Welcome spring (and the crocuses), and think purple!