In a recent post (Oh Baby: 7 Steps to Decorating a Unique Nursery), I promised to post pictures of my son's room. The theme we chose was "Yellow Submarine" – mom is a big Beatles fan. I featured our glider, the Dutailier Cadenza with midnight blue leather upholstery, in a previous post as well, so if you've been following this blog, you'll recognize some things. If you're new, welcome! Be advised – there is nary a pastel shade to be found in my son's special room. And he likes it that way. 🙂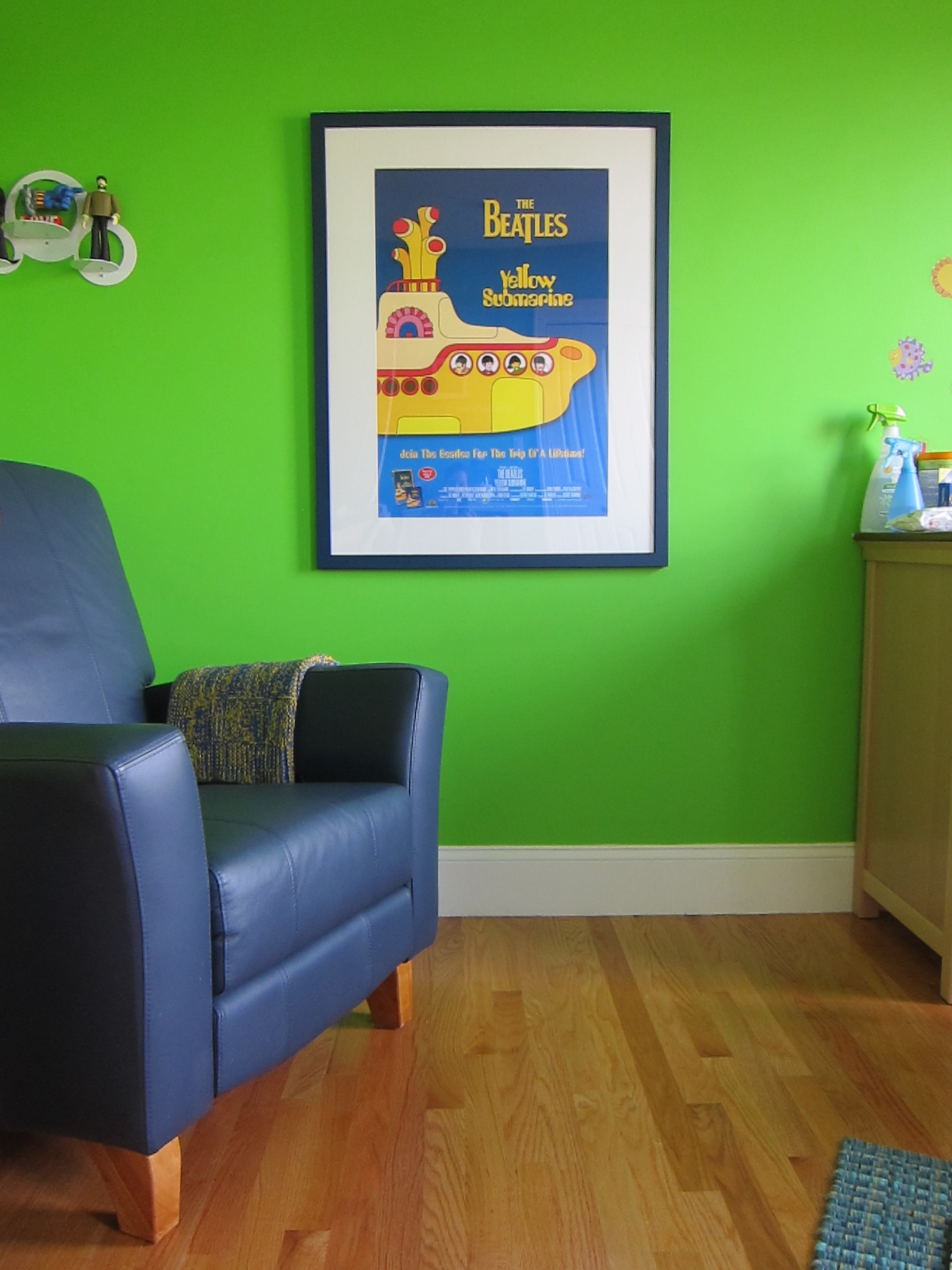 (Above) The focal point of, and palette inspiration for the nursery – a framed "Yellow Submarine" poster. My son still loves to look at it while I'm burping him, or just enjoying some quiet time in the glider.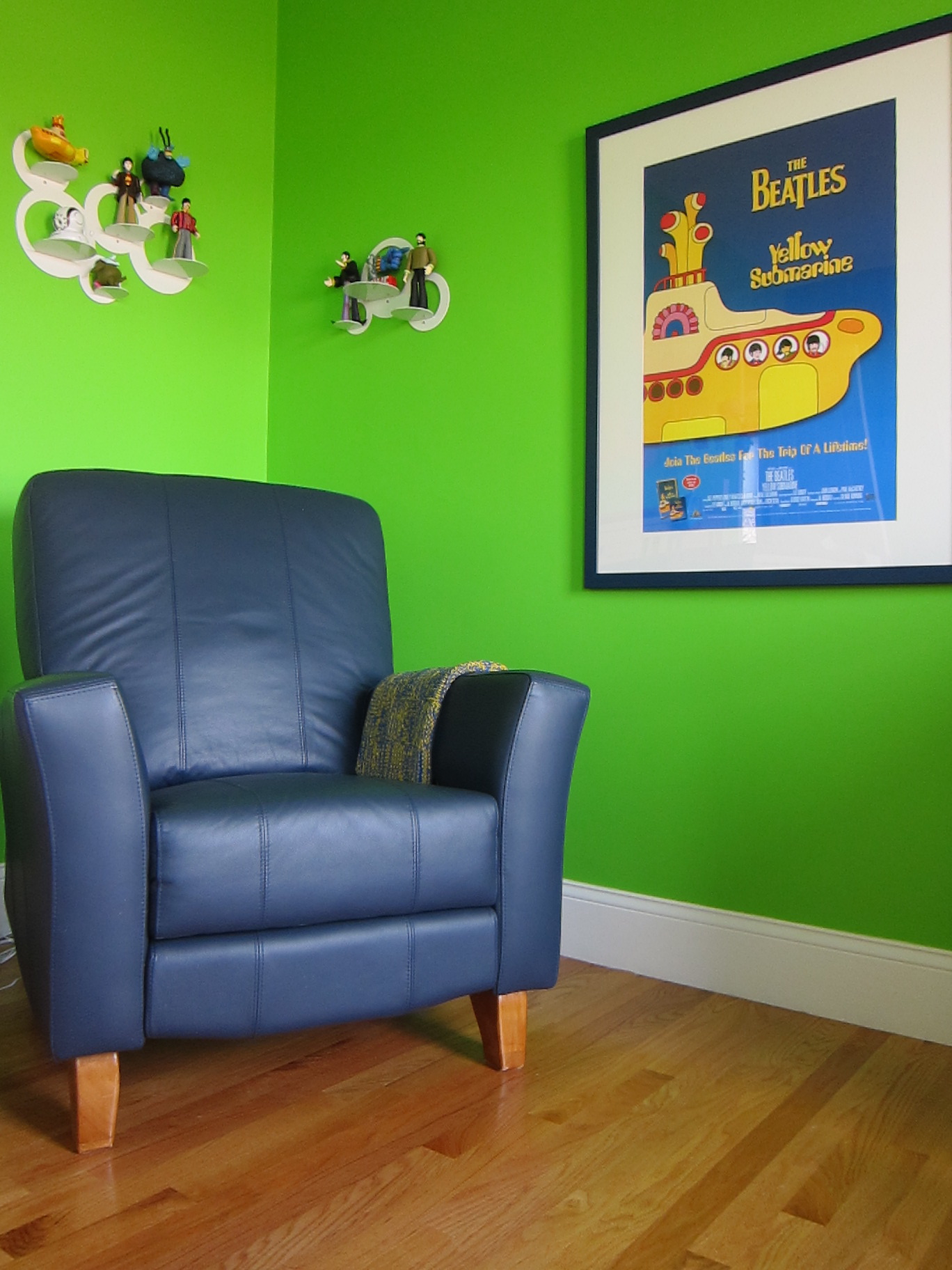 (Above) The glider. So comfy, and not hideous! My husband's favorite feature is the recline function. I love the contrast of the dark blue with the lime green walls. Funny story about the walls…we hired a painter, and he came downstairs and asked me "Are you sure this is the color you want? Will you come look at it?" I told him, and others who reacted strangely, "Yes, trust me."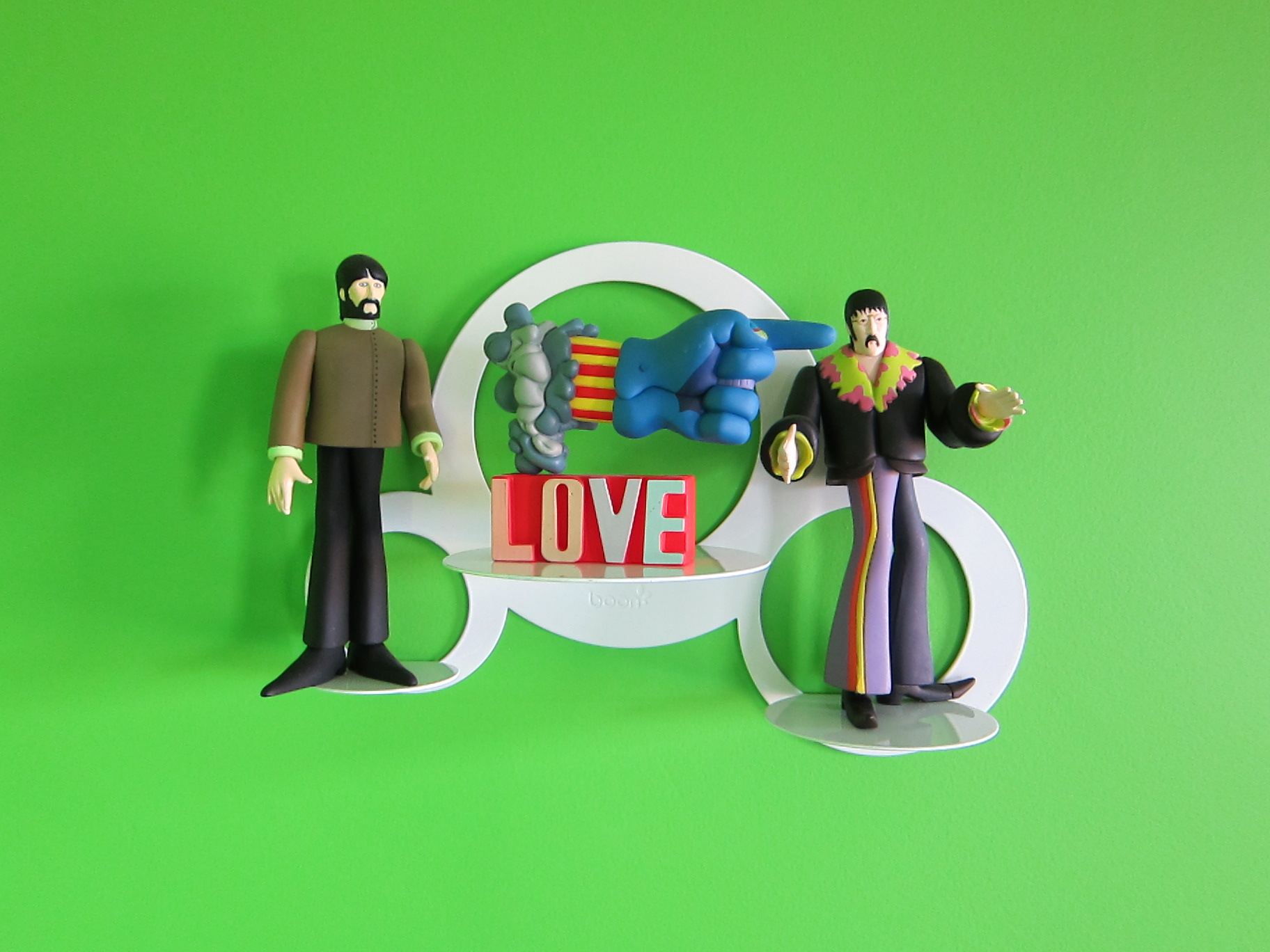 (Above) One of my beloved figurine vignettes. I had to scour Ebay and Amazon for months to find all of the pieces, and to get decent pricing. I was originally planning to place them on a ledge-type shelf, but when I found the bubble-shaped Boon Flaunt in two different sizes, I knew they'd be the perfect display for John, Paul, George, Ringo and friends. These "toys" on the wall elicited some of my son's first smiles, and continue to delight him on a daily basis. That made it worth all the work, and then some!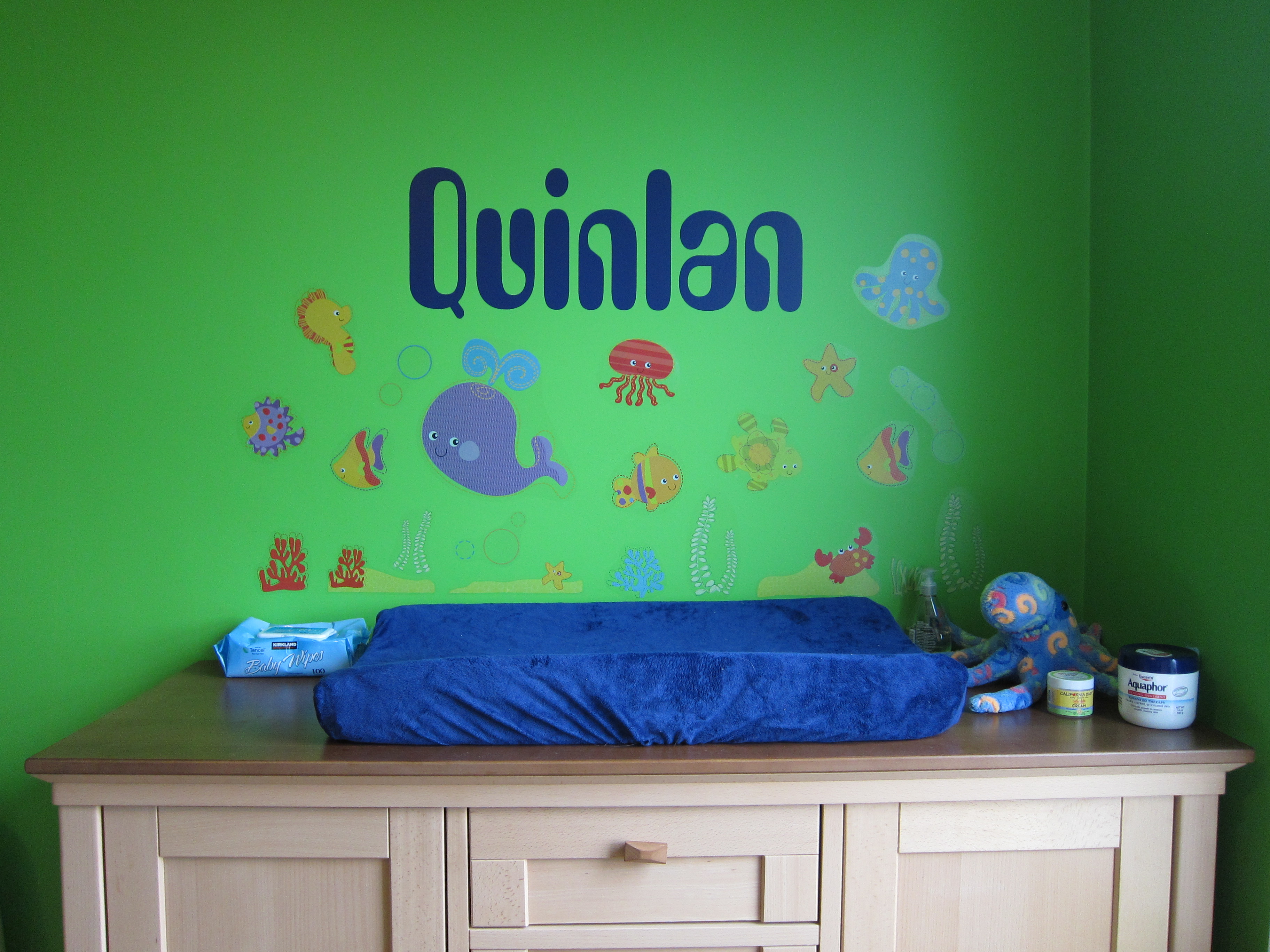 (Above) The changing station. I know, I know – the Fisher Price Ocean Wonders decals are not exactly the pinnacle of good design. But I didn't do this for me – I did it for Quinlan (my only current "client")! And he LOVES it! I knew I wanted to put his name on the wall, so I spent countless hours searching for the right letters, in the right typeface – and then just asked Etsy's Household Words if they could do a custom size and font (Yellow Submarine, of course!).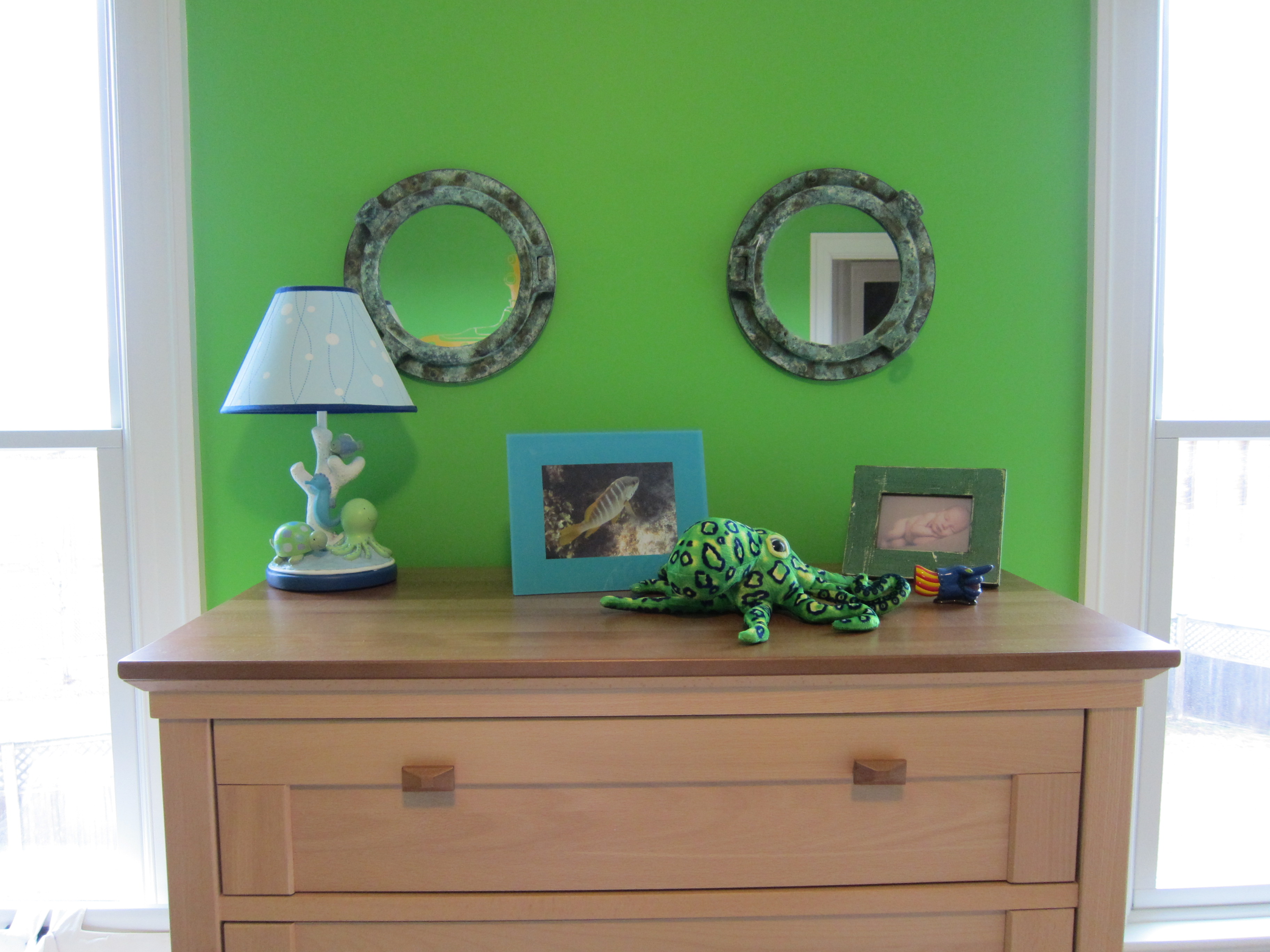 (Above) AYellow Submarine nursery would not be complete without portholes!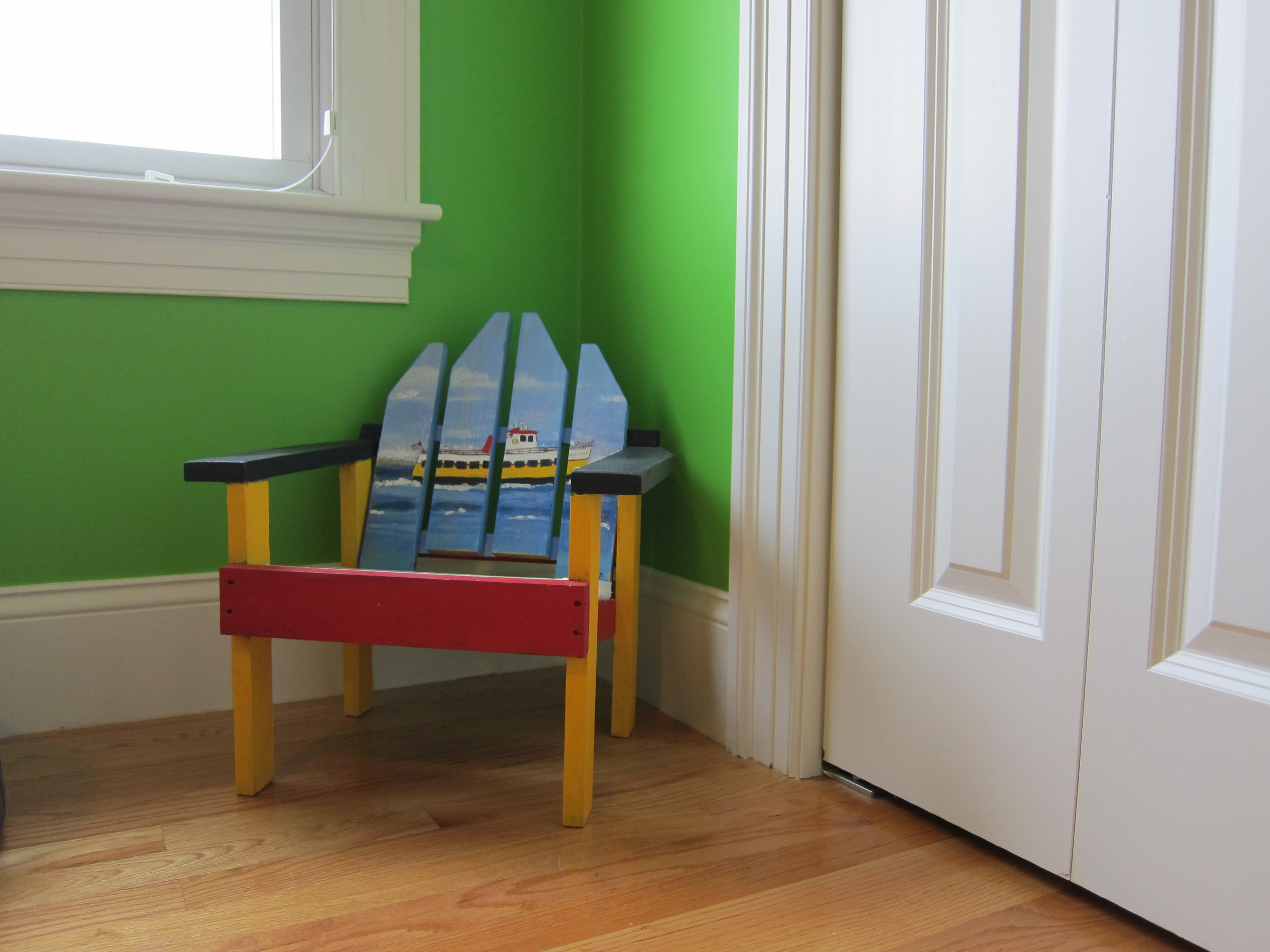 (Above) This is one of my favorite pieces in the room – and I can take no credit for it! The mini Adirondack chair, hand-painted in Peaks Island, ME, was a baby shower gift from a good friend and her mother. It also helps illustrate one of the best things about the theme I chose – how versatile it is. Any aquatic or sea-faring items are very much at home in the Yellow Submarine nursery.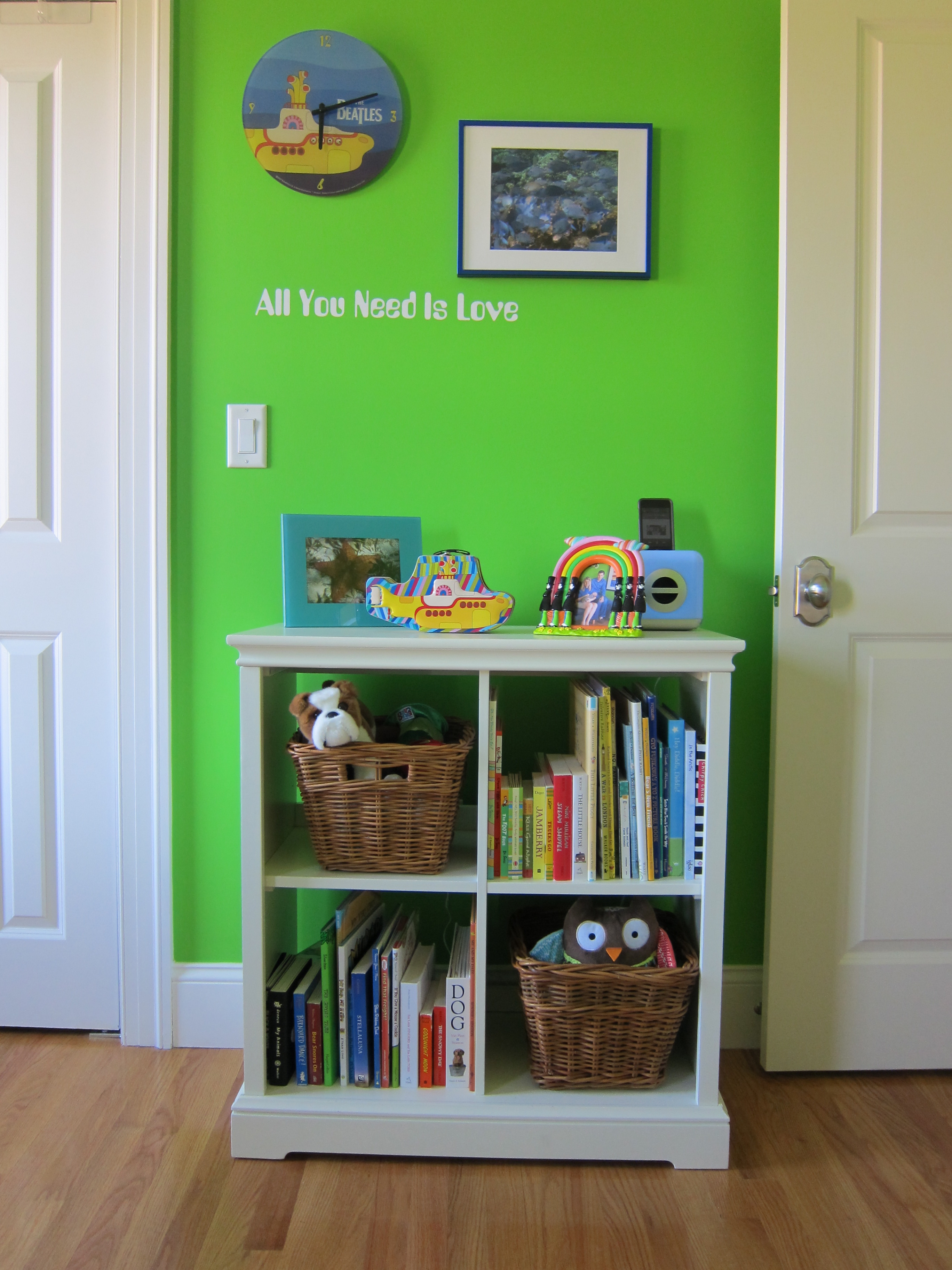 (Above) This bookshelf from Pottery Barn Kids isn't that interesting in and of itself, but it was the perfect size and color for the small space I had in mind. The framed fish photography was a gift from Grandma, who snapped the pictures while snorkeling in Roatan while my little guy was still "baking." Playing on the iPod, which is nestled in a color-changing iHome docking station: something from Howard Jones' Human's Lib.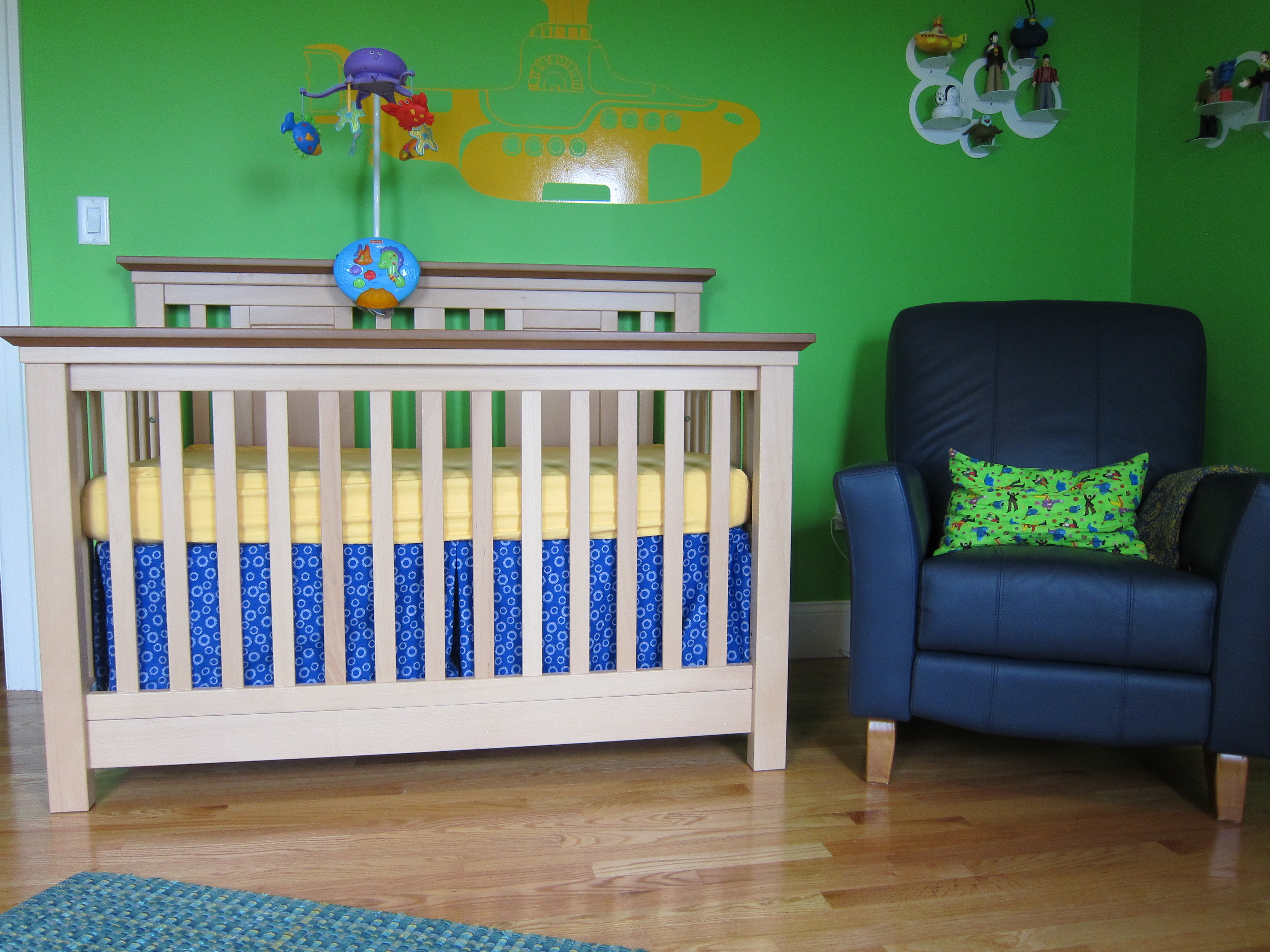 (Above) Yikes – sorry about the wonky lighting in this picture. Had to show you Quinlan's crib, though, which we love! It, as well as the changing station and the dresser, are from Romina's Karisma collection. They have so many custom stain options – we went for a two-tone look, alberto puro with bruno antico trim. It is truly remarkable furniture. Mobile is another Fisher Price Ocean Wonders find. The giant submarine decal was found on Etsy, but is a custom size and color.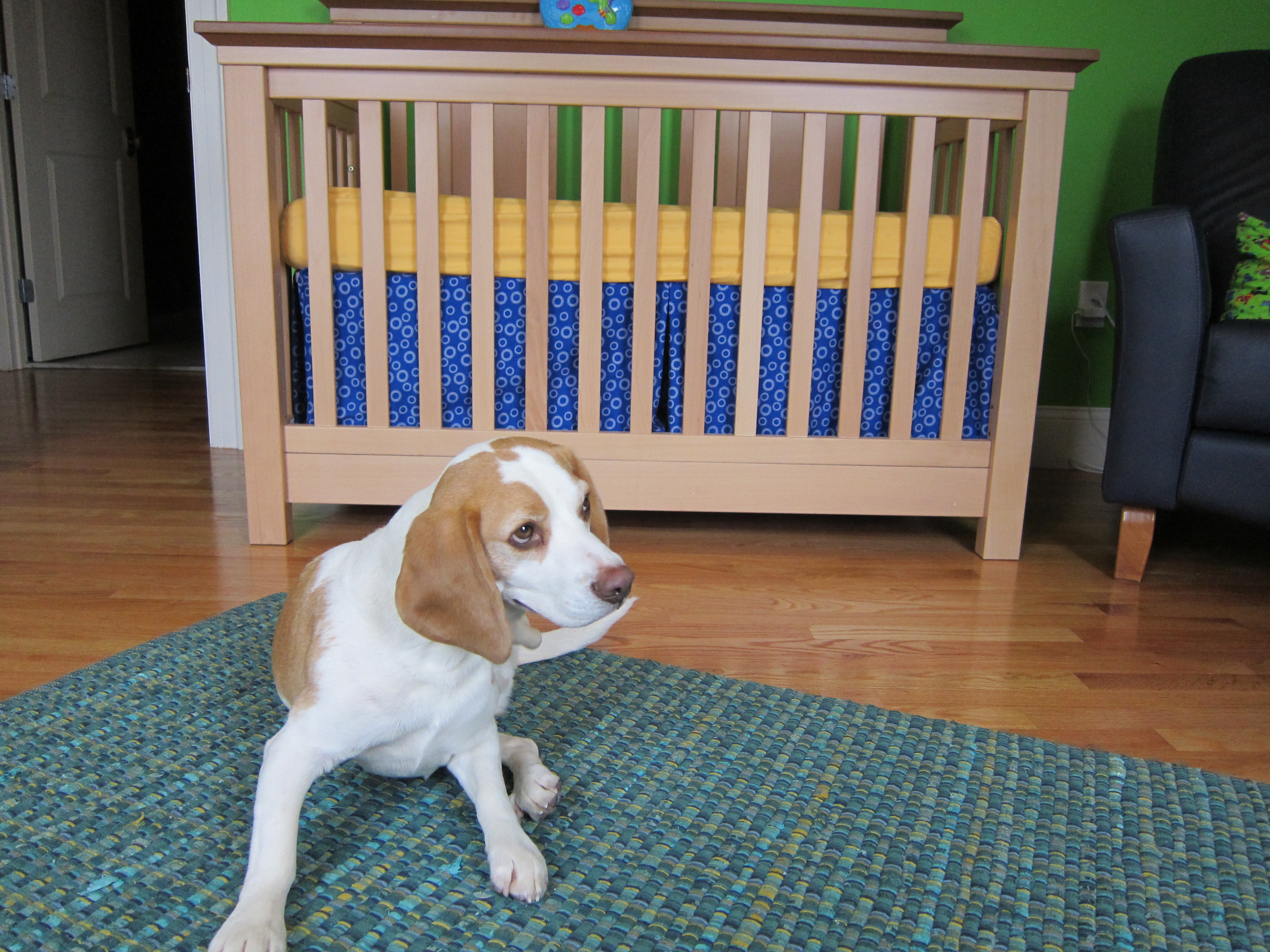 (Above) Big brother Harrison the beagle, scratching an itch in his new favorite room in the house.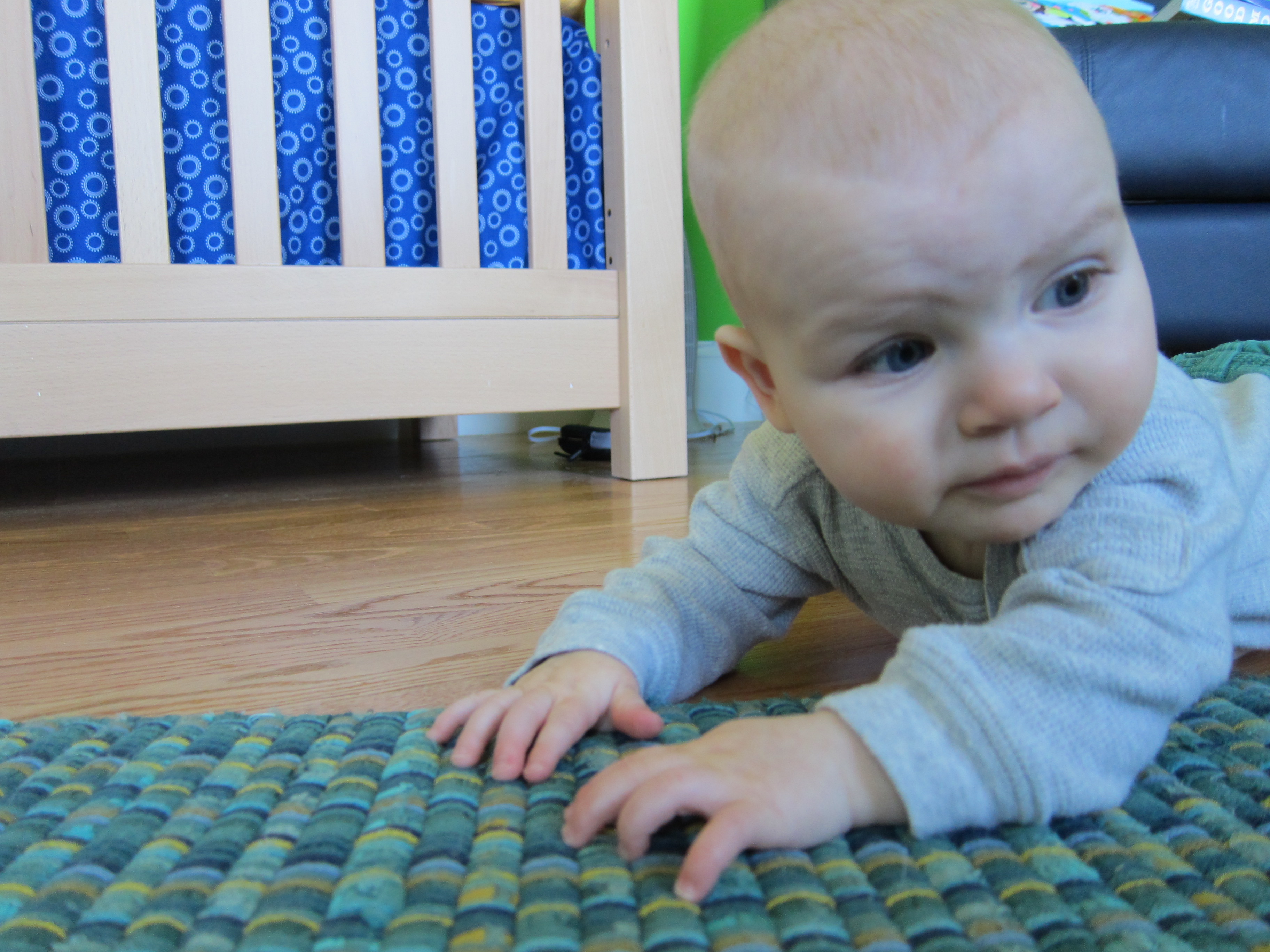 (Above) The big man himself, contemplating the toys in front of him and plotting the most direct route to get them.
Palette:
"Sky of blue…sea of green…"
Select Sources:
Vinyl wall decals – Etsy, Fisher-Price
Rug – Crate & Barrel
Bookshelf – Pottery Barn Kids
Glider – Dutailier
Crib, Baby Changing Station, 5-Drawer Dresser – Romina
Bedding – Carousel Designs (custom design)
Yellow Submarine licensed figurines, lunch box, picture frame, clock – Vandor
Yellow Submarine framed print – art.com
Shelves – Boon
Porthole mirrors – NauticalTropical.com
Adirondack chair – hand painted in Peaks Island, ME
Accent lamp – Kids Line
Accent pillow – custom, sewn by my mother
Baby blanket – custom, knit by yours truly
Mobile – Fisher-Price
Related posts:
Oh Baby: 7 Steps to Decorating a Unique Nursery