It has been quite a month! Aside from being busy with many great client projects, I managed to polish off a few things in my own home that had languished in an unfinished state for a long time. May kicked off with the reveal of my One Room Challenge Vestibule – AND a feature on a different project on House of Turquoise…actually, all on the same day! It was a record day on my website and this blog. That same day, I was contacted by a writer for The Boston Globe about featuring the project on House of Turquoise in a weekday edition. And that article was just published yesterday (Memorial Day). So I guess I just had a really good day (although yesterday was pretty great, too!).
I thought I would also give the full tour of the space, and give my side of the "story" – what I did (and, didn't do) and why.
So, we moved in to our house, an 1896 Victorian Georgian Revival, right around two years ago. There are two bedrooms on our third floor that we had planned to use as "emergency" guest spaces – and thus, they were decorated (or, not) as such. One of the rooms was basically storage for unpacked boxes (which may or may not still remain unpacked…).
The other, a huge – and hugely dated – space was not just a bedroom, but a full-on suite with an attached office/lounge space. It was evidently renovated during the mid-90's, and we're told by neighbors that the owners at that time had a teenage son, so we assume this was one seriously pimped hangout for him. After moving in, we unceremoniously plopped down our old furniture and bedding here (seemed fitting!), and hoped that not too many people would have to see it.
Well, things turned out a bit differently. Two things happened. First, we learned I was pregnant with boy #2, which meant our guest room on the 2nd floor would need to become a nursery, and that same guest room, which I had just finished decorating, would have to be relocated/recreated to the first "emergency" space on the second floor. (Interestingly, that original guest bedroom and my son's nursery were featured in my first published article in the Globe). Second, we didn't realize that the young families that come to stay with us (and there have been many) would actually want to stay in the second emergency space (the pimped-out teen suite) because they and their kids liked that they could be together in the same room, making everyone more comfortable while they were away from home. Even though I hadn't planned to do anything with it for several years, I decided it was time to make some changes.
I'll have to paint you a picture of what it looked like, because I did not really think to take any before pictures. Envision a black low-pile carpet with tiny beige dots, peachy-cream walls, contemporary wall lights that may actually have been held over from the 80s, wood-tone venetian blinds, and, most notably, a slew of dark wood "look" MDF built-ins in every nook, cranny and dormer. I mean, there were bookcases, dressers, cabinets, benches, and even a built-in peninsula desk.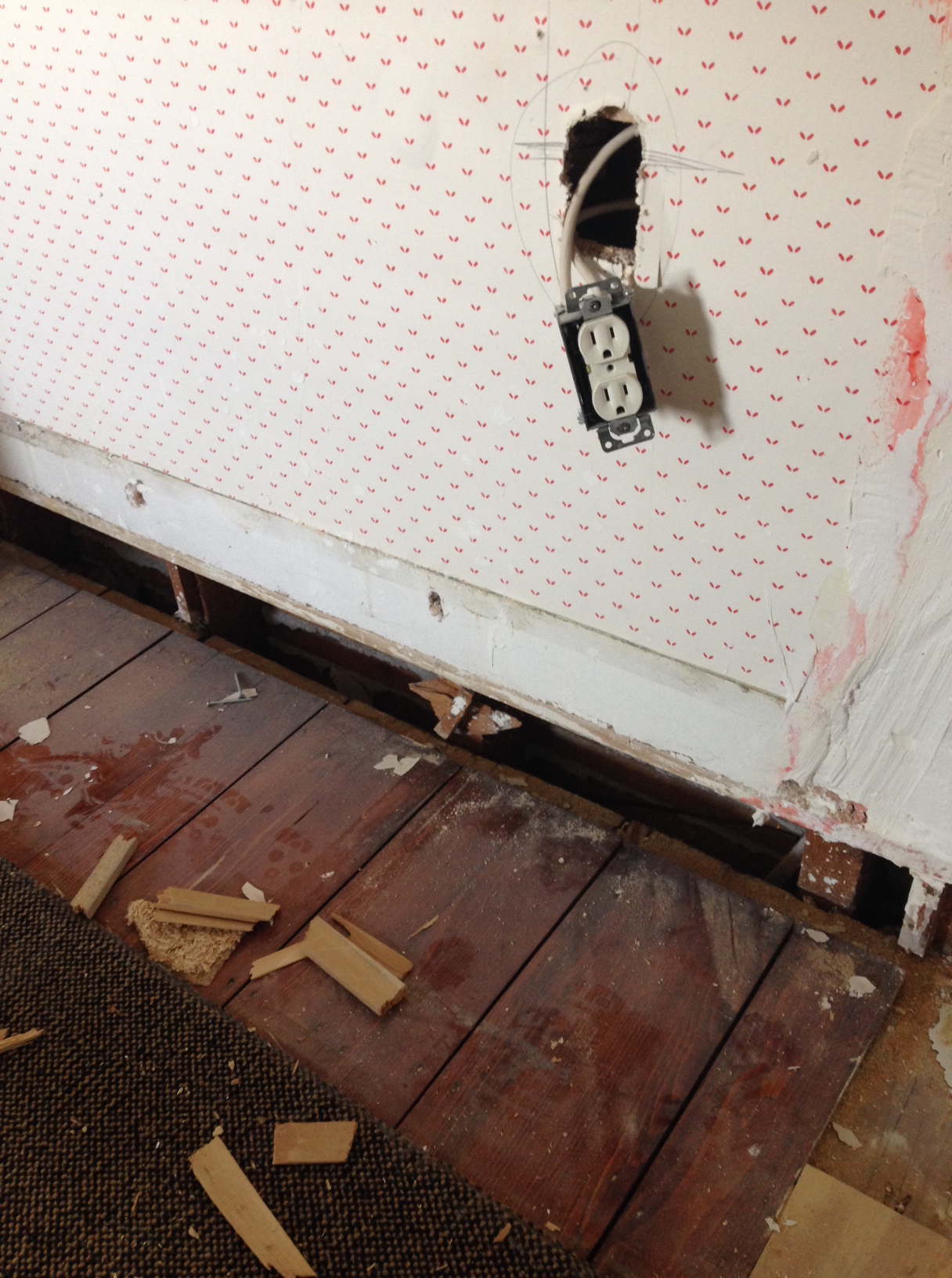 This is a shot I took after the demo of the built-ins. Please note – I hated the fact that they went to the dump, but if you knew how much more it was going to cost to try to paint these bad boys, as a temporary fix, I think you would understand. The wallpaper was an interesting surprise, lurking behind a behemoth bookcase. As were the decent pine plank floors under the carpet. I briefly considered refinishing the hardwood floors, but ultimately decided to recarpet the room (and the other), since my eldest son currently sleeps below.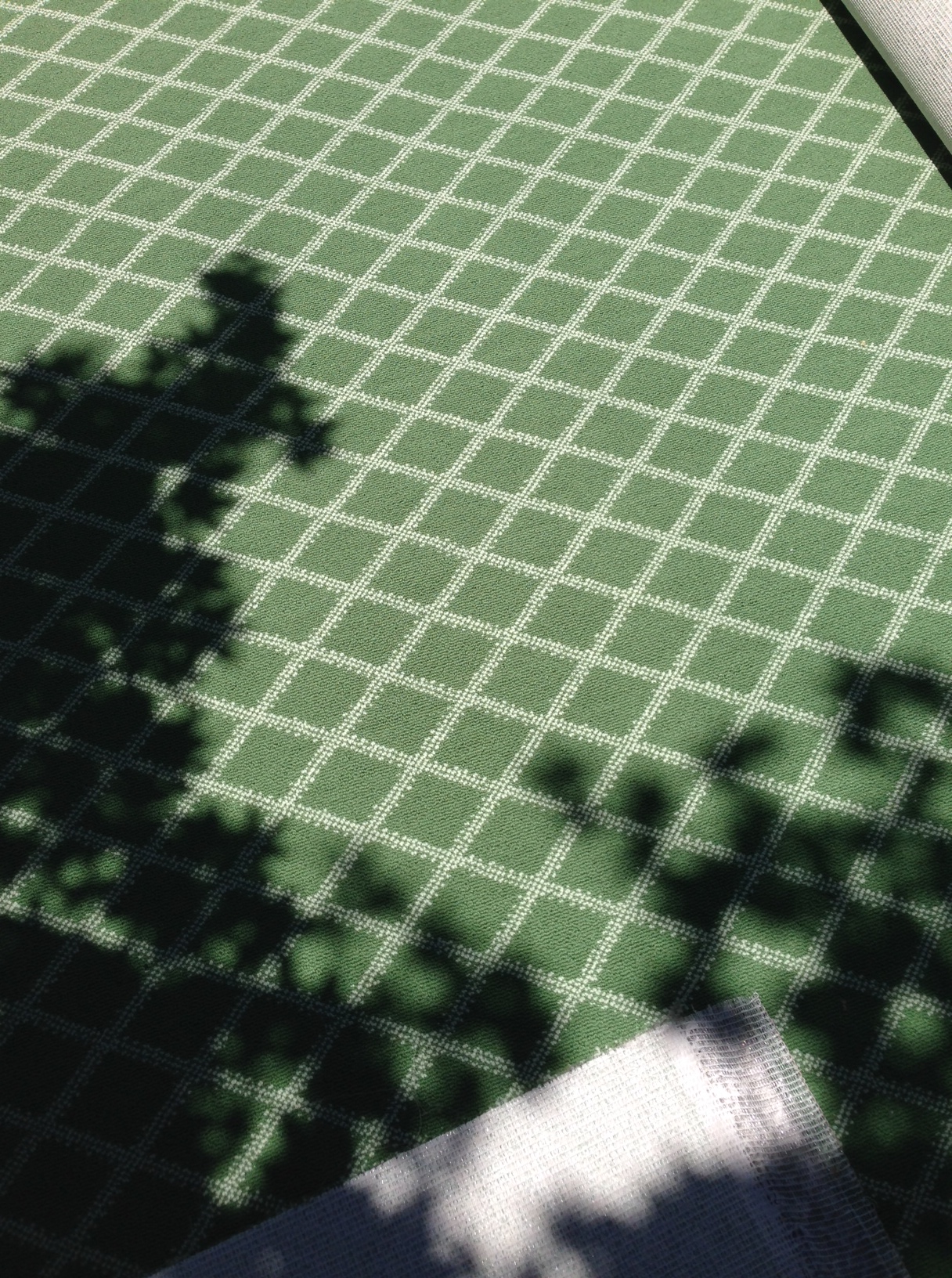 And the carpet was actually the first thing I chose – everything else came together around it. Only thing is, I had actually ordered a different carpet! The picture above shows it rolled out on my driveway immediately after my "WTF??" moment. The color was right, but the pattern was slightly different. I was about a thousand months pregnant when it finally arrived, so between just wanting to get it done, and the expected complications of trying to get the one I actually ordered (which was honestly very similar, just a larger scale and more detailed trellis pattern), I just let them install it. And I haven't regretted it, not for a moment!
Paired with the green, the trellis motif gave me a cottage-y, spring-like jumping off point for the rest of the room. I decided on a classic "analogous" color scheme of Kelly green, turquoise, and canary yellow. I found a great, reasonably priced iron bed at Pottery Barn, and picked up some simple white (with yellow embroidered border) bedding there, while I was at it.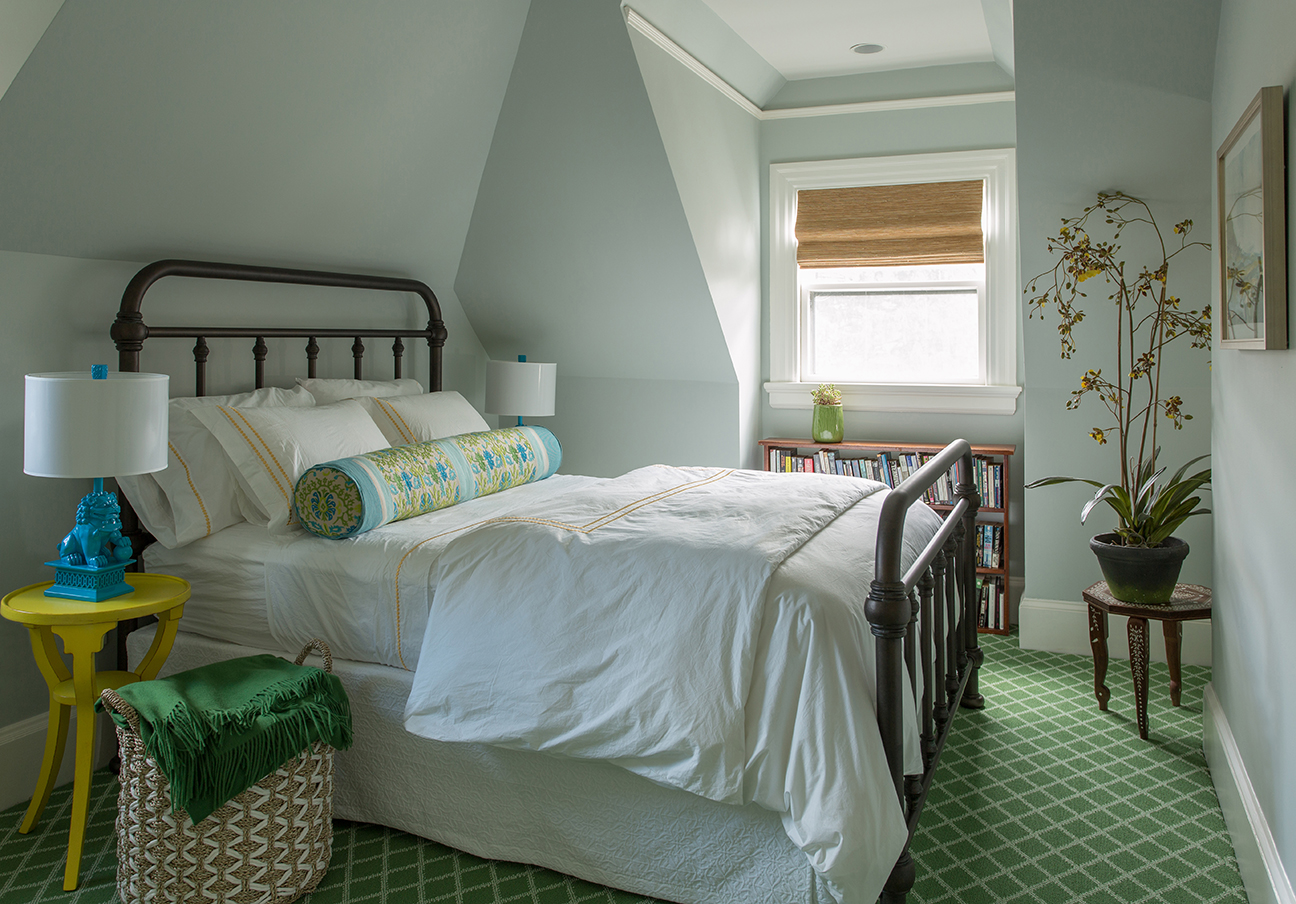 The roll bolster pillow is a custom design with Manuel Canovas fabric. I think it really elevates the look of the more or less store-bought bed, and also acts as the "template" for the overall color palette. And here's a trade secret…that gravity-defying orchid? It's a fake. A darn good one, I think! I love that thing. And I have absolutely no idea how I came to own it. Maybe it belonged to an old roommate? (Jesse? Bella?).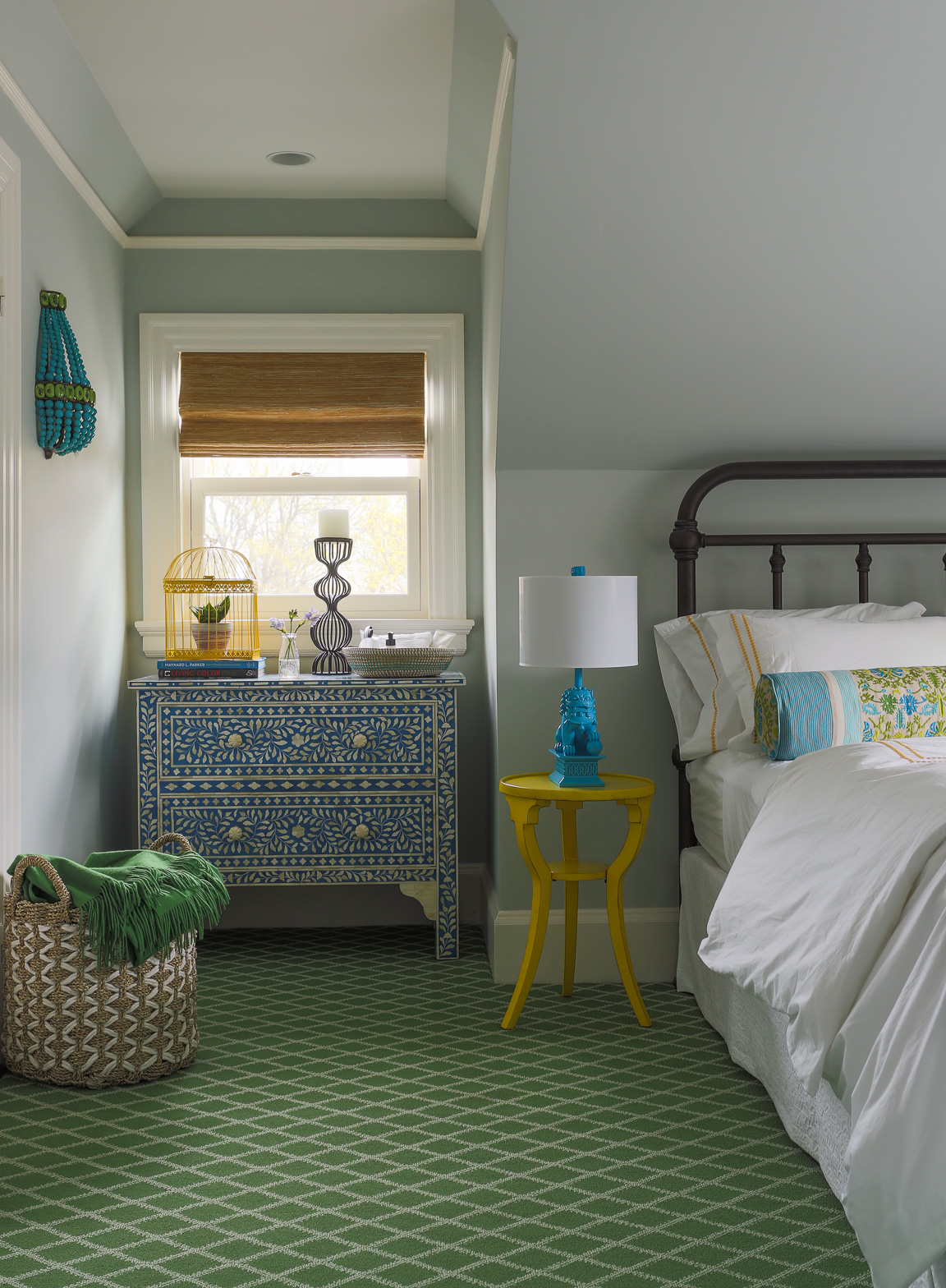 In counterpoint to the vibrant rug, the walls are a dreamy and light-as-air blue – Benjamin Moore Cool Breeze. It helped to smooth out the rough edges of all of the angles and slopes of this third-floor space, and create a restful atmosphere, despite all of the saturated hues in the room. I also carefully chose a ceiling color – it is not plain-old ceiling white. Sebring White, also Benjamin Moore, gave me the softer, more pure look I was going for (no dingy grays!). I layered in the bolder turquoise blue in smaller doses.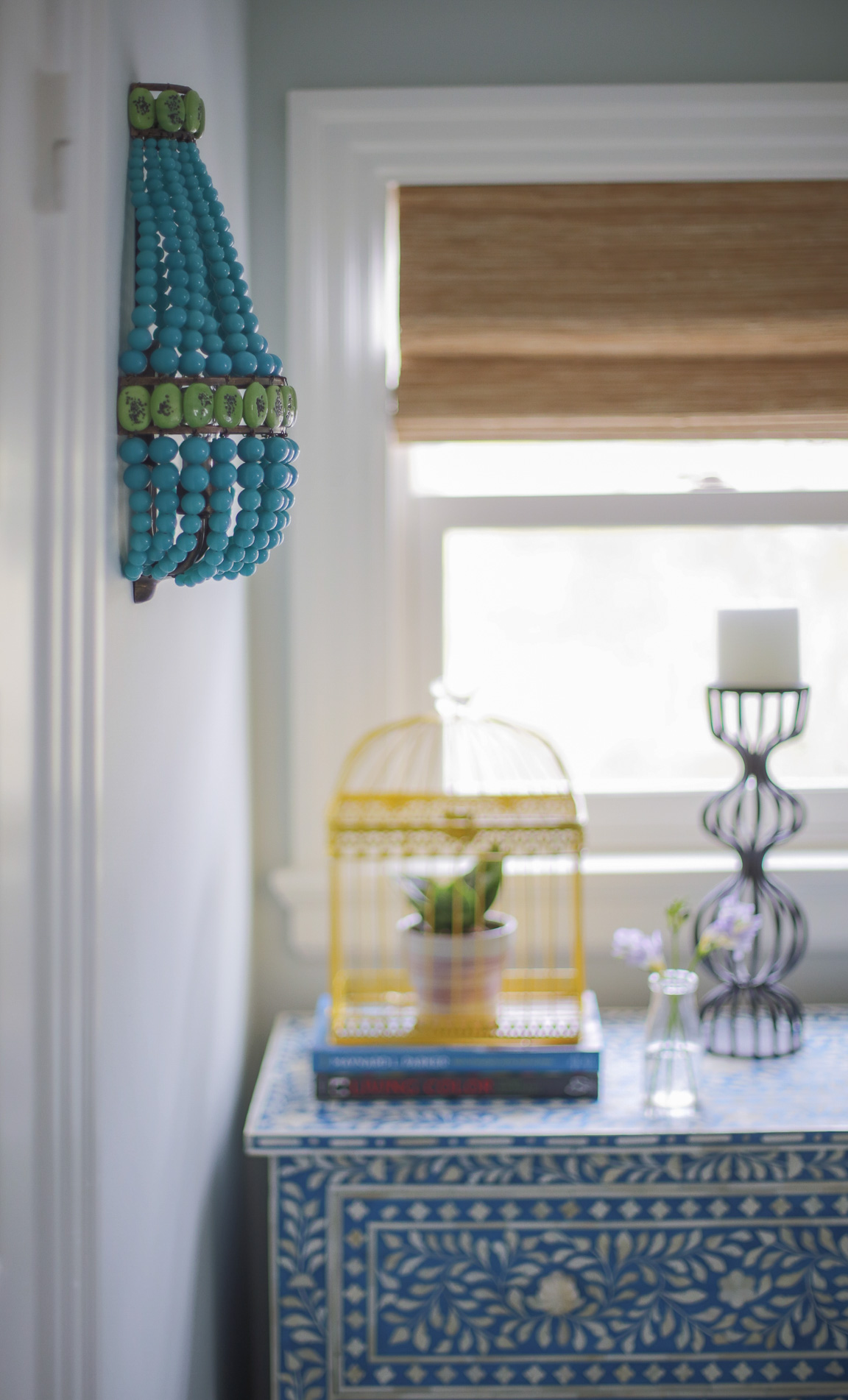 Because of all of those angles, there really weren't that many vertical surfaces available for hanging artwork. So I was sure to choose lighting that was sculptural, colorful and interesting. The sconces from Currey & Company, and Barbara Cosgrove's Mini Foo Dog lamps added that interest, and also contributed a bit of global flavor to the mix (which always seems to seep into my work, I can't resist!). The blue bone inlay chest was the icing on the cake, and is not only decorative but darned functional. And oh-so-much better than the built-in drawers that inhabited this dormer previously!
Let's shift over to the sitting area, which features one built-in that survived the demolition hammer…a cozy window seat and daybed.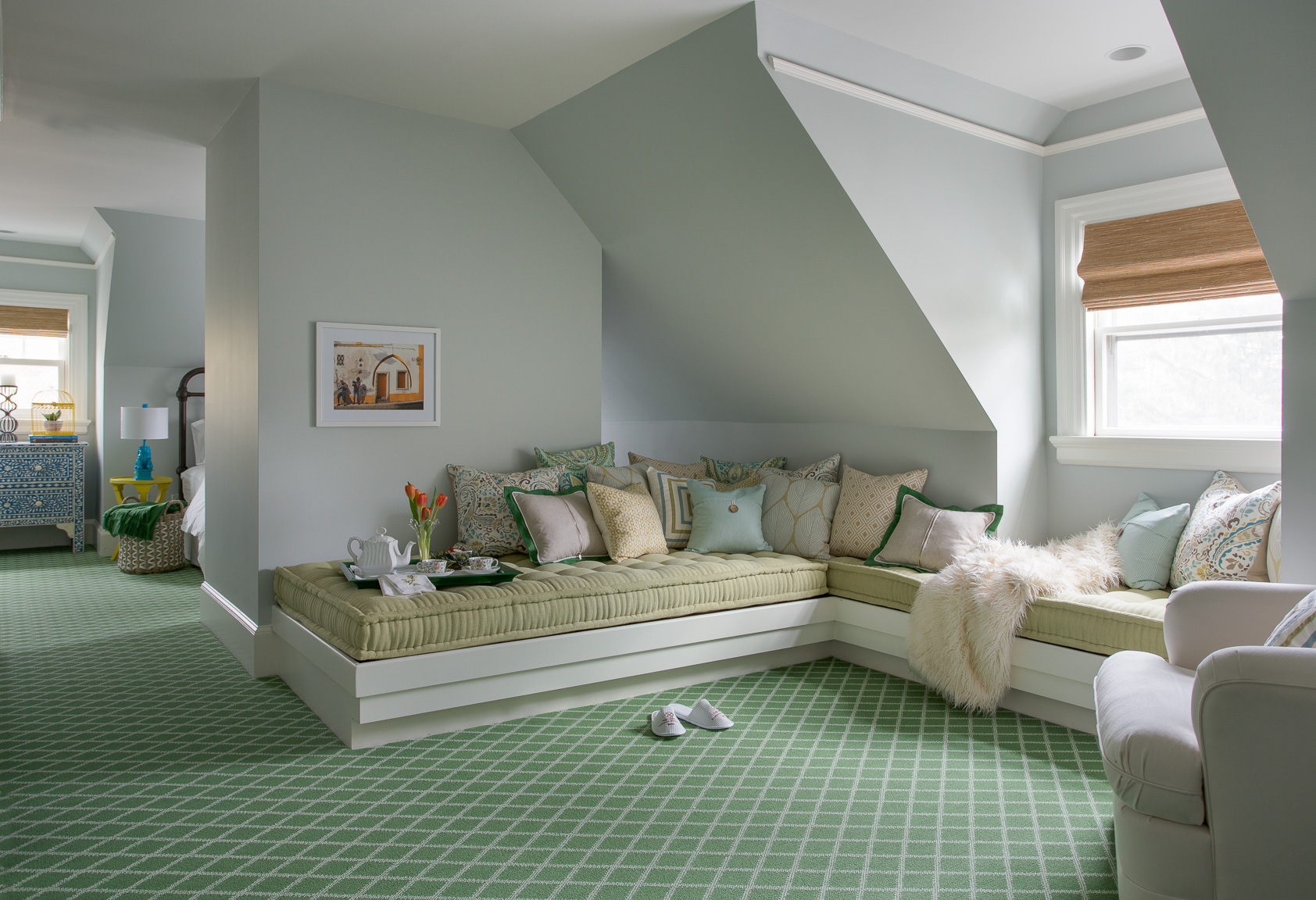 This space serves so many purposes. It's a comfy lounge area for our adult guests, where they might curl up with a book from our "guest library." But, equally important, it's also a space that can sleep kids both on the floor (sleeping bags and air mattresses are very popular here!), in portable cribs, and even on the cushions, which I had made extra-thick, French mattress-style, so they are firm and supportive enough for sleeping. I should also mention that the window treatments are woven shades that operate like a basic roller shade, but have way more style and texture. You just pull down a ring hidden in the back to lower and raise it – totally cordless and completely safe.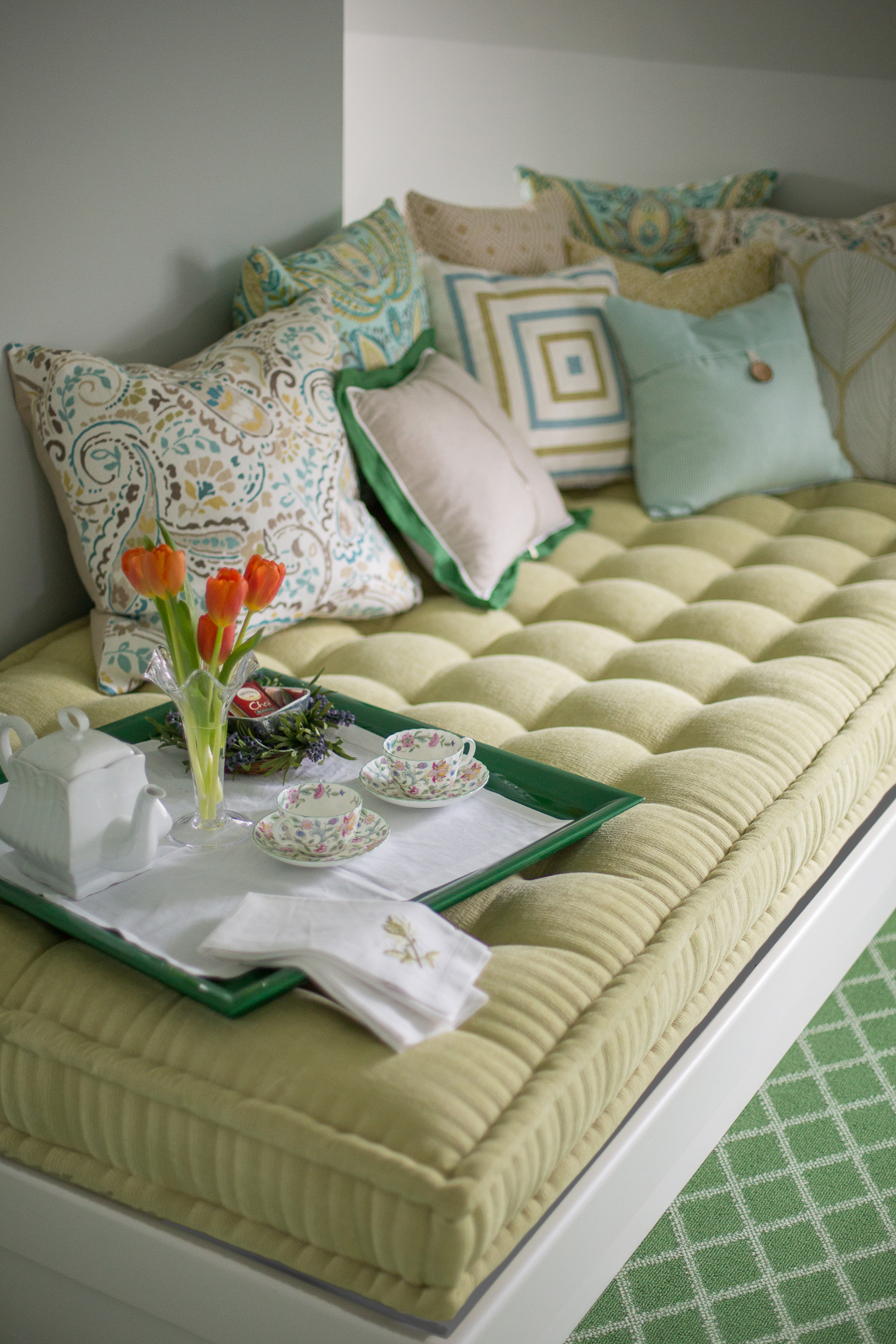 All of the pillows are ready-made options from Eastern Accents. When you need this many pillows, custom gets very expensive! I tried to pick ones with great fabrics (obviously), and also interesting details like exposed zippers, mitered trim, and decorative button enclosures, etc. By the way, that soft, celery-green fabric on the cushions is easy-care and worry-free!
Thanks for touring my latest project – this is probably the last from my own home for a long time!