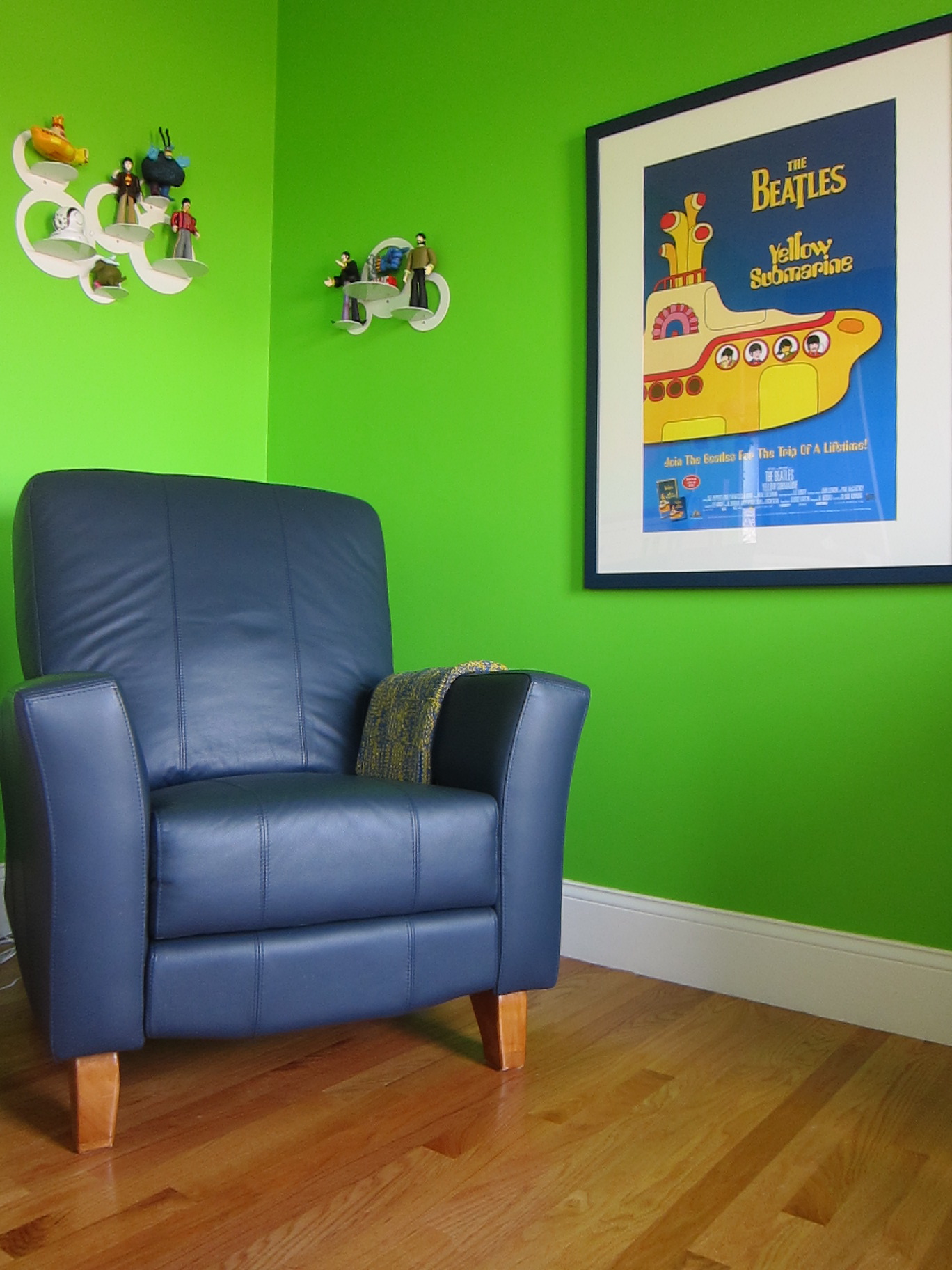 Nearly ubiquitous in nurseries across America, the glider is often viewed as a pedestrian piece of furniture – yet an essential one. As a mother of an infant myself, I can attest to the utility of this piece. I've spent countless hours rocking, feeding, reading, singing, and even sleeping in our glider (pictured at left).
The problem with gliders is…well, let's be honest – most are not going to win any beauty contests. They're a bit of a designer's nightmare. Fortunately, there's a new breed of nursery chairs out there that combine the functionality of their less attractive predecessors with great looks that will make young parents proud to show off baby's digs. Some are even designed with reusability beyond the nursery in mind.
Here are some of my favorites, which would be a (very) welcome addition to baby's special room.
This model features both gliding and recline (with foot rest) options, and comes in a wide variety of fun colors, including a few in bonded leather. I especially love the orange, pictured below. And the lumbar pillow is actually included! $1195 (+$200 for leather).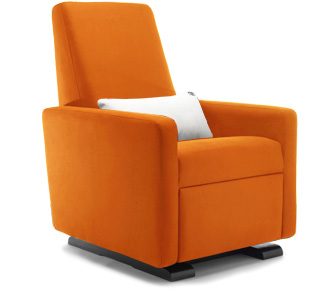 Although it isn't a glider at all, and it commits a sin typical of 'ugly' gliders (tufted back), this offering from Nursery Works is truly unique and worthy of consideration. It has a distinctly welcoming quality, and is large enough for one plus a little person – a throne suitable for you and your little prince or princess. The Empire Rocker may not be ideal for all parents-to-be – it would be best used on a carpeted surface or area rug, and there are only three neutral color options. $800.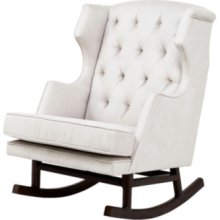 For those who are familiar with the brand, this may be difficult to believe – the chair and ottoman pictured below are in fact newer offerings from Canada's glider heavyweight Dutailier. From a stylistic perspective, this has to be the coolest glider I have seen yet. Although it loses points for comfort (more cushioning on the armrests would be much appreciated by this mom's bony elbows), the 730 series would be equally at home in a modern nursery or family room.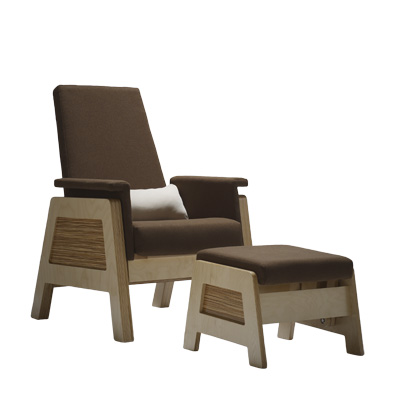 What I love about this chair from DwellStudios is how unobtrusive and harmonious it would be within almost any design concept – nursery or otherwise. The curved tight back chair is available in a wide variety of colors, as well as two fabrics (though I would avoid linen for baby's room). For those eco-conscious moms and dads out there, the Savoy Glider is made entirely of sustainable hardwoods. The Dotscape patterns add an optical "pop" without making the chair the visual focal point of the nursery. $1,190+