As a family-friendly decorator, I enjoy writing about the practical, functional side of interior design, and I think/hope it has been a valuable resource to young families with kids and pets who want to live stylishly. Sometimes, though, it's good to take a breather and keep it strictly light and fun on the blog. This post is just that.
Actually, if you think about it, a wallpapered ceiling is actually very kid- and pet-friendly. If you love the look of wallpaper and want to add pattern to a room, but you're worried about wear and tear in high-traffic areas (or kitty's scratchy claws!), the 'fifth wall' is a great surface to paper.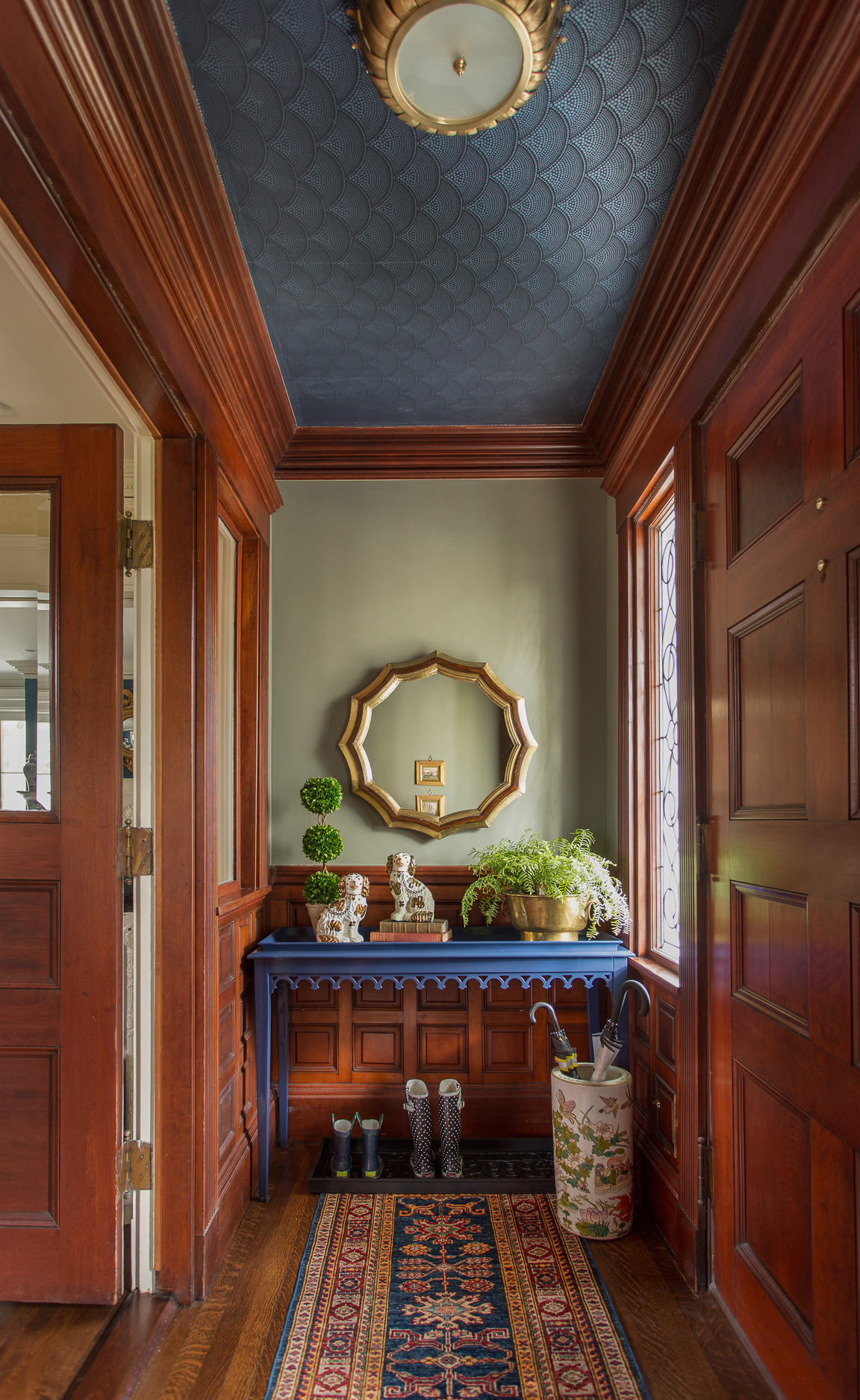 In my vestibule, which I transformed in the spring 2015 One Room Challenge, I wallpapered the ceiling with the Cole & Son Feather Fan pattern. This colorway is metallic/pearlescent, and plays with the light beautifully. I didn't want to put a pattern on the walls that would compete with the original mahogany woodwork, so this was just an ideal solution for this space. Plus, it only required one roll of wallpaper (with lots to spare!).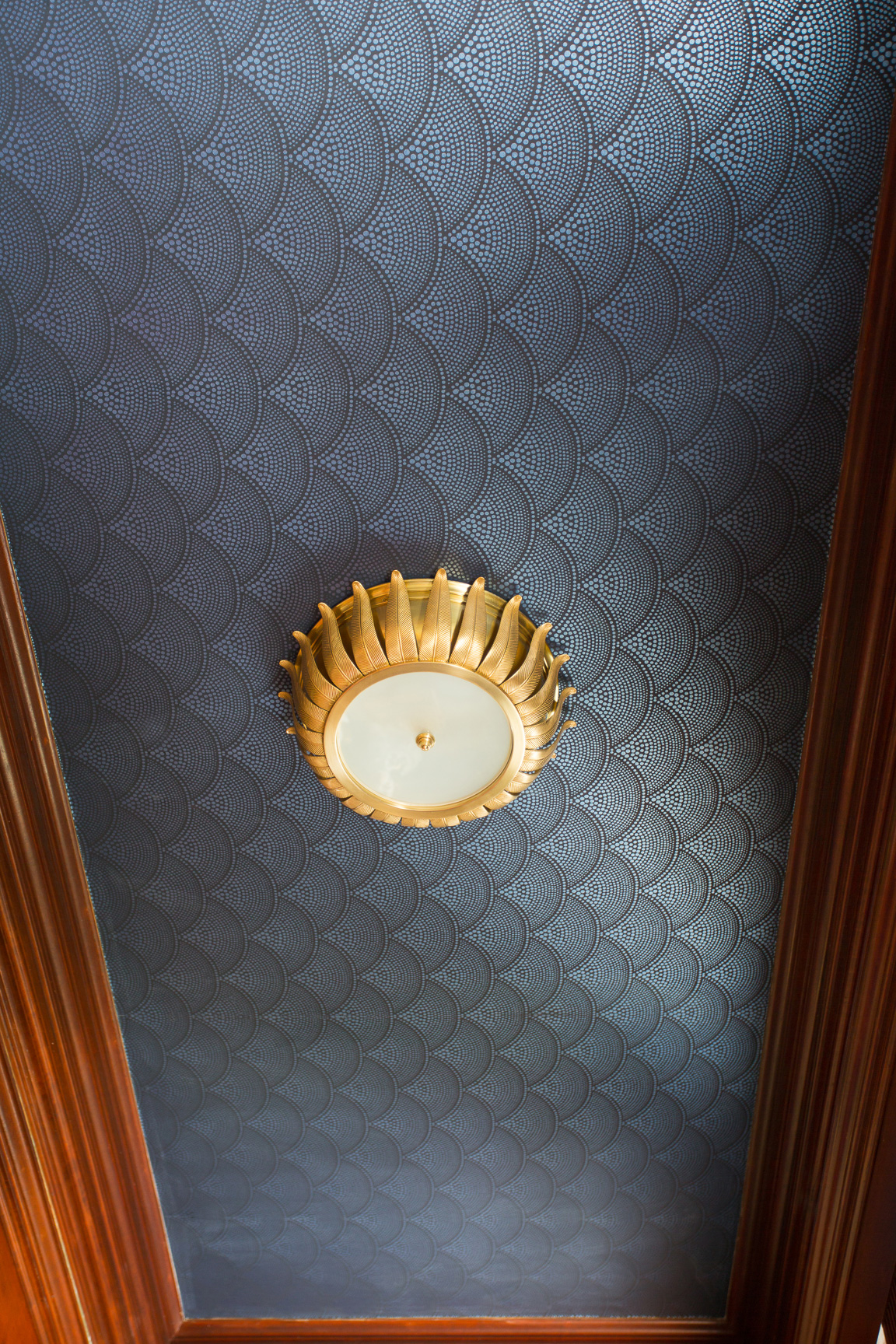 Wallpapered ceilings may seem like a recent design trend, but it's actually not a new idea.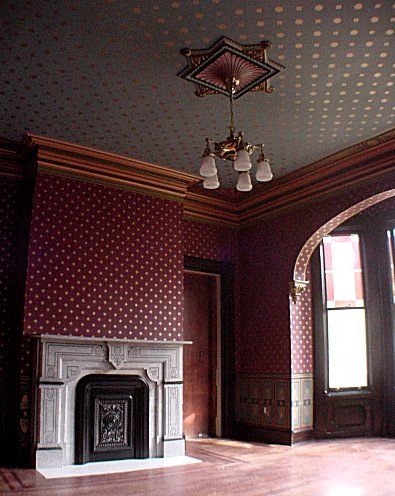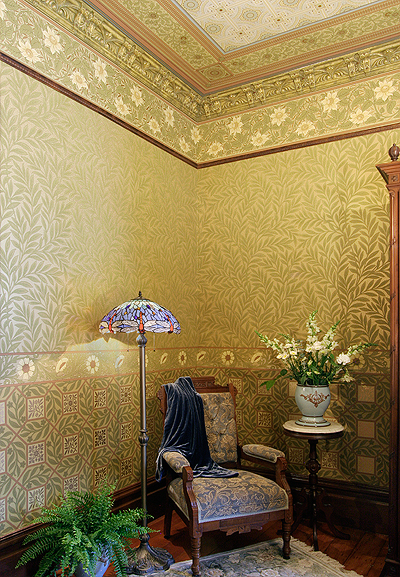 Victorian-era homes were often bedecked from stem to stern with wallpaper. Any surface that could be papered basically was. Borders, dados, friezes, and an ever-increasing variety of designs were all the rage.
Without further ado or explanation, let's look at some of the coolest wallpapered ceilings out there…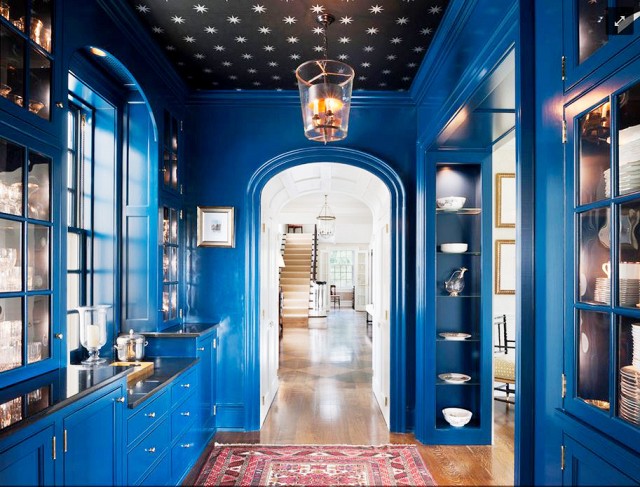 Archer & Buchanan Architecture
A bold butler's pantry in royal blue lacquer features a (relatively) subtle, and popular pattern on the ceiling – Osborne & Little's Coronata, which, in its vinyl version, was the subject of a recent Friday Family-Friendly Find. You just can't leave a ceiling in a space like this white, and the addition of a (relatively) small scale, graphic pattern is a great companion to the oriental carpet below.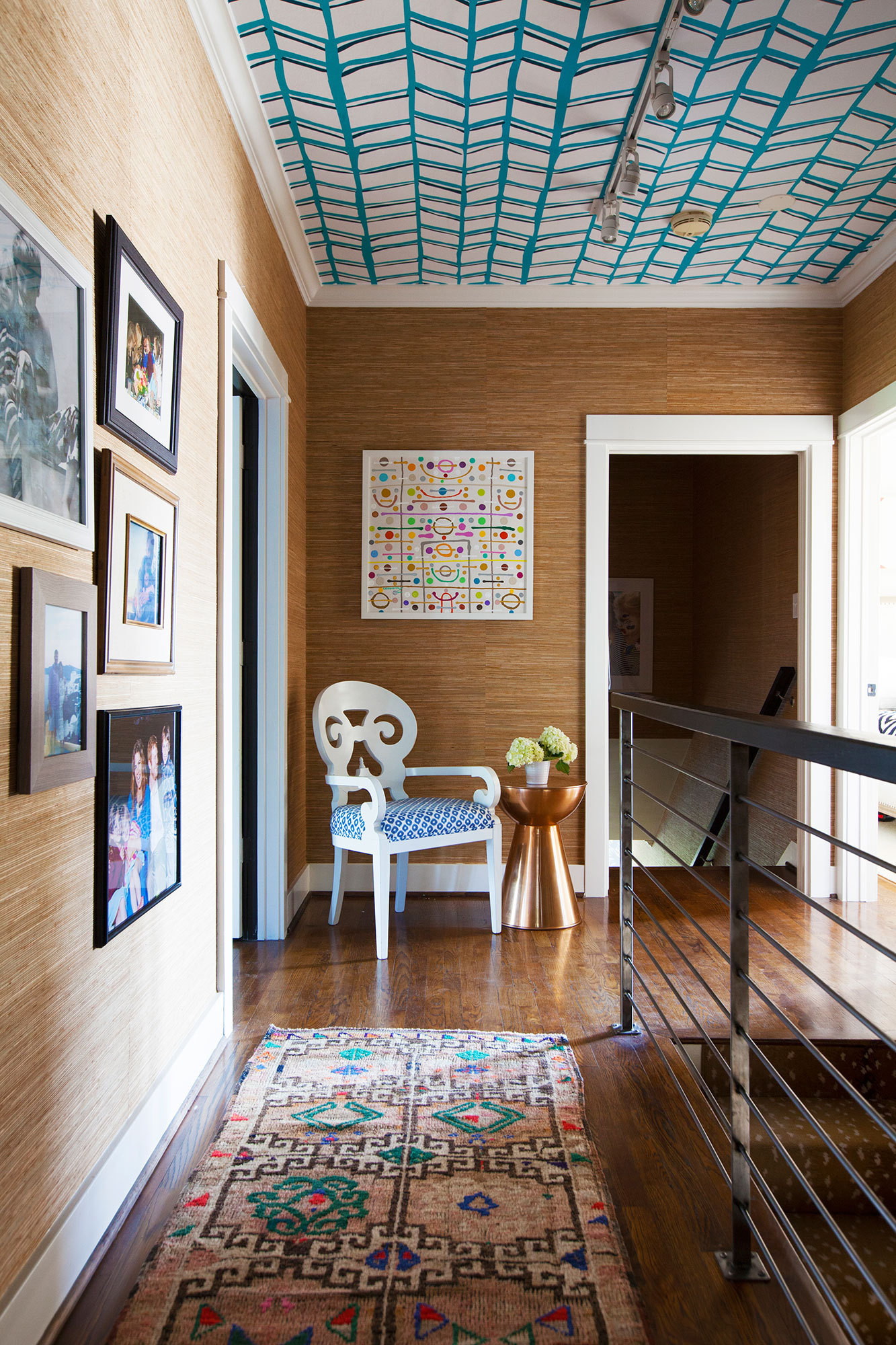 Katie Kime & Sarah Wittenbraker via Lonny
This abstract herringbone wallpaper, designed by Katie Kime and used here in her Austin home, is perfect for a hallway, seeming to point passers-through this way or that.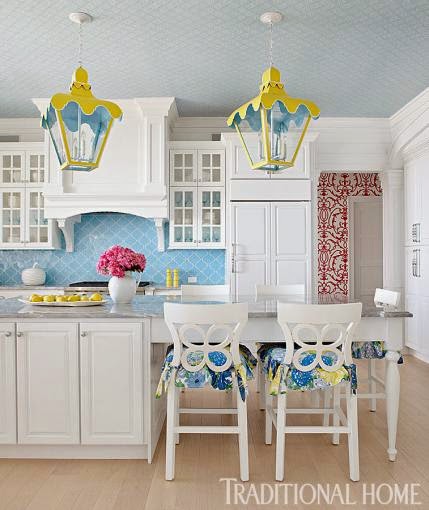 Elizabeth Schmidt via The Glam Pad
A beautifully subtle aqua basketweave paper adds so much interest and a textural feel to this flat, monolithic ceiling.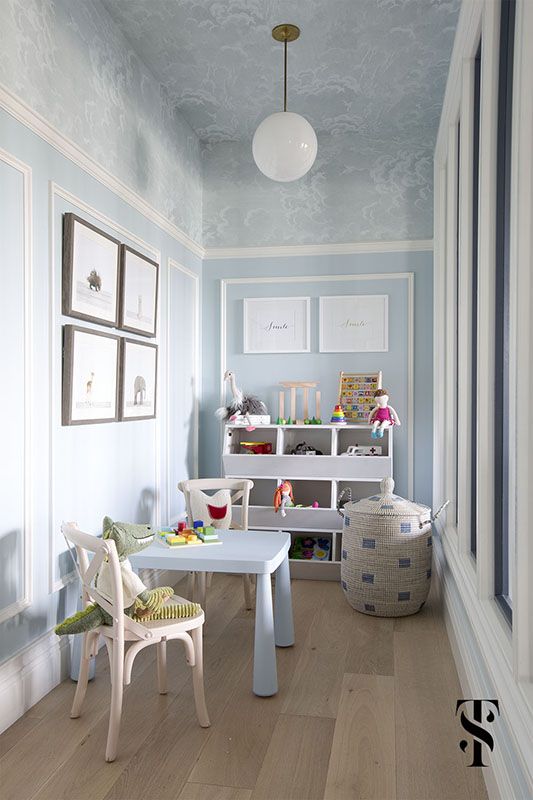 Speaking of subtle (but gorgeous), how about this installation of Fornasetti's Nuvolette paper on a ceiling in a dental office waiting room. Whhhaaaaat?? Yes, this is part of a dental office (seriously, you need to check out the rest of this incredible commercial project by Summer Thornton). Brilliant in so many ways.
Lilly Bunn via MyDomaine
I'm not sure if this is actually a wallpapered ceiling – it might be the real deal…gold leaf. But there are many wall coverings that mimic the look of gold leaf (for a fraction of the price). The effect on the ceiling is stunning – making the most of artificial light, and casting a warm glow on the entire space. Especially effective in a small/narrow or dimly-lit space!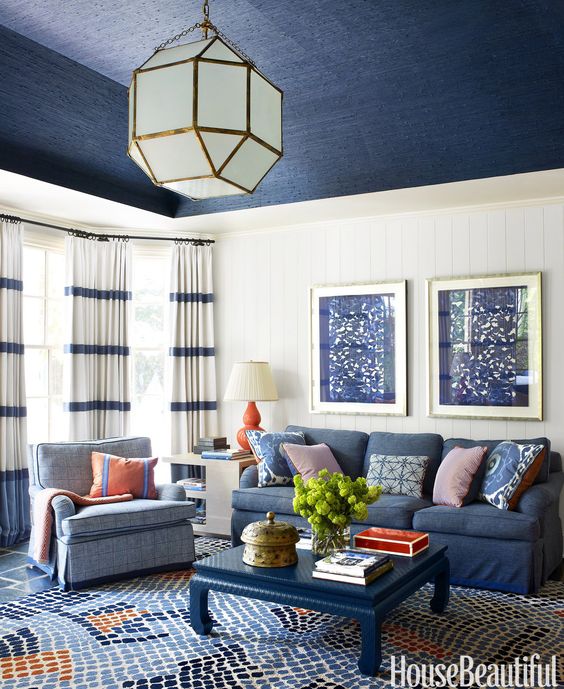 Lindsay Coral Harper via House Beautiful
Tray ceilings are always a challenge, and I love this solution of warming it up (and bringing it down a bit) with navy blue grasscloth. It's just an incredibly well-composed living space.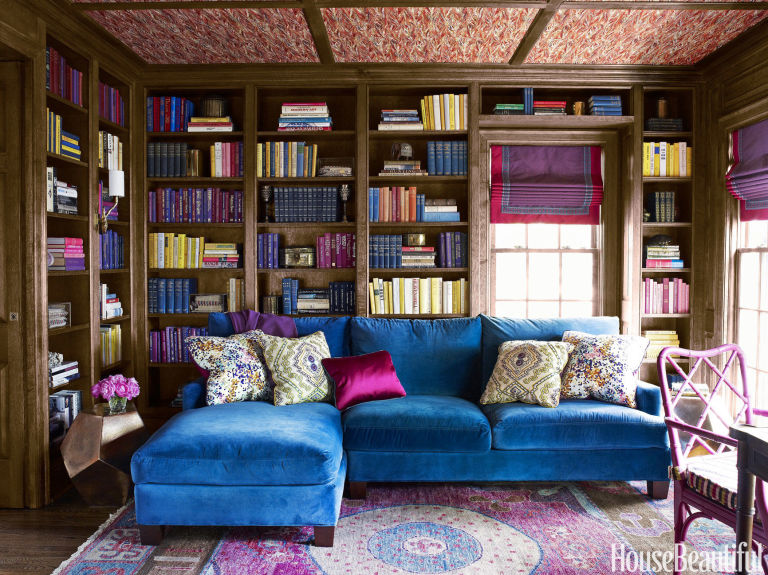 Lindsay Coral Harper via House Beautiful
And this room is in the same house as the grasscloth tray ceiling…va va voom! The marbleized wallpaper used here is ideal for a library, as it is reminiscent of antique book endpapers, but, used here between the coffers, makes the room incredibly rich and cozy.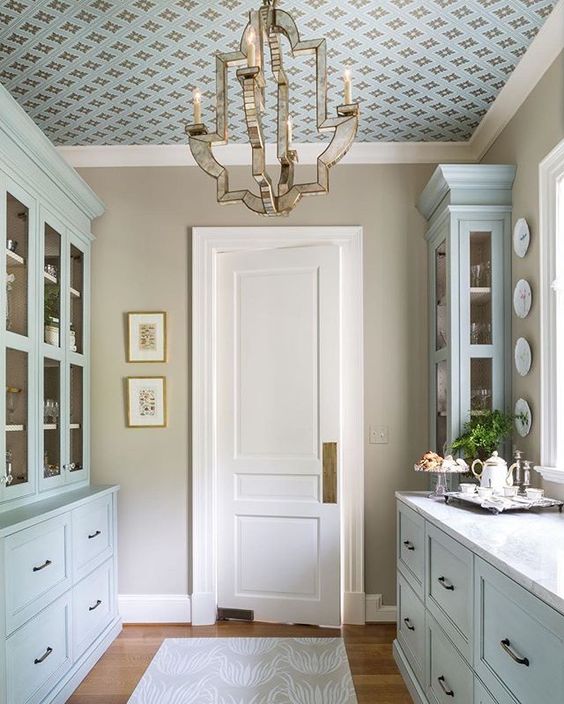 Farrow & Ball's Ranelagh is, I think, one of the most beautiful and versatile wallpaper patterns out there, and I never tire of seeing it. It is beautifully employed in this show house butler's pantry in tones of sea and sand.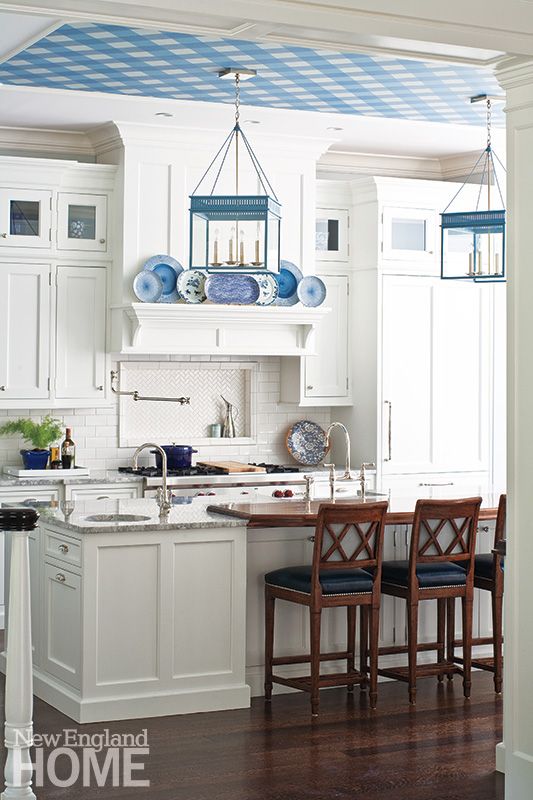 Kathleen Walsh via New England Home
Note all the kitchens and butler's pantries? Many of us wouldn't dream of papering the walls that are within spitting distance of peanut-butter-and-jelly fingers, spilled milk, and simmering stews. This bias buffalo check ceiling feature is framed out with simple mouldings, and gives the sense of a bumped-out tray ceiling without the construction costs/implications. A wallpapered ceiling's ability to add color and pattern to a space filled with white-painted wood cannot be denied!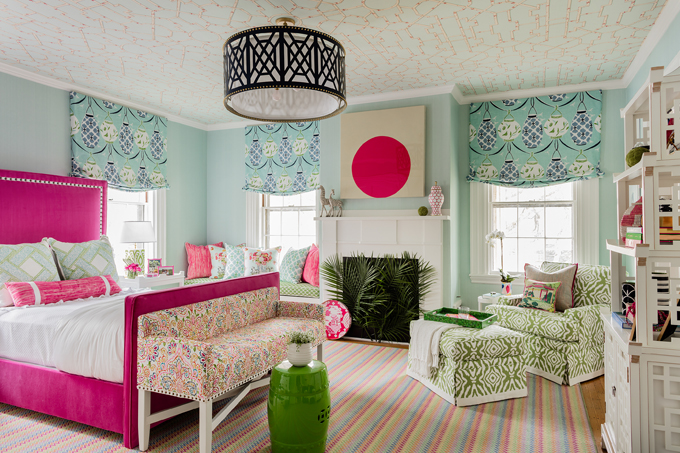 But wallpaper on the ceiling need not be the only pattern in the room. Layer it up like my friend and Junior League of Boston 2016 Show House neighbor, Elizabeth Benedict, in her vibrant and cozy tween/teen bedroom. The geometric bamboo gives the impression of added architectural detail, while upping the room's decorative appeal.
What's your favorite way with a wallpapered ceiling?