I've been on blogging hiatus for a few days, while focusing largely on the house we're building (as well as a few other top-secret projects I look forward to telling you about later!). So I thought I'd give you a brief glimpse into everything we've been doing to create a new home that reflects our tastes, lifestyle, and values.
Since we bought a spec house-to-be before it went on the market, it's not quite a custom house, so the dynamics are a bit different (i.e. we didn't hire the contractor, he is the seller), but there are still a million decisions to make. So far, we've tackled or are in the process of finalizing:
Customized floor plan
Lighting for the entire house (60+ fixtures, inside and out – holy cow, this was HARD…)
Tile selections and design for all applicable rooms
Kitchen design, as well as cabinetry for the rest of the house (e.g. laundry room, bathroom vanities, etc.)
Appliance selections
All plumbing fixtures – faucets, sinks and tubs, oh my!
Countertops and other bits and pieces requiring stone slabs
A lot of the "big stuff" is pretty much done on our end, which is a good feeling. However, there are a thousand more smaller decisions that need to be made before the house is complete – everything from millwork and trim (e.g. fireplace mantelpieces, wainscoting, crown moulding, balustrade, etc.) to bathroom mirrors, interior doors, all hardware, shower doors, and much more. One big thing, in my mind, that remains is build out of walk-in closets, focusing on the master closet. I am looking forward to beginning this process, and to working with a professional organizer/closet designer on a beautiful solution that will help me get, and stay organized. This is where function really meets design.
Since this post has thus far been short on eye candy, I thought I'd share a few of my 'favorite things' that I've picked for the house so far.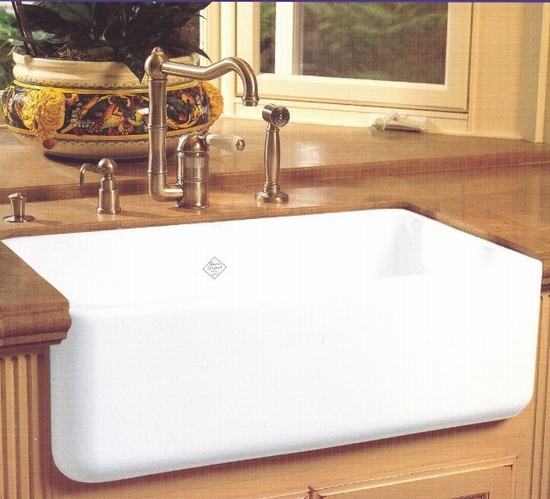 Photo source: qualitybath.com
This is the faucet AND the main sink in our kitchen – Rohl Country Kitchen faucet and Shaw's Fireclay Farmhouse Sink. I'm really excited about both.
Photo source: Sub-Zero/Wolf
I was pleasantly surprised to learn that I wouldn't have to choose between having filtered water/ice dispensing capability in my refrigerator, and getting a Sub-Zero. The best of both worlds is here! And, their clever design has the dispenser on the refrigerator side, instead of on the smaller freezer door.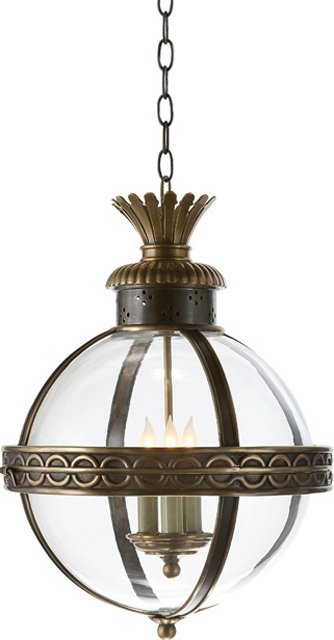 Photo source: Circa Lighting (Visual Comfort)
This stunner is earmarked for my foyer. I really love it, but I'm still a bit on the fence. Would love other opinions! We want a somewhat formal look in keeping with our quasi Victorian-slash-craftsman-slash-Franken-style home. It kind of looks like something you'd see in a hip boutique hotel with period charm.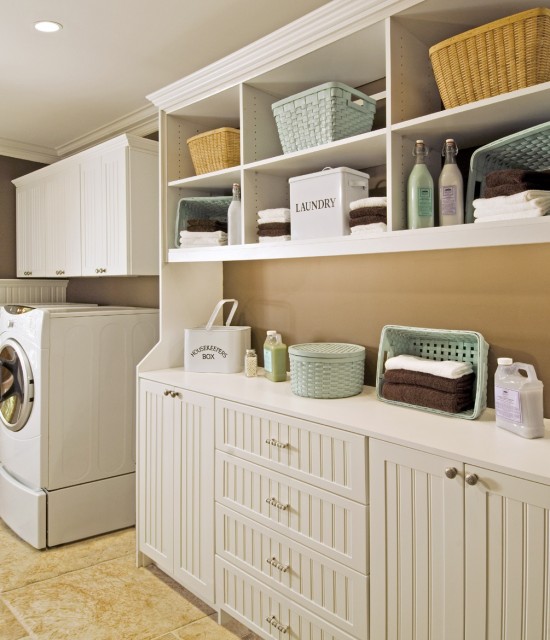 Photo source: houzz.com (Closet & Storage Concepts)
OK, so this isn't a picture of my actual laundry room, nor does it represent the design of my laundry room. But it was absolutely the inspiration for it. I am very excited to even have a room dedicated for doing laundry – it's not going to be huge, but we'll have lots of open shelving up top, and some closed cabinets and drawers (oh, and the washer and dryer) below counter level. Styling will be a lot different, though. Can't wait to find the perfect baskets for those shelves!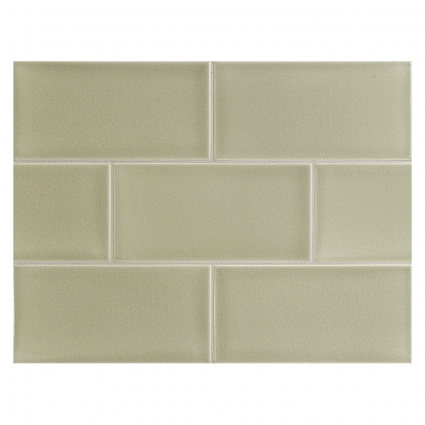 Photo source: completetile.com
This 3 x 6 subway tile from Vermeere, in Botanical Green, will grace the walls behind the countertops in our kitchen. We will do a basic offset pattern, as shown above, with a handsome herringbone feature above the range. I just love the way this looks with the slightly greener green granite with cream vening I selected for the countertops (Costa Esmeralda).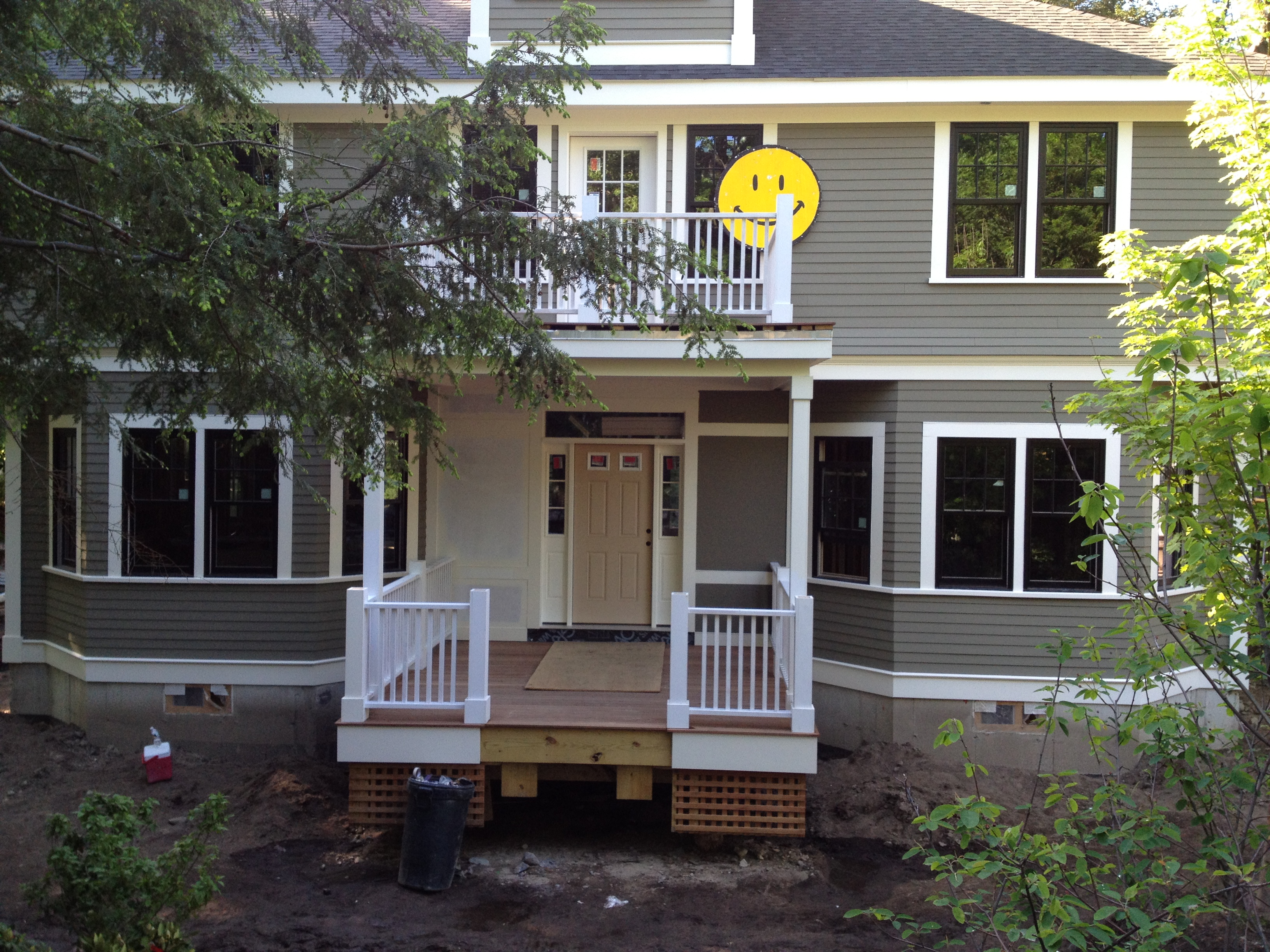 And lastly, a picture of the exterior – mostly painted! We really like the color, which is a custom Benjamin Moore mix but I would call it a light olive green with khaki-like tendencies. I have  better pictures, but I am sharing this one because we need help with the front porch. We're a bit indecisive on the paneling flanking the front door – should it be all cream colored, or the main house color with cream rails and stiles (as shown on the right)? I think it should be a solid field of cream, but not everyone is agreeing with me – we'd love some other opinions. By the way – don't look too closely at the door itself…it will probably be one of the first things we change. Remember what I said about those 'dynamics' ? 🙂
You'll notice I haven't even begun to address color, furnishings, paint and wallcoverings, window treatments, accessories, and all of that FUN stuff. Right now, we're focusing on what I call the "bones." It's definitely a hard thing not to have the full vision for what the finished product will be but, for a number of reasons, I just can't work that way right now. The house is going to evolve gradually as we live in and learn more how we use the spaces, and I'll tackle one room at a time, weaving them together along the way. Hopefully you'll come along with me on the journey!