For the first time ever, my husband and I have purchased outdoor furniture. We are new to having usable outdoor dining space, and are really looking forward to entertaining friends and family "al fresco." For now, we have a deck – though in the future we will dine on a stone patio of some sort (more to come on our renovation planning when we have a clue when we're actually going to begin demo/construction). I basically bought the biggest table and number of chairs we could reasonably fit on our deck (for our large and local extended family), knowing that in the long term, we can do proper landscape design and work around the existing furniture/seating requirements. Here's what I've got in the scheme, so far…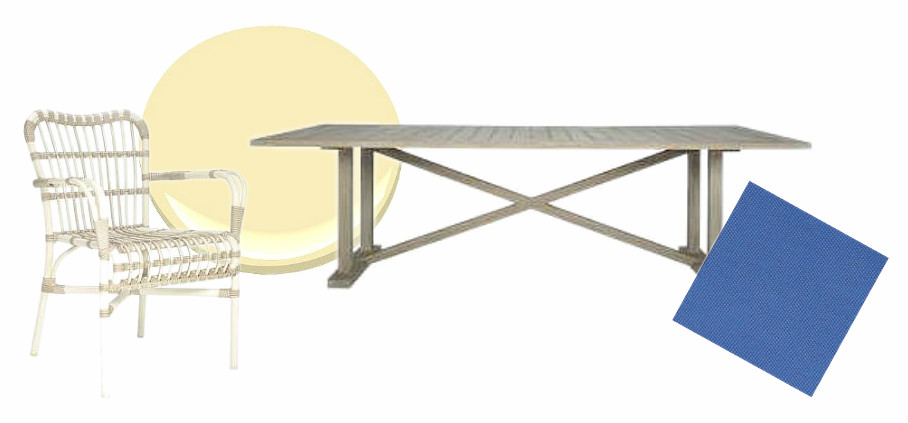 The house color is a very light yellow (or very creamy cream, depending on your perspective!), and the seat cushions I chose are a solid, saturated periwinkle from Sunbrella – a great foil for the yellow paint, and inspired by the extreme blue hydrangea I inherited from previous homeowners (can't WAIT to see those!).
The hitch – the trestle table is a pre-weathered teak, so it's already 'silvered' (i.e. gray), and it will be sitting on an (old) gray Azek deck circa 1990s. Not my idea of a nice contrast of materials or color. We really need a bright, colorful outdoor rug to break up the gray-ness. And white-ness, for that matter – the chairs are an all-weather powder-coated aluminum (looking like rattan painted white), with gray "resin wicker" appearing to hold everything together. They look fabulous with the table, but also needed a jolt of color – hence the blue cushions.
May I present the candidates! My options were somewhat limited by the fact that I need a big one (10×14). Which is your favorite?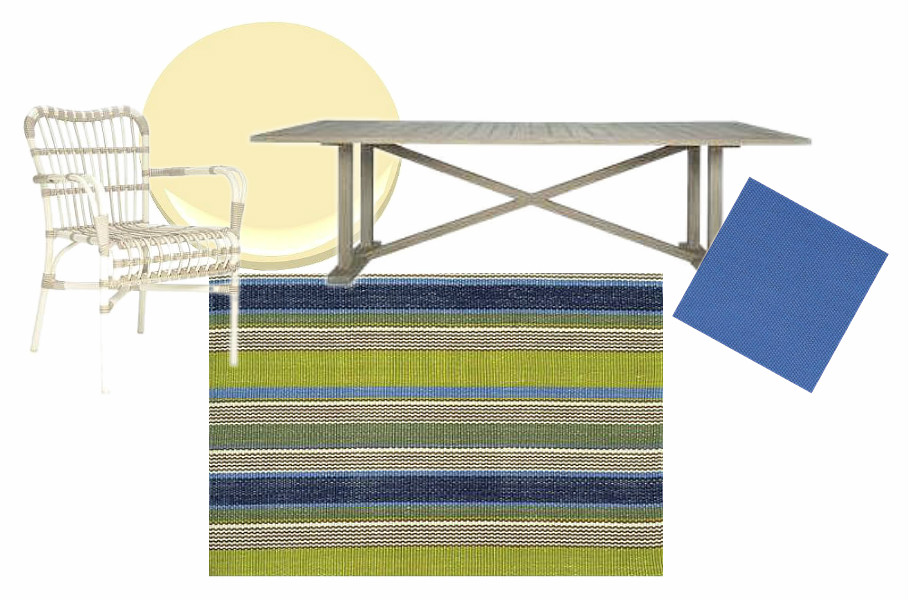 with Dash & Albert's Marina Stripe Indoor/Outdoor Rug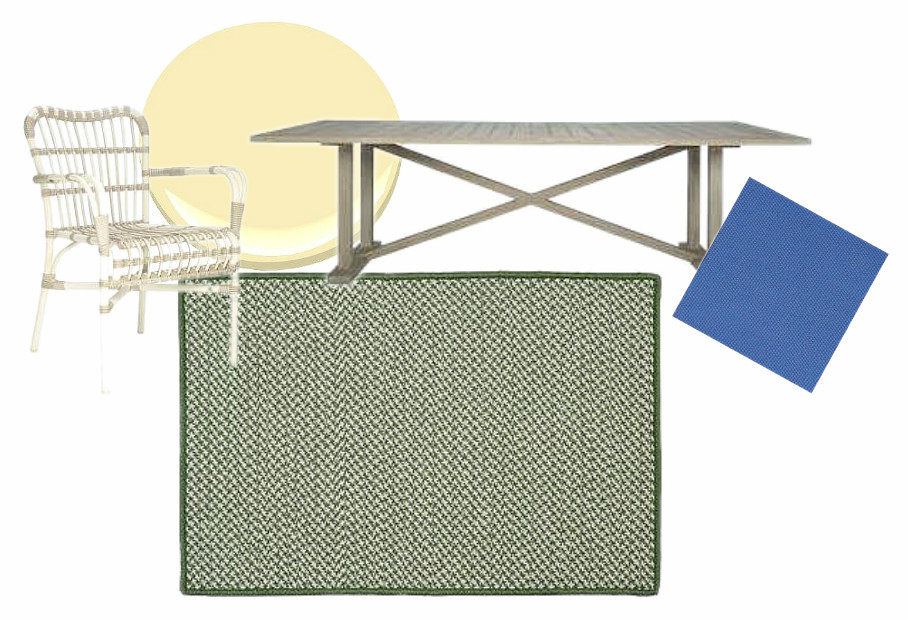 with Colonial Mills' Houndstooth Tweed Outdoor Rug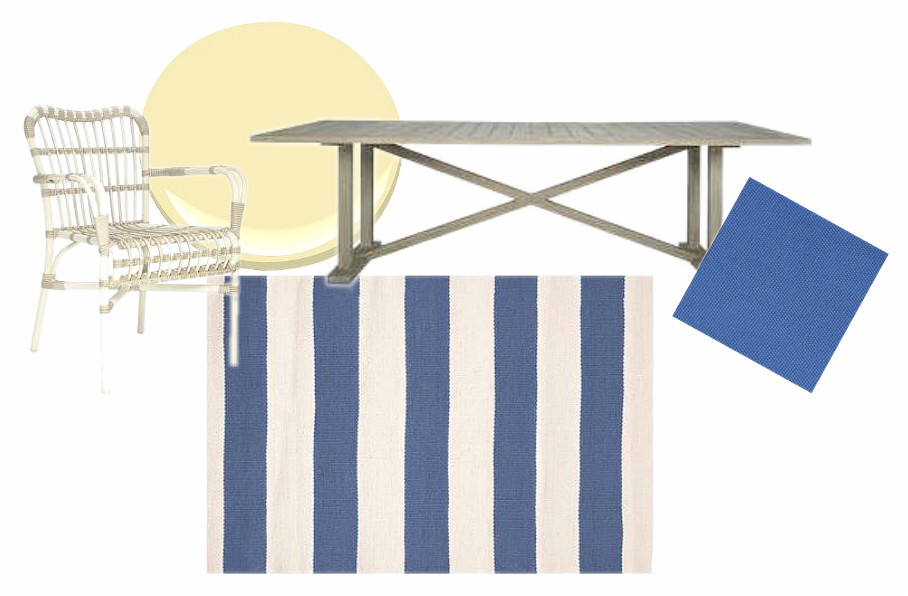 with Dash & Albert's Catamaran Stripe Rug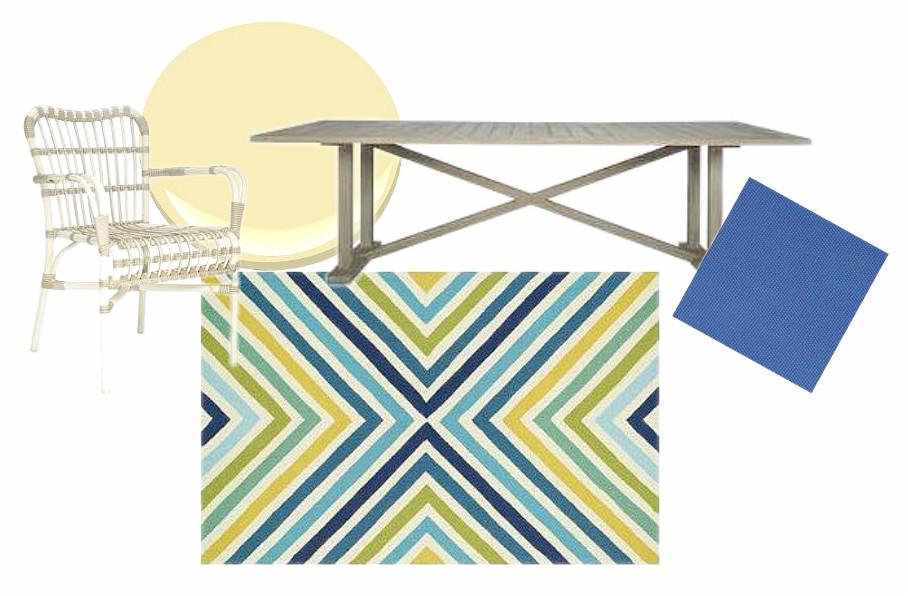 with Dann Foley's Palm Springs Outdoor Rug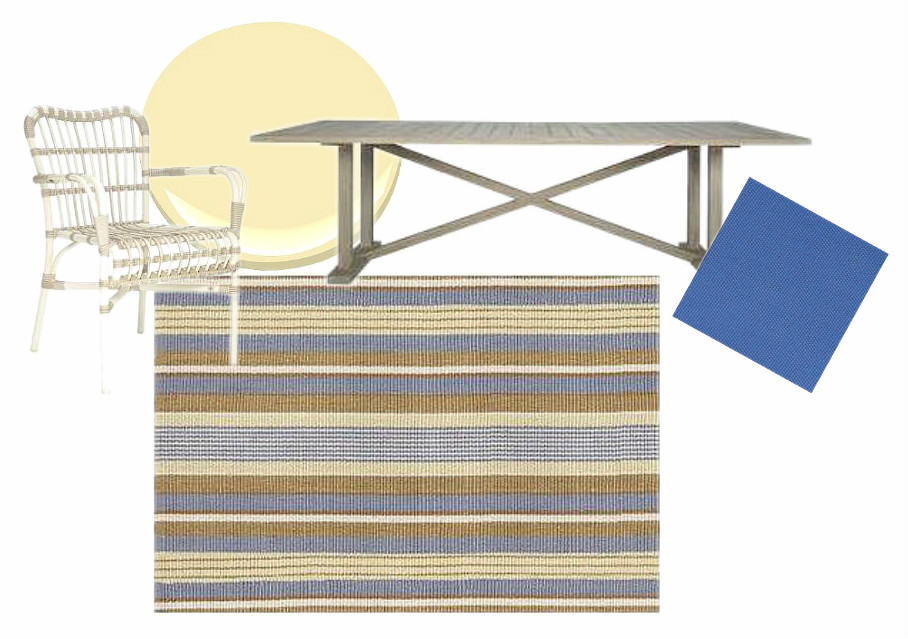 with Bunny Williams for Dash & Albert's Cricket Indoor/Outdoor Rug
You can vote in the comments section, or use the poll feature below – either way, your input is greatly appreciated!