It killed me to miss my Tuesday blog post last week. So much going on – all good stuff though, so no complaining here!
One of those things was the kickoff of IFDA New England Take a Seat; for which I have created a chair. Area designers have concocted creative chairs (23 of them!) that are on traveling exhibit at locations throughout Greater Boston this month, culminating at the gala event on Thursday, June 1st at the Royale in Boston. More on the schedule of events later – many are FREE and all are open to the public (this is not just an event for the design and furnishings industry!).
Most of the chairs that are part of this event have been upcycled – many discovered at thrift stores, or even rescued from the dumpster – and transformed into extraordinary pieces of furniture. A handful have been fashioned out of raw materials and show exceptional creativity and ingenuity!
I thought I'd share my chair's journey, and how it went from a dusty, weird old chair in my upholsterer's lofted storage area to a unique, fun, and totally durable chair (that you could own – keep reading for more info!).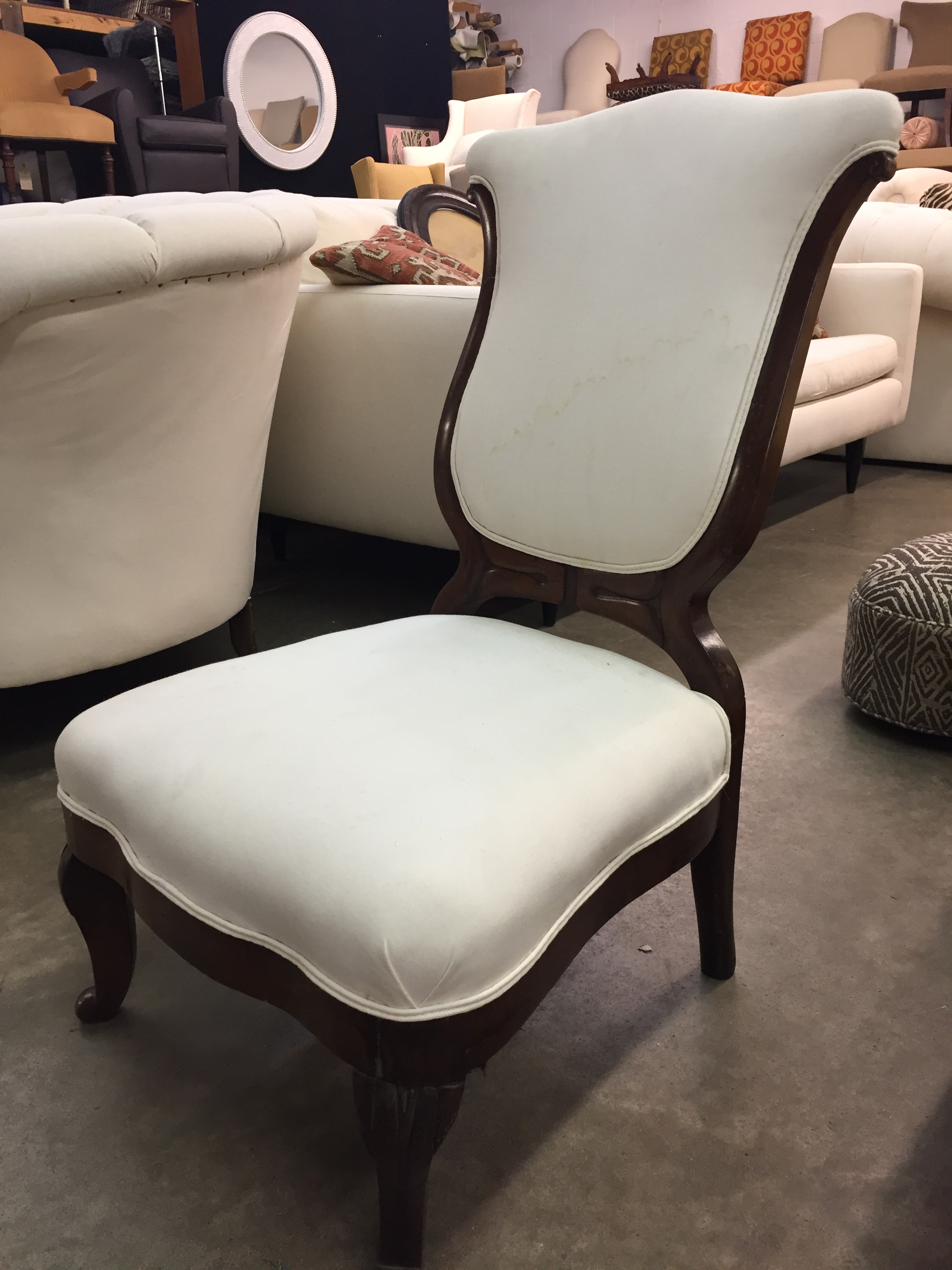 My upholsterer brought out a bunch of chairs that were more or less on "Death Row" – up out of sight and out of mind in storage – and this is the one that spoke to me, even though it clearly needed some love. I liked that the style is hard to pin down and define, but it has a definite Rococo Revival foundation, though simplified and with some sort of Southeast Asian or African influence (see that little motif on the back near the seat? What is it?? No idea…). I wonder what the original upholstery was on this one?
The back view is so cool – it reminds me of a tulip! How perfect for a spring event. I was charmed.
I had some fabrics in mind when I met with Partners in Design, my upholsterer who donated both the chair and their time in transforming my chair, but after seeing this, I knew I wanted to go in an even more tribal direction, and do something contrasting on the back, as well as refinish the frame with color. When you're working with a vintage piece that doesn't have much intrinsic value, you have the freedom to lacquer, and that's just what we did.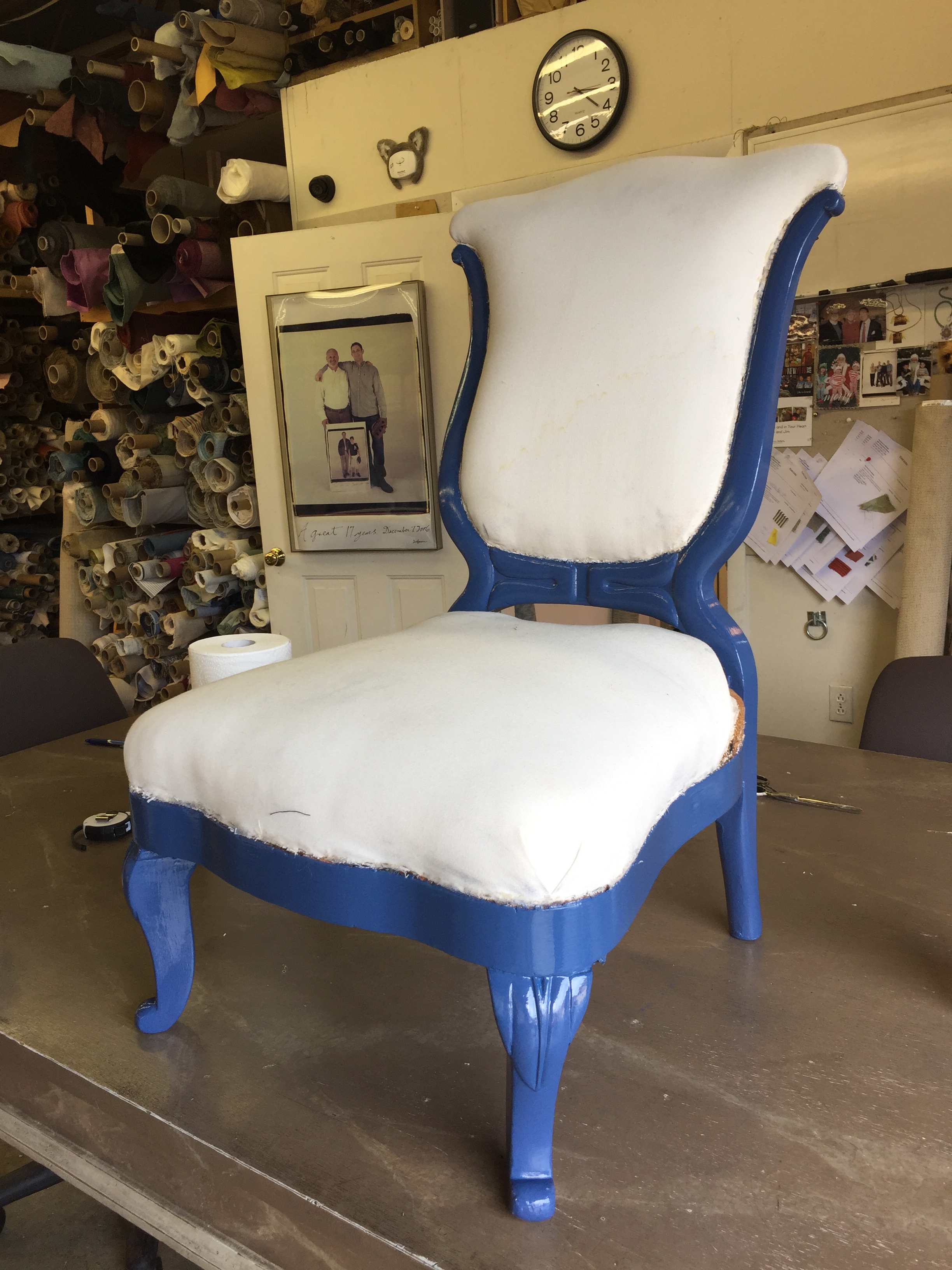 Pauline Curtiss of Patina kicked off the transformation by masterfully and patiently applying several coats of Benjamin Moore Prussian Blue in high-gloss Advance Interior paint.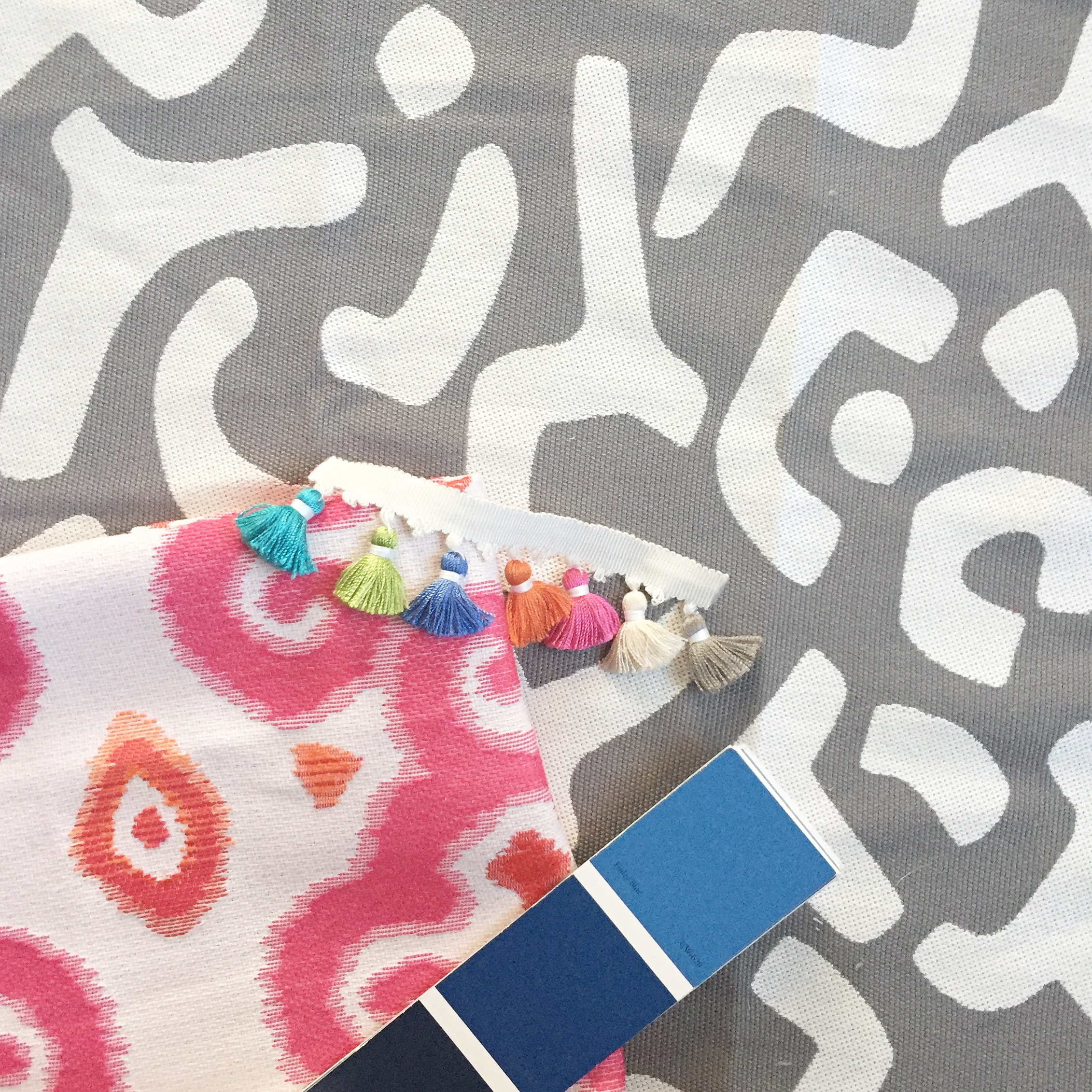 The wonderful people at Stroheim were kind enough to sponsor me and donated all of the fabrics and trims for the chair. I selected fabrics from Dana Gibson's new Crypton Home collection, as well as trimmings from Dana's incredible trim collection. Crypton Home fabrics are inherently stain, moisture, and odor resistant, and are very durable. I use the on almost everything now, and I'm so excited that I now have the option of using such bold patterns and colors on family-friendly upholstery! Dana's designs are wonderful, and so easy for me to use in my projects (I have a few Dana things in my One Room Challenge reveal, coming this Thursday!!).
Since they haven't yet made Crypton trimmings (not-so-subtle note to fabric manufacturers – I'm ready to design this collection when you are!), I had them stain treated by Timmins, which also generously donated its services. I wanted the whole chair to be battle-ready, so to speak – so it can actually be used and not just looked at and admired from afar. That's why I named it The Yes Chair!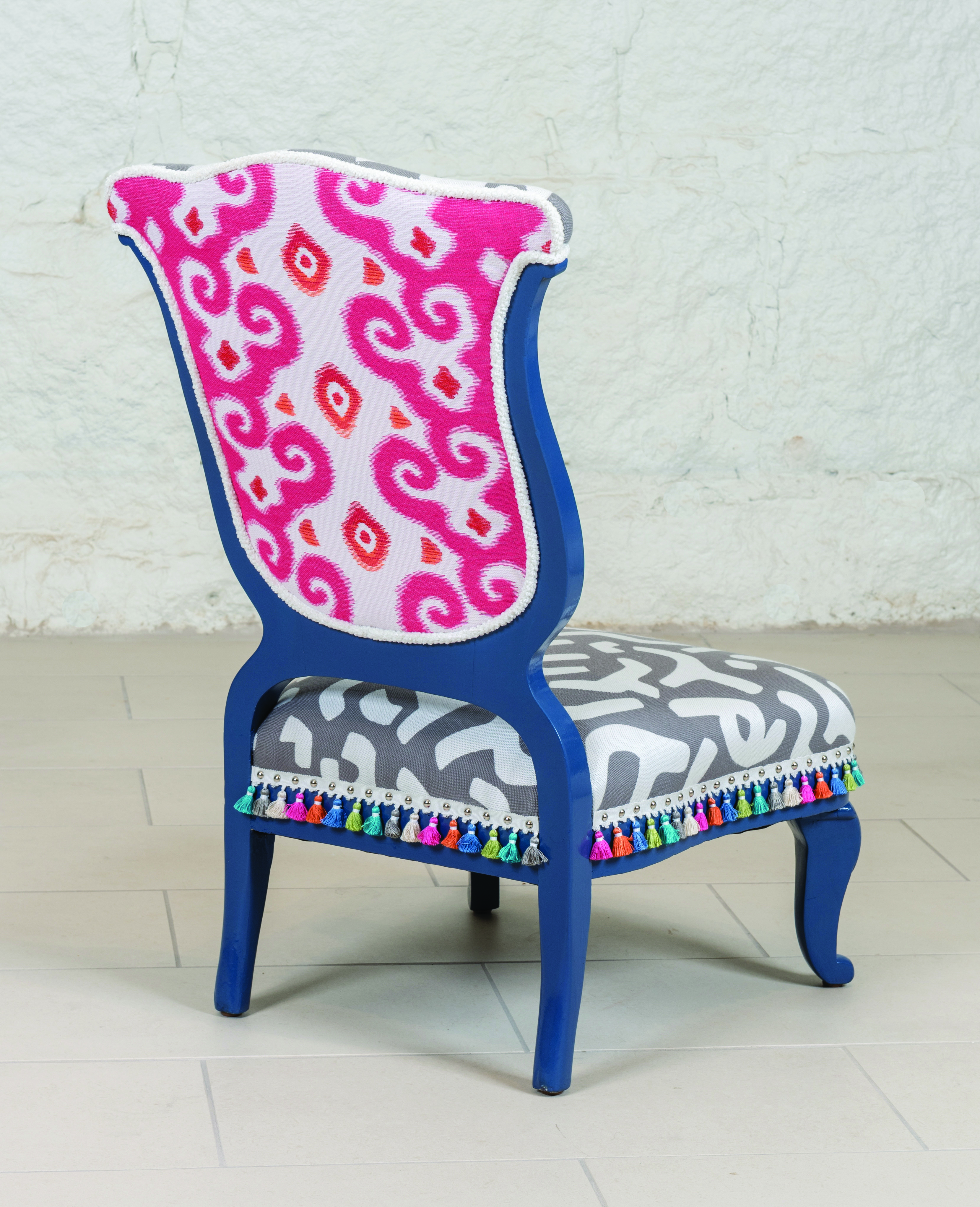 The fabrics are truly spectacular (with influences ranging from Keith Haring and Matisse, to traditional ethnic ikats), but the trim details really make this chair unique! The rainbow mini tassels are amazing, and further embellished with petite chrome nailheads above each little picot between the tassels. I used a chunky and soft caterpillar trim in lieu of a welt on the chair back, which adds a cool texture in contrast with the shiny blue frame. It's high-style, low-stress, high-function – and it could be yours!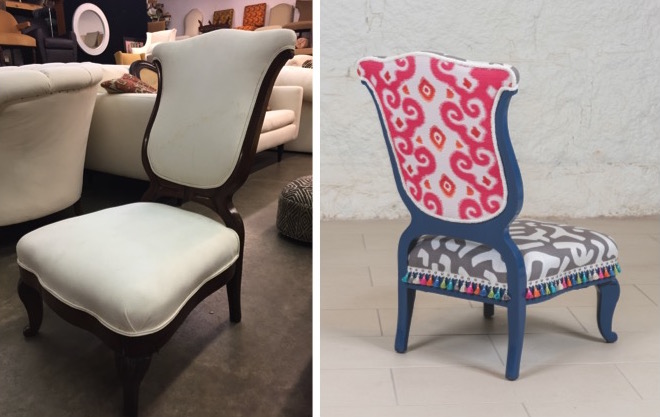 Bidding for the chairs, including mine, is now open, now through the gala event on June 1st (2017). They've made it super-easy to bid this year, it's all online! Click here to view details and bid on the chair. All the proceeds from my chair will benefit Friends of the Children, a wonderful mentoring organization that makes a very real and lasting impact on the lives of the kids it works with (from kindergarten through high school graduation!).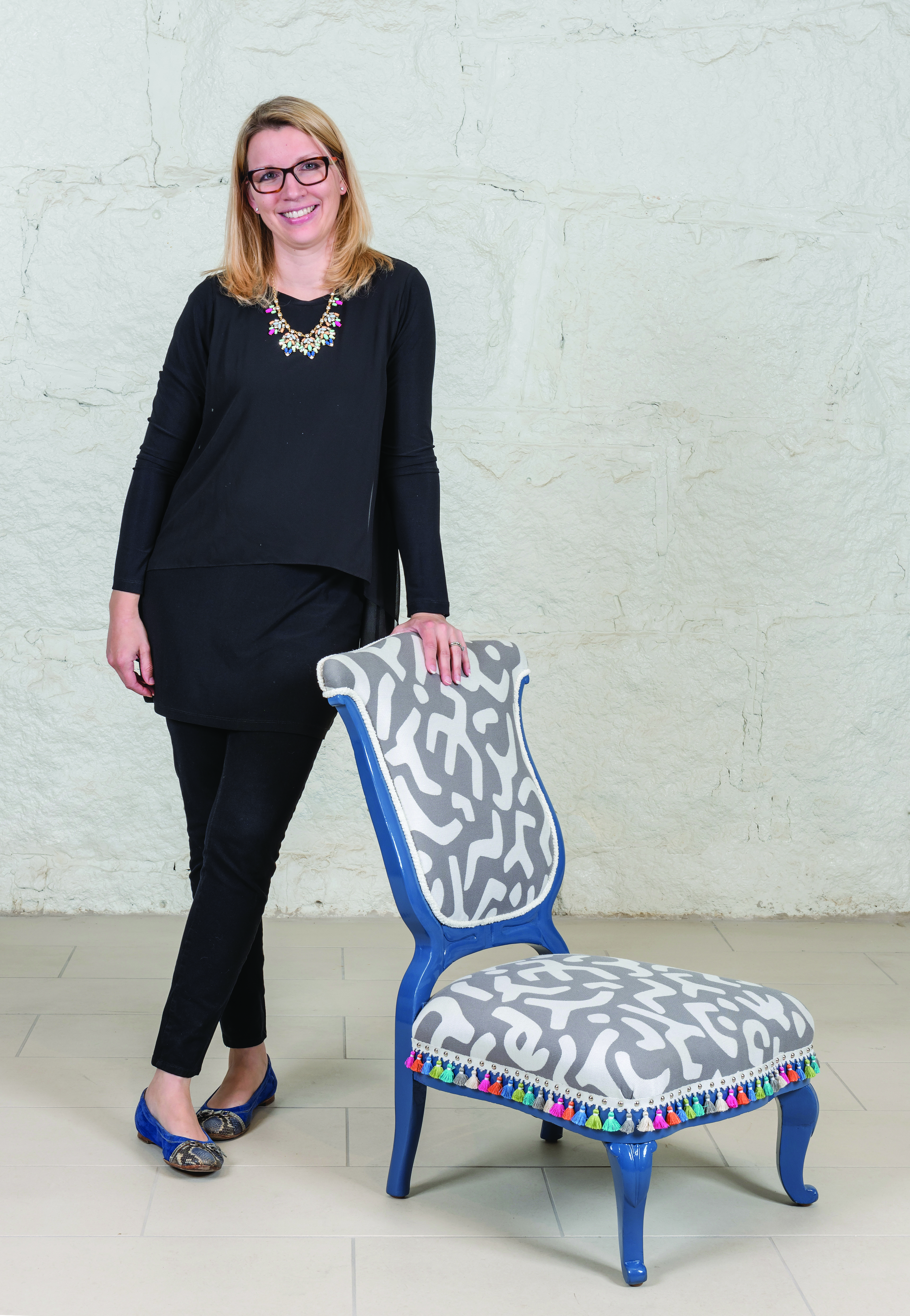 If you are in the area and would like to see this and the other unique chairs that have been created, you have three more opportunities to do so over the next month. I am planning to be at both (though I may be a somewhat late arrival). Come meet me! Here is the schedule of IFDA New England Take a Seat events:
South Shore Traveling Exhibit & Opening Cocktail Reception

TONIGHT!

Tuesday, May 9th – 5:30-8:30PM
Roomscapes – 40 Reservoir Park Drive, Rockland, MA
FREE and open to the public!

North Shore Traveling Exhibit & Opening Cocktail Reception

Tuesday, May 16th – 5:30 – 8:30PM
3rd Avenue Pop Up Cafe – 62 2nd Avenue, Burlington, MA

Enter "62 2nd Ave" vs "62 Second Ave" Into your GPS to get to the correct location

FREE and open to the public!

Take a Seat Gala

Thursday, June 1st – 5:30 – 10:30PM
Royale – 279 Tremont Street, Boston MA
Live auction of sponsored chairs, and closing of silent auction
Tickets: $125 members / $150 non-members – purchase here!
Remember, The Yes Chair is up for auction online, right now through June 1st, and if you have the high bid when the clock runs out, it will be yours! And you'll have supported a worthy cause in doing so.
Follow (or tag!) The Yes Chair on Instagram now through the gala via the hashtag #TheYesChair. Hope to see you at one of the events!
And don't forget, Thursday is the big One Room Challenge reveal day! See you then 🙂 xoxo