It's been about a month since I last posted a construction update. A couple of weeks ago, I shared my plans for our mudroom. From the bottom of my heart, thanks to those who shared their feedback here on the blog and on Instagram! I think I now know which direction I'm heading in for the wallpaper. And I just ordered the cabinet hardware for that room yesterday.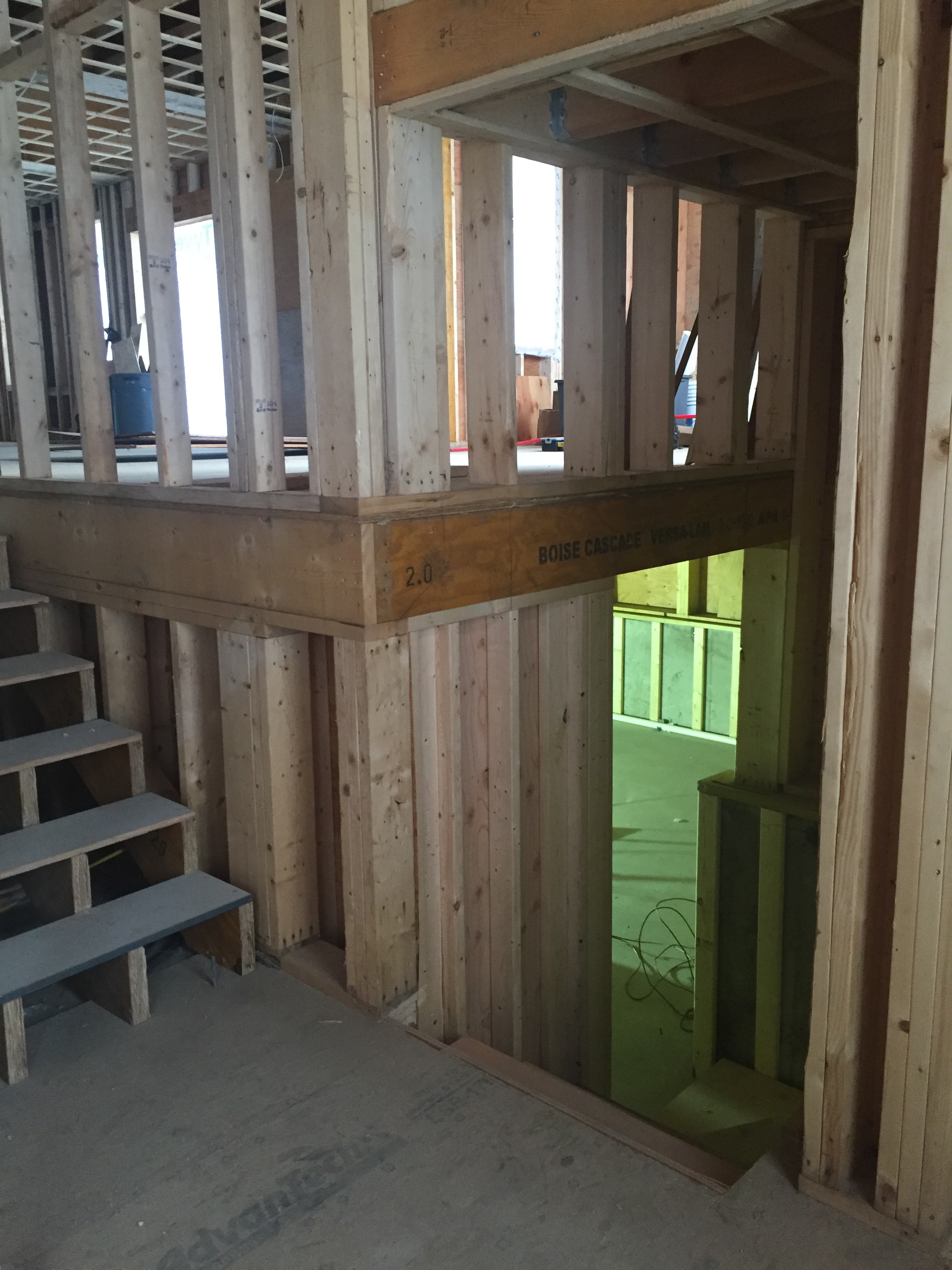 We have had our fair share of ups and downs in recent weeks (get it??)…
Just before my mudroom post, we learned our measurements were all out of whack, resulting in a kitchen that was significantly smaller than what we had expected. The day after my mudroom post, we experienced a torrential downpour…into our house. Unfortunately the roofer was scheduled to come (and did come, on time) the next day. Fortunately, the damage was not catastrophic – we had quite a lot of water go down into our basement bathroom and laundry room, but aside from that, it did not really affect other finished parts of the house not under construction. After dealing with 10+ different leaks with ice dams a few years ago (we repaired the interior damage and replaced the roof last fall), it was starting to feel like our worst nightmares were becoming reality. Hopefully, all that 'water in the house' stuff is behind us now! My nerves truly cannot take anymore.
The plumbing, electrical, and HVAC subs have been here for the past couple of days working on rough, wiring, and ductwork, respectively.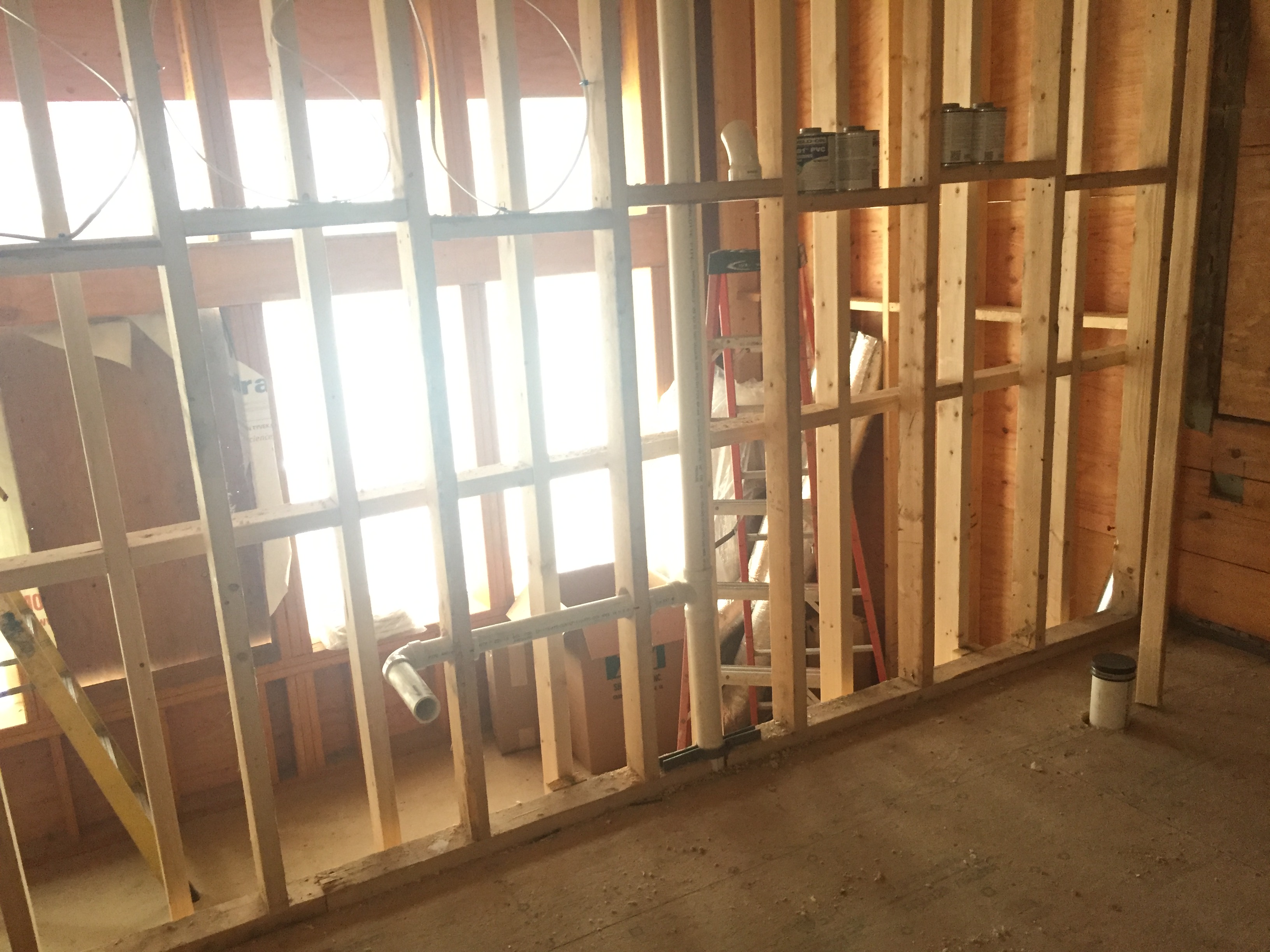 I've never thought I'd be so excited to say, hey, that's where my toilet is going to go! LOL. Also funny? Where I 'lost' several inches in the kitchen, I apparently gained them in the powder room. If anyone is looking for a fancy potty training party venue, I am booking for Spring 2018. P.S. Powder room plans are really starting to come together – hope to post a peek in the next couple of weeks! I really need to get to work on my custom vanity design…
Our cabinet maker was here yesterday taking final measurements in preparation for the kitchen, bar and mudroom cabinetry to go into production…today! It's going to be about three months until they are ready to deliver and install. By chance, the electrician was also there, and we were able to problem-solve a few sticky wickets right then and there. I love when that happens!
Here is what the kitchen, bar, and mudroom are looking like right about now. Don't mind all the boarded-up window openings. Hopefully the actual windows will be in within the next couple of weeks.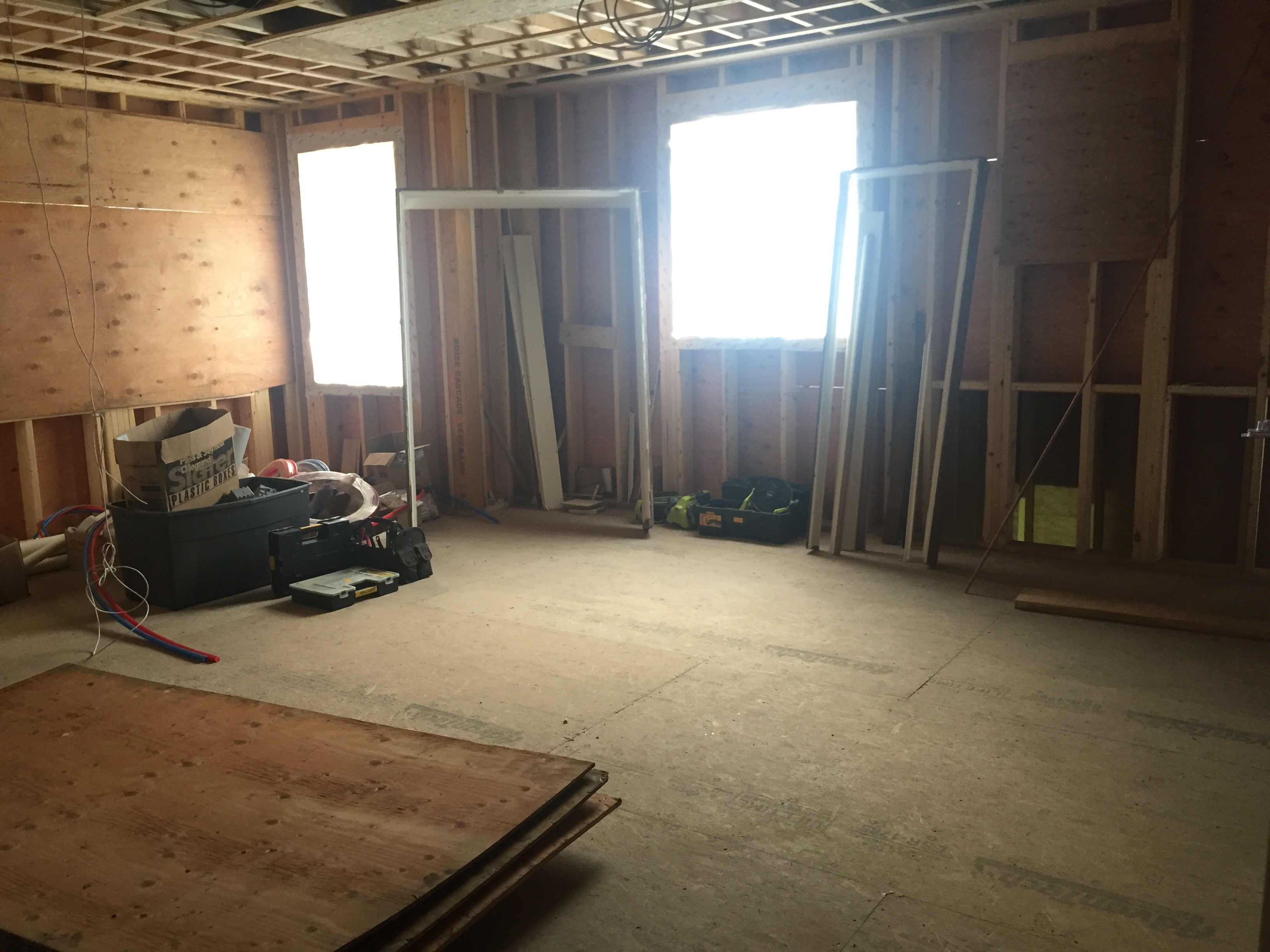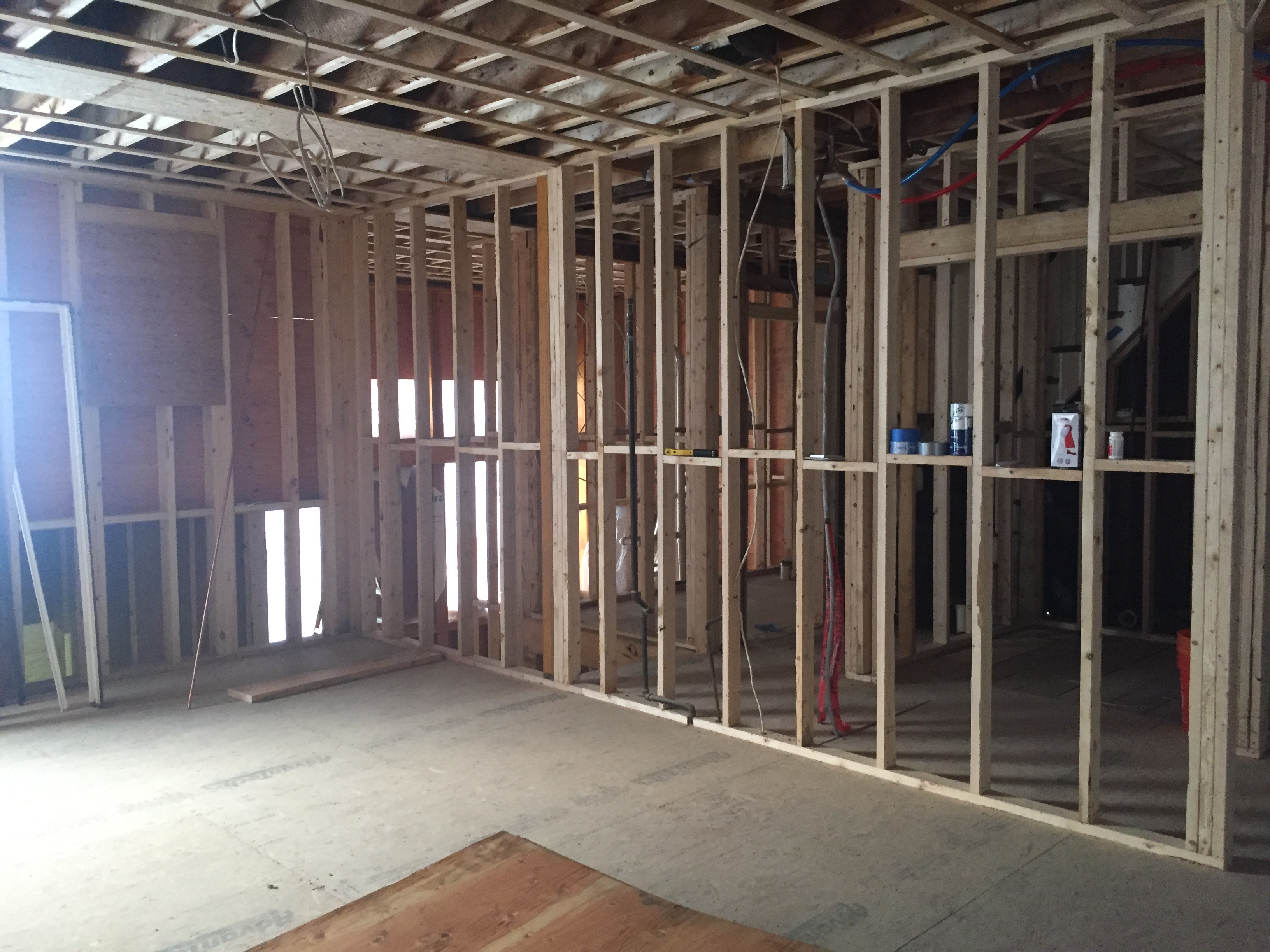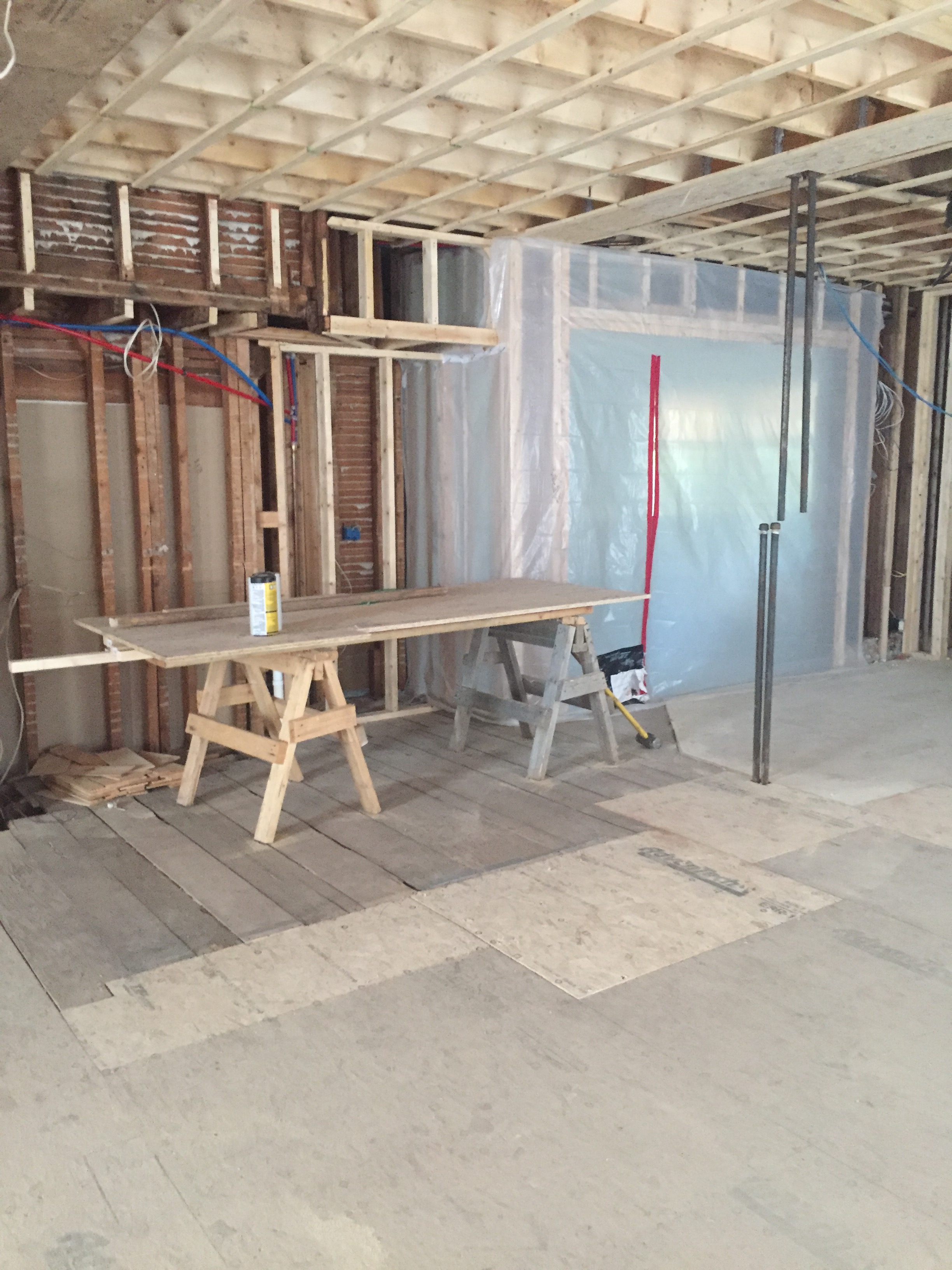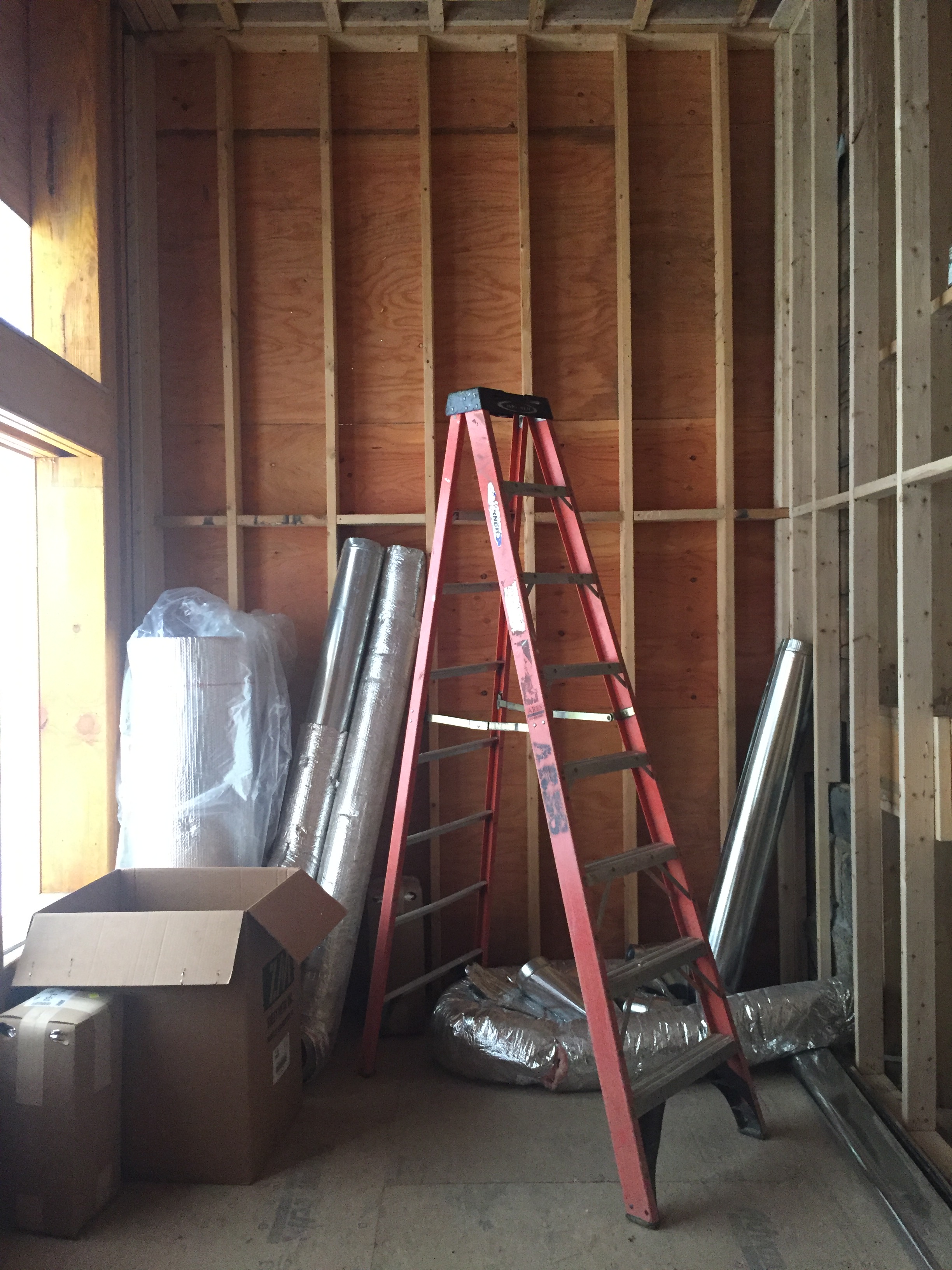 Yesterday I also popped down to my new top-secret source for a new quartz line I am really excited about. I am using soapstone for the perimeter counters, but a white marble-looking quartz on the dark-ish quartersawn oak island, which is loosely inspired by a Victorian marble-topped lamp table. I have looked high and low, up and down and all around, and when I finally thought I had decided on one, I realized my choice would not work, because I need not one, but two jumbo quartz slabs just for my island. So I was really excited to look at some new-to-me options last week.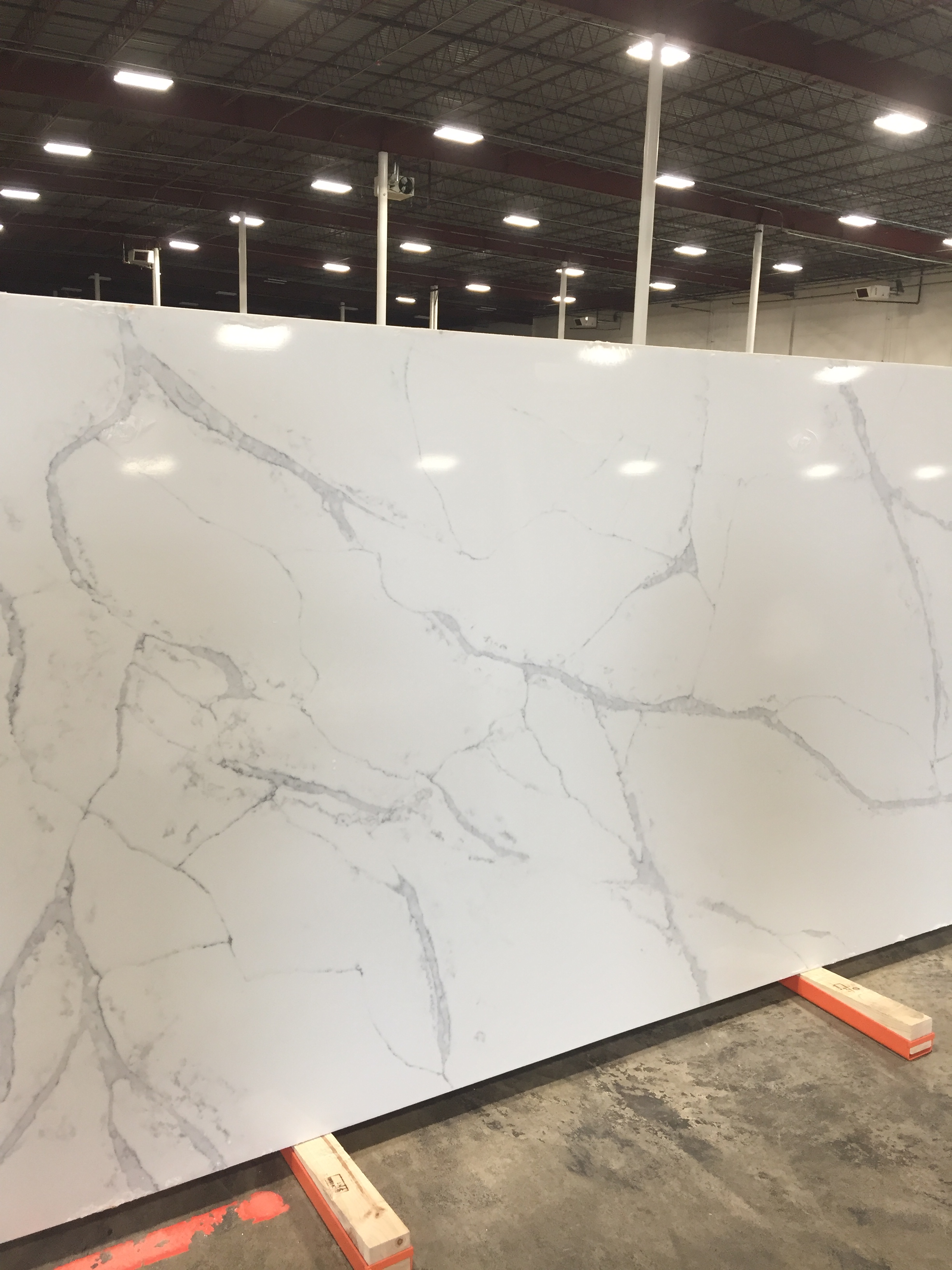 I was almost seduced by this gorgeous fracture-veined slab. It truly looks like marble (maybe a statuary?), I would challenge anyone to try to tell the difference. Anyway, it really gets away from my original vision for the island, which is more furniture-like, and would also have seaming challenges (this design is bookmatched, meaning there would be a mirror image thing happening on the counter – not really the look I'm going for – very cool for wall and floor applications, though…).
So yesterday I headed back in more focused search of a more subtle, and more 'all-over' veined marble-esque quartz, and I found two really great options.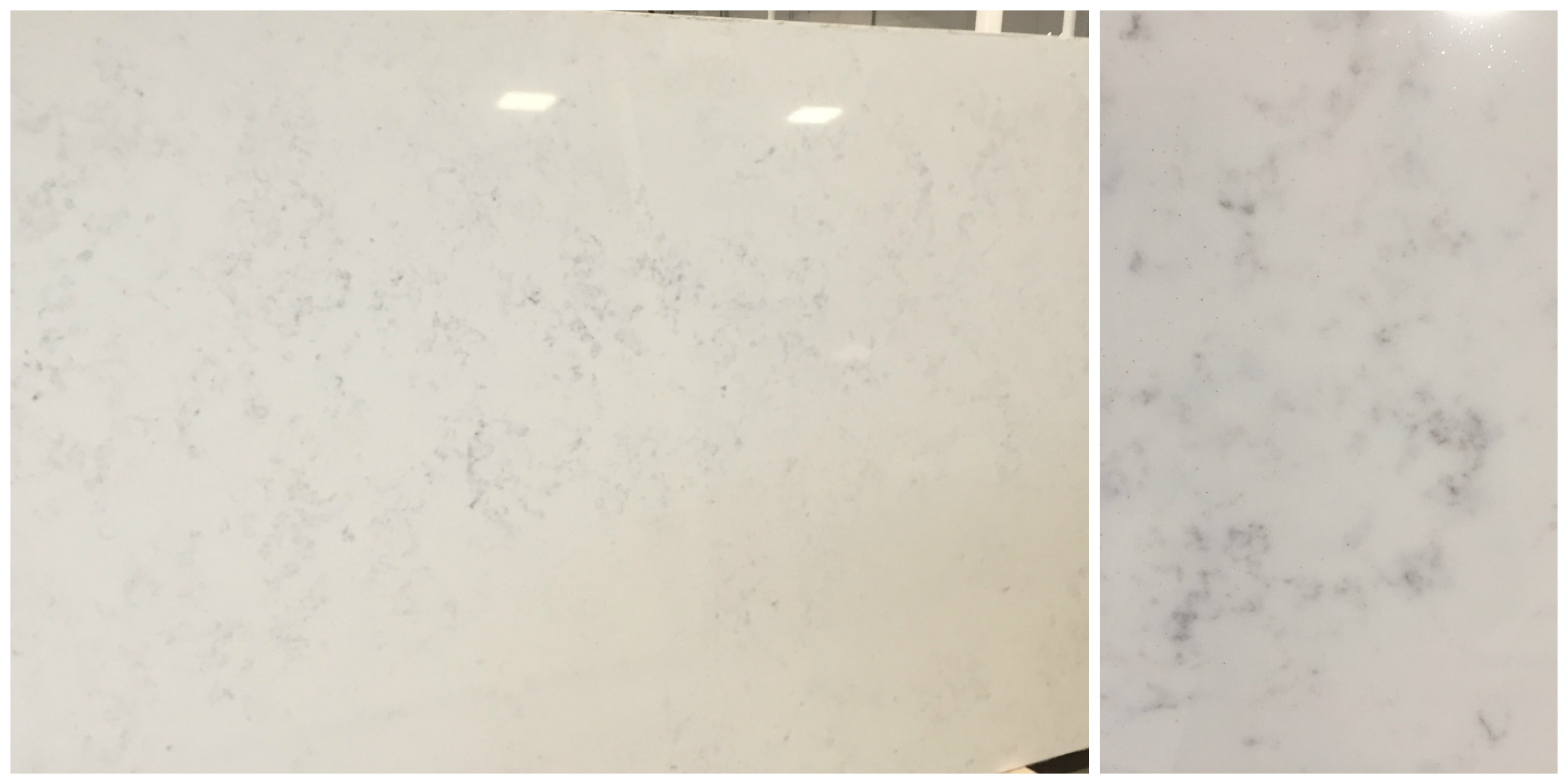 This is supposed to mimic Carrara marble, but I find it even nicer. Just look how random and clustered the veining is on the slab. It is a very natural look.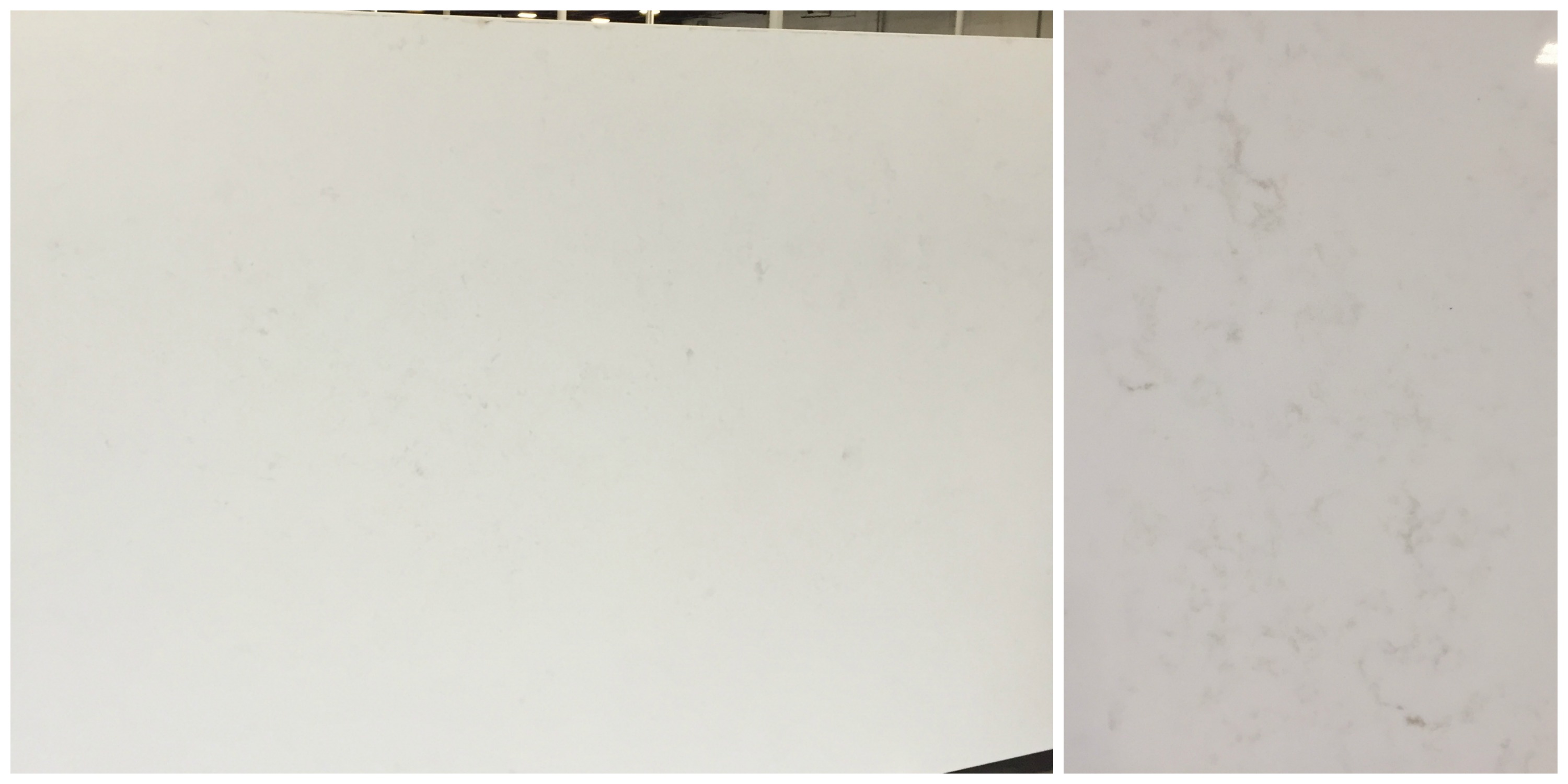 This one is similar, maybe a touch warmer, and with even subtler veining, and lighter, somewhat golden tones, as well. I wish it had just a little more going on, but even so, I think this is the lead horse.
In the meantime, things have really been heating up with respect to planning (and committing to) furniture, fabrics, etc. I came up with a scheme I really love for the family room, but I keep reworking in my mind what I'll be using the fabrics for.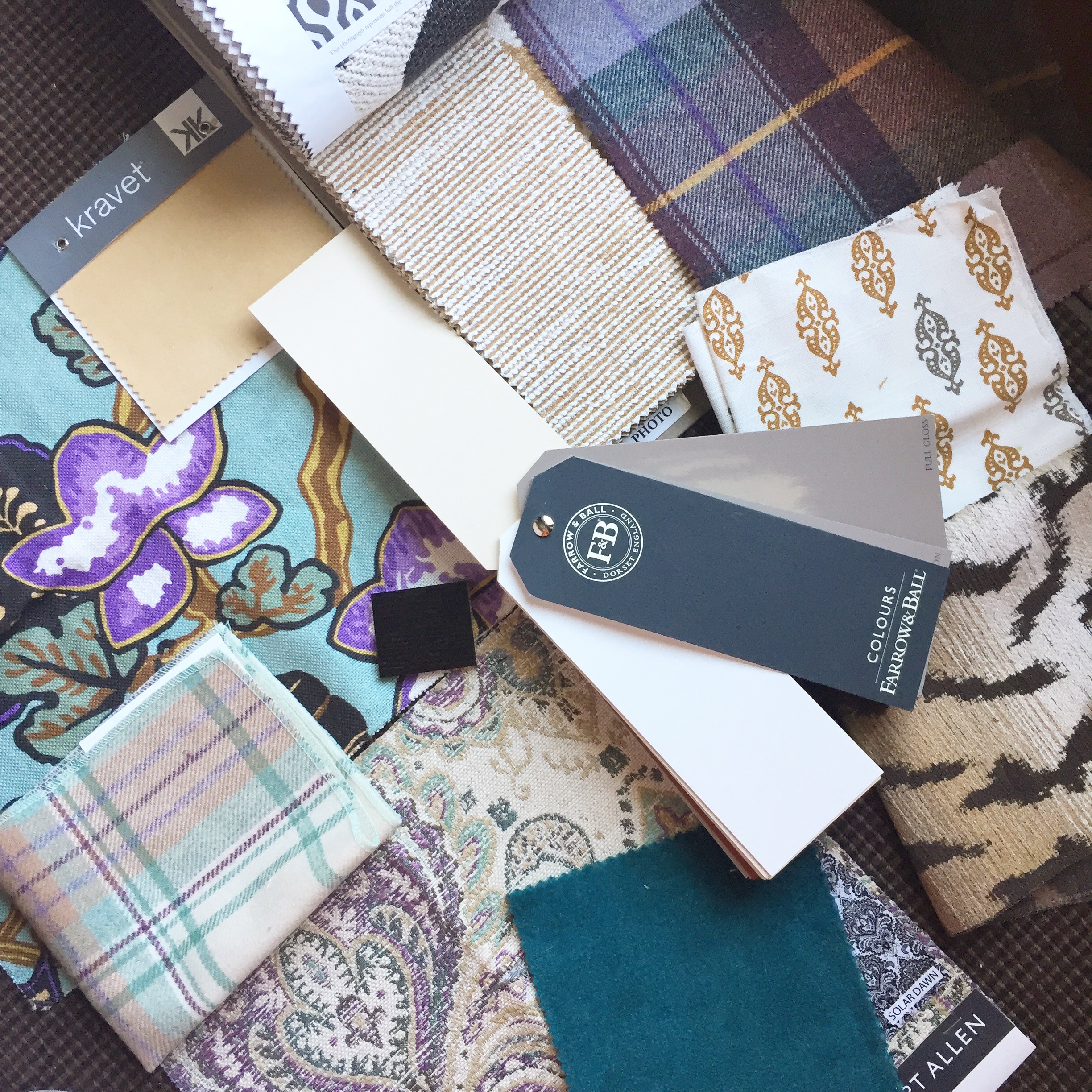 I built this around the existing rug I am keeping (note that it is not doll-sized, like the sample image below, but rather 9×12). It has a superhero-like ability to hide spilled coffee and tea stains :).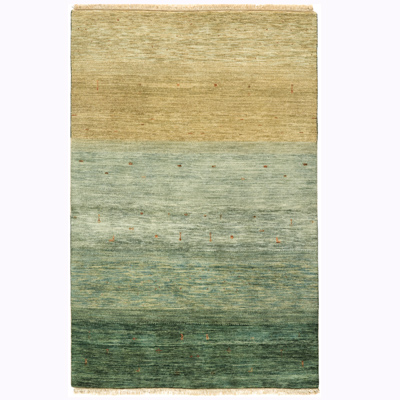 Currently I am agonizing over upholstery (I need an 8′ or so sofa, and about a 7-footer – nearly a love seat – as well as a lounge chair and uber-functional table ottoman. And then there are the window treatments, window seat cushions, pillows, pillows and more pillows, as well as tables, lamps, etc. All really should be ordered within the next few weeks. Yikes.
While I continue to amaze myself with my inability to make decisions, I did have a happy realization that the custom Oomph Tini table I acquired for last year's Junior League of Boston Show House, which has been stashed away in a guest bedroom upstairs since last spring, may be the perfect addition alongside the lounge chair in the family room!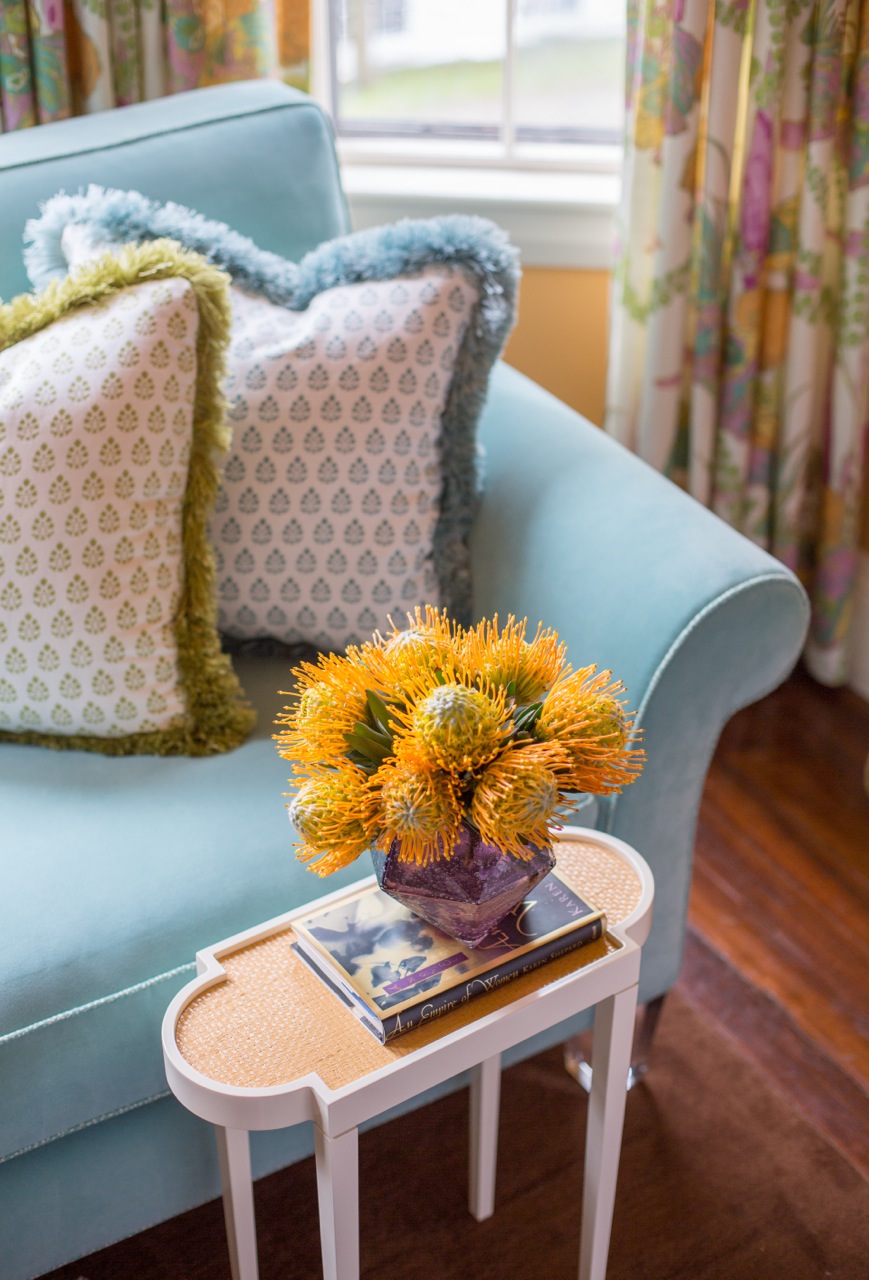 The basement playroom will be interesting, as I am bringing together some other 'old' things from different spaces in a way that I hope will give them each new life. The Kravet sectional upholstered in a minty green herringbone woven that was in my family room will join the vintage Heriz rug that was previously in our library/Manbrary.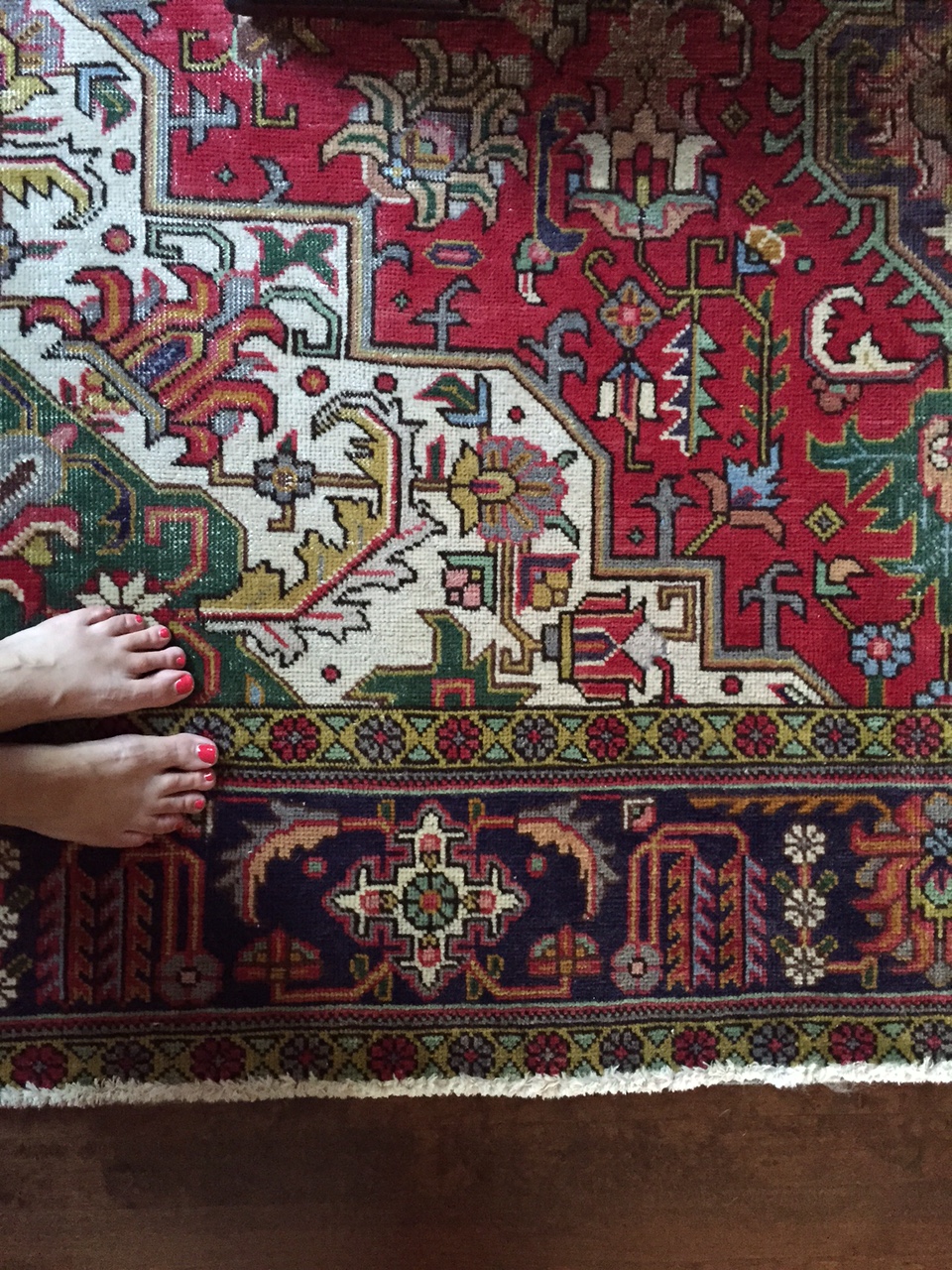 I think I'll do a whole post on the playroom, actually – although it will be a bit of a Frankenstein project, I actually think it could be one of those rooms that surprises me and is even better than I imagined it to be. Let's hope :).
P.S. I am making an effort to reuse pre-renovation things, but there will be a few items we will part with – dining room host/hostess chairs, a lounge chair formerly in my family room, some pillows, and possibly other things. Be on the lookout for another designer sale when the smoke clears a bit!