At the risk of beating a horse that is no longer among the living, things are really starting to accelerate around here. Good golly, I can't even walk out the door without someone pulling me back into the construction zone for 'just a few quick questions.' And it's always when I'm about to walk out the door and am in a hurry to get somewhere. It's called Murphy's Law, for some reason, even though I own it. Go figure.
The past week has seen this joint get wired, vented, and plumbed – the vast majority of rough is complete. Yay!! Which means I've reached the point of no return with many of my decisions of where things will go and what they will be. Yay!??? I finalized my lighting schedule, plumbing schedule, my flooring selections, signed off on the cabinetry shop drawings, and by the end of the week, the materials (tile/stone in this case) schedule will be ready to rock, and supposedly I need to pick my paint colors by next week…whaaa?
Anyway, orders for plumbing fixtures, cabinet hardware, lighting, furniture, tile, and other fun things are being placed at a rapid pace. And because they are orders for me, based on historical record, I am assuming that I will beat the odds (in the bad way) for all of the things that can get mucked up – wrong finish, fabric applied in the wrong direction, incorrect items sent, interminable backorders, shipping to the wrong address – just to name a few. I am bracing for it…and in a few months, I'll probably be blogging about it. Mark my words.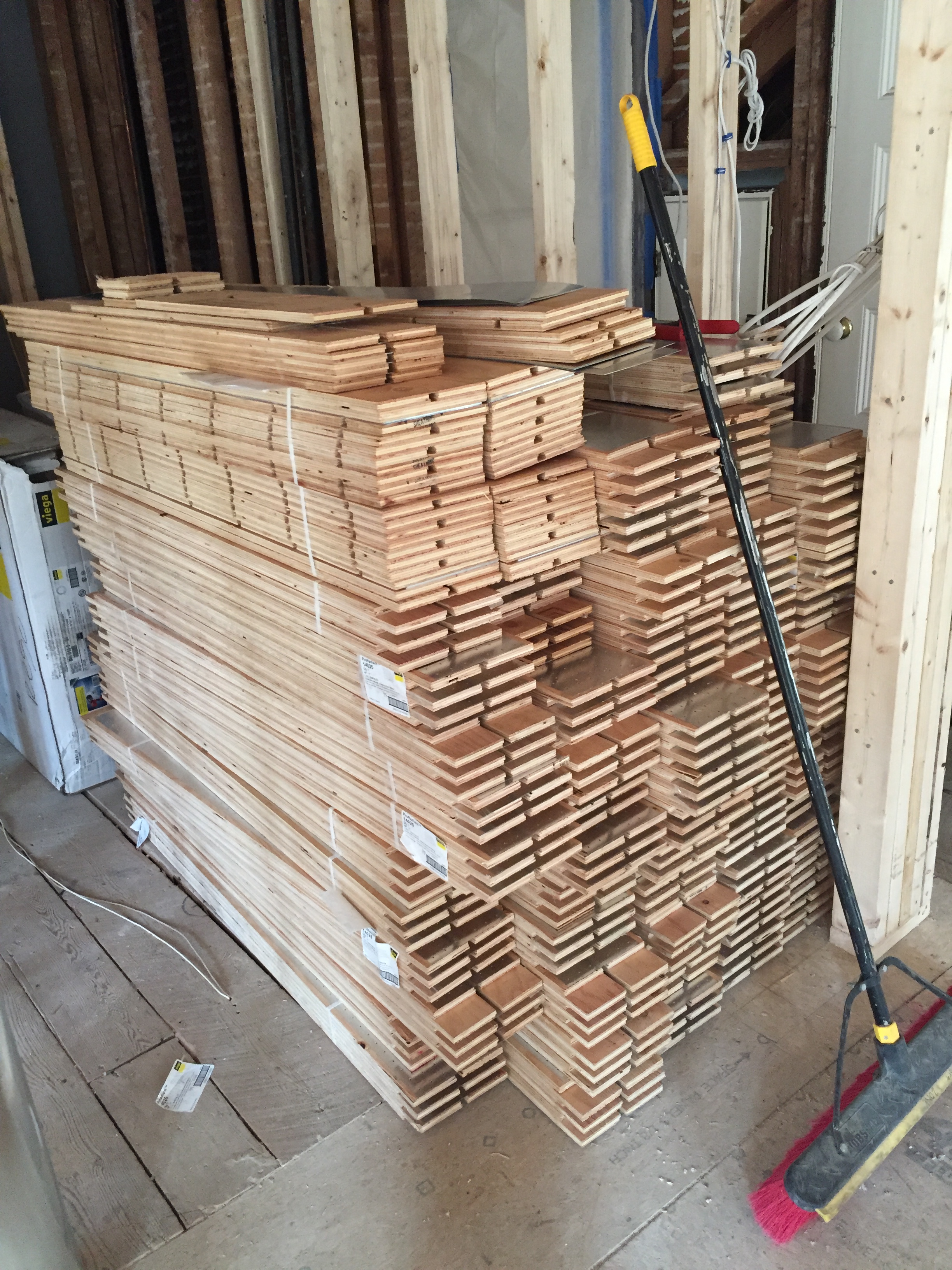 Today started with an exciting delivery – the radiant flooring system! We are installing radiant heating throughout the renovated spaces, with the exception of the basement playroom. It's going to be soooo cozy. We have original hot water radiators throughout the rest of our first and second floors, and we actually love them! They heat gently and without the harsh dryness that forced air creates. I think the new-fangled radiant system will complement our old-school radiators very well.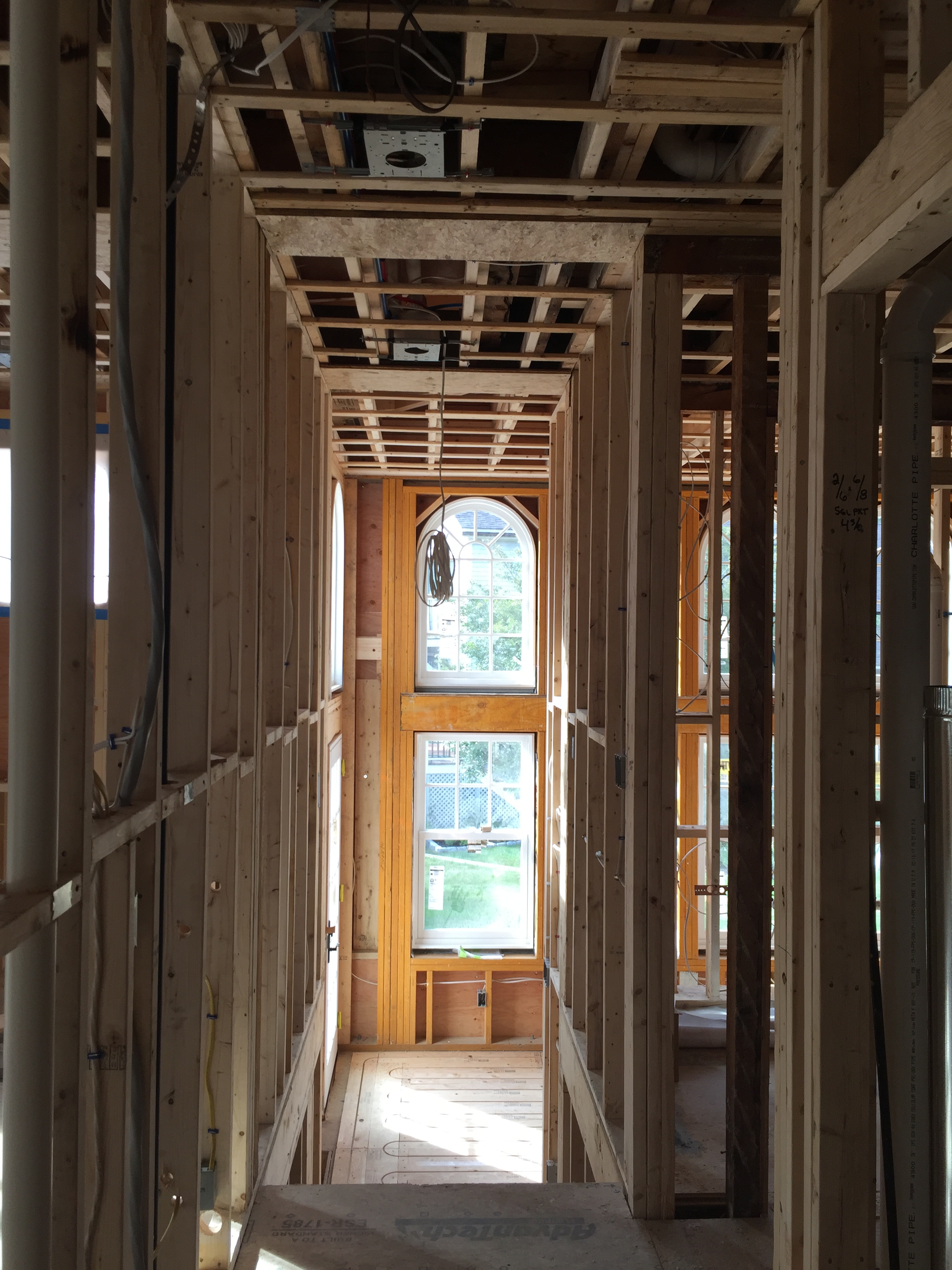 Here is the radiant subfloor going down in the mudroom. Also, I just can't get enough of this view from the back hall into the mudroom. The light is simply glorious.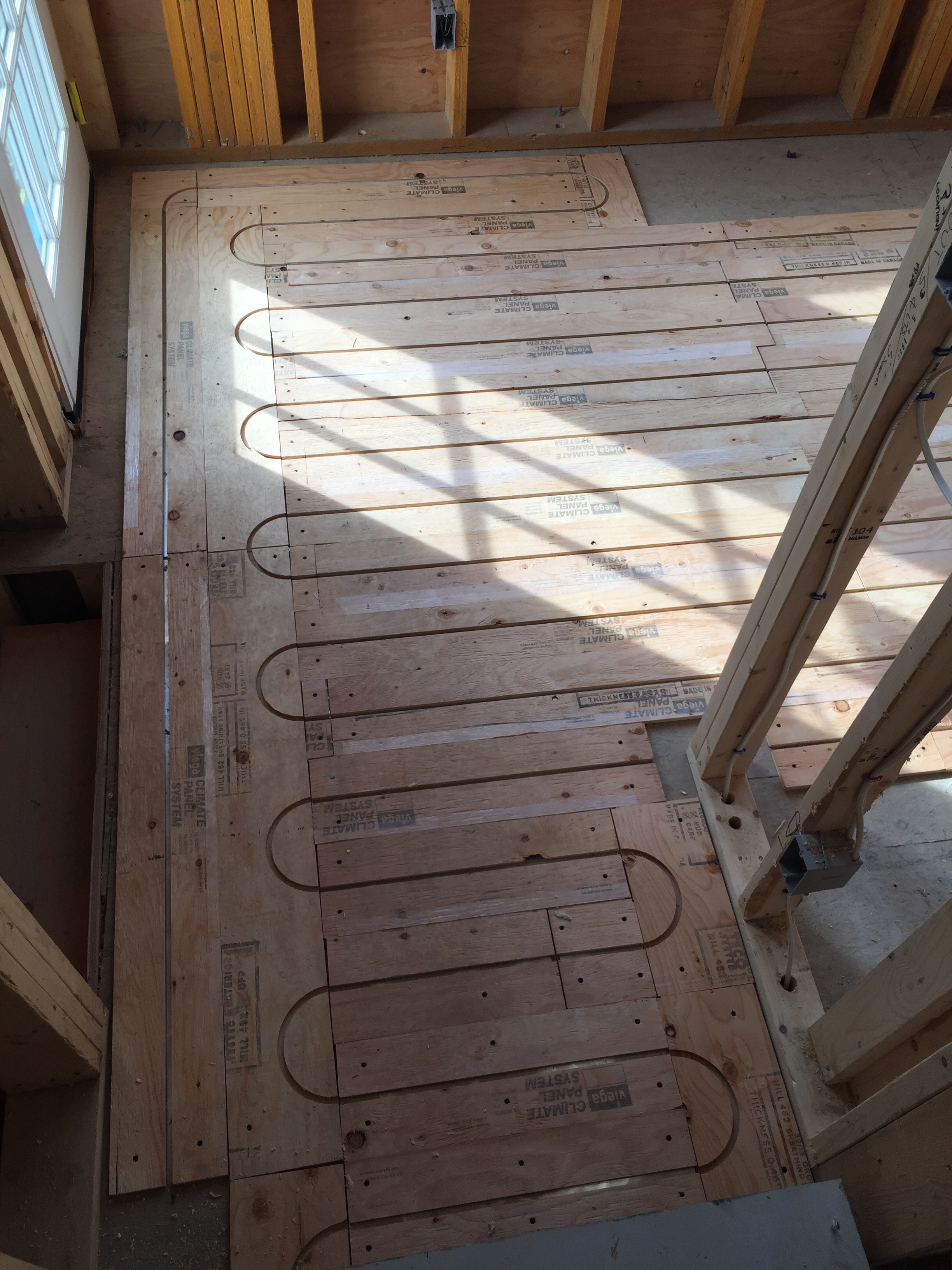 And a better, yet slightly less inspiring picture of the mudroom floor-in-progress :).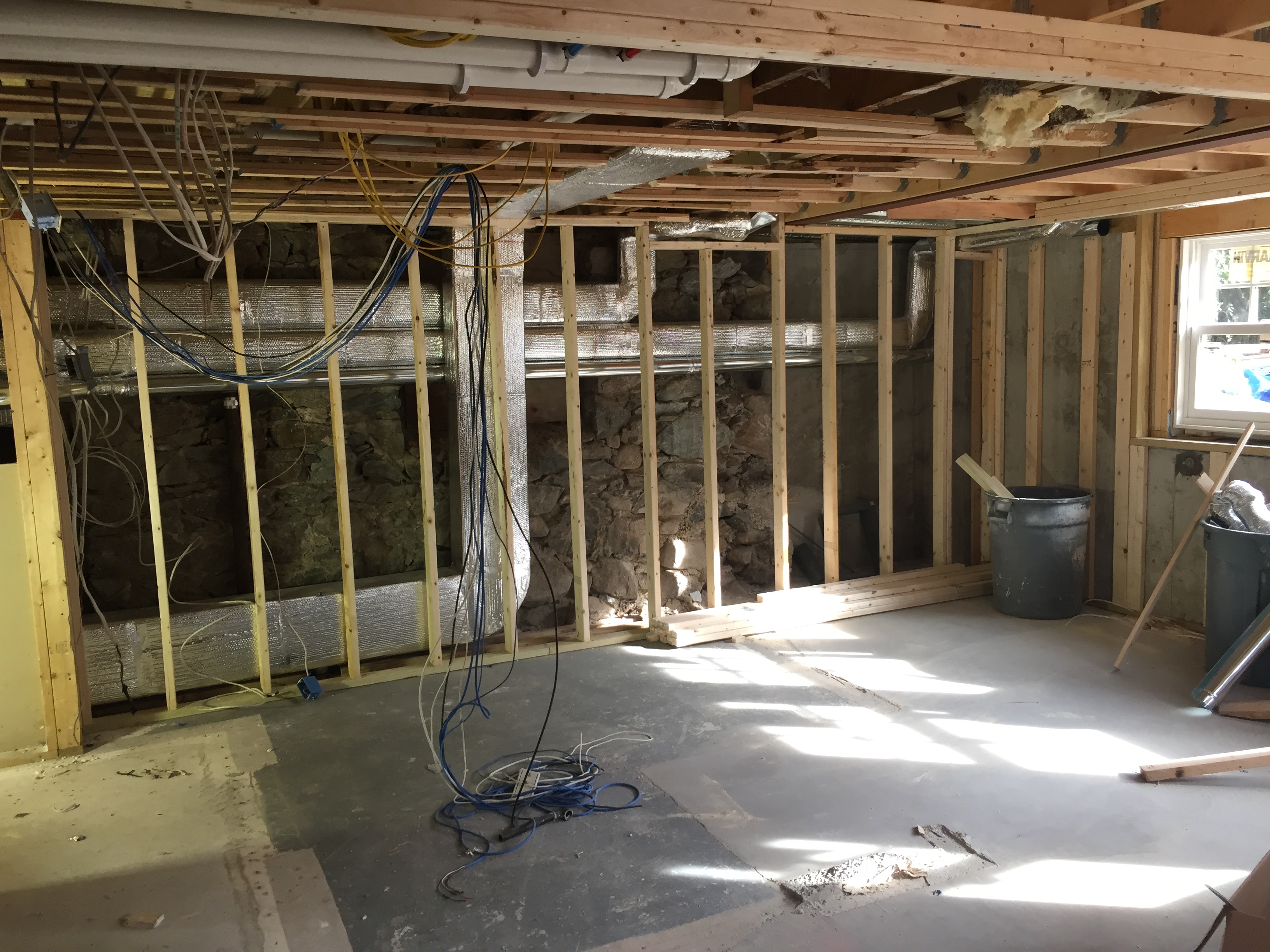 The basement playroom is still kind of a mess. The electrical panels have been relocated, seemingly without much drama, so that is a good thing. We had some HVAC 'surprises' (not the good kind) that are necessitating some rework of the design of a wall of built-ins. Additionally, I am seriously all done talking about soffits and chases and being asked to decide where they should begin and end and how wide they should be. When can I start making this room pretty?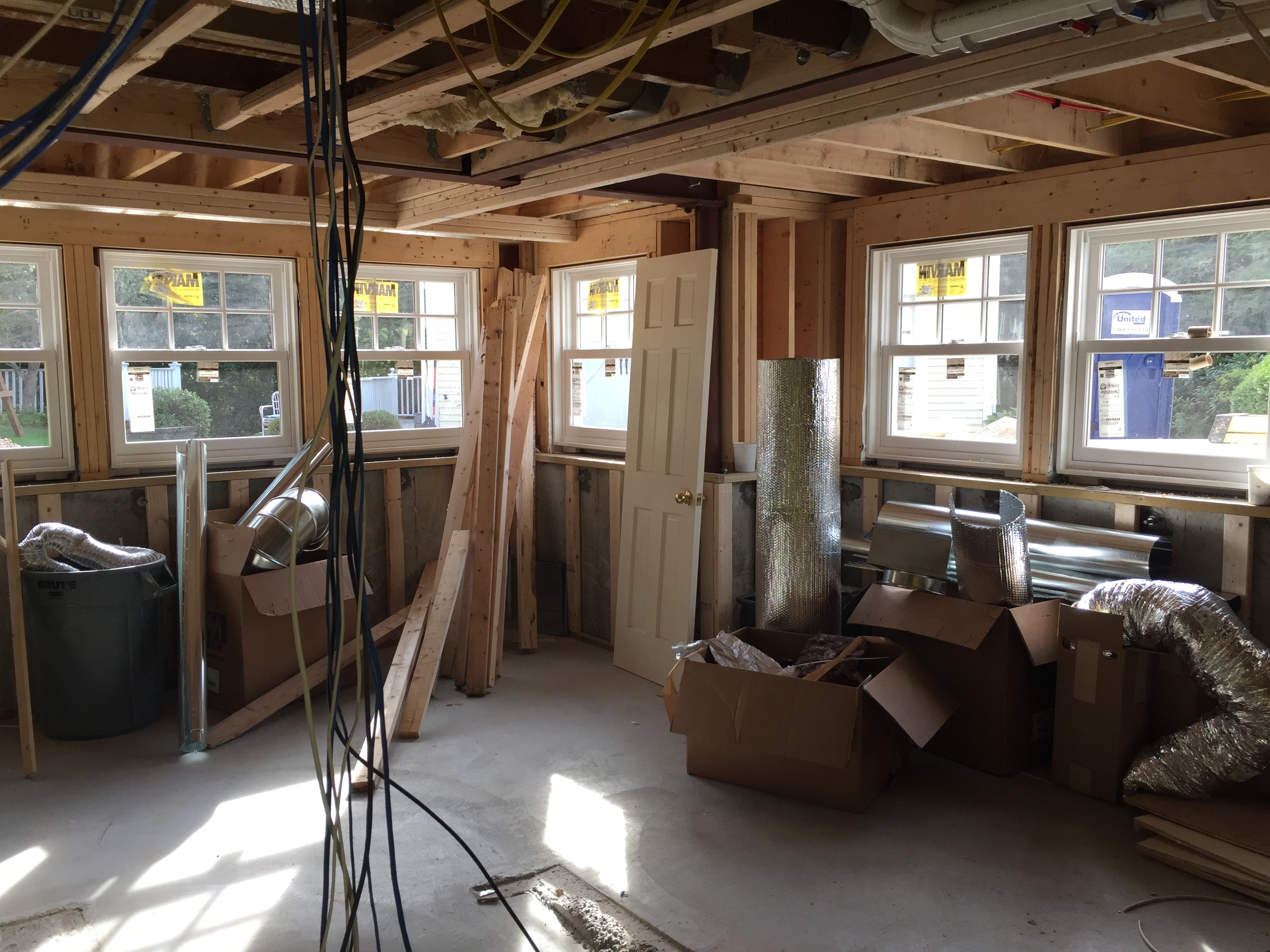 On the other hand, there's more of that glorious light happening down there that just makes me so happy! Seriously, the only thing that's making this feel like a basement is the fact that I can touch the ceiling flatfooted. Perhaps bent-kneed while standing beneath a soffit.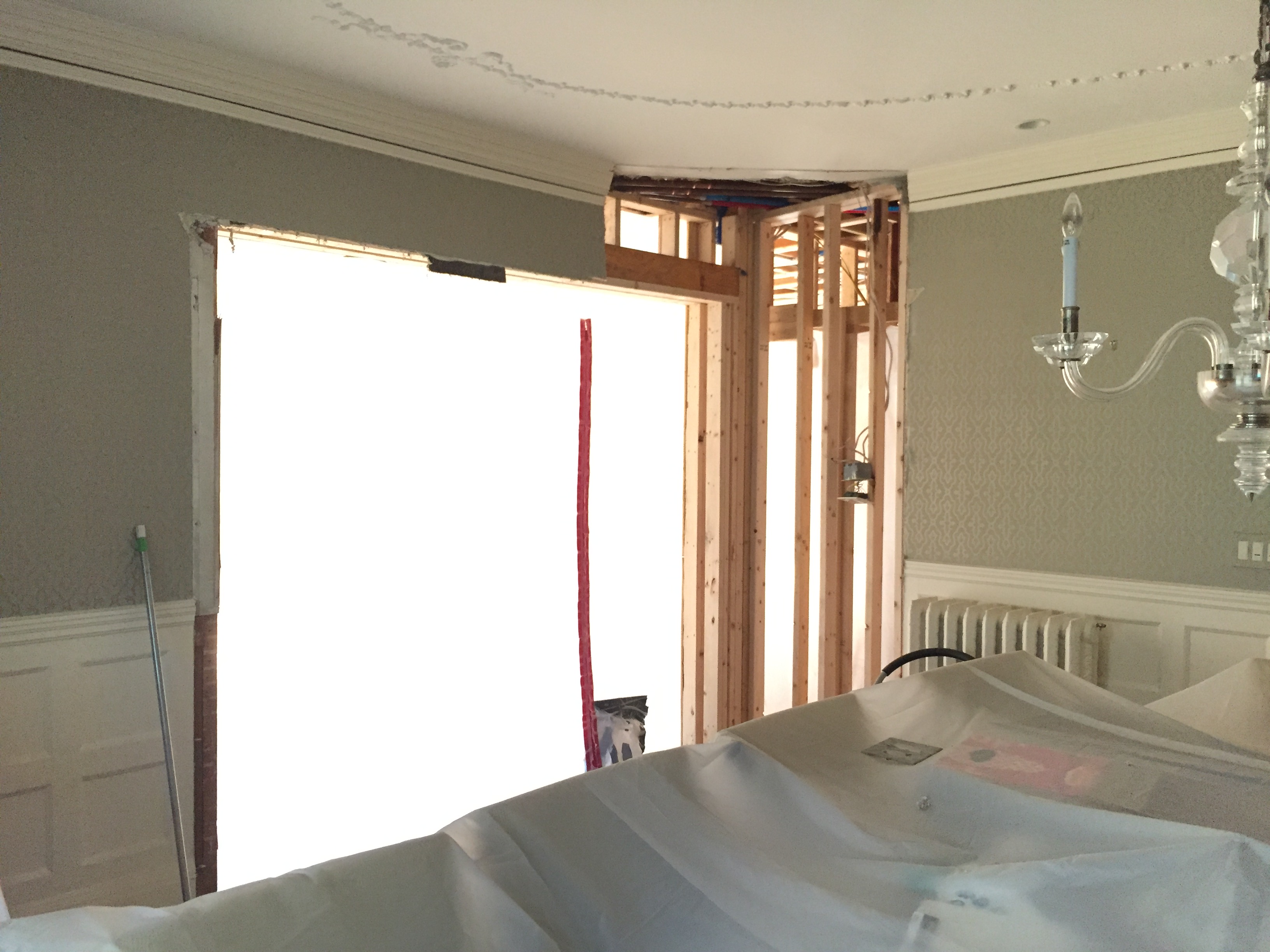 Meanwhile, back in the dining room, the pocket door is still waiting to go in. And I am assessing how the room will be put back together. I found the extra wallpaper the prior homeowner had installed (which I liked, and kept), and I think it may actually be enough to patch things up, rather than papering the whole thing over again. I appear to have a nearly full double roll, plus a little extra. Part of me was somewhat interested in putting my own, final stamp on this room with a new paper. Another part of me was like, oh sweet Jesus, please don't make me make another decision right now!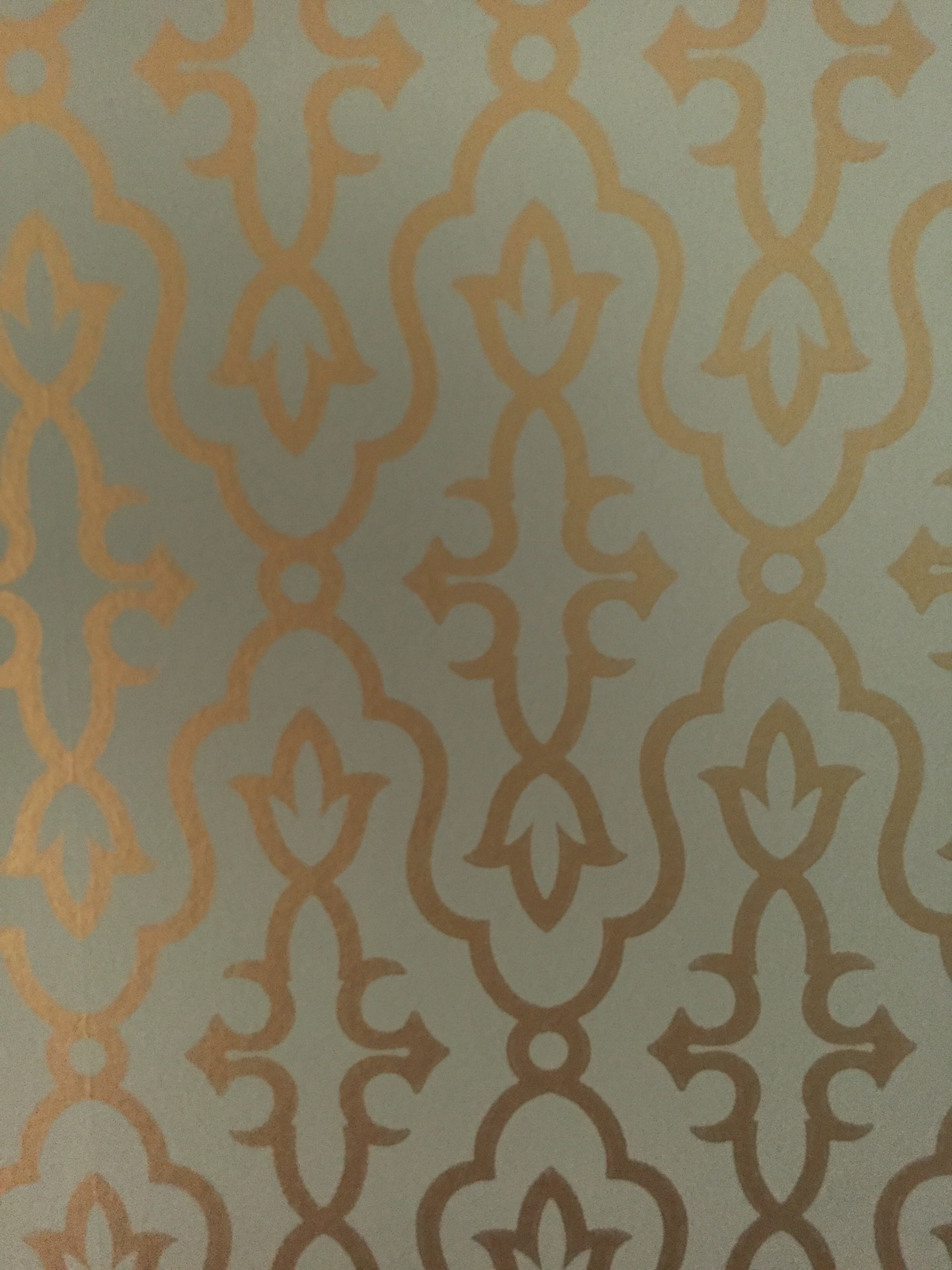 I actually really do like the paper. Unfortunately it doesn't photograph well at all at a distance, but it's lovely in person. And it's discontinued. From Cole & Son. So if I don't have enough, I'm back to the drawing board.
Here's what the dining room looked like when it was photographed back in 2014.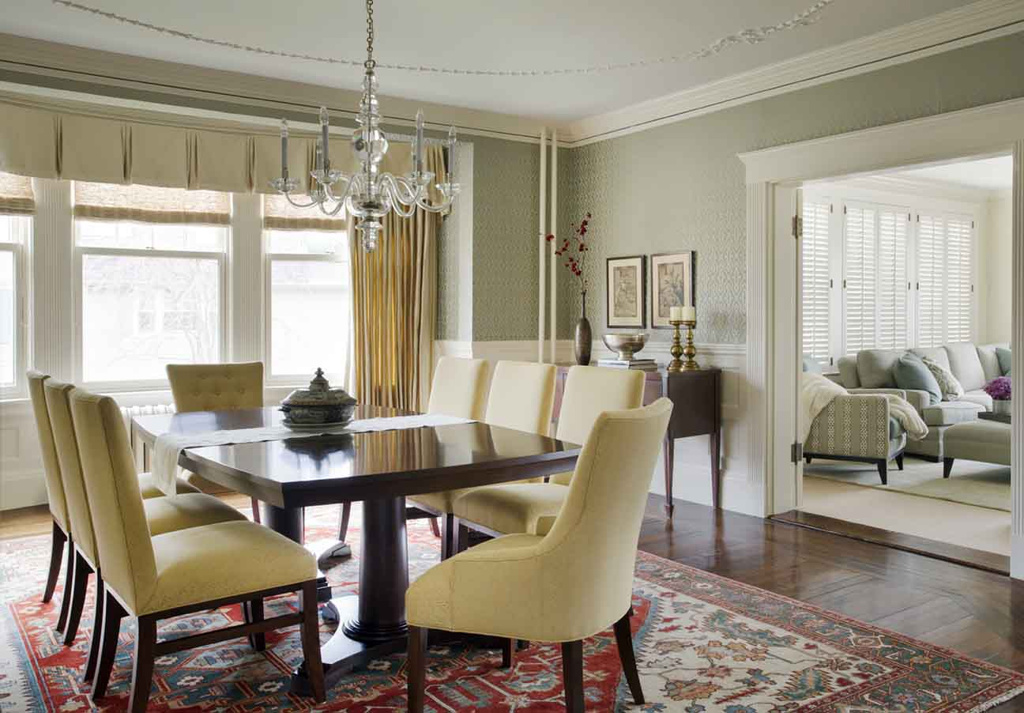 I am making a few other changes in my dining room that will shake things up a bit and really freshen up/finish the space.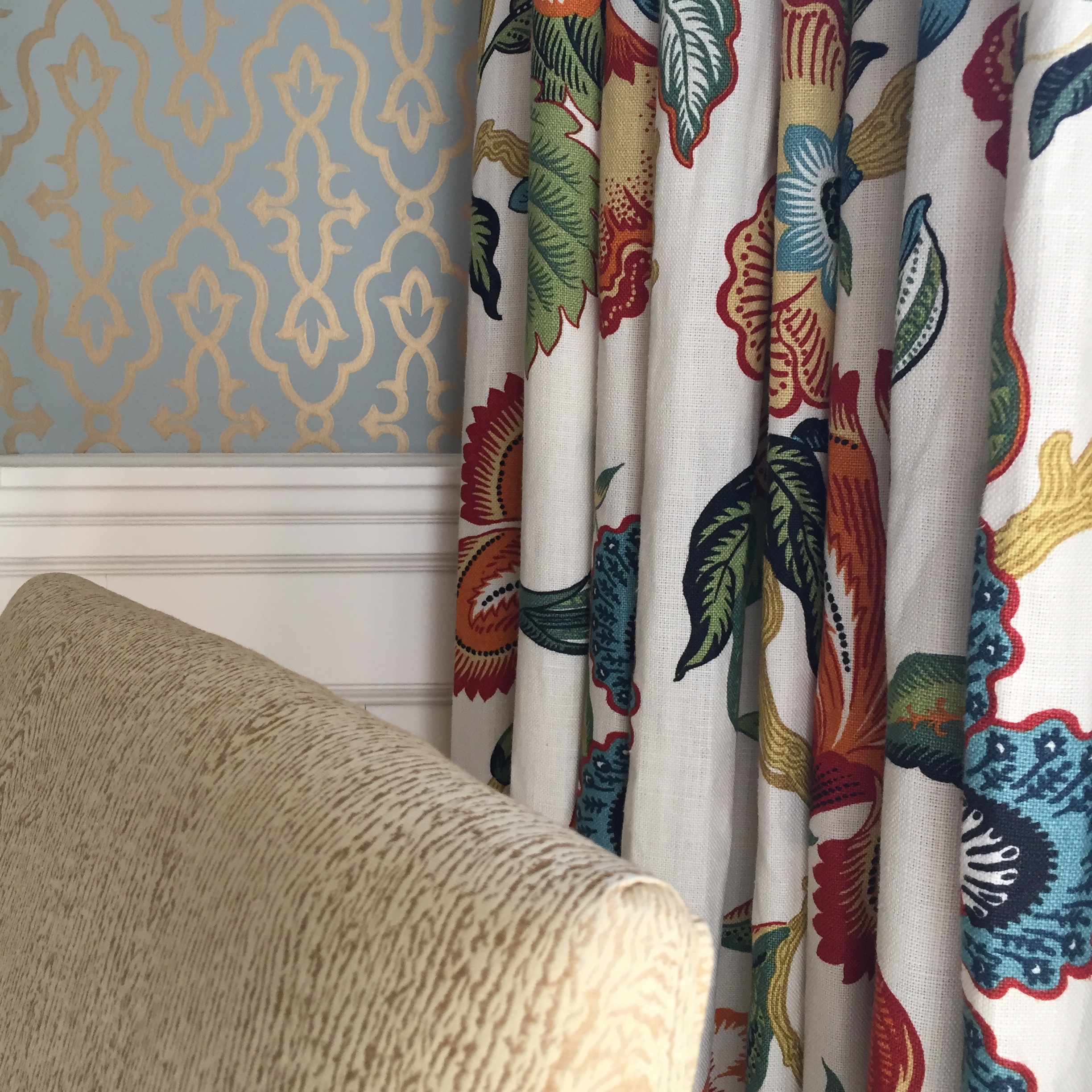 I did the draperies last year, and bought a very cool antique sideboard that really wants to be a bar. And then reworked the doorway from the space into the family room such that I'd have room for the 6-foot-long beast!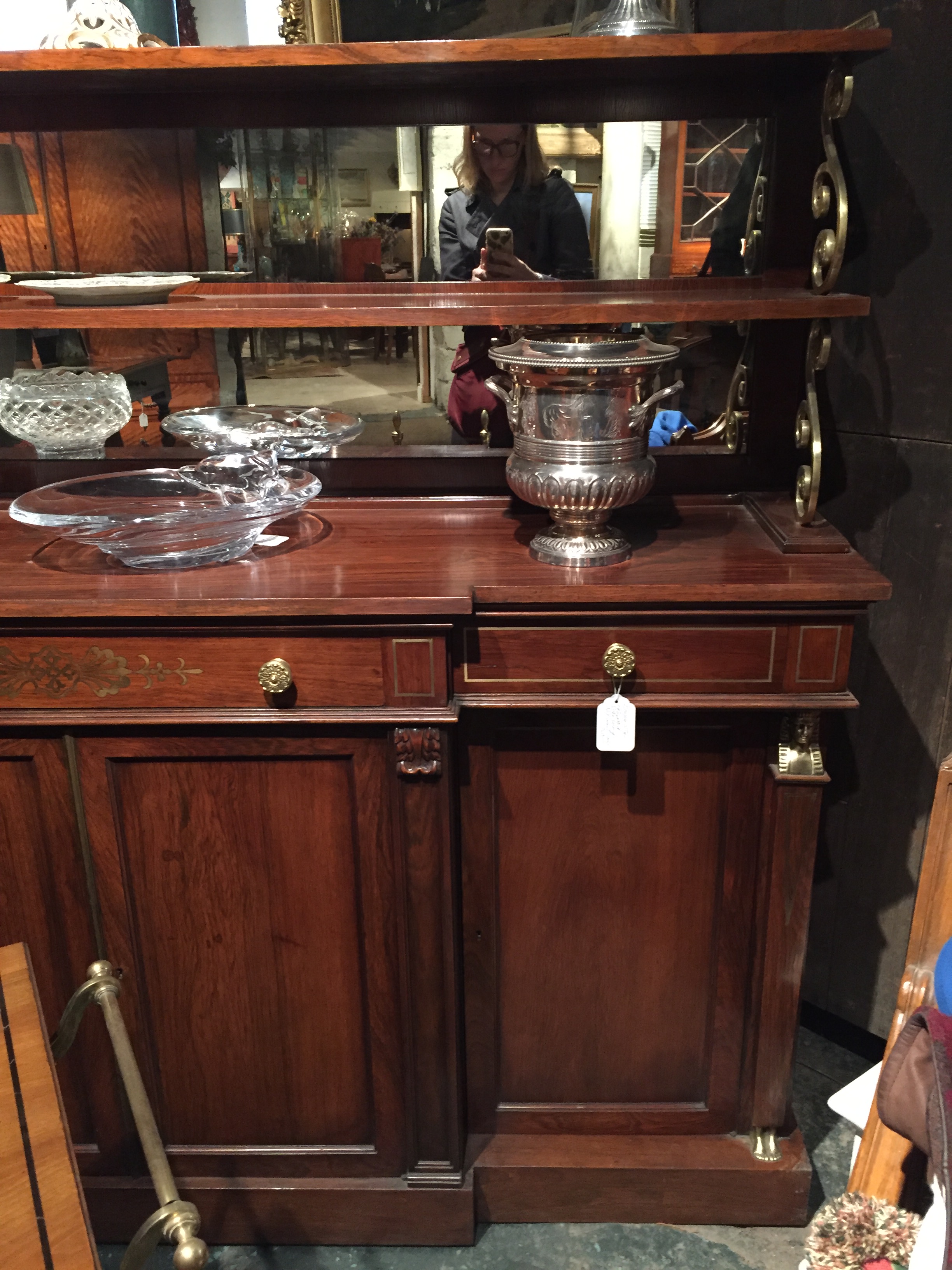 Can't wait to bring her home!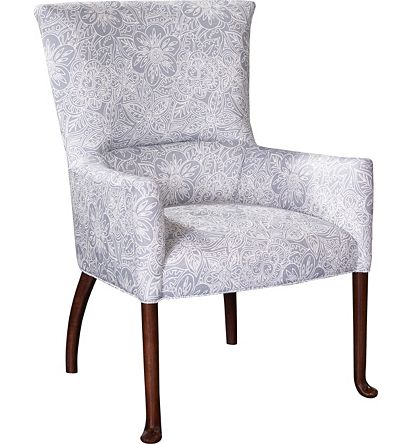 I also found new host/hostess chairs I LOVE at market this past spring; now I need to get going on fabrics. Working on toning down all of the metallic gold in this space! As an aside, I purchased our dining room furniture before we knew we would buy this house, with this wallpaper in the dining room. I felt the need to explain that; thanks for indulging me :).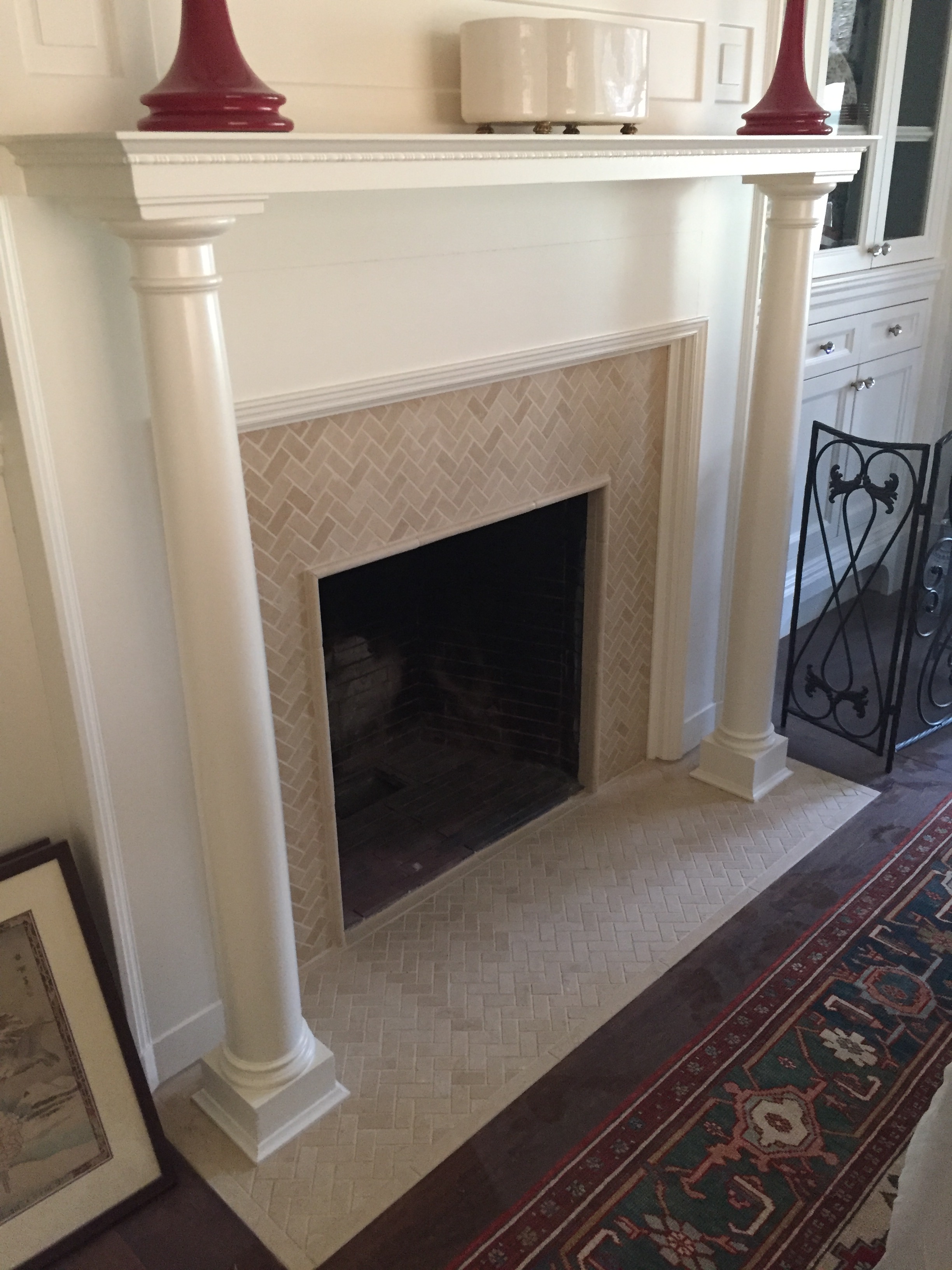 Lastly, I'm updating our fireplace surround and bringing back the color! The previous homeowner installed a mini herringbone limestone mosaic – lovely, but really not my favorite, and it clashes with the wallpaper IMHO.
Oh, and a new fire screen, too…
OK – that was a big dining room tangent! This isn't even really part of the renovation, but it's impacted by it, and so I'm taking the opportunity to think through what I really want this room to look and feel like. Plus, let's face it, I'd really rather talk about wallpaper, chairs, and pretty tile than soffits, recessed light layouts, and downspout locations.
xoxo
P.S. Did I tell you my rallying cry for this renovation yet? "Christmas or Bust!" As we currently stand, we are still pointing toward completion in December. Let's hope we continue to track with the schedule. You don't even want to know the Grinchy-ness I'm capable of if I'm not able to serve up the Roast Beast to my extended family on Christmas Day!