I feel like I shouldn't even be writing this at this moment – but I promised it last Thursday on Instagram, and I'm a woman of my word! My show house design partner and I are dealing with a lot of drama and anxiety related to the kitchen we have designed, which is supposed to be completely finished by the end of this week. Our lava stone countertops, which were fabricated in Italy (yes, sink and faucet cutouts and all) are taking much longer in transit than we had anticipated. Shortly after this post is published this morning, we will check our delivery status and make a call on whether or not to pursue our Plan B (which we truly just formulated late Monday afternoon).
Anyway…in other kitchen news…my new kitchen, at this point, is marching along somewhat drama-free. And my countertops are all on terra firma here in the USA – in New Hampshire, to be specific.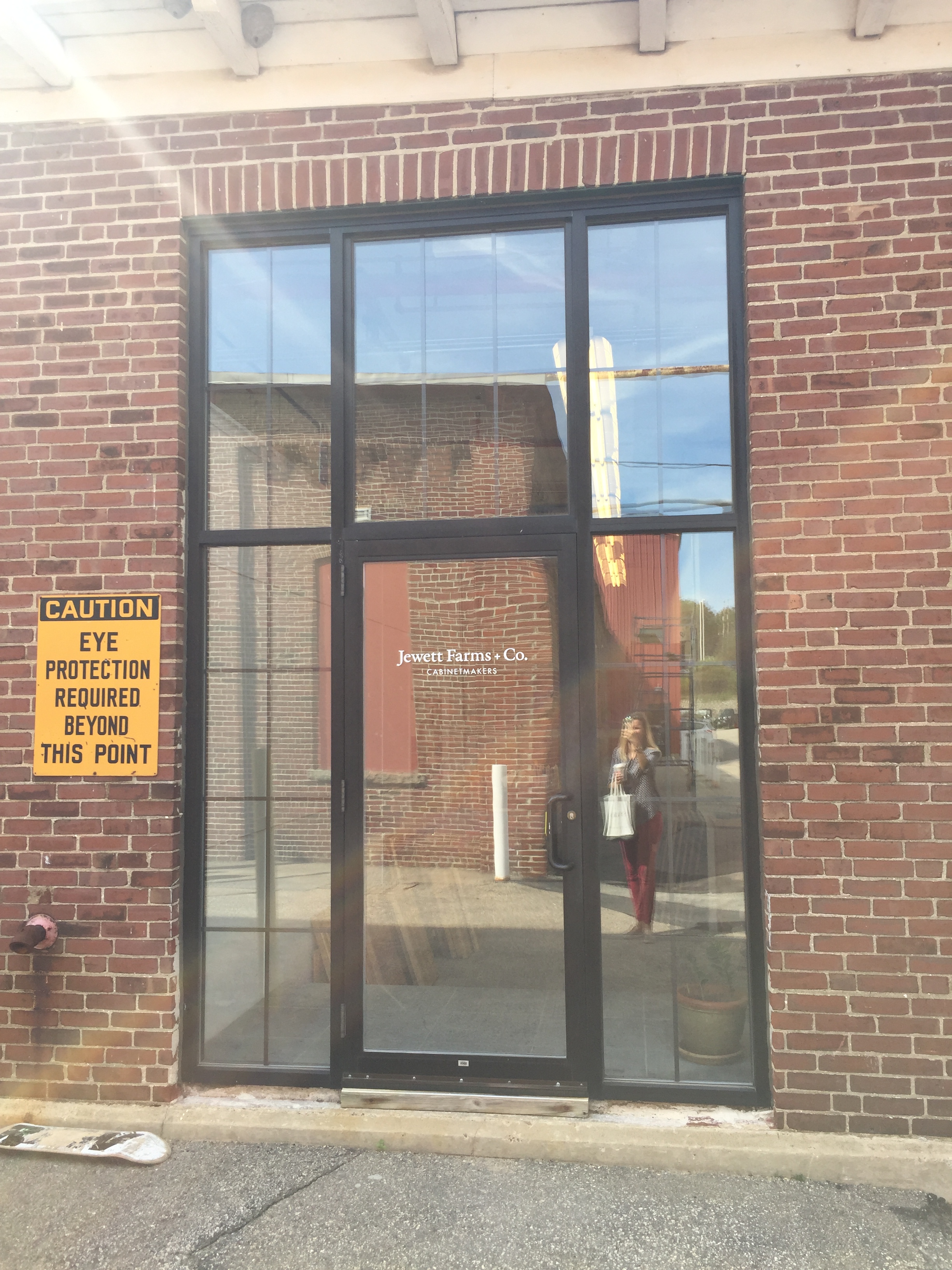 Last Thursday, I visited the headquarters and shop of Jewett Farms & Co., which I collaborated with on the design of my kitchen, and is building my kitchen, bar, and mudroom cabinetry, and providing and fabricating some of our kitchen countertops. I made the trek to Dover, NH to tour the shop (I'm somewhat obsessed with factories, plants, and workshops of all types – so fascinating to see how things are made), see how our cabinets are coming along, and look at their inventory of soapstone, which I am using for our kitchen perimeter counters, as well as the bar top.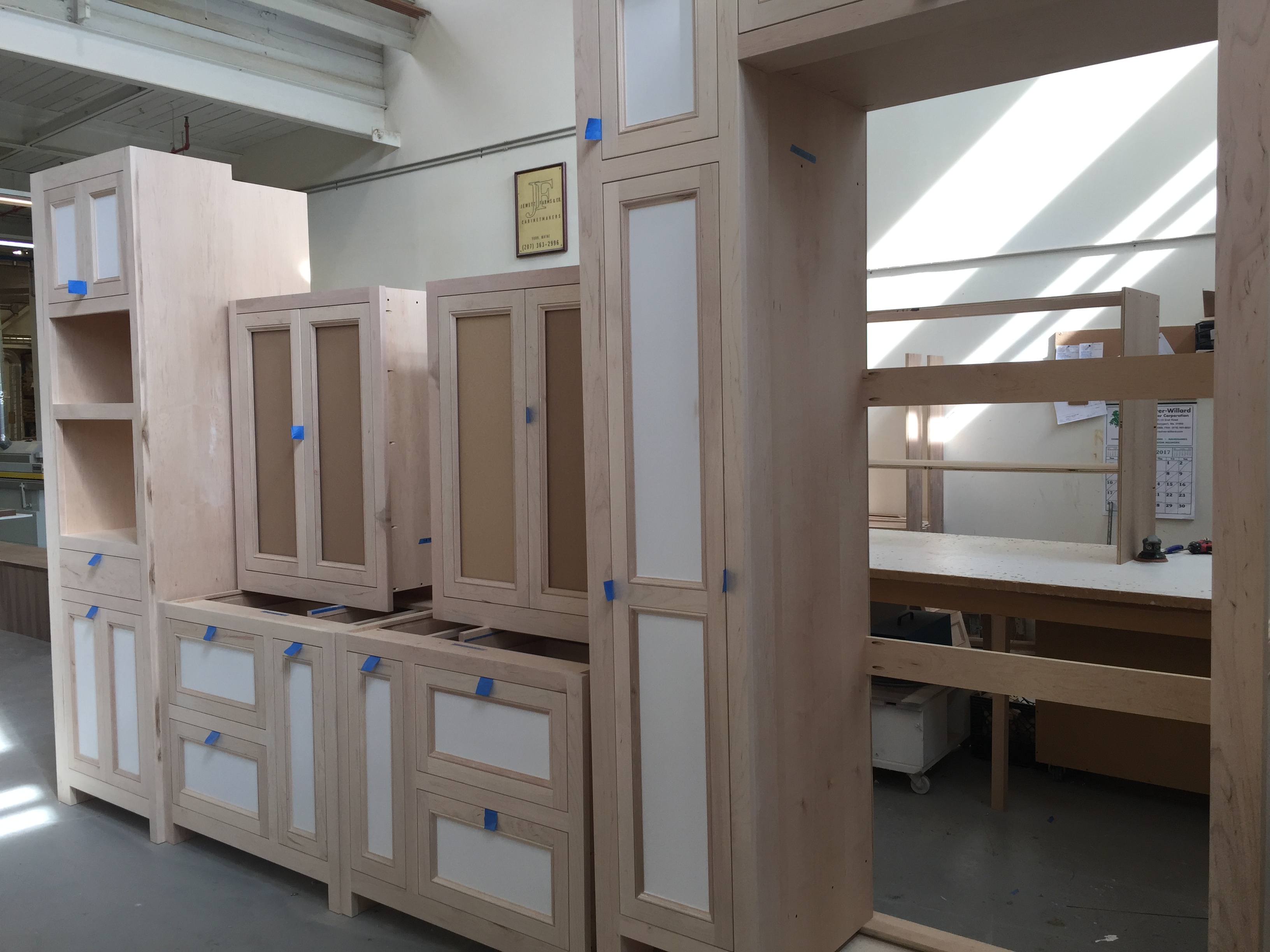 Looking rather humble (yet extremely well made), this is the 'main' run of cabinetry, which will have the (Lacanche RED) range in the middle with a very cool custom range hood (which I'm keeping as a surprise for now), steam oven on the left, and a panelized refrigerator on the right. The upper cabinets are resting upside down on the base cabinets; they'll receive antique mirror panels once finished!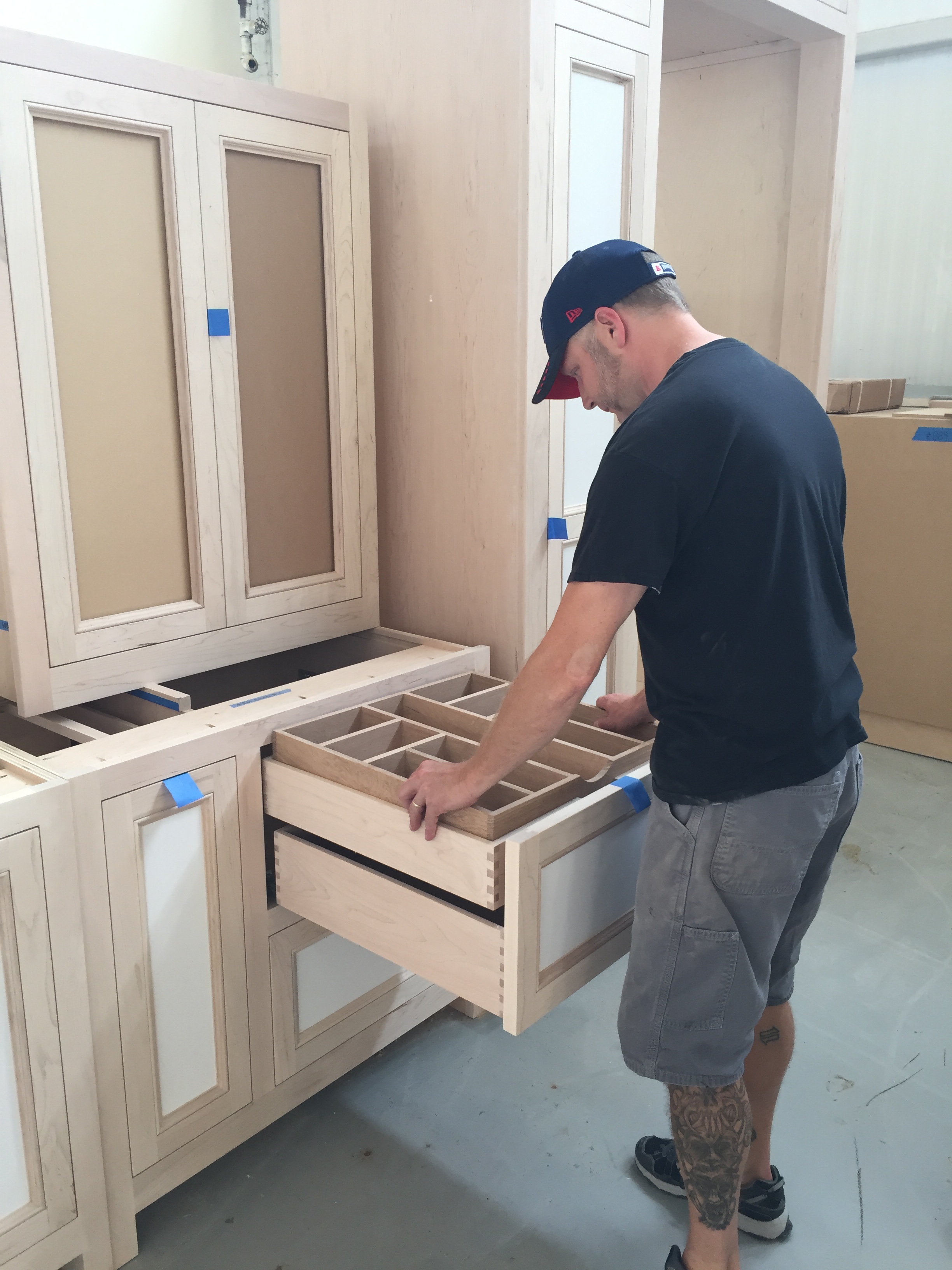 A master craftsman fitting a custom oak flatware insert into a pullout drawer. Note how there actually two levels to this single drawer front, which enables the symmetrical look with deeper drawers on the other side of the stove.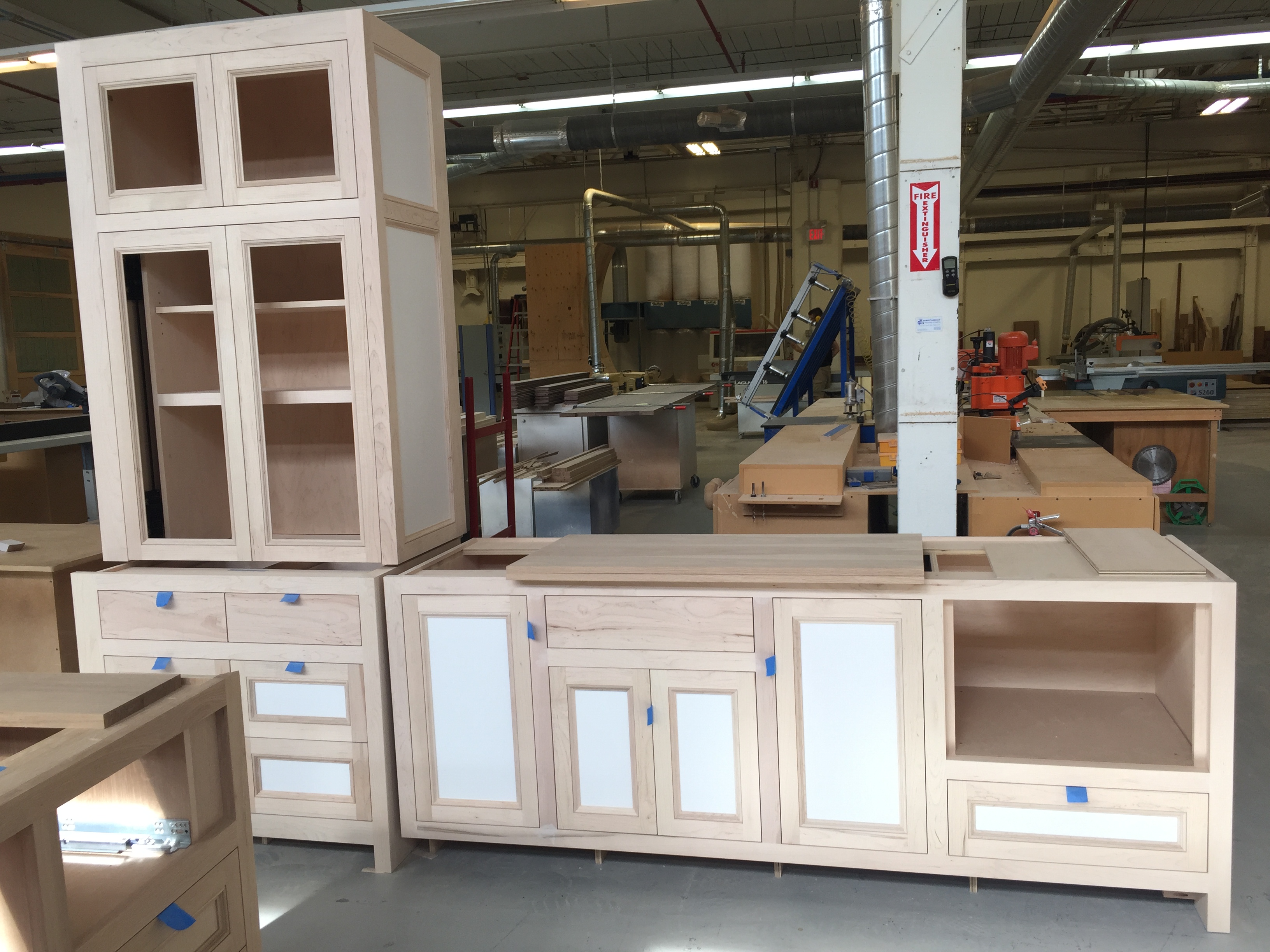 This run is perpendicular to the range wall, and is what I like to call the 'self-service zone.' In creating a family-friendly kitchen concept for us to grow into over the next 10-15 years (who knows, maybe more!?), I wanted my kids to be able to get their snacks/beverages, reheat food, make oatmeal, and wash their hands with easy access to the breakfast niche and family room – and not to get up in my grill if I am doing dishes or cooking over in that area. There are also refrigerator drawers opposite the tall counter cabinet, in the island. Fostering independence is a big deal. Plus, I'm a little claustrophobic :).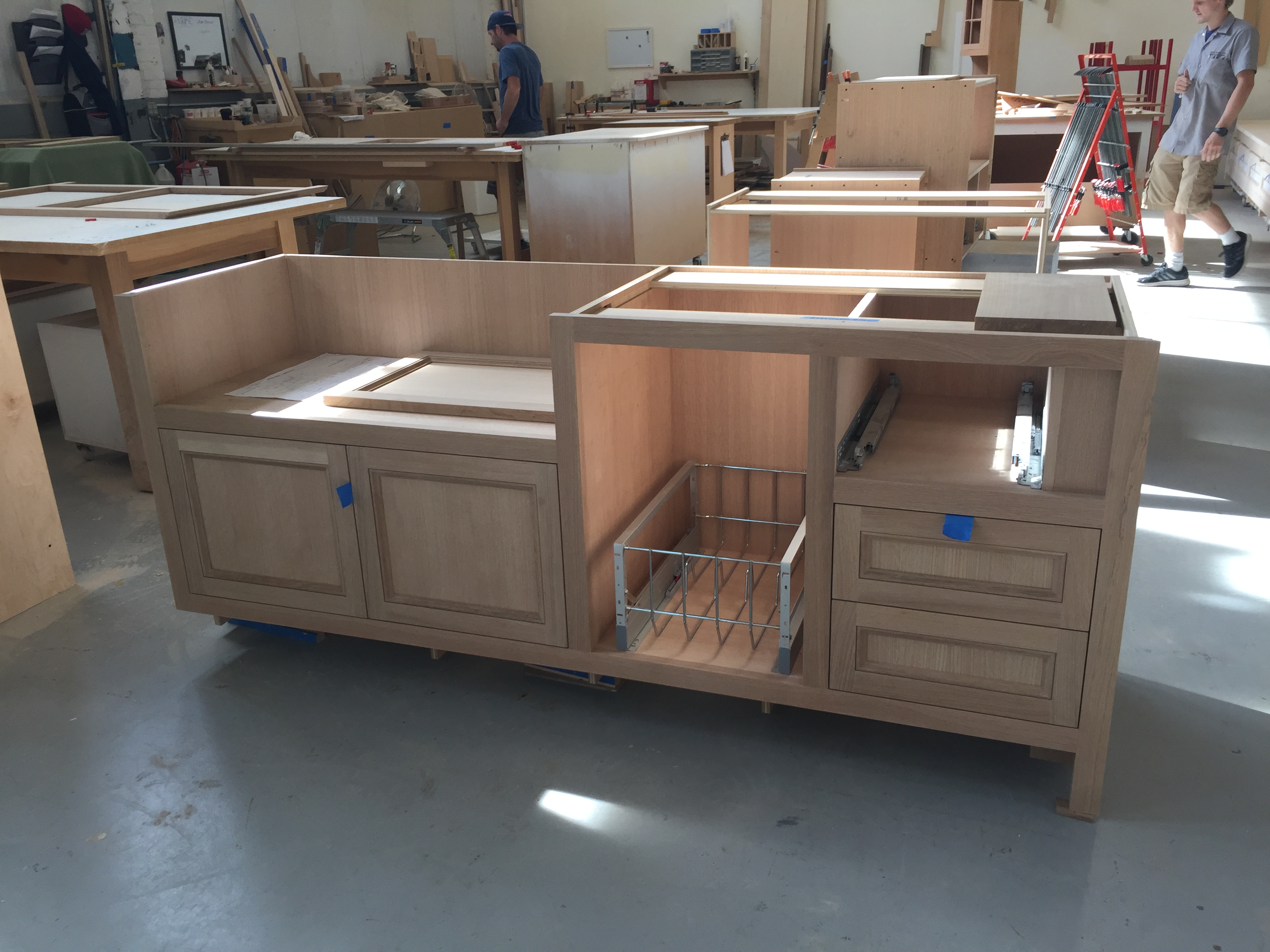 Here's the said island in progress. It is actually very large – this is just part of it. I do everything at the island – again, maybe because I don't like tight spaces (though I've also never had a window in my kitchen until now!), but there is a ton of function built into this thing for that reason. Main sink, dishwasher, trash pullout, built-in paper towel holder, refrigerator drawers, storage for storage containers and 'big' stuff, and lots more storage in general, plus counter-height seating for four.
This is our bar-slash-liquor cabinet-slash-display hutch-slash-gadget charging station-slash-handbag stash zone-slash extra toy storage area. In progress :). Missing from this picture is the counter cabinet that sits on the base cabinets, which will have sliding doors. Basically, the middle part will be dark stained quartersawn oak, and the tall cabinets flanking it will be painted white to match the trim.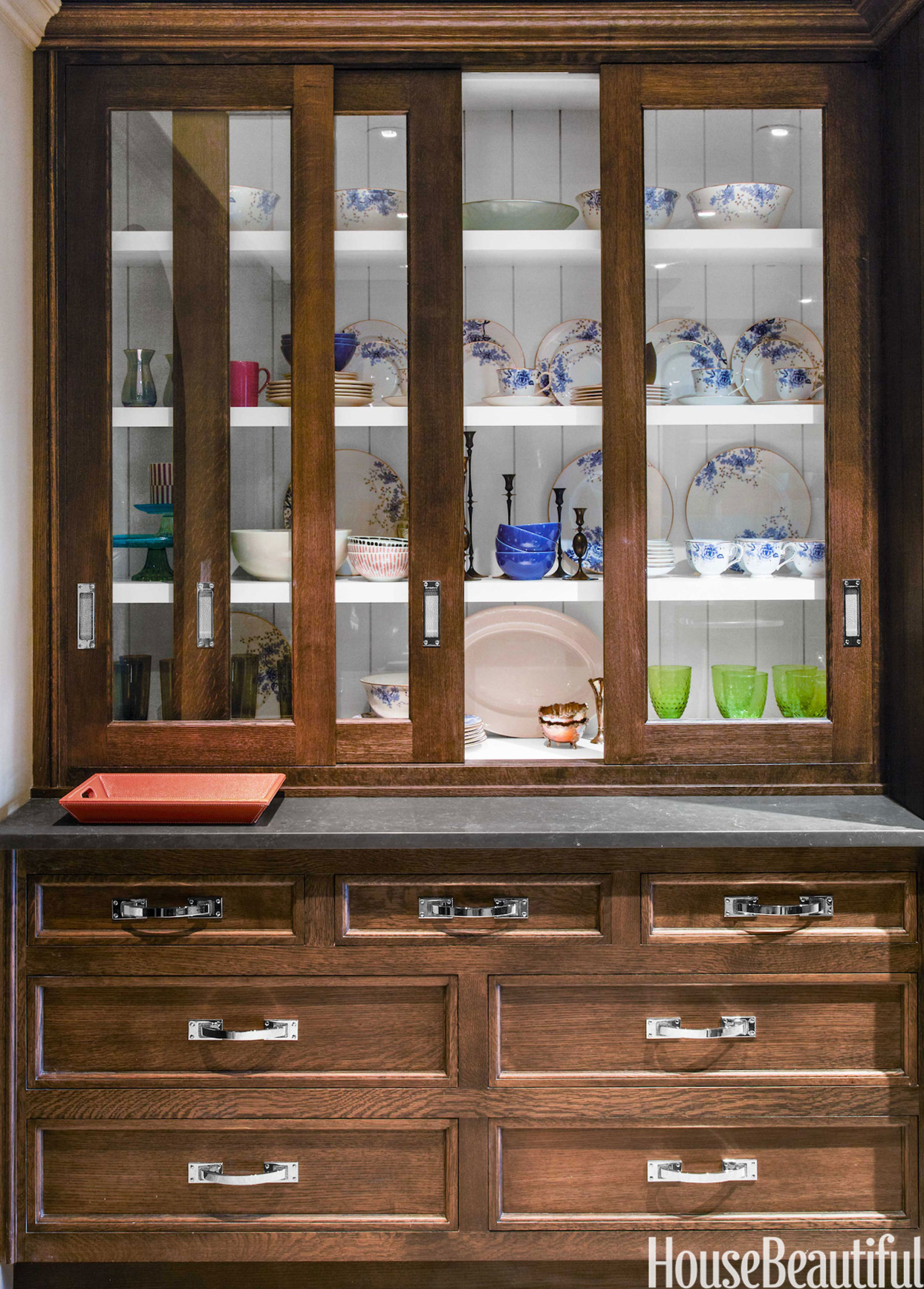 I've had this inspiration image for my bar filed away for a very long time – from Christopher Peacock's kitchen at the 2013 Kips Bay Show House.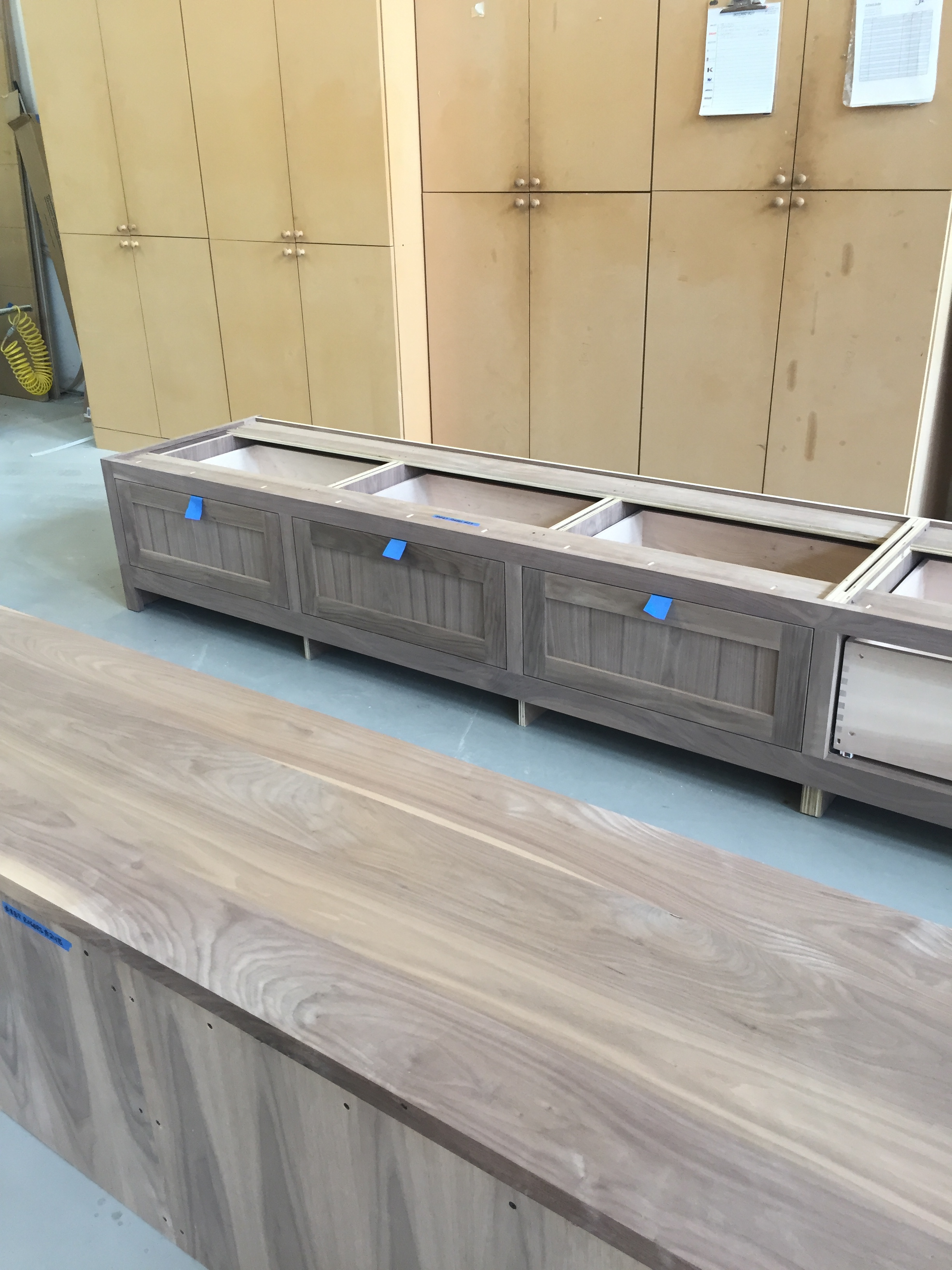 OK, moving into the mudroom. And another wood species – walnut!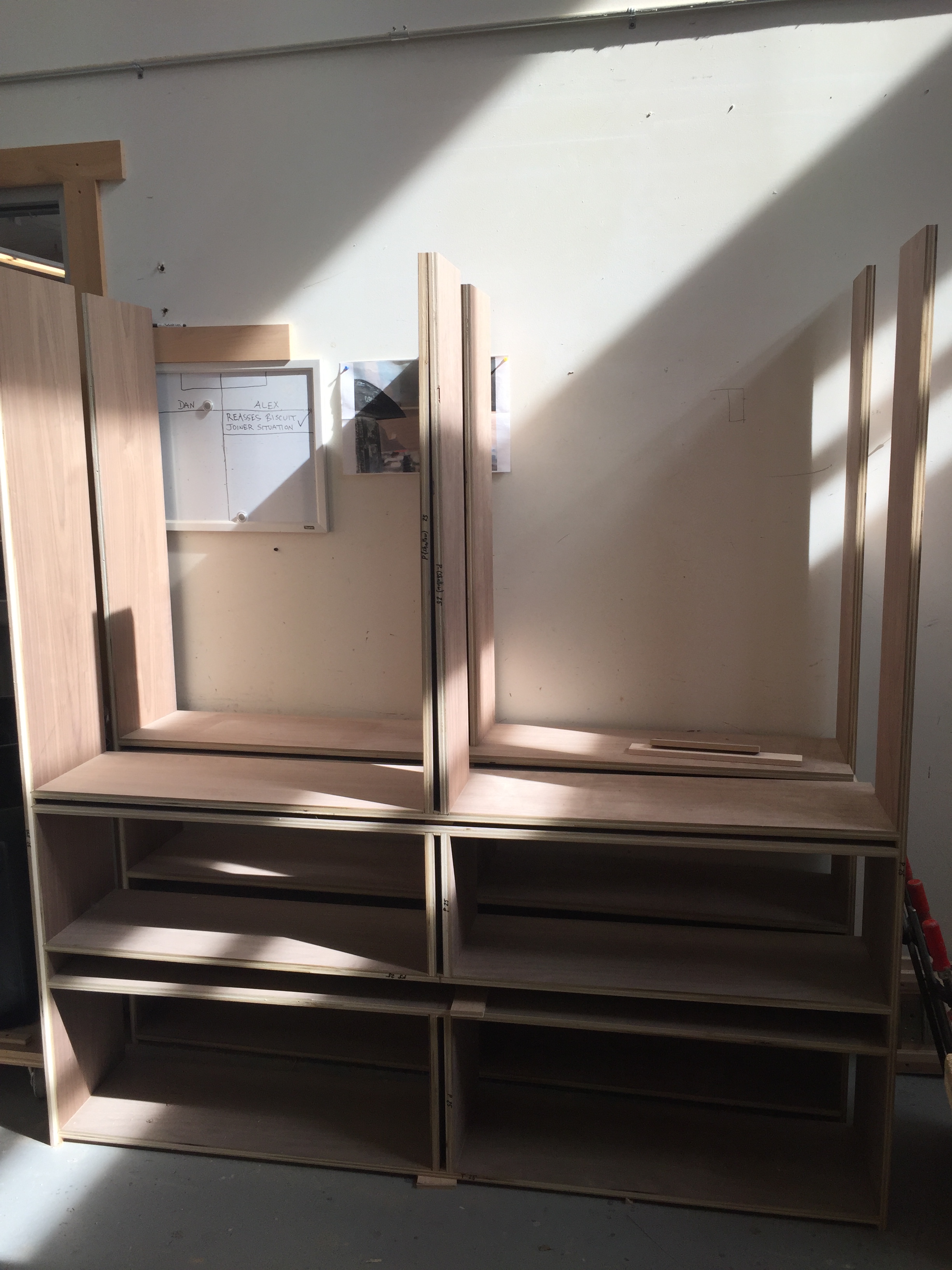 Believe it or not, these are the cubbies. Well, in-progress cubbies, stacked upside down on the floor.
OK, I am kind of breezing by the mudroom because it doesn't look like much…yet! After my tour and visiting our cabinetry, it was time to head outside to look at soapstone. My mission and hope was to find a couple of slabs for the perimeter cabinets in the kitchen, as well as the relatively small bar countertop. Why soapstone? So many reasons…love the look, it's non-porous and thus naturally antimicrobial, doesn't need to be sealed (but requires a little DIY maintenance – oiling or waxing – every so often if you are particular about the color/appearance), and has a somewhat old-timey feel, which dovetails with my desire to strike a thoughtful balance between the old and new in our ca. 1896 home.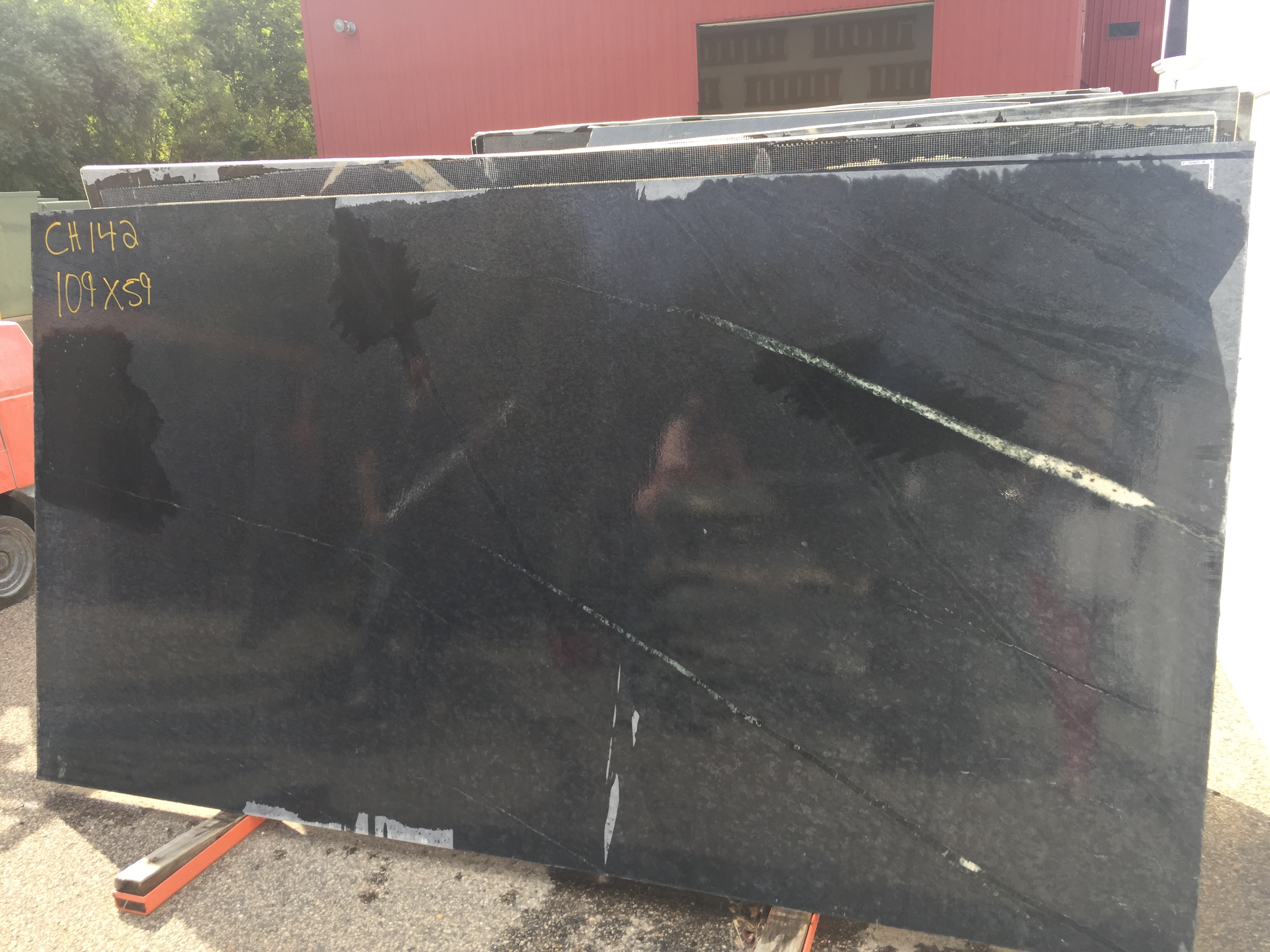 This Churchill slab (and another behind it) is officially bound for my kitchen! I love how there is both white and subtle dark gray veining. It is sort of a classic, traditional-looking soapstone. The darker areas show where the slab was oiled; the rest was simply wet for a quick and dirty way to approximate how it will look when it is oiled or waxed. A must when evaluating soapstone, slate, or any other stone that will be 'enhanced' somehow. Fun fact – Churchill (or Church Hill?) is the only soapstone still quarried in the United States (Virginia, to be specific). I was happy to be able to make the more 'local' choice, as I did by selecting Vermont's own Imperial Danby marble for my powder room vanity and fireplace surround.
For the bar, I surprised myself with a bit of an unexpected choice!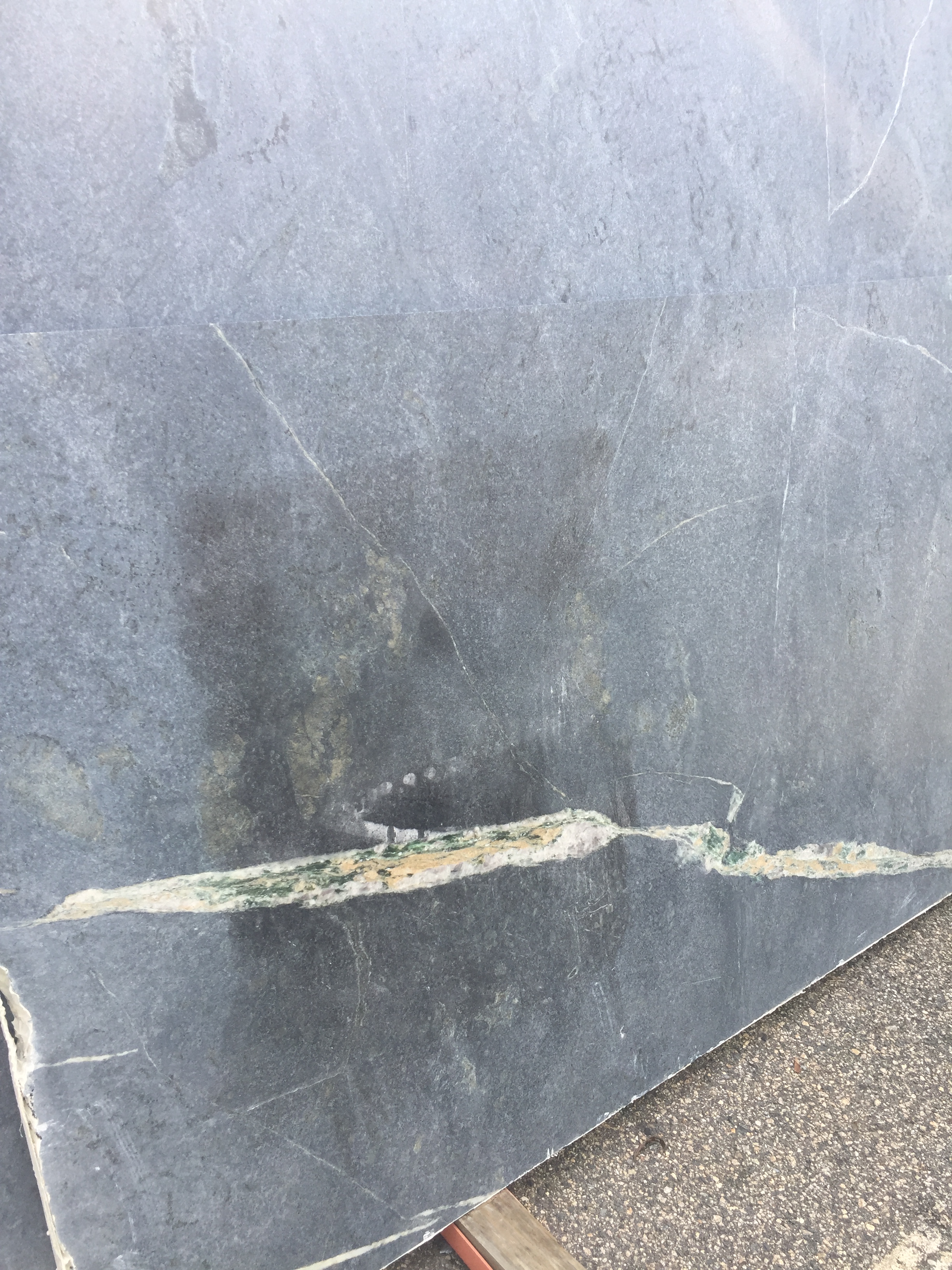 This is a crazy and weird (and kind of wonderful) quartz/quartzite vein running through a slab of Barocca soapstone. Too crazy for my kitchen – but the bar?? Yessssss!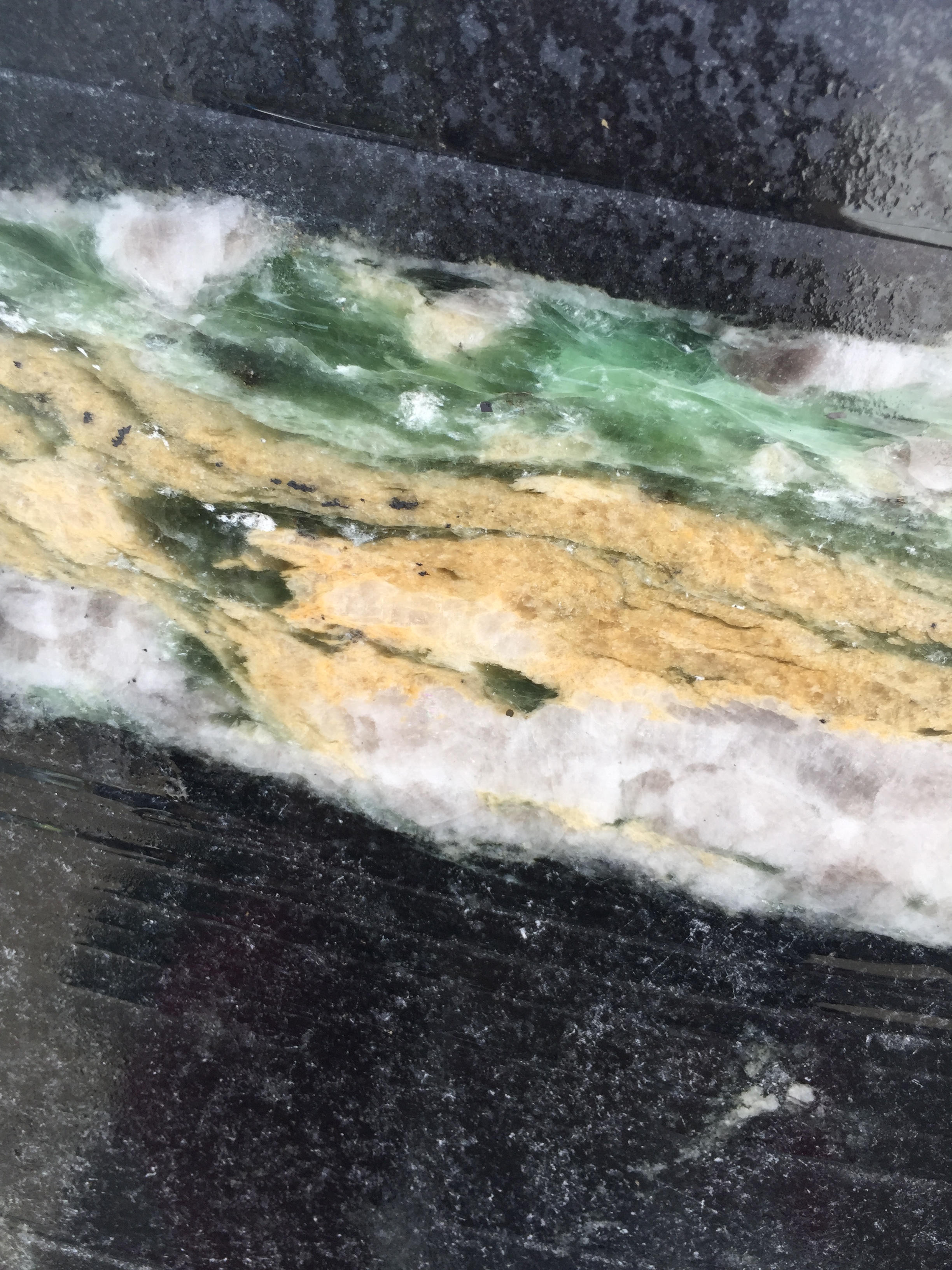 Getting the layout right on this will be critical, but I think it is going to look super cool. I want to see that vein crawl down the front edge of the counter, but not so much that the whole thing is the vein. But I want to see that thing. Mother nature never fails to amaze.
OK – I will now resume show house-related panic mode in 3…….2…….1…….