There is no doubt about it – I am in purge mode. Getting ready for a home renovation will do that. I wish I was the kind of person that could really go all out and ruthlessly throw things away. That would be so liberating. I'm doing my best to make good decisions. So many things bring me joy when I touch them…what can I say? But…I also find great joy in seeing my stuff go to a new, fantastic home!
I have a mix of pieces from my inventory and things clients want or need to part with up for grabs today. Local pick-up, only. I will update this post with the status as things are sold. Happy shopping!
Bungalow 5 Bardot 3-Drawer Chests – SOLD!
$699/each or $1,200 for the pair
(comes with both gold and chrome pulls, so you can choose!). Beautiful lacquered grasscloth chests, 22″W x 17.5″D x 32″H – as seen in the Junior League of Boston 2016 Show House! In excellent condition, only used for show house. Excellent as nightstands or distinctive side tables with lots of storage capacity. These retail for $1,900 EACH – a steal!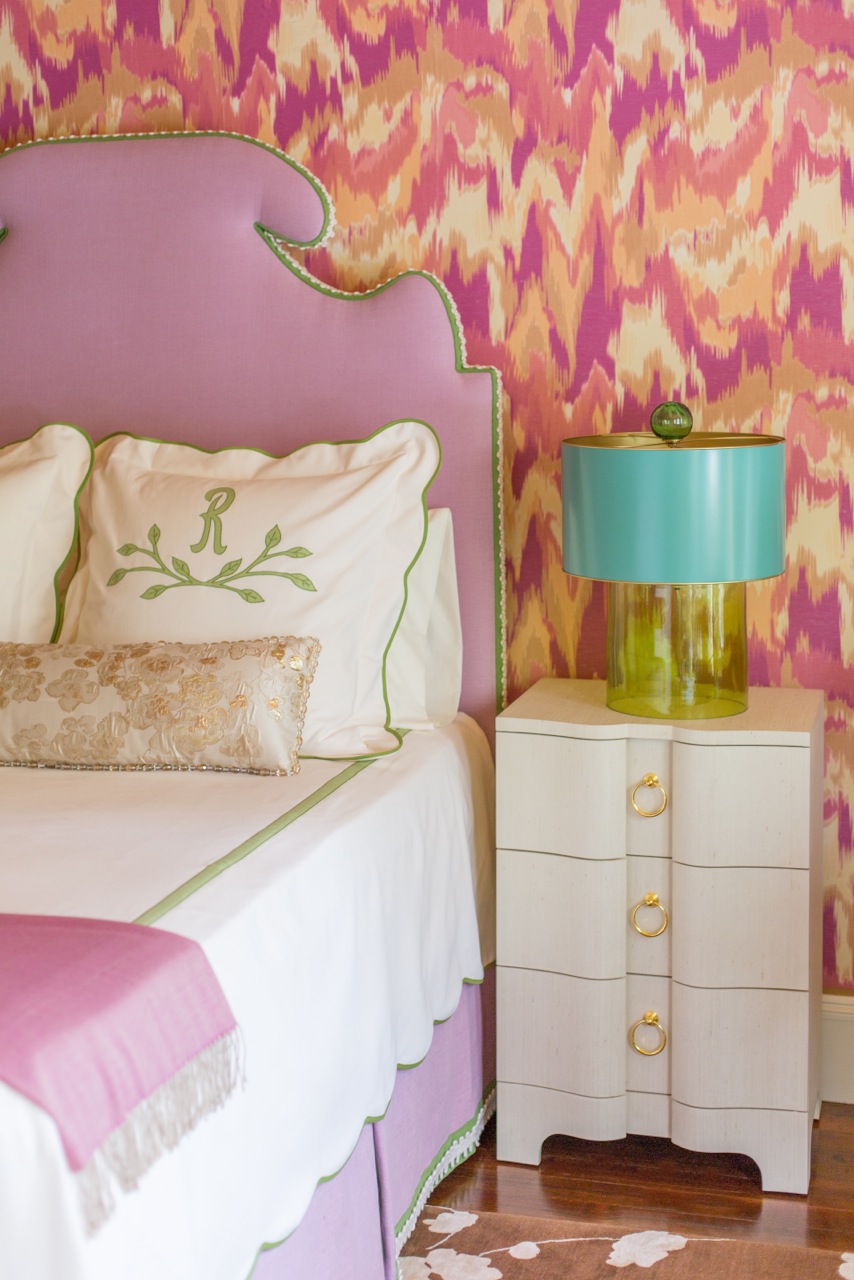 West Elm Mongolian Lamb Pillow –
$49
About 16″ square (plus a lot of fluff!) with poly insert. SUPER soft wool on face, canvas back. Regular price was $91 inclusive of the insert. Never used, with tags!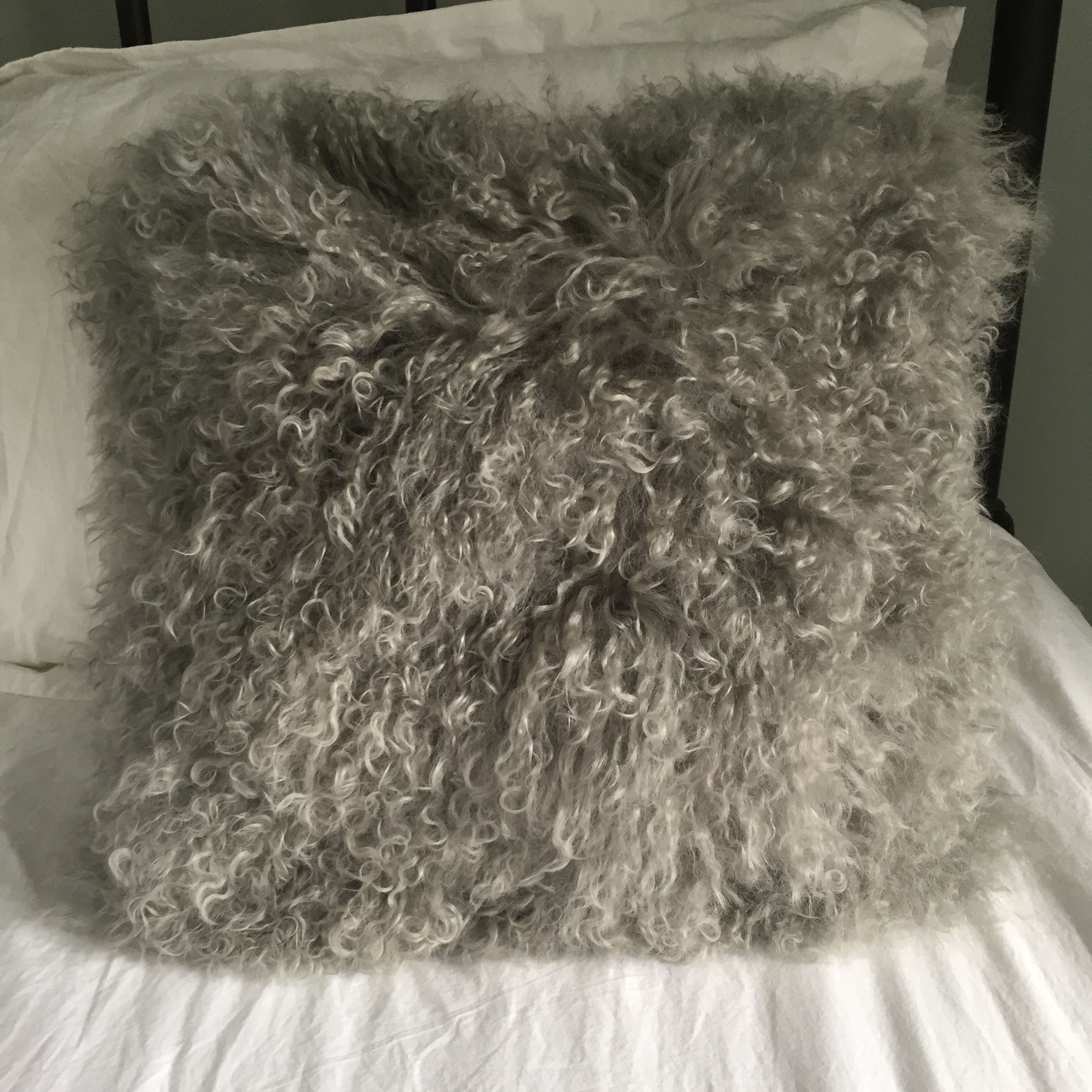 Four (4) BRAND NEW Custom Counter Stools – SOLD OUT!!
$475/each – must buy all 4 (3 negotiable)
24″ seat height (appropriate for a counter-height island of ~36″). Wonderful and wipeable in faux ostrich leather, with a great worn gray leg finish and antique nickel plate on footrest. Unused and brand new. An incredible value!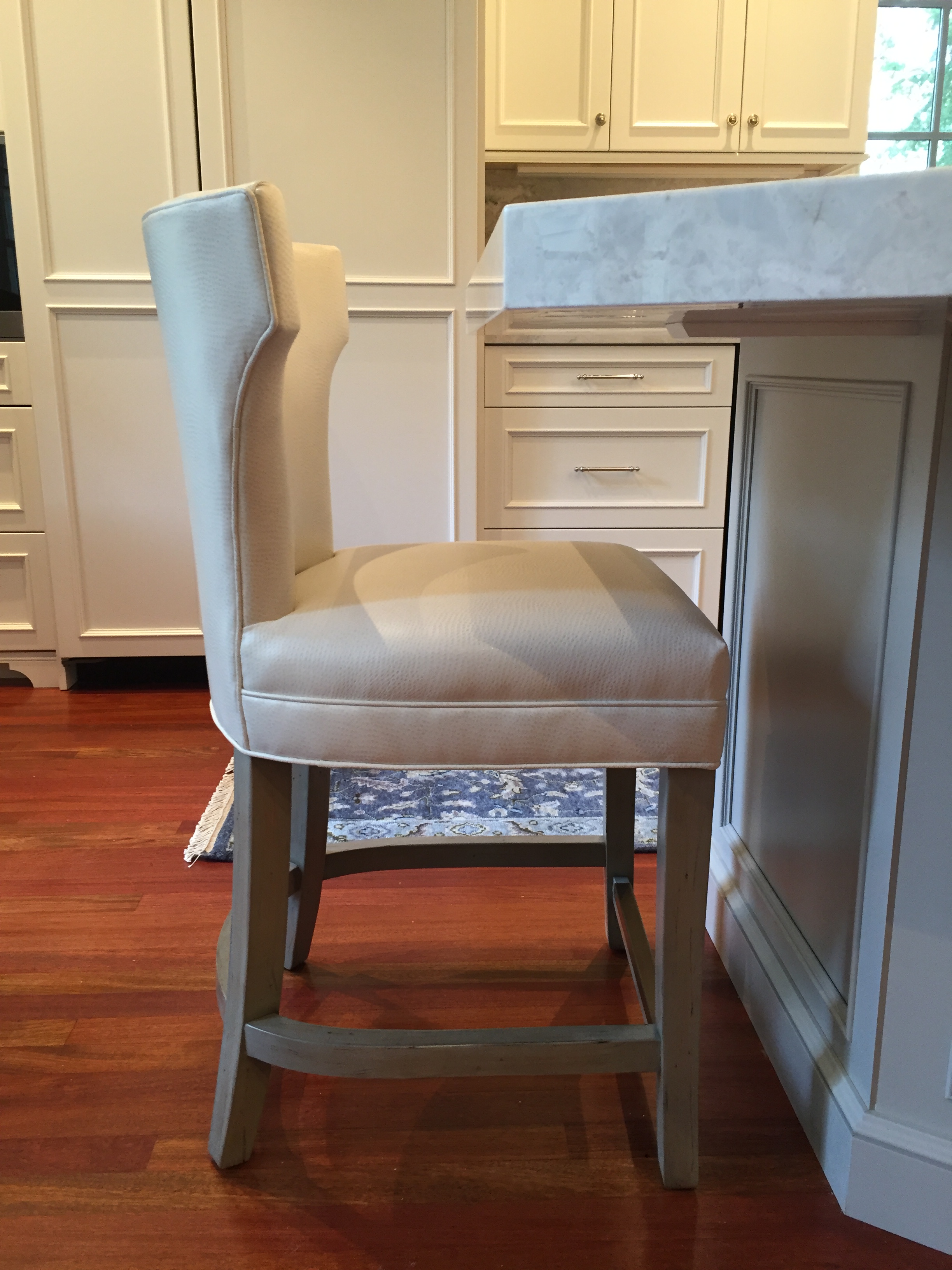 Striped Cut Velvet Pillow
$50
Fabric from Tobi Fairley's collection from Duralee. Super fun accent for a girl's bedroom or colorful living room. Down blend insert – about 24″ square.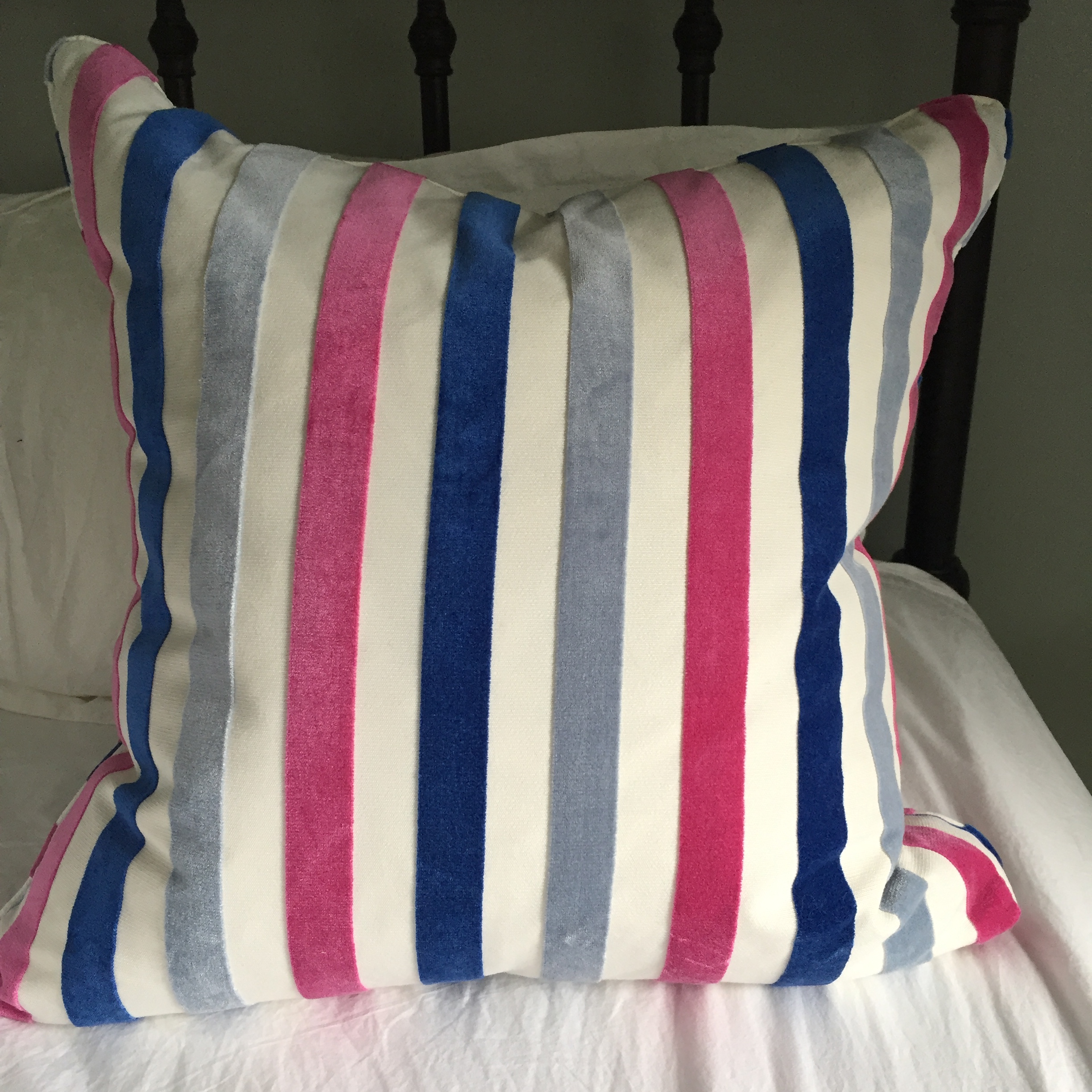 Oomph Tini II Table –
$200
As seen in the Junior League of Boston 2016 Show House! Custom Benjamin Moore Gamboge painted raffia surface, Creme gloss lacquer finish. Perfect drink table or book rest at a lounge chair. Fits anywhere at 8″W x 18″L x 20″H.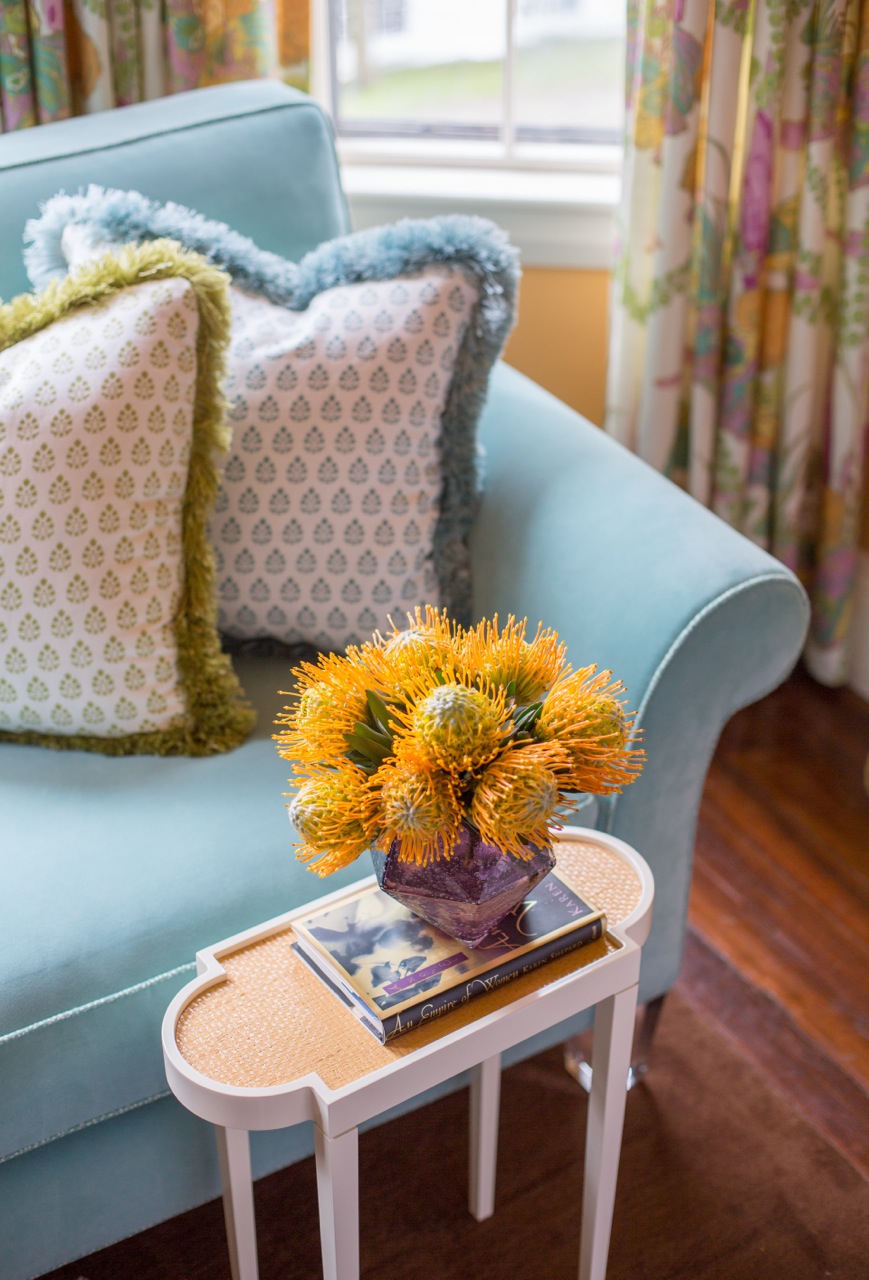 Anthropologie Small Faceted Vase –
$10
Pretty amethyst seeded glass with neat geometric design. Very easy to arrange flowers in (like a round vase). As seen in the Junior League of Boston 2016 Show House (see above)!
Custom Pillows with Robert Allen Belle Bloom Fabric and Brush Fringe
$129/each or 3 for $299
Throw pillows with printed linen/cotton fabric, and coordinating brush fringe in buttery yellow, grass green, and light aqua (think spring!). I'd love to see these stay together as a happy family, but willing to sell separately. Custom-made for the Junior League of Boston 2016 Show House. (see also close-up above)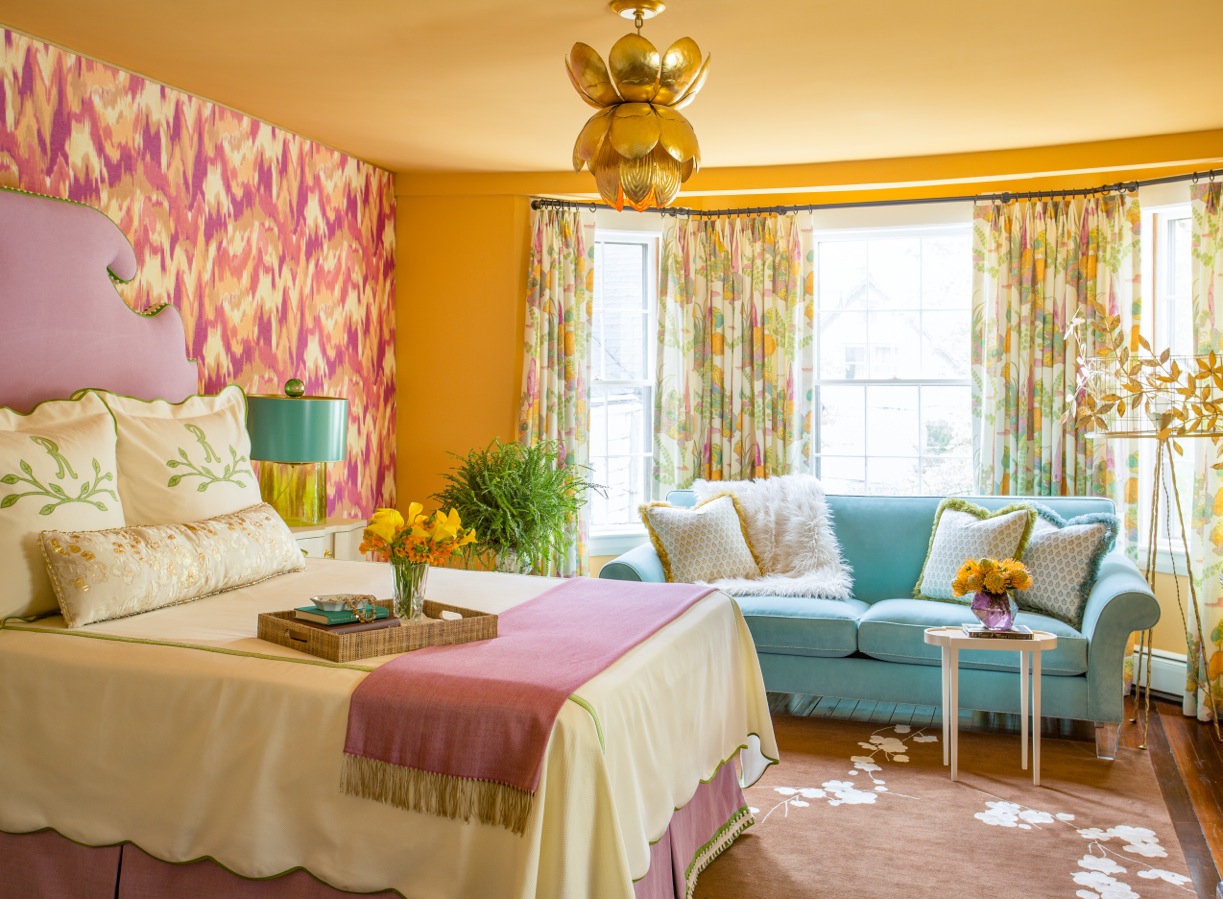 Velvet Chevron Pillow
$39
Super-soft pink velvet with a cool chevron design. Down insert, and ~18″ square. Unused, with tags!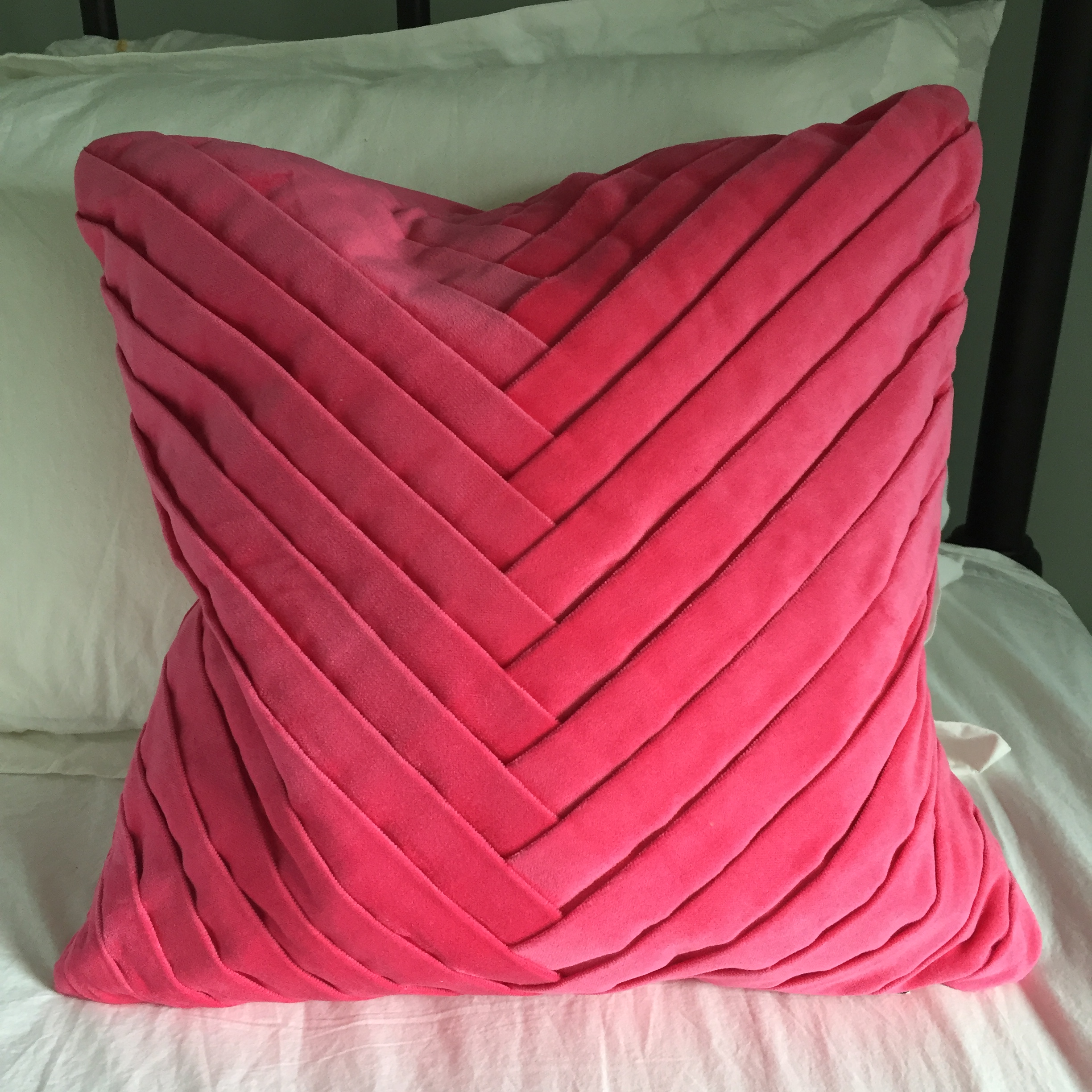 Small Sonia Rykiel Pillow
$39
A lovely neutral accent! Down insert and contrast cording. New, with tags!
Please contact me with any questions or inquiries, or to claim your items…first come, first served! Remember, only local pickup (counter stools are in Wellesley, other items in Newton); payment in full via check is required at pickup.
I'll be back a day early this week, with my first Spring 2017 One Room Challenge post, on Thursday – and for the next five Thursdays after that, all leading up to a big reveal! Our Friday Family-Friendly Find feature will go on a brief hiatus during the ORC.