This is the third and final post of a series of three on the Junior League of Boston 2012 Show House. See also Details at the Junior League of Boston 2012 Show House, and Favorite Rooms at the Junior League of Boston 2012 Show House. 
Among all of the incredibly stylish, innovative and highly detailed rooms at the Junior League of Boston 2012 Show House, a few stood out to me as very livable, where it was easy to envision a real family utilizing the space. In some places, the presence of the home's inhabitants – either imagined or actual (as in the Potter family that once resided there) – was quite tangible, and very charming indeed.
And what better place to begin than in the Family Room, designed by Suzanne Logan of Spaces Design Studios. She created a space that is both family-friendly, and very environmentally sensitive, using low-impact materials such as cork flooring and LED cove lighting. It even had full audio/visual integration, with a sweet flat screen TV mounted on the wall just outside the frame of this photo. If you're wondering how a white sectional works with young children, Suzanne has the answer: Ultrasuede!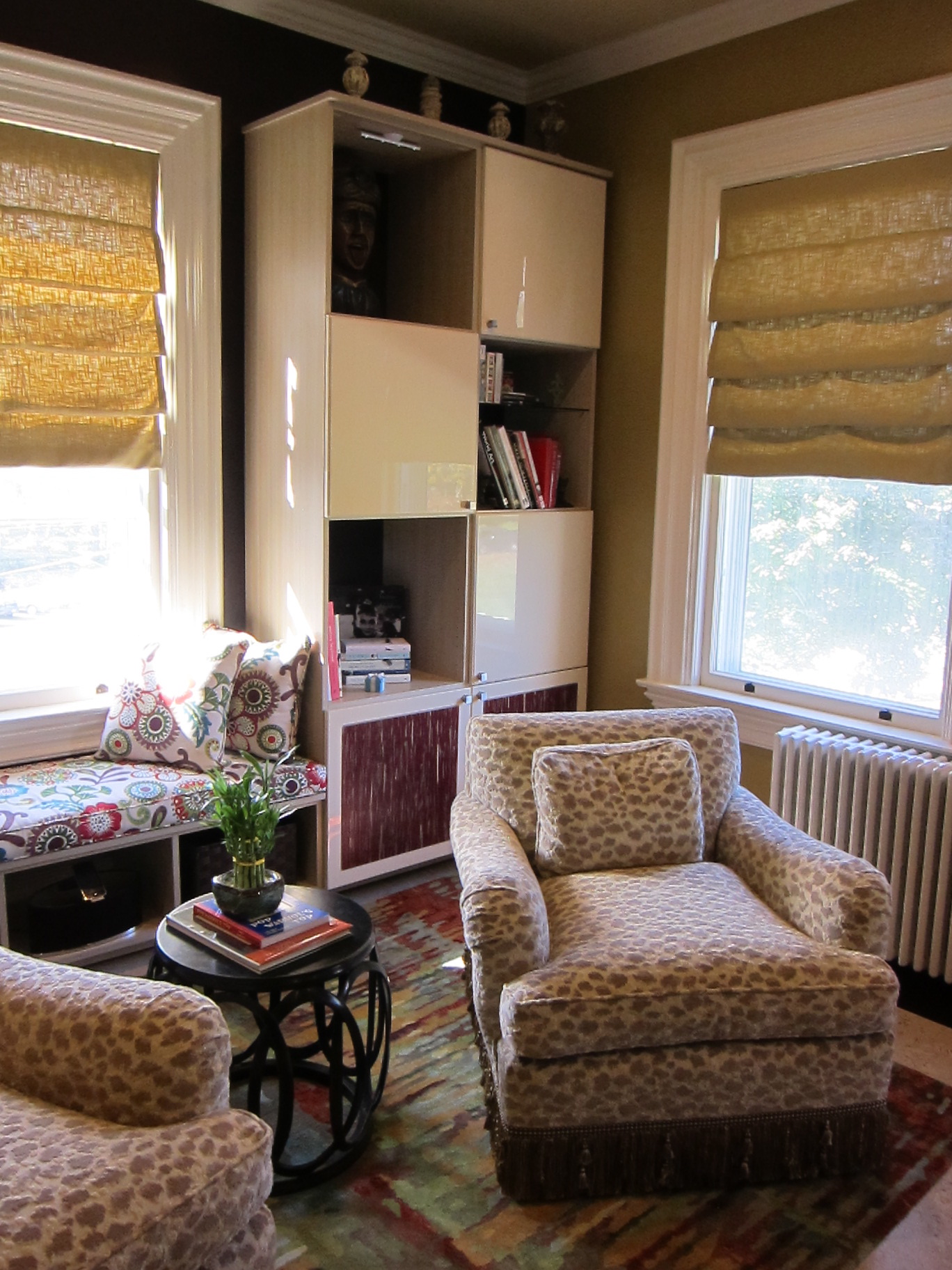 I love the way Suzanne mixed patterns and incorporated a fun animal print in a way that doesn't totally take over the room. The animal print and rug, in particular are great choices for families, as they will conceal any dirt or stains that are likely to occur in a family room. The ample built-in white lacquer storage units are artful and totally functional.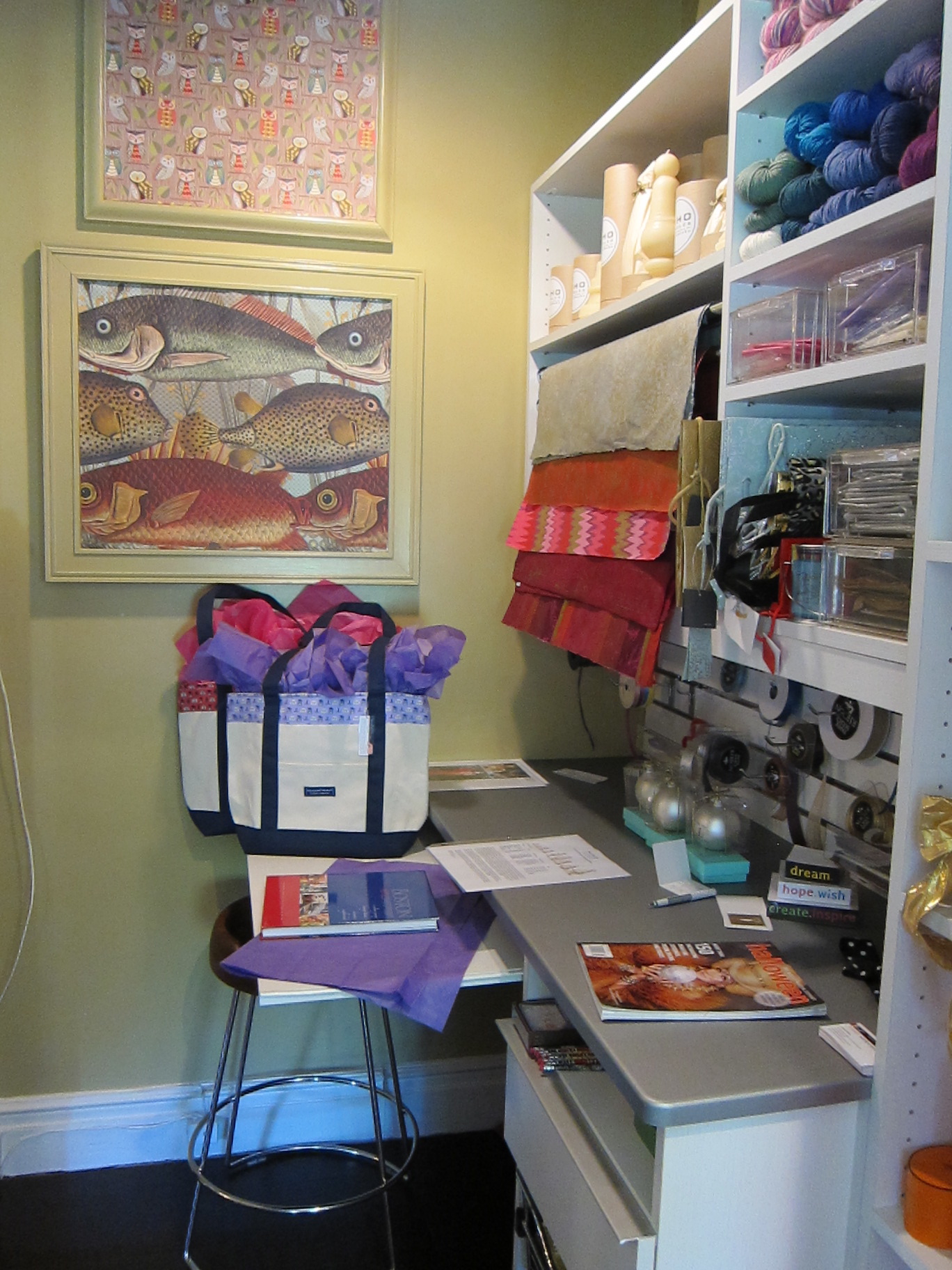 My dream! Suzanne incorporated a craft closet into her Family Room design – apparently a crafty lady lives here! I could definitely use something like this to wrangle my unwieldy yarn stash. Haven't done much knitting since I started this blog (and my business!).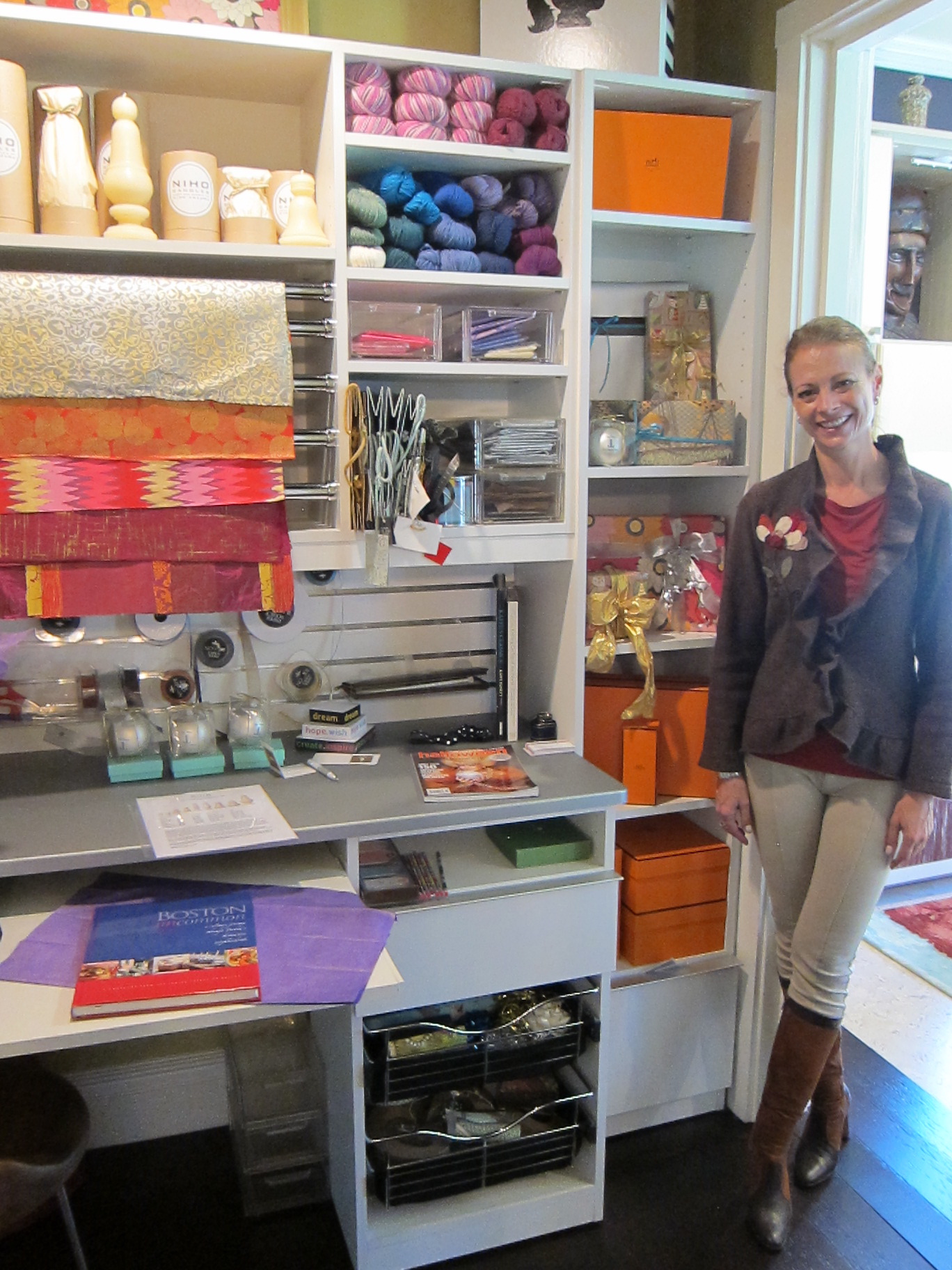 I was so fortunate to meet the designer, putting the finishing styling touches on her space on the show house's opening day. And I just noticed there is someone else photo bombing this picture, from his perch on the bookshelf in the Family Room. 🙂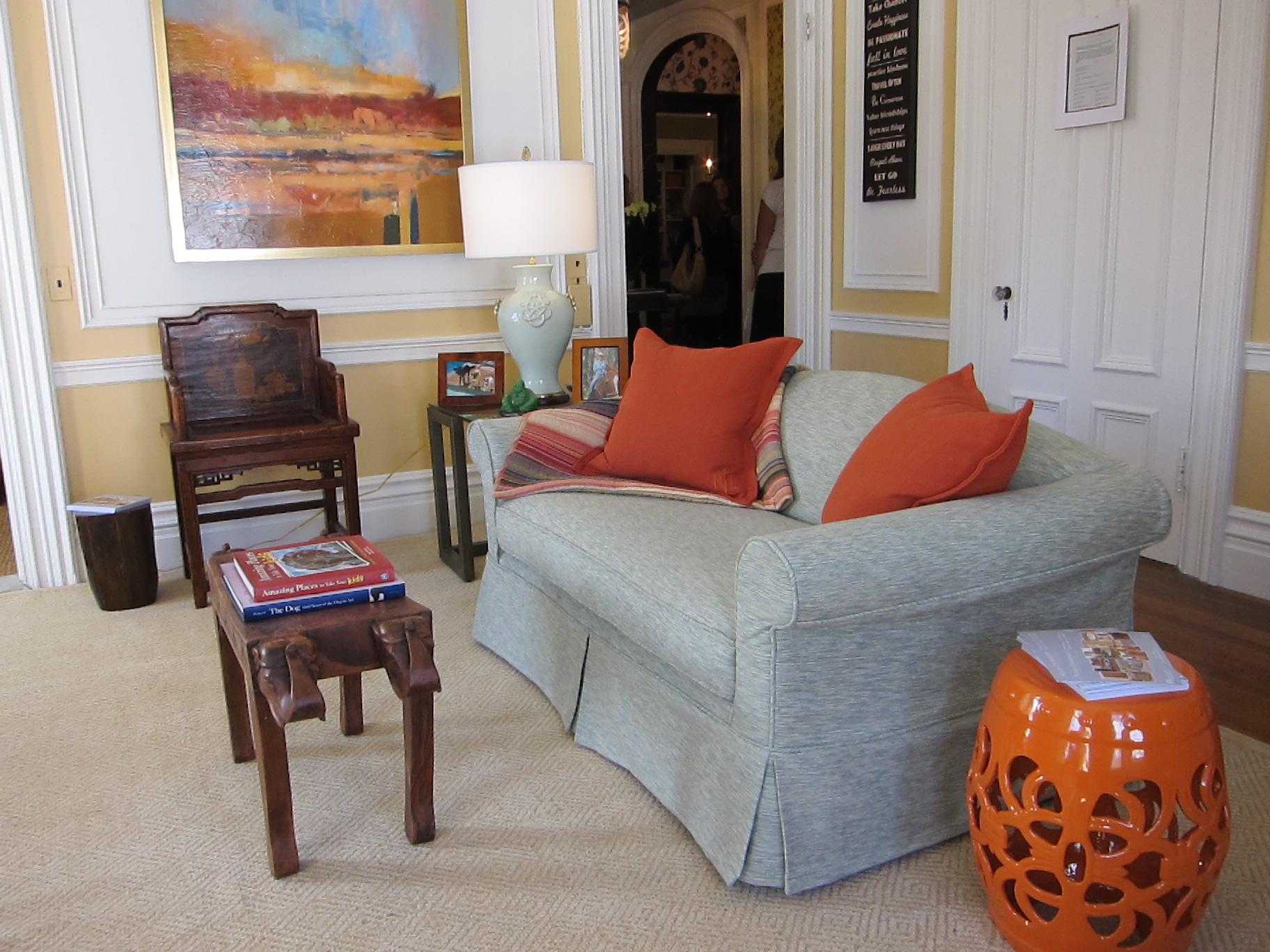 Susan Dearborn's "Her Respite" is a restful, yet cheery little room designed as a quiet escape for the matriarch of the family. Family pictures adorn the side table, which is cozied up to a slipcovered, yet tailored loveseat.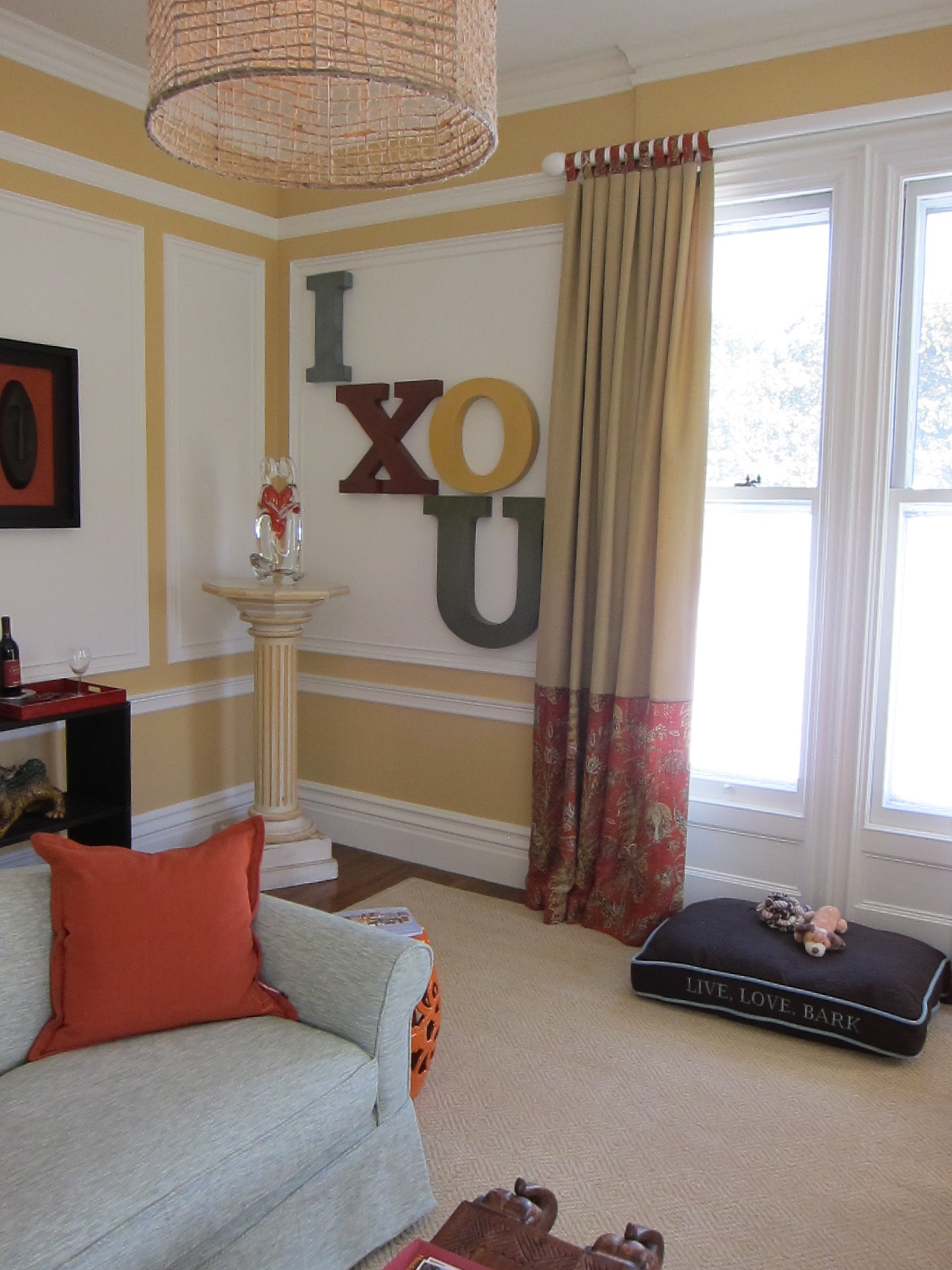 The first thing I noticed, though, was that she is a dog owner, and a dog lover. It was so nice to see a special dog bed, and even a couple of toys on the floor for her canine companion.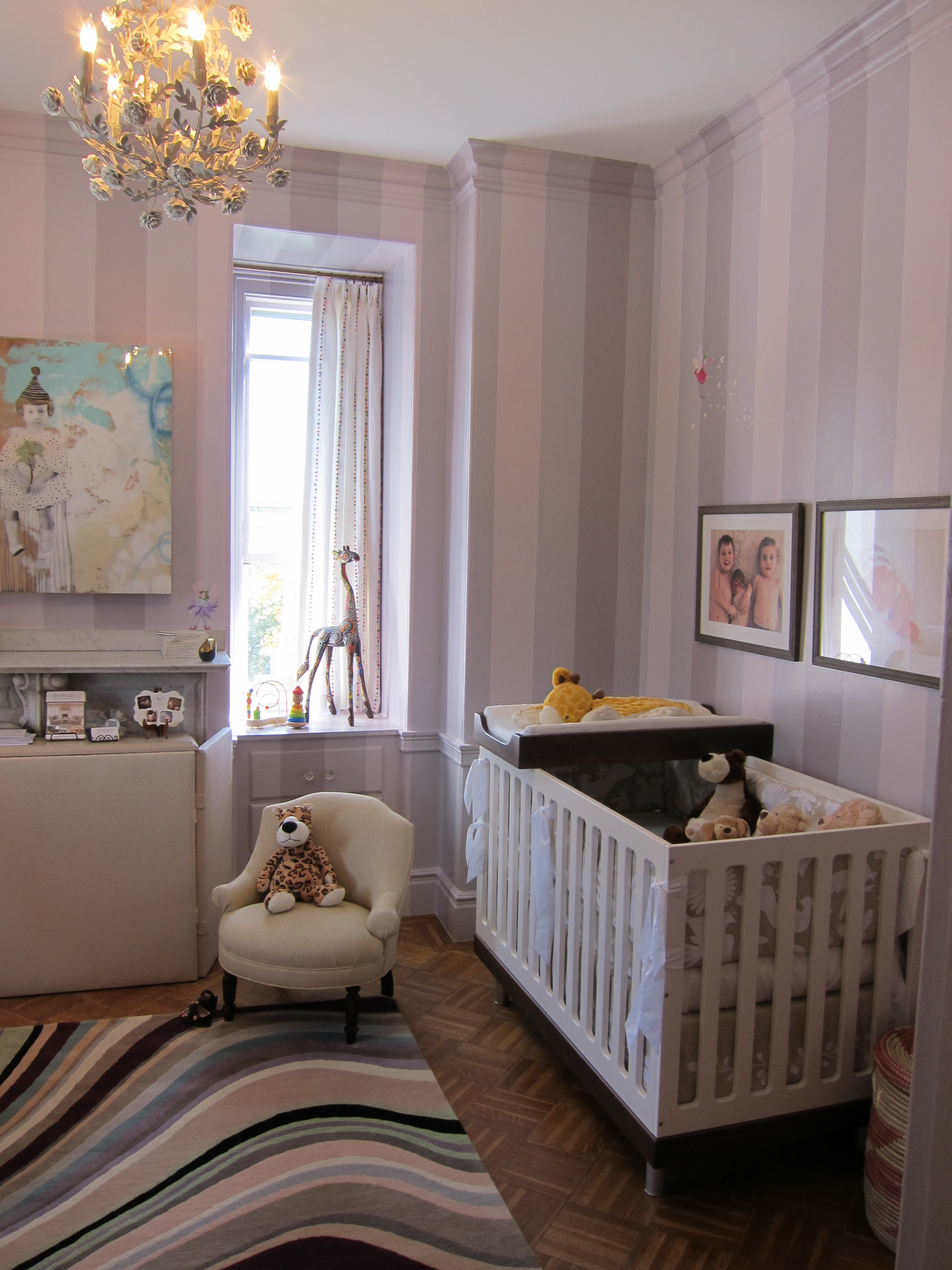 The lovely Nursery was created by Kate Maloney Albiani. I don't think there can be any debate about the focal point in this room. What a rug! The stripey wave pattern, and the rug's colors sort of magically weave together all of the decorative and functional elements of the room.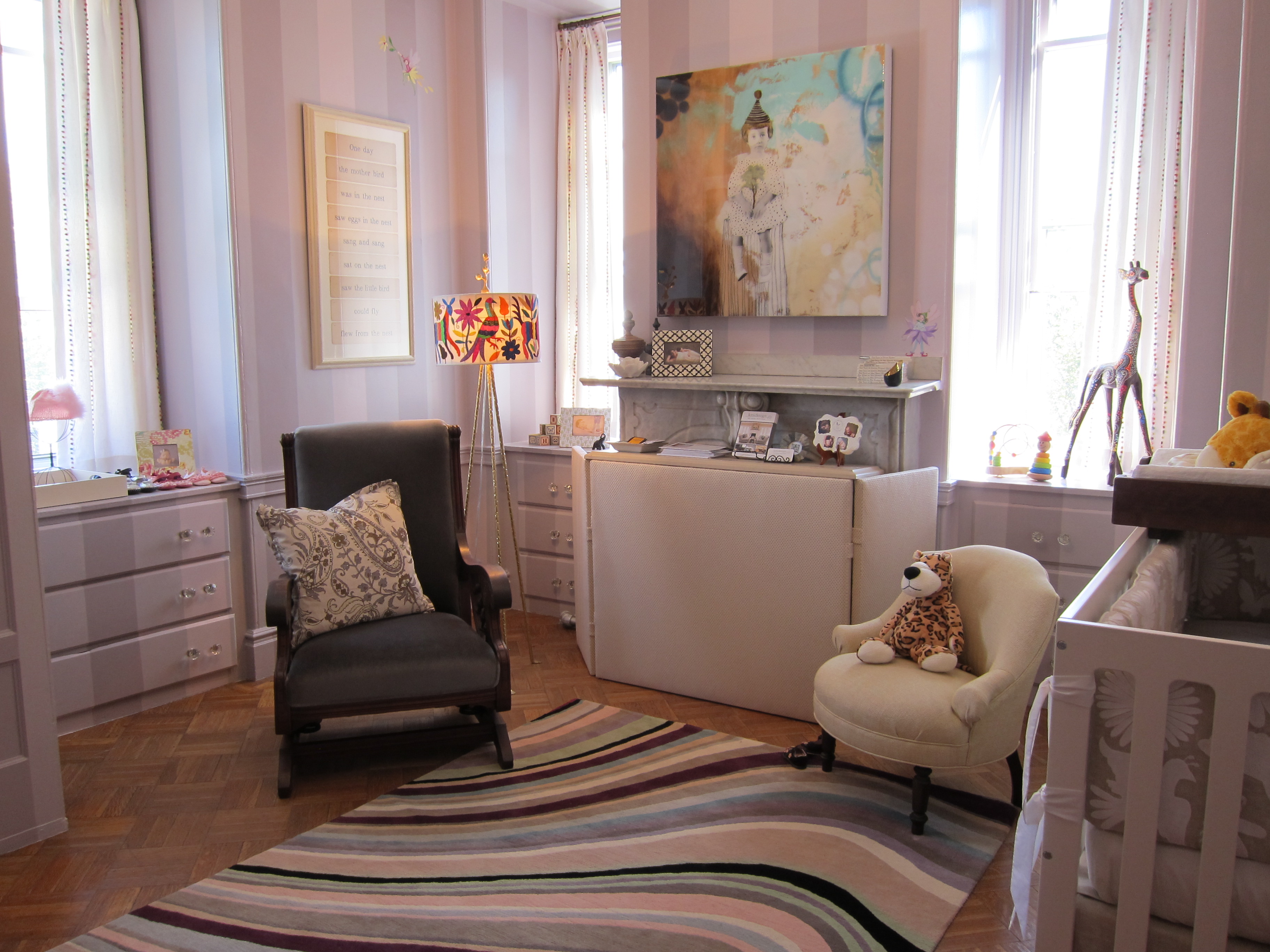 I think it was a rather courageous move to repeat the stripes up the walls – even on the built-in drawers and all woodwork. But it totally works in a monochromatic palette of the lightest of violet pastels.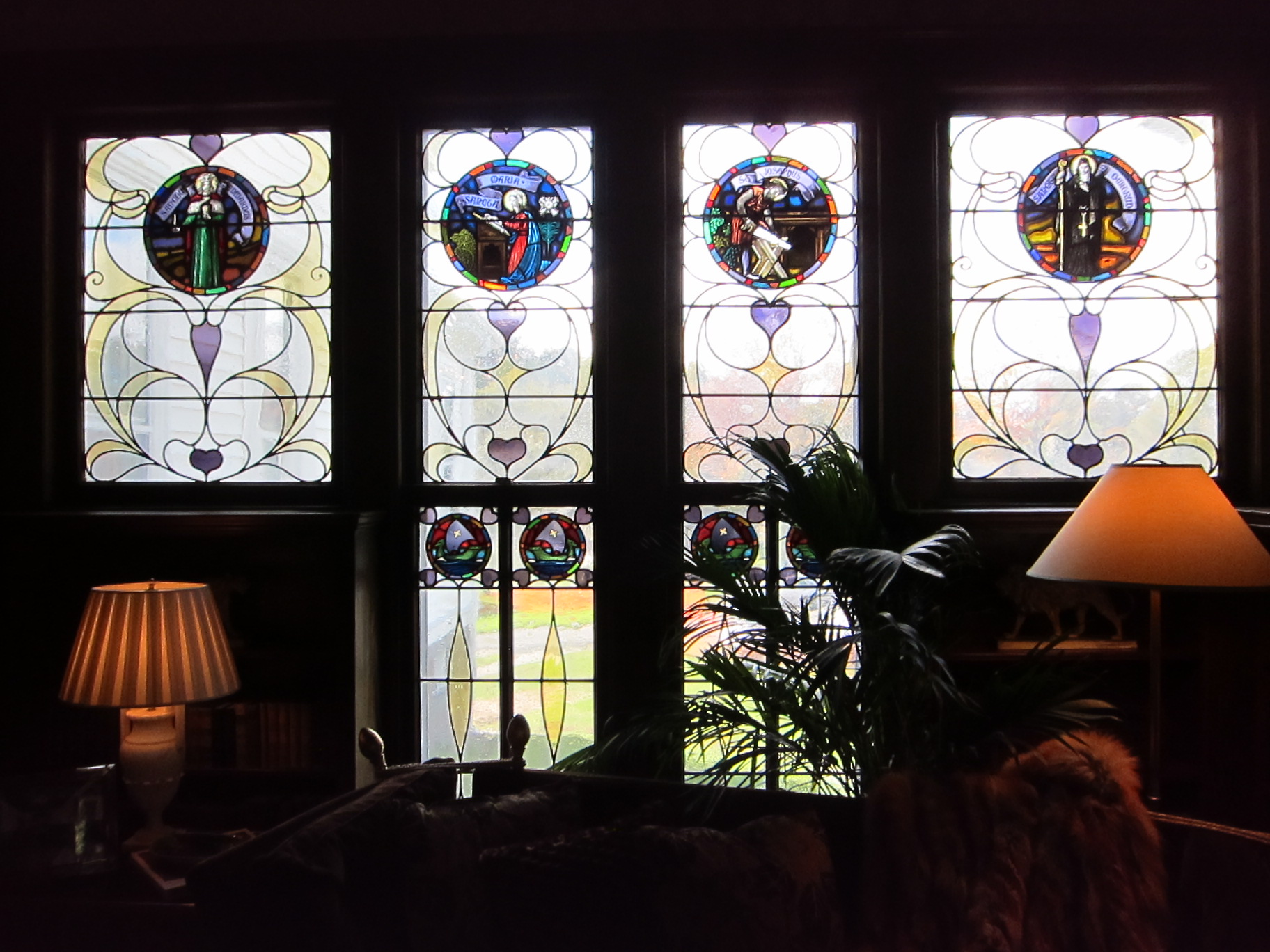 One of the great benefits of having an historic home as the setting for a show house is that there are many original details worth keeping, restoring, and incorporating into the room designs. The stained glass windows in the Gentleman's Library, designed by D. Scott Bell and Susan Schaub, fall into this category. Each window represents one of the Potter children. As you can imagine, it's not easy to snap a quality photograph of stained glass from inside a dark room on a sunny day with a point-and-shoot – but at least you can see the gorgeous windows!
It has been such a pleasure to cover the Junior League of Boston 2012 Show House and share with you all of the wonderful spaces and details created by some of New England's top designers. There are just a few days left to see it for yourself! The house is open through Sunday, November 18th – learn more and buy tickets here.