My designer friend Barbara Elza Hirsch, of Elza B Design, recently launched her debut furniture collection – Bois et Coleur (Wood and Color – just don't ask me to pronounce it – I'm a Spanish/Italian gal 🙂 ) – with Dowel Furniture. I was naturally excited to see the collection, and, not surprisingly, it is beautiful. For a small, boutique line, I was pleasantly surprised to see how much care and thought was put into curating the fabric selections, and how family-friendly this furniture really is. I had the opportunity to see, and test out, the collection last week at their pop-up showroom at the Boston Design Center.
One standout, for me, is the Bastille Counter Stool, which is this week's Friday Family-Friendly Find.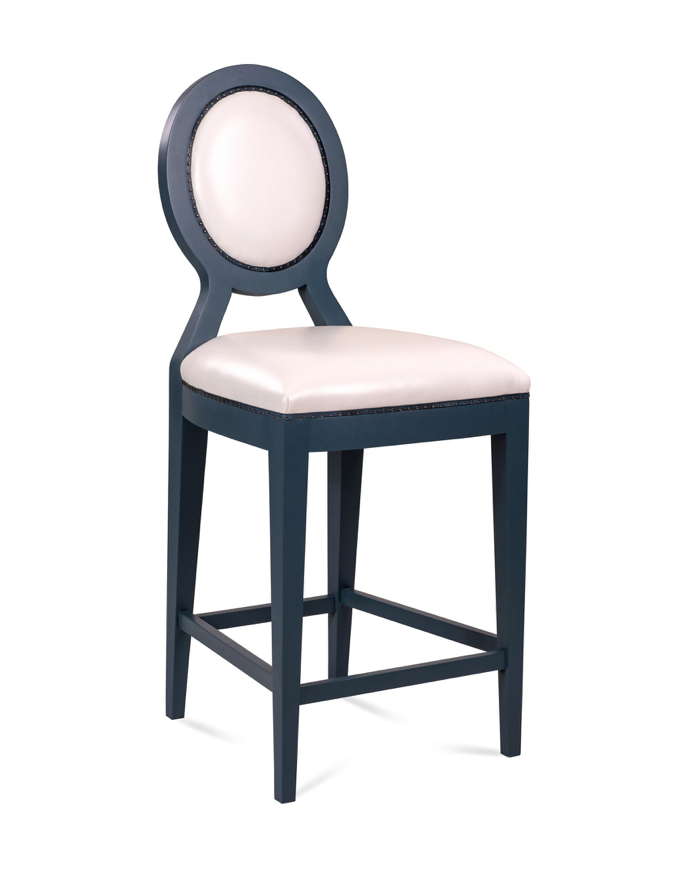 First, lets talk about style. The Bastille recalls a Louis XVI fauteuil, but exhibits cleaner lines and more modern proportions – its transitional look would fit nicely into more traditional and modern kitchens (or cool basement bars, and the like – comes in bar height too, of course!).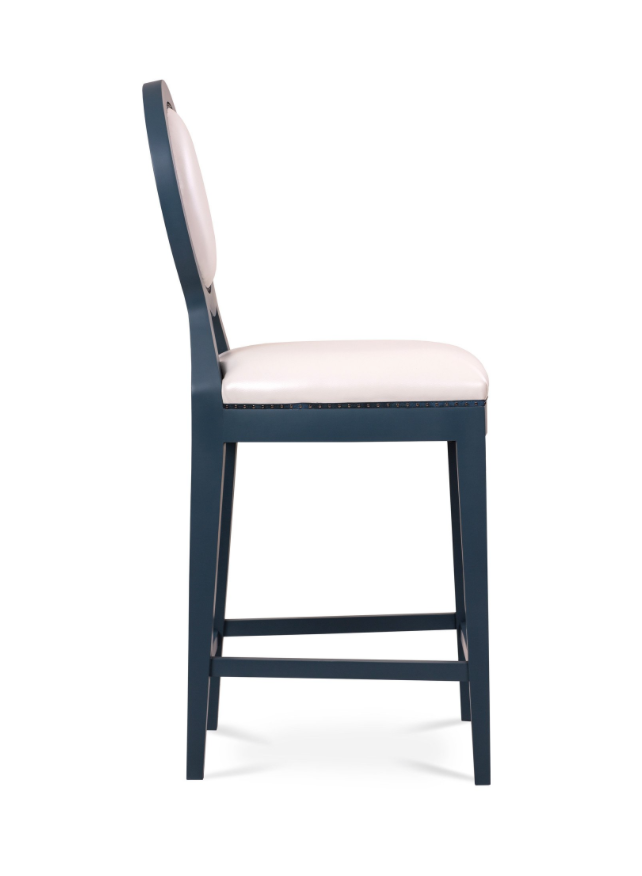 Those lines translate into a very comfortable sit. The pitch and padding of the back is just right. The seat height is 26″ – a couple of inches higher than most counter stools. This is great for more 'vertically challenged' folks, as well as for use at an island with a built-up countertop, which can add an inch or more to the height of the counter surface. Note: Not shown is a metal kick plate, which is being added to the bottom front stretcher – I would never get a stool without one of these (unless the stretcher itself was made of metal!).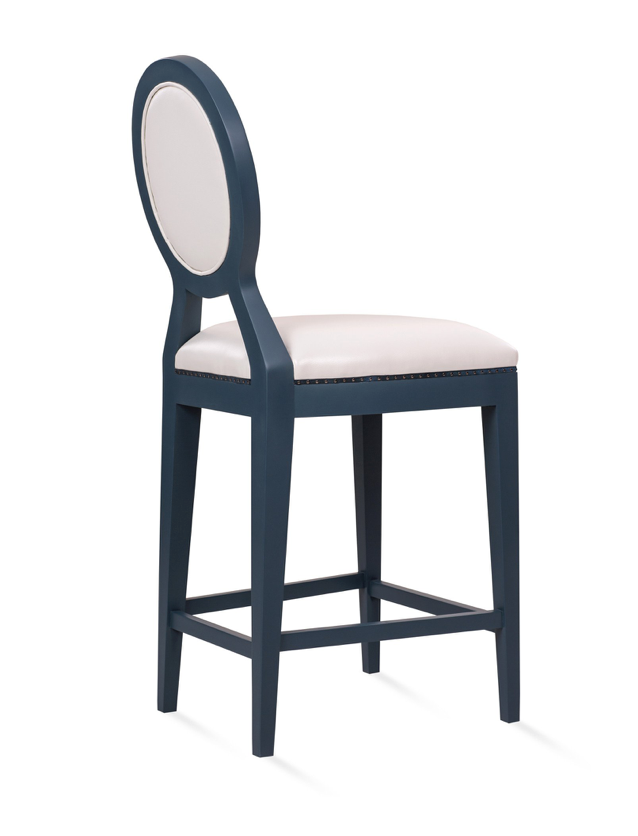 OK, time to talk fabrics and finishes – the best part! I couldn't believe how many options there are to customize this furniture. Painted finishes are somewhat more limited at a well-curated 5 (only thing missing is black), and they correspond with Sherwin-Williams colors, so if you have a chip or fan deck, you know what you're getting when you shop online.  There are two warm, modern oak finishes, as well. For the most durability in a busy family kitchen, I would typically choose a wood stained finish.
Speaking of durability, Dowel offers TEN colorways of a fantastic faux leather (Valera) from Kravet! Vinyl is my material of choice for kitchen chairs and stools (wipeability and stain resistance are key), and I love that it is part of the line. Barbara also selected some beautiful fabrics from manufacturers like Romo, Kravet, Schumacher, Quadrille, and Robert Allen, with other performance fabrics, and fun prints, too. I can't believe how many! We clearly have the same taste in textiles :). Trim and nailhead options are also available to further customize. Dowel also accepts COM (customer's own material), which is how I usually order furniture for my clients – BUT, there are truly such great options in this line, I can't see not being able to order the easiest possible way, with the graded-in fabrics and trims.
(P.S. The framed oval upholstery panel on the back is a great opportunity to use a contrasting, patterned fabric. It's placement is less susceptible to spills and wear, but don't worry, all of their fabrics are stain treated by another local company I use for my own projects, MWI Fibershield.).
The Bastille Counter Stool, and the rest of the gorgeous Bois et Coleur collection by Elza B Design, can be customized and purchased on Dowel's website. I'm also adding the line to my repertoire, and am excited to start using it in my client projects.
Have a great weekend!
xoxo