Well hello there! It's been an embarrassingly long time since I've written here. So long, in fact, that I am considering this a 'relaunch' of Interiors for Families. I've truly missed writing here, and making connections with my readers. With the world in various states of lockdown and quarantine due to the coronavirus pandemic, now is the time to reignite human connections, virtual or otherwise.
In other words, I've missed you! I've missed THIS. And I hope to be a helpful source of insights, inspiration, and entertainment for you.
So whether you are new here, or are an old follower or friend, I extend to you a warm and hearty welcome!
An old, favorite tradition on this blog is my Friday Family-Friendly Finds, which I publish – perhaps not surprisingly – on Friday mornings. It's a quick, fun read, featuring a product I love for a for a family-friendly home. And it goes back to my 'roots' of why I started my business in the first place – to help young and growing families navigate the home design and decoration process with equal amounts of pragmatism and creativity. I try to cover a broad range of product categories, including home furnishings, building materials, finishes, housewares, art, accessories, appliances, fixtures, and pretty much anything else you can think of that has a place in your home.
This week's find is a product very near and dear to my heart – one I have been using like crazy for the past two months.
Note: Some of the links below are affiliate links, which means if you click through and make a purchase, at no additional cost to you, I will earn a small commission.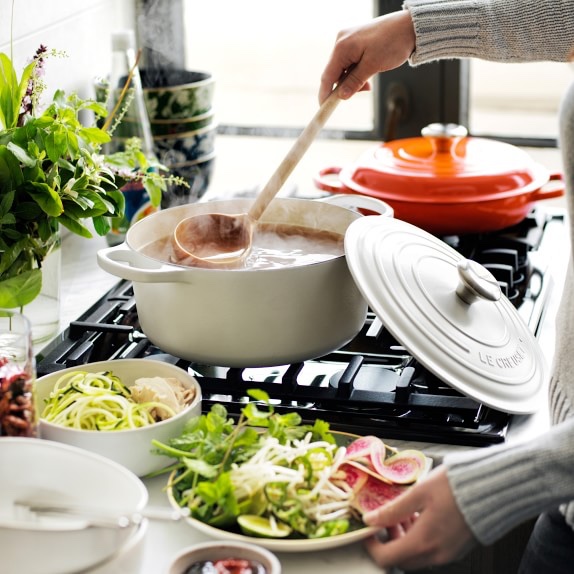 The Le Creuset Signature Cast-Iron Round Dutch Oven is my favorite sort of find, because not only does it perform a variety of cooking and baking tasks with aplomb (functional), it looks fabulous doing it (beautiful).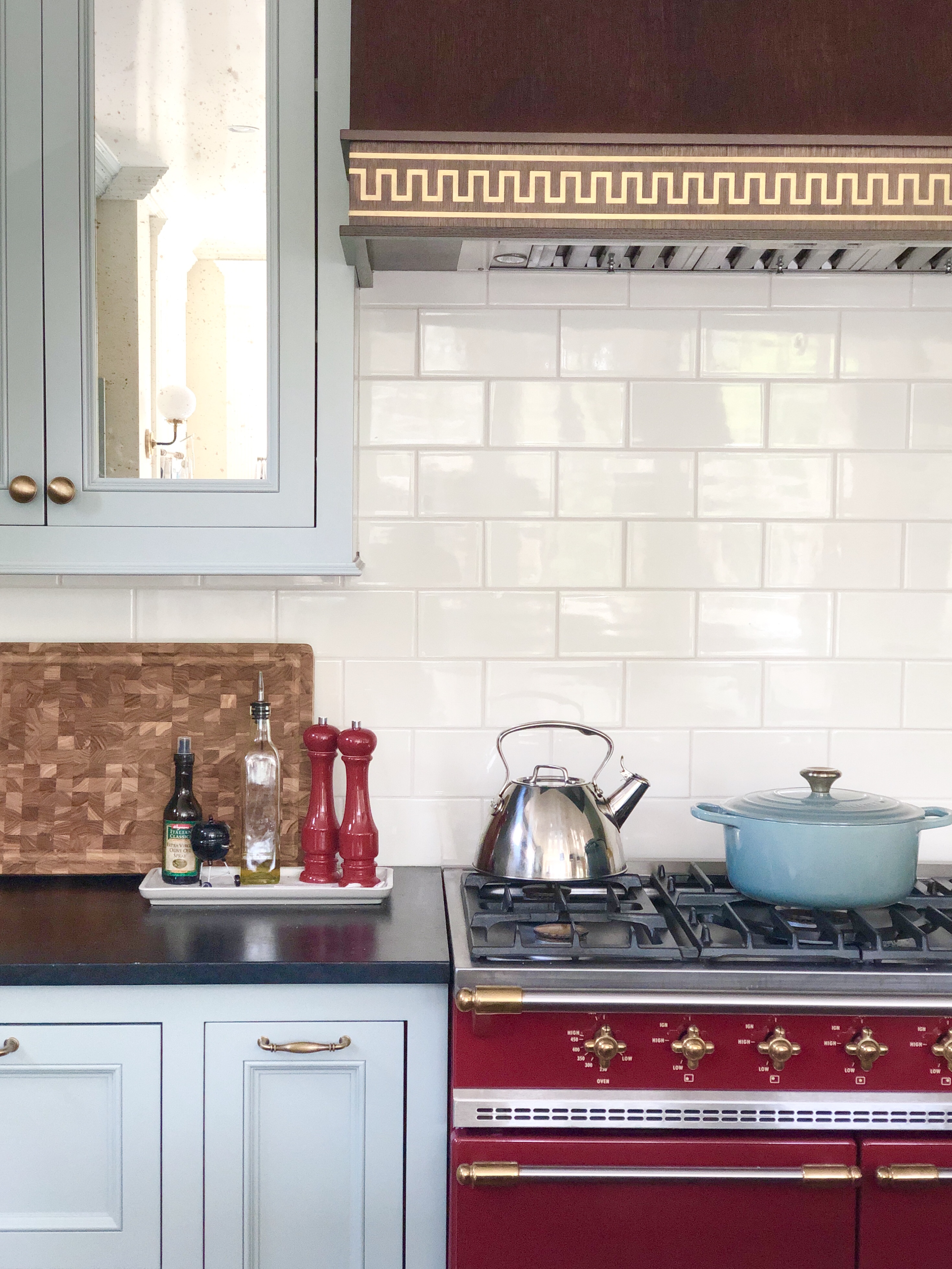 With so many color and finish options, there is one to accent every kitchen. I love mine so much, I never put it away. I just leave it right out on my stove top. It's a beautiful accessory! Everyone should have one in their kitchen.

I've always used a Dutch oven for soups and stews, and the occasional roast, but mine has been making her way more and more often into my oven. I've been bitten hard by the quarantine baking bug, and have discovered a new passion for baking bread. I am all in – I have a sourdough starter, I've made a variety of no-knead, kneaded, and enriched breads, pizza doughs, and tomorrow I'm whipping up my first homemade brioche cinnamon rolls!
My Le Creuset Dutch oven creates the most beautiful and perfect loaves of bread. The first part of baking is with the lid on, which hydrates the dough. Then you remove the lid for the final phase, when the deep, golden, crisp crust develops.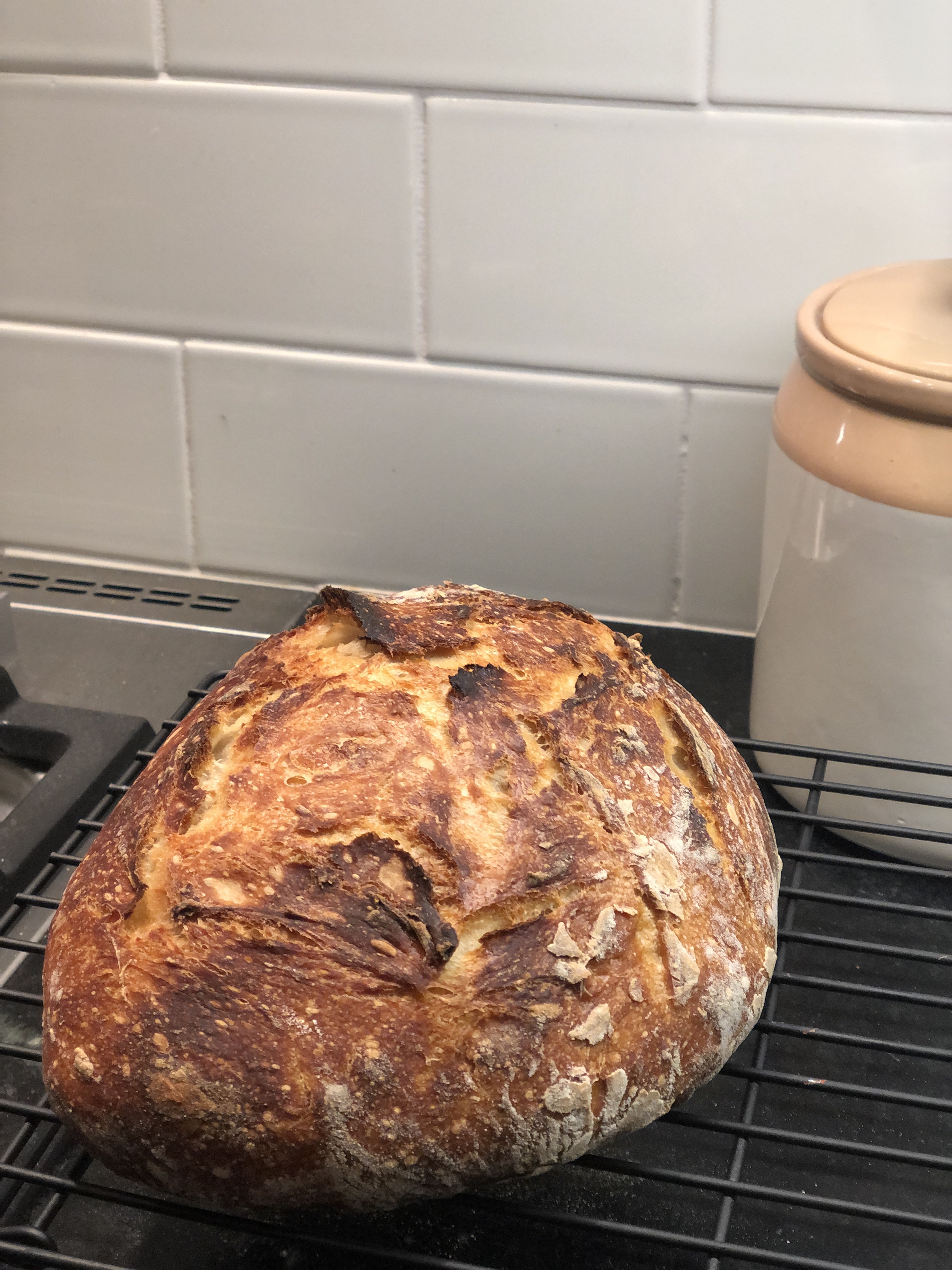 This was my very first sourdough loaf! Could it have been a little prettier with a more well-defined 'ear'? Yes. Could it have been more delicious? Nope.
[*Important note!* If you're planning on baking with your Dutch oven, make sure it has a stainless steel knob on top, not a plastic one!]
But the BEST news I have to share today is that Le Creuset is actually ON SALE at Williams-Sonoma right now (it is NEVER discounted…this is BIG)!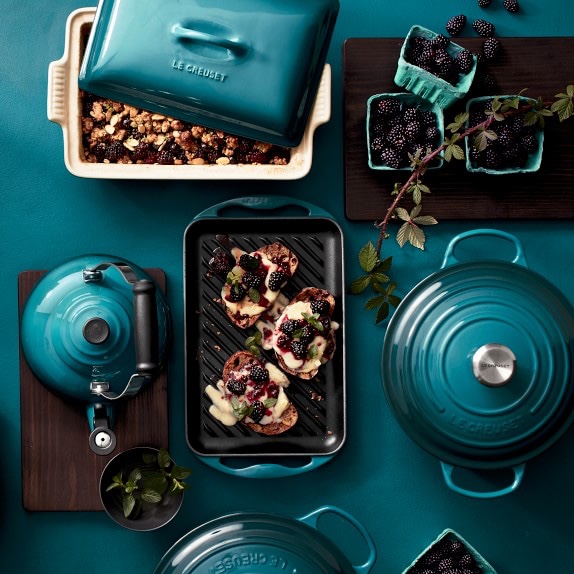 I'm thinking about buying another to add to my collection; maybe another color or a smaller size. Happy shopping! And happy Friday (Family-Friendly Find)!
P.S. My bonus find for you is the indispensable cookbook I've been baking my way through, one recipe at a time…

* * *
If you liked this post and would like to save it for future reference, here is an image you can pin!