Welcome to the big reveal of the Fall 2018 One Room Challenge! The one I swore I wasn't doing. No way, no how. Not a chance. And yet somehow, here I am unveiling to you what I think is a pretty great transformation. I was tardy to the party, starting right before the 'Week 2' mark. Not only did I complete it on time, I actually did it in 25 calendar days. That's 3 1/2 weeks, y'all. WUT??…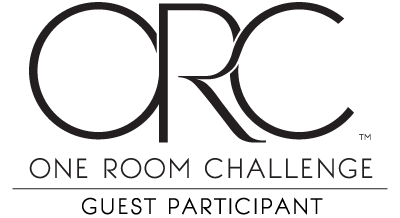 Newbies – read this paragraph! The One Room Challenge is a fabulous blogging event created and owned by the fabulous Linda Weinstein. It all started with the desire to garner the motivation and support to transform a room in her home in just six weeks, and she invited others to join in. Fast forward to now, all these years later, and the ORC is a major event followed by design lovers across the world, national shelter magazine editors (hey there!), and big time product and media sponsors. In the fall and the spring of each year, Linda invites 20 uber-talented folks to be featured designers, and hundreds of others get their game on as guest participants. I have been a guest participant five times including this rodeo, and was blessed to be a featured designer in the Spring 2018 season of the ORC. At the end of the day, we're all in it together, supporting each other and cheering one another on to the big finish!
What did I do this time? I transformed my 4-year-old son Eamon's bedroom from pretty cool vintage Americana-influenced nursery into an (I think) even cooler big boy bedroom. Not a blank-slate makeover, but a planned progression into the next phase – hence the project moniker, 'American Evolution.' I tacked on a couple of projects in close proximity, for good measure – the narrow hallway leading to his room, which was at one time where the household staff would have lived (back in the 19th century), as well as the back staircase connecting his room and that hallway to the downstairs and main part of our home.
Here are the links to catch up on the last 'six weeks,' (still trying to figure out that math…) if you are so inclined:
Week 1  |  Week 2  |  Week 3  |  Week 4  |  Week 5
If you really want to go back in time to see the reveal of the room as a nursery back in 2014, here you go!
Next, here's a wild ride through the before pics, so we can get down to business with the reveal!
Eamon's Bedroom – BEFORE
Back Hallway & Stairs – BEFORE
And now for the AFTER…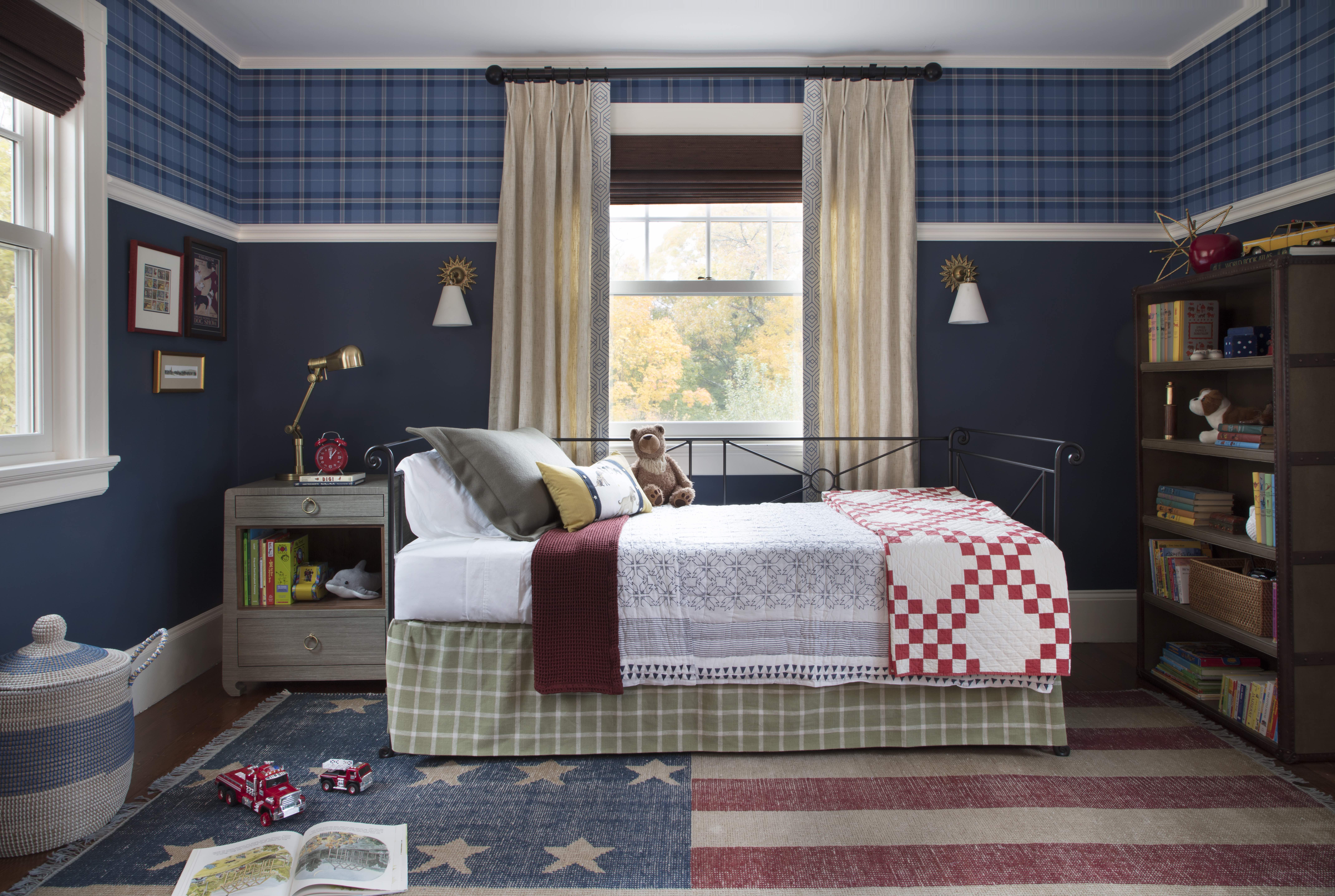 I am just so pleased with the metal campaign-style daybed! If you've been following you may recall that I had initially wanted to do a custom upholstered daybed, but quickly learned that wasn't in the cards (did I mention 25 calendar days??). When I called to order the daybed, they told me it would ship within the next two hours. Now THAT'S what I'm talking about! It plays so well with the sconces we installed before Eamon was born. As you can see, I basically replaced the crib/toddler bed with the twin daybed, and added the nightstand where the swivel-rocker used to be (I had already relocated it when I took the before pics). No major layout changes required…because I thought of that before Eamon was born, too! And do you recognize the antique quilt? I just love it as a throw at the foot of the bed. I always intended on shifting it from 'art,' formerly hanging above the changing table, to bedding, and it makes me happy there :).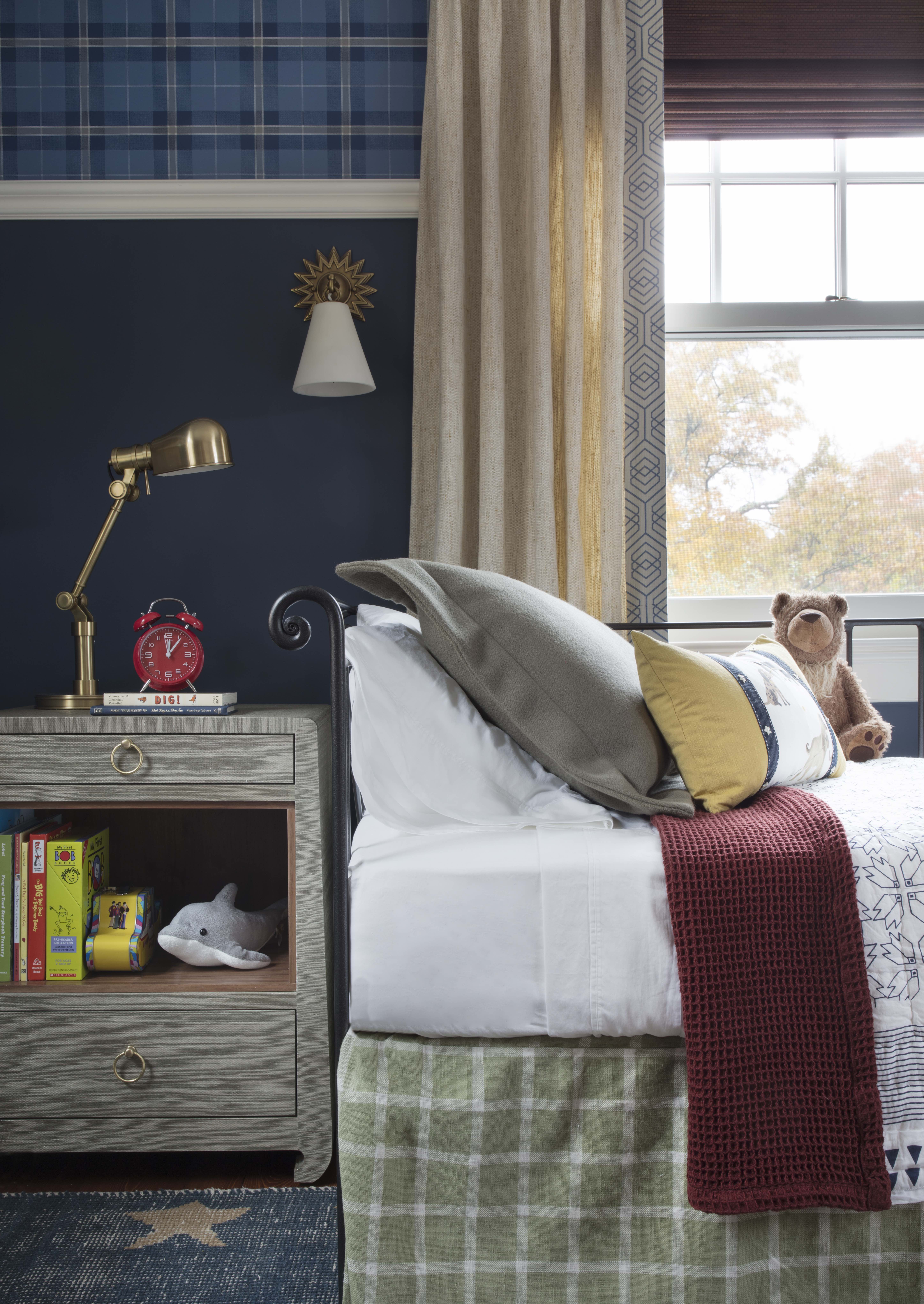 The nightstand – LOVE! It's a lacquered grasscloth-wrapped wonder with a walnut shelf. In kids rooms, I often prefer bedside tables with a closed back, since things can tend to be shoved back in there – it won't mess up your walls. One of my favorite things is the way the little mini Ming feet of the nightstand curl in like the scrolled ends of the bed. And let's discuss the bedding – as you can see, I doubled down on the plaid with this custom linen windowpane bedskirt, which was fabricated in one day. No joke. Eamon's request was to have some green in his room, and by golly he got some green! It was fun and liberating to break out of the red and blue scheme and shake things up a little bit. I went with basic white sheets, a chunky brick red waffle weave cotton blanket, and a fun printed quilt designed here in the Boston area and made in India. I like the way it plays off the fabric trim on the old draperies.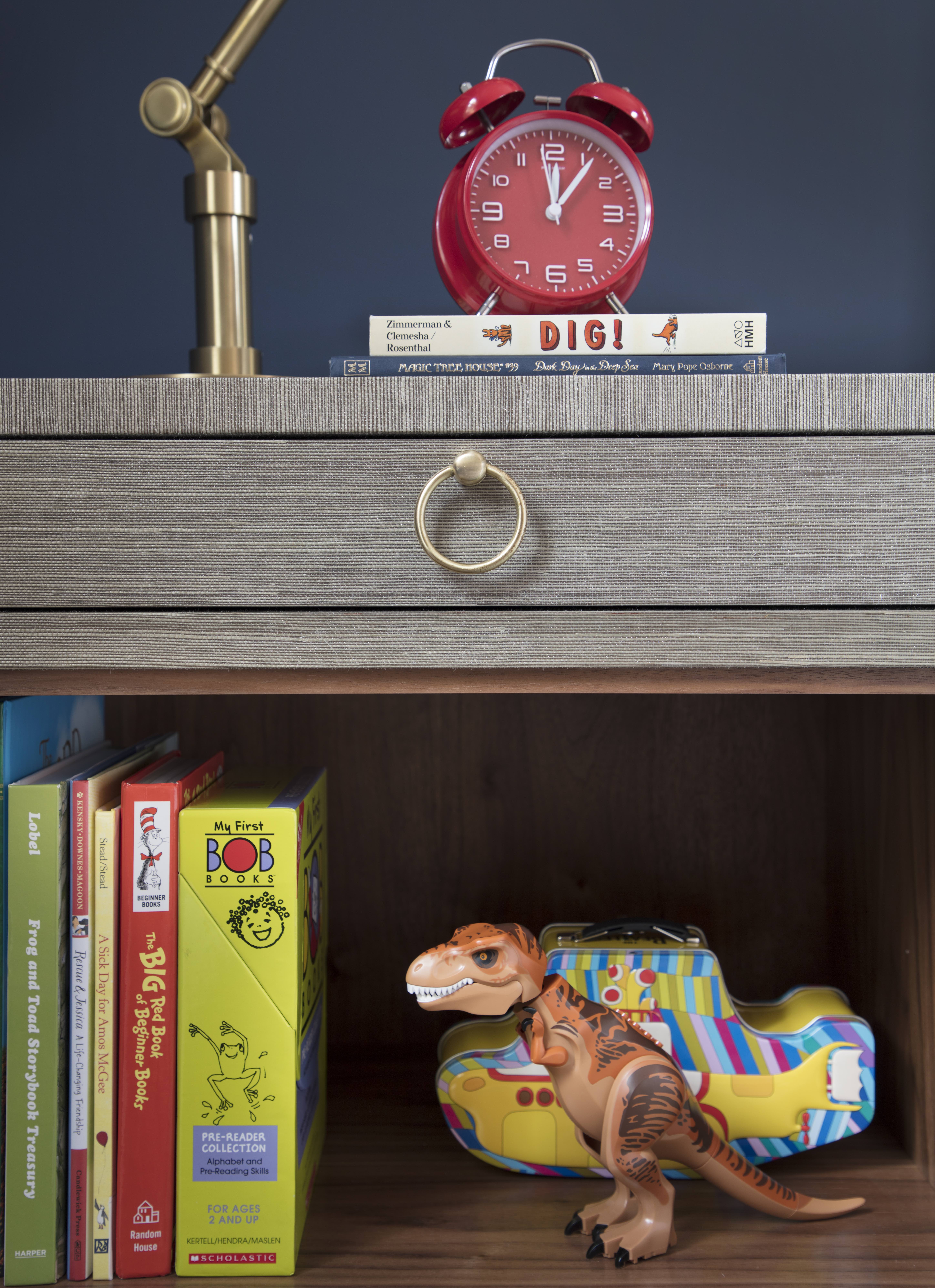 Trying out some different accessories, just like Eamon already has "redecorated" since our photo shoot last Friday! I really love the wood accent against the texture of the lacquered grasscloth. If you can only have one nightstand, as is occasionally necessary as in this scenario, it had better be a special one!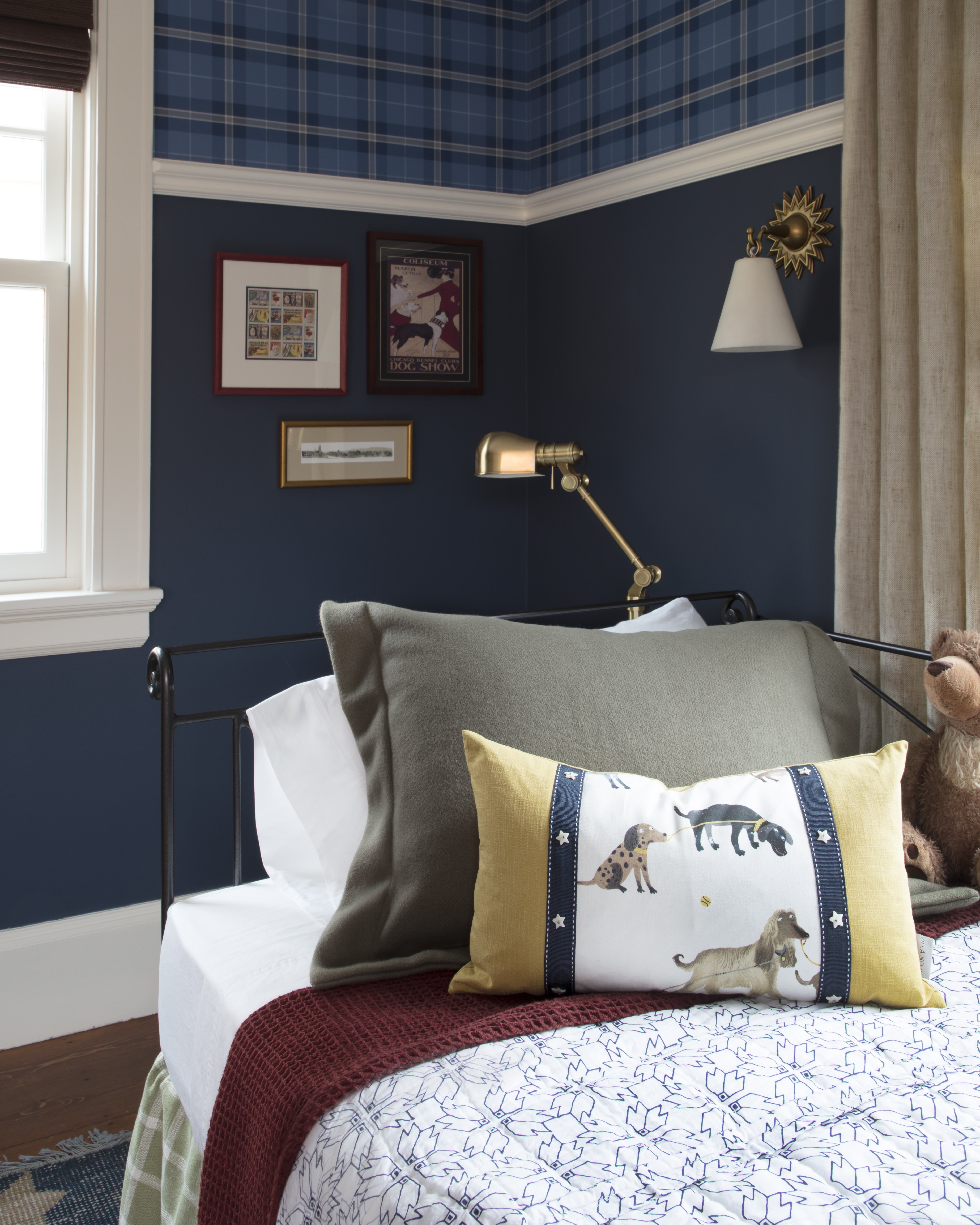 The sham is a thick and soft washable wool (did I mention…all of the bedding is machine washable and dryer-safe?), and the accent pillow with those adorable pups looks custom, but was a ready-made trade item bought on a Monday, and received on a Thursday – and that was shipping standard from the UK, if you can believe it! Dogs are sort of a theme in our house, and this isn't the last you'll see of them in this reveal. The reading lamp is dimming and self-adjustable, with no need to turn knobs to tighten and loosen – what kid (or adult) can manage that? And sorry folks, Snuggle Bear is not for sale. 🙂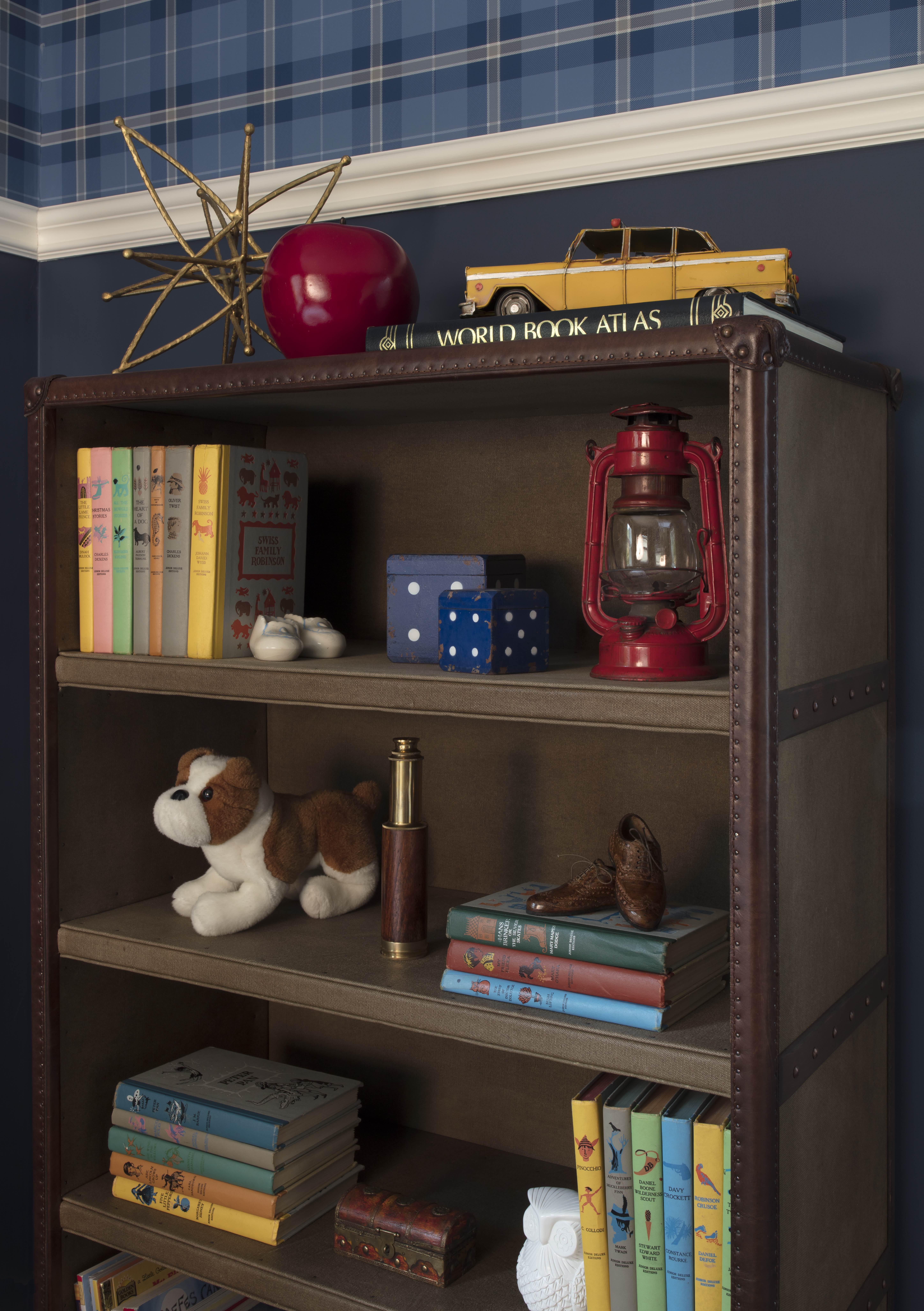 When I first decorated Eamon's nursery, I bought a small lot of these vintage children's books on eBay. I found another, bigger lot at Brimfield this summer, so I snatched them up and took this opportunity to finally restyle the bookcase. The lower shelves are less 'decorated' with the books he reads, as well as a basket for toys, which I repurposed from my former home office. I still love the leather / canvas / nailhead thing this bookcase has going on – in addition to being handsome, it has been a very useful piece.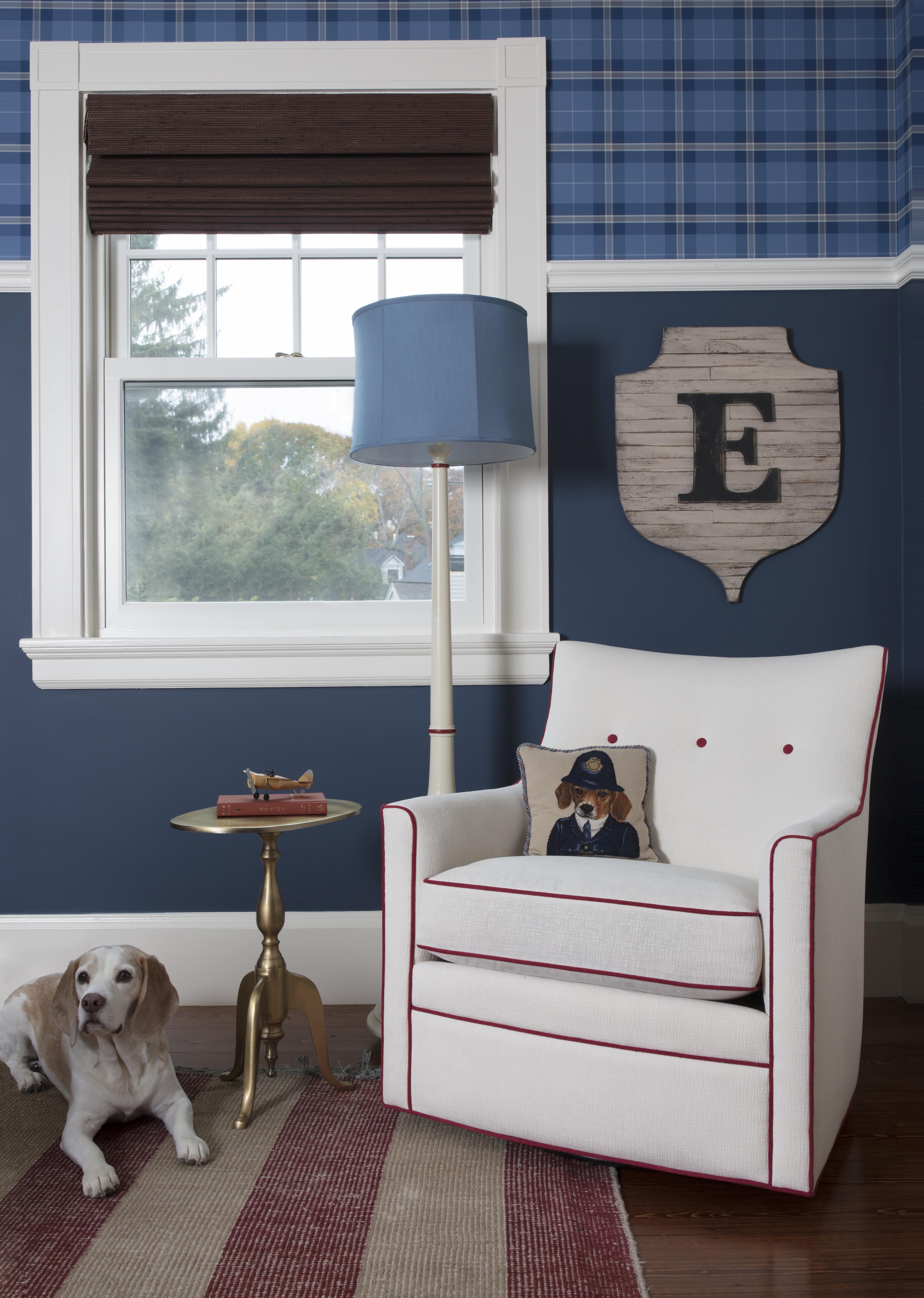 And there he is! The star of so many of my photos of my home. The dog who steals the show every time – Harrison the Beagle. No spring chicken now at 10, he is still acting like a puppy, just a slightly slower and grayer puppy. 🙂 And did you notice his law-enforcing friend on the needlepoint pillow? Basically everything you see here was also in the nursery; Eamon really wanted to keep the chair in his room for reading bedtime stories. We were happy to oblige! Oh, I forgot to mention the woven shades. I finally replaced the corded, see-through woven shades left by the previous homeowner with cordless, blackout lined woven shades in a darker walnut color, which I think works better with the floors and other furniture in the room.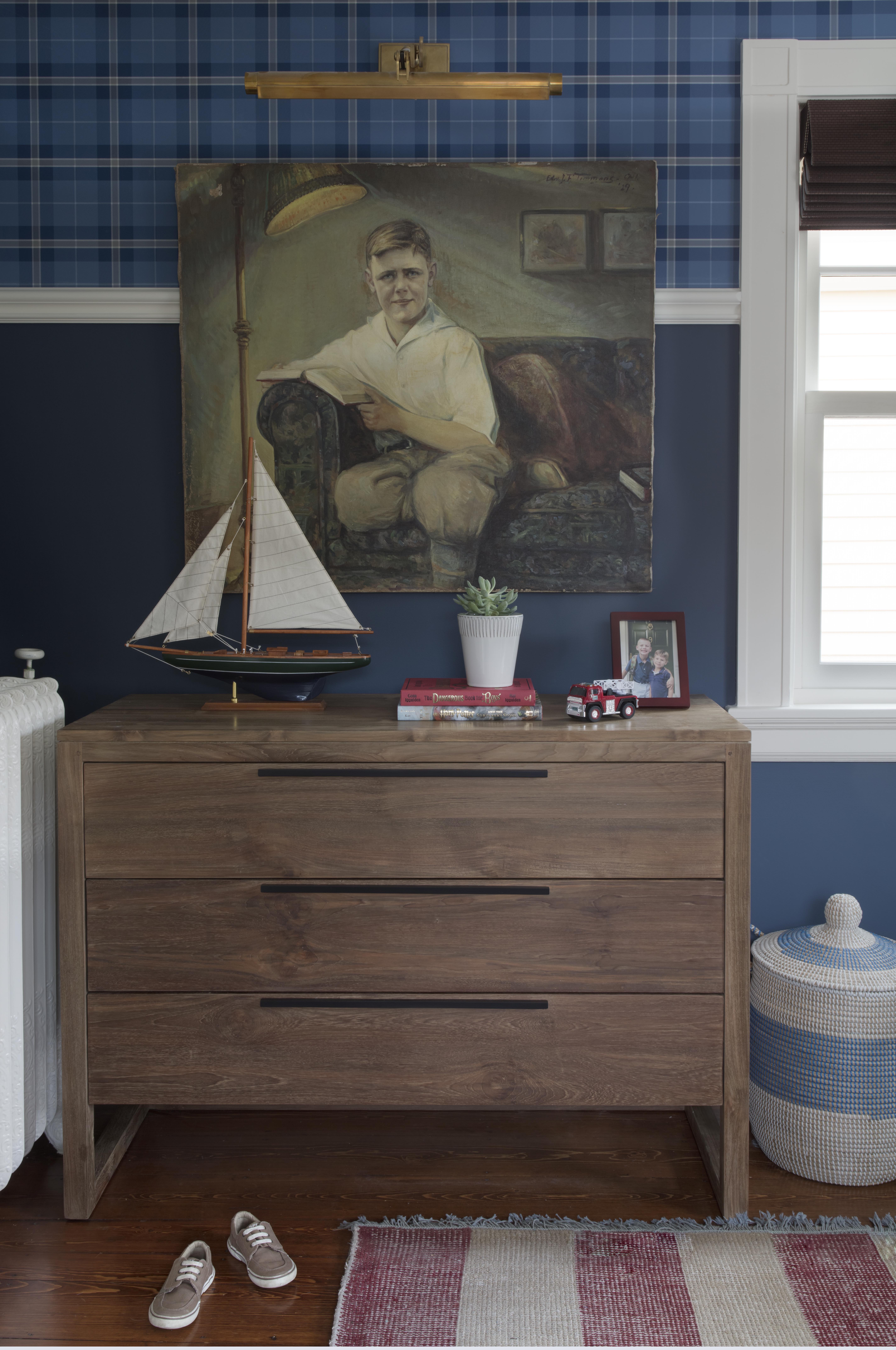 Another planned change was relocating the antique walnut chest, which was here temporarily (intentionally so!) as Eamon's changing table. Now that he's old enough to start being more independent with getting dressed, the time had come swap the old janky, sticky drawers for some smooth, soft-closing ones. If I had more time, I might have picked something different, but overall I'm pretty happy with the new chest. It's a little wider and a shade taller than the antique piece, and actually fits the space even better.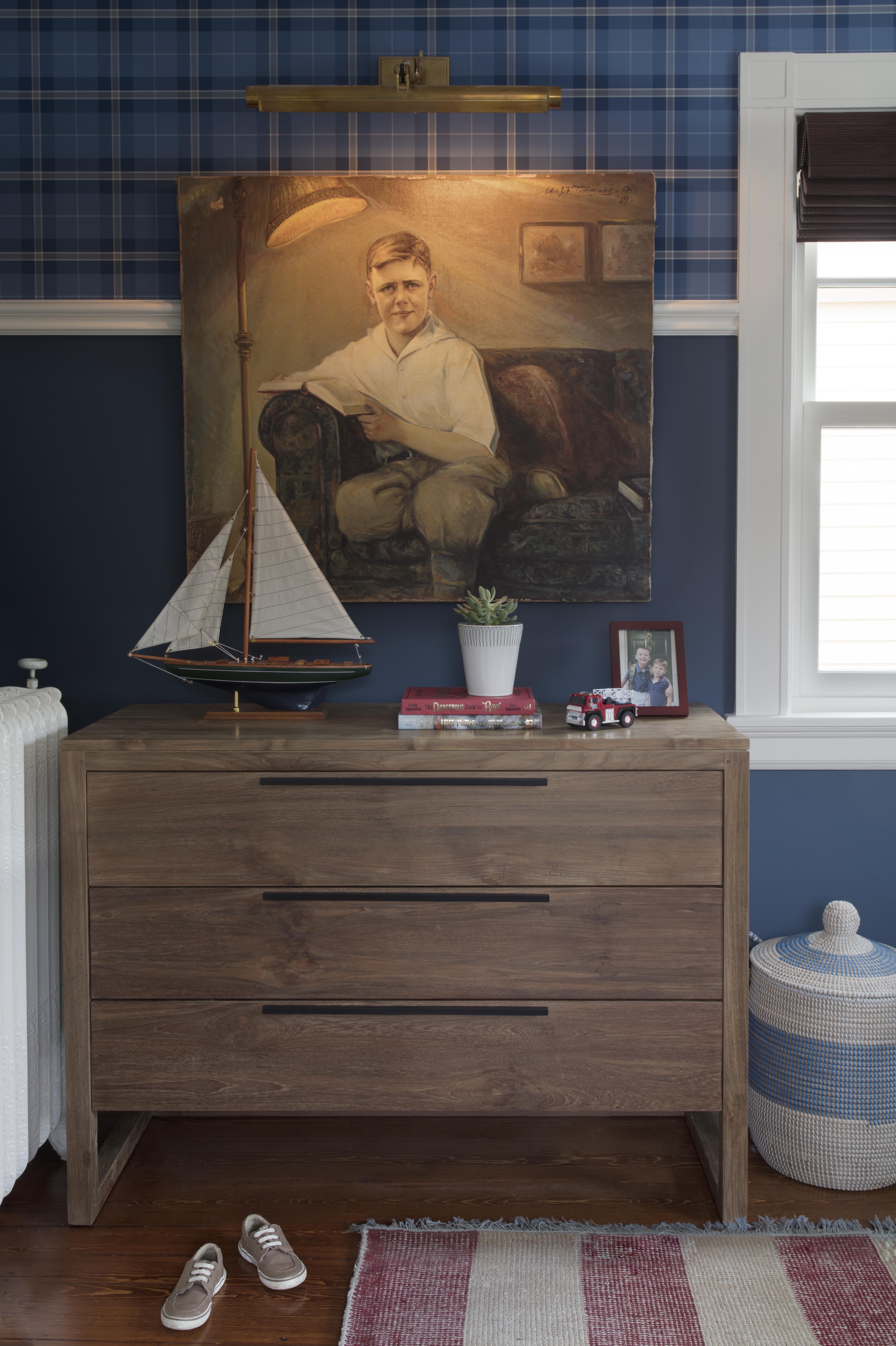 The picture light was, I think, one of my best ideas for the nursery. I wanted a dimmable, indirect light over the changing table for late night diaper duty, but also something that would be useful well beyond the fleeting baby years. (Our house was built in 1896, and thus none of our bedrooms have overhead lighting). A picture light seemed to fit the bill, and it worked great as a 'nightlight' and for illuminating diaper changes without blinding baby Eamon. Now it's in its second phase in a more traditional picture light role: Accenting artwork hung below. I brought in this charming (read: old, beat up, and unframed) portrait to add some 'old' back into the room that left with the antique chest. It's also got the green (check!), and reminds me a lot of both my boys, and how they are on their best days!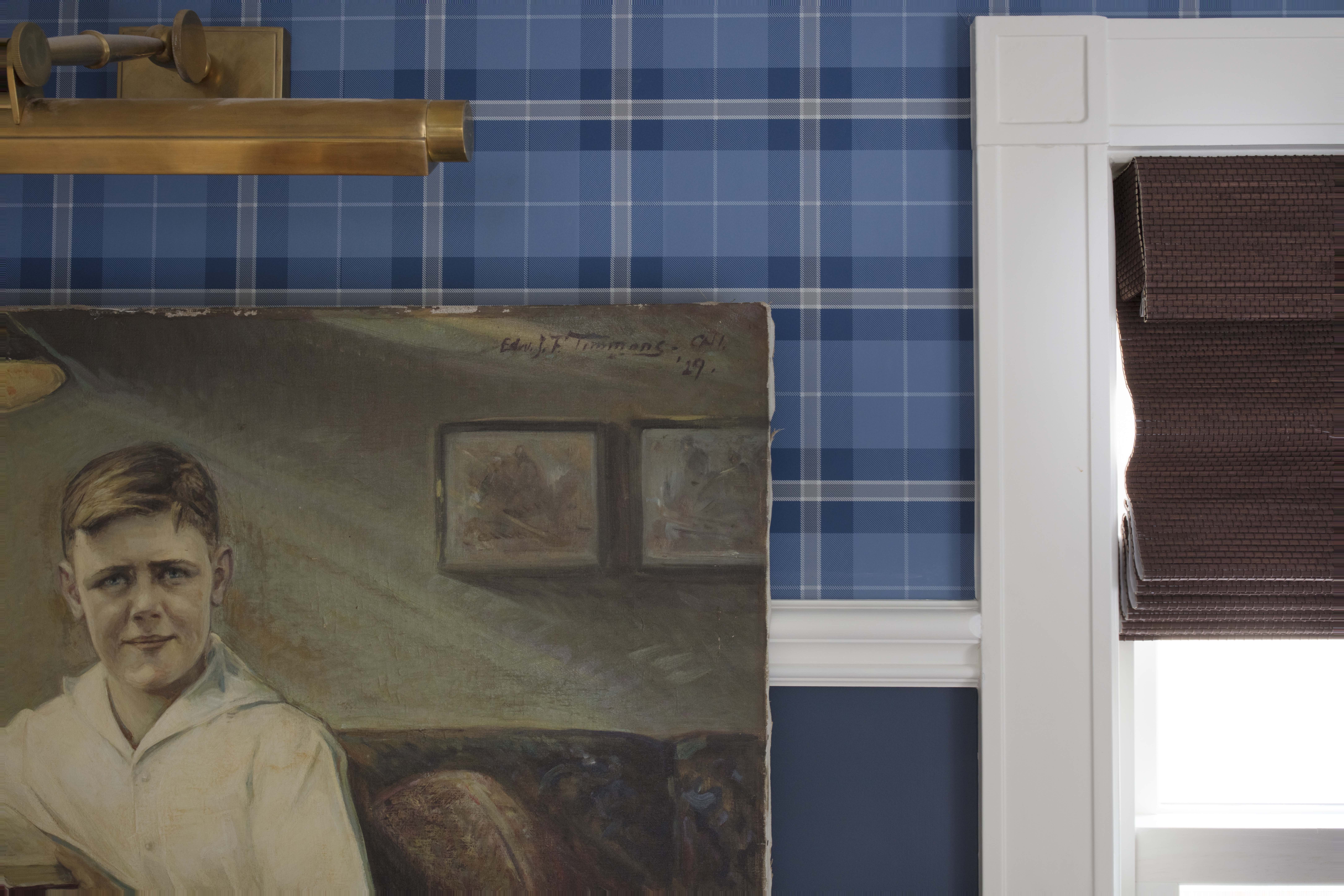 I'm really loving the mix! I think the boy might dig it, as well. Are his eyes following you, too?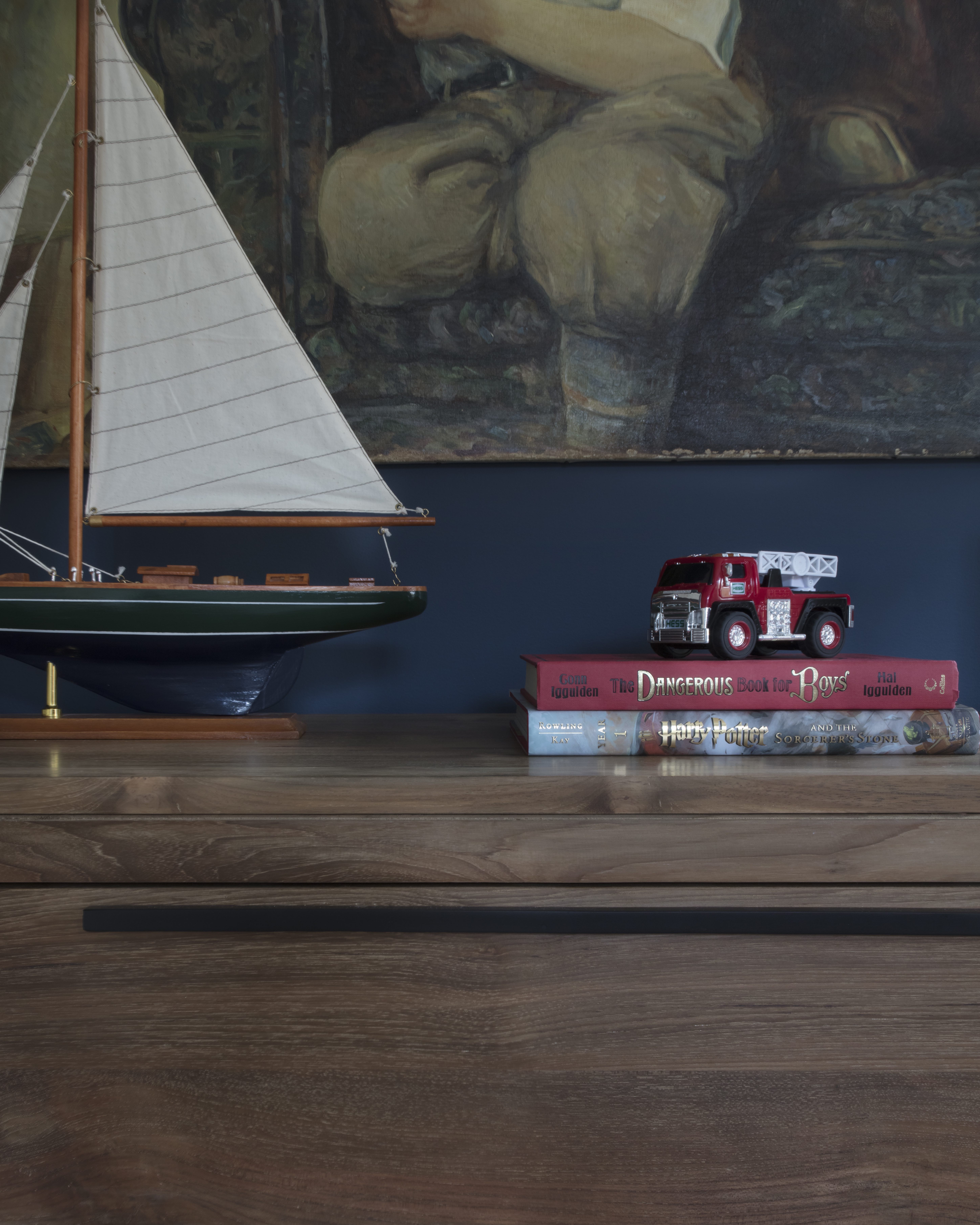 The model boat was originally on top of the bookcase, and I love it here now! I also love styling with toys. They are never in short supply, and some make as great decorations as they do playthings.
OK! Let's step out into the hallway, shall we?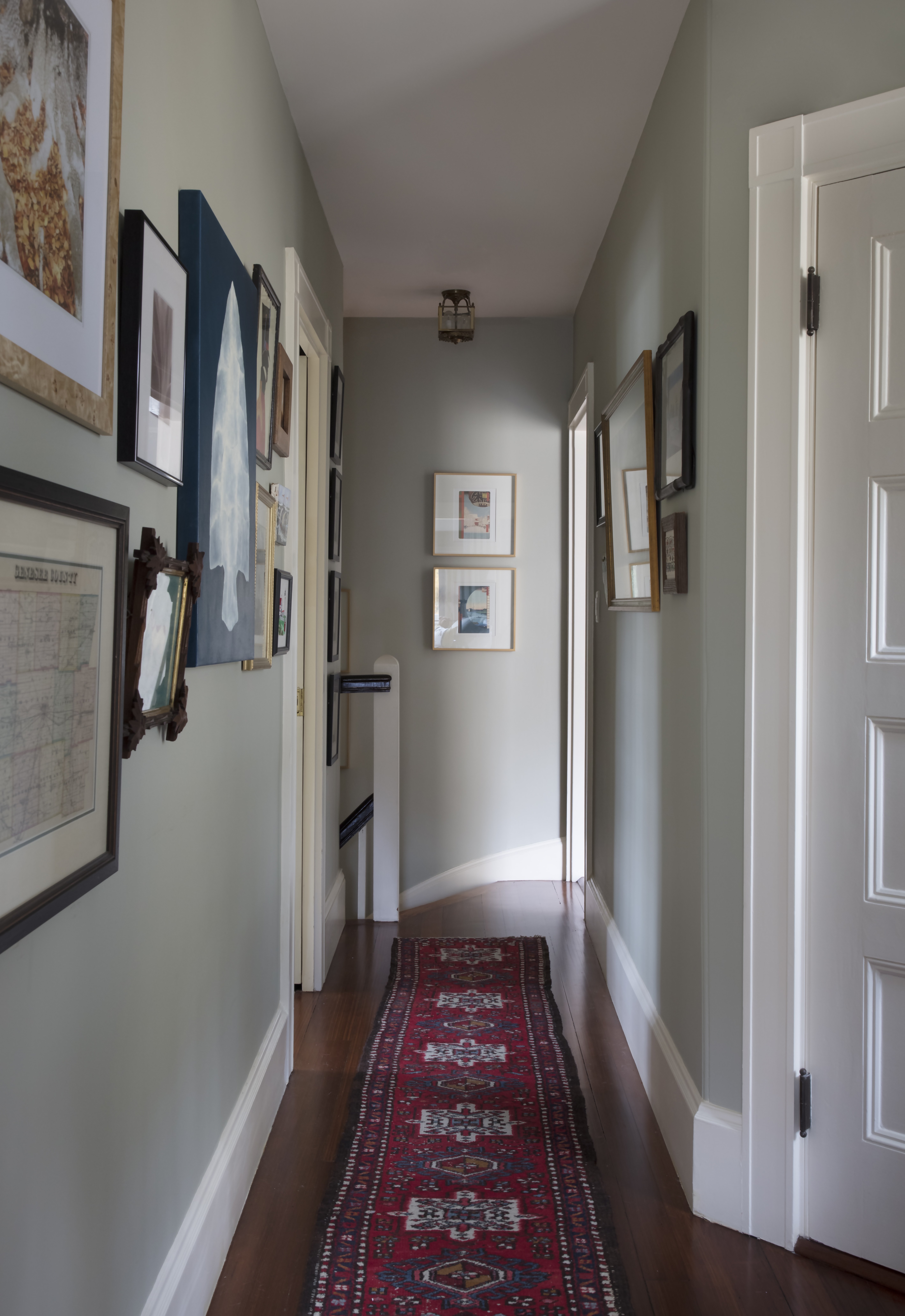 The runner is vintage and has been basically the only thing in the hallway for a couple of years. Unless you count the art I've been collecting and accumulating in the corner (see befores) for even longer. I had more fun hanging all the artwork than I thought. It was neat to revisit each piece, as every single one has a story or special meaning to us as a family. Note that I hung everything on the 'long runs' with plenty of open space below. Remember there is a 4-year-old boy running up and down this hall multiple times daily! We repainted the hallway this color during our (partial) home renovation last year, and I feel like it finally now makes sense, and makes a great backdrop for all the artwork.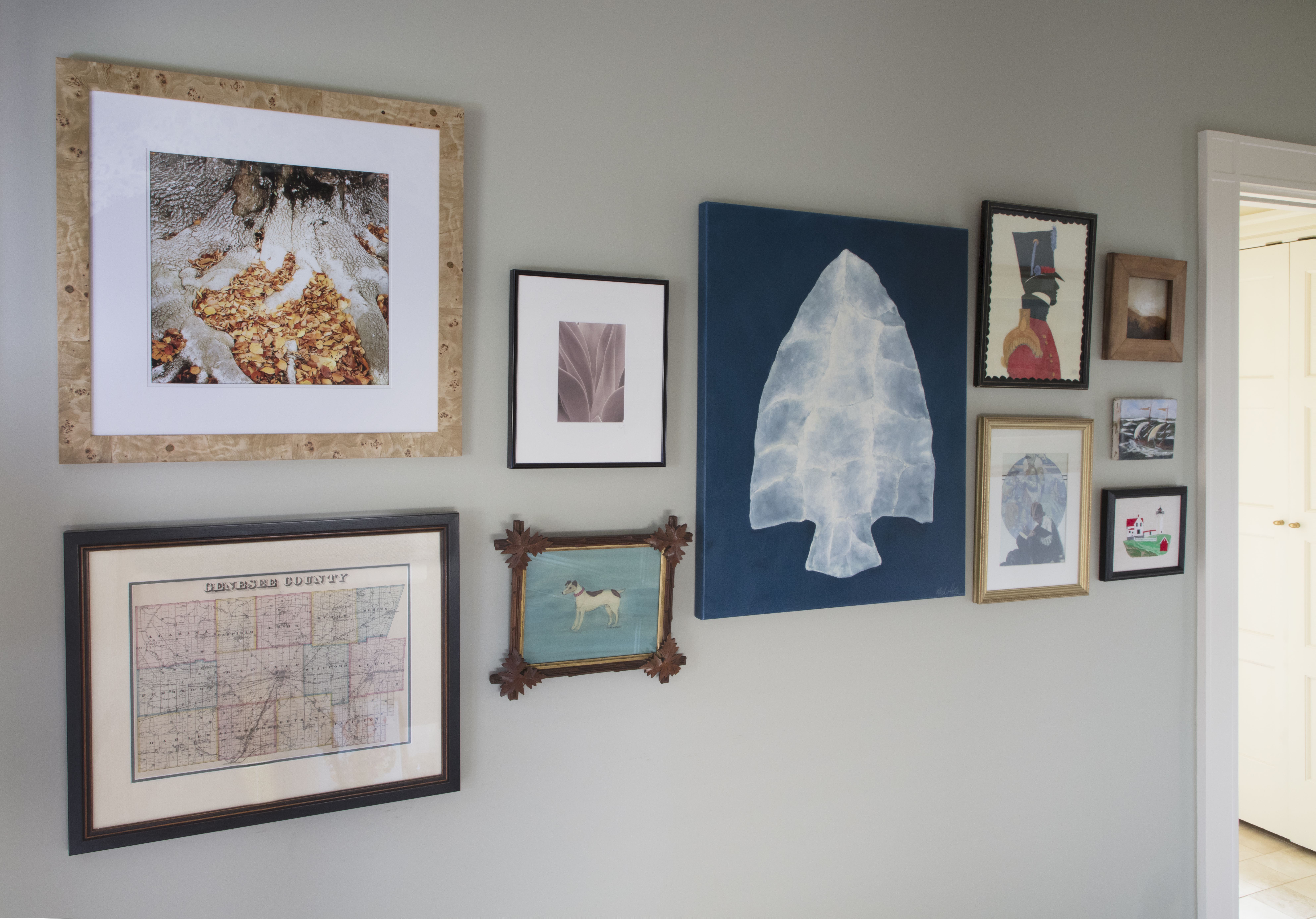 Where do I begin? Each piece is so special! Top left – a framed photograph by my close friend and featured ORC designer Linda Holt, entitled 'Fallen Leaves.' She has a shop on her website with so many wonderful pictures from her travels, as well as really unique composite images she creates using multiple photographs and graphics. Next to that, another photograph taken by a close friend's father, and given to my husband and me as a wedding gift. Lower left – an antique map of the Western NY county I grew up in. Next to that, another dog (duh), except this one's in a really cool vintage frame – all of which is the creation of artist Mary Maguire, whom Linda and I met at Brimfield. The silhouetted soldier up and to the right is also Mary's.
Right in the middle is what I have dubbed the missing piece – the one thing I didn't have for this hallway, which clearly needed an anchor. Instead of an anchor, I fell in love with this arrowhead by one of my favorite artists, Stephanie Henderson. Libby Silvia helped me source this and get it shipped up here just in time for its close-up. I have placed Stephanie's work in the homes of my clients, and I'm thrilled to finally own one of her paintings myself!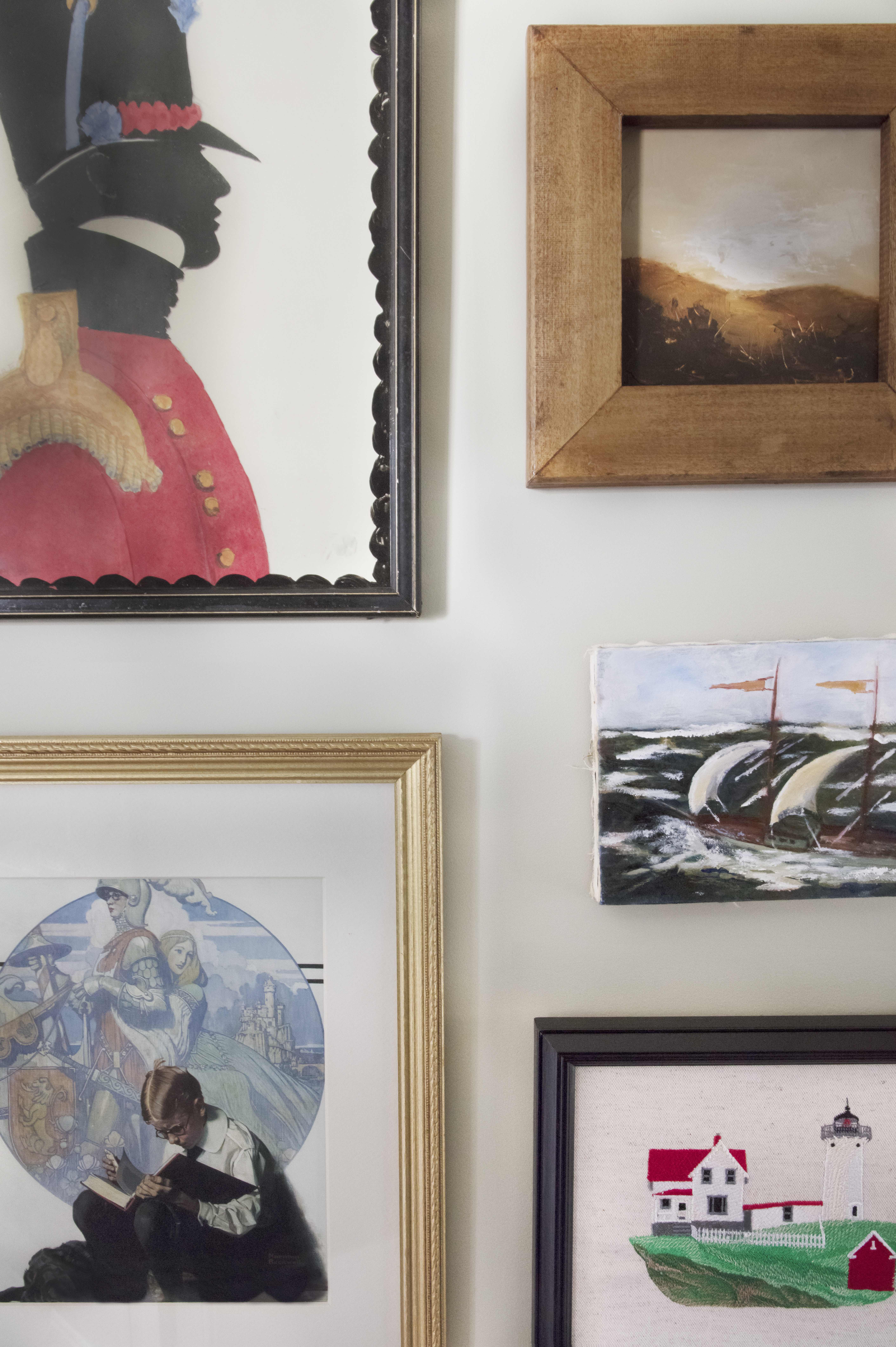 That soldier! I love the detail that Mary added around the vintage frame to beef it up and make it more unique. Upper right is my Little Landscape, from friend and Nashville-based (with a prior stint in Boston) designer Stephanie Sabbe. Below that is a funky little oil (unframed, again) I picked up at an even funkier antique shop in York, Maine last summer. Also from Maine, the bottom two pieces – on the left, a Norman Rockwell print that again reminded me of my imaginative boys, and on the right, a sweet embroidery of the Nubble Lighthouse in Cape Neddick. We travel to that area for a week each summer, and treasure our time there!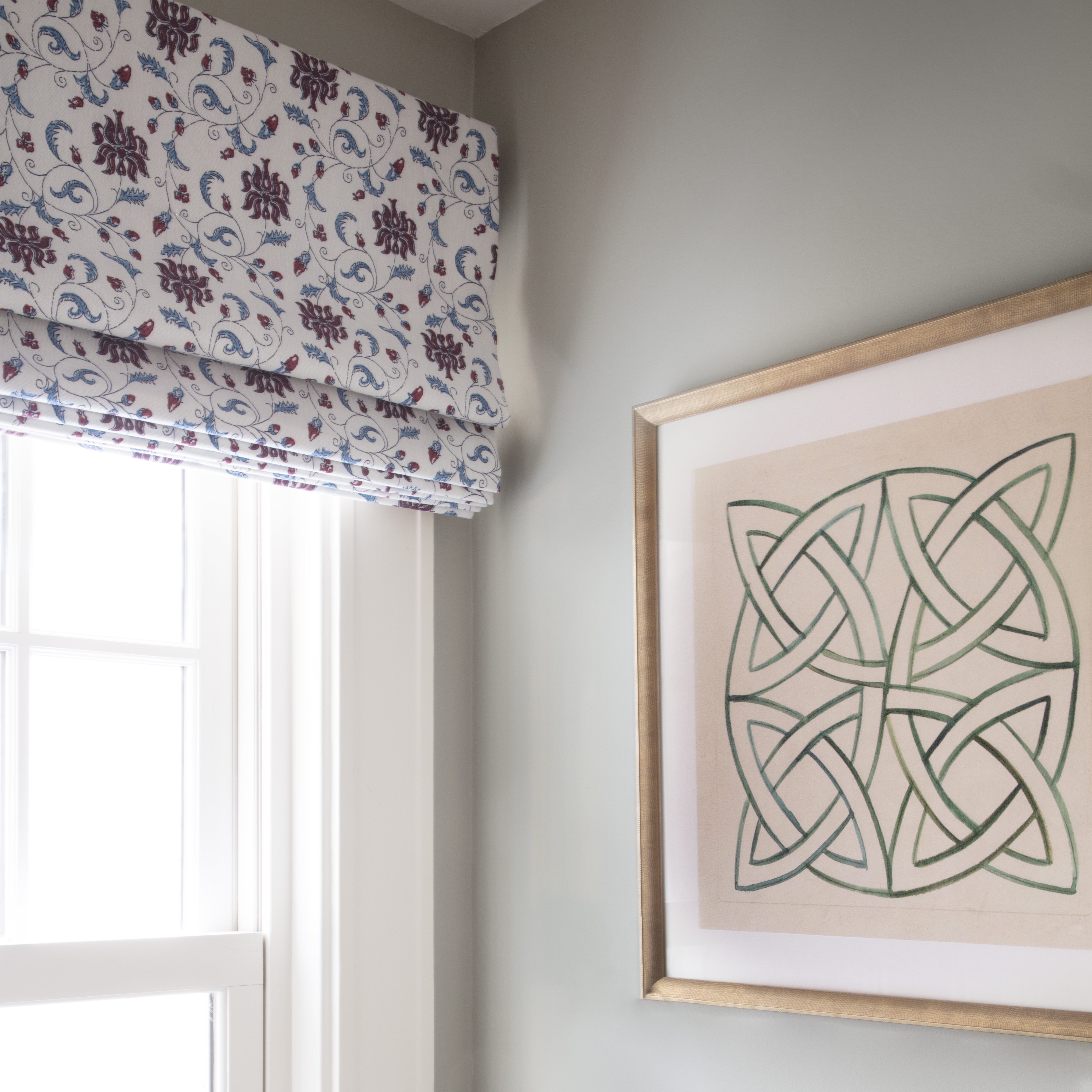 Just outside Eamon's room, I added the Roman shade – actually, a valance that looks like a Roman shade, but doesn't have the functionality. The art is a Celtic knot, which celebrates my husband's Irish heritage (and the small percentage of mine that is, I suppose). Below the art, well, that was supposed to be my hallway piece de resistance – a really cool console table. It's the one thing that didn't make it in time for the shoot. In the grand scheme of things, not a big deal, but it would have made for a beautiful and dramatic view into the bedroom from the hallway!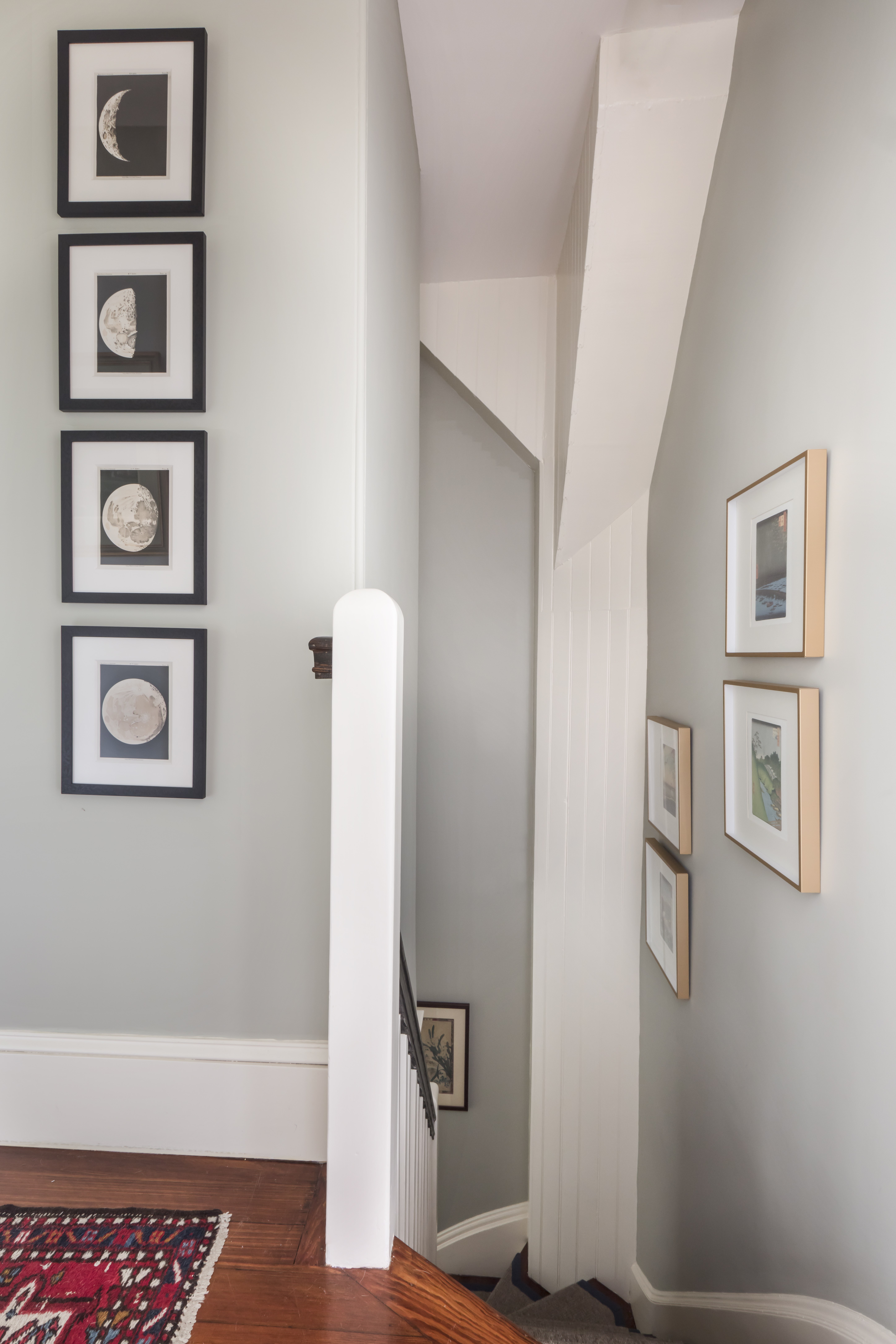 At the end of the hall, I hung the antique moon phase prints (also acquired on my Brimfield trip with Linda!). The most challenging installation (of the things I personally installed, I mean) was hanging the Japanese prints down the staircase. A lot of math and measuring was involved; neither is my strong suit, but I got it done, despite some nails that just didn't want to go in where I needed them to go. The architecture is so funky – a perfectly weird Victorian back staircase :).
Heading down the stairs, we get a clearer view of the new stair runner! I still can't believe we pulled this off, especially because installers are crazy busy this time of the year in the lead-up to the holidays. The pie cut detail is legit – they did a great job! The curved baseboard along this staircase is one of my very favorite features in my house. Yet another shout out to Linda Holt is in order, who helped me edit this photo I took after I realized I didn't have one to share in this post!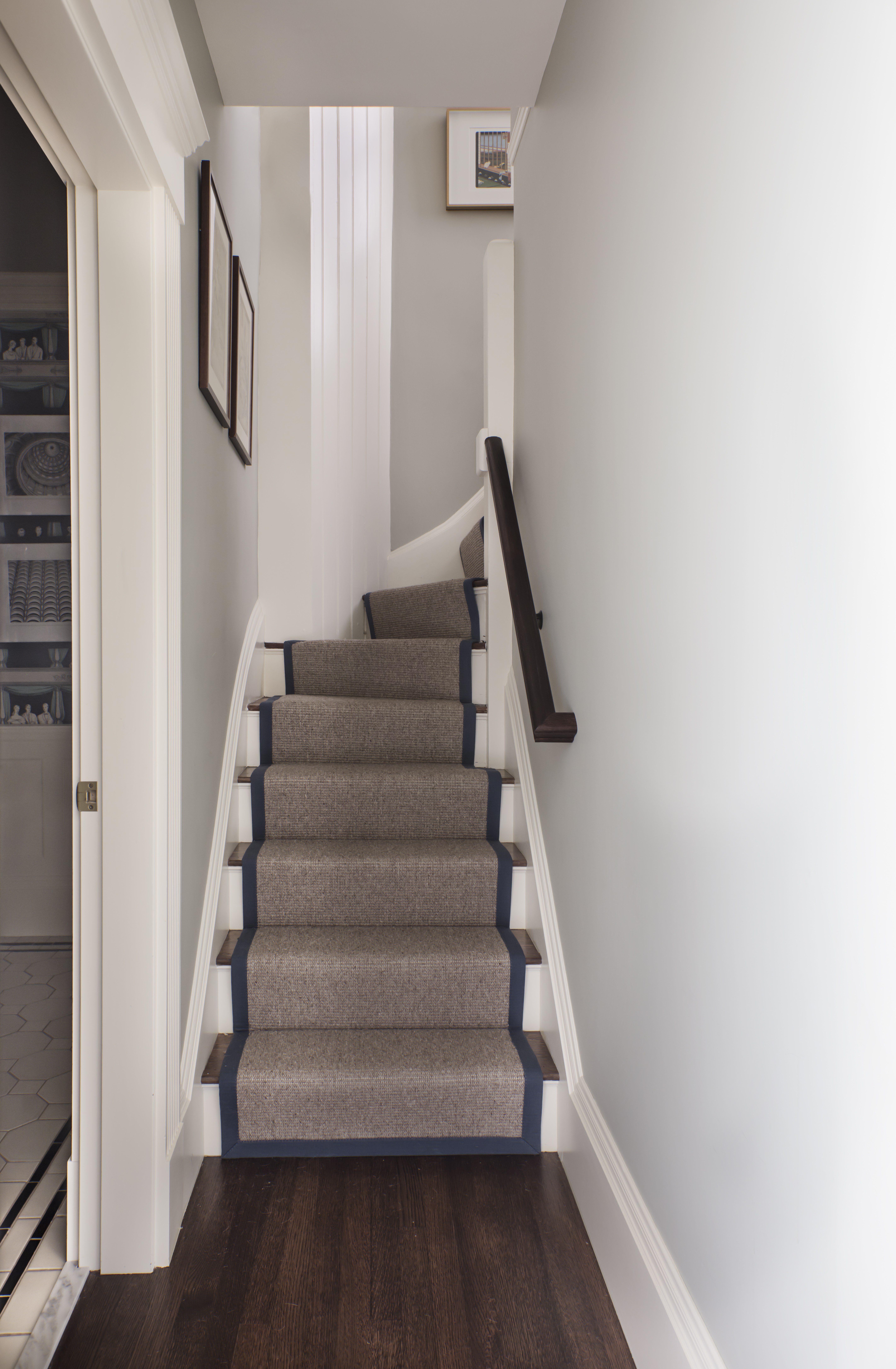 The carpet has the look of sisal – which I find too slippery for putting on stairs – but is made of wool. The traction is so good, even my husband noticed and commented on it. I just love when something that beautifies your home also makes it safer and more functional for your family. I am also very happy to see this part of the staircase finally look finished, since the bottom part of our old runner had been cut off while those stairs were rebuilt during our renovation.
All 'after' photographs, except where otherwise noted, by the wonderful Sarah Winchester.
So that's it! I have many to thank for their above-and-beyond contributions and willingness to help, even with a seemingly impossible timeline:
Alan Babitts Workroom (window treatments)
Dianne Poulos – Swag Custom Interiors (bedskirt)
Libby Silvia Artstyle / Stephanie Henderson (art)
Merida and Chris King (carpet and runner install)
JW Construction (handyman help)
Corinne Morahan – Grid and Glam (cleanoit and organizing help)
Kristen Sylvia (photo shoot assistance)
I am planning another post for Tuesday of next week that will lay out all of my sources in one place, so please come back then! And now, I highly recommend checking out the transformations from both the featured designers and guest participants. Thank you for reading!