This past Tuesday, I attended a networking event with New England Home magazine, hosted by Marvin at their fabulous window and door showroom at the newish 7 Tide building near the Boston Design Center. Yes, it actually is fabulous – very design-oriented and high-tech, as well. Highly recommended for designers, architects, builders, and anyone building, renovating, or replacing windows or doors.
I made an awesome discovery there that I just had to share! You'll have to bear with me because the images do not adequately illustrate the awesomeness.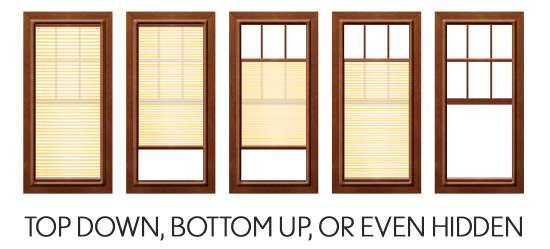 Marvin Shades are cellular-style window treatments that are fully integrated into many of their windows and doors (including a few replacement styles). They slide right into a channel in the window frame (so you can retrofit, too – and they remove easily for cleaning!), and basically move wherever you want them to. No need for top-down/bottom-up shades with the cords and all those silly strings.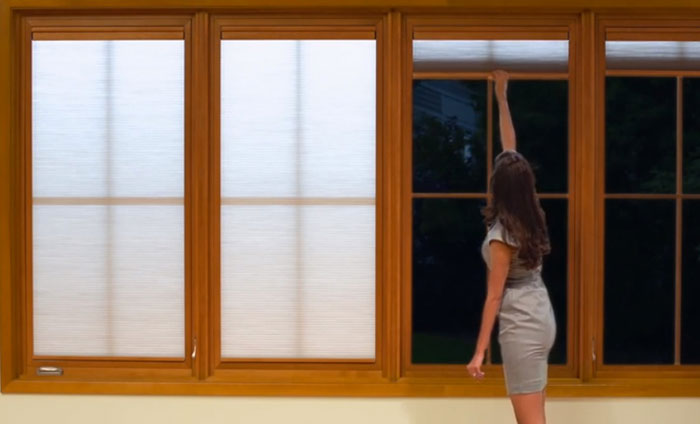 The shades easily move up and down, and when fully retracted, because they are finished to match the window frame/casing, they virtually disappear. And if you really want them to be hidden, there is an optional stack cover to match the window finish :).
When I am specifying and designing window treatments, I often use a layered approach – meaning, there is a functional layer you use for privacy and light control (usually a shade, but sometimes blinds, shutters, etc.), and a decorative, stationary layer (fabric draperies, valances, etc.). Cellular shades are very popular because they are well priced, and my clients use them a lot, but if I'm being honest, they could look better, and I always want to hide the unattractive headrails…and it's not always possible.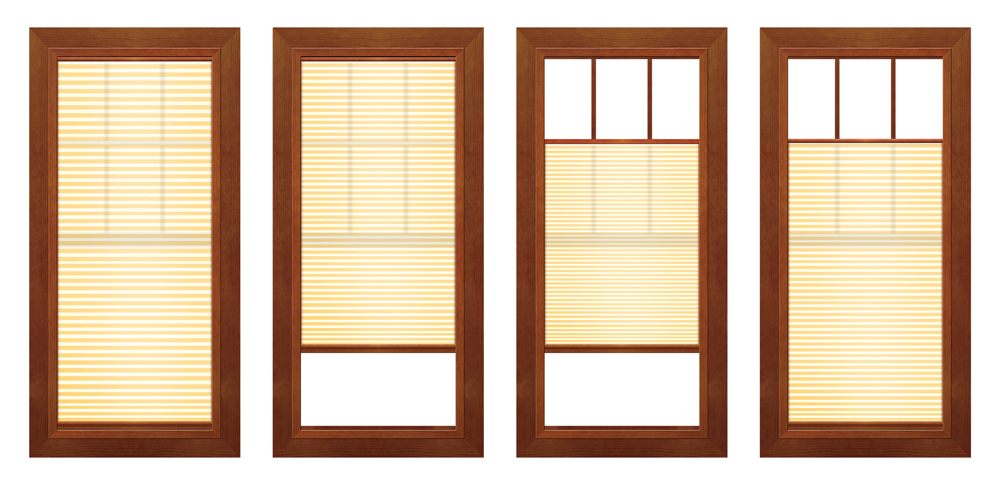 Marvin Shades have no headrails, no cords, no strings or pulls. You simply push up and pull down to position them where you want. Five neutral hues (the only ones you really need – the colors are really not necessary!) also come as blackout fabric. Hallelujah!!

Another fantastic application for this product, and possibly the most earth-shattering, is that you can use them on sliding glass doors, and they move horizontally! Sliding doors are some of the most difficult windows to treat, especially because the whole point of these doors is easy access to, and a view of the outdoors. These shades don't impede these things in any way when fully retracted. And, when in use, they are clean and attached – no banging on the door or blowing in the breeze. You can use the shades and the window or door at the same time…what a concept!
Never again will I cede window and door specification to architects. You can find a list of shade-compatible Marvin windows and doors here. You're WELCOME :). And happy Friday!