Undoubtedly, you've at least noticed a lot of kitchens and bathrooms (for the purpose of this post, I'm keeping my focus on these rooms) on Pinterest, in shelter magazines, and on Instagram sporting multiple metal finishes. Mixing metals is an interior design technique on the rise and one that is, I believe, here to stay. I'm going to tell you why I think that, and how you can do it in your own home – with some suggested finish combinations I happen to love along the way.
But first, I'm going to let you in on a little secret. I happen to think mixing metals is easier in many cases than trying to match them all. Why? Well, unless you are using polished nickel or chrome, good luck trying to match finishes across different manufacturers. For example, your oil rubbed bronze faucet and light fixtures might be two very different tones. Oil rubbed bronze can range anywhere from near-black to what I would call more of an antique brass. As with color, it is usually better to incorporate more contrast with intention than to have what we would call a 'near miss' – where it looks like you tried to match, but didn't quite do it. It's more noticeable in that case!
Additionally, when you mix metals, you are not putting all of your trend-loving eggs in one basket. If one of your finishes starts to fall out of favor over time, your entire kitchen won't look instantly dated. And if you want to replace down the line, you don't necessarily have to replace everything.
Does the idea of mixing metals sound good, but make you a little sweaty? I've compiled eight tips and tactics for taking the mixed-metal plunge. You can do it! Here are some different ways you can get started…
1.) Use different finishes/sheens of the same metal.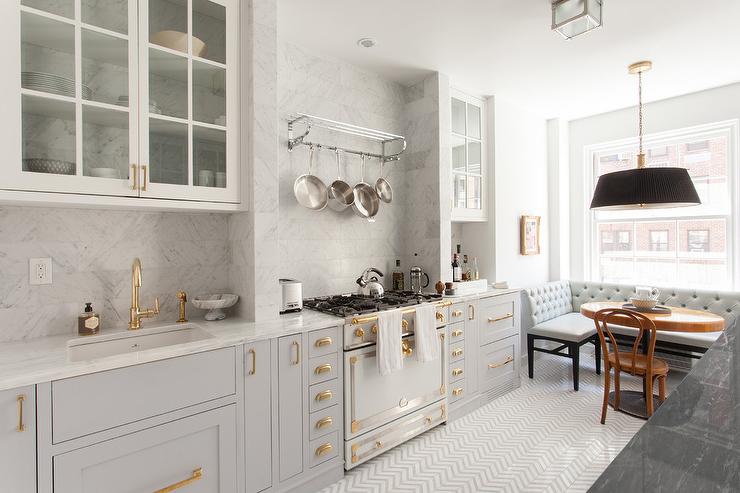 Fox Force Five Construction – via DecorPad
I love the look of a room with matte walls and high-gloss trim in the same color – so rich! To me, this is exactly the same technique. For example, polished nickel, antique nickel, and satin nickel could be combined to very interesting effect (I am working on such a project right now!). Or, trendy satin brass could take on a more timeless presence with the addition of traditional polished brass.
2.) Keep categories of things in the same finish.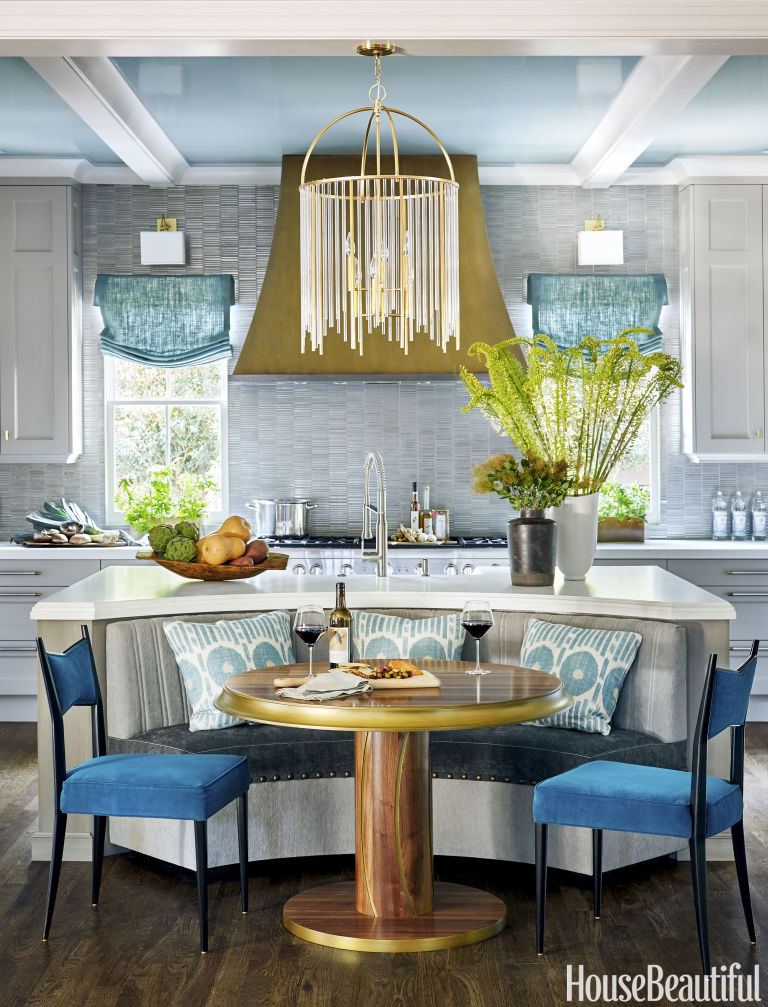 Matthew Quinn – via House Beautiful
This might mean your plumbing fixtures and cabinet hardware are all one finish, and lighting fixtures are another, like in Matthew Quinn's 2016 House Beautiful Kitchen of the Year.  It is a logical approach, and one that's relatively easy to wrap your head around and implement. One caveat to this is to be mindful of the placement of things in one finish relative to another. In most cases, it is preferable to 'sprinkle' (a highly technical design term I use virtually on a daily basis, also meaning 'distribute') the finishes throughout the room so as to promote a balanced feel. On a related note, generally at least two different things should repeat a finish. But…there are notable exceptions!
3.) Make a special piece look even more special by putting different hardware on it.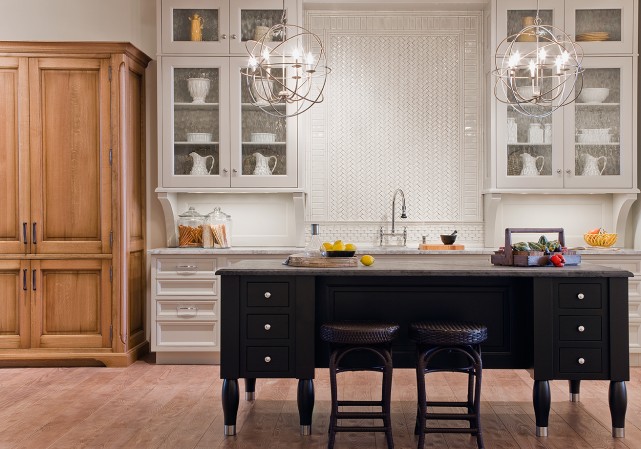 Whether it's an unfitted cabinet in a contrasting wood finish, a jewel-box butler's pantry, a furniture-like kitchen island, or a 'hers' bathroom vanity for applying makeup, change up the hardware finish to further enhance the uniqueness of it.
4.) Incorporate a metal that's like a color in the room
What a great way to mix metals in a less devil-may-care way – if you're feeling nervous about it!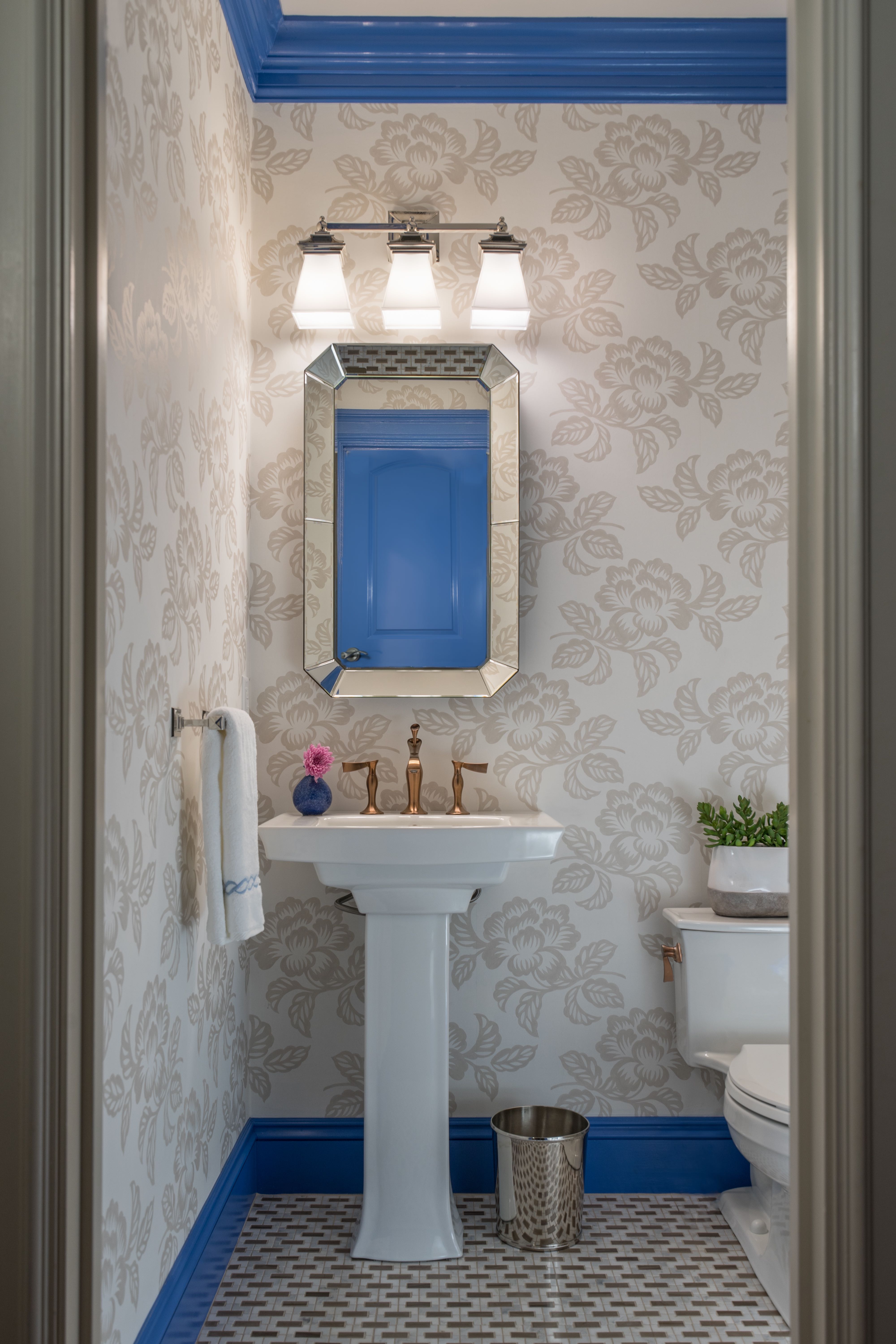 Kelly Rogers Interiors
We recently completed this powder room, where we used both polished nickel and a unique 'brilliance brushed bronze' finish on the Brizo RSVP faucet. The faucet is a statement piece in and of itself, and it works because it plays off the color in the marble mosaic floor. This is another way to bring in more than a couple of metals, if you would like to.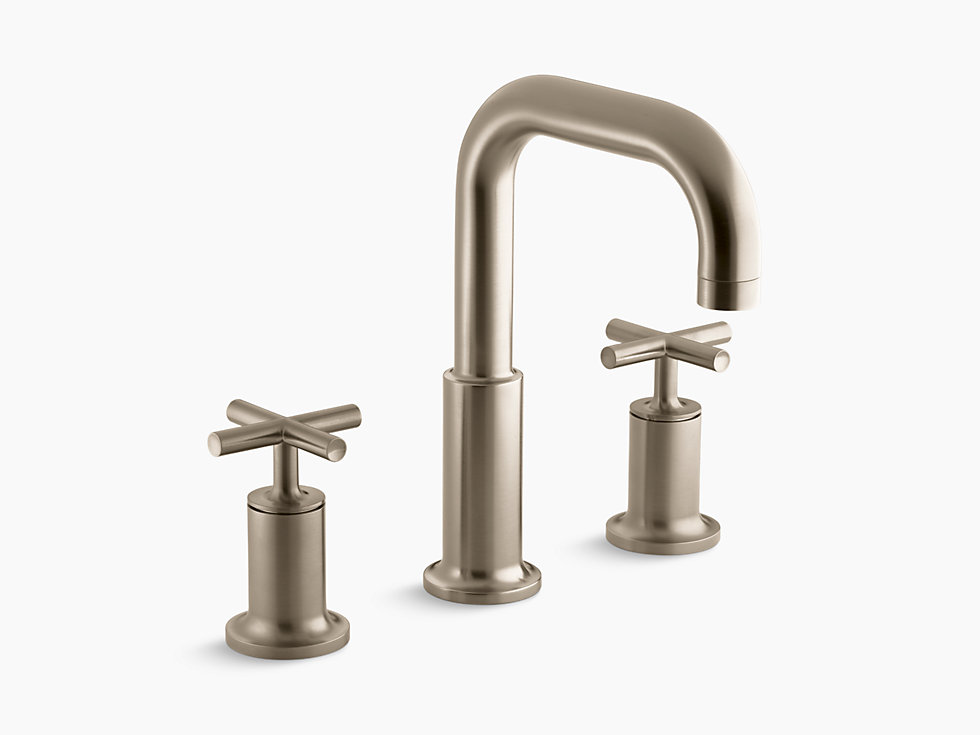 Kohler Purist Deck-Mount Bath Faucet in Vibrant Brushed Bronze finish
It's also an opportunity to use one of those really unique finishes that will make your space special and different from everyone else's.
5.) Think about the warm/cool mix in relation to your other materials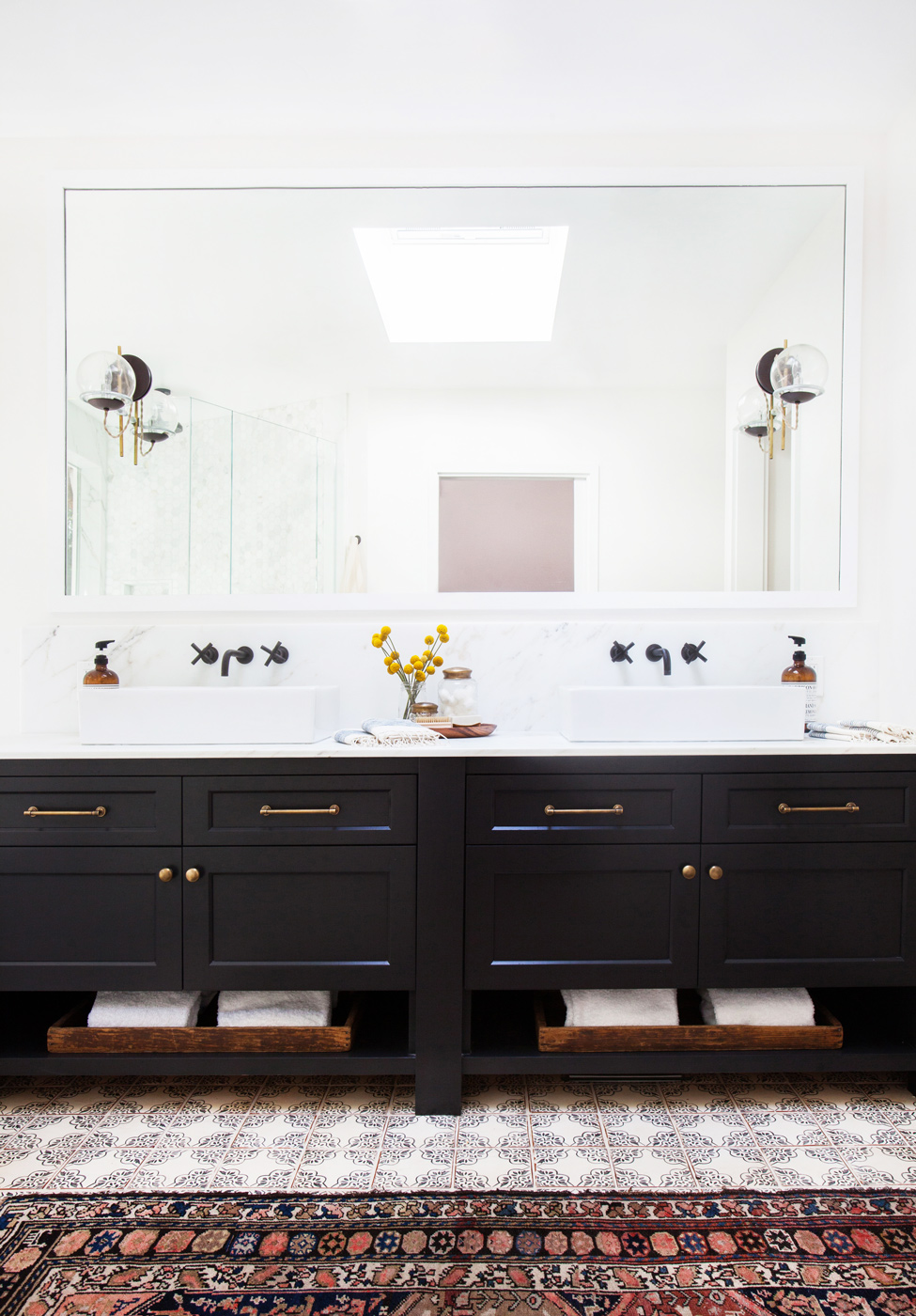 Amber Interiors – via MyDomaine
When you mix metals, you can do the warm/cool thing (like silver and gold), or all warm (like bronze and brass), or all cool (like matte black and chrome). I have done all of the above. Think about them as levers you can pull to tweak the vibe of your room.
6.) Don't forget your other finishes and materials
Tommy Smythe, via Interiors for Families
Always think of metals in the context of your space, the other materials and finishes, and what sort of mood or feeling you're going for. Closely related to #5, metal finishes have the potential to clash with your cabinets, countertops, etc…badly. This is especially important with neutrals like gray, beige and white. Color temperature is such an important consideration. For example, if you are using Carrara marble countertops, chrome is preferable vs. nickel, as chrome is the cool like the stone. I wrote a about this specific scenario years ago; it's been, by far, my most popular post of all time!
7.) Make your appliances feel right at home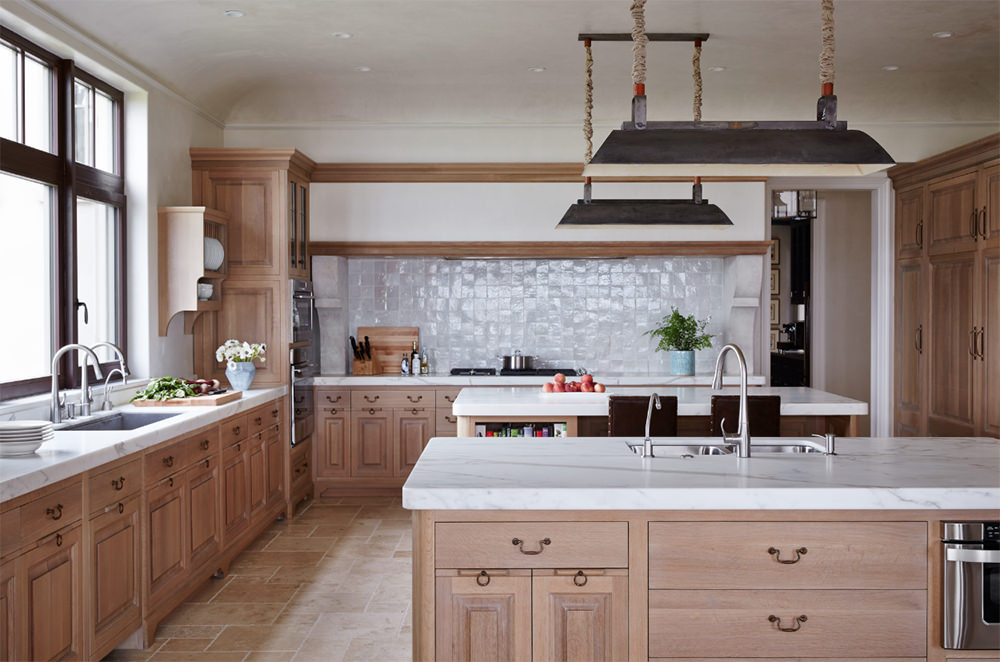 By incorporating a silver metal finish – be it nickel, chrome, or actual stainless steel, you can help to integrate any exposed stainless steel appliances, sinks, etc. into the look and feel of your kitchen, rather than just have them stand alone as 'different' utilitarian things.
8.) Go right ahead and use that one-of-a-kind antique with a totally different finish…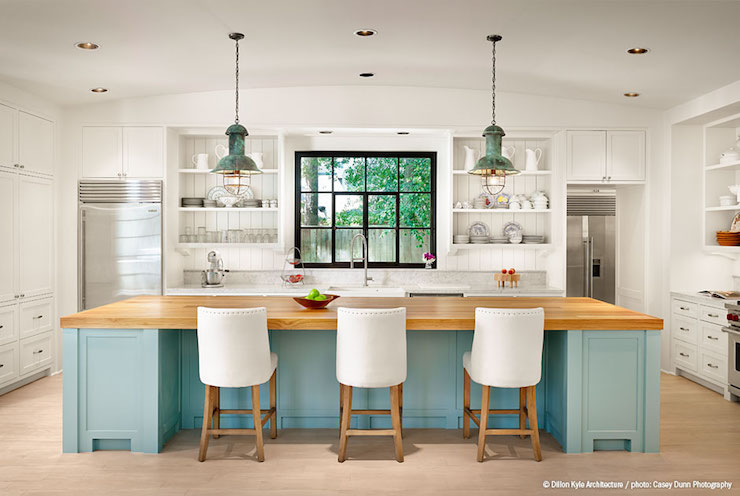 Dillon Kyle Architecture – via DecorPad
If you are lucky enough to score an antique light fixture of some sort and it doesn't quite match anything…don't sweat it!!! It is a 'specimen' piece. Let it shine – it will only help it stand out more, in a good way. In this case, it does relate to the island color, but it's not an exact match. And it doesn't need to be.
Mixing metals is more art than science and, when done well, it results in a soulful, effortless-looking space. As you can see, there is more than one way to go about this, just as there is always more than one solution to a design challenge, in general.
Still need more personalized help choosing materials and finishes for your kitchen or bath project? Please contact me and let's chat!