As you likely already know, when it comes to kitchens, I am all about practicality. Which is probably why it's never crossed my mind to incorporate a gorgeous, old-worldy copper sink into any of my designs. They are SO beautiful, but do require some special care if you want to maintain the finish in a certain way. And it's not advised to let soap residue sit on the surface. Wait, whaaat? Exactly.
BUT….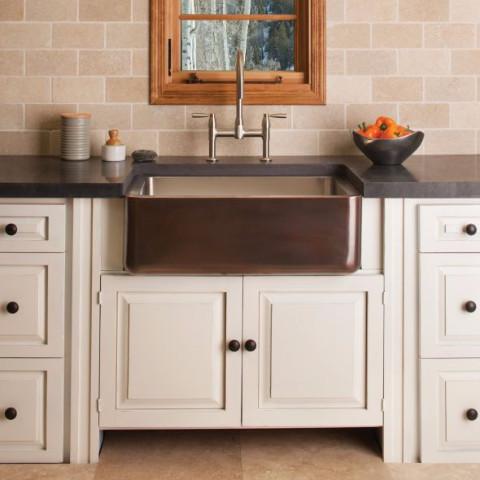 I was introduced to the Stone Forest line the other day while browsing at my favorite plumbing showroom, Designer Bath. Their 'bread and butter' products are all manner of sinks and vessels (even bathtubs!) carved from solid stone. When I came back home to look at their website, I spotted their copper sinks – and was surprised and delighted to see that there is a more practical option!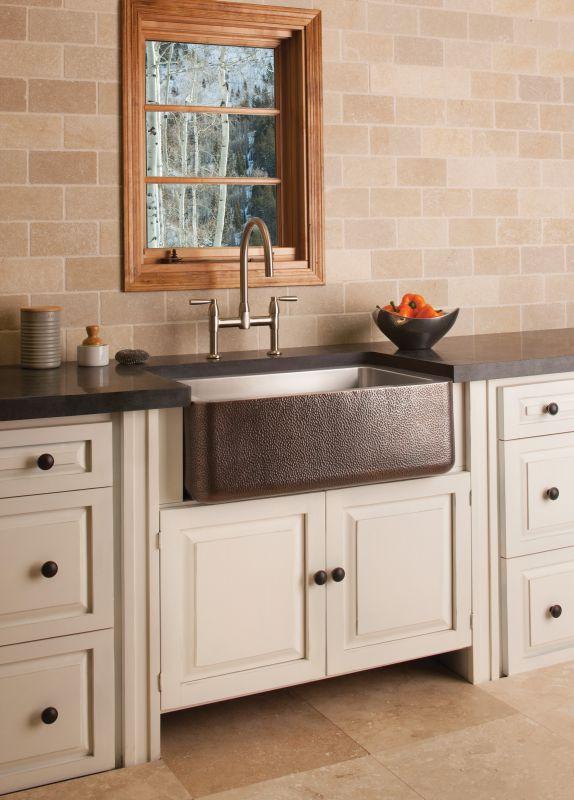 The Stone Forest Copper/Stainless Steel Farmhouse Sink gives you the best of both worlds – a rich copper exterior wall with a living finish, and a stainless steel interior to take the worry and stress out of everyday use.
It is a classic farmhouse-style apron-front sink. Another surprising feature is that each sink has two 'fronts' – you can choose which one you want to use. One side is smooth, while the other is hammered. I love the hammered look and think it would be most forgiving and a bit easier to maintain, but it does come down to personal preference and it's always great to have options!
What do you think of today's find? Are there any product categories you'd like me to take a closer look at for a future #FFFFind? Please let me know in the comments below!