Here we are, it's week 4 of the One Room Challenge! If you're just visiting for the first time this week, welcome and thanks! I'm on a journey with over 200 other guest participants transforming a room in six short weeks (and 20 featured design bloggers who post their updates on Wednesdays). I've been turning an unused 70-square-foot second-floor landing in my 1896 Victorian into a cozy reading and game-playing lounge for my family of four (including two boys, aged 5 and 2).  You can get all caught up with my first three weeks of Thursday progress updates here.
So believe it or not, I'm finished. My landing is not only complete, it's already been photographed. Last Thursday, I was staring at an empty, yet freshly-painted room. Crazy. I know I'm a little off schedule, but in the best possible way. I am not complaining! But I'm not going to lie…it's a little awkward. I feel like I'm hosting a live TV show and waiting for some delayed performer to arrive on stage, being asked to s t r e t c h…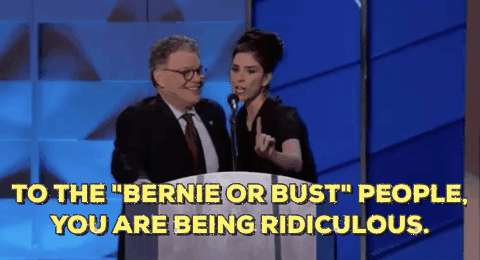 …hopefully a shade less controversially! (Love Sarah, though!)
I was planning to write about my styling process for the photo shoot, but I realized two things: 1.) This time around, I actually didn't play with it too much. I kind of went in and knew what I wanted to do, and did it. Much quicker than usual, when I'm trying and tweaking and moving and removing and replacing! And 2.) The landing is so small, that to show you how I styled the space, I'd have to pretty much show you the whole space. And I'm waiting for the reveal on November 10th for that.
I will show you a couple of sneaky peekies, though!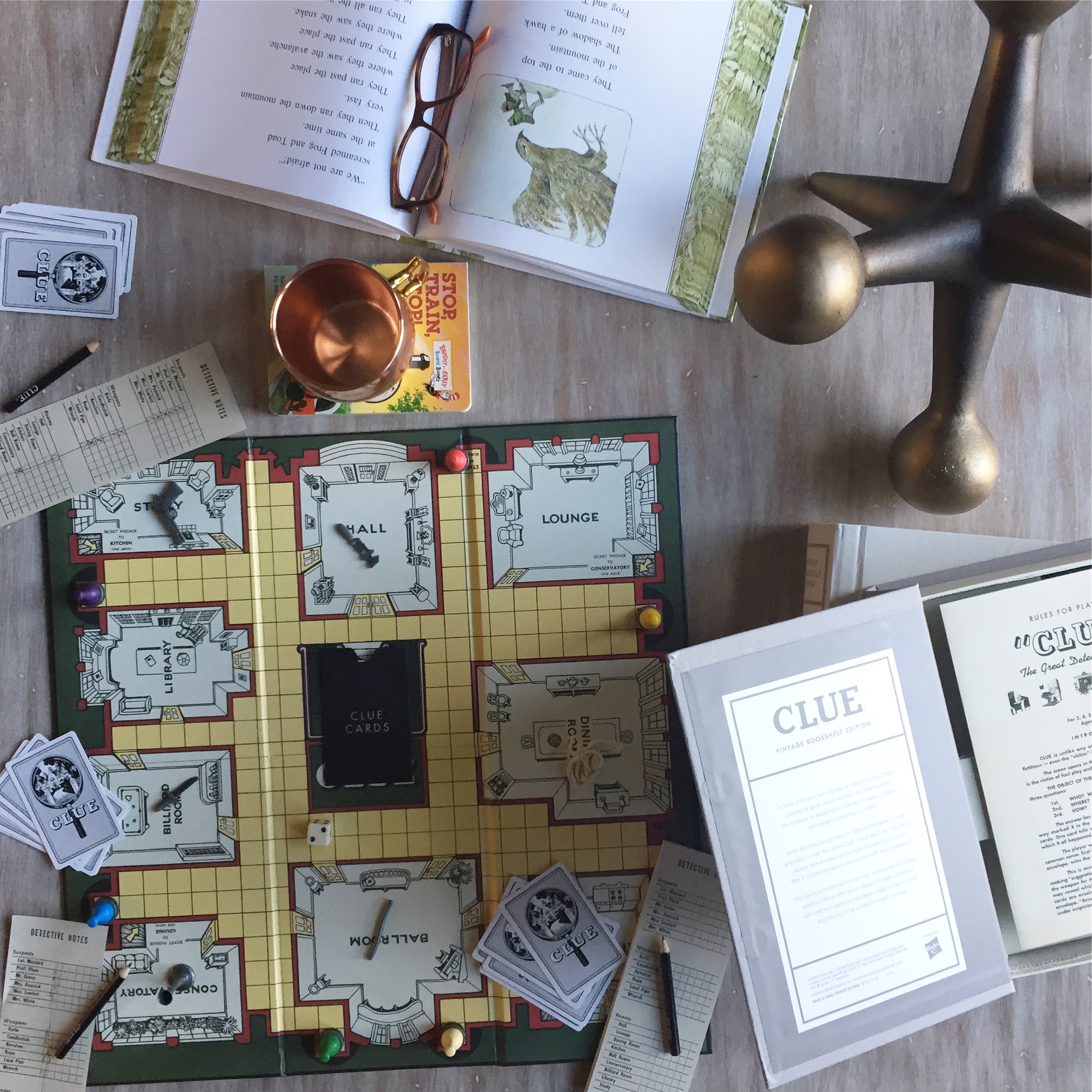 The coffee table is 36″ square – more than ample space for spreading out with a heated game of  Monopoly (my 5-year-old's current obsession…I swear it's educational, though, he can count money and make change, and he's learning strategy!). I set up our new Clue game, which is a vintage edition that looks exactly like the board I played on with my sister and cousins at my grandparents' house. I had a major flashback when I opened it!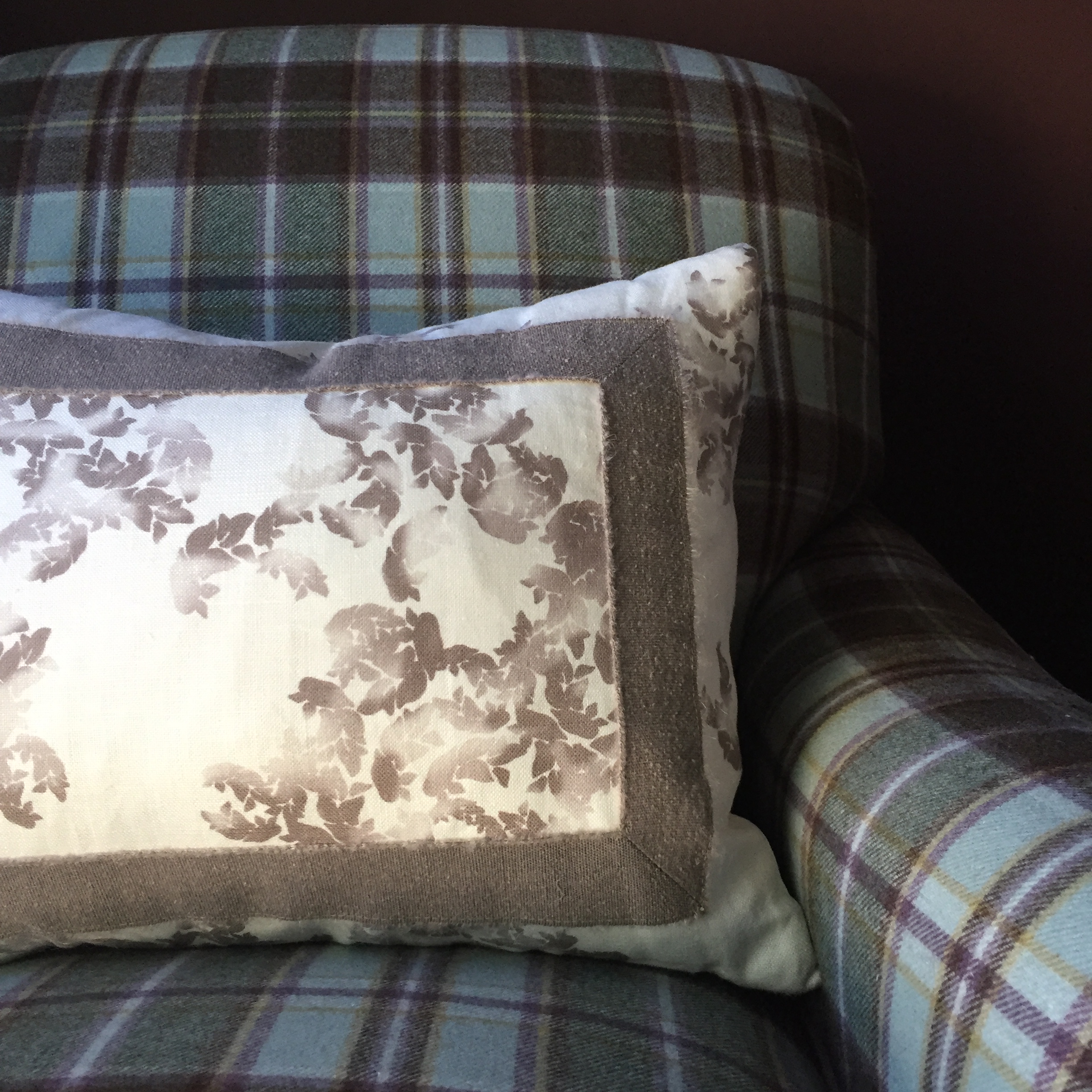 I am totally in love with the way these pillows (oh and the CHAIRS!!) came out. The tape trim is a little fuzzy because it's mohair – a uniquely textured trim I've been dying to use on a project! A few of you asked about the pillow fabric last week, here and on Instagram, and I wanted to share the details on the exciting young artist and fabric designer who created it.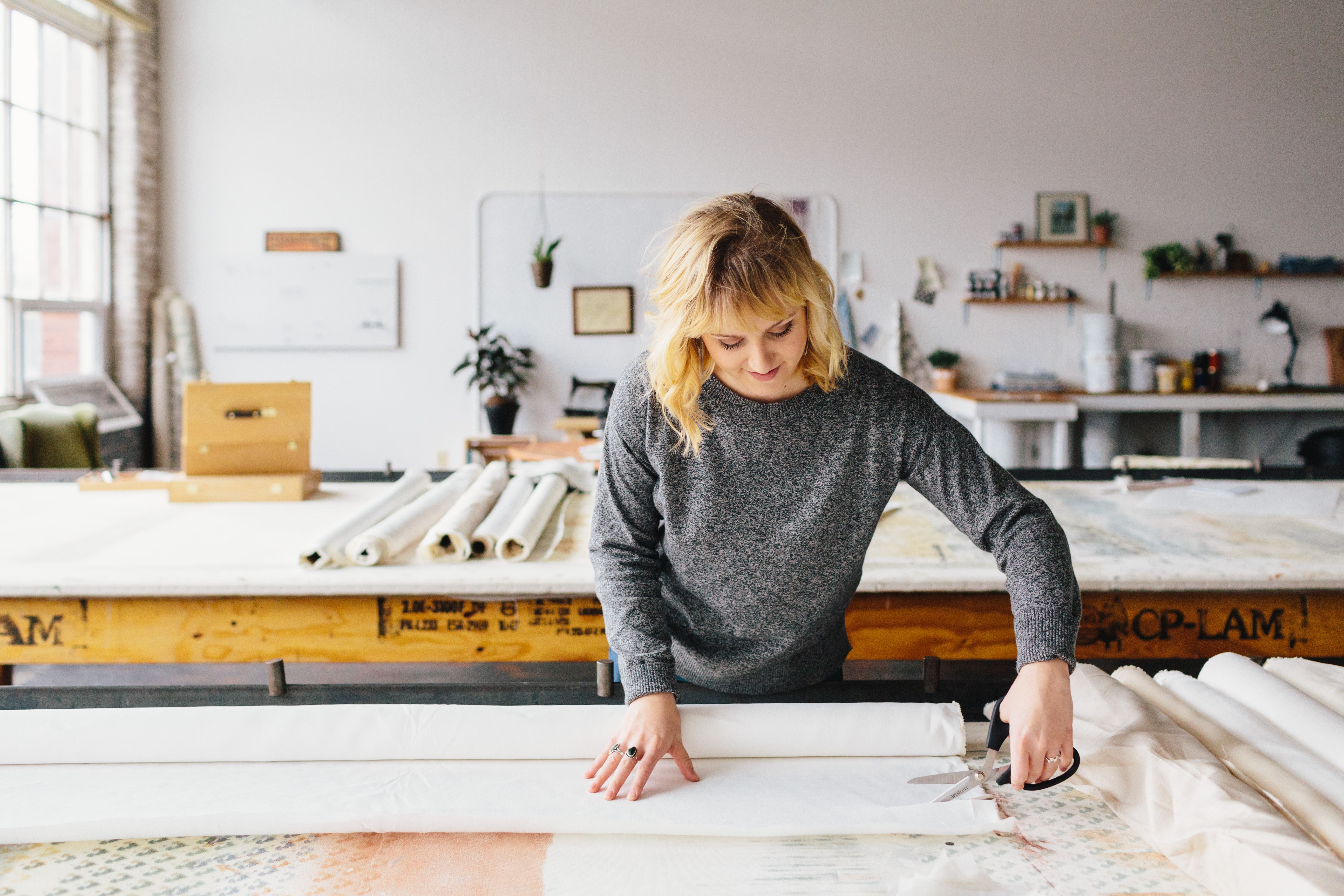 Photo: Joyelle West
Ellisha Alexina creates the most divine patterns, and has developed a truly innovative technique for translating them into transcendent prints on linen (like her 'Novella,' which I used for my throw pillows).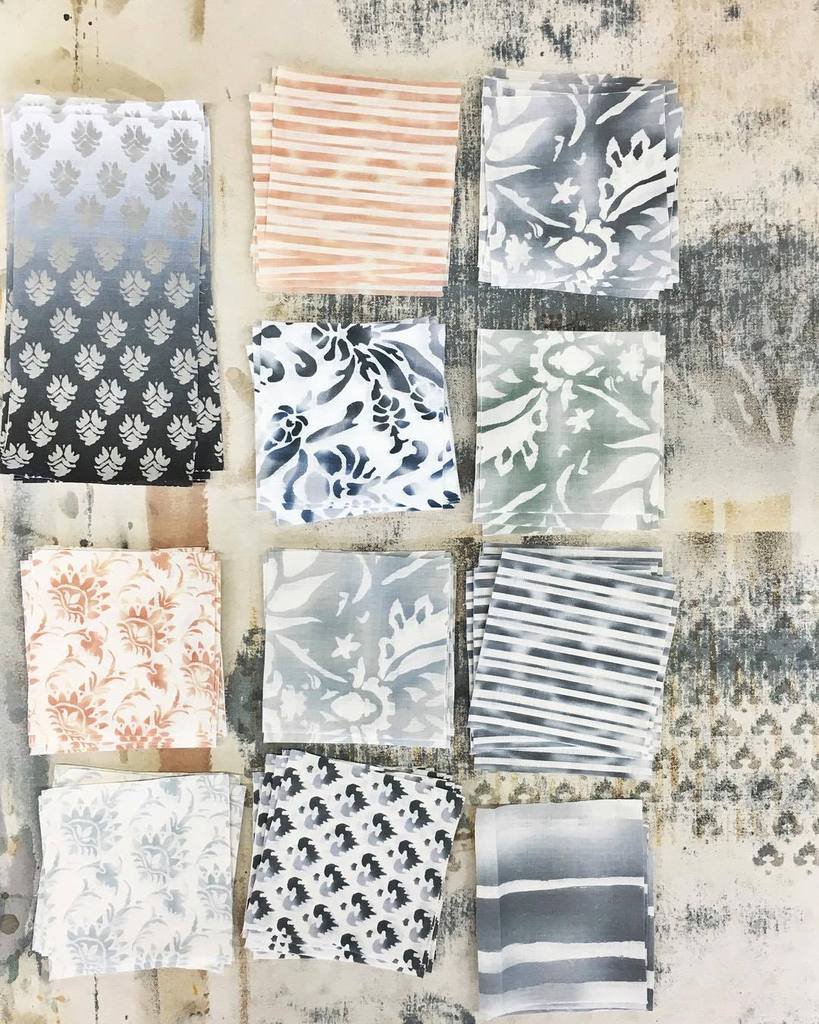 Photo: Ellisha Alexina
When some people commented on the 'ombre' fabric in my scheme on social media, I actually didn't realize they were talking about Novella! Some people see ombre, others see a watercolor effect, I actually think they look almost luminous or iridescent, without any metallic or pearlescent ink/paint whatsoever.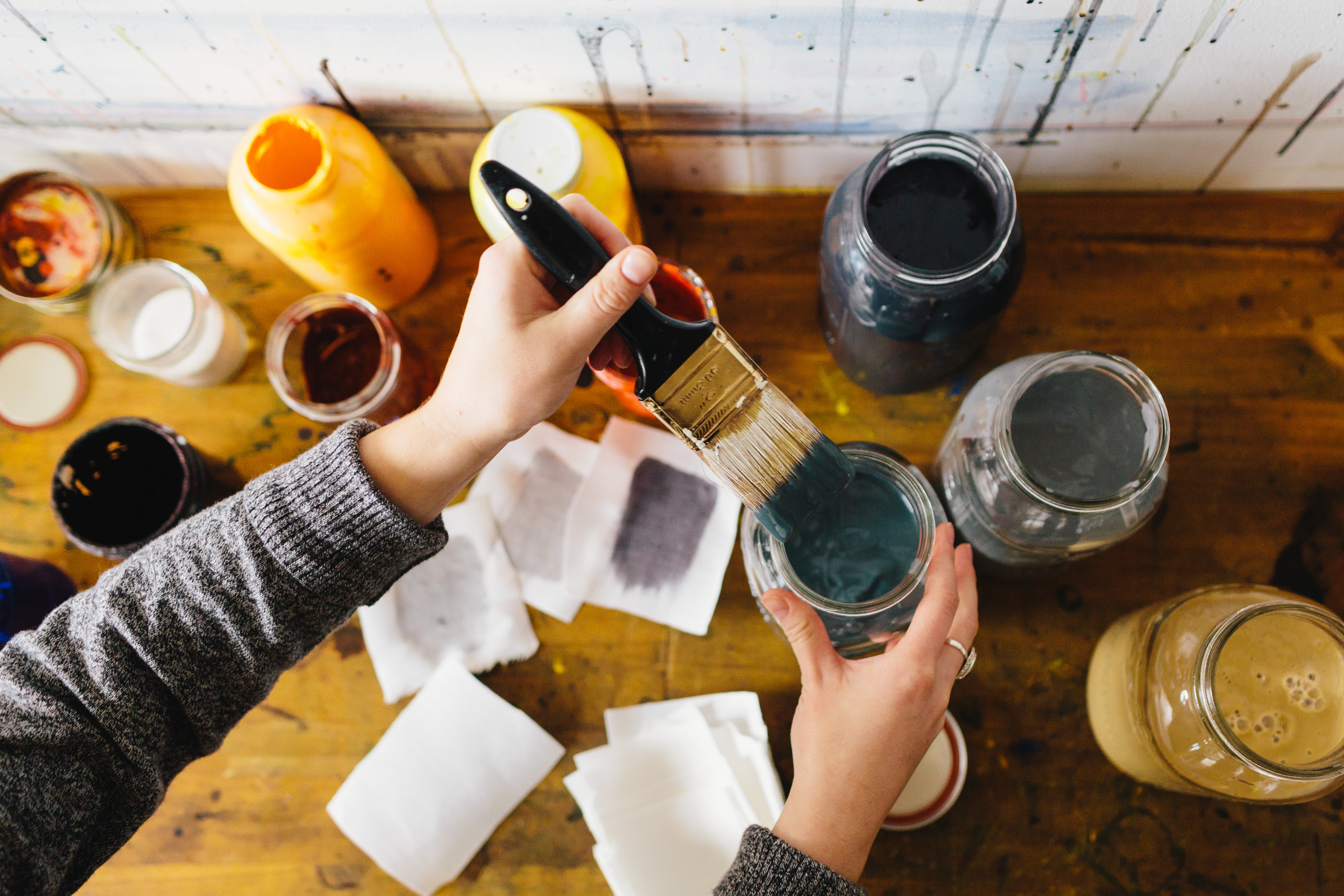 Photo: Joyelle West
Ellisha combines screen printing with hand-painting to create this distinctive look. I am completely in love with her soft, nuanced, and interesting palette (of which the above is only a small part). Brilliantly at home in breezy, spacious coastal interiors, but actually, anywhere. Including small, dark-walled, land-locked rooms like my landing :).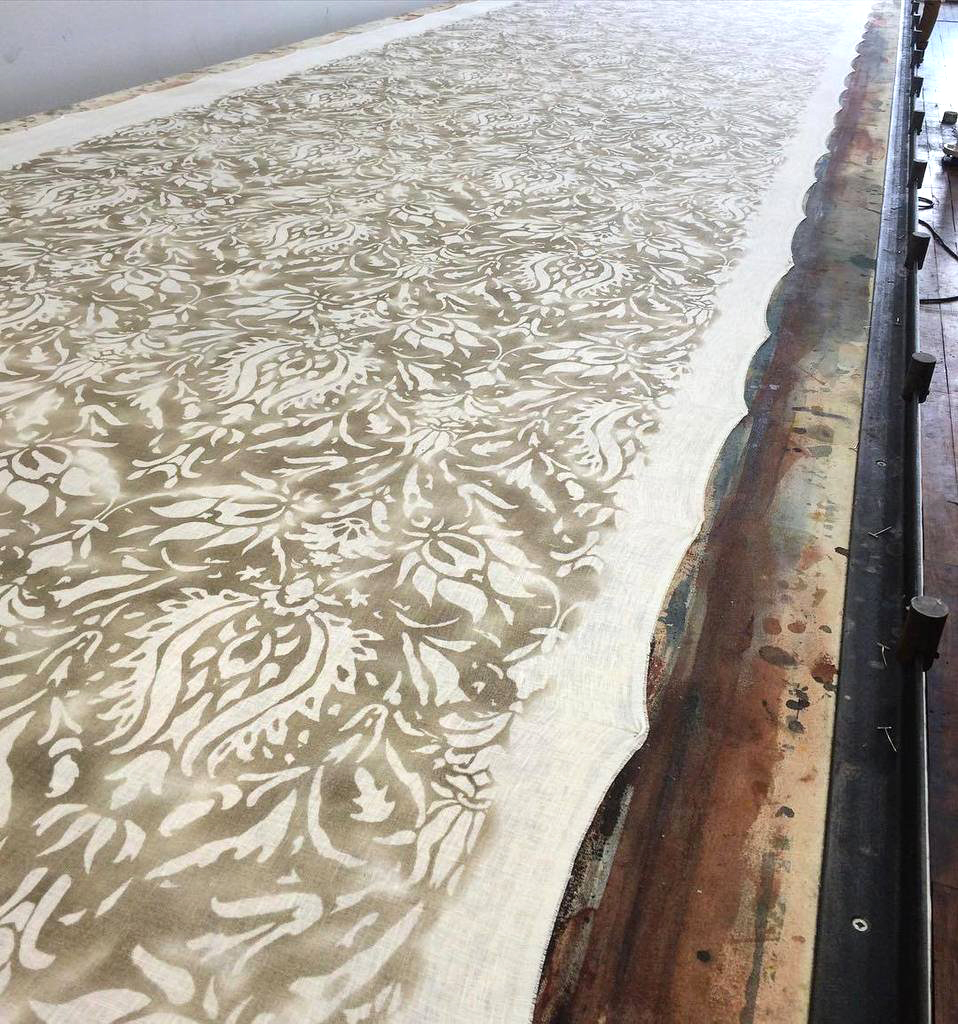 Photo: Ellisha Alexina
Ellisha's studio is in Easthampton, MA, and I'm dying to visit one of these days. Until then, I'm just going to dream about having this kind of light in my studio…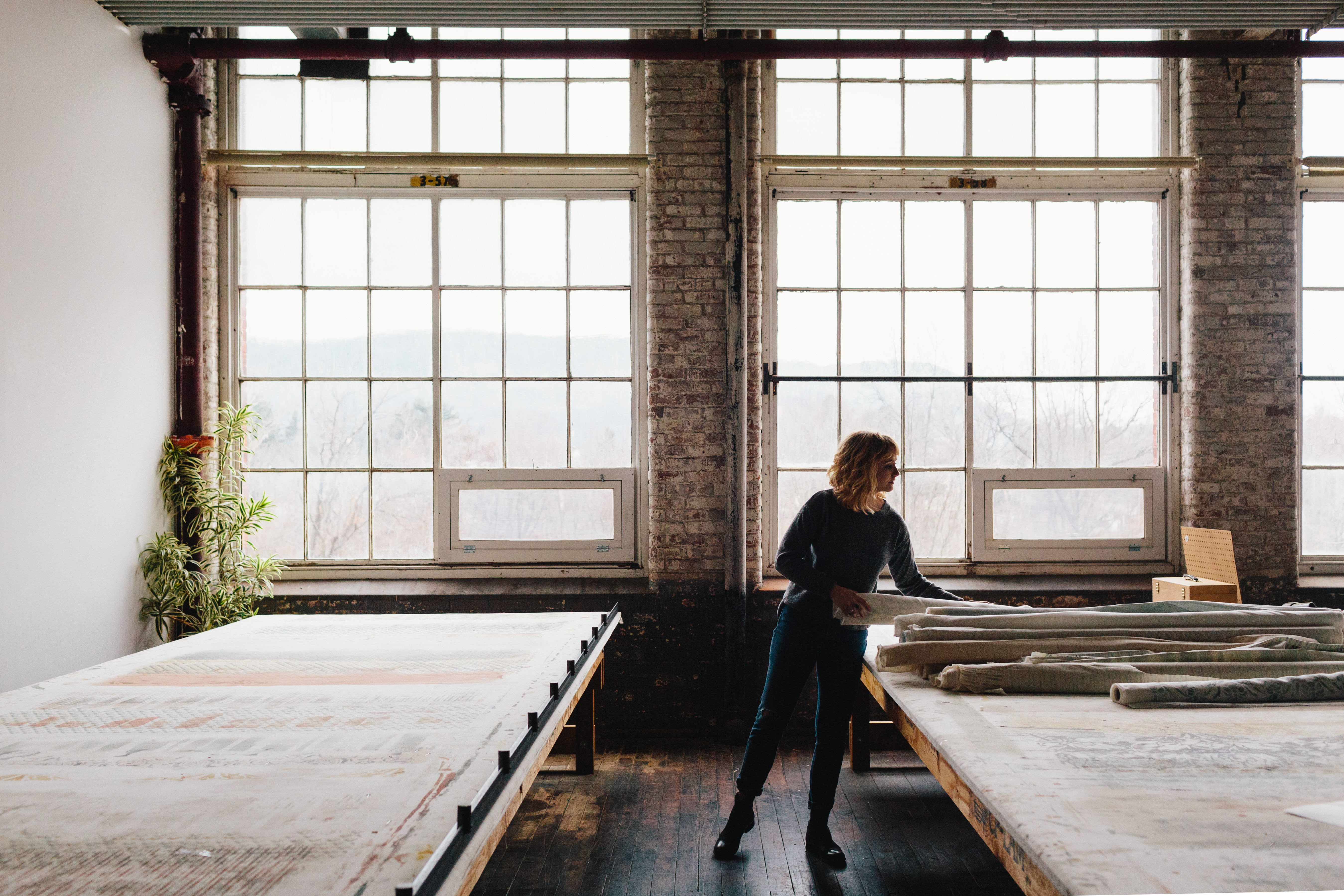 Photo: Joyelle West
Ellisha really helped me out by rushing out a small amount of her Novella fabric so I could have my pillows made in time for the photo shoot. I love supporting an artist in Massachusetts – but it's honestly not hard…her product is gorgeous and totally unique.
So, that's my Week 4 update! I hope to see you here next week – one week closer to the big reveal. The photo shoot went SO well; I can't wait to get the final pictures back, and to share them in a couple of weeks!
In the meantime, please see what the guest participants and featured bloggers have been up to over at Calling it Home. And thank you to Linda, the fearless founder and host of the One Room Challenge, for giving me the push I needed to finish yet another neglected and underutilized space in my home!