Well, as I proclaimed on Instagram this past Monday…
My One Room Challenge, "Project Vestibule," is officially complete. If you're just checking in for the first time, thank you and welcome! Here's a page where you can get caught up on the past four weeks, if you would like.
If you think I'm about to reveal the room, well, I'm sorry to disappoint you! That's not allowed until next week – Week 6. I had my photographer, Eric Roth, stop by on Monday to capture my little 4×10 vestibule in a way I knew only he could. I rushed over the weekend to get all of my finishing touches in place, and worked on styling the room for photography. I decided to include my Beagle, Harrison, in the action, so he could lend some of his "I'm really bubbly but it's also my job to look at you with the saddest eyes ever" personality to a shot or two, and I'm so glad I did!
OK, I'm getting ahead of myself! I had hoped to share a big "behind the scenes" story today, but unfortunately the unofficial photography was pretty limited. Photo shoots are pretty much all-consuming. Lots of moving, fixing, looking, adjusting, looking again, running around the house for extra props, and before you know it you're moving on to the next shot, and the next, etc. That fact, combined with a tweaked back and my advanced case of "mom brain," resulted in me taking just a couple of pictures. However, I can give you some insight into the process – although the pros make it look effortless, there's a lot more that goes into creating these photographic works of art than meets the eye.
Oh, I did promise last week to share a picture of the front door, which I had painted with Benjamin Moore Grand Entrance. Luckily, I have the one that Eric took already!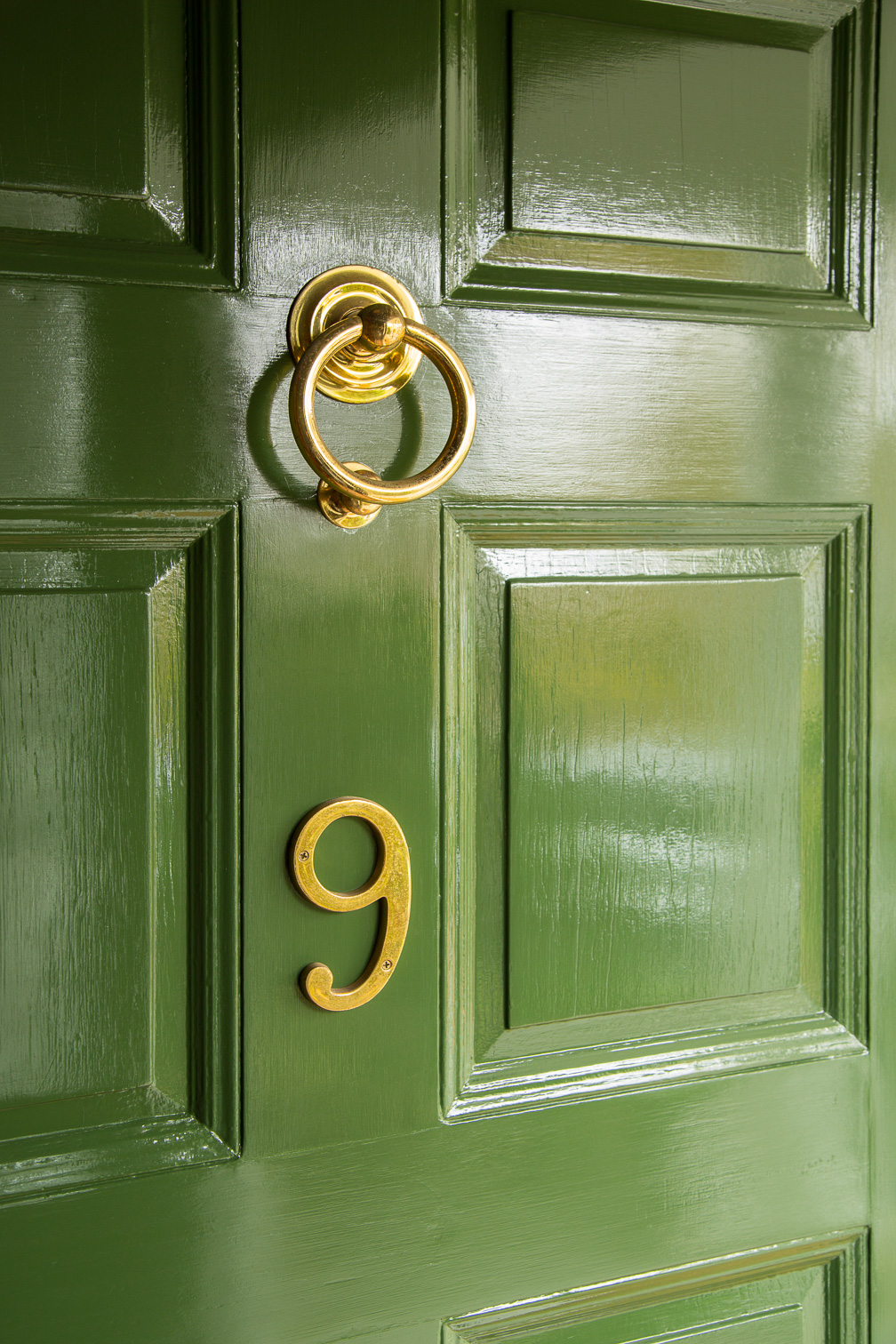 What do you think of that green and glossy old thing? I wish I had a good "before" image – it was green, but very dark and probably had a satin or eggshell finish, so it didn't pop at all. I love my big green door 🙂 The color is Colonial Verdigris, from the new-ish Williamsburg collection.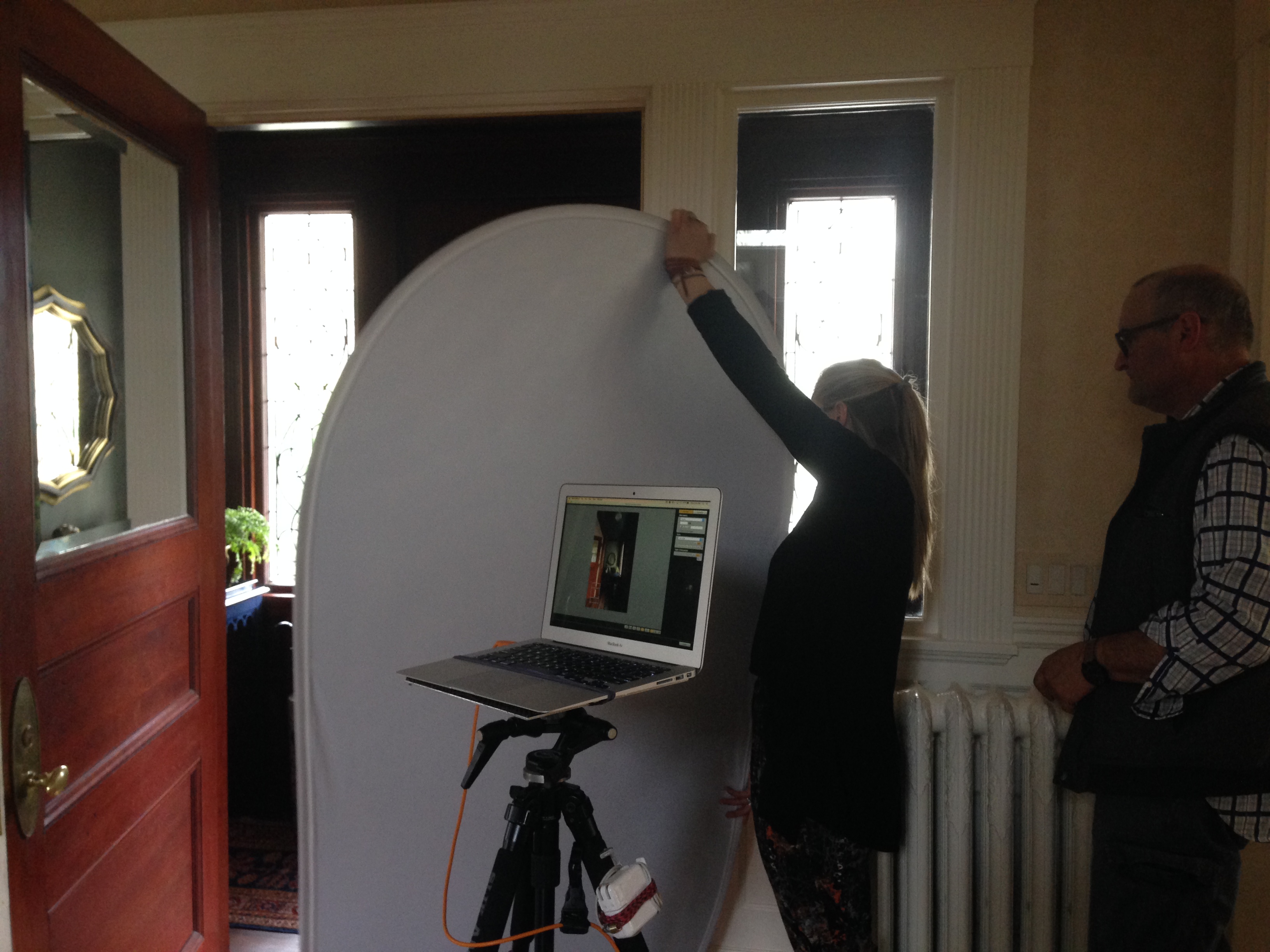 Eric is really a genius when it comes to lighting. In interior photography, it is nearly always preferred (unless you're trying to highlight lighting design) to shoot in natural light – aka artificial lights are off. This is a tricky proposition in such a tiny space, with such limited natural light. We basically had available what was coming through the leaded glass side lites, and that's it! His assistant, Caroline, is holding up a giant reflector to bounce some of that light back into the room. In the finished photographs, it looks totally natural. But it is actually highly calculated and contrived. There is a lot of trial and error involved in getting a shot "just right." And it's always worth the extra time it takes to make it so.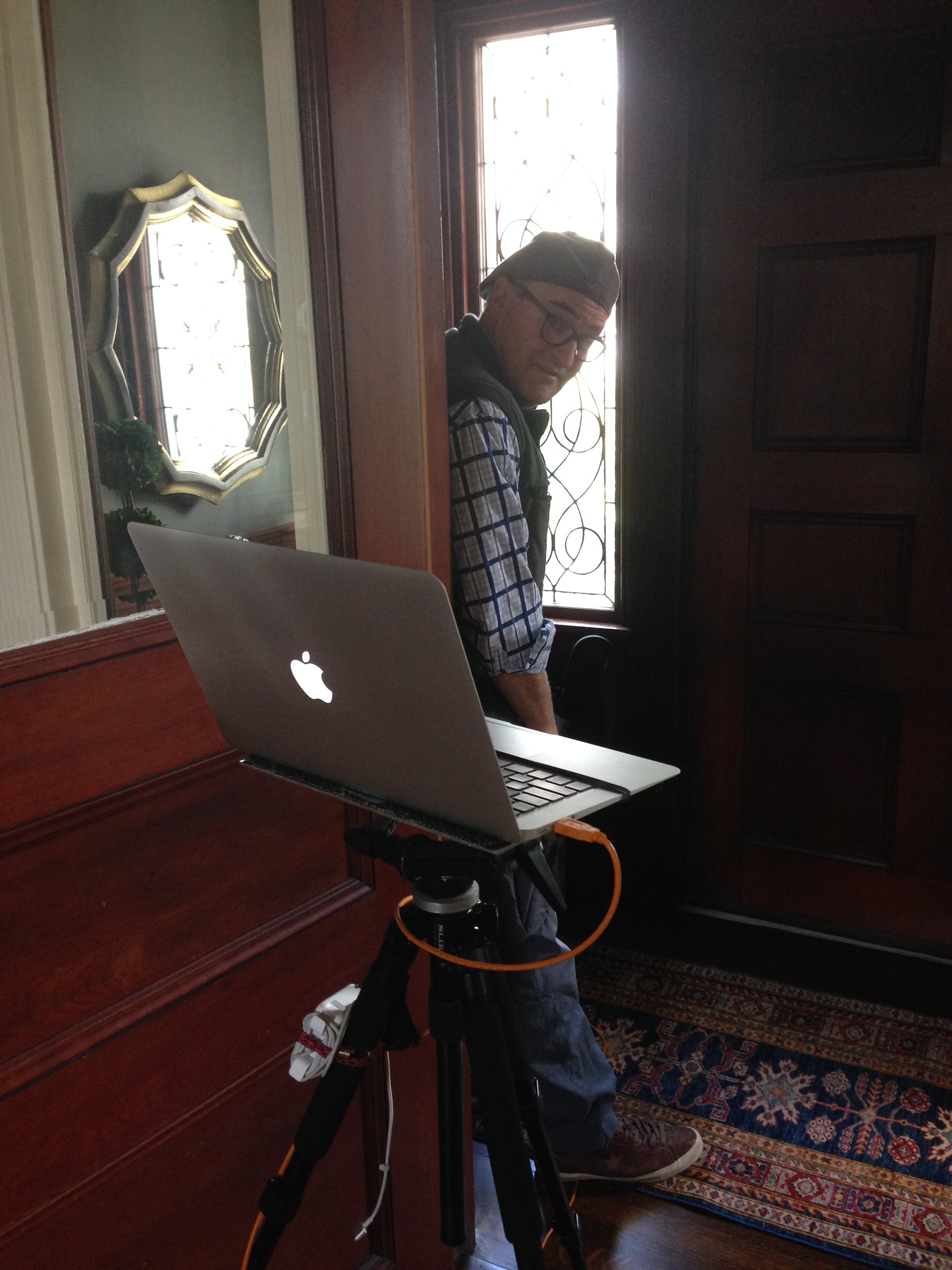 Because there was no space to move around in the vestibule, or any way to avoid photobombing a shot if you were in there at all, Eric set up the camera in the room, but his computer in the other. Professional digital photography is so incredible – you can even do a live view which is like a video monitor so you can see real-time how little adjustments are looking. We were in and out of the vestibule about a million times – moving items, adjusting the camera angle, and going back out to look at the computer….rinse and repeat. Hey, you can kind of see the rug from here! I don't think I've shown that yet.
In addition to shooting my ORC vestibule, Eric also photographed two other spaces in my home. So it really was a crazy weekend of preparation, times three! I'll be revealing those separately, so stay tuned…
But more importantly, please come back next Thursday for the big reveal! I can't wait to share – and there is one very big surprise you haven't seen or heard anything about yet. You'll have to come back to find out what it is!
In the meantime, please show the love and support for the many other linking participants who are in crunch mode, trying to finish their rooms. Let's cheer them on to the finish line! See them all at Calling it Home (thank you again, Linda!).