There's only one day I like better than install day and that's REVEAL DAY! Welcome to the unveiling of my Spring 2017 One Room Challenge. Whether you are new here or a regular reader, I would like to welcome and thank you for stopping by! I'm Kelly Rogers of Kelly Rogers Interiors. This blog is where my passions for fabulous interior style, practicality and durability meet (and are not mutually exclusive – I promise!).
This is my fourth season participating in the ORC, and my first doing the challenge with a client project. My job (and privilege) was to transform the bedroom of a lively and sweet 6-year-old girl from nursery-land to a space that is totally age-appropriate, but can grow with her (and her older sister, who also sleeps here!) well into early adulthood. It's definitely the fastest I've ever completed a client project – just five weeks from concept to completion. Whew! No wonder why I'm so tired. I've been blogging the updates in real time – all of the posts are here (and a shortcut to Week 1 if you want to see all the befores) if you are interested in seeing the progress leading up to the finished space.
I know you are probably just scrolling down right now anyway, so I will just show a couple of the before pictures upfront, and then go straight to the afters! I can't wait to show them to you, either!
BEFORE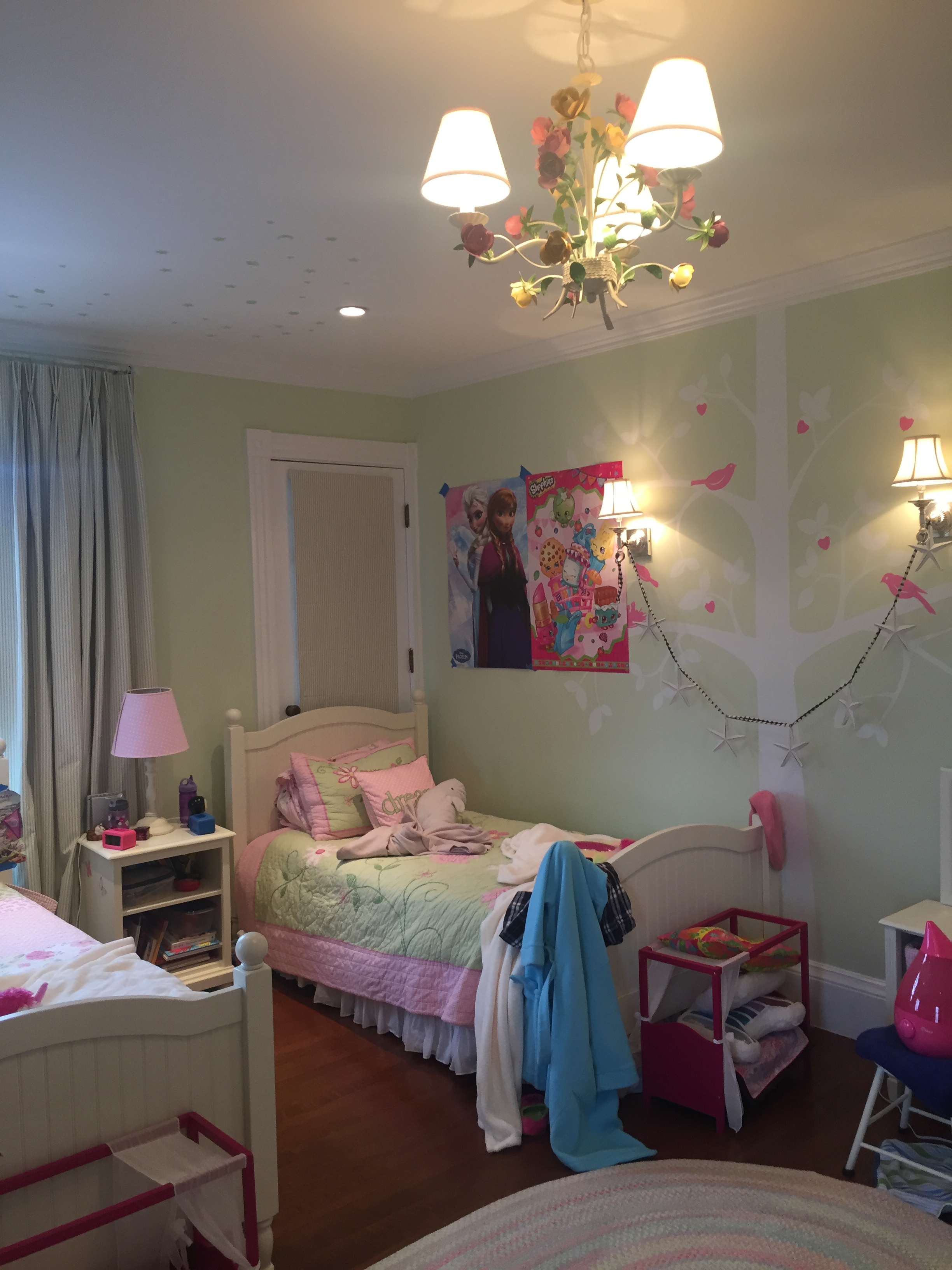 BEFORE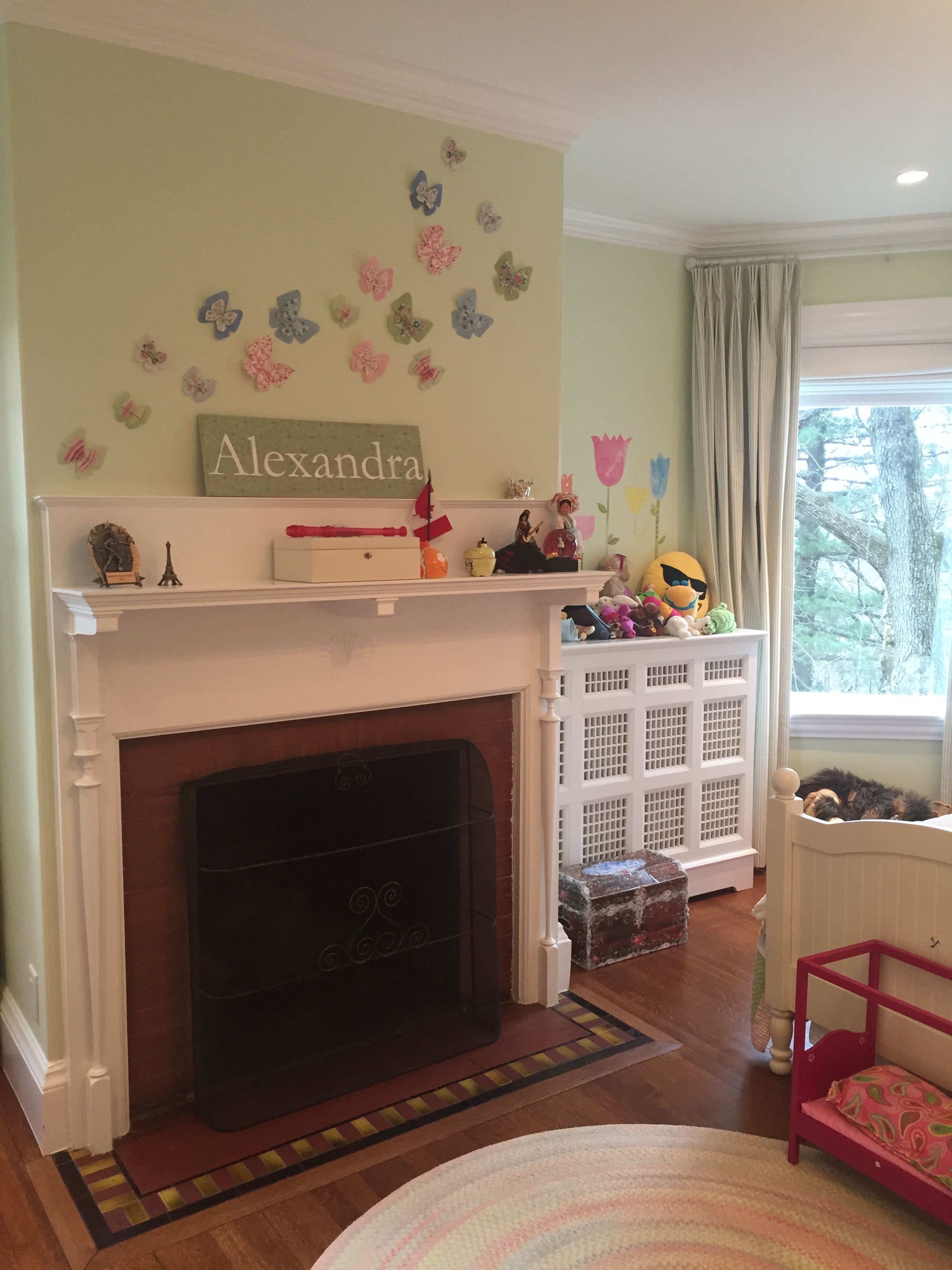 BEFORE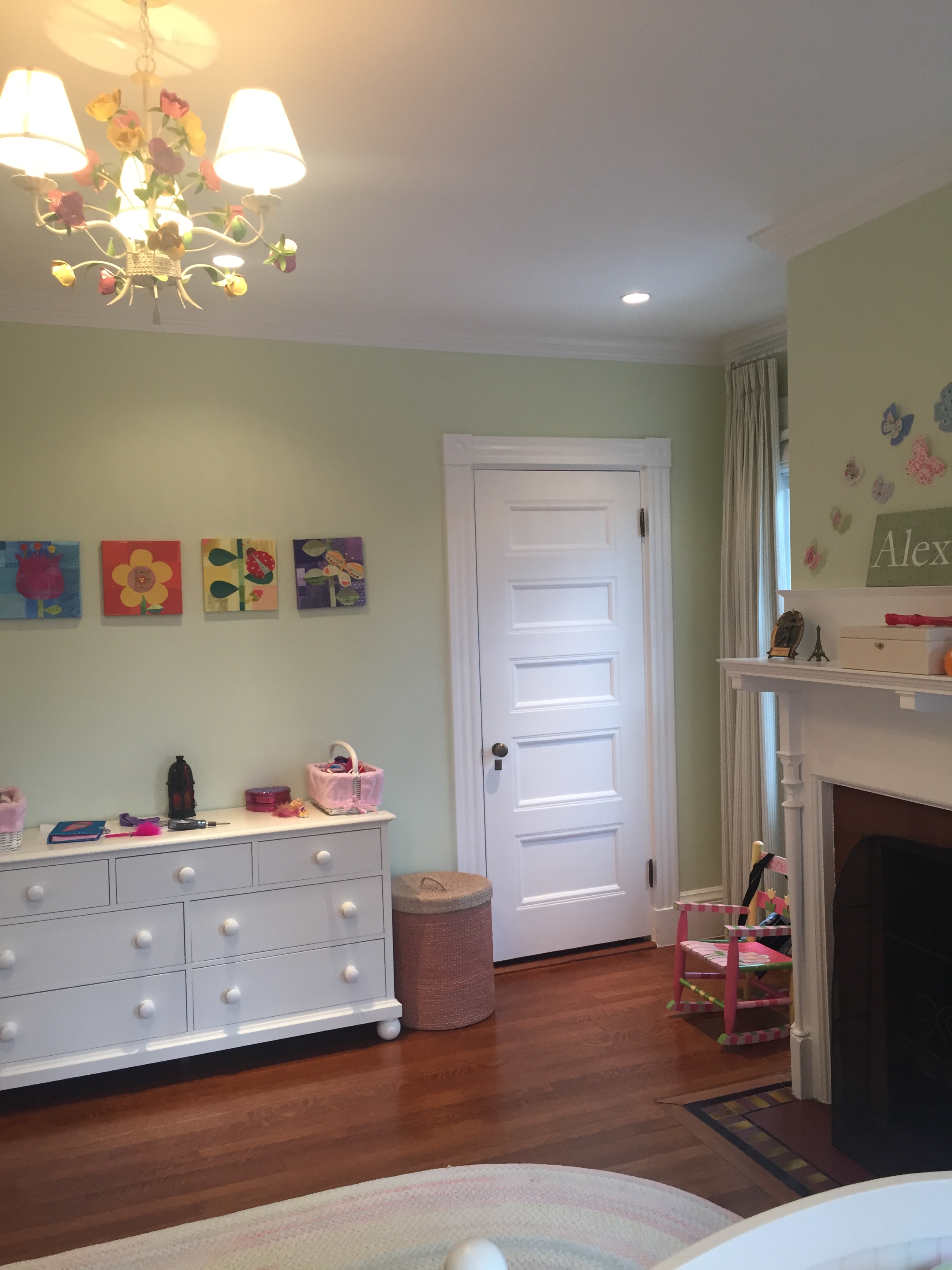 [Drum roll please]
AFTER….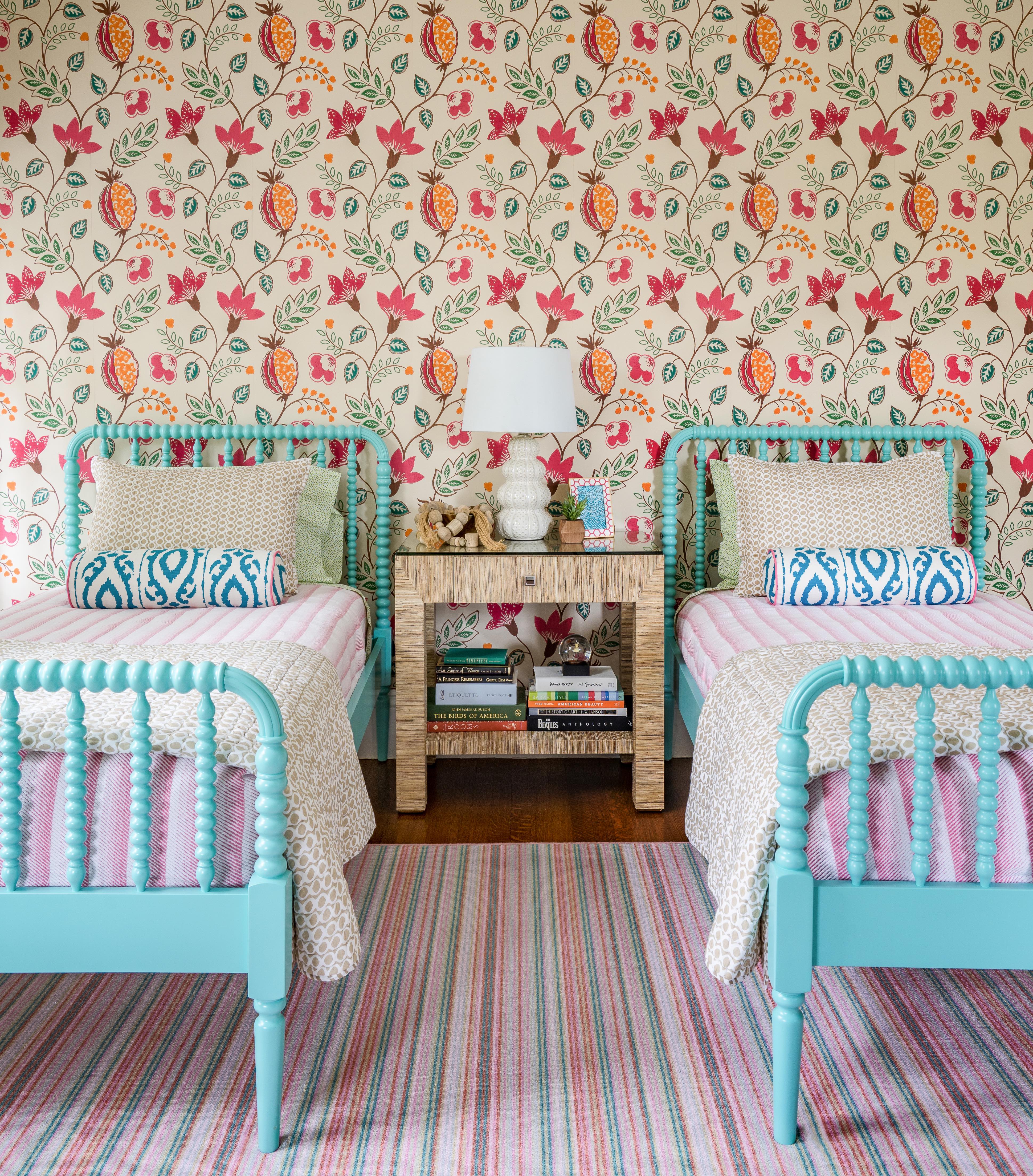 I found one of these turquoise Jenny Lind beds upstairs in the sister's room; we brought it down and added another as the starting point for the room. I absolutely love them! The next thing we decided on for the room is the wallpaper from Osborne & Little. I love the scale and the vibrant colors of this pattern – it's a little bit traditional, a little bit tropical, and a whole lot of fun. Moving the beds to this wall allowed us to use the wallpaper as a dramatic accent – no art required! We upsized the nightstand for sharing, and broke up the 'matchy' furniture set with this lacquered grasscloth number from Bungalow 5. My lamp unfortunately did not make it in time for the reveal – this one is on loan and stood in very respectably, I think!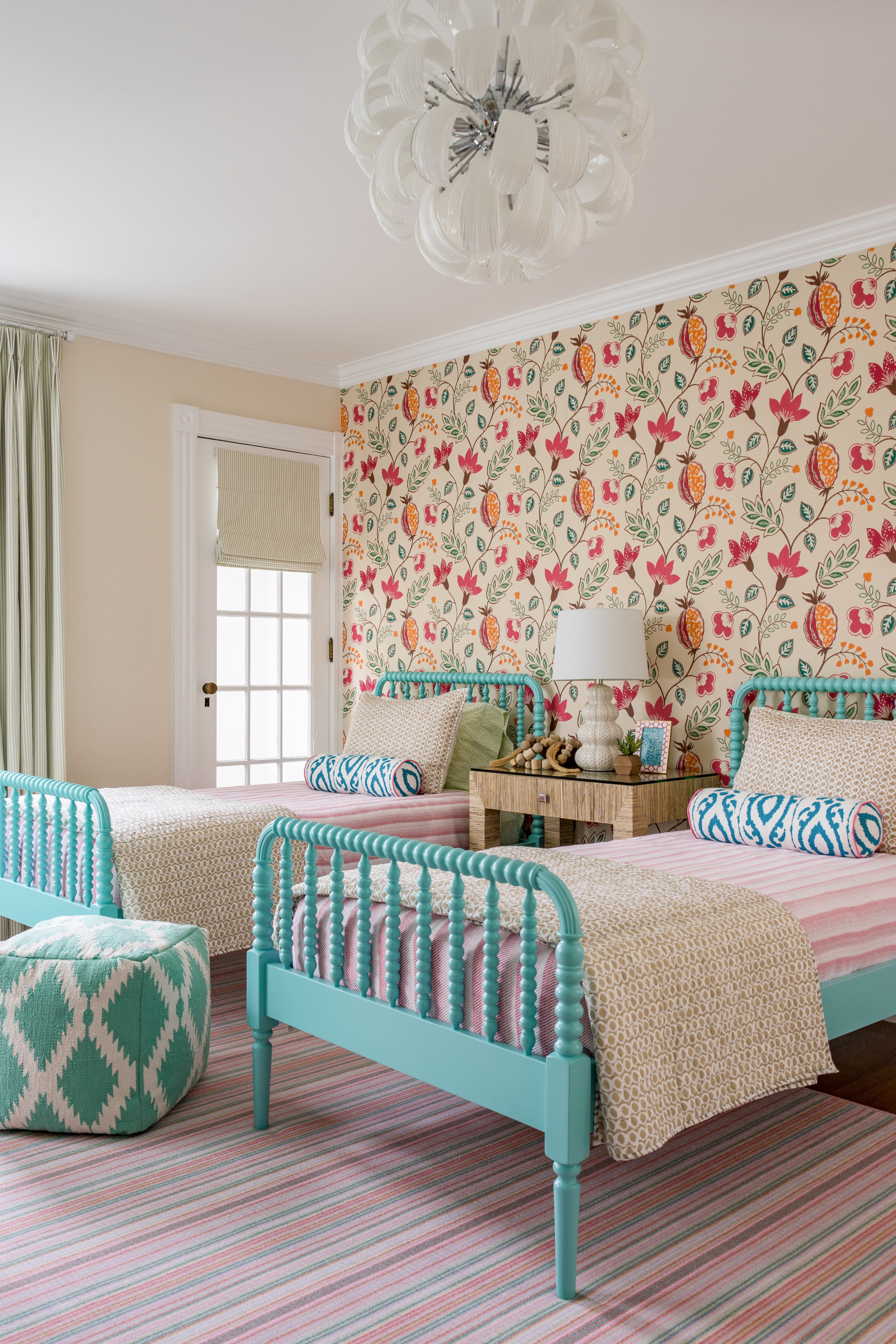 We painted the walls Benjamin Moore Lime White (from the Williamsburg collection, which I use all the time); it blends really well with the ground color in the wallpaper, and provides a light backdrop for all of the punchy accents – it's all about the balance! I also like the mix of a more traditional off-white and crisp, modern whites in the room. The ceiling got a fresh coat of white (which I don't always do, but it made sense in this case), and, of course, this stunning light fixture from Cyan Design. It adds a whimsical, modern touch, and a little dash of glamour to the room. Let's see it illuminated…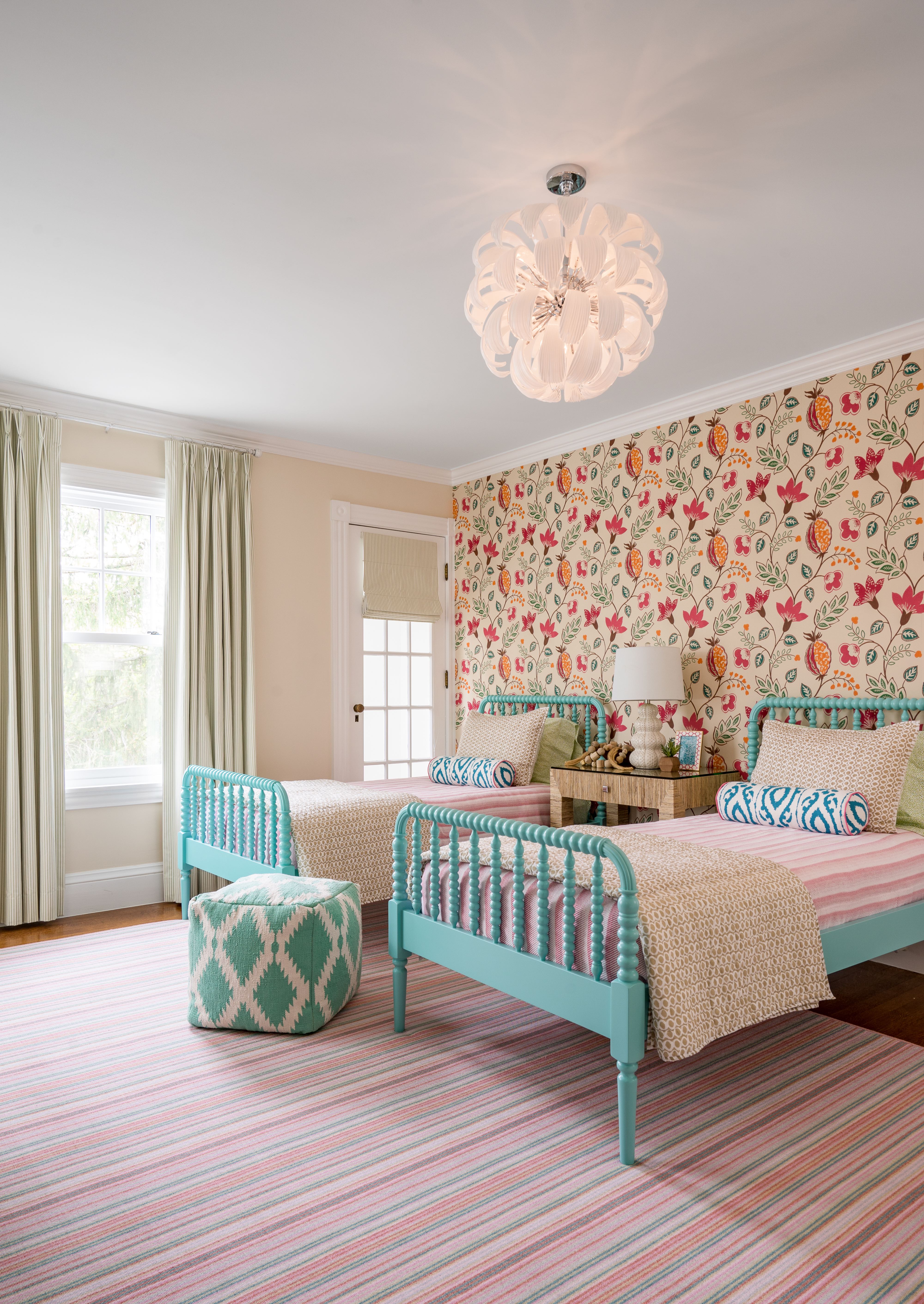 It's just so pretty! I was originally planning to add storage pieces to the end of the beds, but after installing the beds, I liked how it felt airy, and there is plenty of floor space for the girls to spread out with books, games, dolls, or homework – and that's so critical in any kids' space! The rug did not disappoint, either – I love how it brings the whole color palette together in a somewhat softer way than the wallpaper. I had it cut and bound from broadloom carpet, which allowed us to make a non-standard size (which I do all the time, because I often need funny sizes…).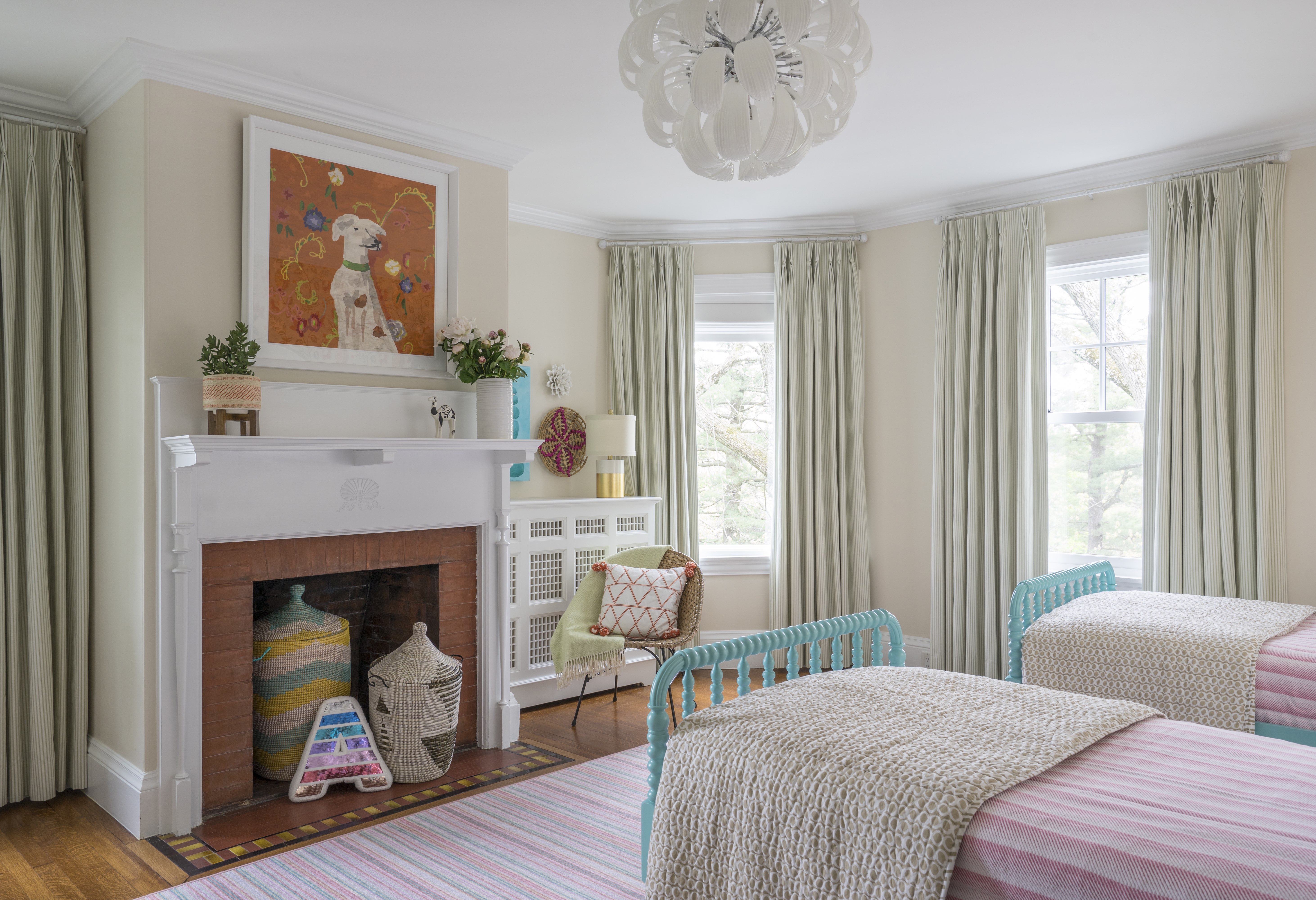 Surprise! The 'Arlo' dog portrait (from Dana Gibson's collection for Soicher-Marin), which I had thought was weeks from arriving, surprisingly showed up nearly a week before my photo shoot! I could not believe it. And he does not disappoint – I love this puppy portrait! The orange color helps the circa 1896 brick fireplace surround and tiled hearth blend nicely with the new decor – I wasn't about to change those original details! The inside of an unused woodburning fireplace provides a great place to stash extra blankets, stuffed animals, and toys in cool lidded baskets. The ticking-stripe draperies are gorgeous, but I can take no credit for them – they're one of two things in the room that stayed, and I think they look even more marvelous with all the new stuff.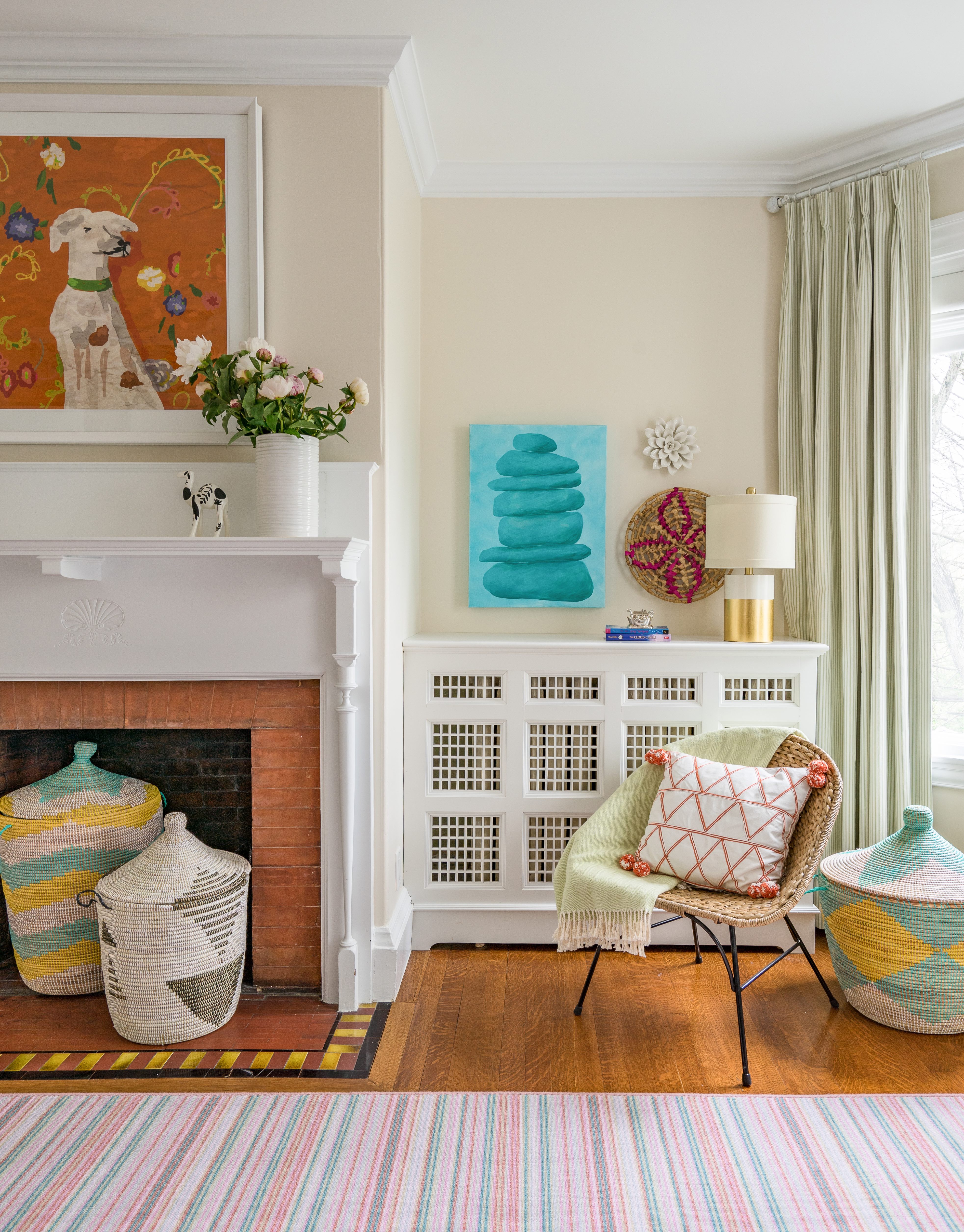 Rotating the beds freed up space on this side of the room to create a little reading corner. And I had fun dressing up the radiator cover. Target was also a surprisingly fruitful source for me this ORC – I couldn't believe some of the great stuff I scored there! [Including five things in this picture alone]. The turquoise Cairns painting by Stephanie Henderson is both vibrant and meditative. I could stare at it for hours…perfect for a bedroom.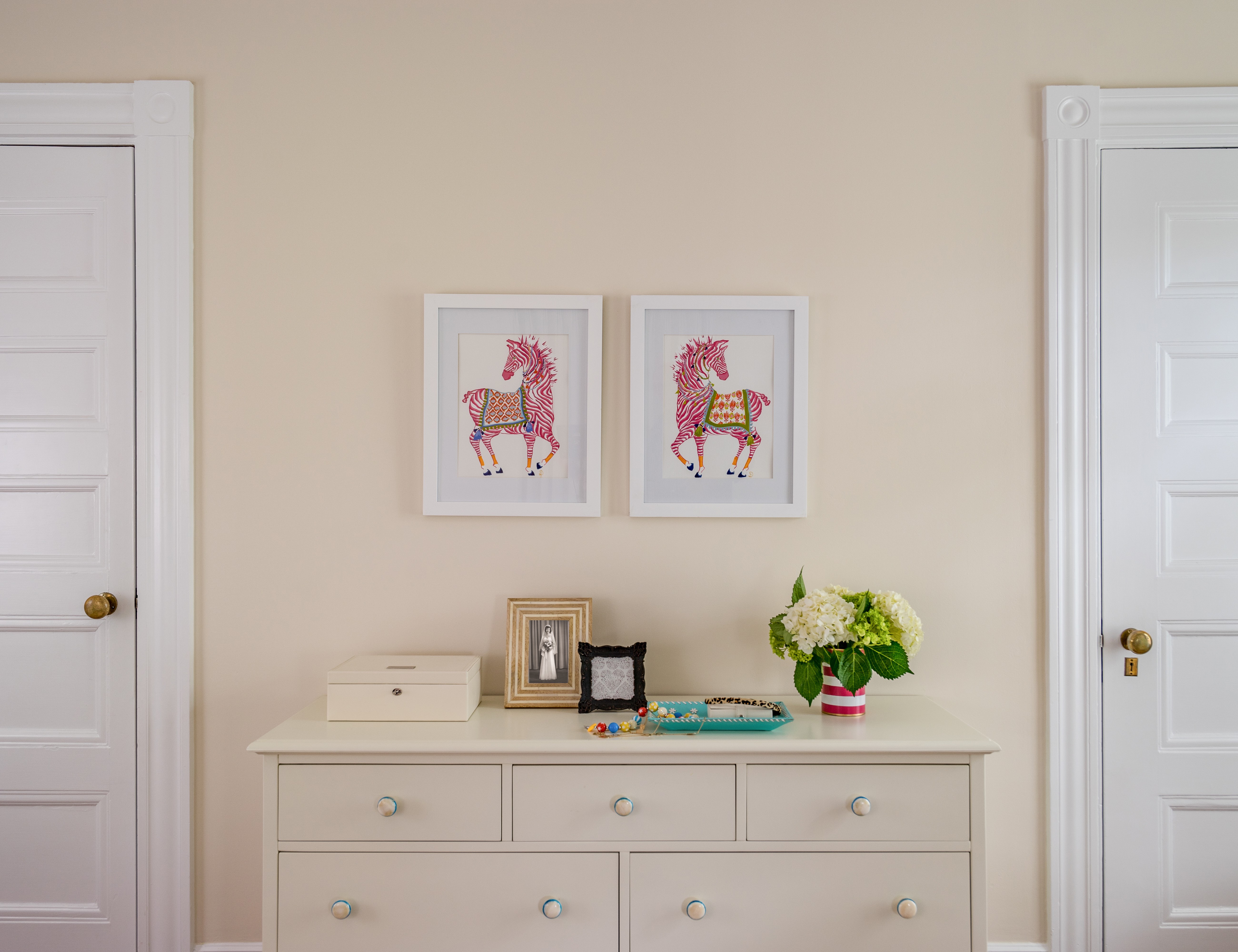 The other piece that stayed in the room was the dresser (which matched the original beds, and the original nightstand). We made just one update – removing the chunky painted wood drawer hardware and replacing it with resin knobs that look like bone inlay, with just a subtle stripe of turquoise around the outer edge. The zebras were found at Elizabeth Home Decor, one of my favorite local sources for art and accessories (owned by one of my good designer friends, Elizabeth Benedict).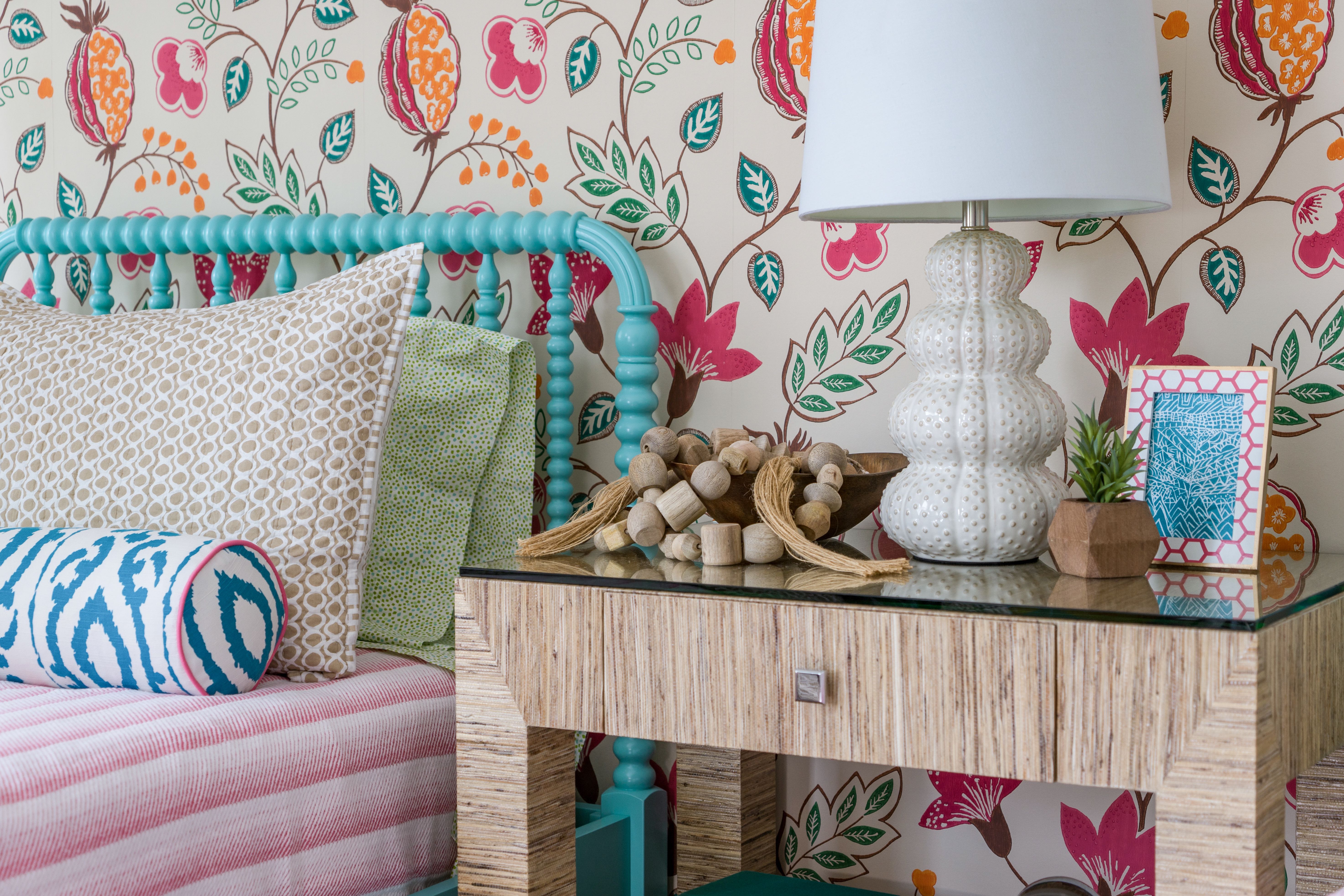 I knew I wanted to mix it up with the bedding, and my client's only request was that it be machine washable. I concurred, and obliged! The blanket, quilt, sham, and sheets are all from Pine Cone Hill – great quality, fun designs, and I get to support a Massachusetts-based business (Annie Selke)! They were kind enough to provide the shams gratis (which I had forgotten about in my first order…oops). The bolster pillows made with a favorite Dana Gibson print are the icing on the cake.
The real reveal actually happened last week, when the girls got to see the bedroom for the first time. My client sent me a video, and I loved seeing their reaction. They were rolling around on the rug and didn't want to leave! As the mother of two boys, I kind of didn't want to leave either. But alas, I shall have to live vicariously through my visits to the client (with whom I'm also working on some other things), as well as the wonderful photos taken by Eric Roth, who squeezed me into his very busy schedule.
So many folks have worked tirelessly over the past six weeks to bring you some pretty incredible transformations. Please give them some love – both the sponsored bloggers and guest participants.
Sources
Beds: Land of Nod
Nightstand: Bungalow 5
Light Fixture: Cyan Design
Wallpaper: Osborne & Little
Paint: Benjamin Moore Lime White
Bedding: Pine Cone Hill
Bolster Pillows: The MT Company; Dana Gibson fabric
Rug: Williston Weaves
Dog Portrait: Dana Gibson for Soicher-Marin
Cairns Painting: Stephanie Henderson via Libby Silvia ArtStyle / Elizabeth Home & Decor
Storage Baskets: West Elm
Water Hyacinth Chair & Pillow: Threshold for Target
Framed Pink Zebras: Elizabeth Home Decor
Drawer Knobs: MJ Hooks (Etsy)
Acknowlegements
Thank you to Osborne & Little for extending a generous discount on their beautiful Benvarden wallpaper.
Thanks to Annie Selke / Pine Cone Hill for providing the shams.
To Elizabeth Home & Decor – thank you for letting me borrow the table lamp!
Much gratitude to Linda at Calling it Home for creating this venue for hard work and creativity, and allowing us all to play. Can't wait until next season!
Lastly, I could not have done this without the partnership and enthusiasm of my client and her daughter. The ORC is no cakewalk, but they were on board from day one, providing quick feedback/approvals, being flexible at every turn, and showing extreme patience during the two days when I basically took over the room for the install and photo shoot. In a way, it was even smoother than doing a room in my own house – they were much more decisive than I ever would have been, and that is so important in the ORC!