As promised, I'm back for Part II of our Project Happy Place reveal. You know, the one that almost didn't happen because my client (aka sister-in-law) and her family decided to move to a new home. It happened so fast, in fact, that they have already moved out. Like, a week ago. I have that feeling like when you do a show house, and have to dismantle your room a month after you painstakingly put every last detail into it. But I'm so grateful we snuck in less than two weeks before they moved out to capture this project I finished a couple of years ago.
Read Part I here… but don't forget to come back!
This reveal is near and dear to my heart, as it is my chance to share the bedrooms I created for three of my wonderful nieces. Before I show you the images, I think it's important for me to be clear what I did and didn't do in this project. Certain major elements (including all paint colors) in each room were selected long ago by my sister-in-law, and others are the work of a designer she worked with before I started my business. I will point out for each room what these elements are to avoid any confusion, as the last thing I want to do is to take credit for anyone else's work. I did think it was still important to share how big of an impact you can make by changing some, but not all things in a space. Because many of us don't have the budget and/or desire to completely start from scratch. Closer to evolution than revolution, but still with dramatic results! Let's take a look at them, shall we?
Niece #1
This niece was just four years old (barely) when we tackled her space. This one had several 'designer' furnishings already in it – paint, headboard and bed skirt, area rug, and window treatments. Our task was to add bedroom furniture, lighting, art and accessories. My sister-in-law is very busy as a mother of five and the last thing she wants to do is oversee the redecoration of five bedrooms in her home every 5 years. So we built this to literally last forever.
Niece #1 – BEFORE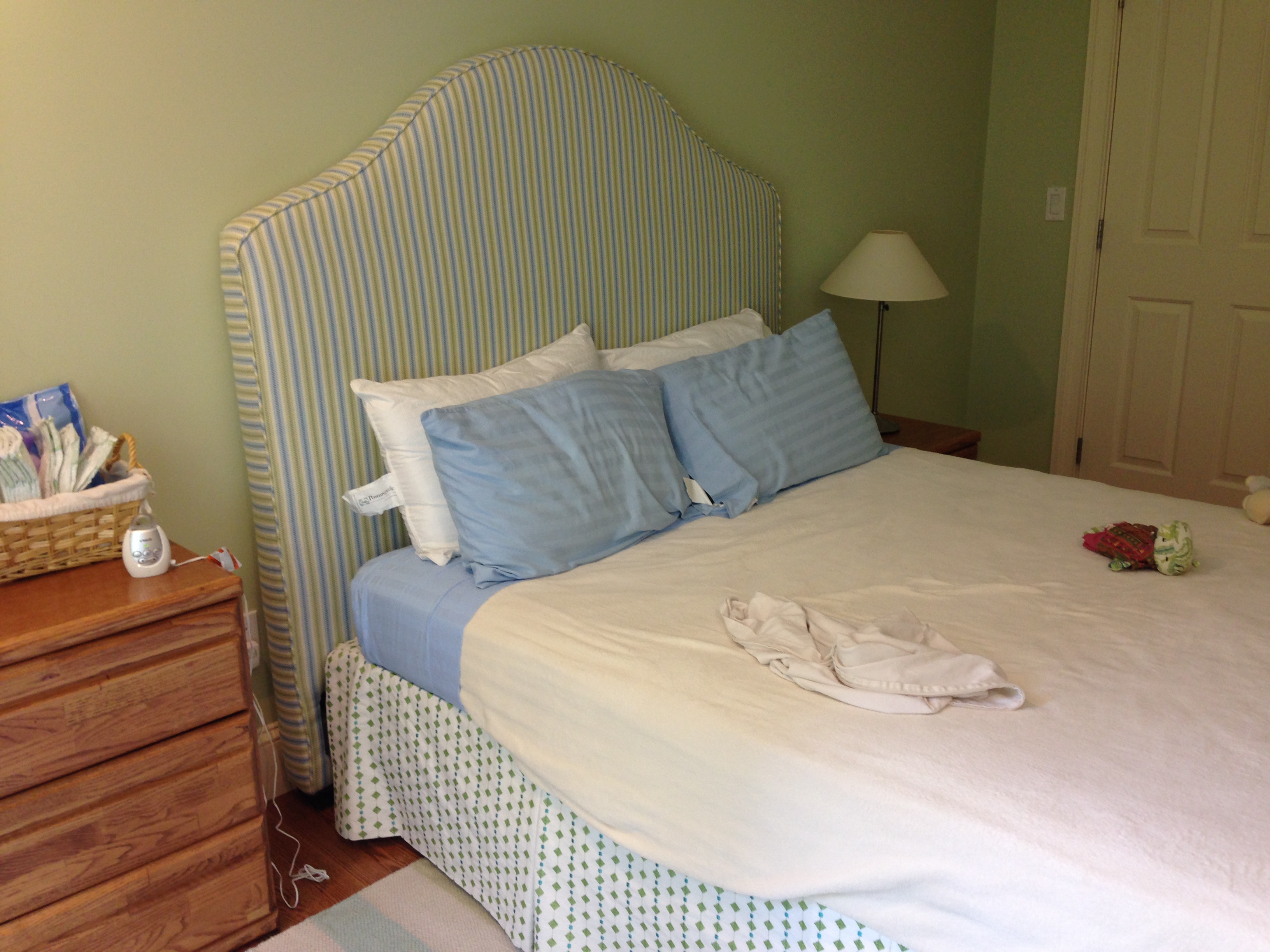 Niece #1 – AFTER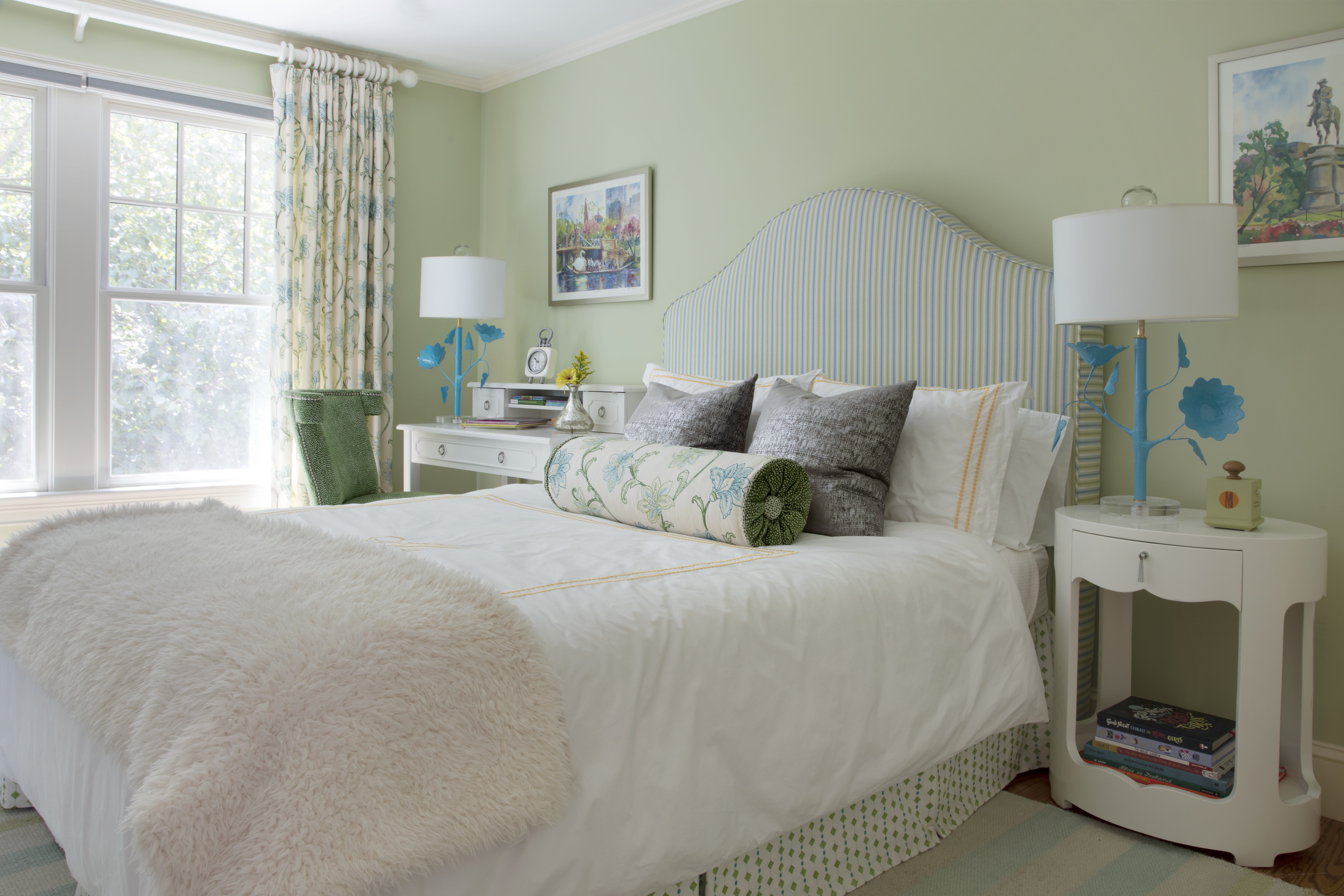 We employed our same mix of retail, designer, and custom furnishings that we did on the landing in the bedrooms, here adding a nightstand from Bungalow 5, Stray Dog Designs paper mache lamps, as well as monogrammed bedding and a desk (slash nightstand) from Pottery Barn. I even tracked down the pretty embroidered floral used for the window treatments and had a custom bolster made out of it and the CR Laine desk chair fabric. The artwork is my favorite – colorful, yet serene watercolor scenes from the Boston Public Garden by late local artist Peter Spataro (via Debbie Bowen Associates).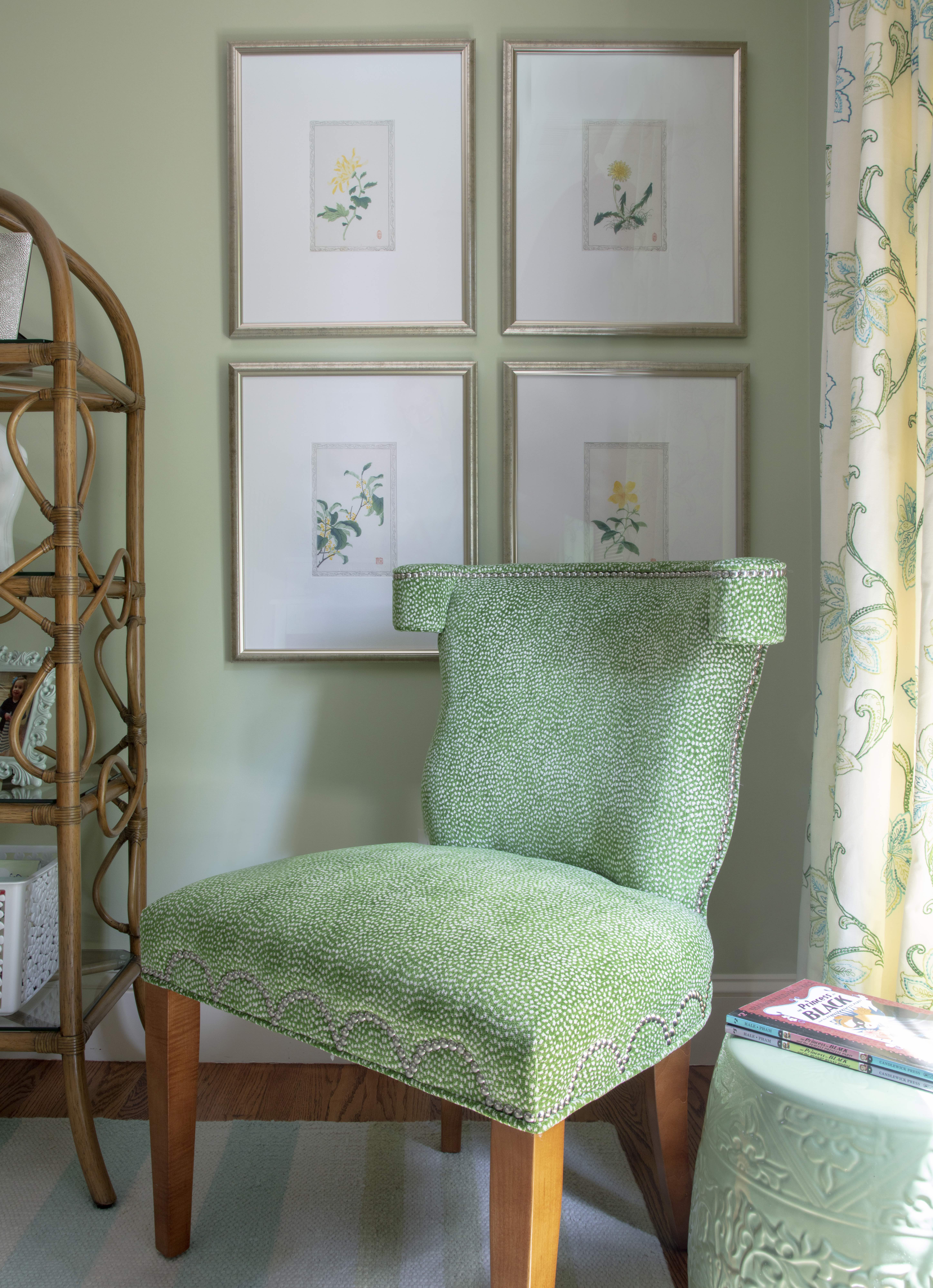 We went ahead and got two of these super-fun dotty green velvet chairs (which I had made with a custom scalloped nailhead pattern), because when you have four siblings, you never know who will drop by to hang out! The art install illustrates a favorite trick of mine – giving small art a big impact. We custom framed hand-colored antique Chinese book prints (via Debbie Bowen) with oversized matting, and hung them all together in a grid – like one big piece. They are so delicate and charming!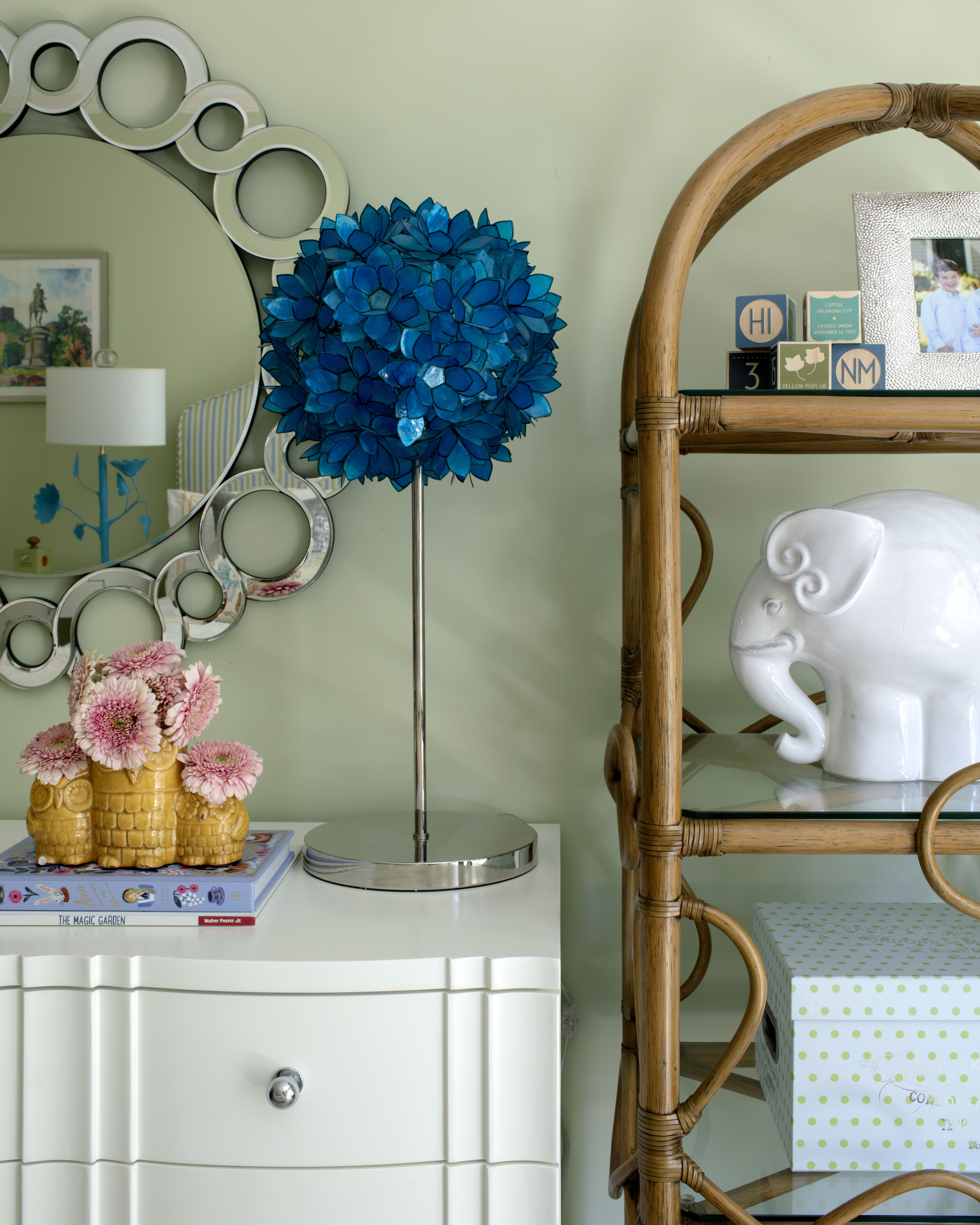 I believe every kids' bedroom needs a bookshelf, but space was tight here to add that, in addition to the desk. My solution was to incorporate two rattan etageres flanking a white lacquered dresser from Bungalow 5. Each etagere has a book basket on the first level, and plenty of space for additional storage and display of family photos. And can you believe I found the mirror for a song at HomeGoods!? With a few changes of accessories, this room would have easily transitioned with her all the way into adulthood. (More on that transition later!)
Niece #2
I loved that I had an opportunity to work with two twin beds in Niece #2 and #3's bedrooms! The deep cherry wood furniture is not what I would have chosen had I been starting with a blank slate, but I always relish the challenge of 'making it work,' and I think we did just that.
Niece #2 – BEFORE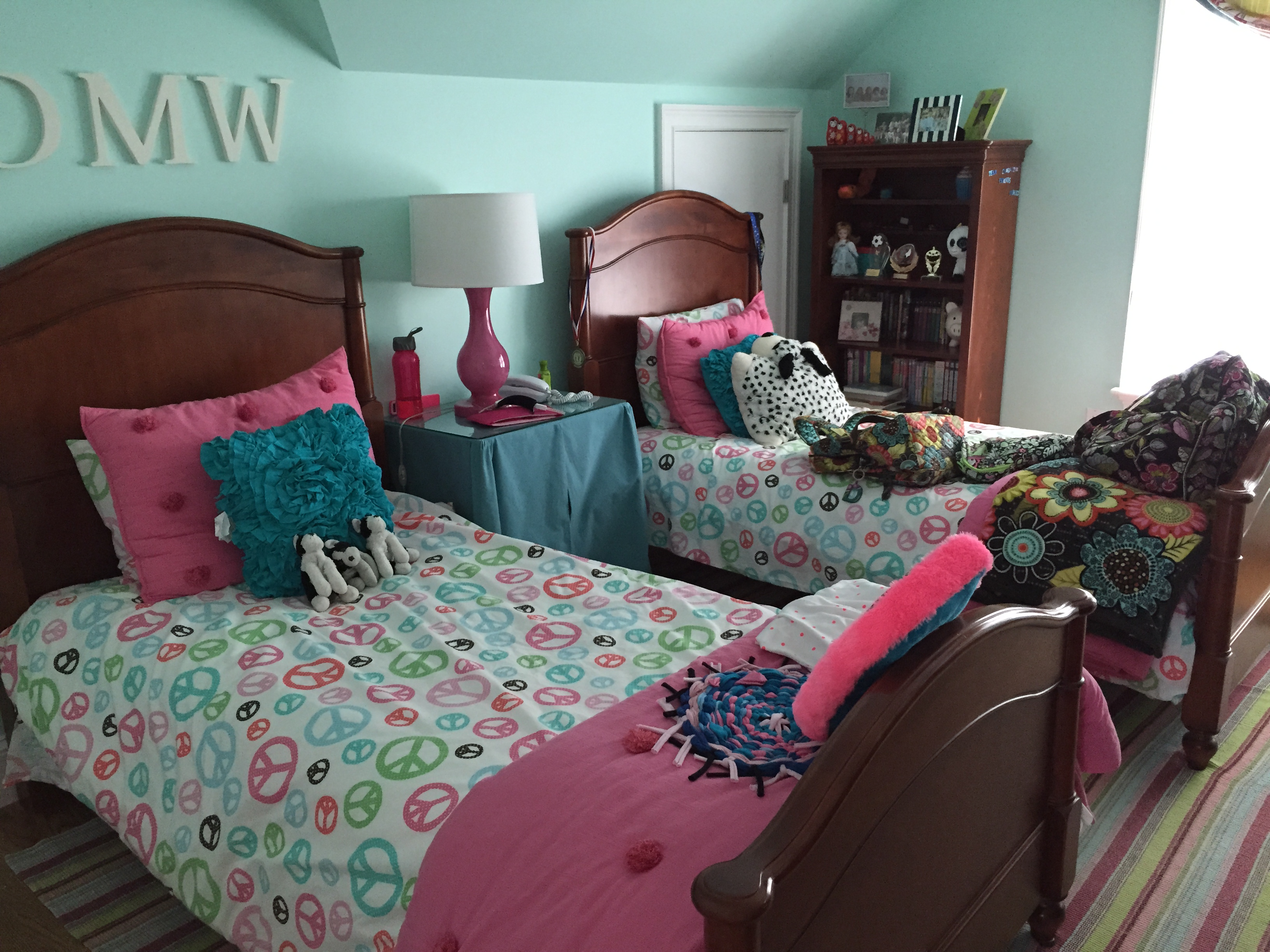 Niece #2 – AFTER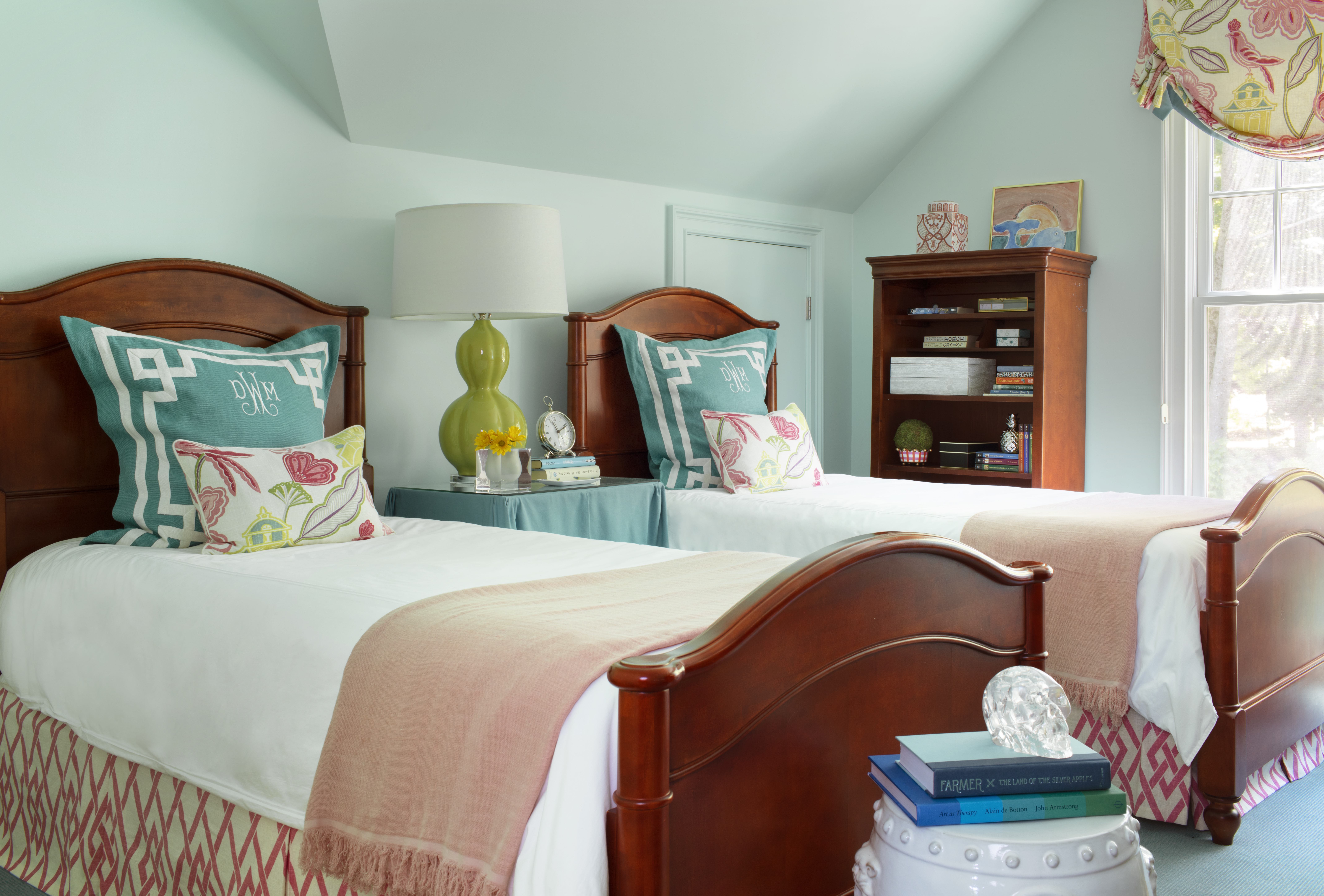 The existing custom chinoiserie valance was so cute, I decided to incorporate it into my design, just like I did with Niece #1's room. I serendipitously found bedding with the same pattern (and a coordinating fret print) from Legacy Home, one of my go-to bedding vendors. We snapped up the chinoiserie accent pillows and added the bed skirts, and mixed in monogrammed shams.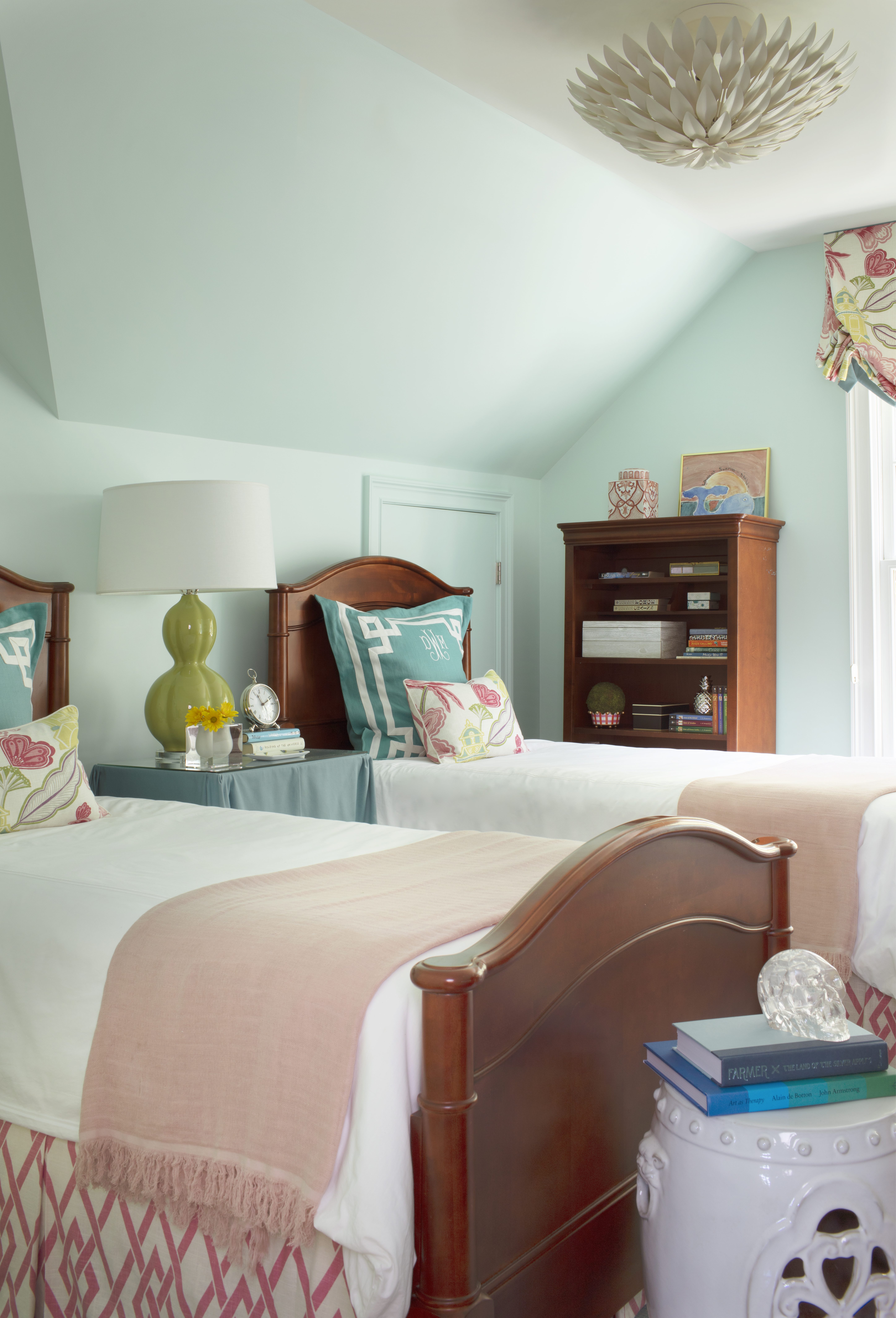 We had to take this same shot as a vertical to see the Crystorama light fixture, which I absolutely love. The existing skirted nightstand was working very well, so that stayed, but we topped it with a big lime green lamp. Did you also notice we painted the (unused) door to the attic crawl space the color of the wall? Just a little bit of camouflage!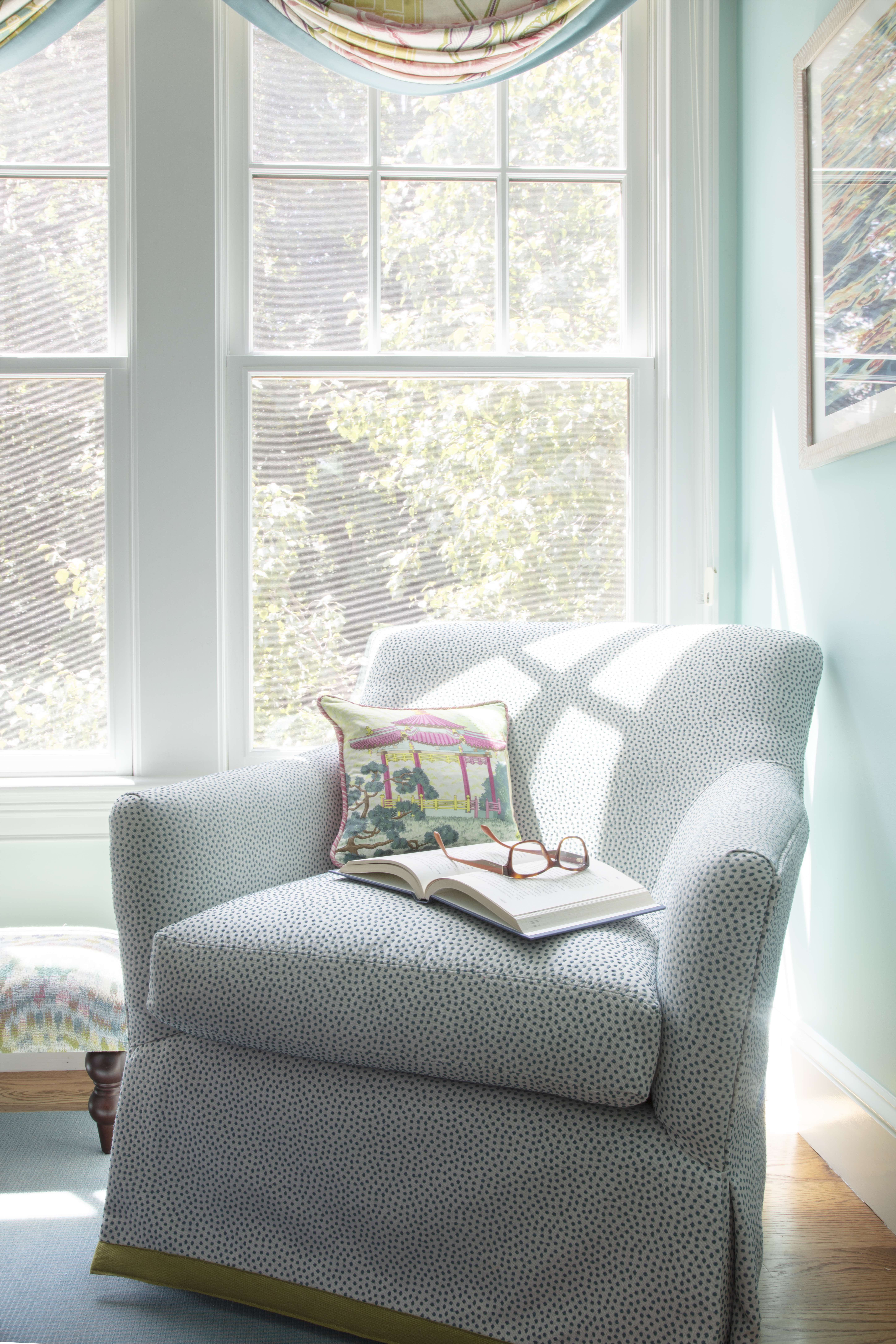 This swivel chair from CR Laine paired with a Ballard Designs footstool in a Robert Allen fabric provided a cozy reading corner for Niece #2. We lucked out with some pretty sunlight on photo shoot day!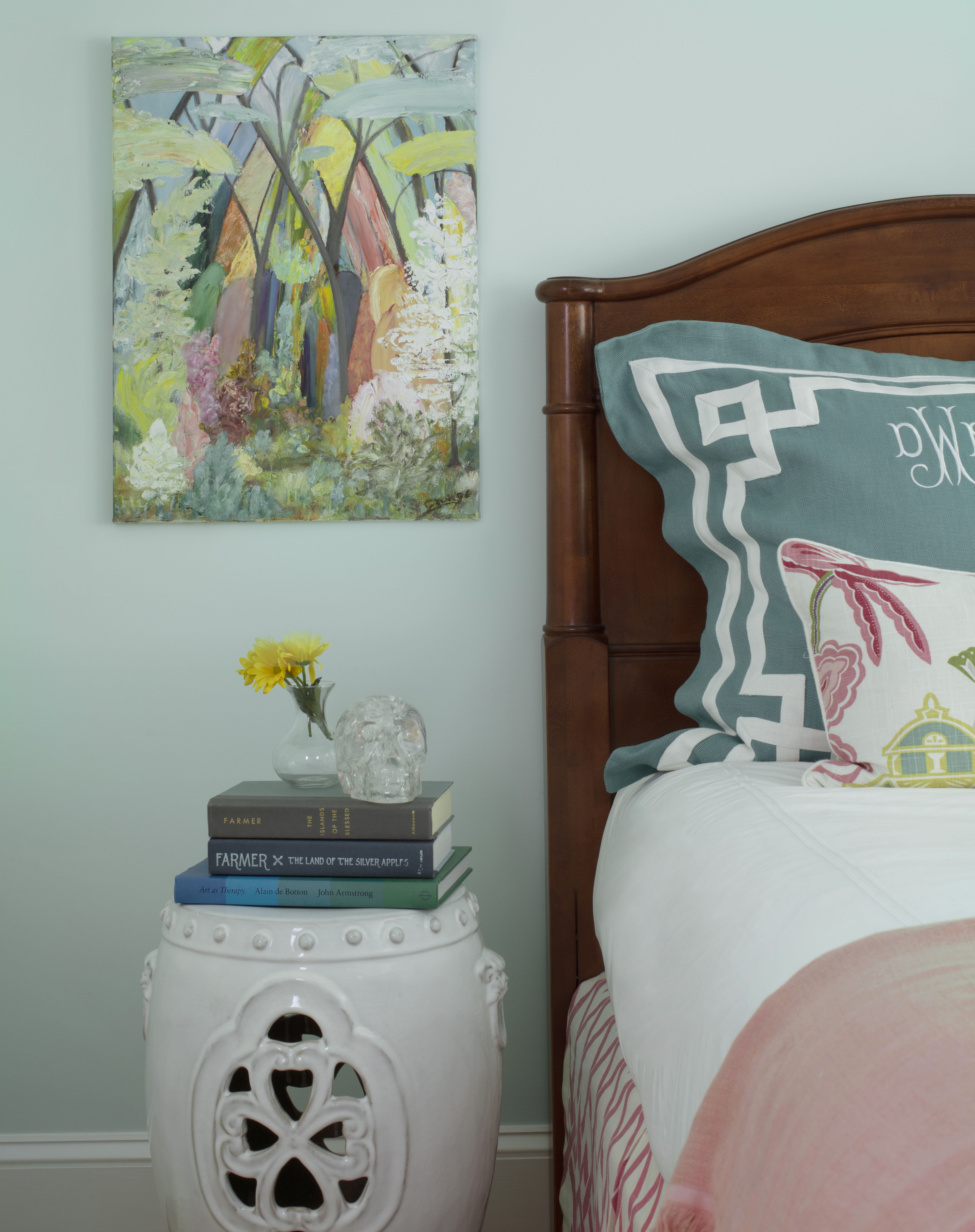 I loved placing this intriguing abstract painting by local artist G. Anthony George in my niece's bedroom (via Debbie Bowen).
Niece #3
Not only is Niece #3 a high schooler and the big sister to the entire family, she is also wise beyond her years. I could not wait to remove several pieces from her room that were holdouts from her infant years. Her juvenile nursery rug and toddler bedding needed to make way for more mature and fun furnishings.
Niece #3 – BEFORE
(I think I took my before pics the day before they left for vacation!)
Niece #3 – AFTER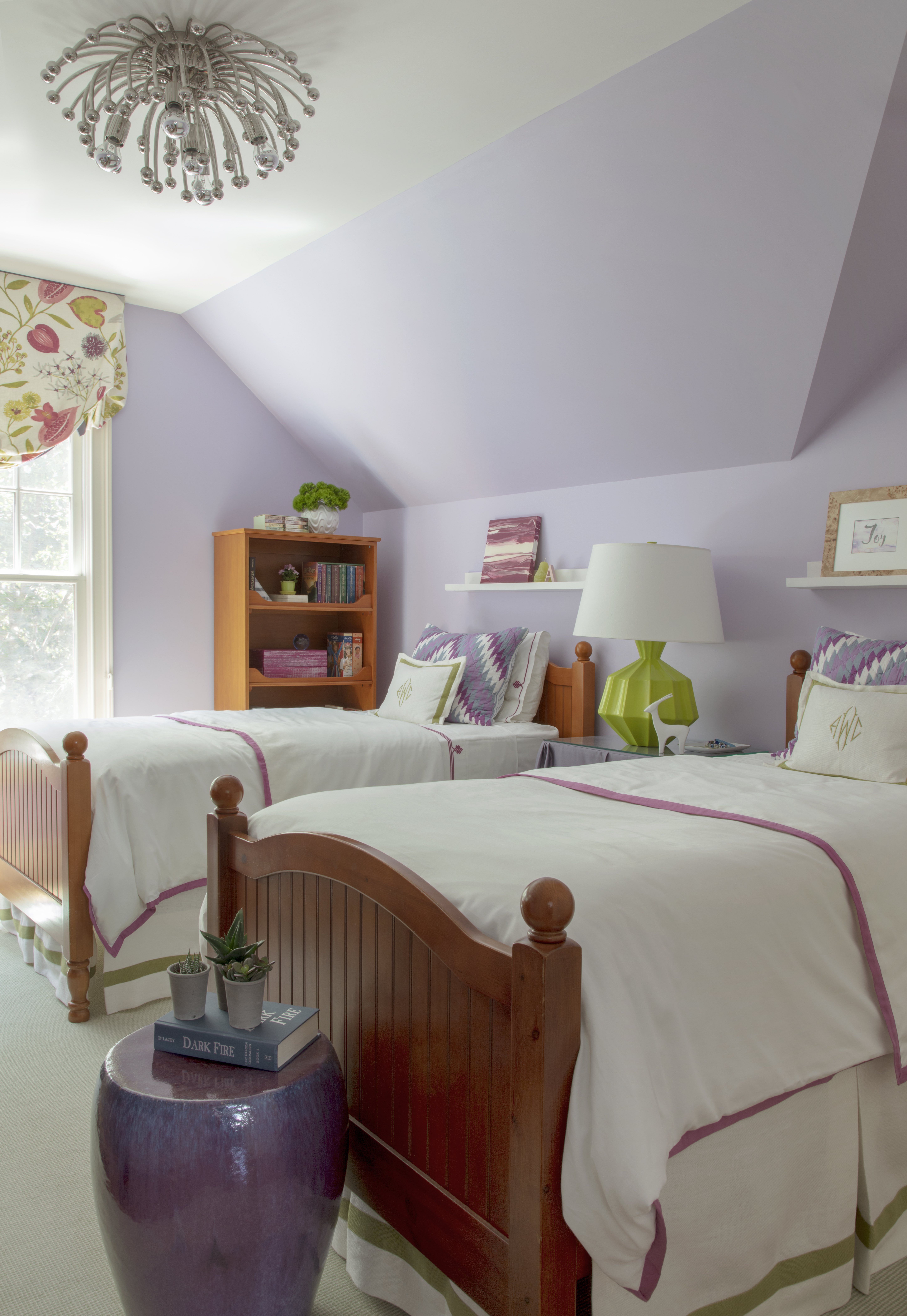 Again here, we kept the paint color, window treatment, the bedroom furniture 'set,' and the skirted nightstand. New to the now brighter and more vibrant scene were the narrow-striped area rug, bedding, lighting, and art/accessories. And again, we mixed and matched the bedding – the duvets are from Serena & Lily, skirts and monogrammed boudoir pillows from Legacy Home, and the fun chevron shams are John Robshaw. Niece #3 also received a giant green lamp, and her original art is the beautiful orchid and white swirled resin-coated piece by Provincetown artist Karole Moe (via Libby Silvia ArtStyle). It was a thrill to incorporate this delightful light fixture by Jonathan Adler for Robert Abbey – flush mount lighting just doesn't get cooler than this!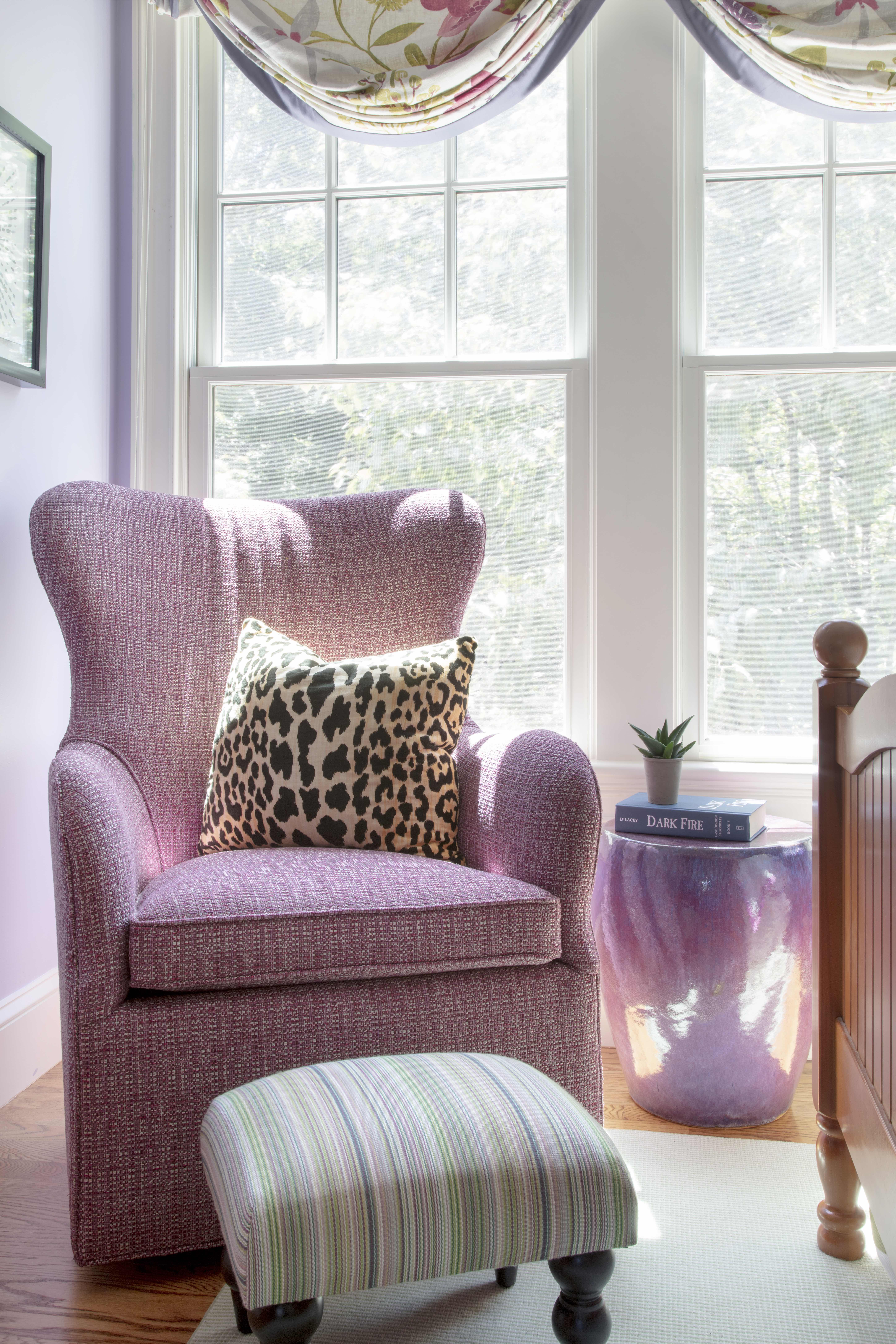 I absolutely love Niece #3's reading chair, also from CR Laine, and bedecked in a purple textured woven (with a silver metallic thread) from Pindler. Her stool also sports fabric from Robert Allen, but a different pattern. I felt that this room seemed to need a touch of leopard, and this Society Social velvet throw pillow was just the right dose :).
As I mentioned, this family has already moved. I thought I would share what's happened to all of this stuff after we photographed these rooms. This is reality – people move, and it's important to me to know that the investments my clients make in buying new furnishings, art, and accessories are for the long-term. So…where are they now?
Based on their bedroom sizes and layouts in their new home, Niece #1 and Niece #3 did a full room swap. Really! Of course, the only thing that can't be a clean swap are the monogrammed items, but other than that, isn't it amazing that a 15-year-old and a 5-year-old on the cusp of 6 can just trade and everything is completely age-appropriate and well-loved by each?
The buyer of their previous home requested that all window treatments and light fixtures stay with the home. Including the Citrus Garden draperies on the landing. This one hurts the most. I really hope the new homeowner appreciates their beauty and value!
Unfortunately, they didn't have a unique space like the third floor landing in their new home in which to place the main seating arrangement from Part I of the reveal. But coincidentally enough, my other sister-in-law (who lives right in the neighborhood) did. The sofa, pillows, media cabinet, and area rug now live in her sunroom just like they were custom made for the space. I saw a picture – it's wild! It just goes to show you great furniture is great furniture, and sometimes it takes on a life of its own! I'm just glad someone is still enjoying it, and that it's staying in the family!
All 'after' photography by Sarah Winchester.
Special thanks to Elizabeth Home for helping us fill out our accessories, and to KRI design assistant Kristen Vatalaro for the huge amount of help with pulling off this shoot. Steaming and tidying five beds (and then some) is no joke!