Well, hello! I won't go into all the reasons why it has been MONTHS since I've blogged (I'm sure you can guess a few of them…), I'll only say I have missed it and I hope I can figure out a way to get back on a regular publishing schedule here.
The reason I am posting today is that I have a really fun project to share – one I completed nearly two years ago (some phases, earlier than that), but never got around to photographing. There were a couple of things I had considered unfinished business, and I always thought we'd get around to finishing and documenting it eventually. When I heard from my client, who also happens to be my sister-in-law, that she and her family were going to be moving to a new home this summer, I realized I had to act right away! I quickly mobilized my team and booked a shoot with my friend and amazing photographer, Sarah Winchester, and we got to work!
I'm going to break this reveal into two parts; we actually did complete it in two distinct phases. The first phase was creating a fully-realized third-floor multipurpose living space for the whole family, with a focus on their five children, who now range in age from 15 down to 5. Two boys, three girls. The nicest, smartest, cutest family you will ever meet (I'm biased, of course, but this is pure fact 🙂 ). This is what I'm revealing in this post. More on Part 2 in a bit…
BEFORE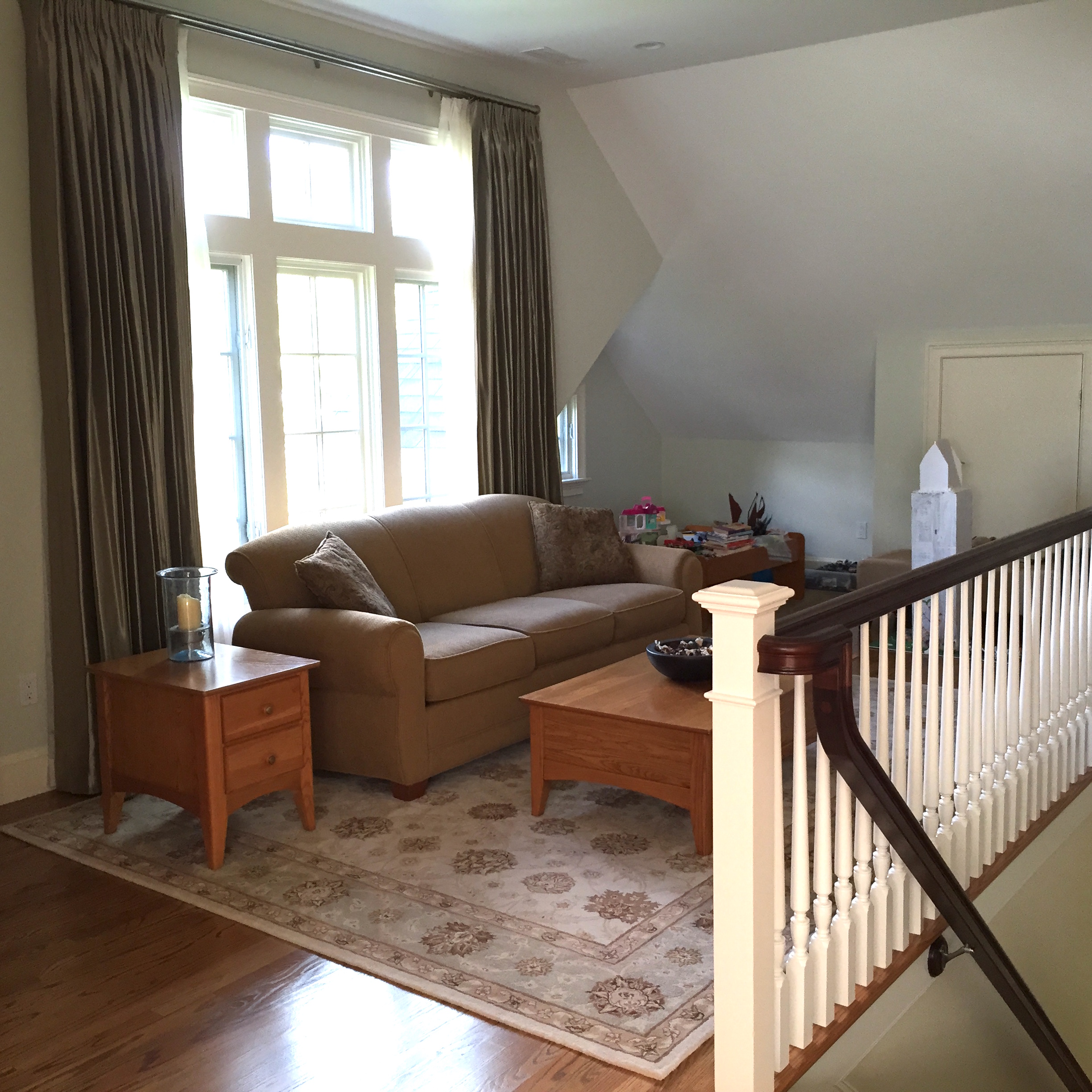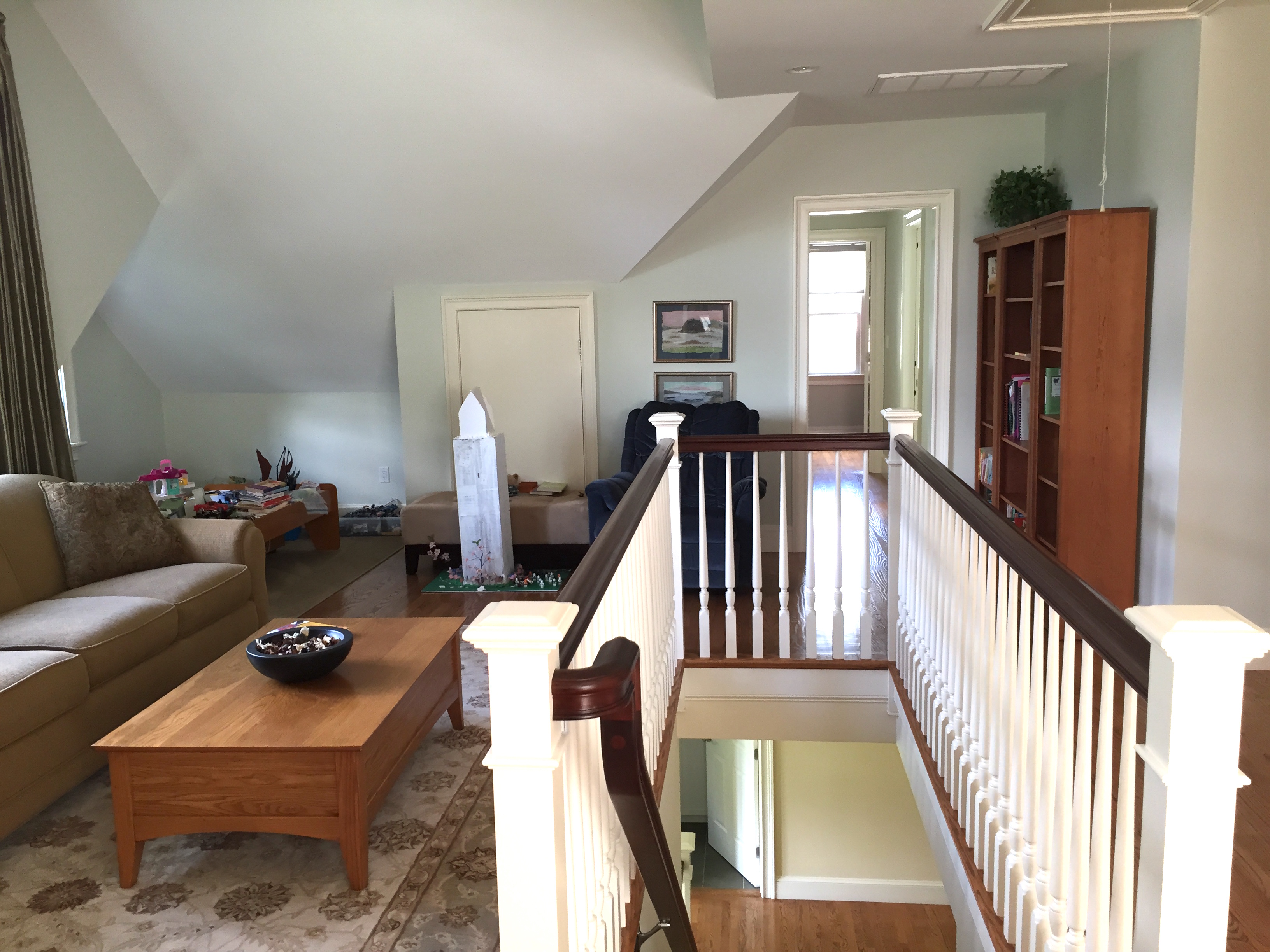 In a large family, I think it's so important to have different spaces people can go to relax, do homework, hang with their friends, have a phone conversation, watch a movie – whatever! And I loved the idea of making a space upstairs that could be a little less formal, and a lot more fun. The space we had to work with was large, but pretty quirky: A spacious third-floor landing area with all of the requisite angles, a staircase cutting into it, and an adjacent niche. My client wasn't sure what could be done with it, and it, like many attic rooms, had become a graveyard for all of their old furniture brought from previous houses.
PROGRESS
The first thing we did was to repaint the whole space. My favorite third-floor painting trick is to paint the walls, ceiling, and all of the eaves and dormers the same color. You just don't notice all of those angles as much, and the space looks way more cohesive. I chose Benjamin Moore's Antique Jade as a cheerful, but somewhat muted backdrop for the major influx of saturated color I had planned for the space!
AFTER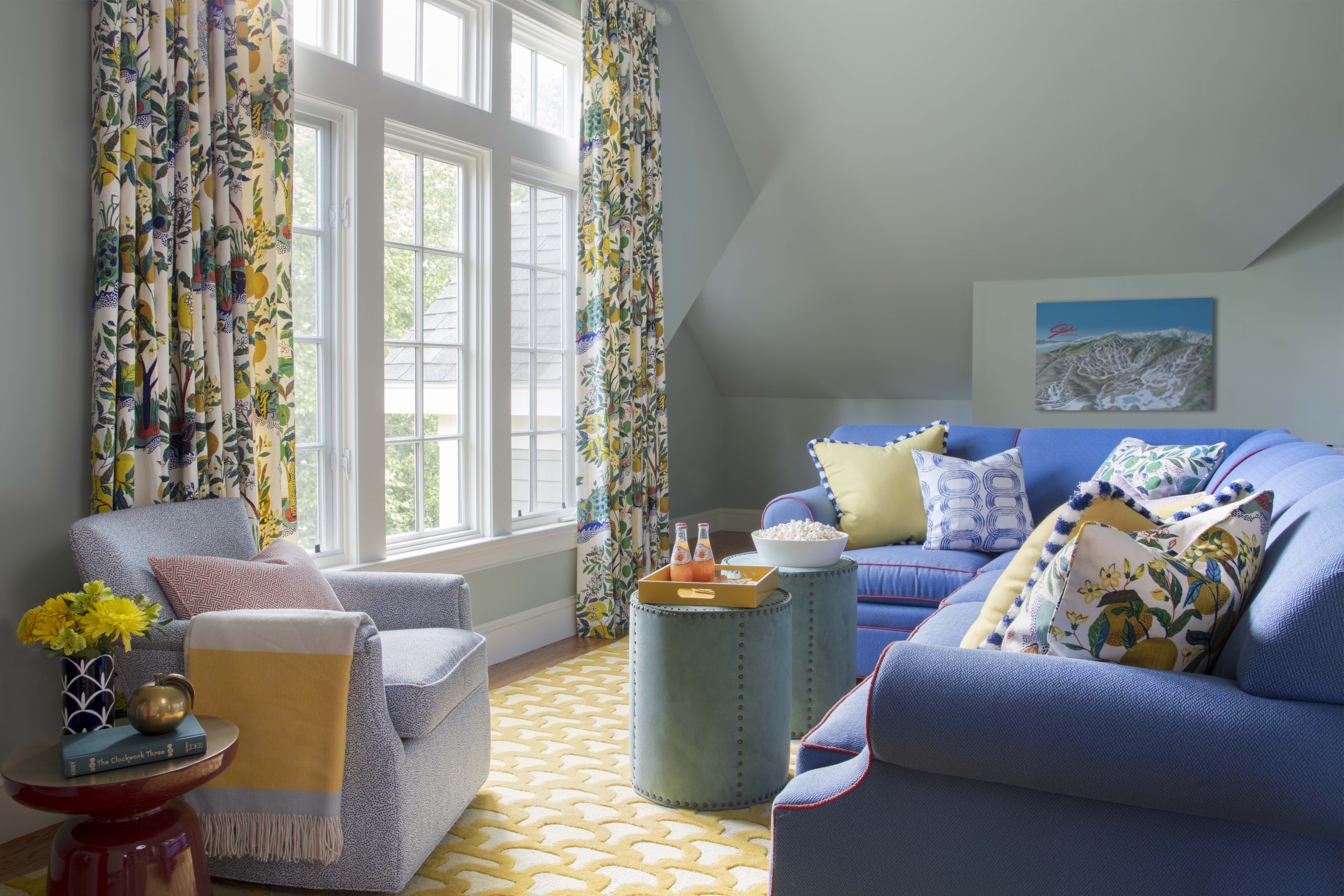 Although this 'main' area is only about 9 feet wide, I knew we had to make a more inviting and social seating arrangement, or the landing would continue to be an unused dust-collector. The pairing of the L-shaped Duralee sectional and a compact, yet comfy swivel chair from CR Laine make this a legit hangout area. Of course, the bright, fun textiles, driven by a primary color scheme and whimsical patterns, also play a big role in creating a space that everyone in the family wants to be escape to! I believe in the concept of "if you build it, they will come" when it comes to rooms in our homes, but only if they are both visually appealing and functional.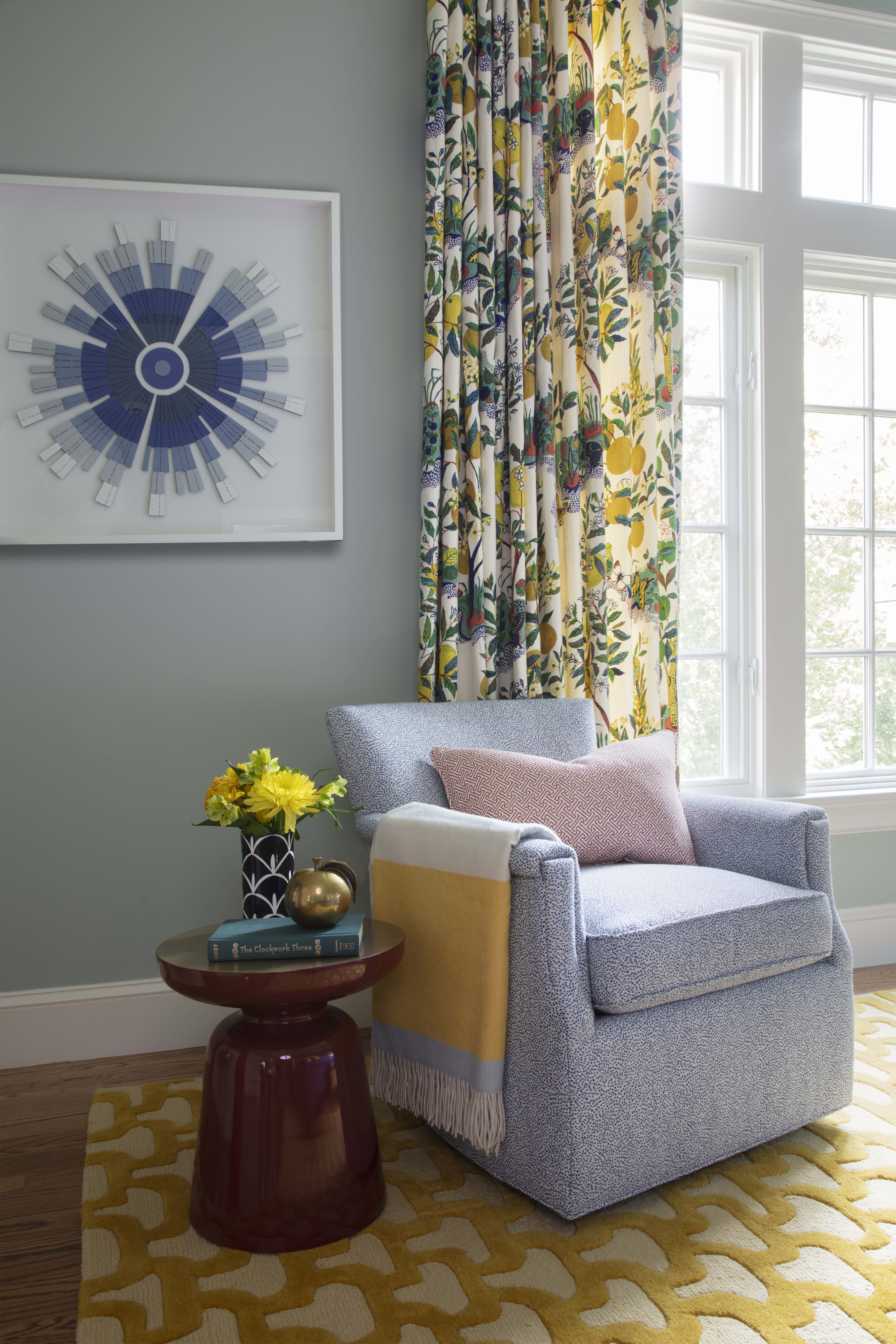 Believe it or not, the now much-beloved Citrus Garden pattern had just been re-released by Schumacher when we did this part of the project. I had no idea it would become so popular (for fun, check out the hashtag #CitrusGarden on Instagram), but I still absolutely love it here – those drapes!! The funky Angela Adams rug was something I had my eye on for a couple of years, but I never seemed to have the right project for it. It was tailor-made for this room, I think! To the left of the swivel chair is a TV mounted over a media console – so the person seated here can watch TV, or have a conversation with the people seated across the way on the sectional.
Behind the sectional, there is a console table doubling as an extra desk (you need extra of everything when you have five kids!). If the desk chair looks a little unusual, well, it is. It is another CR Laine piece – a slipper chair-like number on casters, so it can be rolled into the seating area when a bigger crowd is hanging out. And it's really comfortable! It has a companion, too, we just didn't photograph it.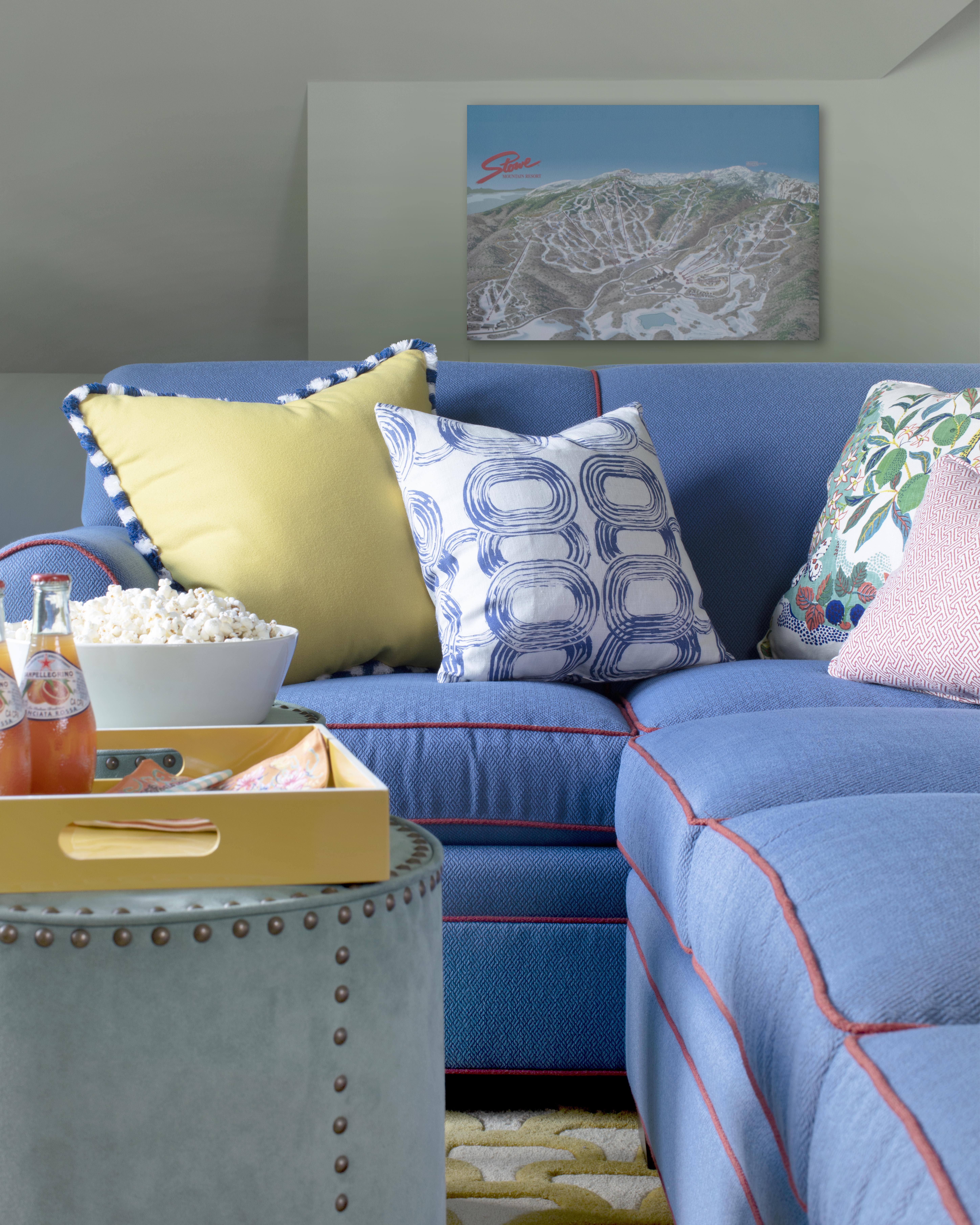 Movie night, anyone? 🙂 Believe it or not, in case you didn't already do the math, this once awkward little room can now seat 9-10 people. And I'm not talking about on the floor, either! I am still smitten with the royal blue with red contrast welt on the sofa – both Crypton Home fabrics from Duralee. It's like a greatest-hits of my favorite performance fabrics – the flat-top cylindrical ottomans are upholstered in a jade Ultrasuede, which I thought perfect for footrests that do triple-duty as tables and extra seating. They're sturdy, but can easily be moved around where they are needed. Flexibility is the key for spaces such as these! And I would be remiss not to mention one of my favorite finds for this project – the blue and white striped fringe I used on custom marigold wool pillows. It's just so fun.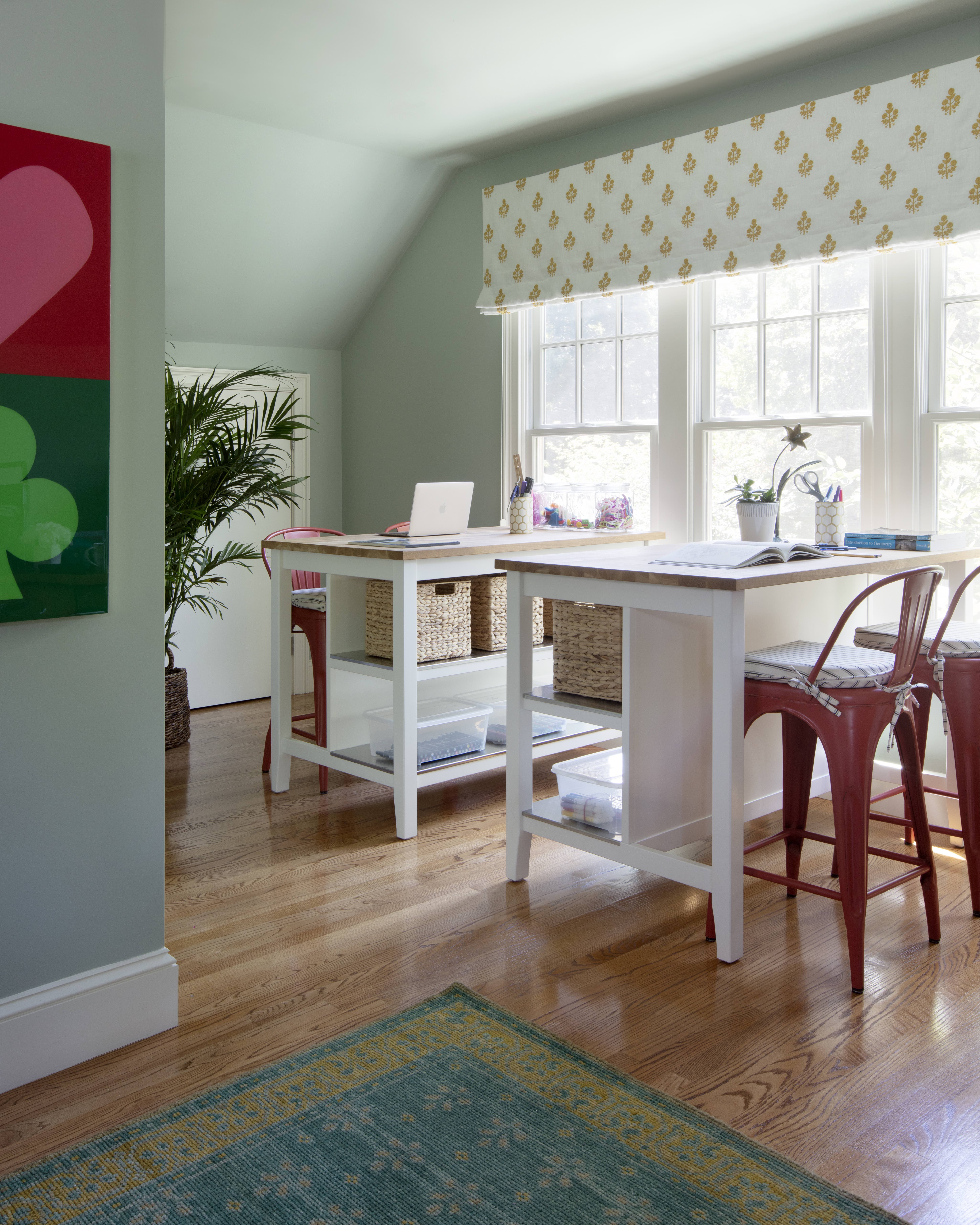 This sunny multi-purpose project space was a vast improvement upon the client's old kitchen table and chairs. And it has a little secret! Those counter-height workstations? They're actually butcher block-topped kitchen islands from IKEA! They work as well for studying and homework as they do for art projects and crafting.
The Hunter Douglas Silhouette window treatments they had already are great for filtering light and providing privacy, and I saw no reason to remove them. Instead, we simply added a custom valance in a fun embroidered linen from Robert Allen. The counter stools are from Ballard Designs. I love that we were able to create a custom-looking space while mixing in quite a lot of retail pieces.
*Special thanks to Libby Silvia Art Style and Elizabeth Home & Decor for providing some of the art and accessories, respectively. And of course to my wonderful client/sister-in-law for accommodating us even as they were preparing to move out!*
Later this week, I will reveal the second phase of Project Happy Place, which was the making over of the three girls' bedrooms to move them all out of a juvenile/nursery look, and into rooms that are more fun, aged-up, colorful, and personalized – while keeping a lot of existing furniture, as well as paint colors. I don't know about you but I love a good makeover almost as much as a blank-canvas decorating project like this one!
All 'after' photography by Sarah Winchester.