I am excited to share a project we recently completed for a wonderful couple in Needham. They had settled in nicely to their light-filled 1990's contemporary colonial home, but wanted to make their living room more 'grown-up' and suitable for both entertaining, and quiet time with their three young children. Unsure what to do with the space, they parked some of their existing furniture in it and called me for help!
And…AFTER!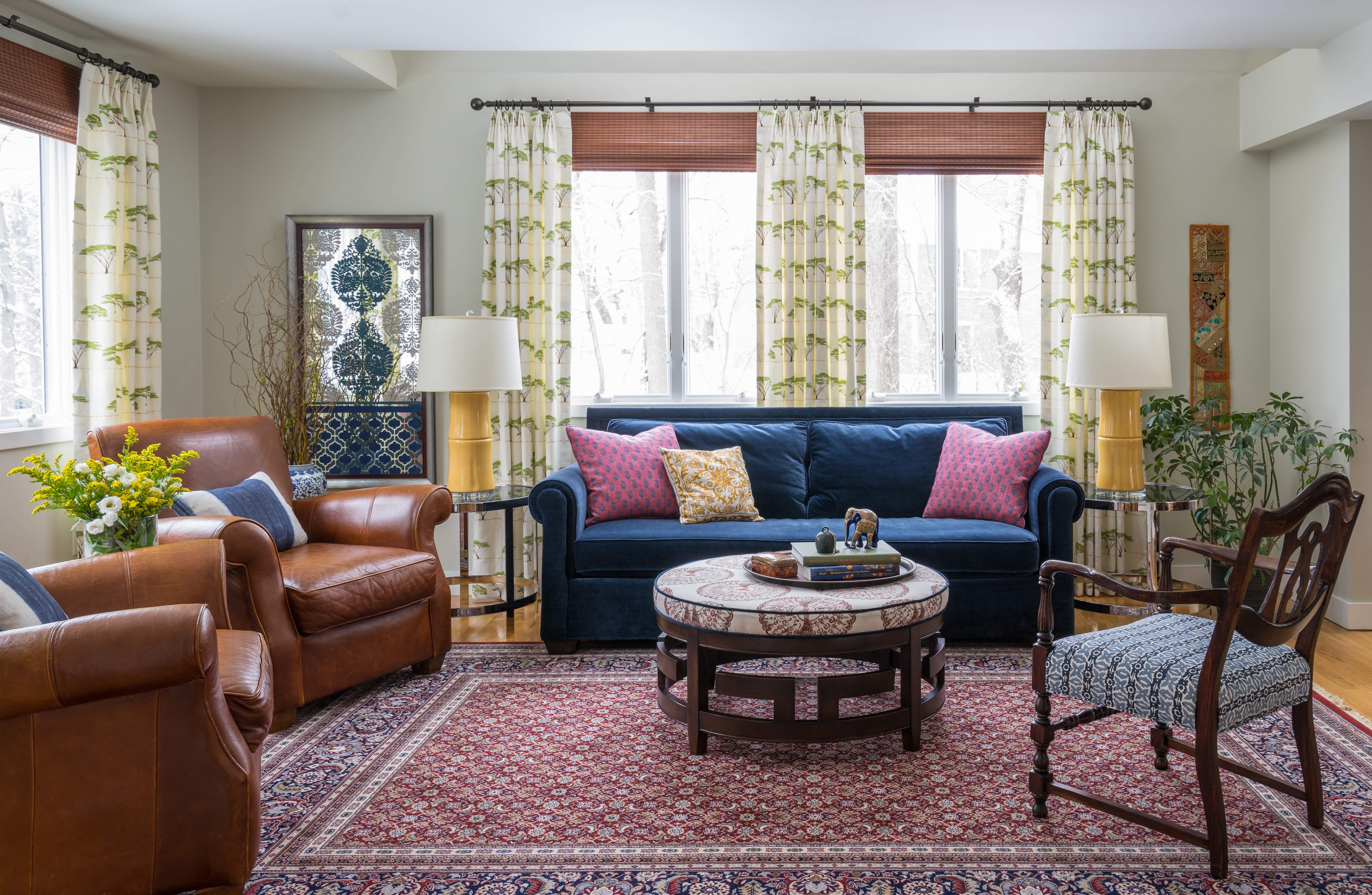 My concept for the decor and the color palette was that of a spice market – with saffron, cardamom, coriander, cinnamon, red curry, black pepper, and masala, with a splash of bold and earthy indigo thrown in for good measure. At a spice market, you find a vibrant mix of cultures and influences, and the mix of patterns inspired by Africa, India, and Southeast Asia bring this to life, while creating warmth and coziness. The husband's family hails from India (by way of Canada), and there were a lot of objects and pieces of art of subcontinental origin already in the home I knew I wanted to use that helped guide us in this direction. But it takes shape within the context of an (American) suburban contemporary architectural envelope.
The first thing we did is to make a small, but important adjustment to the paint color, moving from a dated yellow-cream to a light gray (Benjamin Moore Titanium) with a little more of a contemporary edge, and a subtlety to allow those colors to shine.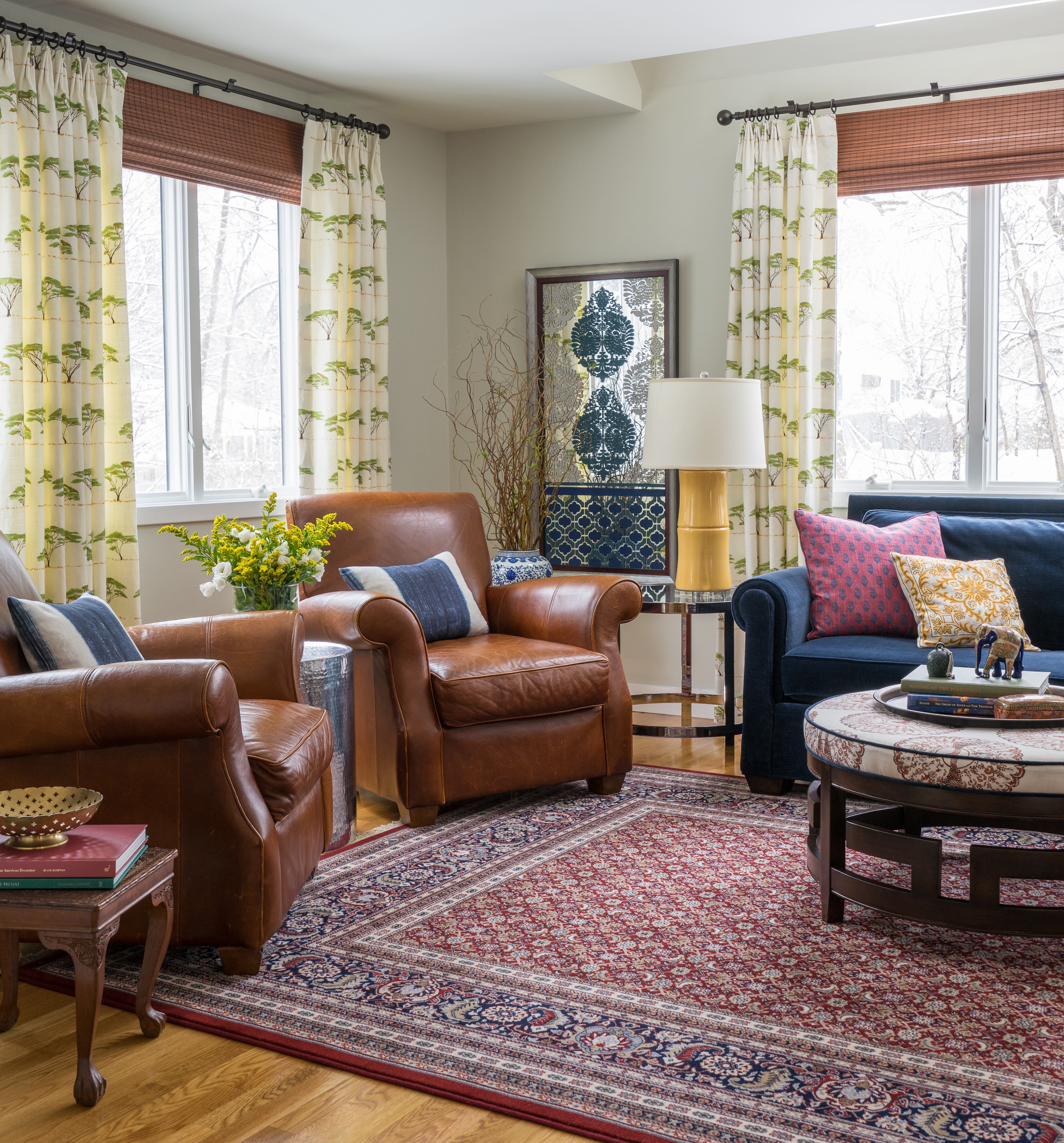 From the very first presentation, the client fell in love with the Mally Skok Botswana Trees fabric, and we made the bold gesture of enveloping the room in the pattern with draperies to soften the modern, single-pane casement windows. If the leather chairs look familiar, that's because the client owned and loved them already, and we saw no reason to replace them. I love the patina that they've developed over time, and they make a comfy and inviting pair. We added some shiny chrome-hued metals into the mix to lend a more contemporary feel that is in keeping with the architectural style of the home.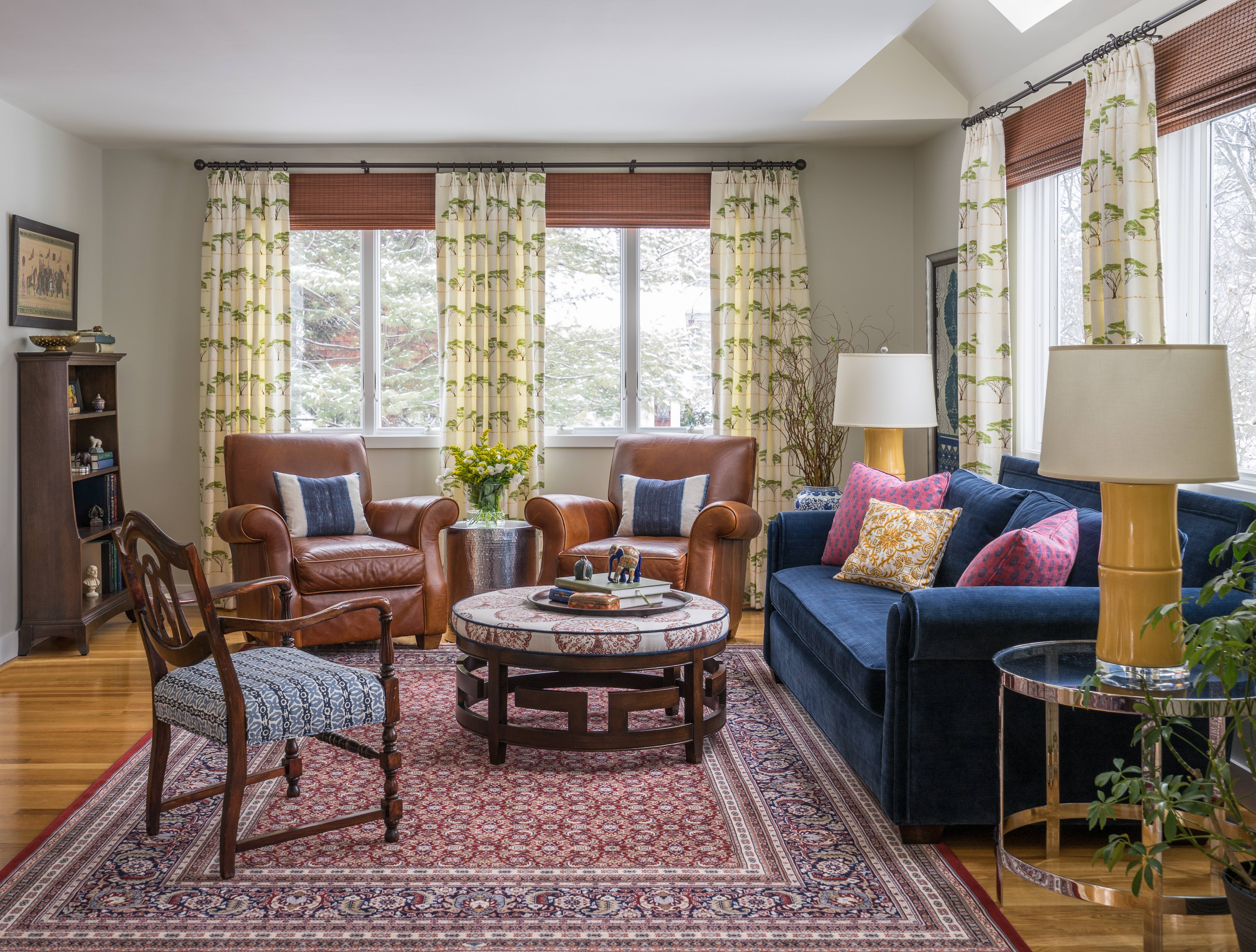 The ottoman, upholstered in a peacock print from Tilton Fenwick for Duralee, is one of my absolute favorite things – the wood fretwork base is so unique, and gives it more of the look and feel of a table. It and the sofa (which is covered in a durable cotton strie velvet from Robert Allen) are part of Dana Gibson's wonderful furniture collection with The MT Company. Everything is grounded by a traditional red and blue wool area rug from Gregorian.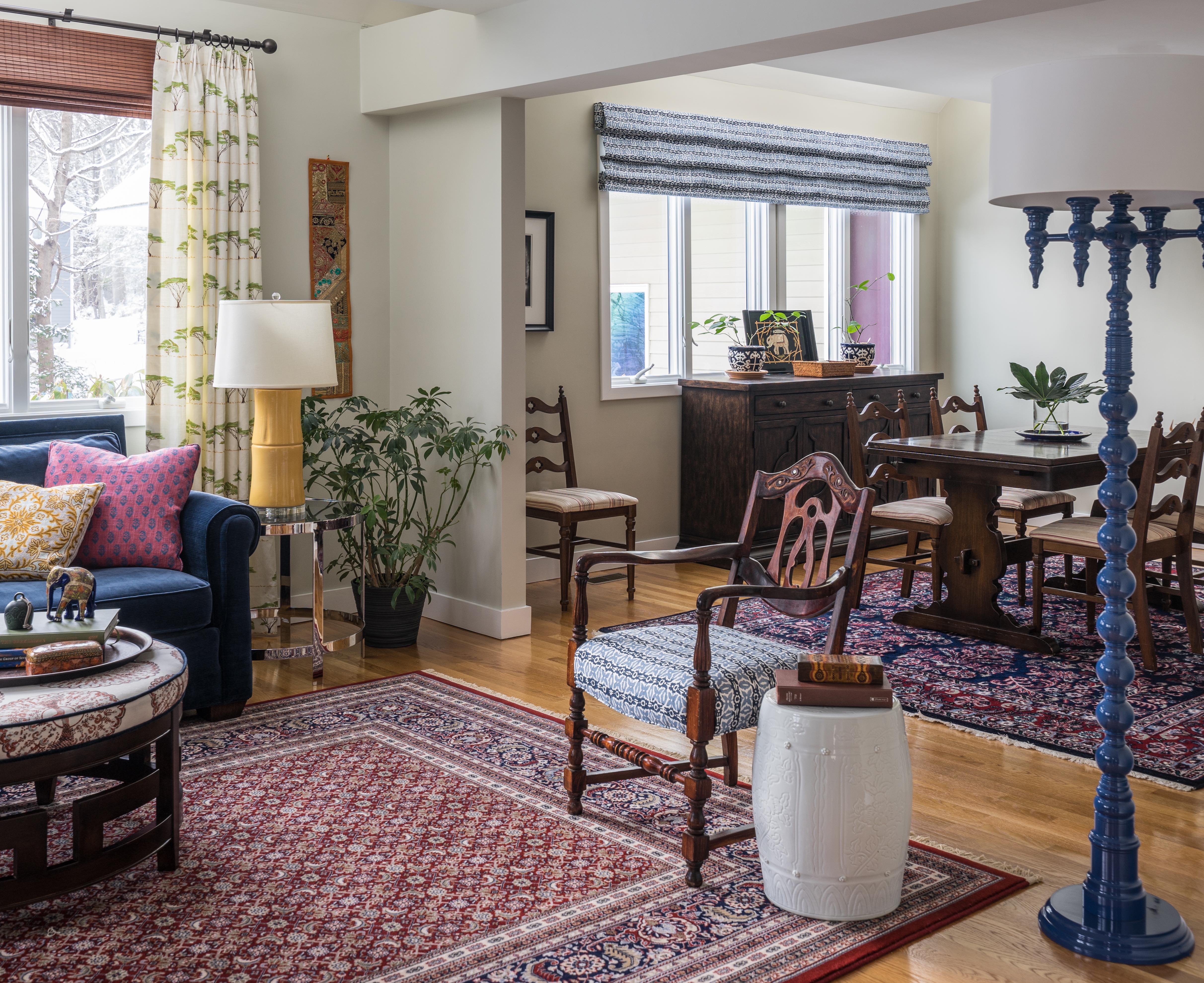 No room is complete without gorgeous lighting, and this one is no exception. We used my favorite yellow table lamps from Bungalow 5, as well as a statuesque lacquered candelabra floor lamp from Dunes & Duchess. A few key updates were also made in the dining room, including a vintage rug and new window treatment. I also love this view because it showcases the eclectic mix of patterns so well, and how they add richness and coziness, not busy-ness.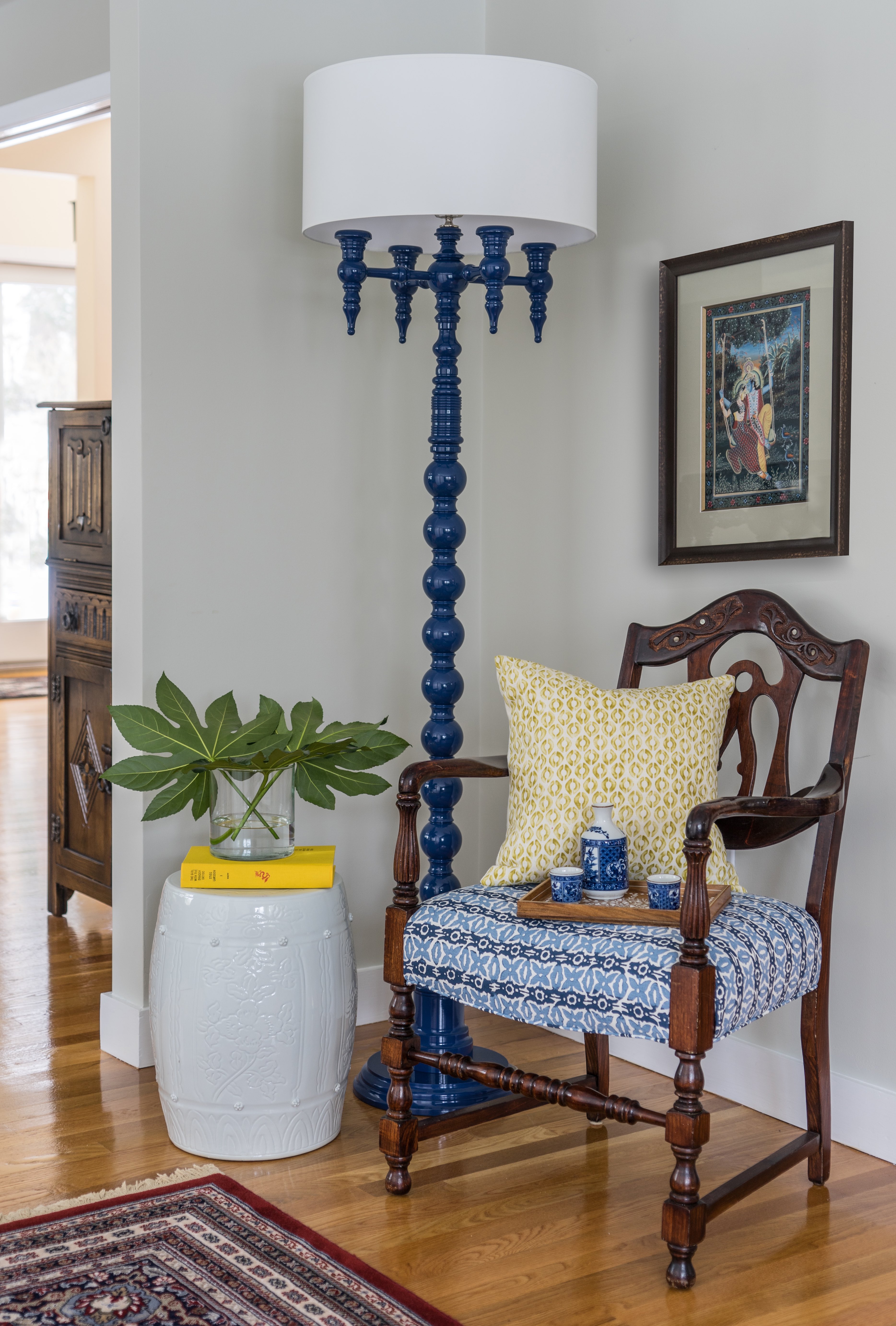 This little corner features the client's existing chair, passed down through the husband's family, which we reupholstered in a Galbraith & Paul block print. I had never seen anything like this chair, and I knew we had to incorporate it. There are no pictures of this style in my decorative arts history books, that's for sure!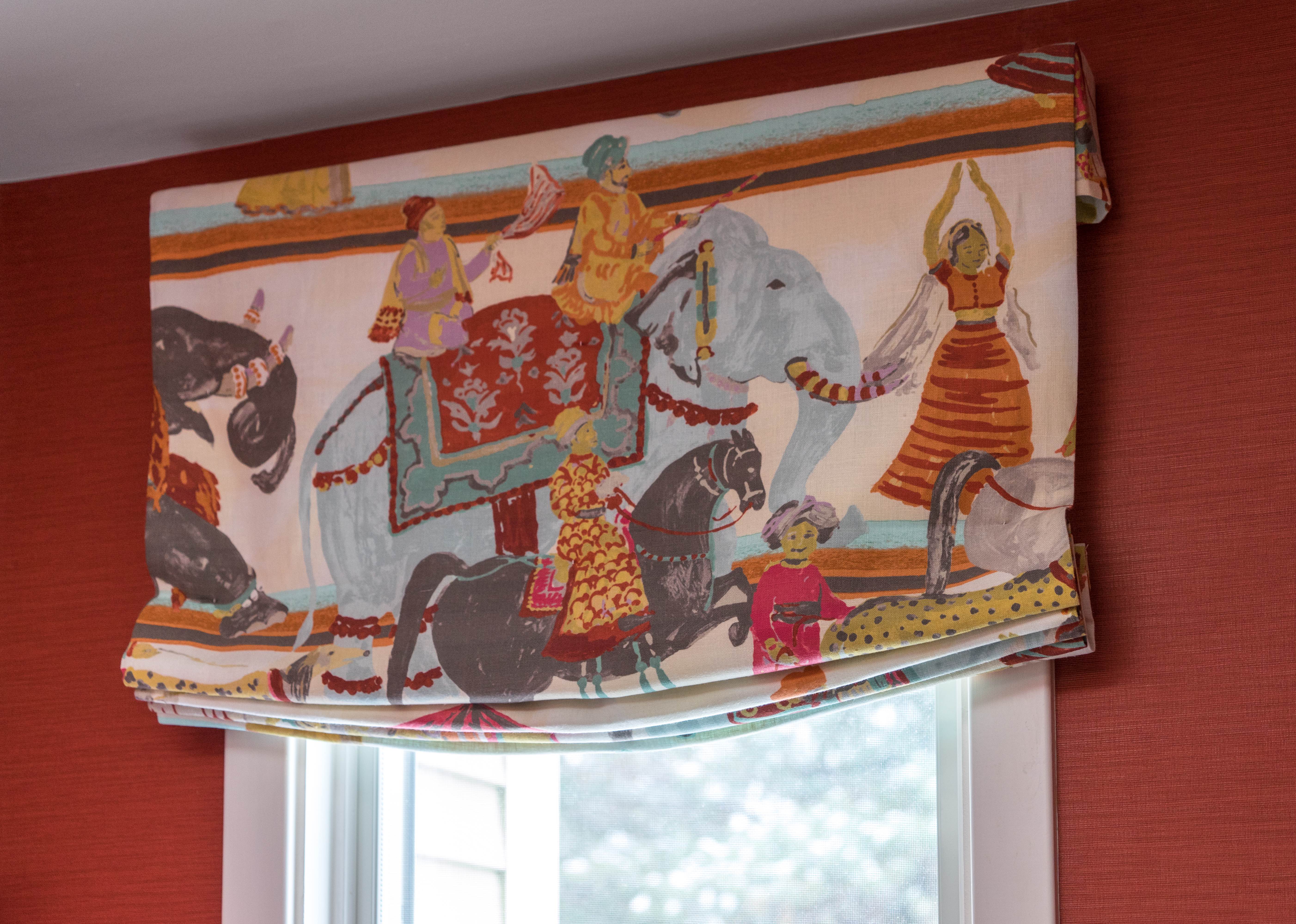 We also updated the client's powder room, which is really a busy family bathroom where the kids brush their teeth and get ready in the morning, with durable Vinyl Manila Hemp from Phillip Jeffries, and a Roman valance depicting an Indian wedding procession (fabric from Jim Thompson).
Do you have a living room (or a playroom, or dining room, or family room) you want to reclaim and make more functional and beautiful? Visit us at Kelly Rogers Interiors to learn more about our services, browse our portfolio (which includes many other living rooms!) and to contact us about your project.
Photography by Eric Roth