I don't know about you, but I'm feeling very much behind on my holiday-related tasks. The past two weeks have been incredibly busy, and I'm only now sitting down to take care of sending our holiday cards, all the shopping, planning out my baking duties, and figuring out the meal I'll serve my family when I host our early Christmas celebration next weekend. Needless to say, like other busy moms, I'll be doing a lot of my shopping online again this year.
The first annual Interiors For Families Family Home Gift Guide is (finally) here to help you find the perfect gift in every budget. Everything in the guide is available for purchase online. But don't delay, deadlines for personalized items, in particular, are rapidly approaching!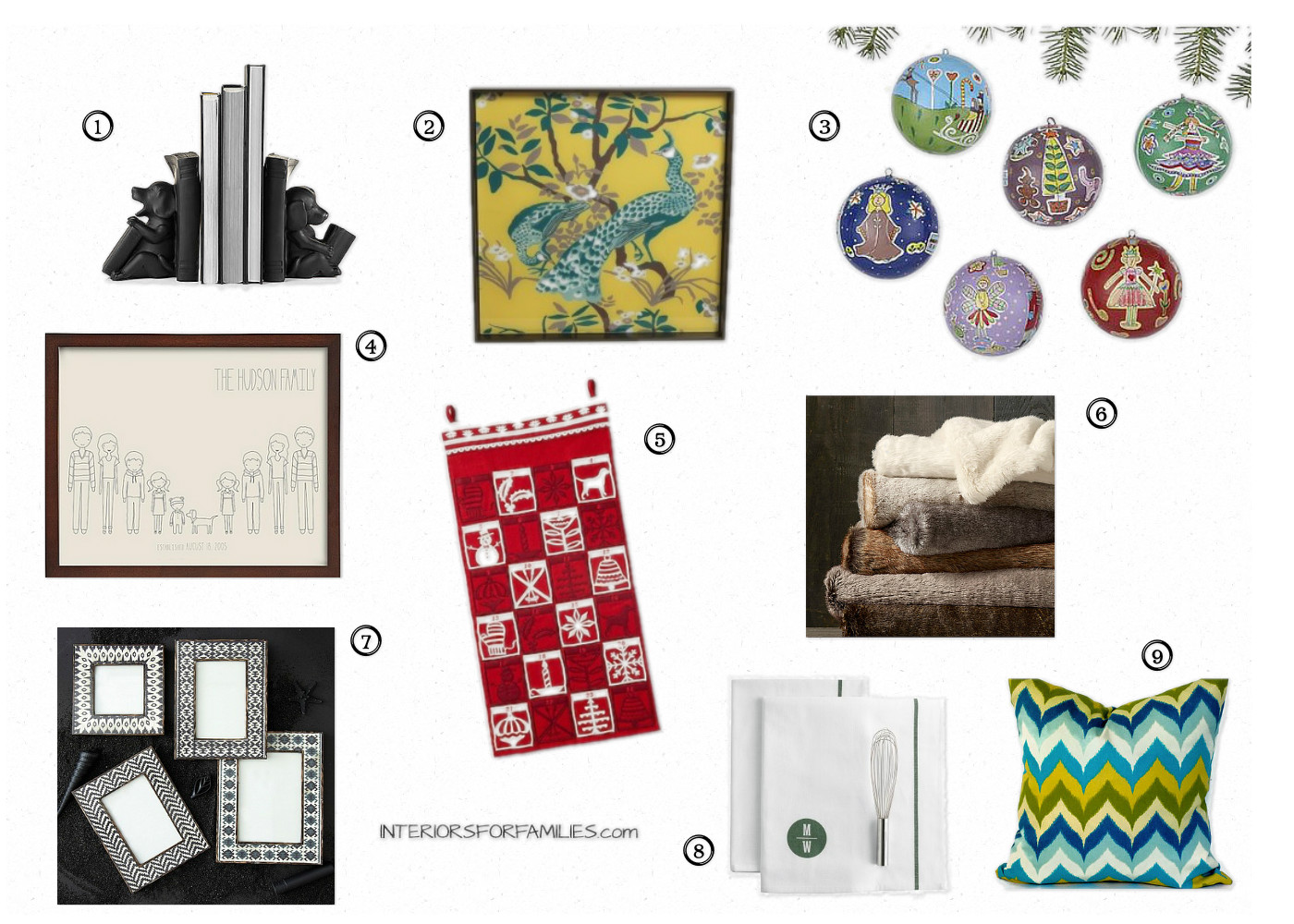 1. The Sleeping Beagle Bookends from Z Gallerie are even more charming in person (I got mine last week – had to, being a beagle owner!). They are substantial, but soft, and would look great in a kid's room, or as a whimsical accent in the living room. And they're a steal at just $19.99.
2. For the family that enlisted an ottoman into coffee table service – a gorgeous Lacquered Peacock Tray ($213). It's one of my favorite patterns from DwellStudio, also available in fabric and wallpaper.
3. Tree ornaments always make a welcome gift, but families with babies and toddlers won't have much use for large glass baubles. Luckily, Crate & Barrel has an adorable set of Handpainted Nutcracker Papier Mache Ornaments ($17.47) that won't shatter if they happen to hit the floor. We have a '12 Days of Christmas' set hanging on the lower part of our tree (a gift from a few years back), and our 16.5 month-old son seems to be enjoying them…safely
4. For the family that has everything, personalized items are always a good bet. The Personalized Family Members Wall Art from Red Envelope starts at $79.95, and includes both the name and 'characters' of your recipients' family for a truly unique gift.
5. Eddie Bauer has a great reusable Advent Calendar in red and white felt, with pockets for each day of December. And it's only $29.99!
6. I am on a major (faux) fur kick – I think just about every room can benefit from a hit of rich, plushy texture. I recently picked up a Luxe Faux Fur Throw from Restoration Hardware and absolutely love it. Quinlan is now insisting on reading all of his books while snuggled up with me on the couch under the "furry blanket." It is on sale right now for $79.99.
7. All families need great picture frames to display all of their beloved photos. This set of 4 Brown Ikat Inlay Frames is available at Zinc Door ($165.00) – they're unique, but neutral to fit with any decor.
8. You don't have to spend big bucks to give a great personalized gift. Mark & Graham's Bistro Kitchen Towels ($24.95 for 2) are chic and practical, and come in four colors and six different monogram styles.
9. Etsy is a wonderful source for inexpensive throw pillows in designer fabrics. This bright blue and green chevron/flame print is a 100% polyester indoor/outdoor fabric that is resistant to fading, soil and stains – the pillow (cover only) is $40.