Do you have a family heirloom that's probably not worth anything, but you just wished you knew something (anything) about it? I do, and I'm hoping someone out there on the interwebs can lift the shroud of mystery from one of my most prized possessions – my grandma's green vase.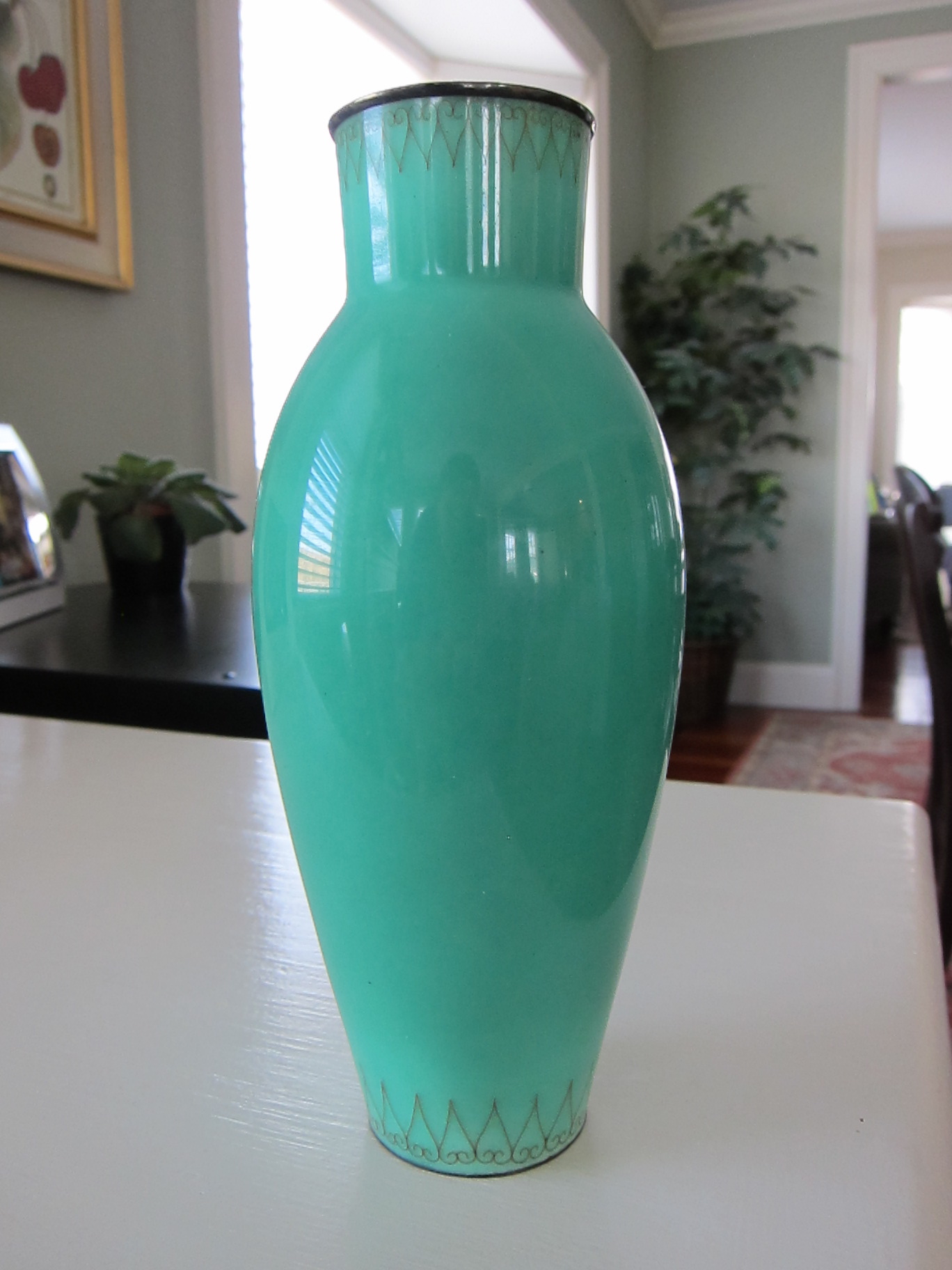 In June of this year, it will have been ten years since my beloved grandmother passed away, succumbing to ovarian cancer at much too early an age. Her husband, my grandfather, survived her by four years before losing his battle to cancer in 2006. After that, my mother and her two siblings had the emotionally taxing task of clearing out 40+ years worth of their parents belongings, divvying up items of sentimental and/or monetary value amongst them, and then selling the house they grew up in.
My mom asked me just before the clean out began if there was anything of theirs that I wanted. They didn't have much of any real monetary value, save a couple of pieces of jewelry that surely should go to their children, not grandchildren. But I always loved this simple green vase, even though I knew nothing about it. And I still don't – not even what it's made of, or where it came from.
The vase stands about 7″ tall. As you can see, the color is just amazing. The shade of green leads me to believe the vase was produced in the 1950s, though it has a bit of an art deco sensibility, too, suggesting an older piece. Initially I thought it was a glazed ceramic vase with metallic rimming and decoration, but after getting a better look inside, it appears to be an enameled metal of some sort – probably copper or bronze. It's far too light to be cast iron.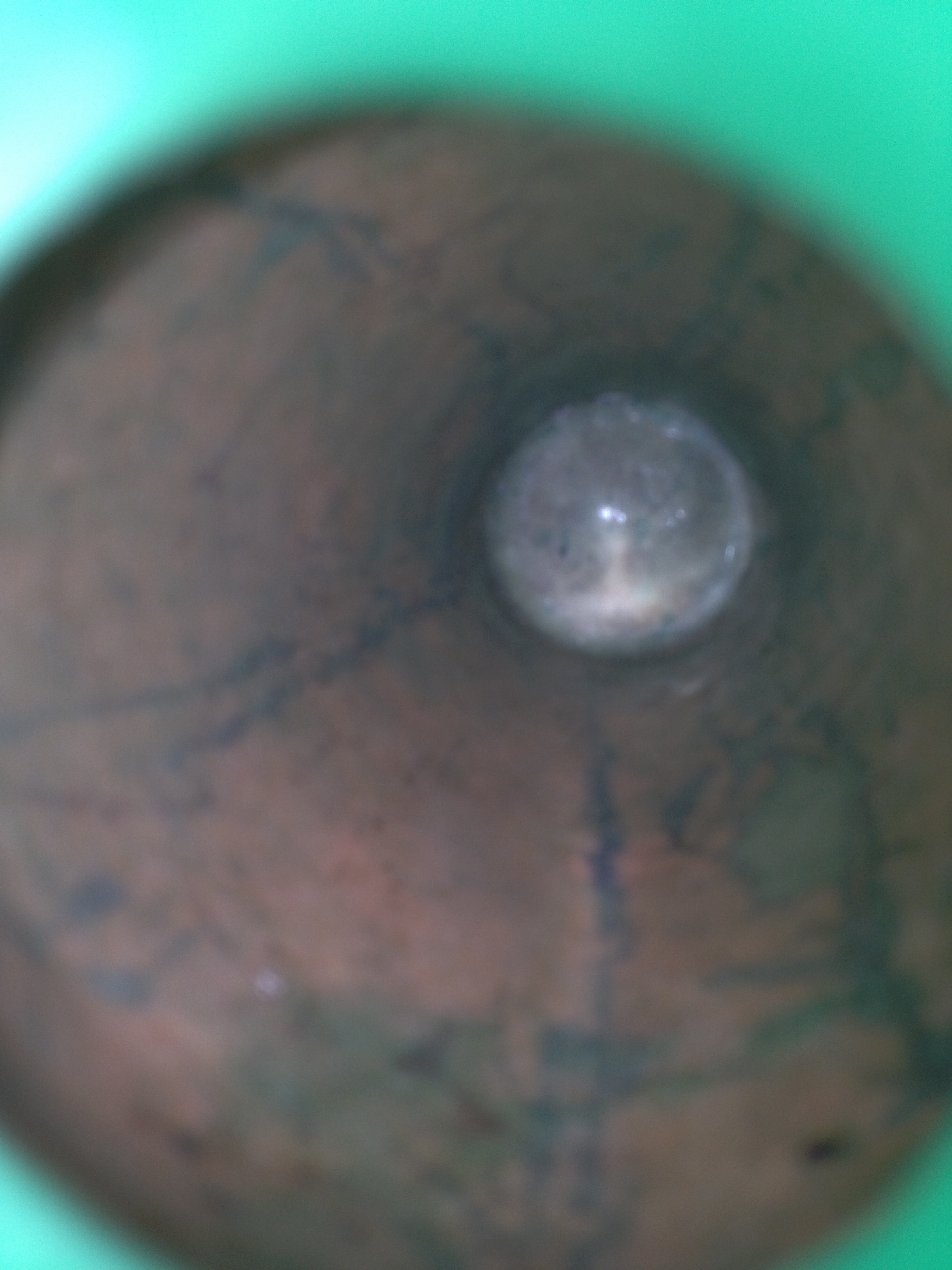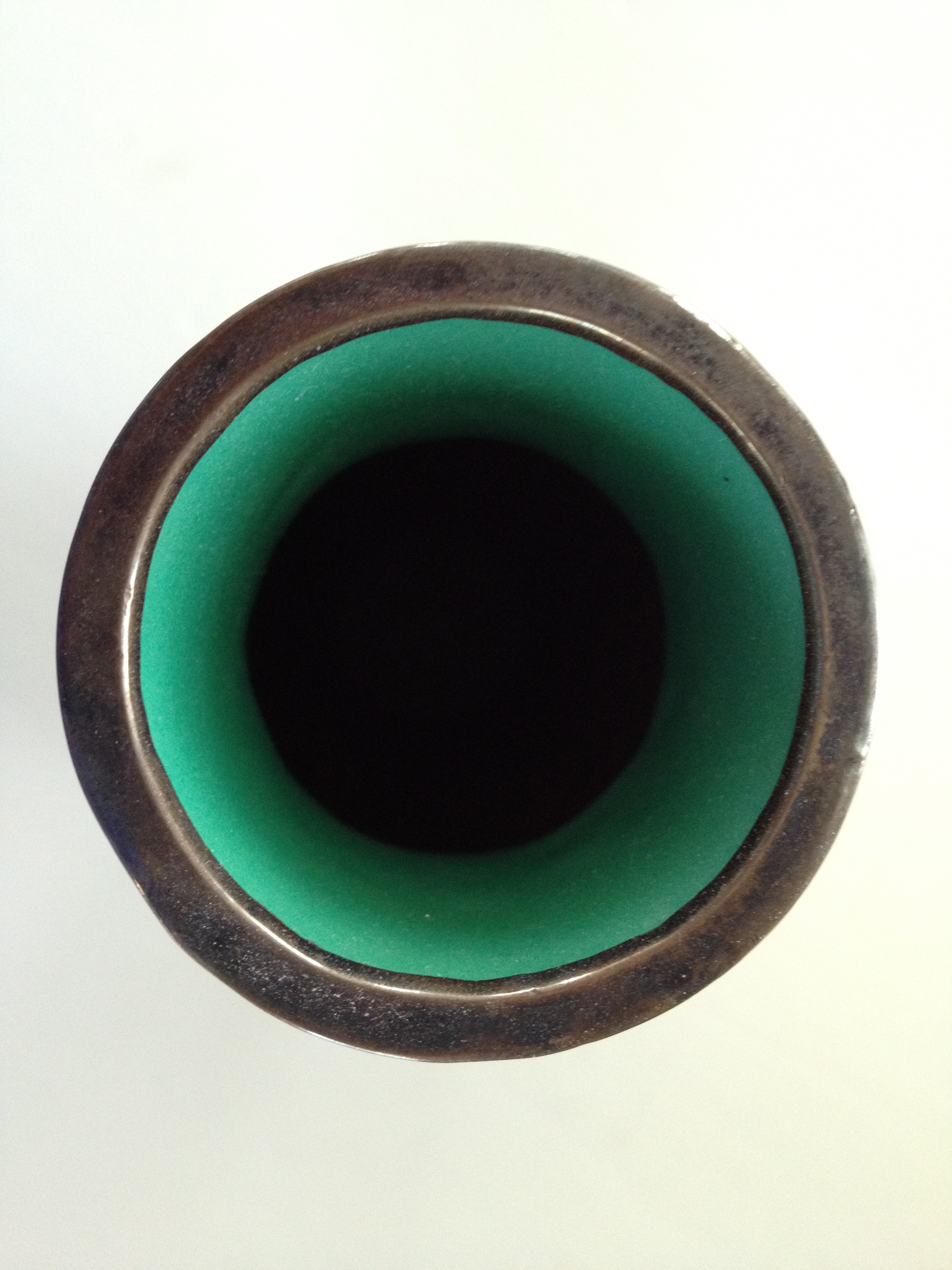 Both the top and bottom are adorned with a delicate, stylized repeating heart motif. All of the "points" of the hearts face inward, so the ones along the bottom are upside down.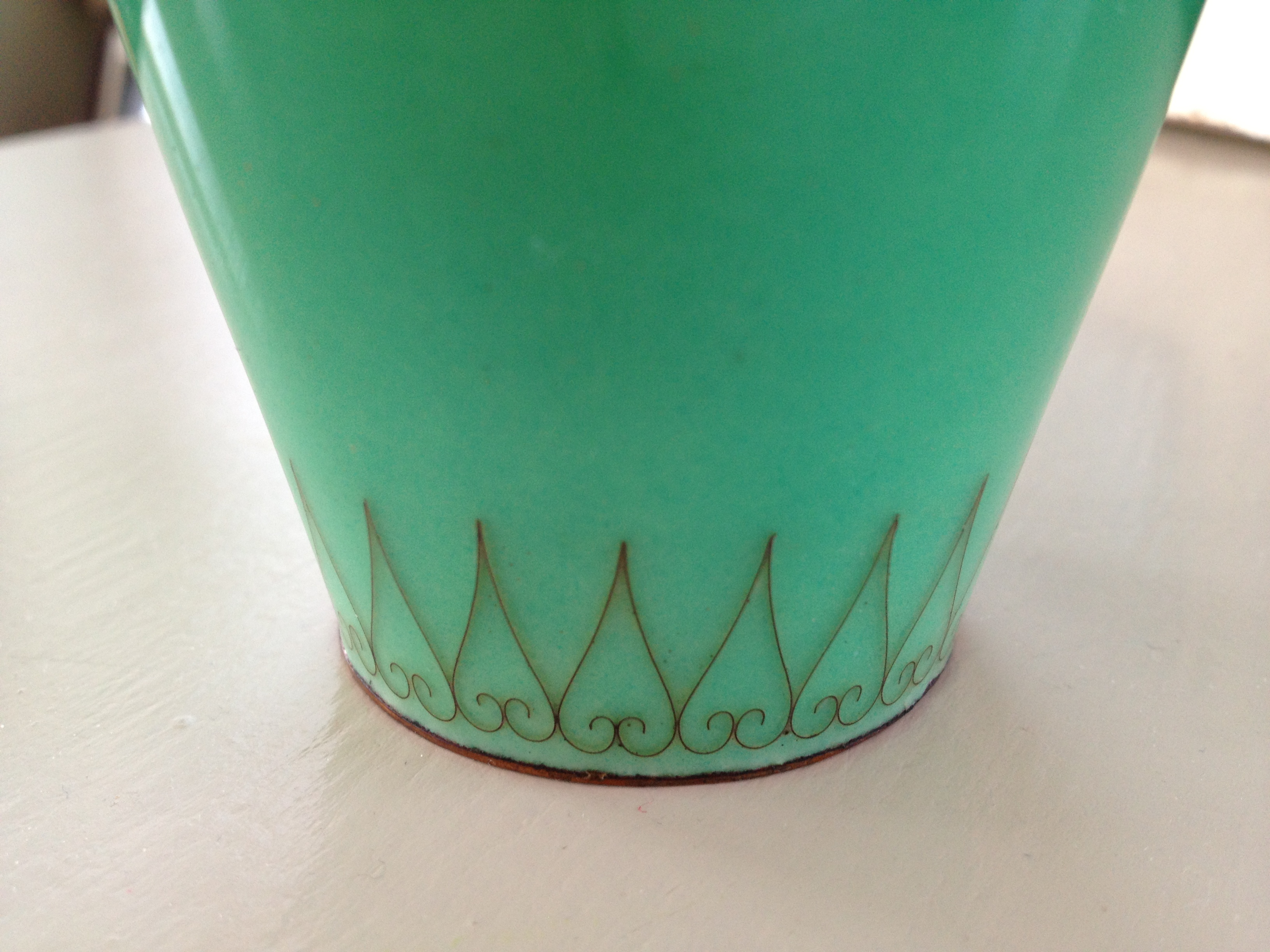 When antique appraisers review decorative vessels such as this, they'll always look for a mark, which can tell them volumes about when and where the piece was made, who made it, what it's made of, etc. There is something on the bottom of my grandma's vase – but I'm not sure I'd call it a mark. It looks more decorative than signatory to me, and it kind of resembles a sand dollar.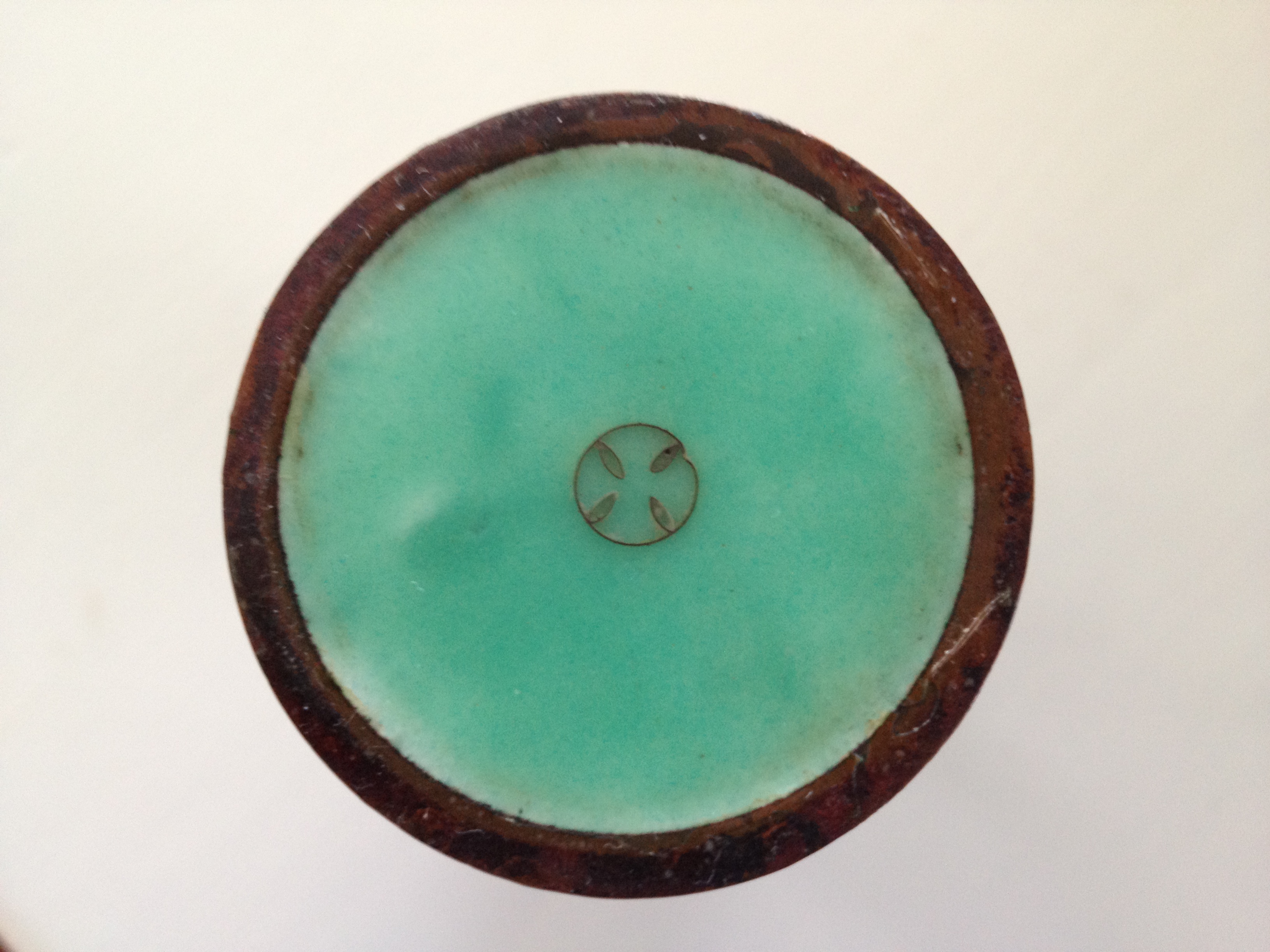 I know I may never learn the true provenance of my grandmother's green enameled metal vase, but that won't stop me from trying. I don't care if it's worth $5 – you can't put a price on the sentimental value it has to me, so I would never sell it. If you have any information, or know someone who might be able to help solve the mystery, I would much appreciate any and all leads!