Unless you've been living under a rock for the past ~10 years, you've surely noticed the influence of Scandinavian modern design on the interiors of today. Clean lines, varied textures, warm materials, connection with nature, intentional coziness, and what I like to call the 'bathed in white' aesthetic, are its hallmarks. If I were to say 'Scandinavian modern' – you might think IKEA! And you'd be right on, of course. Oh, and yes HYGGE. Or, perhaps spaces like these latter-day interpretations might come to mind…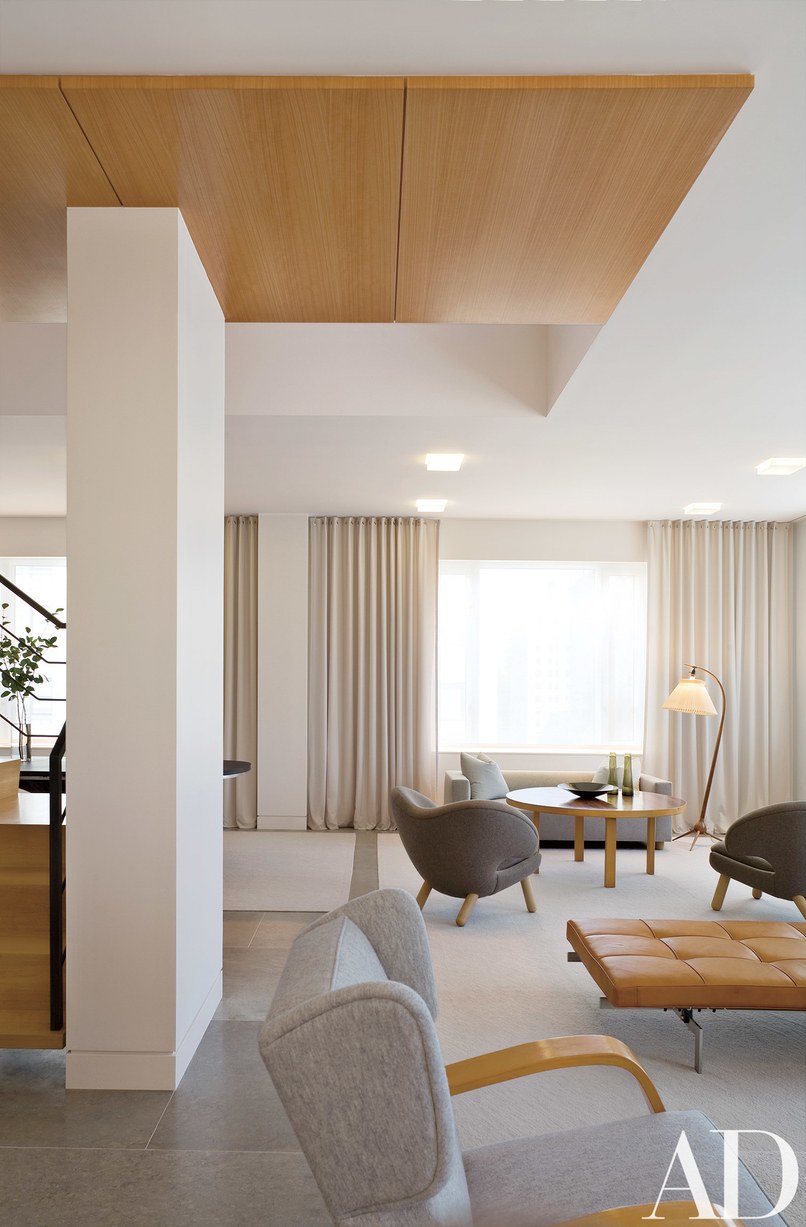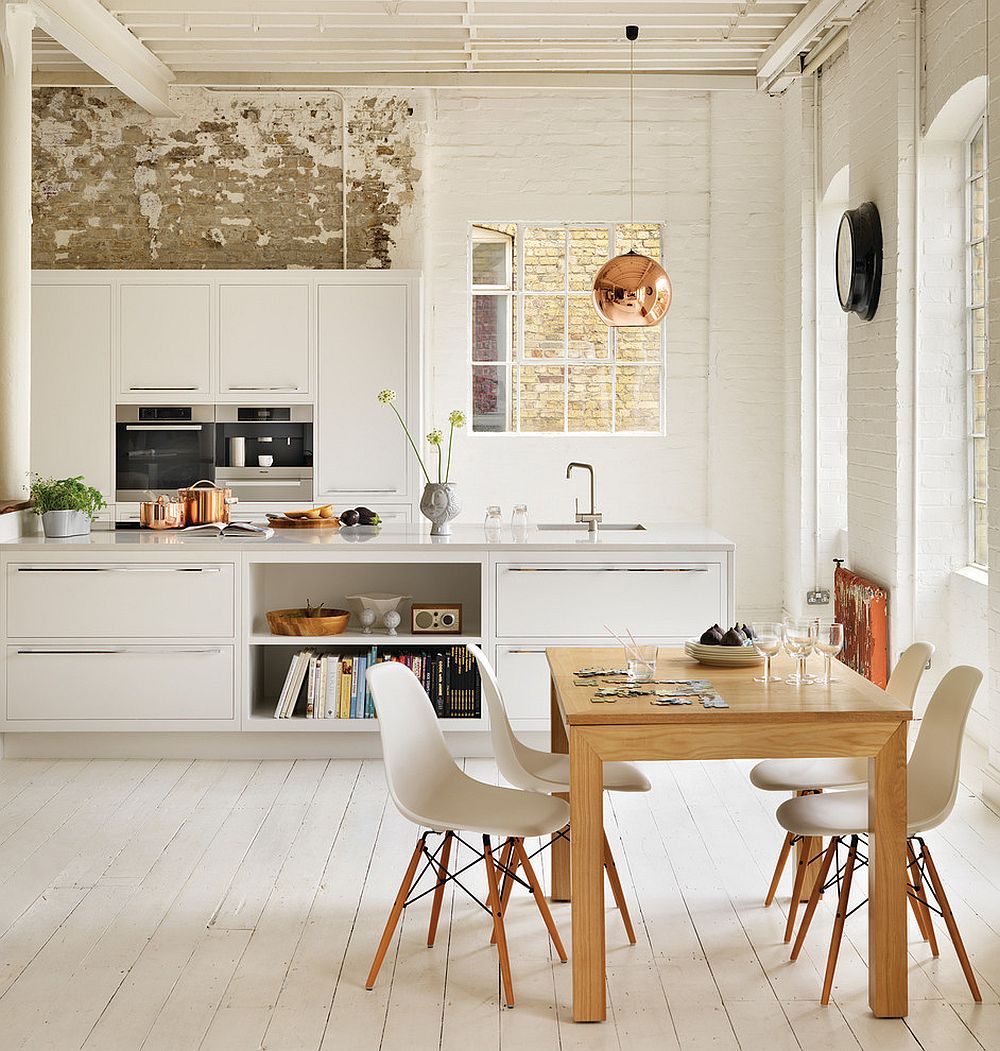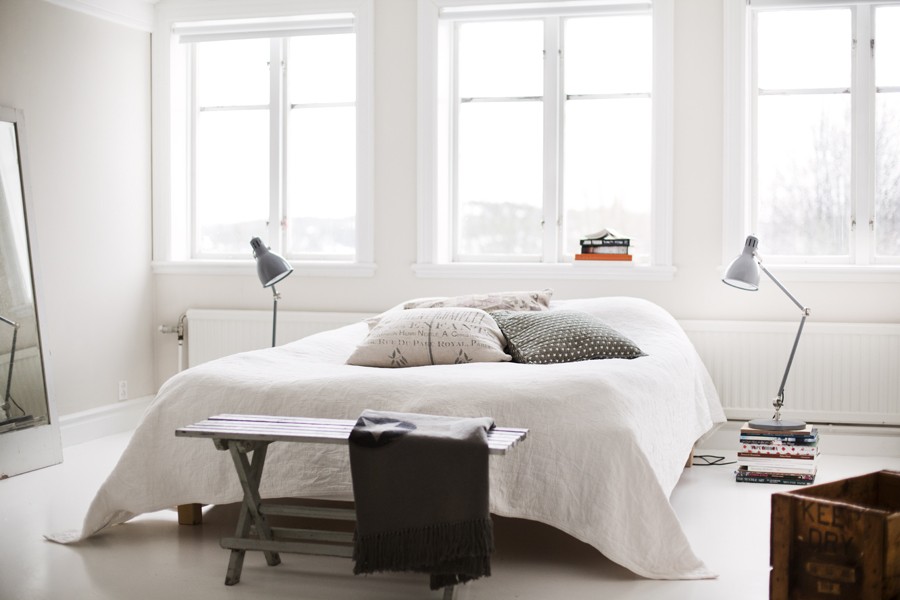 But do not forget, there is also a rich history of vibrant, highly patterned textiles (particularly prints) in Scandinavian modern interior design. I mean…Marimekko…hello!?
Over the past several months, I have seen one after another new collection come out from a variety of manufacturers, which are firmly rooted in this tradition. These whimsical, highly-saturated patterns that are challenging modern interpretations of Scandinavian modern design (in other words, what people believe it to be today) – and I am loving every. last. one.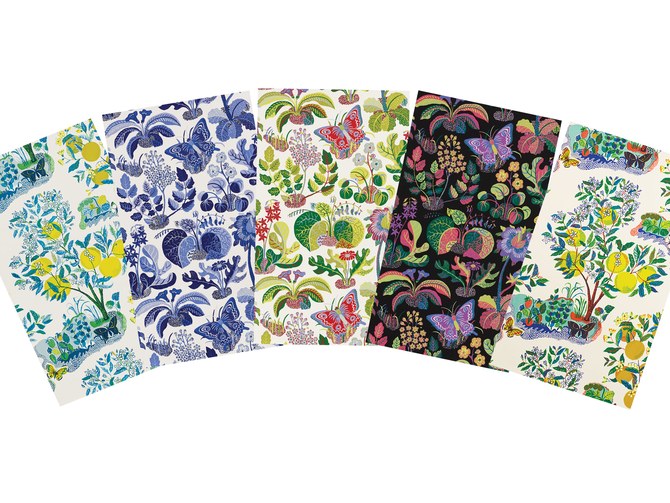 Schumacher's Citrus Garden and Exotic Butterfly patterns (in both fabric and wallpaper) have been enormously popular over the past few years. Designed by Josef Frank in 1947, they were reissued and recolored (as archived patterns often are).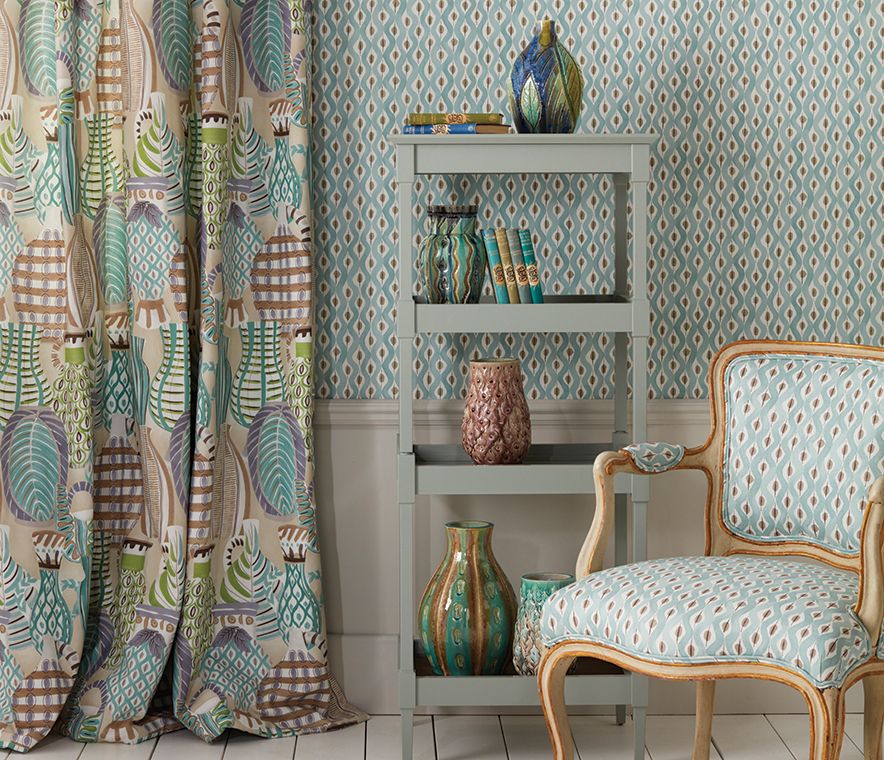 The Collioure multicolored print from Nina Campbell's latest (and amazing) collection for Osborne & Little, as shown here on the draperies, is said to be inspired by Matisse, but I see a definite mid-century Scandinavian influence, as well. There are so many beautiful colorways.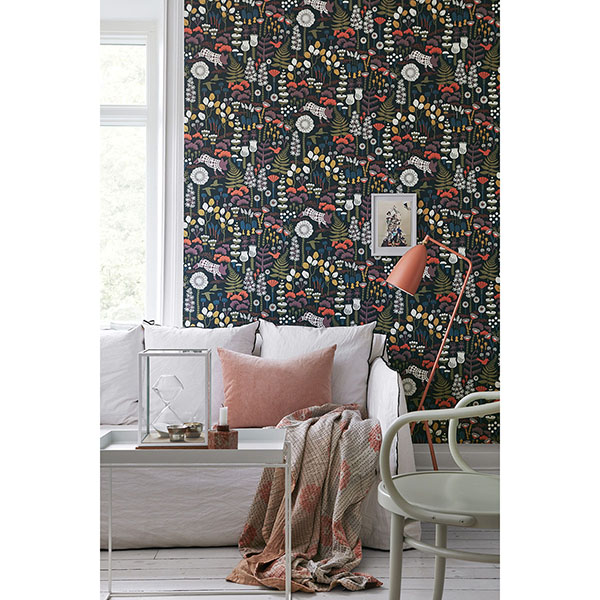 Borastapeter actually is a Scandinavian line, as distributed by Brewster Wallcoverings (which is local to me in Stoughton, Massachusetts). This charmer is called Visby, and it includes such curiosities as argyle sweater-wearing pigs, and geese flying over blooming dandelions. I receive the books for all of Brewster's new collections as they are released, and their Scandinavian wallpapers have been some of my favorite sources of inspiration – and a couple will be used on upcoming projects!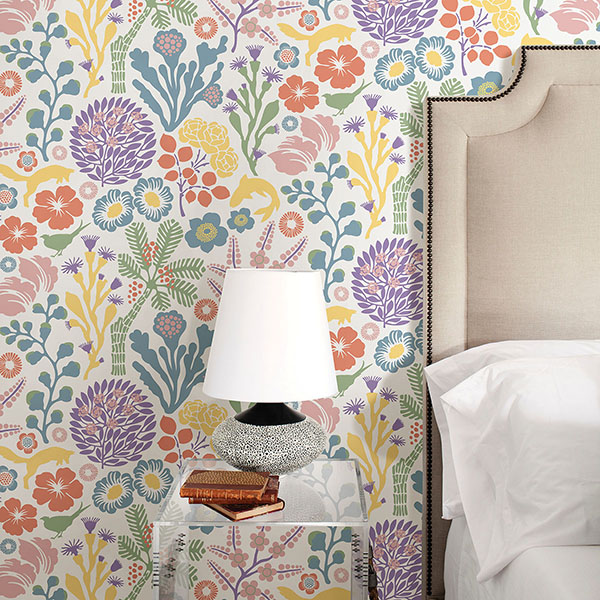 Brewster's A-Street Prints' Habitat collection also has some wonderful multicolored Scandi prints. This one is called Malmo Fauna (which, by the way, sounds a lot like an IKEA SKU…)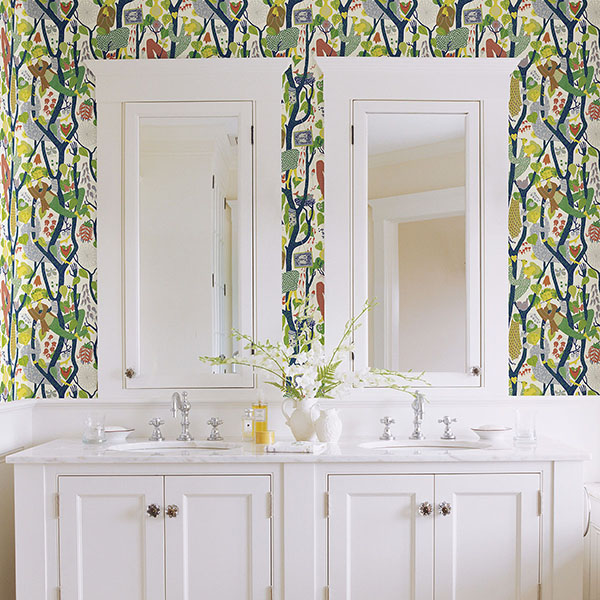 …and this is Revel Vintage, adding its casual vibrance to a 'generic' white shared bathroom.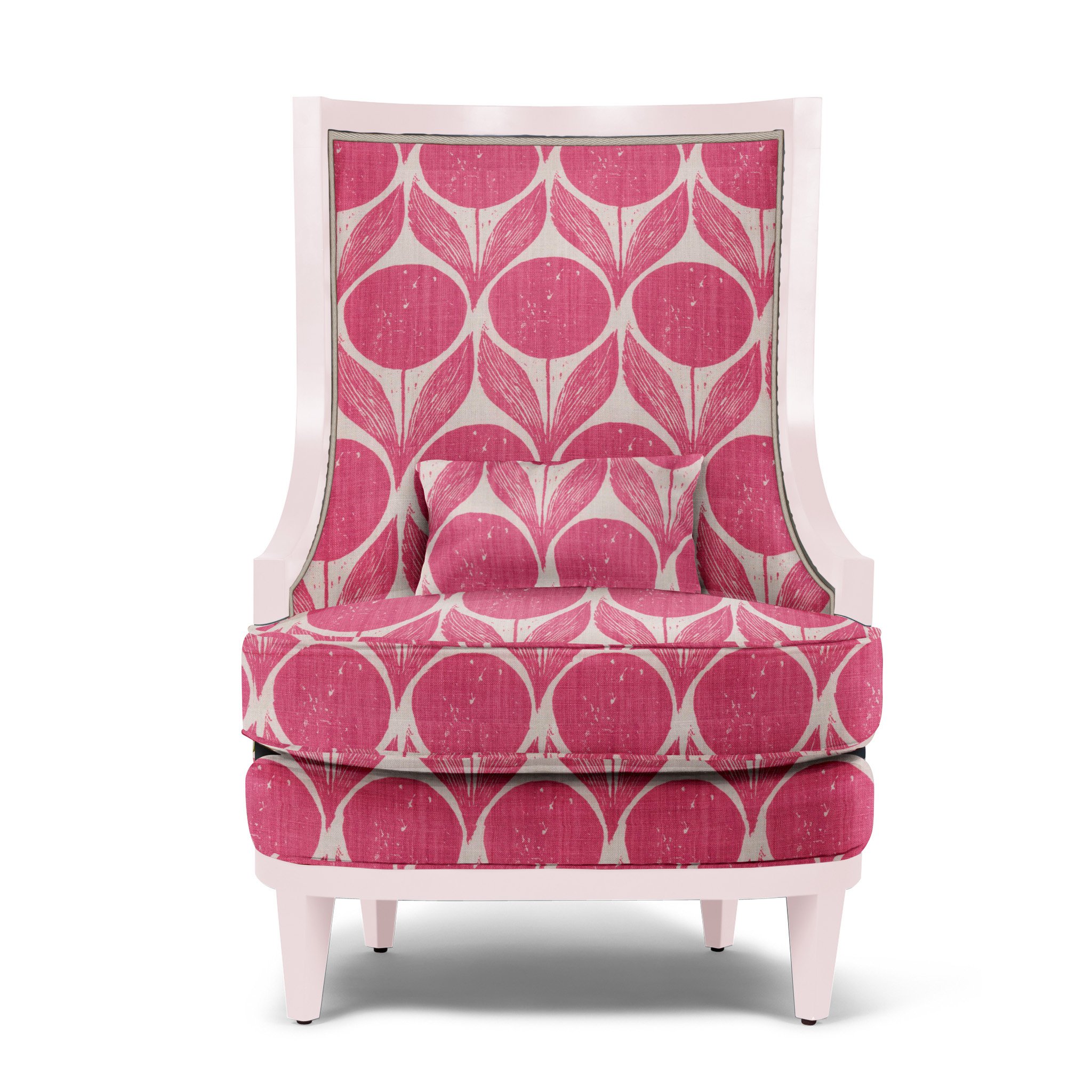 And then there is the ever-popular Suvi Blossom from Romo – available in both fabric and wallpaper. It is both floral and geometric at the same time – and of course highly stylized and 'flattened,' both characteristic of Scandinavian modern design. It's pretty in pink, and totally fun on the Royale Wing Chair, from my friend and fellow designer Barbara Hirsch's furniture collection from Dowel Furniture.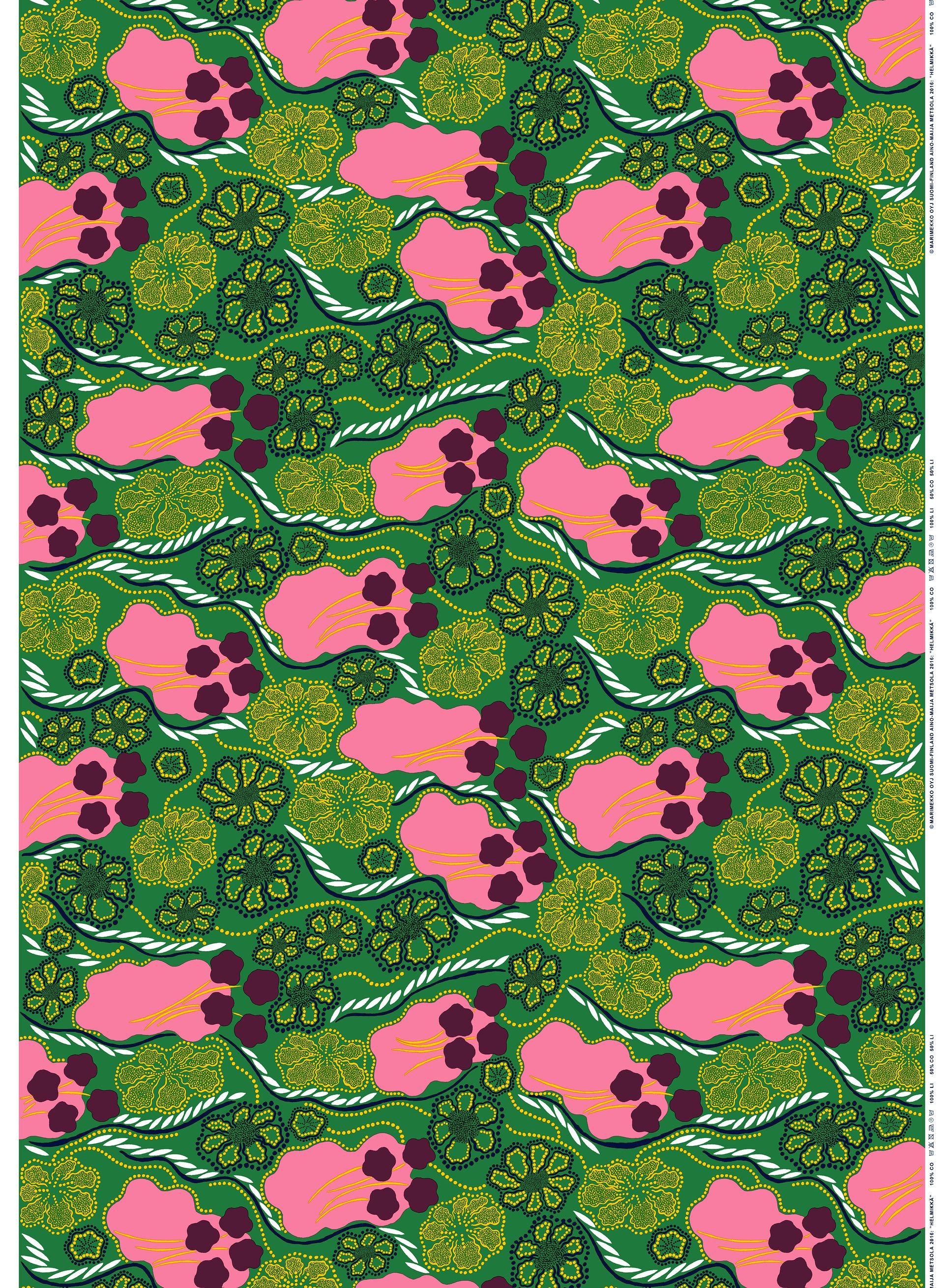 And have you seen Marimekko's more recent designs? It's a totally unique perspective and vibe, and I am loving it all. The above cotton print, called Helmikka, is sort of a mash-up of Finnish and African influences, designed by Aino-Maija Metsola in 2016.
How would I use it? Let me count the ways…
Kids room decor. No brainer. Its whimsy would be appropriate for a nursery, but then grow with them well into early adulthood…and even transition nicely into a fun guest bedroom
Matchy-matchy. These bold, stylized designs are tailor-made for wrapping a room with matching fabric draperies and wallpaper. It actually softens the patterns a bit when you do this, because you're surrounding yourself with it, and smoothing out the contrasts and transitions with more of the same.
Powder rooms. Many of you who would never consider using wallpaper in your home, would happily wallpaper a powder room. The smaller the room, the bolder you should feel free to go. Make it fun – and fun is what these Scandi-inspired patterns do best!
Accent pillows. One of the easiest way to add these prints (and their happy vibe), also requires minimal investment, and low commitment. Give them a try on your neutral sofa, chair, or white bedding.
What's your favorite way to do Scandinavian modern – white light and bright, or colorful stylized and whimsical?