One of the main reasons I decided to pursue a career in design was that I felt the profession, overall, could do a better job of catering to the needs of families with young children. These are the people that tend to be the most nervous about investing in home furnishings, as they assume whatever they purchase will only be ruined by little Sally and Bobby, whether it's spillage of food and drink, spit up, or the dreaded errant crayon or marker. Sometimes nervous to the point that they either do nothing, or buy things they don't love simply because they were inexpensive and "disposable."
I wanted to share some family-friendly strategies specific to upholstered furniture, which is where I think a lot of people get really anxious. And with good reason – nice furniture isn't cheap, and re-upholstering is often the equivalent of buying a new piece. Sadly, there is no one 'magic bullet' solution, but there should be at least one (or probably a combination) that's right for you.
1.) Love Leather
Leather is not fabric, obviously, and of course it doesn't come cheap. But it can give you a rich look that is very easy to care for – just wipe up the mess and you're good to go. And don't sweat the bumps, scratches, stretching and wear spots – it all adds character and depth to leather. On the downside, leather can be a bit unforgiving with temperature extremes. If your home is not well climate controlled, you may actually sweat on it in the summer time, or feel the chill on your skin when the air conditioning is cranked up.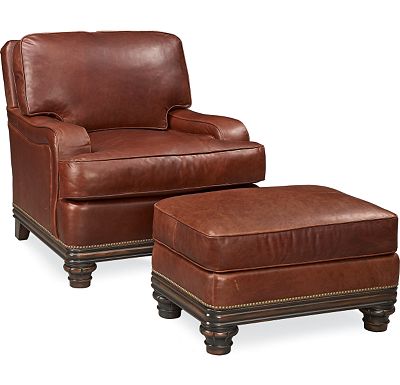 2.) Up your Double Rubs
An important measure of a fabric's durability is something called 'double rubs,' which is the result of a testing process designed to mimic every day wear – whereby a double rub approximates sitting down and standing up off a chair or sofa. There are different testing methods – but generally, you'll see this one. The higher the double rubs, the more resistant fabric will be to physical wear and tear (note: this is not an indicator of durability related to climate, light/fading, colorfastness, etc.). Look for fabrics with at least 30,000 double rubs. The more, the better!

3.)  Pick Patterns
Not surprisingly, patterned fabrics tend to hide blemishes, stains and other imperfections better than solids. "Duh." When looking at different fabric swatches, try to imagine a grease or red wine stain and envision how apparent it would be. Some manufacturers will provide a cutting for approval, which is a sample of the fabric you can do your own 'testing' on before you make your furniture order final and it is sent into production. This should be part of the process with anything purchased through a designer.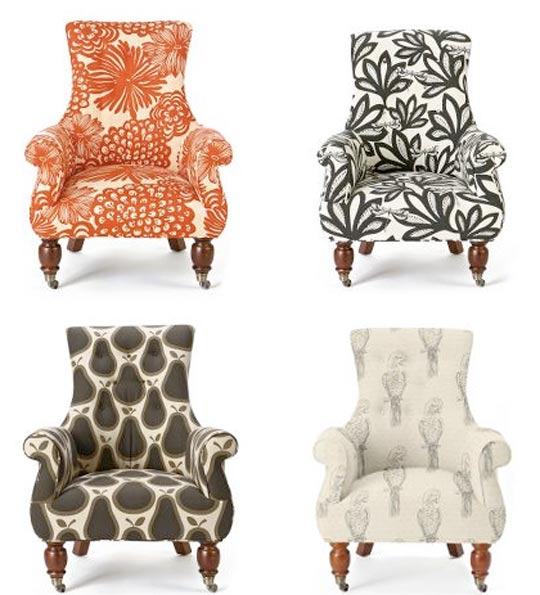 4.) More Microfiber
So microfiber is a bit of a polarizing fabric. Some love it, others hate it. It is undeniable that good quality microfibers provide the best combination of durability, stain resistance and clean-ability. I'm mainly talking about Ultrasuede, here. It really does feel like suede, unlike some cheaper microfibers. And I've heard stories of Sharpie disasters on Ultrasuede-upholstered furniture being averted with a rubbing alcohol and elbow grease. Even WHITE! Want to talk double rubs? How does 200,000 strike you? It doesn't get any better than this. Lots of color options, too (solids). If you are environmentally conscious, Ultrasuede is a great choice, as it is made from 100% recycled fibers.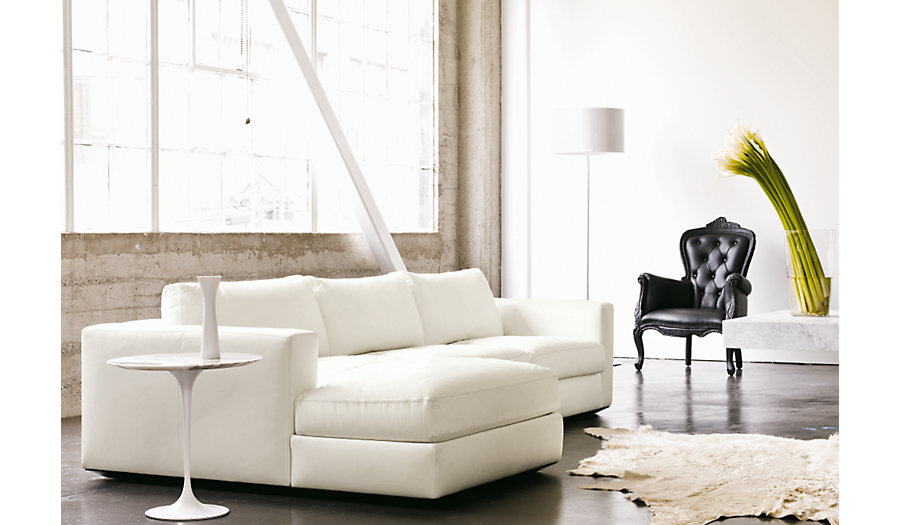 5.) Slipcover It
This is another area of great debate – some folks love the control, flexibility and easy casual style of slipcovered furniture, while others find them messy, cumbersome and time consuming to care for. If you're going to go this route, I would still caution against white or cream, as you'll see dirt and feel compelled to launder much more frequently than with a neutral beige or gray hue.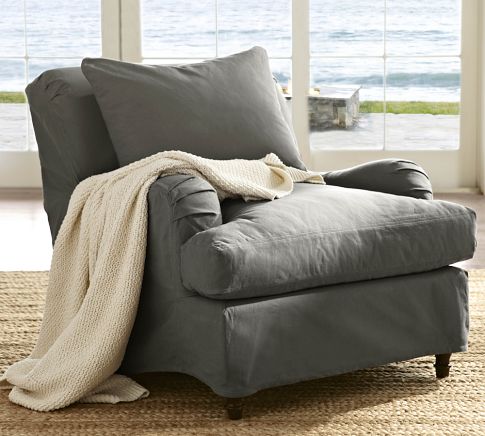 6.) The Finish Line
Many fabric and furniture manufacturers, especially those that sell to the trade, offer the ability to add a finish to a fabric that will enhance its ability to resist stains from dirt and/or liquids. You have probably heard of Scotchgard, which is often used as an after-market solution. You can buy it at Wal-Mart and do it yourself. However, there are some concerns about the safety of these types of chemical finishes that may not make them the right solution for you. Teflon is another one I see often at fabric showrooms. Nano-Tex is a newer technology I am pretty excited about – it's not a surface finish at all, since it functions at the molecular level; fortifying each individual fiber with stain and/or spill resistant qualities. These types of finishes can enable you to choose a fabric or color you might not have otherwise been willing to select.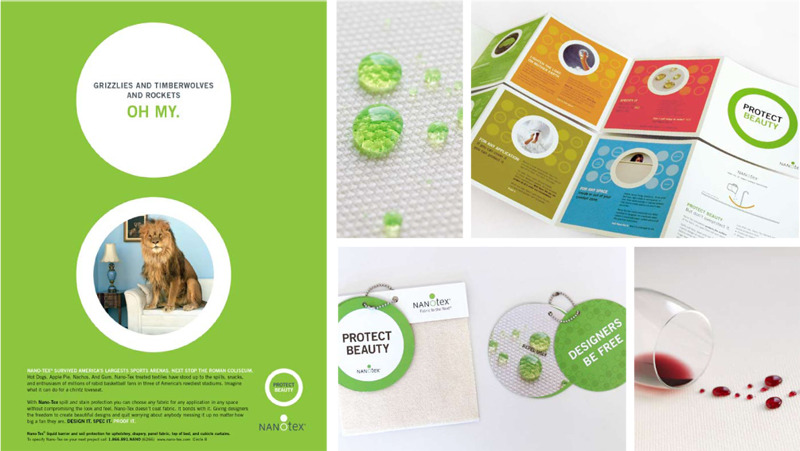 If you have pets, another important consideration when looking at colors is your furry friend's propensity to shed, and the color of his fur. I would highly advise against very dark fabrics (and rugs/floors – very important!) if you have a shedding dog or cat with light hair, and likewise for light fabrics and dark hair. Also, many fabrics tend to hold onto pet hair for dear life – I have experienced this firsthand with cheap microfiber (Ultrasuede does not have the same issue).
There are so many other aspects to choosing the right fabric for your furniture, but these are a few major things to look for if you have children, or plan to have them in the near future – even furry ones :). I will surely keep you posted on my search for a sectional for my family room in our new house, and the upholstery fabric I choose. There are some finalists that fit into several of these categories!
**UPDATED 11/8**
I can't believe I somehow managed to publish a post about kid-friendly upholstery without addressing…
7. Indoor/Outdoor Fabrics!
Shame on me. I have written in the past about the virtues of indoor-outdoor rugs, as well as Sunbrella fabrics for indoor use – so this was a gross omission on my part. Here's the thing, though – it's a bit tricky to find from retail sources; typically indoor/outdoor fabrics suitable for indoor upholstery are obtained through interior designers, and they are often expensive. I know Ballard Designs offers some; I actually ordered these bar stools for our new kitchen, upholstered in a nifty – and totally wipeable – neutral ikat Sunbrella fabric (digitally rendered – not an actual photo).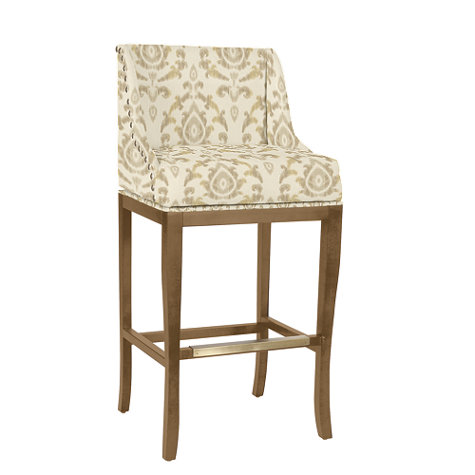 Also, you have to be really careful because many indoor/outdoor fabrics are intended for light use, which means that although they may be resistant to fading and easy to clean, they aren't durable enough to use on your family room furniture (look for those double rubs!). And others just don't have a nice enough 'hand' – but many do, and look and feel much like any other fabric for indoor upholstery. There are even indoor/outdoor velvets!