For a long time, I've been trying to find an angle from which to write about art nouveau that is appropriate for this blog. Interiors For Families is all about celebrating the way 'real people' live – especially families with children, who require special, highly practical considerations when designing interiors. I promise I'll get there by the end of this post, but first, I think an explanation and illustration of the art nouveau movement is in order.
Let's get this out of the way: art nouveau is NOT art deco. In fact, deco came about in reaction to nouveau, with its simplified forms, symmetry, and insistent modernity. Preceding art deco, art nouveau was a bit of a flash in the pan; itself a reaction to prior artistic "norms" of academic realism. Though an international movement of art, architecture, and the decorative arts, art nouveau really reached its pinnacle in western Europe around the turn of the (20th) century. It is known for its excessive "curviness," and organic forms and colors, including floral motifs and, yes, "buxom babes."
Some of the better known purveyors of art nouveau also demonstrate the range of expression in this movement.
Victor Horta – architecture (Belgium)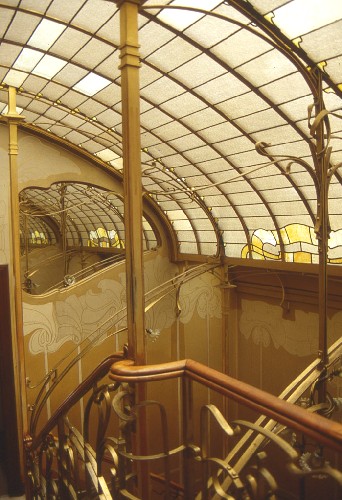 Photo source: Wikipedia
Louis Comfort Tiffany – decorative arts (United States)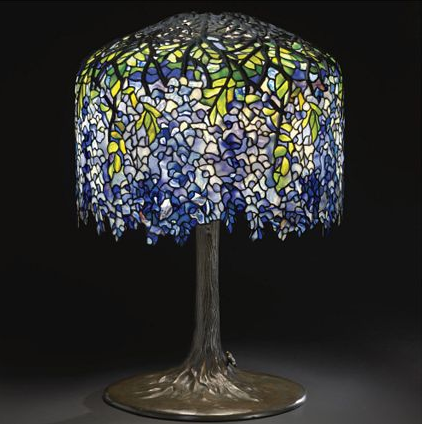 Photo source: Rubies and Raindrops
Rene Lalique – decorative arts (France)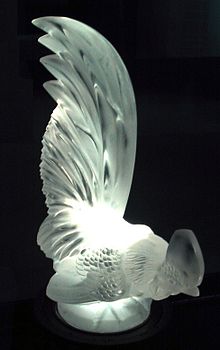 Alphonse Mucha – painting/decorative arts (Czech Republic)

Photo source: artinthepicture.com
I would also be remiss if I didn't share pictures of the most incredible restaurant at which I've ever dined – second-to-none both in terms of design and cuisine. It's Comme Chez Soi, a two-star (IMHO, should be three) Michelin restaurant in Brussels – one of many fine examples of art nouveau architecture and interior design in that city. The restaurant's name means "just like home" – I'm not sure whose home they are referring to, but it's certainly not mine.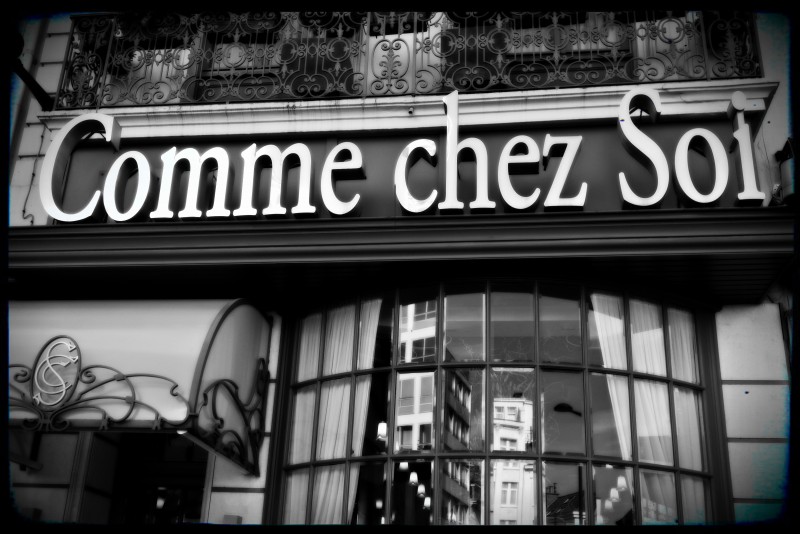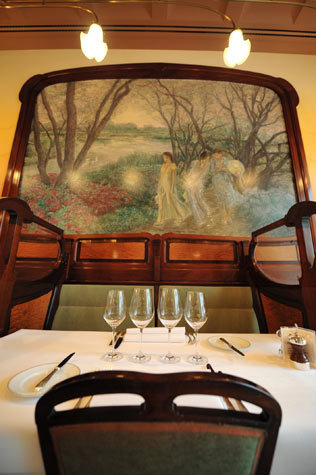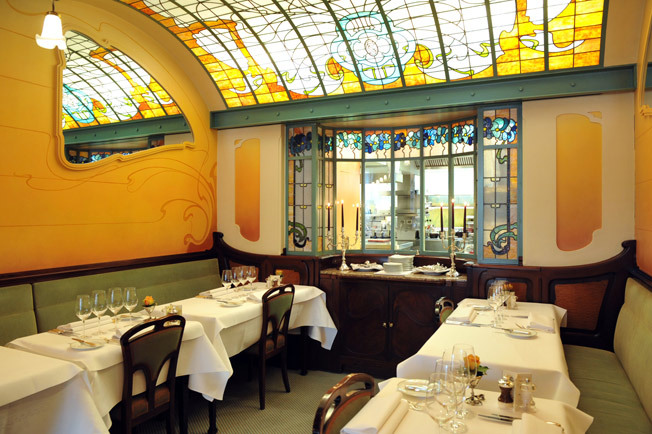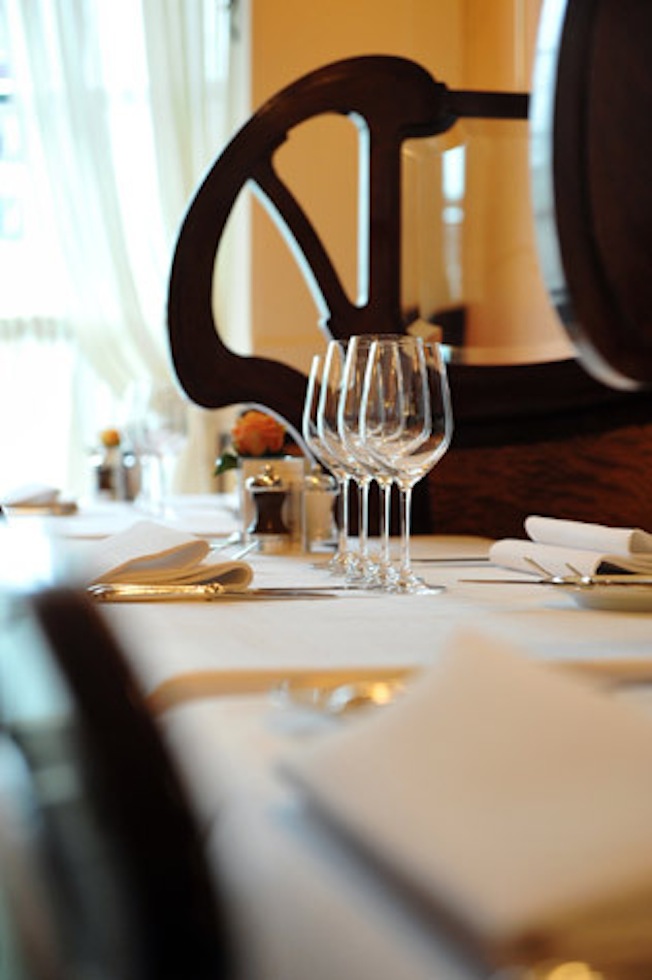 Photo sources: gardemanger.franck.com, eating.be, Pure Entertainment Group (last two)
As much as I love art nouveau, it can command too much attention in certain manifestations to be at home in the interiors of we aforementioned "real people." It also has a tendency not to meld well with other styles, which is problematic in an era when eclecticism and mixing of old and new are favored. However, I have found ways to incorporate nouveau style into my home in subtle ways that add a bit of European sophistication to my space, without being too "fancy."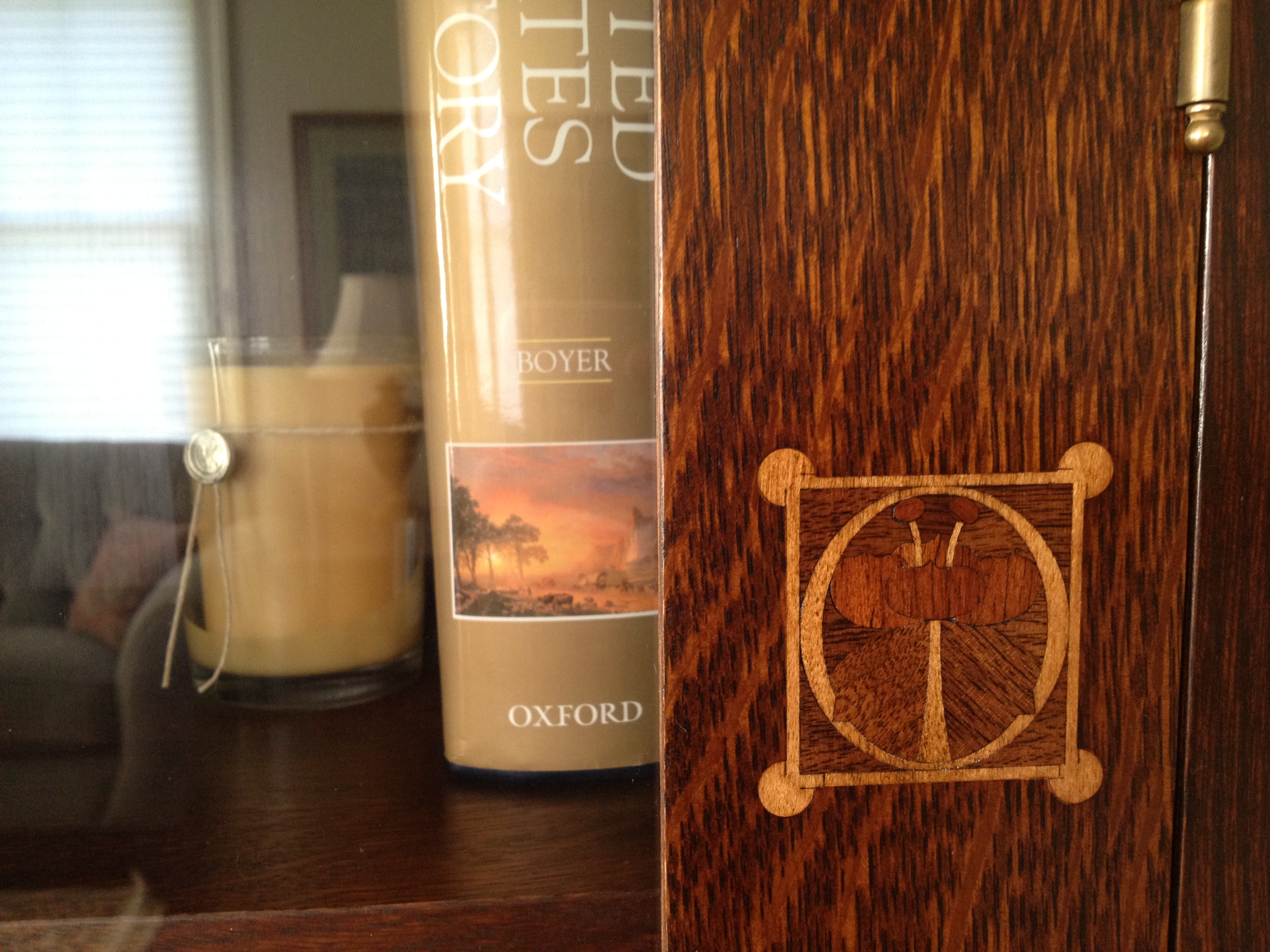 This is a close-up of a bookcase that sits in my living room. The classic art nouveau motif is by Harvey Ellis, a furniture designer (among other talents) who worked for Stickley for a brief, yet prolific stint in 1903/4. His popular designs are still produced by the company today. Ellis showed how nouveau motifs could be harmoniously applied to arts and crafts pieces.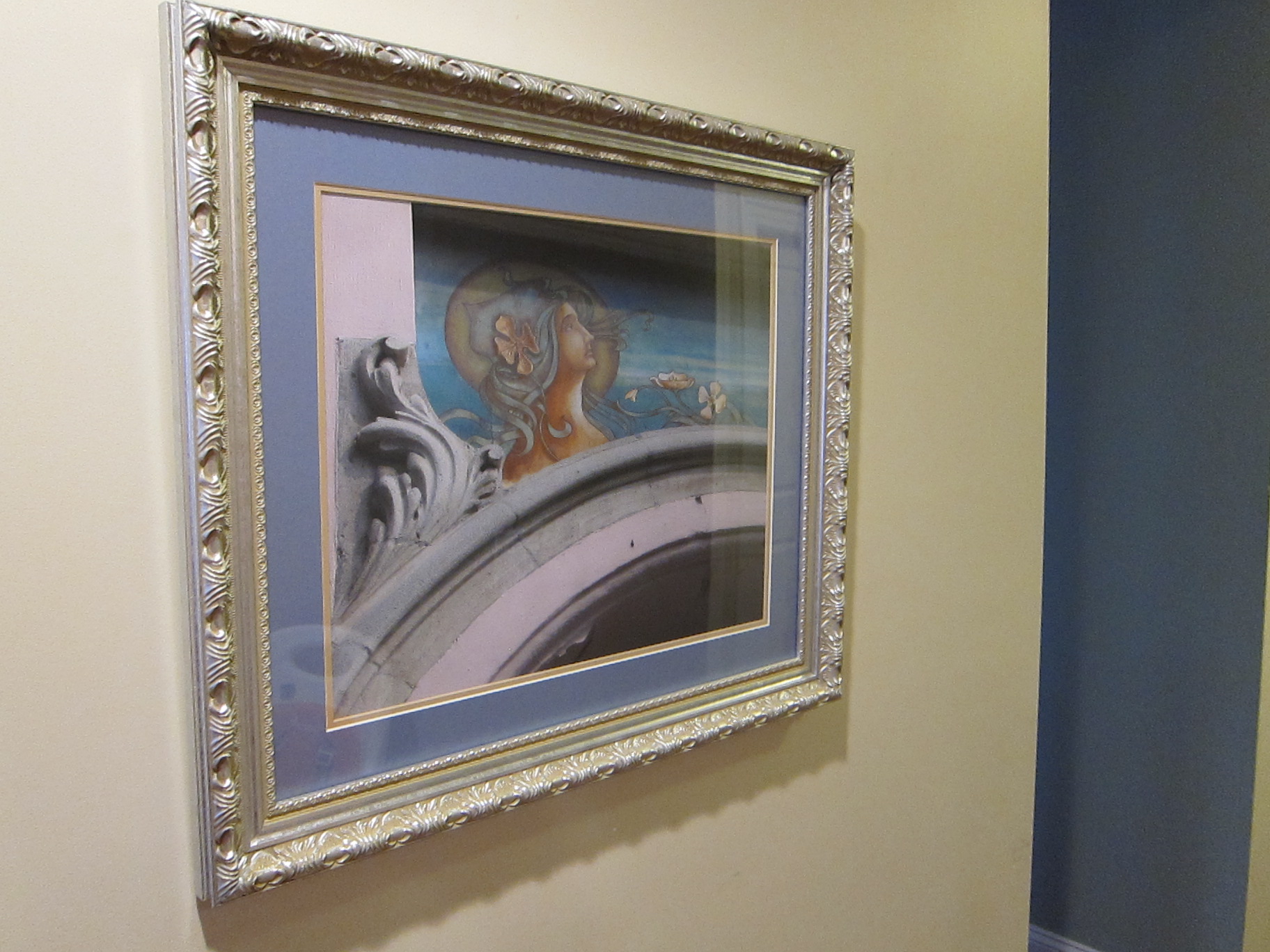 Above is a framed photograph I took during my travels – an "extreme close-up" of an architectural feature and decorative painting on a residential building in Bruges. This hangs in a passage between our kitchen and main hall. It struck me as novel, as Bruges is known more for its medieval, Dutch-style architecture (think Amsterdam) than for art nouveau – you typically find that down the road in French-leaning Brussels.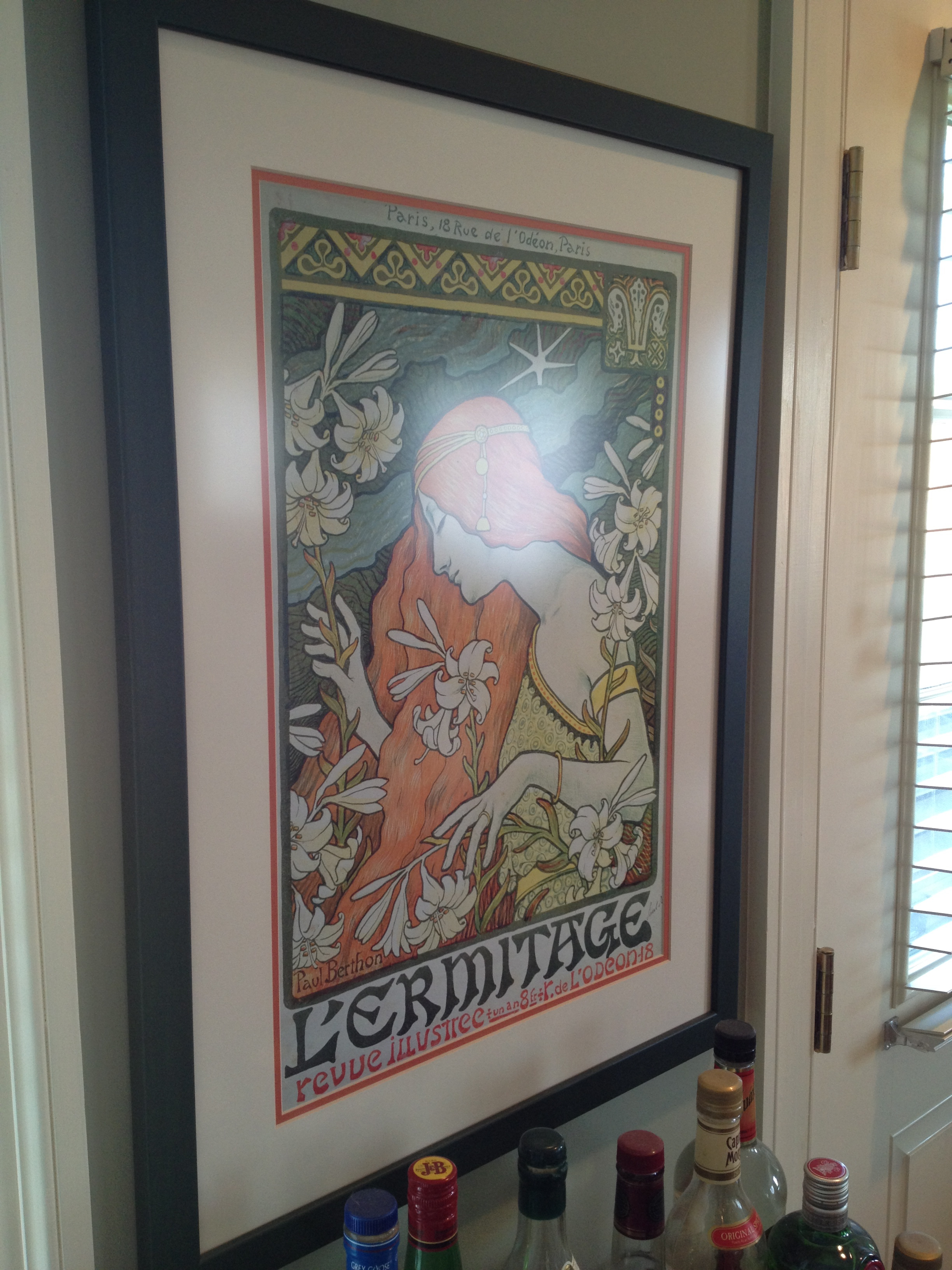 This is an inexpensive framed print of an event poster by French artist Paul Berthon. I selected it both for its colors (which work perfectly in my kitchen), and for the bistro-like feel it lends to the space. It's art nouveau, but with a vintage feel, which is a little more friendly for most homes.
I hope you've enjoyed all of the art nouveau eye (and brain) candy!  Like many styles, I know it can be somewhat polarizing to the contemporary eye. How do you feel about it? See anything you like? Hate?