Today's installment of my 'week of gratitude' features a collaboration between us (myself and Dianne Aucello of Edesia Kitchen & Bath Studio) and two wonderful partners, which made our Morning Kitchen at the Junior League of Boston 2017 Designer Show House truly special – and gave it a distinct Italian accent!
The very first partner to boldly join us on our show house journey was Flowstone Design. Flowstone creates unique, handmade surfaces out of volcanic stone (a fine-grained basalt) from Mt. Etna in Sicily. Yep, Flowstone starts as molten lava! Slabs are cut, then fabricated by master artisans in Umbria, on the Italian mainland, and sublimely finished and sealed with one of dozens of beautiful glaze options that must be seen (and touched) to be believed. Flowstone can be made into countertops (our use), indoor or outdoor tabletops, slabs for cladding, and even tile. Basically anything that can be drawn in CAD, they can make and deliver it via air freight in 6-8 weeks.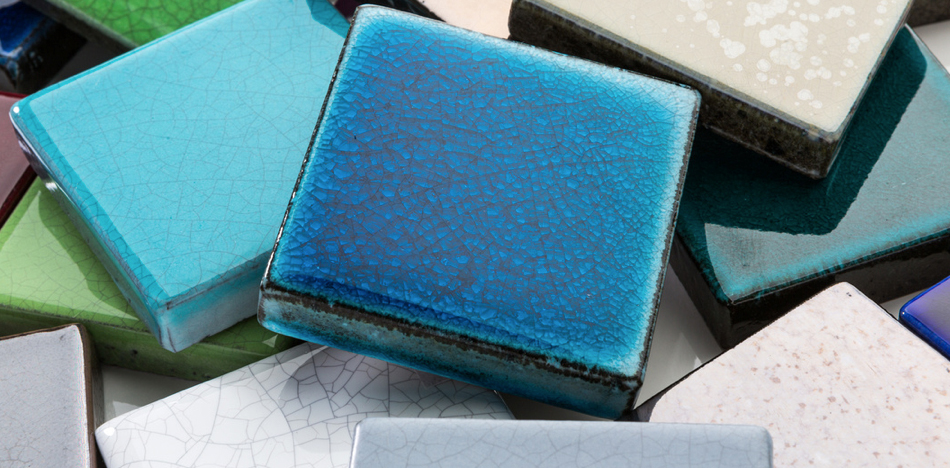 I had so much fun playing with their color palette, and exploring all of the options – everything from soft, matte neutrals, to bold, saturated high-gloss, and even stunningly beautiful crystallines and metallics (hello glam butler's pantry!).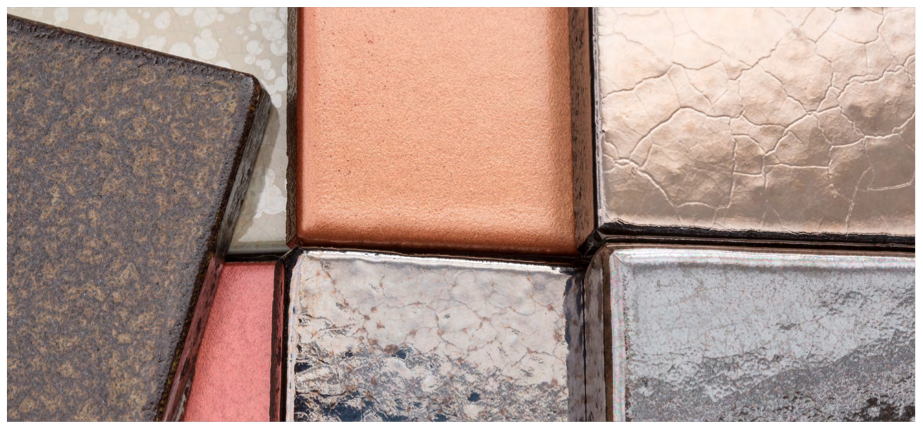 The variety of textures, sheens, and colors is incredible. Flowstone has that 'perfectly imperfect' look that imparts a natural, tactile element wherever it is used. It is slightly bumpy, but flat and smooth enough to be totally practical in surface applications. You just have to touch it! As delicately beautiful as it looks and sounds, Flowstone is actually quite hardy – durable, stain and heat/cold resistant, non-porous, fade resistant, and low-maintenance (doesn't require sealing).
We ultimately settled on an enigmatic blue-gray crackled matte called 'Grigio' for the island and wall cabinets, and glossy cobalt blue 'Blu Jeans' for a top we created for the antique stove (which has been out of use for decades).
Sadly, our Flowstone island countertop was damaged in transit and we did not have enough time prior to the show house opening to have a new piece made. For that, we ended up using a unique soapstone slab sourced from Marble & Granite, and fabricated ultra-fast by Select Stone. But the stove topper and wall cabinet countertop are absolutely gorgeous and fit like a glove!
Flowstone is available state-side through Giardini di Sole, which is in Boston's SoWa district. But you don't have to be local to order it – they are the distributor and have worked with clients nationwide.
While visiting Giardini di Sole to start planning our Flowstone countertops early this past summer, I was completely taken by their store merchandise, much of which is also made by Italian artists and artisans. We were so lucky to have them join us as a partner for the styling and accessorizing of The Morning Kitchen, as well! I mixed and matched a number of their collections, many by Puglia-based ceramicist Enza Fasano.
I have long been obsessed with Giardini's Vintage Flatware and was thrilled to be able to use it in our show house space! (And I know, the soapstone island top did end up working out just fine and is totally gorgeous – someone up there was definitely looking out for us!).
As a bit of an Italophile (I studied in Rome for a semester during my junior year of college), it was even more of a joy to work with these products. But most of all, I would like to thank Libby Morris and her store manager Christina Cheung, who were generous, helpful, and absolutely wonderful partners from beginning to end in what is a very stressful, fast-paced process of pulling off a show house room!