I hope everyone survived the Black Friday/Cyber Monday madness. You won't find any gift guides on my blog – not this year, anyway. I'm just not that into shopping – unless we're talking about shopping for home furnishings – my favorite sport! I did spend some time online last night buying new 'everyday' dinnerware, water and wine glasses, and some new pretties for my holiday table. It was time for an upgrade, and our new kitchen deserves it :).
It's been over a month since I blogged about our home renovation, which has been ongoing since April. April! 231 days ago. We spent the first three months in an apartment with rental furniture and zero personality, and were thrilled to come home to live in a fraction of our house with a lousy temporary 'kitchen' set up in what was (and will again be) our living room. I love my house and I am glad we decided to live through as much of the renovation as we could, but honestly we're at the point where the inconveniences and limitations are beginning to wear on us. I am ready to have a sink with a disposal, a full-sized refrigerator, and counter space. And all of my stuff back out of storage! And all the toys and Lego minefields in the new playroom and family room, rather than strewn all over the library, foyer and living room. SO ready.
If you've been following, you know we've been working toward a Christmas deadline. In other words, I need to be serving dinner on December 25th to my large extended family in our newly renovated spaces. What once seemed so far away, is now nearly around the corner. And by all indications, we're going to make it. Chances are we will still be working on a punch list at that point, but as long as all the dust and the zip walls and the giant metal halide lights are out of my house, and all of the appliances are in, I'm good.
We were away last week for the Thanksgiving holiday, and the floor finishing elves were here applying the stain and a first coat of poly.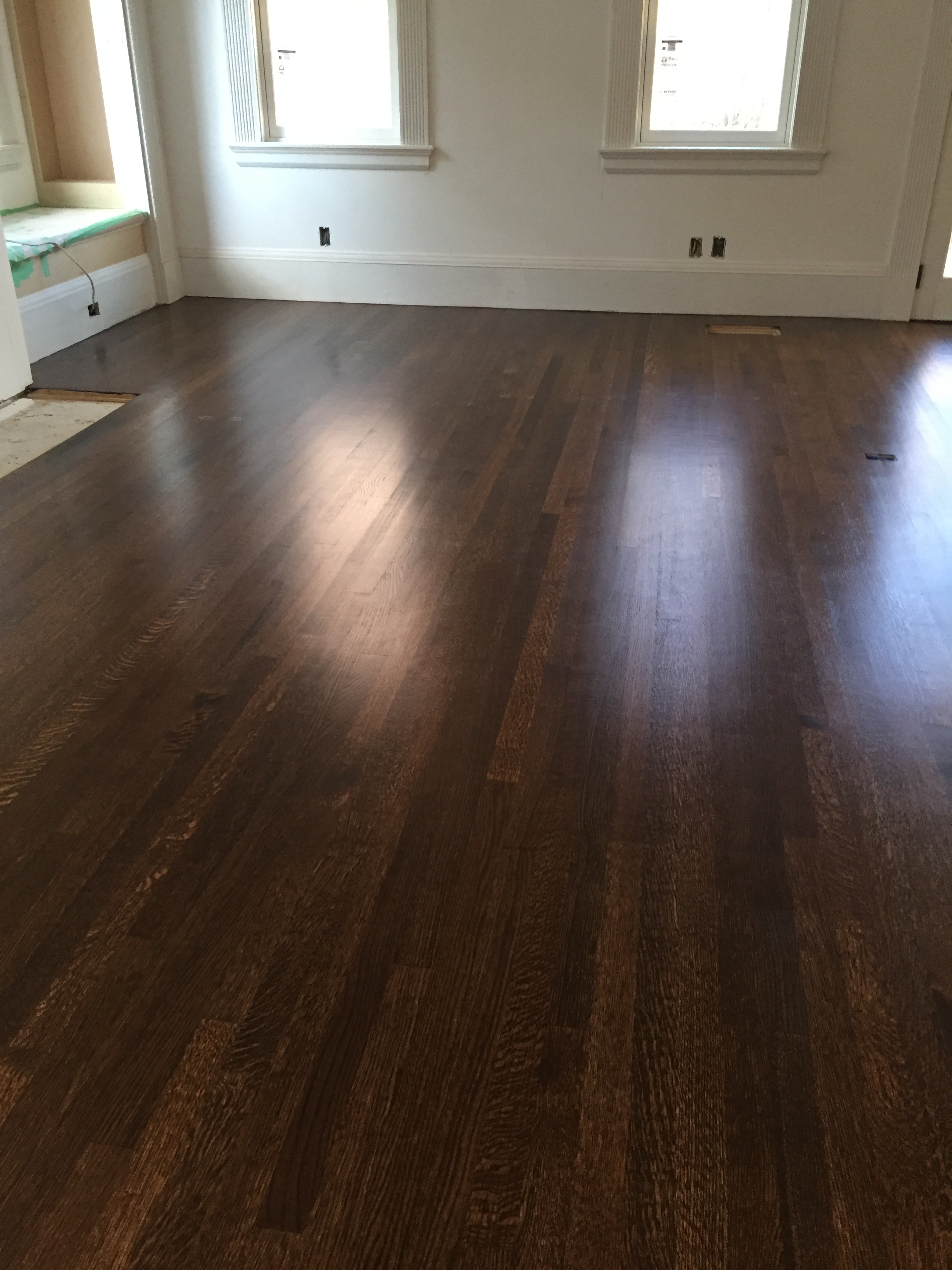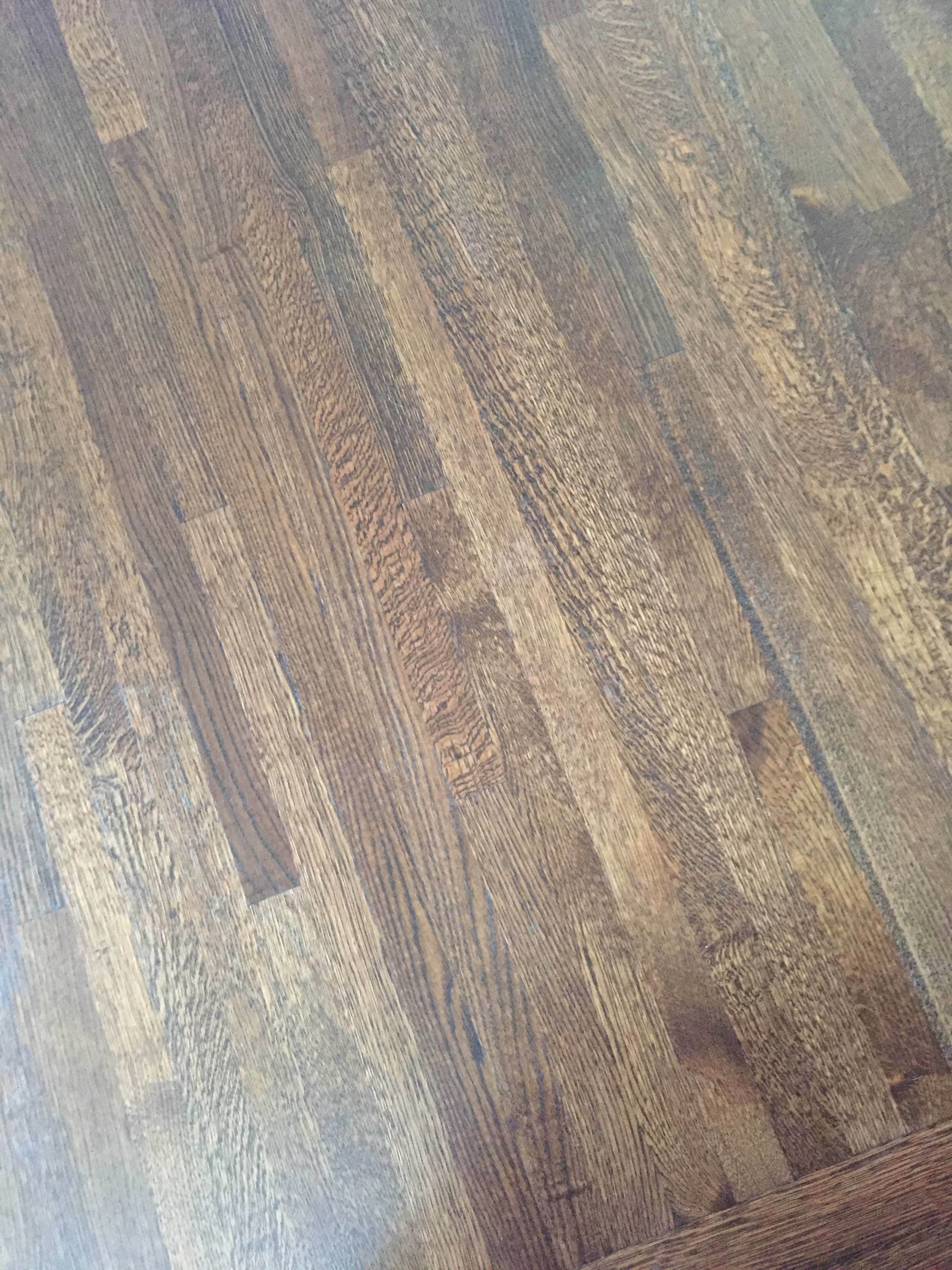 The carpenter elves were back yesterday morning to cover up and protect the pretty new floors while work continues. Here is where things stand, room-by-room.
FAMILY ROOM: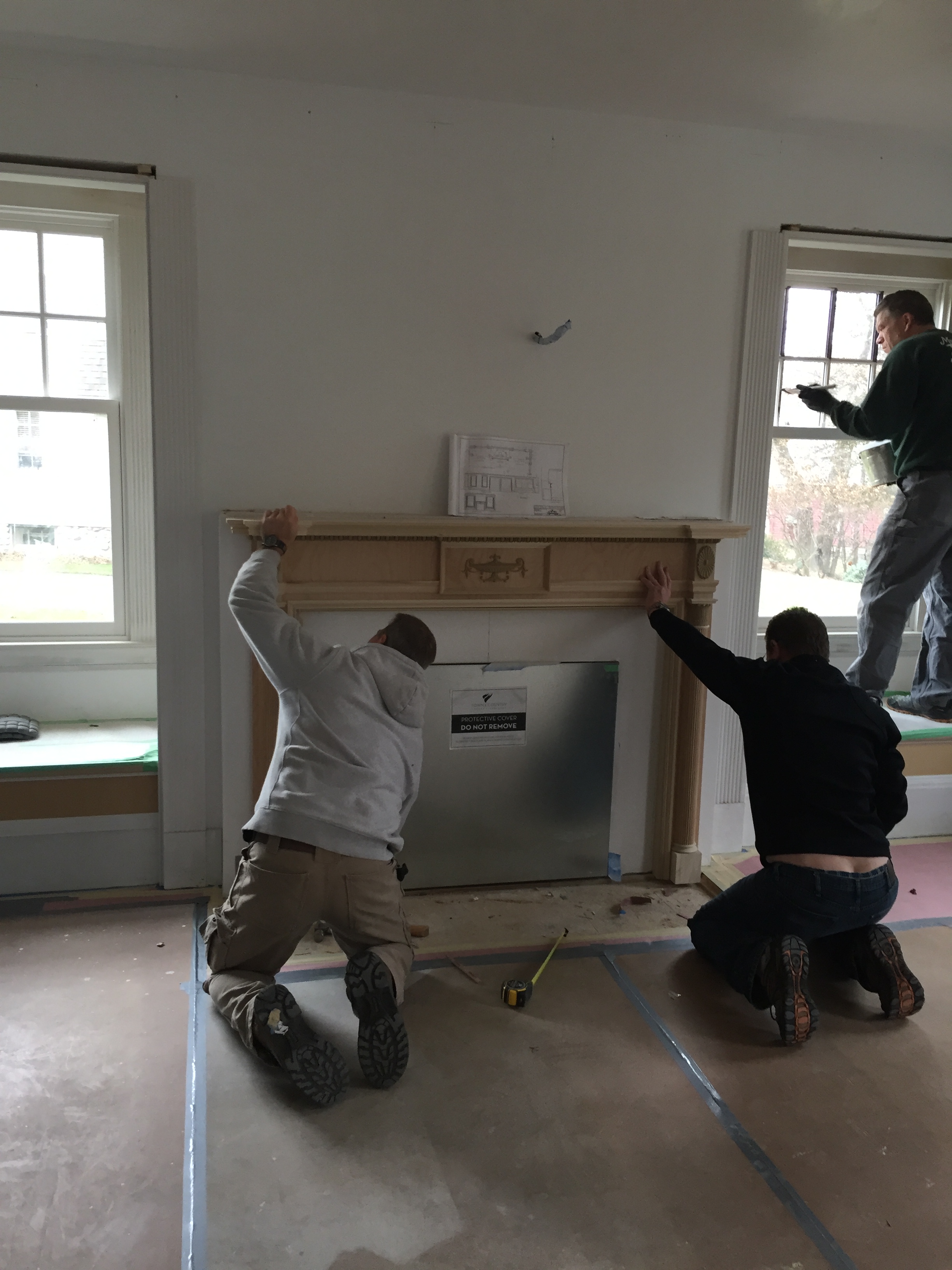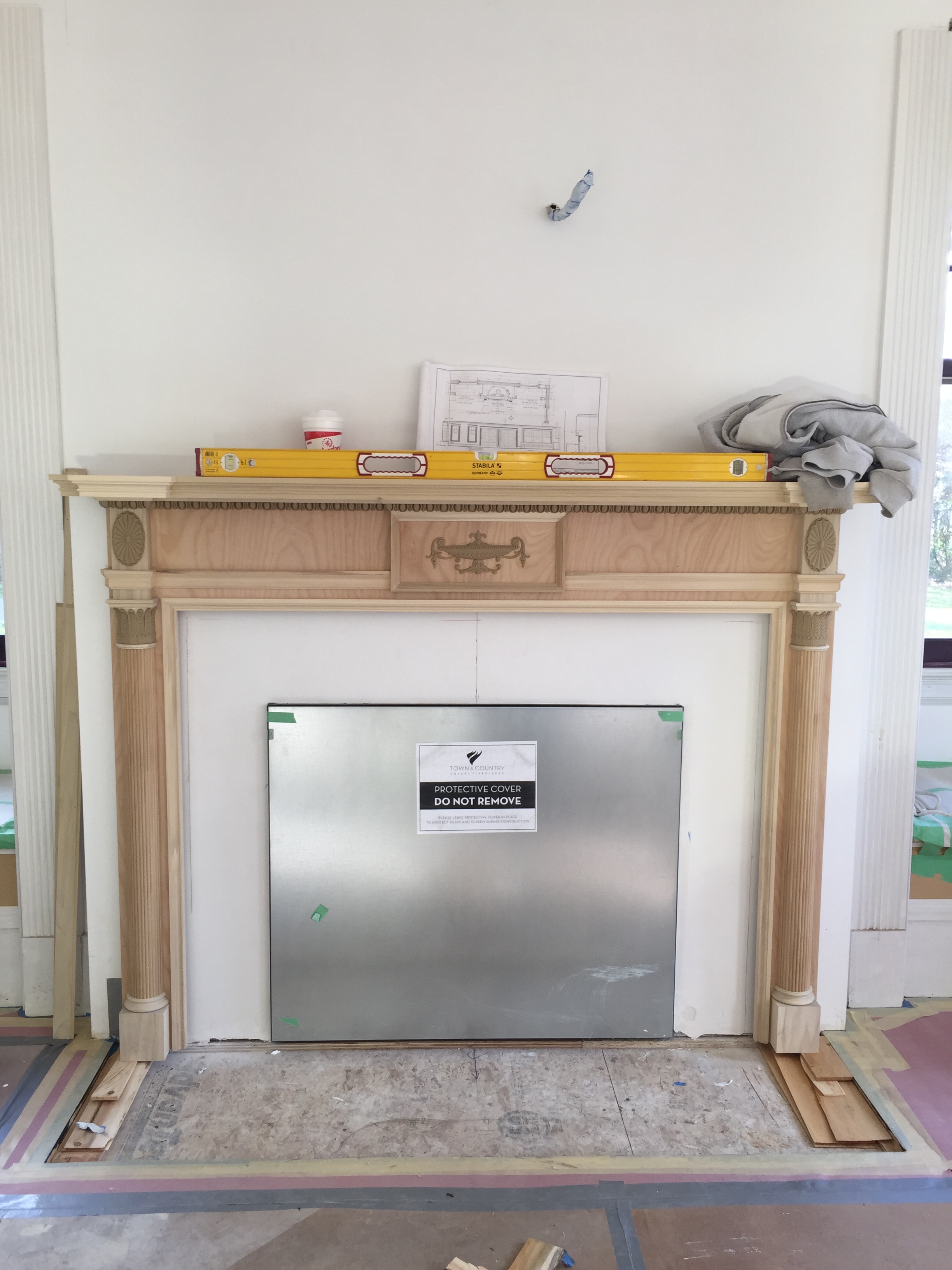 The mantel is installed! The stone fabricator is coming today to template for the surround and hearth of this fireplace, and another one in my living room dying to shed its dated polished (possibly Uba Tuba) granite. The metal plate is there to protect the glass over the gas fireplace – but wait till you see it. It's an "I can't believe it's not woodburning" fireplace.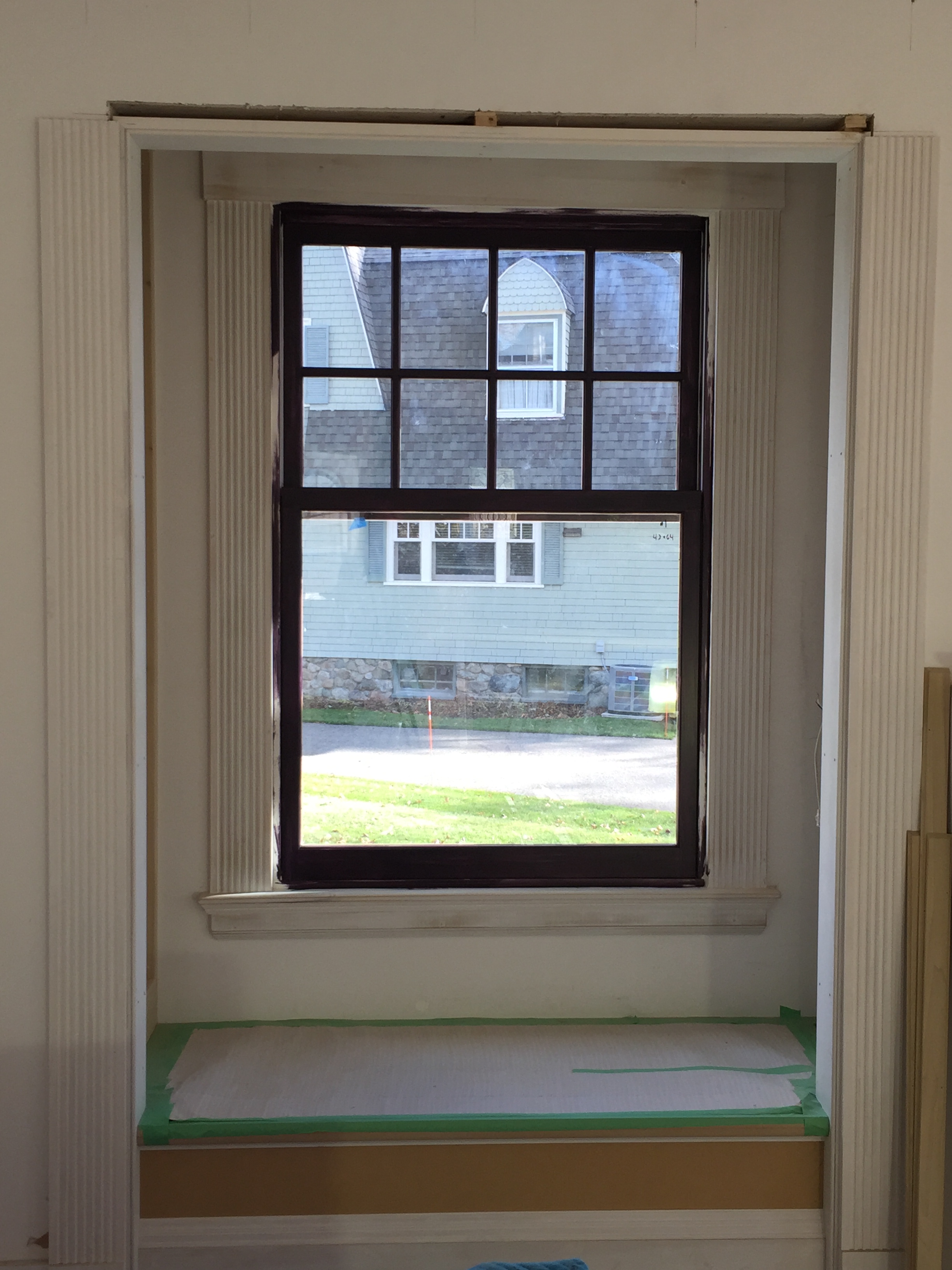 The painters also started applying my 'scary color' in the window seat niches. It's a deep purple – C2 Voodoo.
Crown moulding should go up in the next couple of days, and hopefully the walls will be painted by end of week. I'm still holding on the ceiling – but the current plan is to go high gloss. We will see when we can fit that in and not get in anyone's way.
Unfortunately, my sofas are not going to arrive until January, so I'll be hosting Christmas in a largely unfurnished family room. I'm sure the little kids will LOVE it! Empty spaces are like Disney World for toddlers. And window treatments? Well, I'm still figuring them out. So those won't be ready either.
KITCHEN: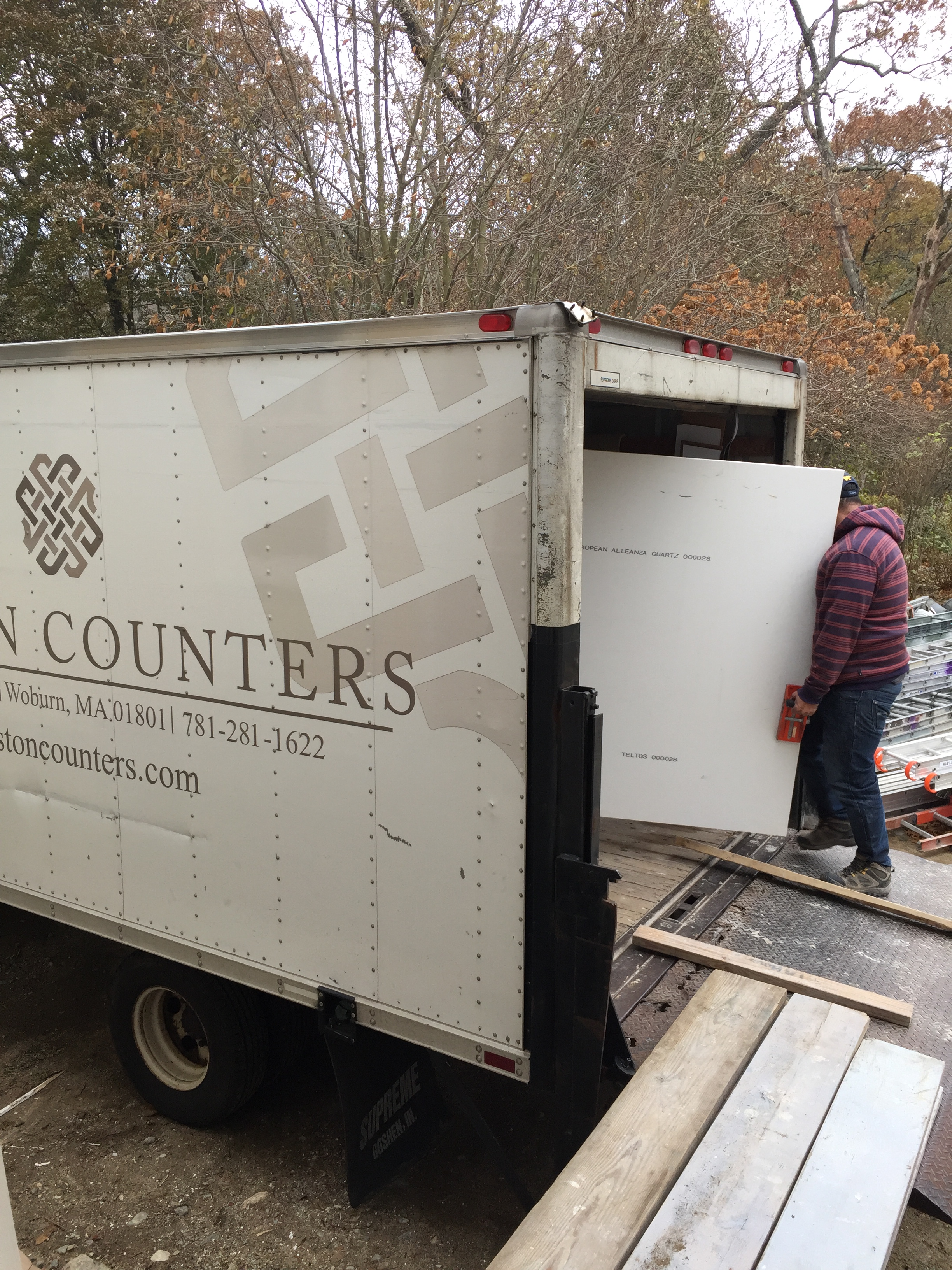 The island countertop was delivered and installed yesterday morning. These moments are always terrifying and hard for me to watch. Thousands of dollars worth of stone being hosted across, apparently, a makeshift ramp into my back door, and up onto the custom oak island. I was there, but I'd be lying if I said I saw it all happen.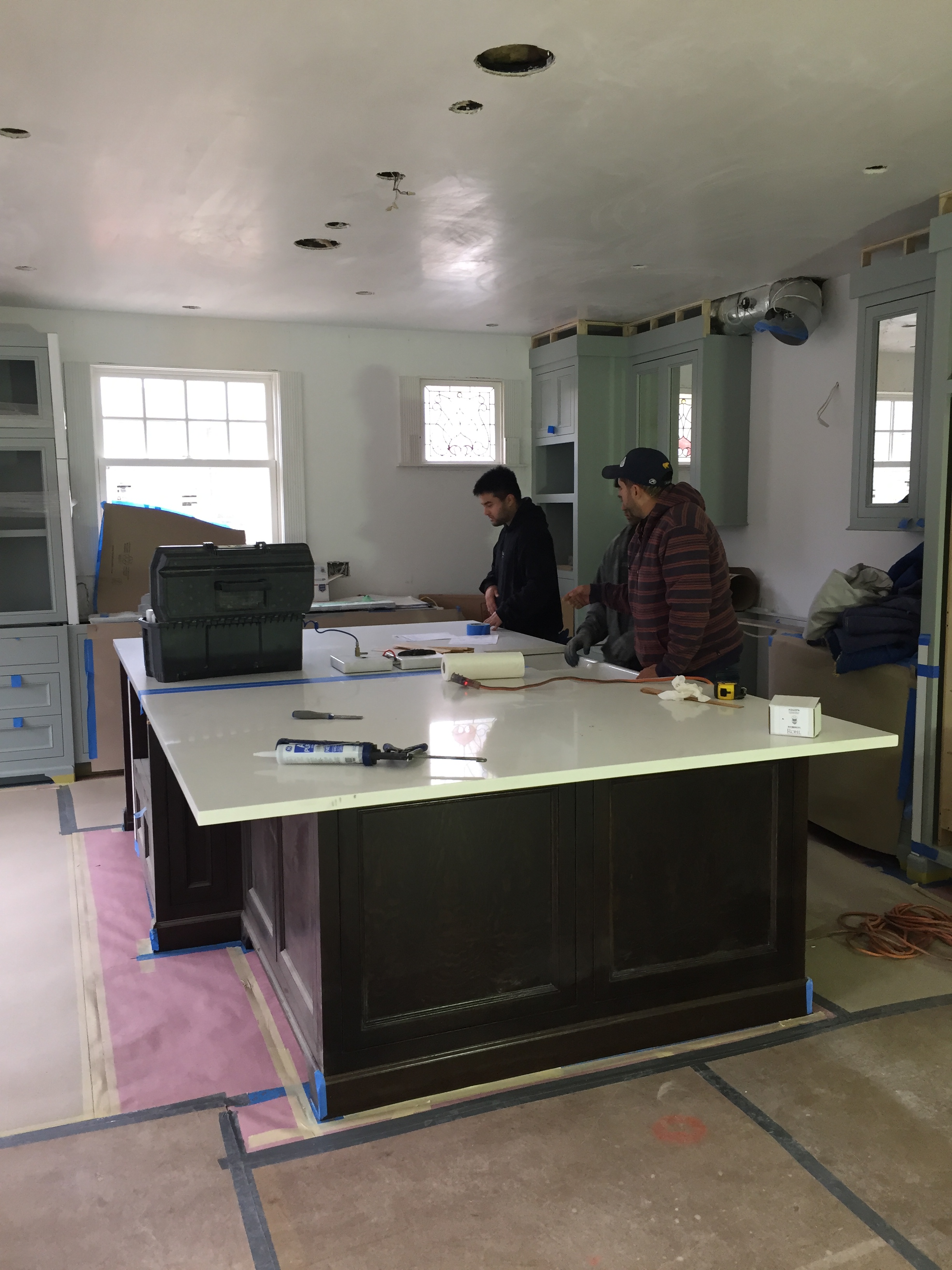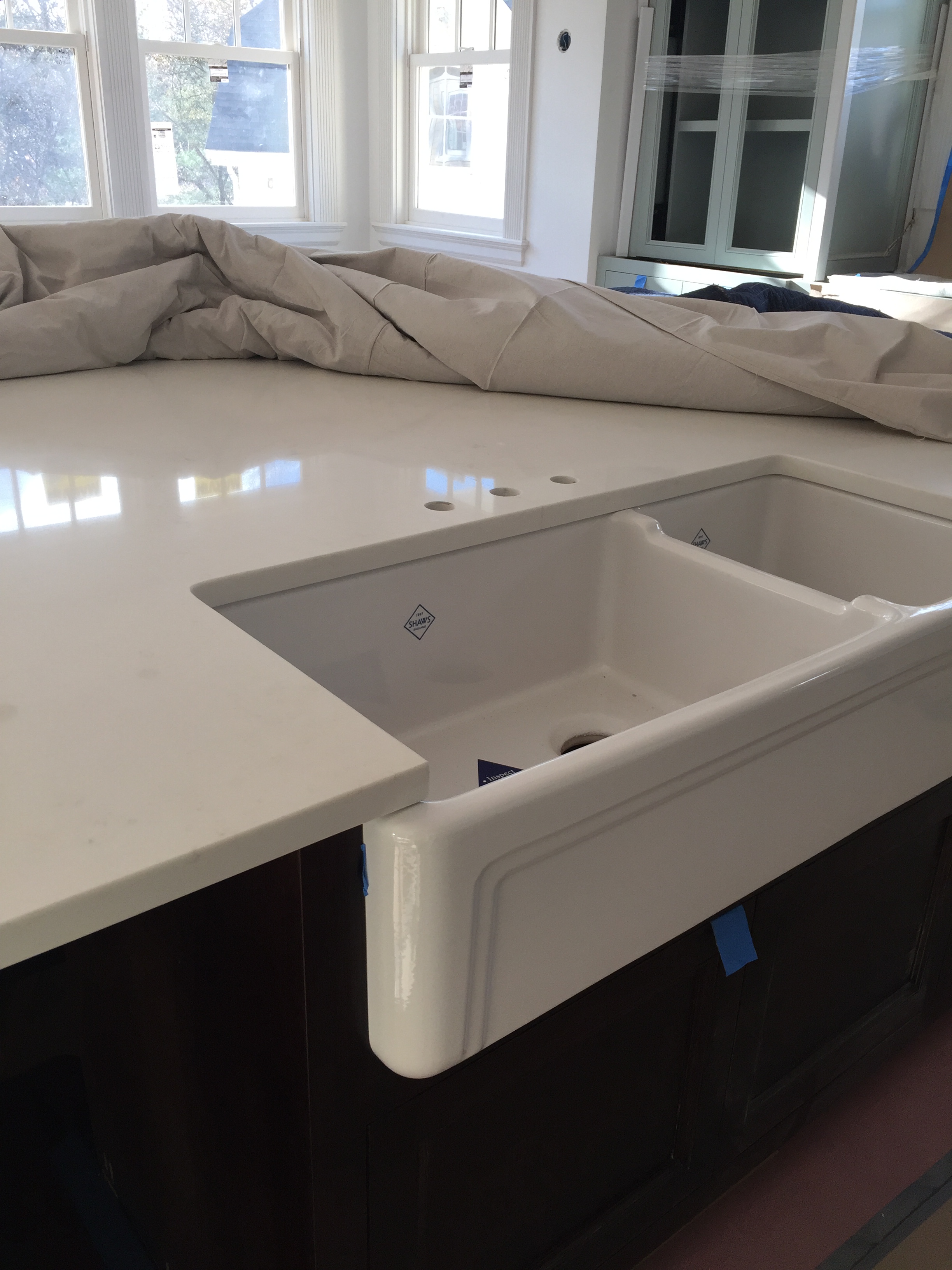 And that range hood I teased on Instagram a couple of weeks ago…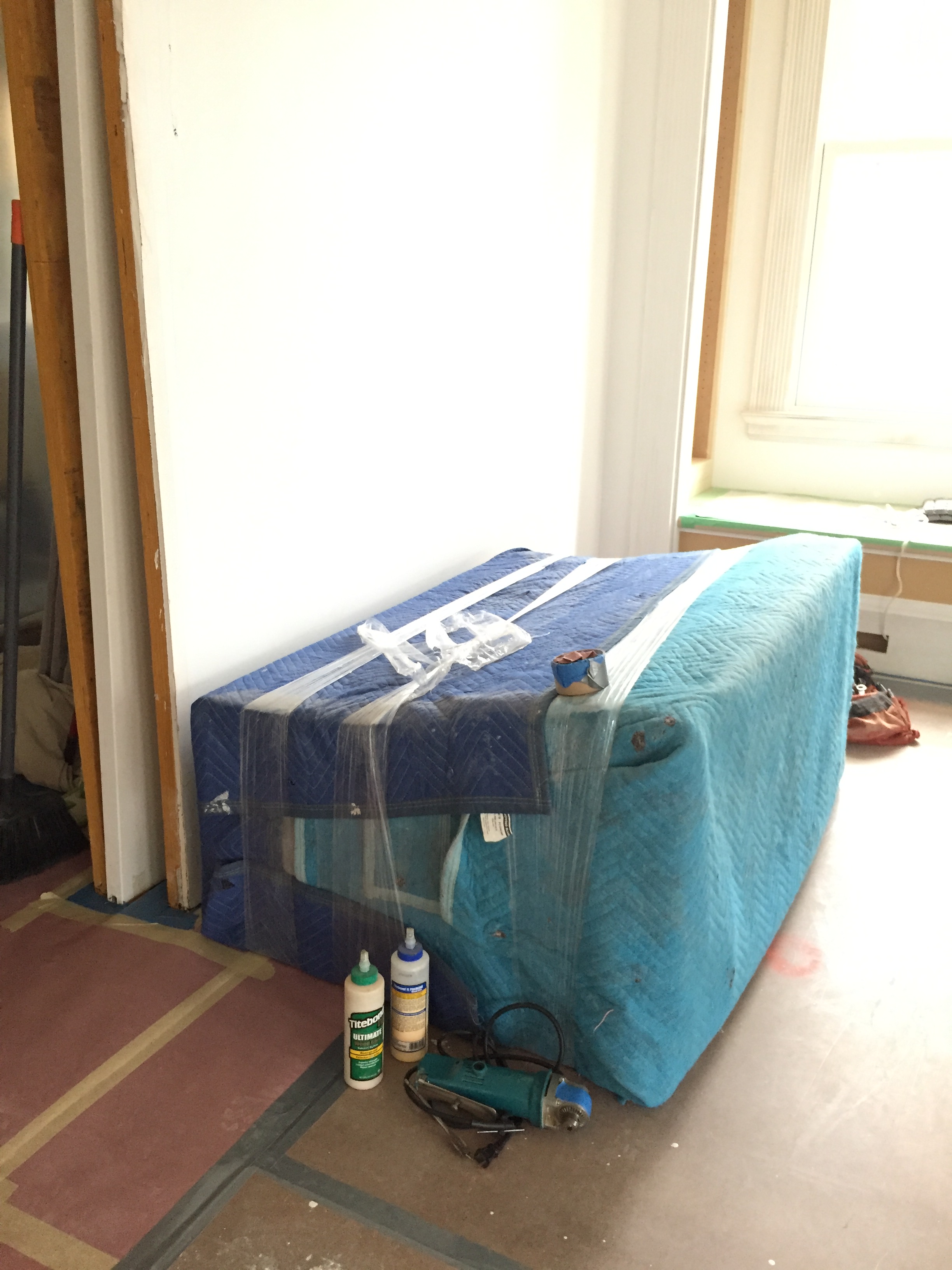 I still haven't seen it. Not even a picture! It is safe and secure in its blanket wrap, and there it shall remain until it is ready to be installed. Soon enough.
Similar to the family room, we'll be missing some furniture in the kitchen. I haven't been able to pull the trigger on chairs and a custom table for the breakfast banquette, and the counter stools I ordered in July finally came in off backorder…and then the manufacturer opened my fabric to discover it was defective and unusable.
The perimeter and bar area countertops will be soapstone; that will hopefully be templated ASAP. I'm a little worried that it hasn't been yet, as it is holding up the completion of the cabinet install (and tiling the backsplash, installing appliances, etc. etc.). I'm sure there are dozens of other customers who, like me, are needing their kitchen finished by the third week of December.
POWDER ROOM: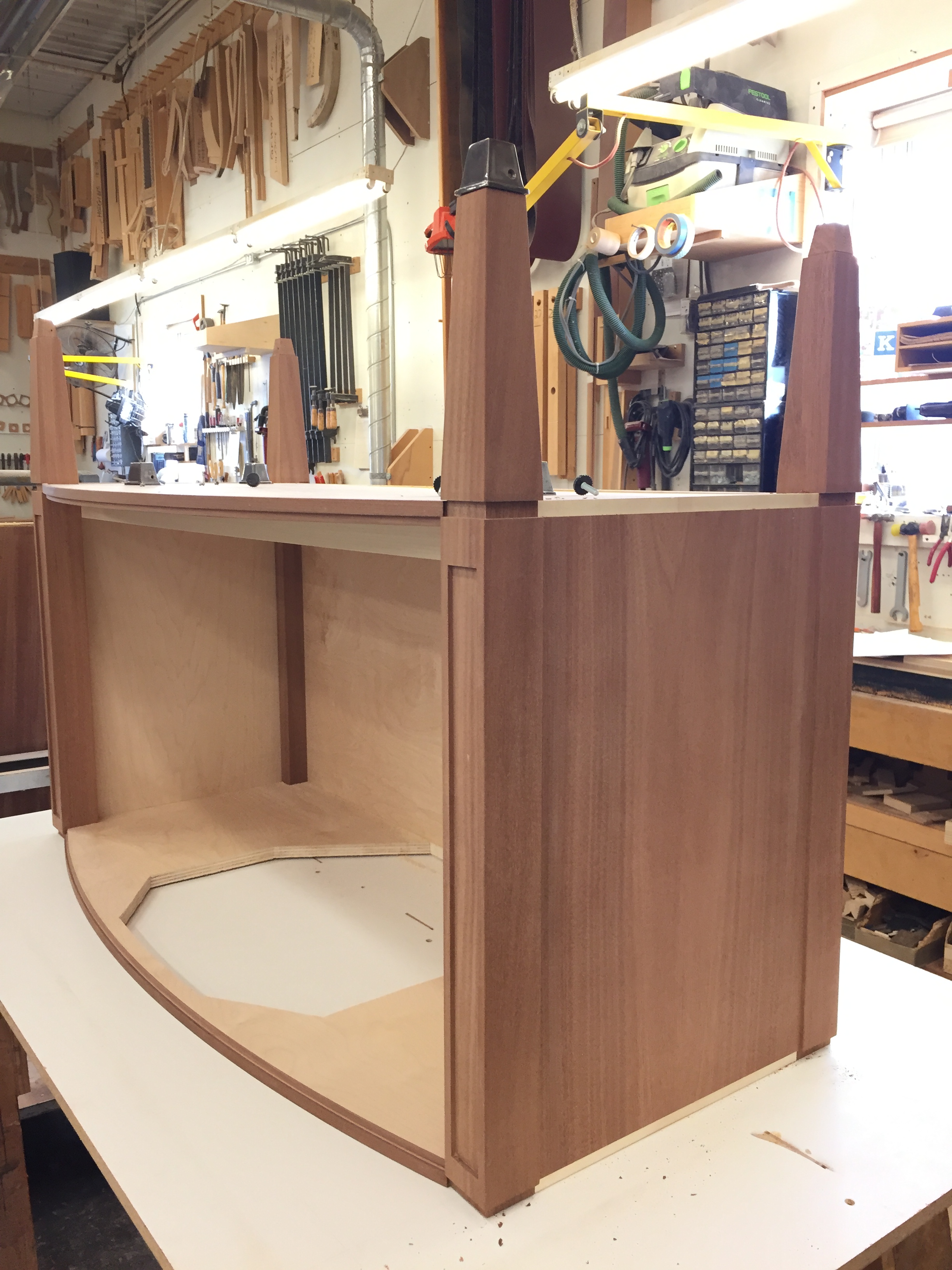 Before Thanksgiving, I picked up my sink and faucet at Masterpiece Woodworks, which is building a beautiful mahogany bow-front vanity. I took this progress photo then – but now it's done and just waiting for its final finish to cure! My contractor will pick it up on Monday. It will probably be wrapped in blankets for awhile, just like the hood.
The 10 tiles we were short to complete the floor (due to my failure to double check a CAD drawing dimension from the tile vendor) shipped yesterday and will soon be installed.
My wallpaper is on backorder, due to ship on December 18th, so it will very likely not be installed by Christmas. OH, I just remembered I need to order the mirror!!
MUDROOM: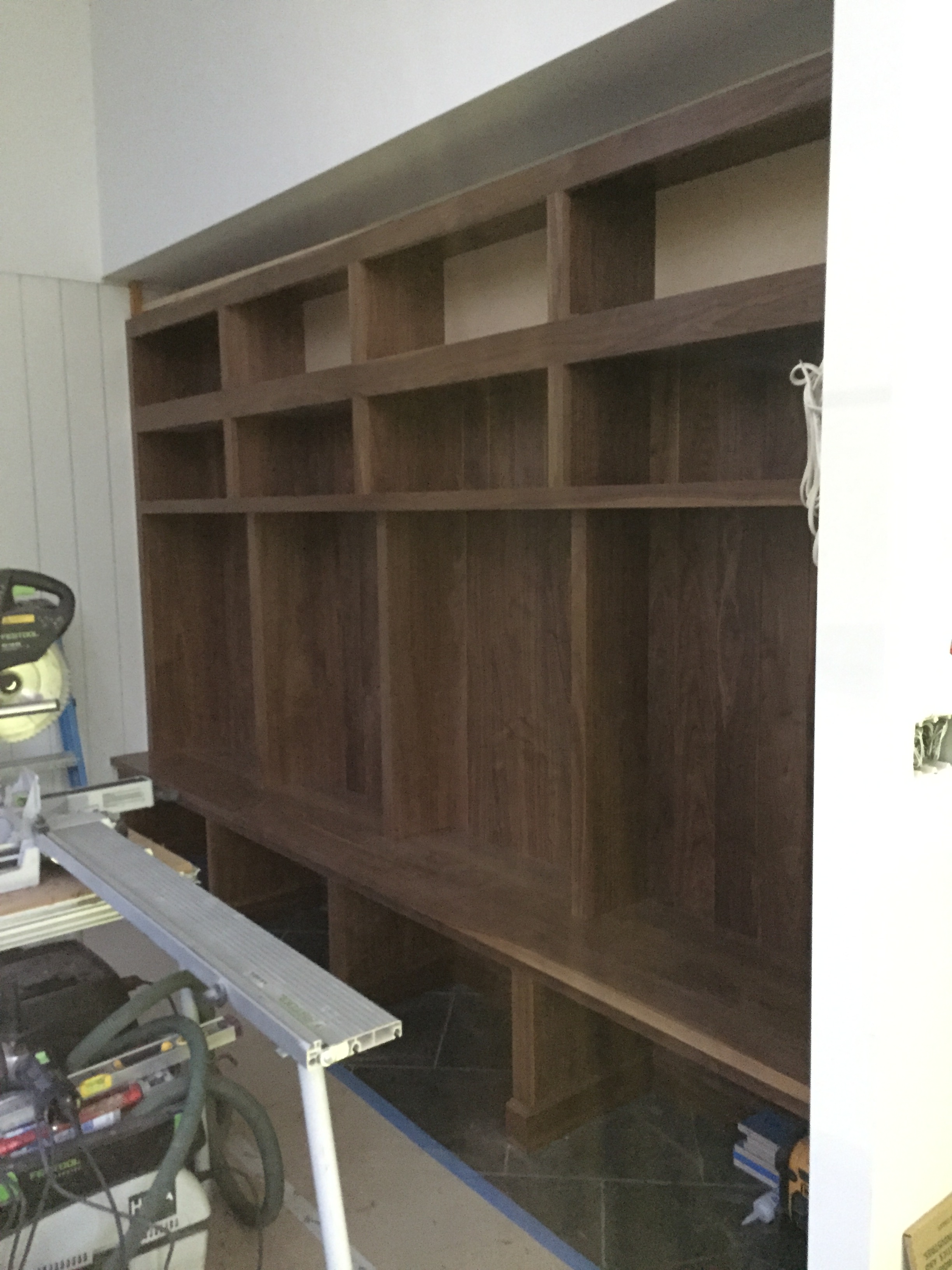 The install is almost complete – just waiting on the hardware to arrive (and that ladder to get installed). This pic is from before Thanksgiving – the top row has flip top doors on them to store extra shoes that have zero chance of making it upstairs to our closets.
I ordered some baskets for the open shelves, and am really happy with how they look! Will share soon…
PANTRY: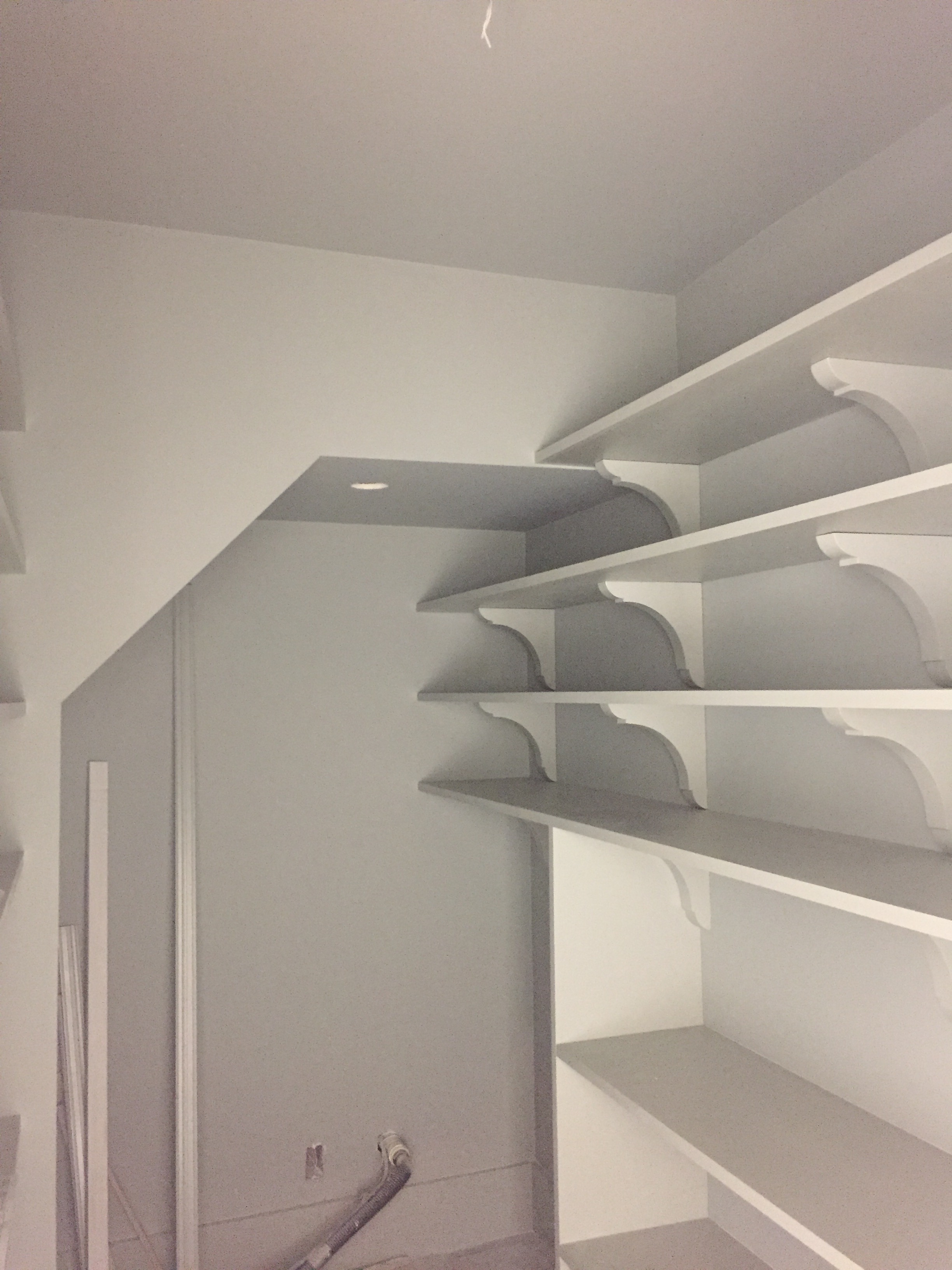 So hard to look at these spaces when they are illuminated by those awful aforementioned metal halide lights! It's hard to tell, but the entire room is painted the same color as the kitchen cabinets. I realized a fixture I thought was a recessed light is actually a surface mount, so now I have one more fixture to order.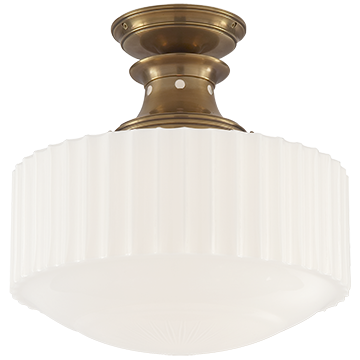 Probably going to get this one, but the jury's still out. What do you think?
BASEMENT PLAYROOM: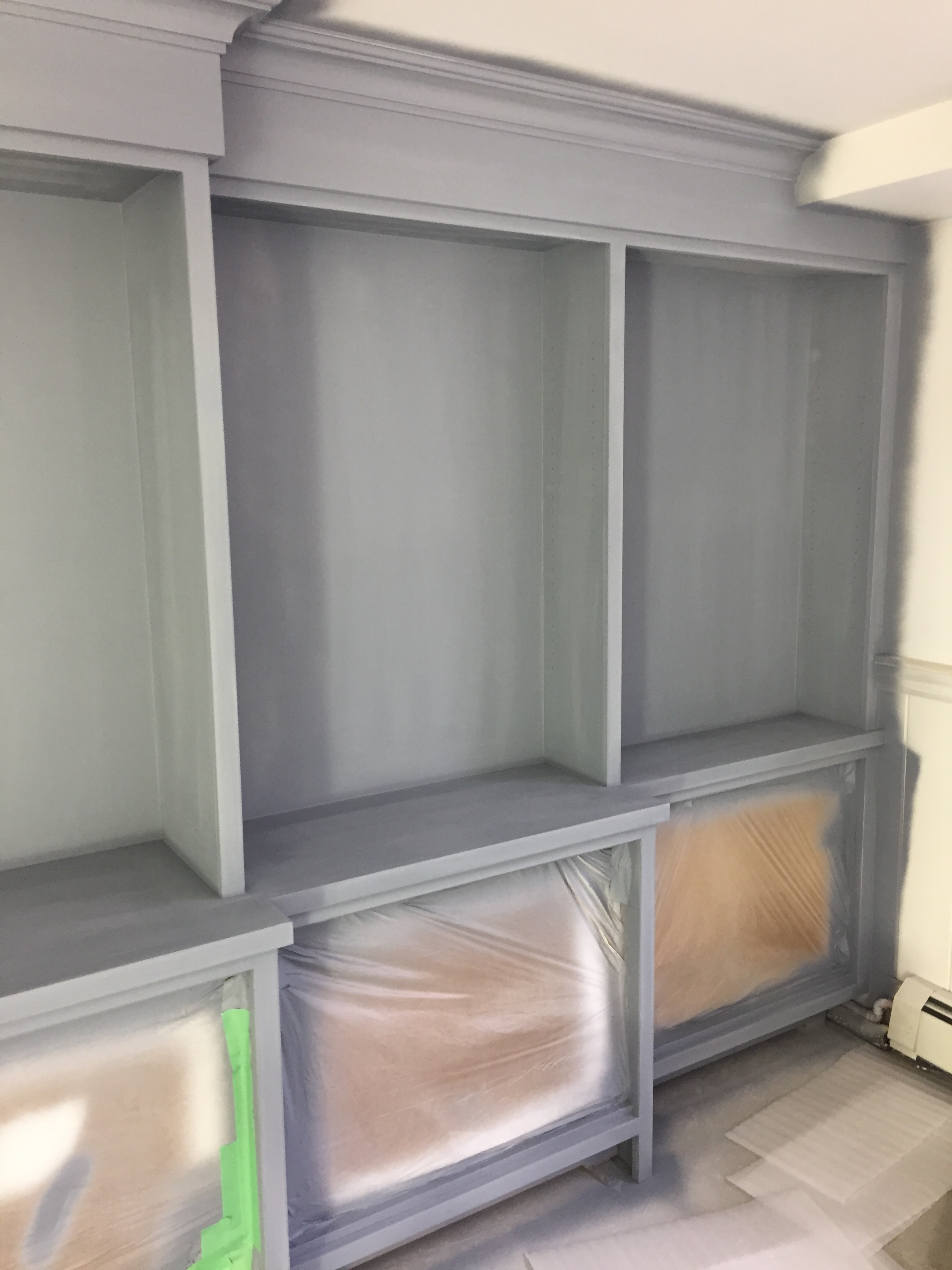 Built-ins are being primed; the entire room should be painted by the end of the week. Then, the floor should go in! Now, to schedule my paper hanger…
There's a lot happening outside, too, but I'm totally laser-focused on the interior being ready for prime time come December 25th. What do you think…will we make it? It seems like there is a lot left to do (there is), but this is also the stage when things seem to accelerate and come together quickly. I love seeing so many people working hard every day to build a beautiful new part of our house, help us meet our deadline and make us happy clients. It's actually a little overwhelming and humbling when you think about it.
A renovation has ups and downs, twists and turns, good news and bad news, but at the end of the day, it's a totally human process, made by people who really care and are experts in their areas of specialty. I'm so grateful for the people who have practically moved in with us 40 hours a week to help us make the house we already love the perfect family home we always knew it could be.