This is the second installment in my Junior League of Boston 2017 Designer Show House 'week of gratitude,' where I'm blogging about the partners, sponsors, and donors who were so generous with their talents and/or products. And today is all about the art!
Little known fact: I was an art history major in college. Which is pretty amazing because as my freshman year began, I don't think I even knew what art history was, much the less that it was something I could study and become passionate about. That being said, I am NOT an artist myself. But I have so much respect for and am basically in awe of artists. And now, one of my favorite parts of my job is sourcing and curating artwork for my clients. Its ability to transform an interior, create a mood, and provoke emotions cannot be denied.
When developing the design concept for The Morning Kitchen (created with kitchen designer Dianne Aucello of Edesia Kitchen & Bath), I had the initial idea of incorporating a striped wallpaper to complement the incredible Asian floral fabric we had sourced for draperies. However, I quickly realized the visual impact would be minimal, due to the number of doors (five!) and windows (two), as well as the ho-hum shiplap-style wainscoting and meager moulding at the ceiling line that had seen better days.
Here's a BEFORE pic: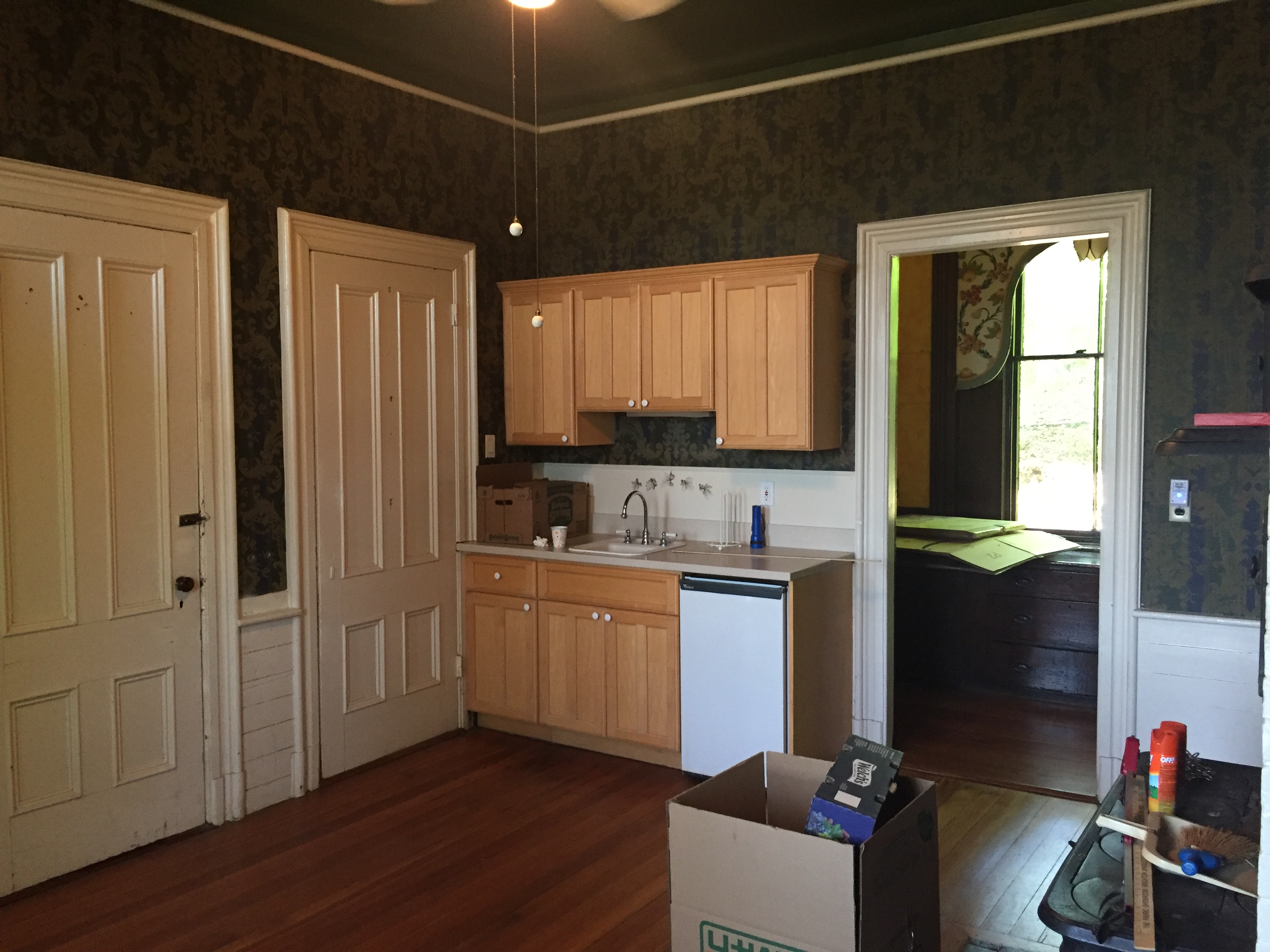 I had the idea to paint randomly sized and spaced monochromatic stripes down the entire wall – from ceiling all the way down over the window casings and doors, and right over that wainscoting. It really became an idea about camouflaging the weaknesses of the room, and making it feel more cohesive and less chopped-up, and maybe even a little more expansive. But again, I'm no artist!
Thankfully, decorative painter Pauline Curtiss of Patina is. And her artistry (and yes, patience and prowess with the frog tape!) was a big part of the success of this transformation. Her work would not have been possible without TLC Painting, who prepped the walls and laid down the base coat of Benjamin Moore Aura paint (much of the paint was generously donated by Benjamin Moore).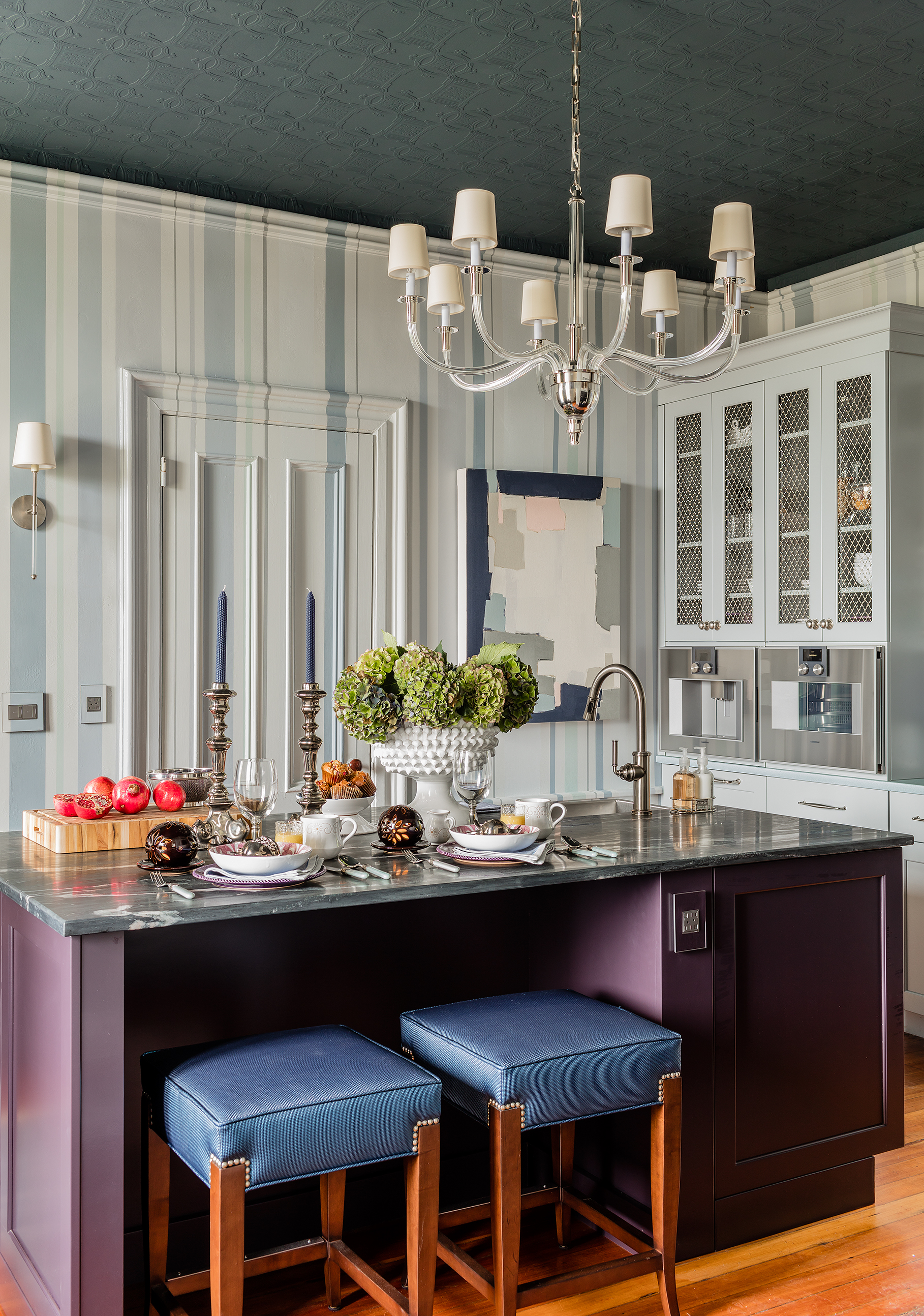 We also had the privilege of working with art consultant Libby Silvia of Libby Silvia Art Style to hang some amazing abstract art on these beautified walls.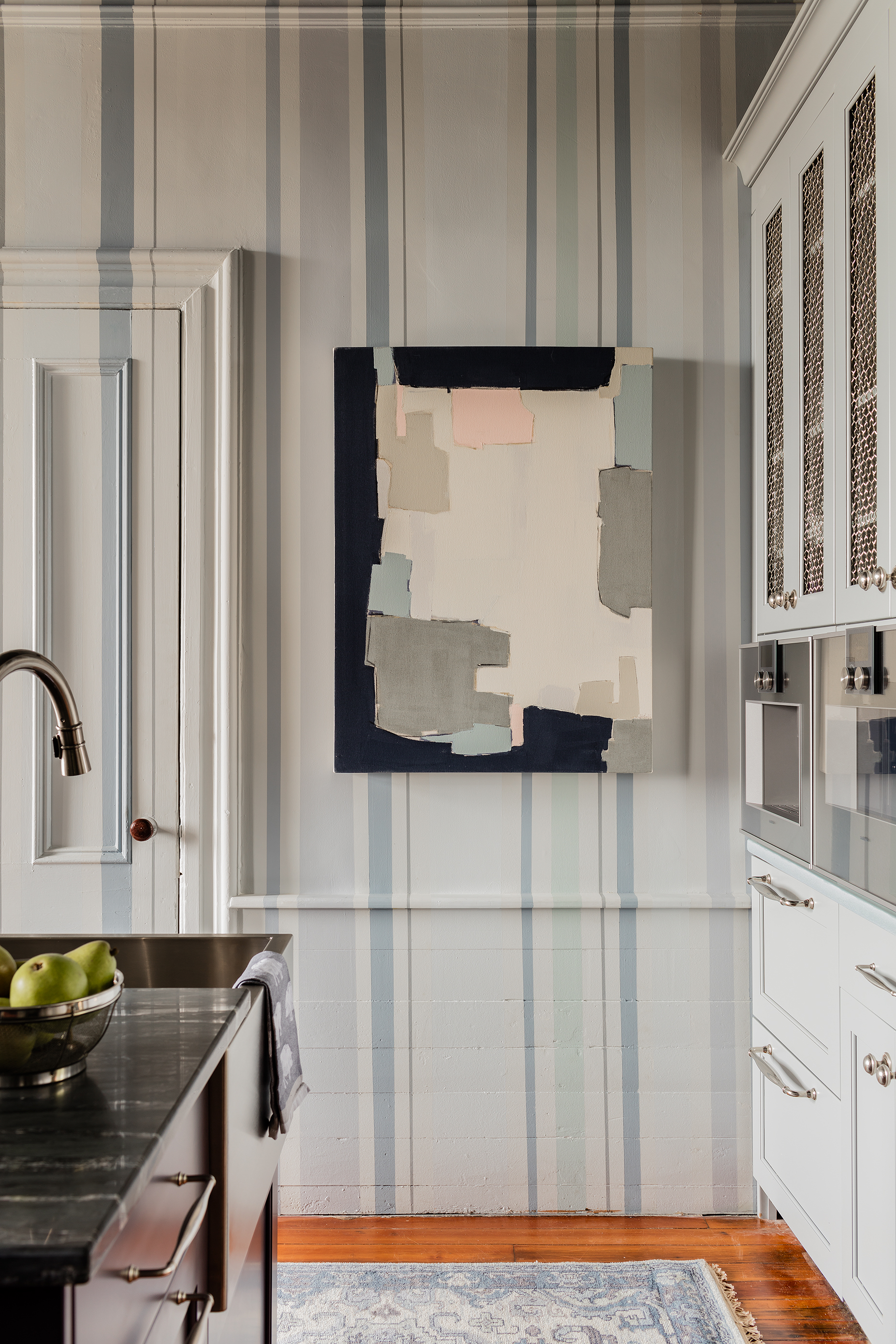 I have long admired Utah-based artist Holly Addi's work, and was basically floored when I saw this painting for the first time. It truly looks like the art was commissioned for the space. But it wasn't. It was just perfectly serendipitous. And good news, as of this writing, this piece is still available for sale via Libby Silvia!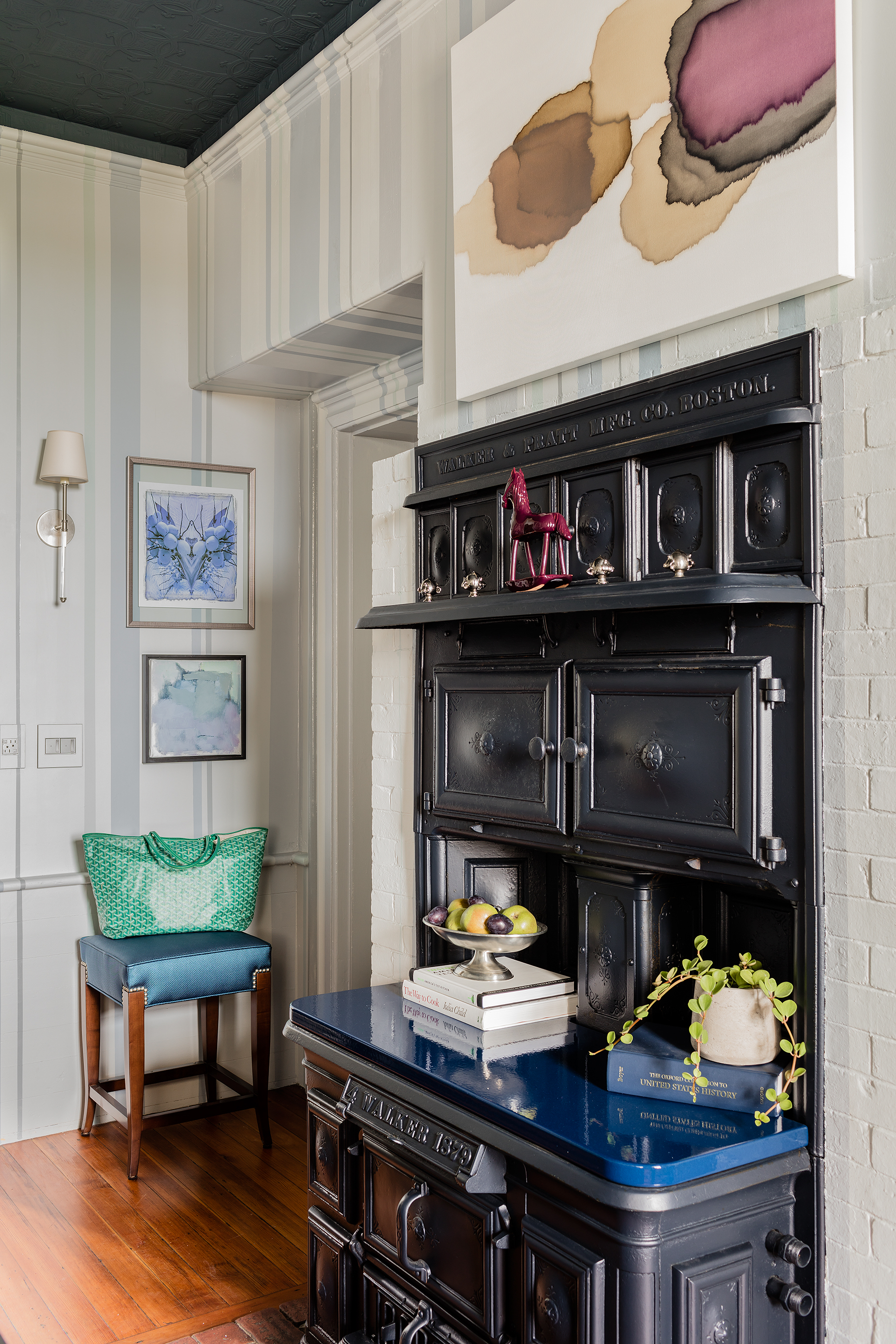 Three pieces were featured in this corner of the room – a manipulated photograph by Florida artist Laird,  a small Betty Glick acrylic in pastel hues and a thick impasto, and a large piece above the antique stove (also lovingly refinished by TLC) from Charlie Bluett. The latter was a late addition to the space, but a magical one. I love its organic, peaceful quality, and how it subtly echoes the hues of the original fir floors and the new deep purple island.
This is a kitchen that was largely defined by its art, which is rather unusual for kitchens – and a big part of what made it so special and so soulful. We owe these artists and partners a huge debt of gratitude, for contributing their talents and time to the Junior League of Boston 2017 Designer Show House  – thank you so much!
Stay tuned for more gratitude (and more of the The Morning Kitchen 'reveal') throughout the week. I'm thankful for you, too!
**UPDATE**  Evidently I'm not very good at this gratitude thing! I am 'on vacation' and my brain is partially turned off and distracted – well, that's my excuse, anyway. There are two gross omissions I made from this post, of artists who made extraordinary contributions to The Morning Kitchen, and whom I can't believe I failed to include in the first version of this post. Ugh!
OK, first off – the artist who made the room 'real' before a single swing of the demo hammer.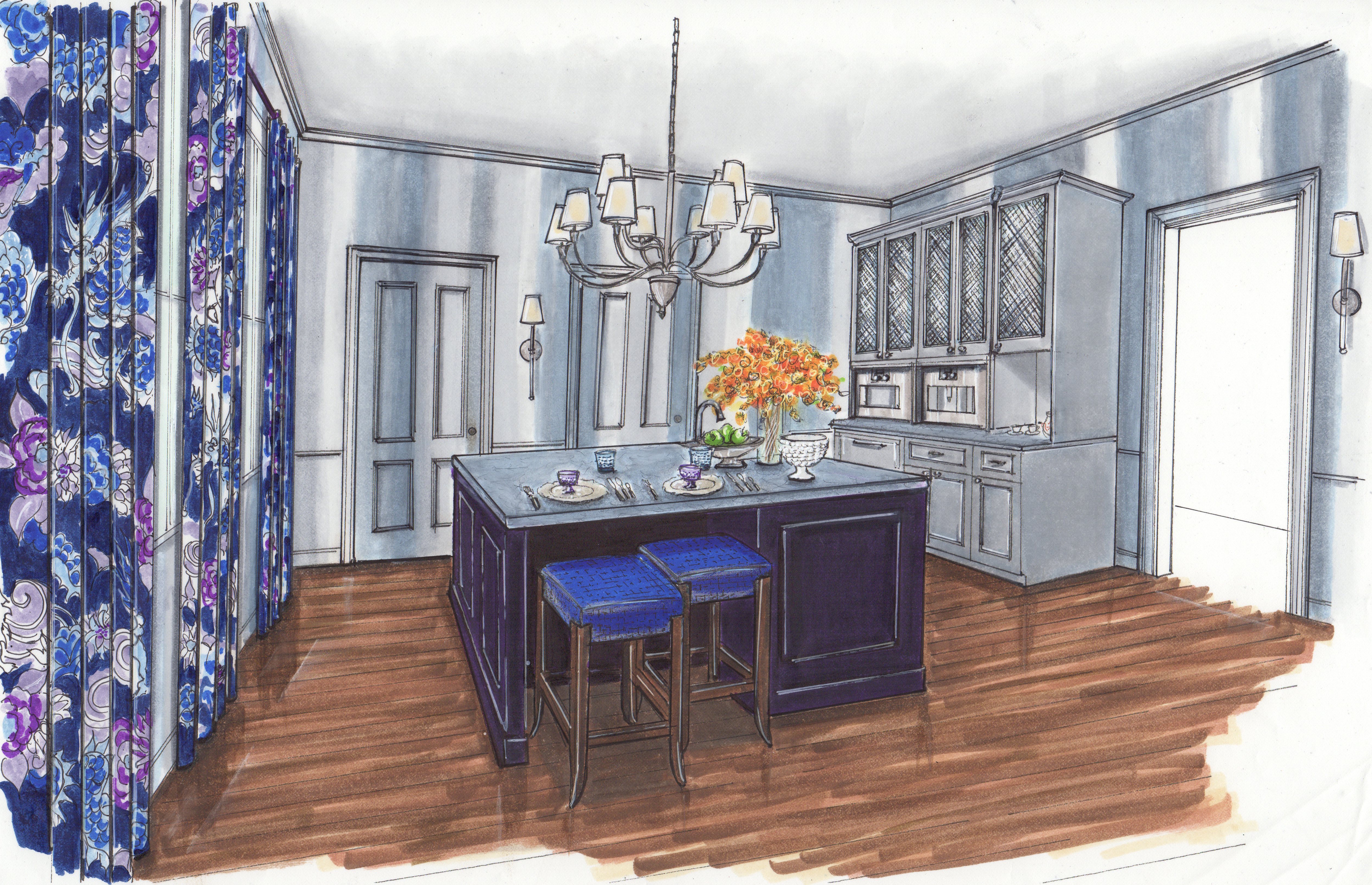 Jane Gianarelli's renderings completely bring a space to life, and this one is no exception. Just to be clear, this rendering was created before the kitchen was transformed – using our drawings, colors, materials, fixtures, etc. I love working with Jane – she is so talented (and super fun to follow on Instagram, incidentally)!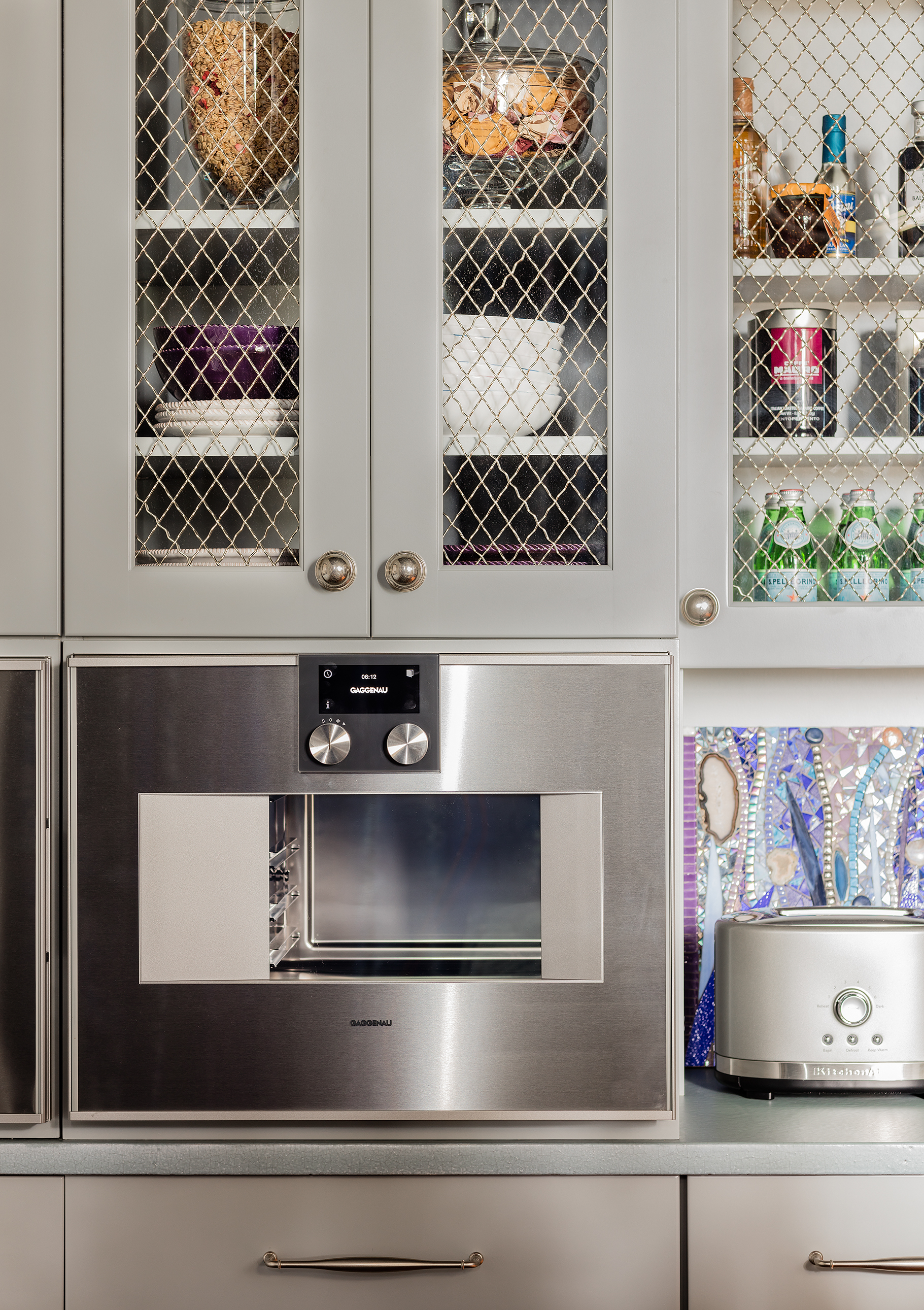 Mosaic artist Ariel Finelt Shoemaker created an incredible custom mosaic panel for us, which we used as a 'backsplash' of sorts to add color and sparkle to an otherwise boring countertop appliance niche. It is an art piece meant to be hung on the wall and enjoyed, and it is still available for sale! Please contact Ariel if you are interested in purchasing.