Until recently, I've resisted thinking about furnishings and decoration for our new house (which is under construction, about to enter blue boarding phase!), in order to focus on the "bones" and other things that are a higher priority to address now. But I'm starting to succumb to temptation, partly because of some great sales I've seen on pieces I've had my eye on. I'm really trying to develop a master plan – including color scheme, furniture plans/layouts, stylistic look/feel, etc. – before I purchase a single thing. But one thing I'm 100% certain I want is a new bed for our master bedroom – an upholstered one!
What a great concept, the upholstered bed. It is an opportunity to bring in another fabric, color, pattern, texture, etc. to add interest to your bedroom. But what I'm most excited about is how soft  that cushy headboard is going to feel behind my head and back as I (fall asleep) reading in bed. Or maybe blogging :).
There are so many options I'm considering…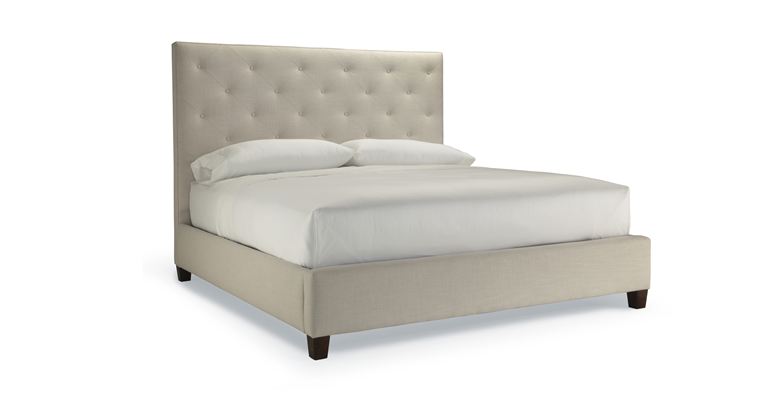 Behold, the Layla Bed from Mitchell Gold + Bob Williams. Such a simple form; modern with a traditional twist – the subtle button tufting in the headboard. Vintage Mitchell + Bob. I would load this bad boy (or should I say, girl) up with some bold patterned pillows, a fluffy duvet and a cozy throw.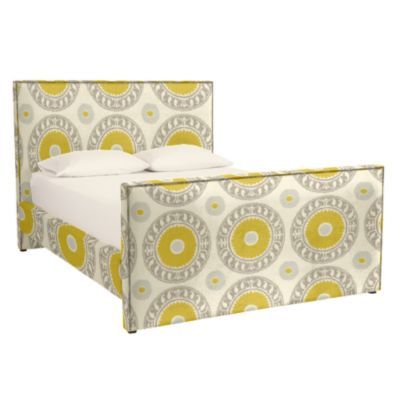 The Mara bed from Ballard Designs is a definite contender. I mocked it up with a bold suzani fabric – I kind of like the idea of doing a large scale print on the bed upholstery, and going tone-on-tone solids with the bedding. Kind of an unexpected twist, but still not too crazy. I also love that this one has nailhead trim. The one thing I'm not sold on is the footboard. I am long-legged, and like to have the ability to stretch out (when I'm not curled up in the fetal position, that is).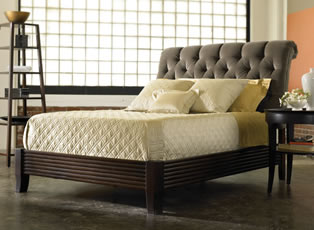 On the slightly more traditional side, Stickley offers the handsome Leopold Bed, which has a solid cherry frame and platform, and a button-tufted sleigh bed type headboard upholstered in a dark gray velvet. I saw this bed in person recently and fell in love with it. In terms of what I'm thinking for our bedroom stylistically, it is a bit of a stretch, but you can't beat the quality or the classic good looks of Stickley furniture. I'm a big fan.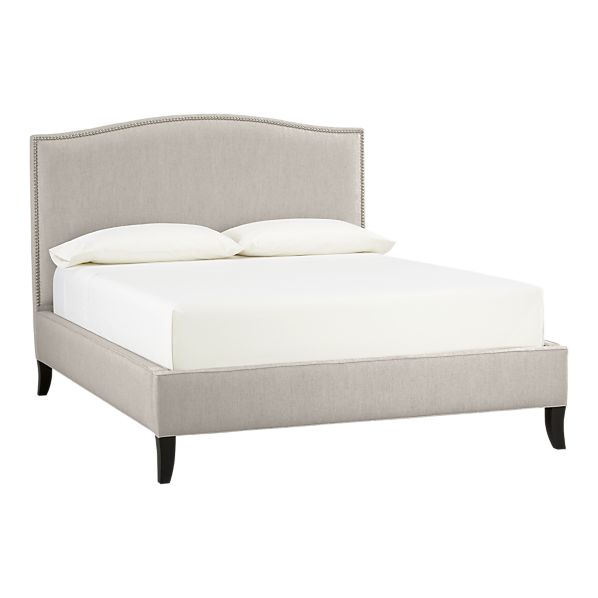 The Colette Bed from Crate & Barrel is very popular, and you can see why. The subtle curve of the camelback headboard is echoed in the short, slightly bowed legs, and the bed height looks absolutely perfect – so easy to get in and out of. You could do just about anything with this bed as far as bedding is concerned. A very flexible, and very classic design.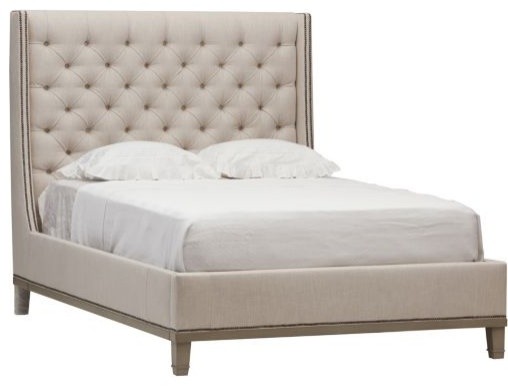 Um…WOW. The Cleo Bed from Vanguard has it all – modern, low-slung platform style, nailhead detailing, subtle wingback shaping on the tall headboard, and of course the button tufting. This bed really makes a statement. It might be too cool for me. And just imagine how much better it would look with the right bedding…
Which one is your favorite? I don't know how I'll decide!