It really takes a village to bring a show house room to fruition. I've been blogging a lot lately about some of the 'villagers' that helped to create The Morning Kitchen, which I designed with Dianne Aucello of Edesia Kitchen & Bath Studio. Today I wanted to devote some time to two distinct sides of the space – the pretty, and the practical. And in all cases, the two are really quite synonymous.
Every kitchen is designed and built around appliances. The Morning Kitchen is unique in that it was made for a (fictional) couple who like to live with style and luxury, but don't love to cook. This idea was a lot for some show house visitors to wrap their brains around. We've become so accustomed to seeing these showpiece kitchens in magazines (and yes, show houses), and have been conditioned to believe bigger is always better. 48″ Wolf ranges, giant refrigerators, big custom hoods, multiple dishwashers. All great things to have in a family kitchen with an enthusiastic home cook, for sure!
But let's be real – not everyone needs, or wants these things. Think about an empty nester couple in an urban pied-à-terre who are too busy taking in the sights, culture, and culinary wonders of the city to be slaving over a stove all day. Of course, our concept was partly a function of our spatial constraints, as well as the needs of the Belmont Woman's Club (which owns the William Flagg Homer house, and is the ultimate beneficiary of this kitchen). But we also wanted to challenge people's preconceived notions of what a kitchen truly 'needs' to have.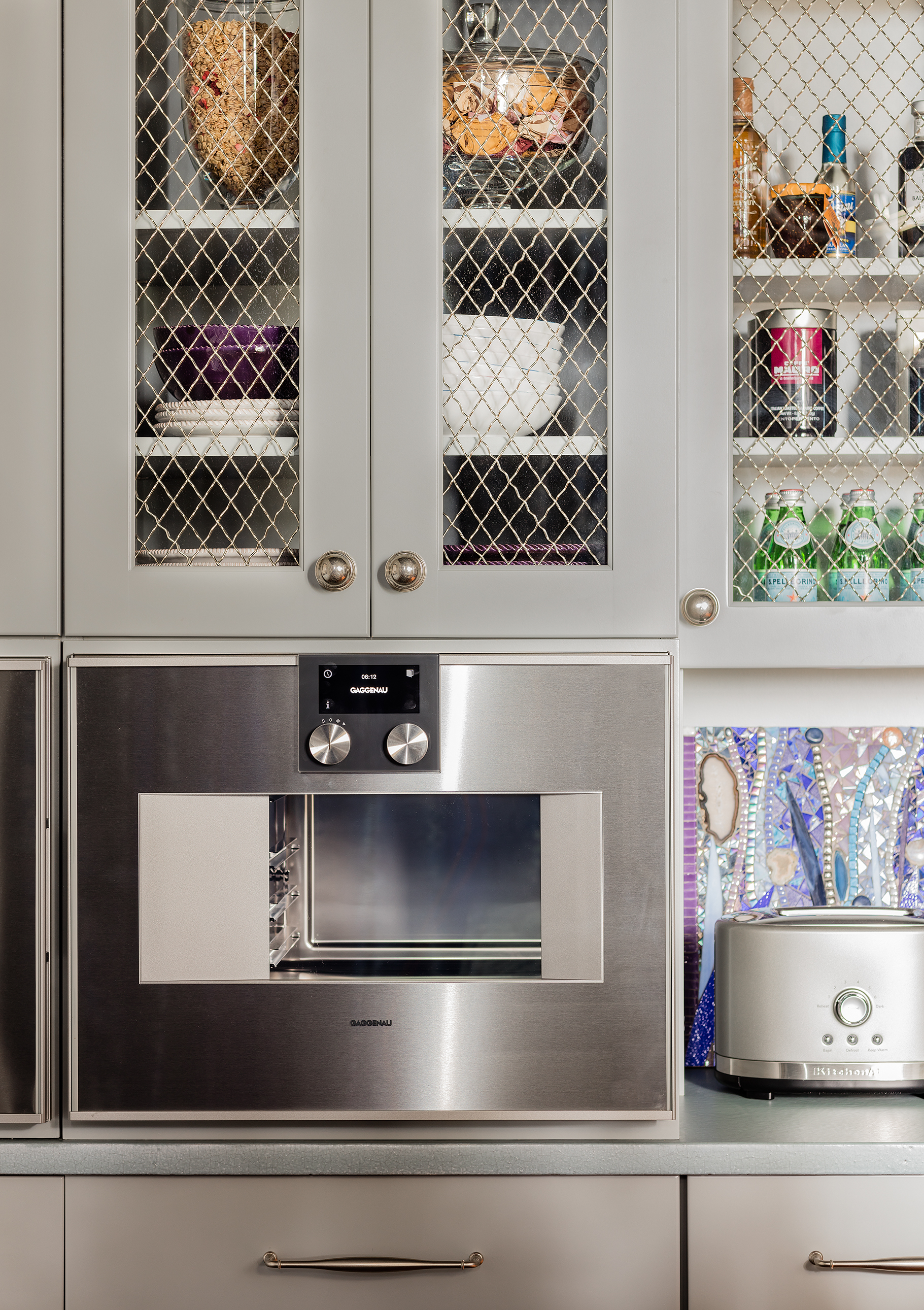 BSH, the parent company of Bosch, Thermador, and Gaggenau appliances generously donated all of the appliances for The Morning Kitchen. We selected the steam oven and built-in coffee machine (pure luxury!) from the Gaggenau line. Their sleek, silver styling added a modern counterpoint to the design, while also blending nicely with the wall cabinetry – kind of like the wall stripes that acted as 'camouflage' to smooth out the chopped up walls. The dishwasher and refrigerator drawers are from Thermador; we opted for panel-ready models for both in order to, you guessed it, have these appliances virtually disappear into the cabinetry. I am using these same refrigerator drawers in my own new kitchen, as well as a full-sized Thermador refrigerator, and a Bosch microwave drawer. Between these three brands, BSH really has you covered with amazingly high quality appliances with a variety of looks and uses.
A great kitchen needs superior cabinet hardware, which Boston Fine Home Details generously supplied, and we are so grateful they did! I selected pulls and knobs from the coin edge collection from Classic Brass. Their 'Revere nickel' finish is unbelievably rich – hand-polished, but not too shiny…made to look as though the polish has happened as a result of decades of real-life use. It's solid brass, and you can feel the weight and quality when you open each cabinet drawer and door.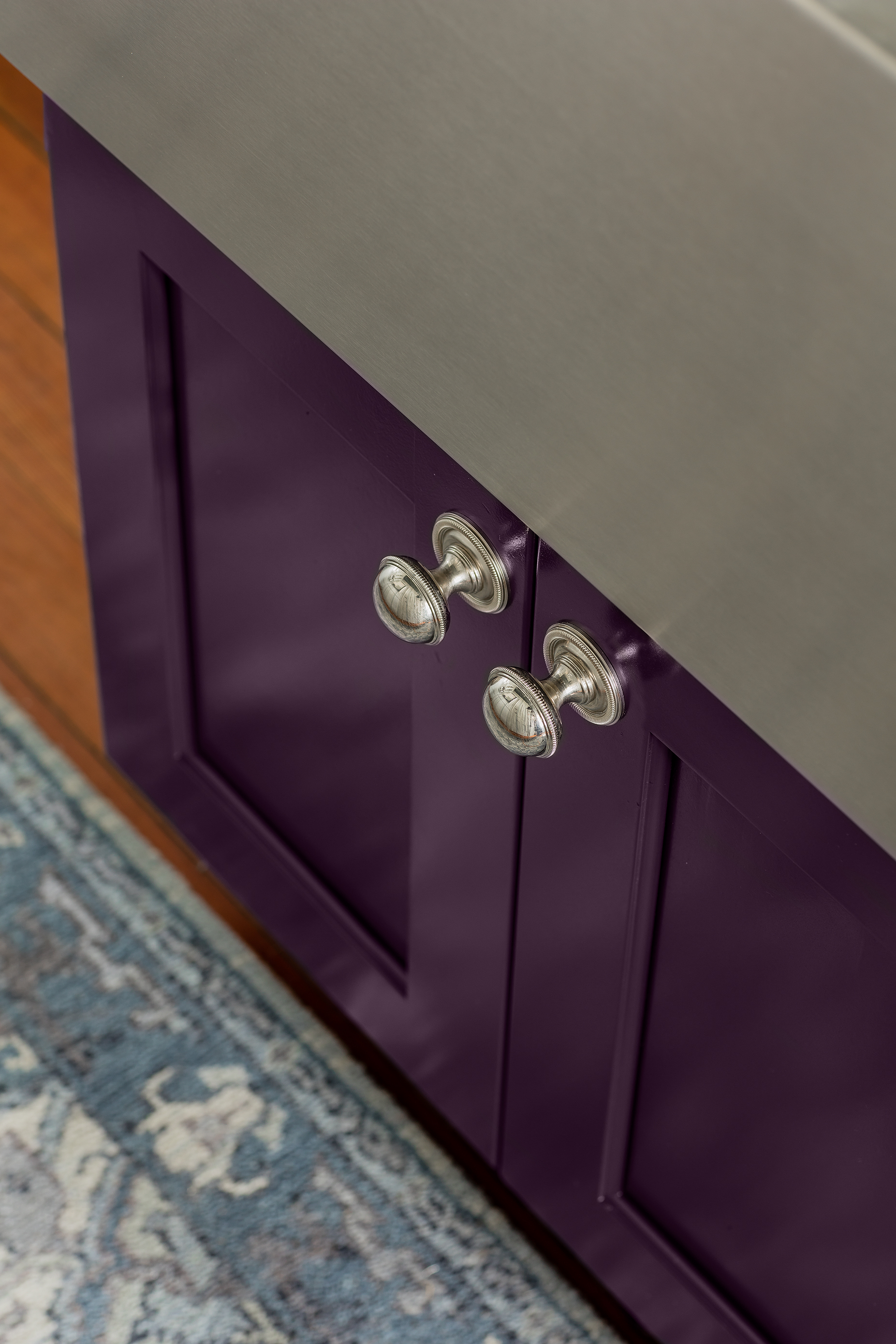 One of my favorite details is the round backplate we used with every knob – so special, and truly luxurious. Boston Fine Home Details is one of my favorite local sources, not just for cabinet and architectural hardware, but also (and notably) a great place to find a fireplace, mantel, or other hearth-related components and accessories. Custom carved marble and wood mantels and ornate bespoke firescreens are just a small taste of what they have to offer.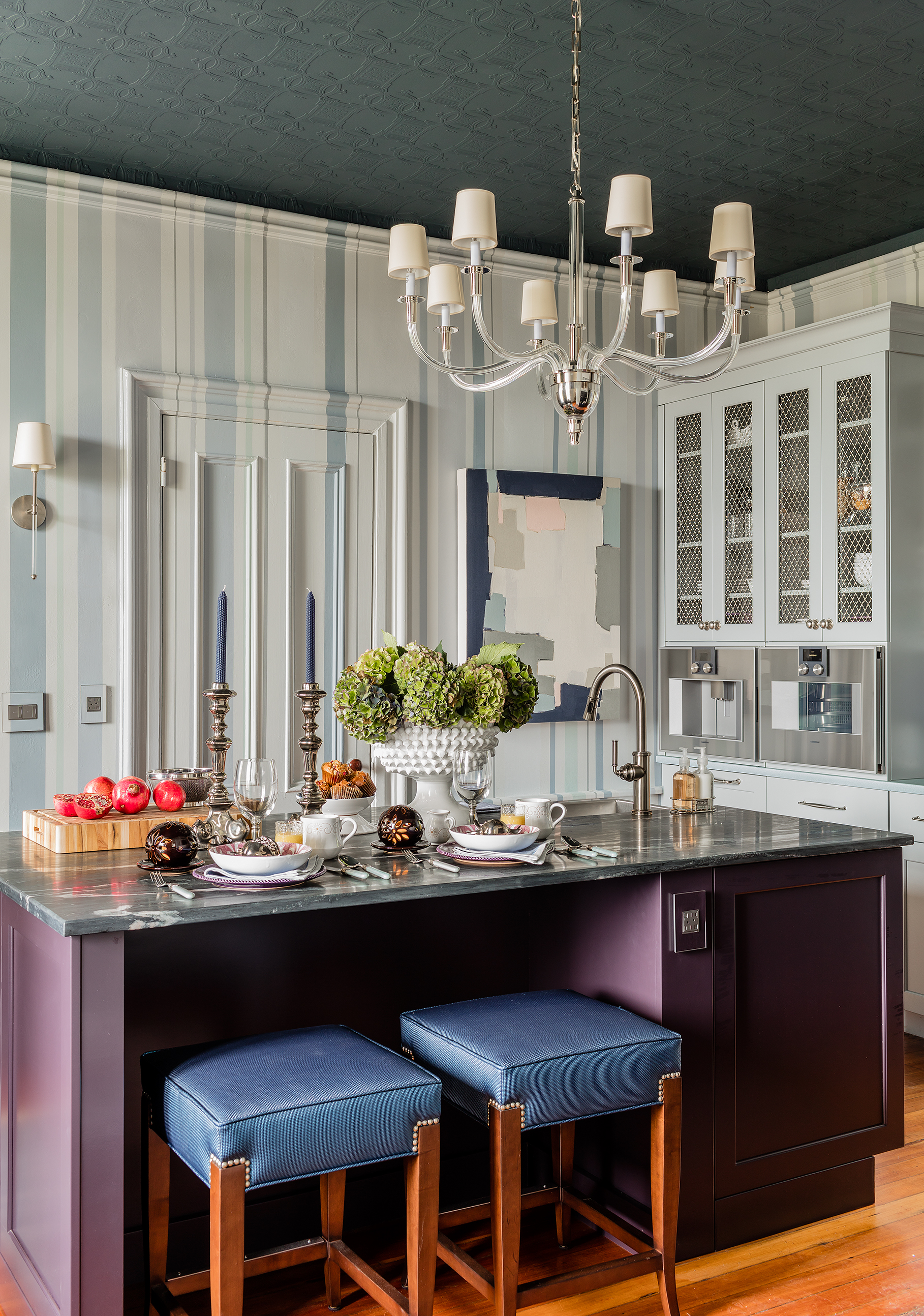 They say lighting is the jewelry of the room. It's true! And in that case, our 'jeweler' extraordinaire was Jeff Pomeroy of Light New England, who provided the beautiful chandelier and sconces, both from Visual Comfort, for the show house run. Visual Comfort has been my go-to lighting source for years, and its no surprise that they were my first choice for The Morning Kitchen. The chandelier, designed by Thomas O'Brien, is the perfect combination of classic style with a modern nuance. The sconces are a Suzanne Kasler design, and I chose them to blend with, rather than pop from the wall, and mimic the lines of the painted stripes. They're minimal, refined and elegant. And I want to use them in every client project from now on!
A special note to local designers – Jeff has created an awesome to-the-trade showroom in Charlestown. It's like a mini High Point right in our backyard! Go see him and tell him I sent you :).
One of the reasons the chandelier looks so striking is because of that blue textured/patterned ceiling. It's actually wallcovering – Anaglypta, which is (now) an embossed, and paintable vinyl. We used an early Victorian pattern to give the impression that it could have always been there in the kitchen (many visitors asked if it was original!). My wonderful paper hanger Melanie Harvey expertly installed the paper (by the way, ceiling installs are no picnic and require coordination, focus, and precision!). Then TLC Painting came back to roll on two coats of Benjamin Moore's Brush Blue, to give the space a bit more gravitas, and added drama.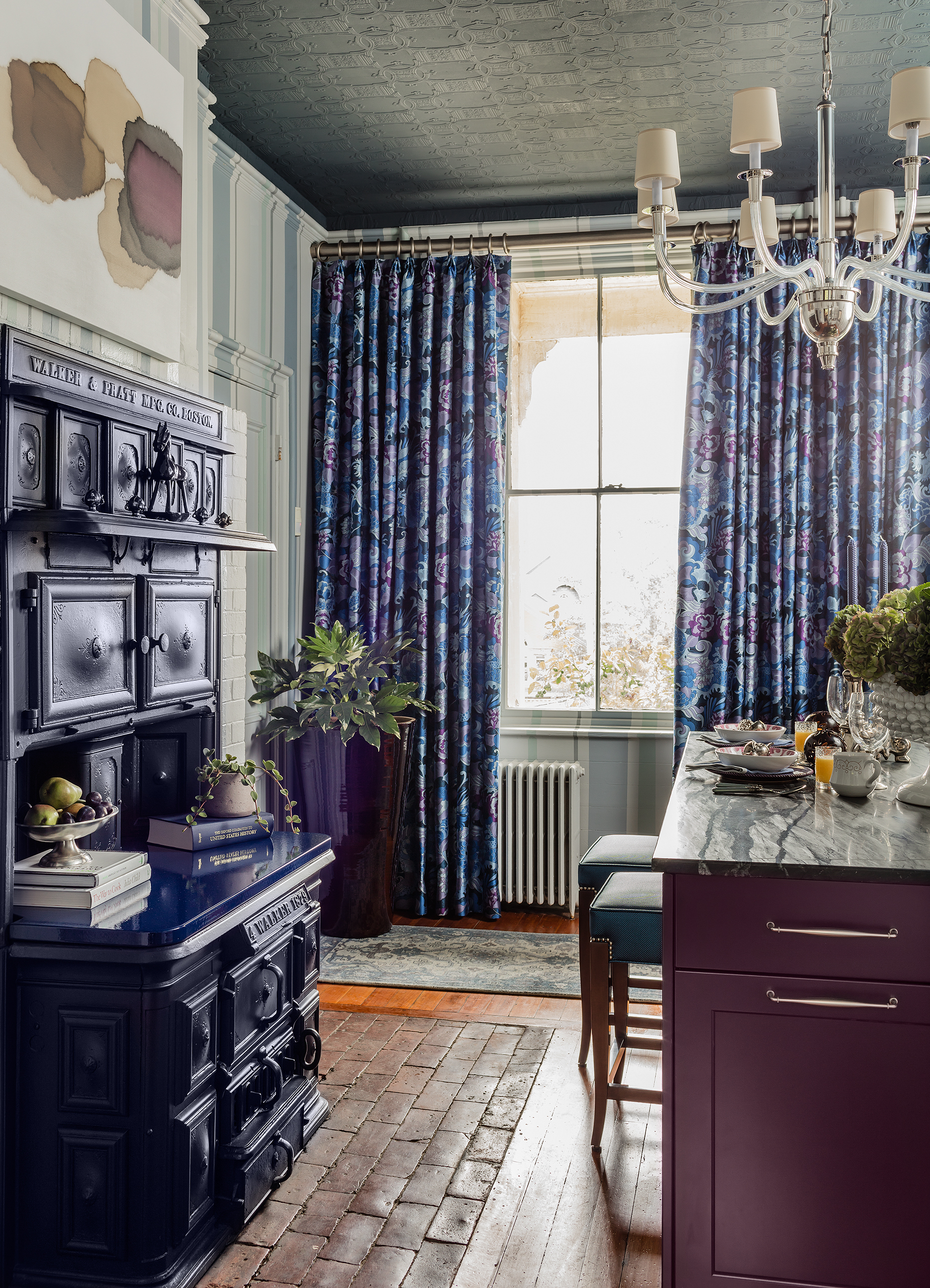 And last, but certainly not least, much gratitude and thanks go out to Robert Allen, which partnered with me for the second consecutive year, donating fabric and drapery hardware to the cause. Their new Mizuchi fabric from Beacon Hill was our inspiration for the entire design and color scheme, and played a / the starring role as beautiful draperies, meticulously fabricated and expertly installed by Alan Babitts Workroom. Yes, you are allowed to have luxurious draperies in a kitchen! So long as they are nowhere near food, drink, or sticky toddler fingers :). Robert Allen's 'Jack' counter stools were an unsung hero – I love the metallic cobalt blue vinyl upholstery…chic, yet wipeable! Such a winner.
I hope you are not tired of hearing about The Morning Kitchen – I still have more people and companies to thank in the coming days and weeks! Speaking of which – HUGE thanks are due to one Mr. Michael J. Lee for the drop-dead gorgeous photography featured here and elsewhere. It is a pleasure and an honor to work with such a pro – he is a true artist with a designer's eye, as well as a friend. Thank you, Michael!